With so many ATVs on the market right now, it's hard to make an informed choice when shopping. So we thought we'd simplify things for you with the Five Top ATV's to Buy in 2023.
2023 Can-Am Outlander XT-P 1000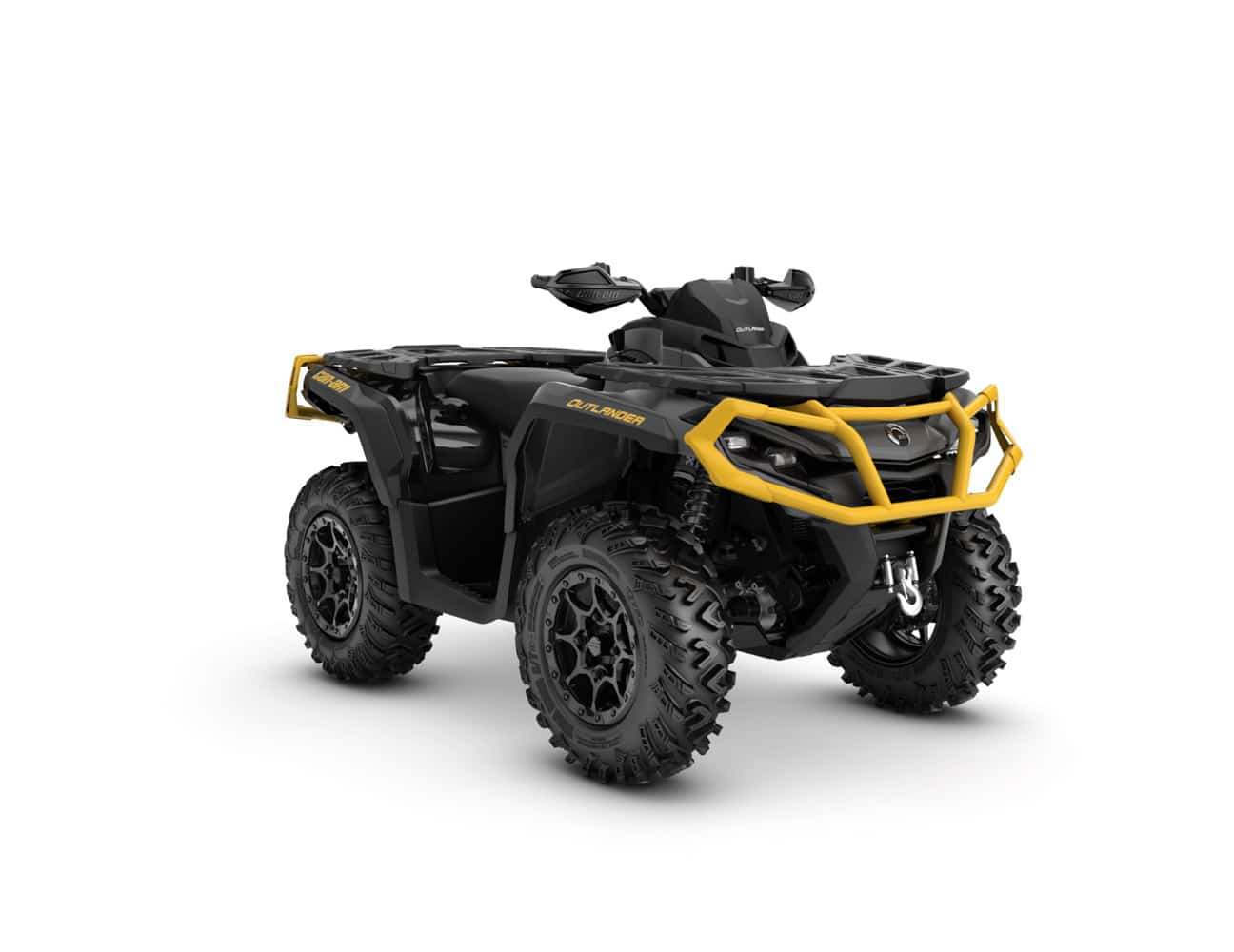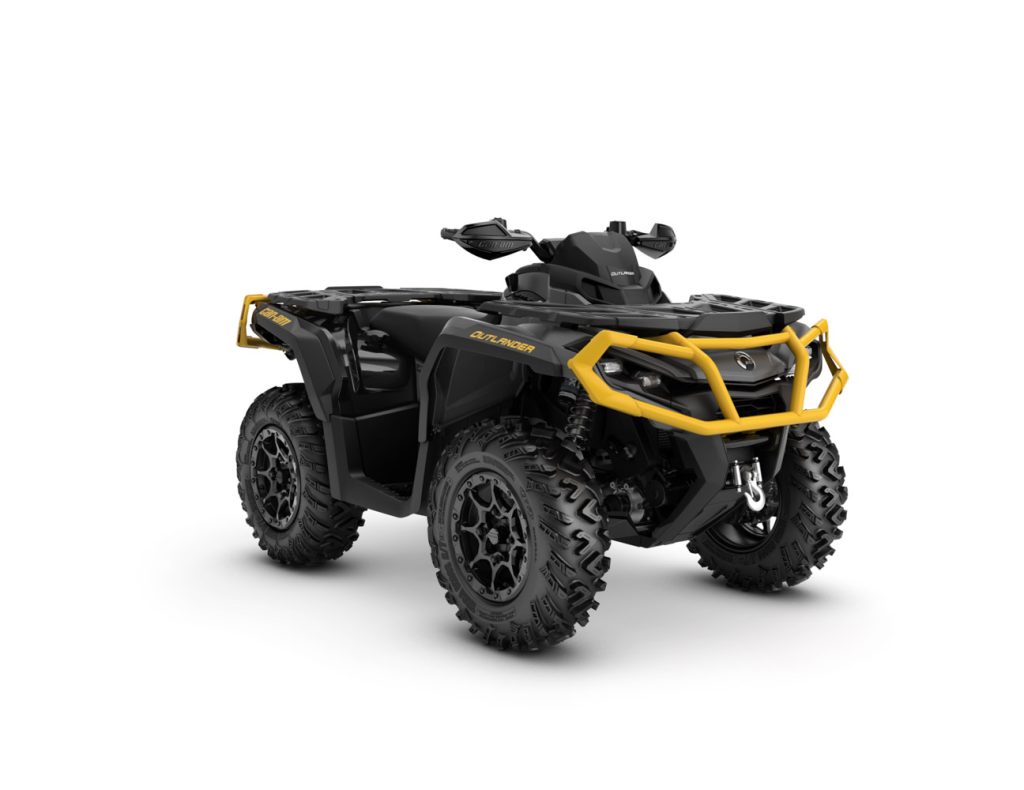 Can-Am's Outlander ATV range is very much in demand, so we won't pass up the XT-P 1000. With its 91 horsepower, this quad is designed more for experienced riders, be warned. What a great discovery! The V-twin engine reacts instantly to the first input. Electronics are omnipresent, giving it many advantages, such as intelligent throttle, dynamic tri-mode power steering and iEB emergency braking.
The suspension will win you over with its Fox 1.5 podium QS3 shocks front and rear. With 11 inches of ground clearance, you'll be able to clear virtually any obstacle in your path. The driving position is perfect. Thanks to a very comfortable seat, your rides will be most enjoyable. The tires are 26″ ITP Terracross on 14″ rims.
The Outlander XT-P is worth considering when shopping. Also take a look at the Outlander 850, which offers a Hunter version with its 78 HP engine.
High-performance, agile trail ATV: experienced rider
Polaris Sportsman XP 1 000 :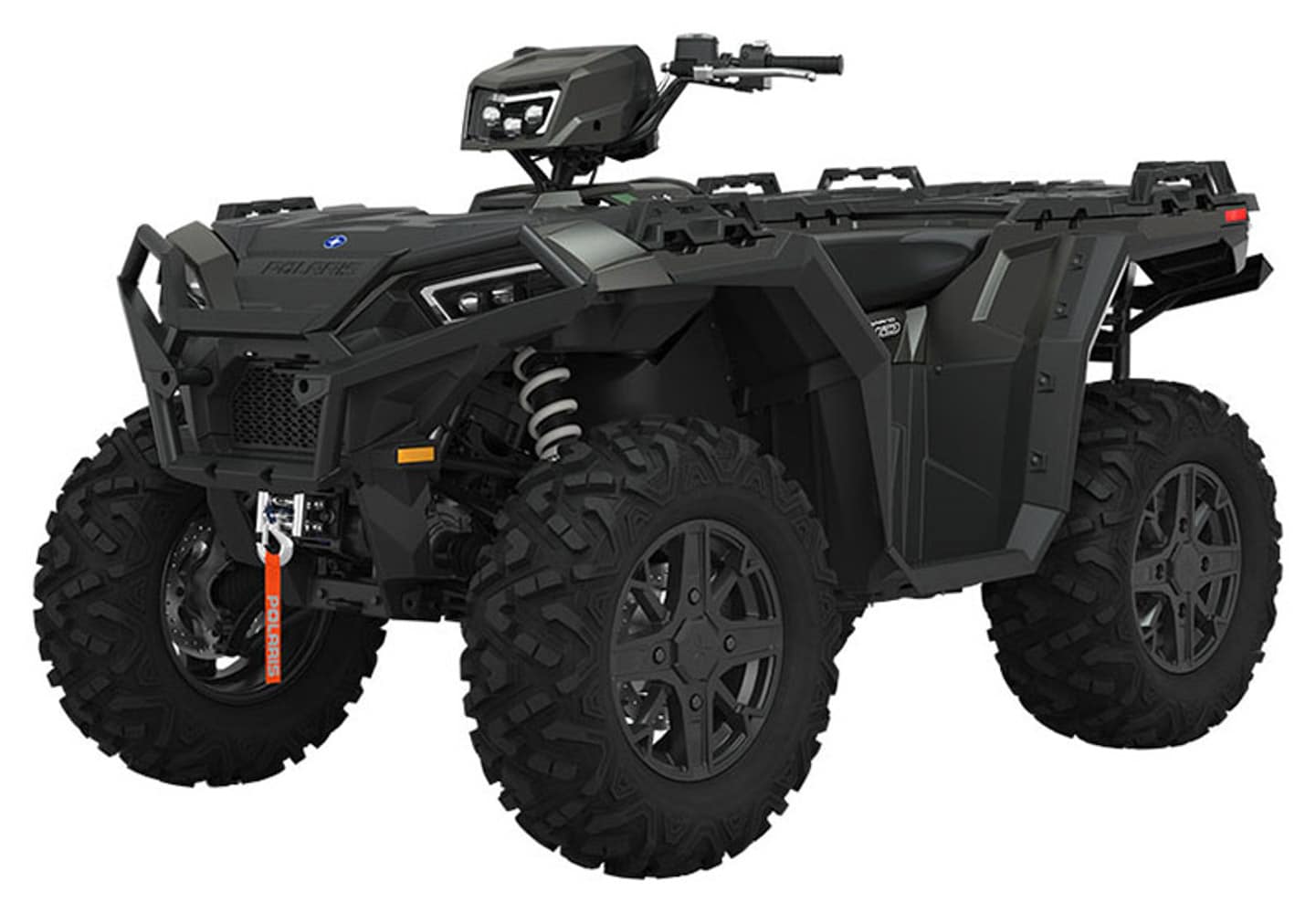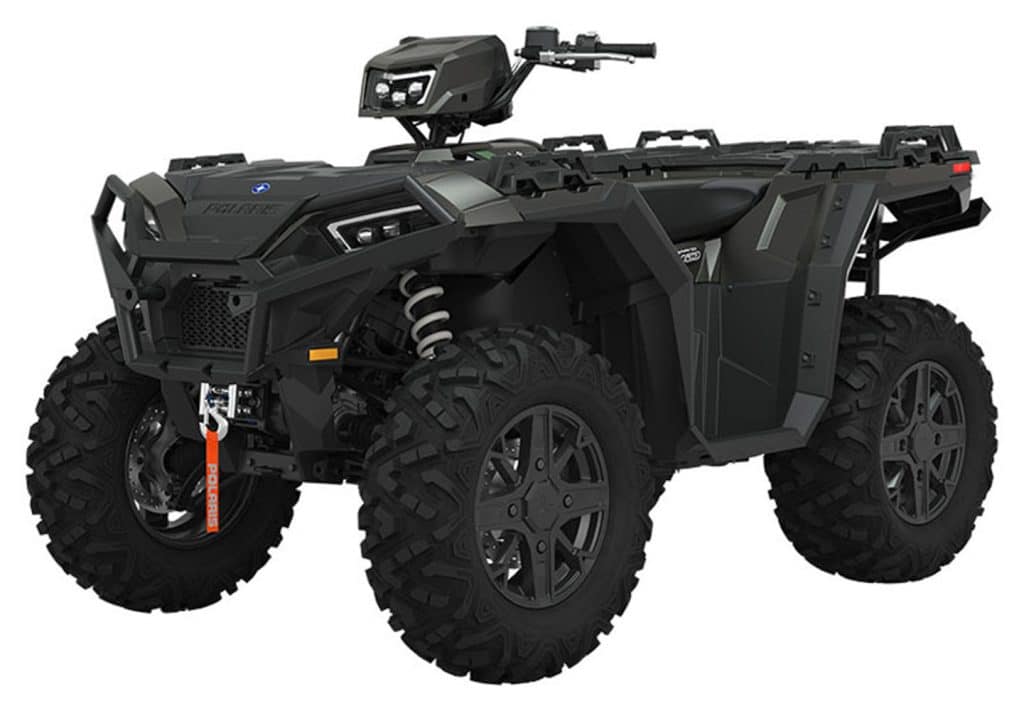 The reliability of the Polaris Sportsman XP with its Prostar engine needs no introduction in the quad world. With 90 HP, it will rival anyone on your path, and its reputation has been established for years.
Polaris is renowned for designing ATVs with absolute comfort on the trail, and this tradition continues in 2023. The CVT transmission combined with the Prostar engine will propel you with all the power you need at your fingertips. With an impressive 12 inches of ground clearance, it'll be able to take you through the worst conditions. The arched double-wishbone front suspension has a generous 9 inches of travel. In harmony with the rear double wishbone suspension with long travel, 10-inch anti-roll suspension. You'll get the comfort you've come to expect from Polaris. With true all-wheel drive on demand and 27″ Duro tires, no terrain will resist you.
High-performance, high-comfort trail ATV for experienced riders
Yamaha Grizzly 700 :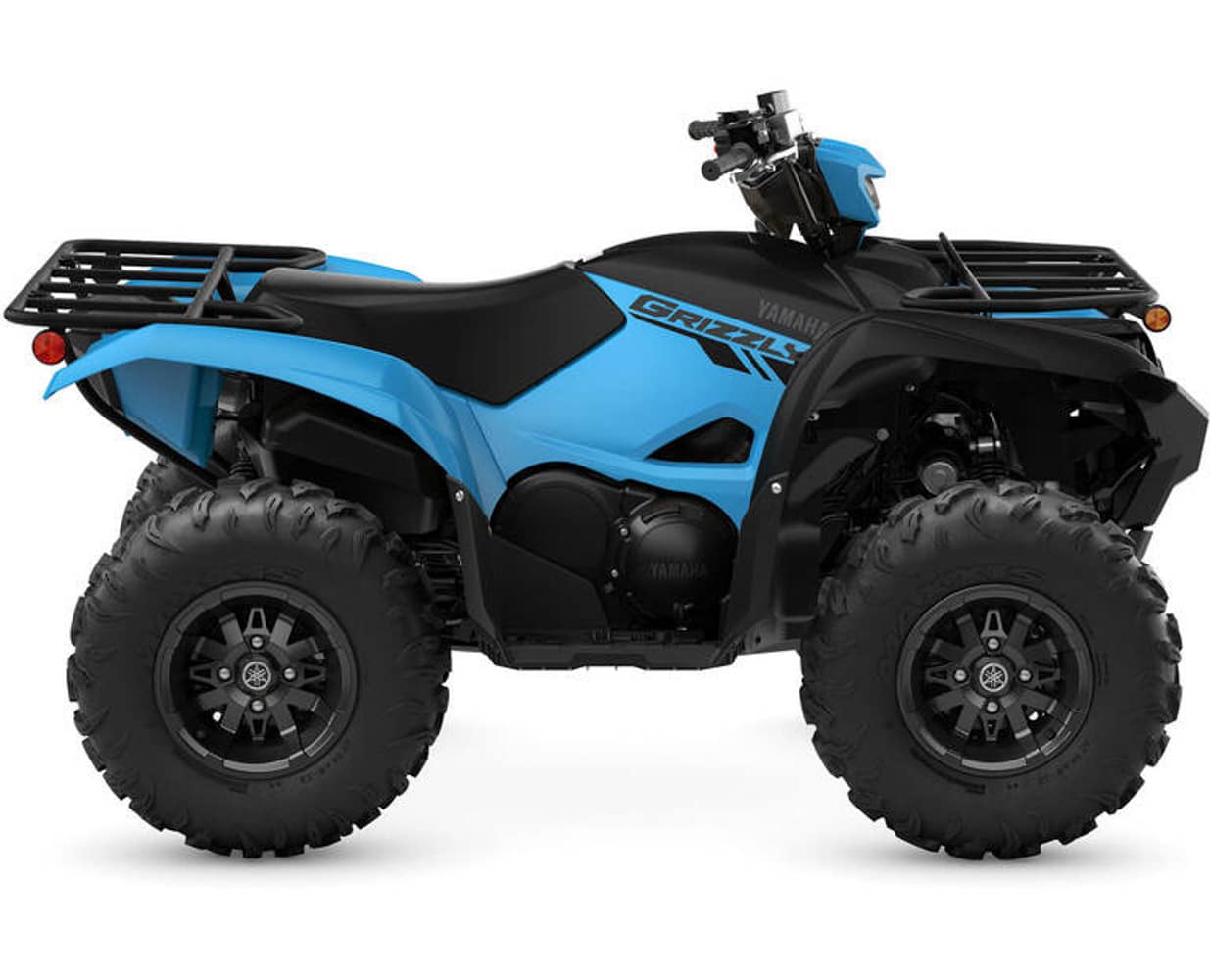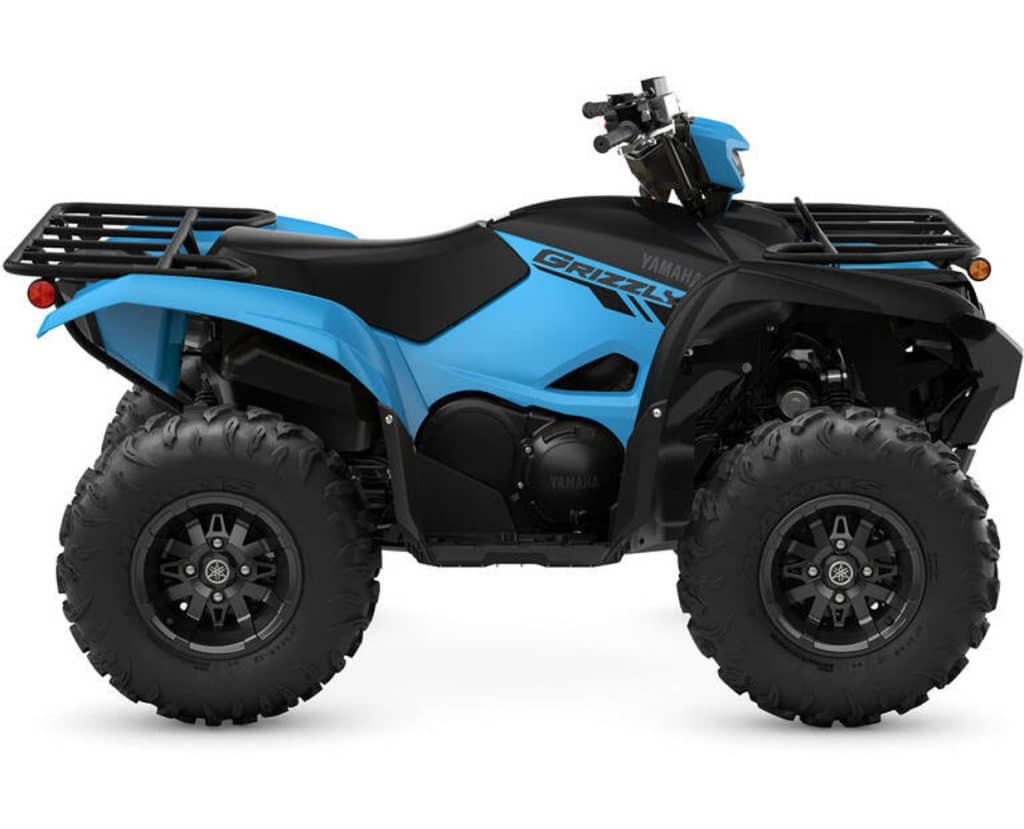 Yamaha's legendary reliability has been a reality for decades, and the Grizzly is a big contributor to that reputation. Just think of its renowned indestructible Ultramatic transmission and you'll feel confident on the trail. Yamaha uses a 686 cm3, single-cylinder, four-stroke engine that develops 51 horsepower. That's enough to keep up with the competition. The On-command four-wheel drive system engages on the fly and on the electronically lockable front differential. In short, one of the best ratios of efficiency to reliability in the industry.
As for the suspension, Yamaha is introducing nitrogen-preloaded KYB shock absorbers in 2023 for enhanced comfort. The Yamaha Grizzly 700's trail behavior is smooth and precise in turns and on rough terrain. On the lighting side, Yamaha introduces LED headlights and lights, which is a good idea.
Consider the Grizzly a sure bet for years of fun without worrying about long-term problems. Reliability assured.
Trail-ready and agile ATV: beginner to experienced
Honda TRX520 Rubicon :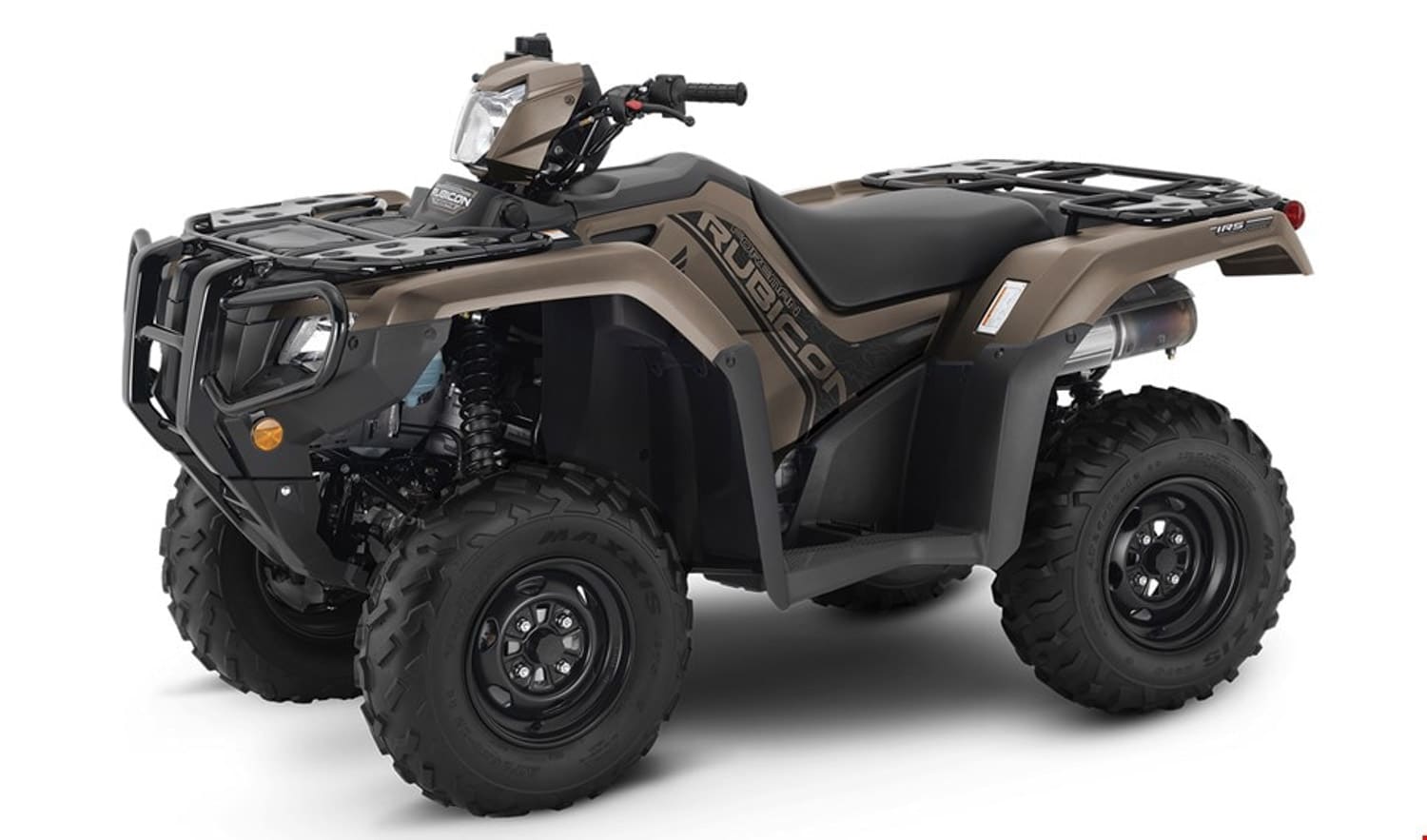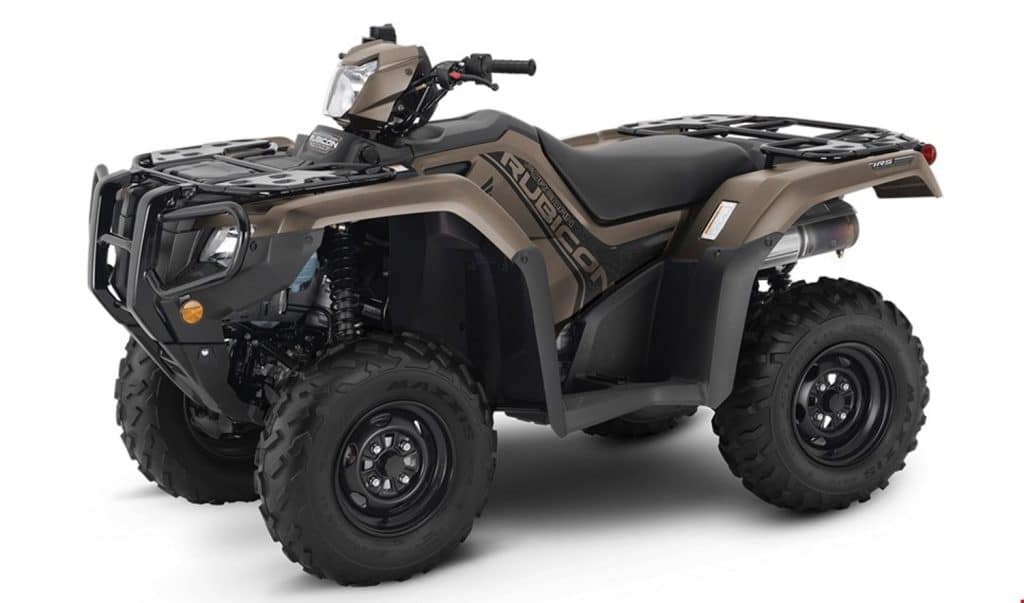 Honda is very conservative when it comes to its quads, so don't expect anything new for 2023. But true to its reputation, you'll have something extremely reliable in your hands.
Unlike the competition, Honda doesn't use a CVT transmission, but rather an exclusive DCT automatic transmission. It's present throughout the product range, both on- and off-road. No need to worry about a belt breaking on the trail on this side.
The Rubicon's high level of assembly quality is typically Honda. Its 518 cm3 longitudinal single-cylinder four-stroke engine will be able to work hard and take you out on the trail. Despite its 9.4-inch ground clearance, it'll get you through a rough trail with ease. In terms of comfort, the Rubicon is equipped with an independent double-wishbone suspension with adjustable front shock absorber. And at the rear, an independent double A-arm suspension with adjustable shock absorber.
This is an ideal quad for work and trail riding. It's not the best in terms of top speed, but it's reliable.
Trail-ready and hard-working ATV: beginner to experienced
CFMOTO CFORCE 600 :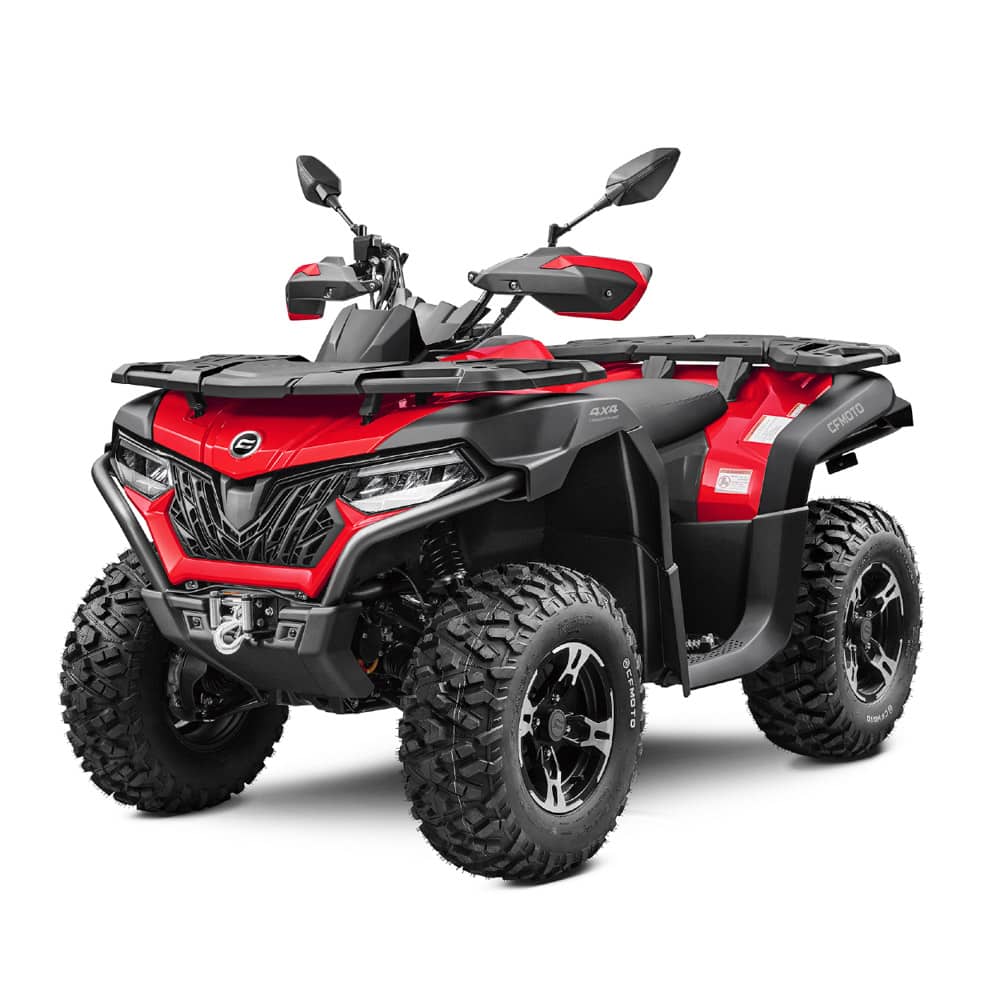 CFMOTO has worked hard over the last few years. Here, quality and reliability are now present. Years of misery are a thing of the past for the Chinese company.
The CFORCE 600 is powered by a 580 cm3 single-cylinder engine with 45 HP. Perfect for providing plenty of power on the trail and keeping pace with other ATVs in its class.
What's interesting about buying a CFMOTO is that it comes standard with accessories. 3,000-lb winch, front and rear lockers, power steering, steel front bumper, two-inch hitch receiver.
The transmission is an automatic CVT with clutch supplied by CVtech. This transmission is coupled with a four-wheel drive system featuring a front differential that can be locked on demand from the handlebars.
Suspension is independent at all four wheels, with regular pre-tension-adjustable shock absorbers for excellent comfort.
You're sure to love this quad when you're out and about with friends.
Agile trail ATV, comfortable and perfect for beginners
The Five Top ATV's to Buy in 2023 – Conclusion:
We think this top 5 is a good source of purchase ideas for an individual currently shopping for a quad. With all that the ATV market has to offer, other machines are equally competent and will be able to meet your needs. The important thing is to be able to try out the ATV you're interested in before buying, to find out if it's right for you.
Enjoy the ride!
Photo: Louis Gagnon and website