From time to time, some ATVs pass almost unnoticed into the landscape, so much so that their presence in the yearly ATV Guide seems natural. Yet the Yamaha Grizzly is one of the exceptions. We have followed its evolution for two decades, and the interest for this model does not seem to diminish.
The Yamaha Grizzly is like good wine: once you taste it, it's almost unthinkable to do without it. I would guess that its designers did not want to make major changes that could distort the taste the Grizzly fans have for the model.
The Grizzly is the most powerful ATV in the Yamaha ATV line-up, and despite some pressure from the market, it has always remained a single-seat model. However, its dimensions, although somewhat modest, allow us to easily make the necessary changes to accommodate a passenger if necessary.
A new engine for 2019
Over the years, Yamaha has gradually increased the power and cubic centimeters of the Grizzly, but Yamaha has resisted, so far, to transition to a two-cylinder engine to compete with competitors. This single cylinder feature places the Grizzly in a class of its own, and perhaps it even gives it the charm and the rebellious nature other ATVs simply don't have.
However, in its 2019 chassis, Yamaha has abandoned the 704cc engine for a new generation of 686cc with improved performance and foolproof reliability. This engine allows midrange power and smooth ride. When I talk about smoothness, I mean that it does not seem to be explosive, but the reality is quite different. Unfortunately, at very high speeds, we hear an above-average roar from the exhaust. At the same time, a vibration is noticeable on the handlebars coming from the engine that is directly connected to the chassis. Although it is the most powerful engine from a Yamaha ATV at the moment, it requires a dose of judgment from its user.
This single-cylinder engine could mislead us on its real abilities. On start-up or during recovery, it answers immediately. Its response is very surprising. So for 2019, the Grizzly now includes a powerful new 700 class engine with optimized torque, delivered power and engine behavior for a sporty yet intensive ride.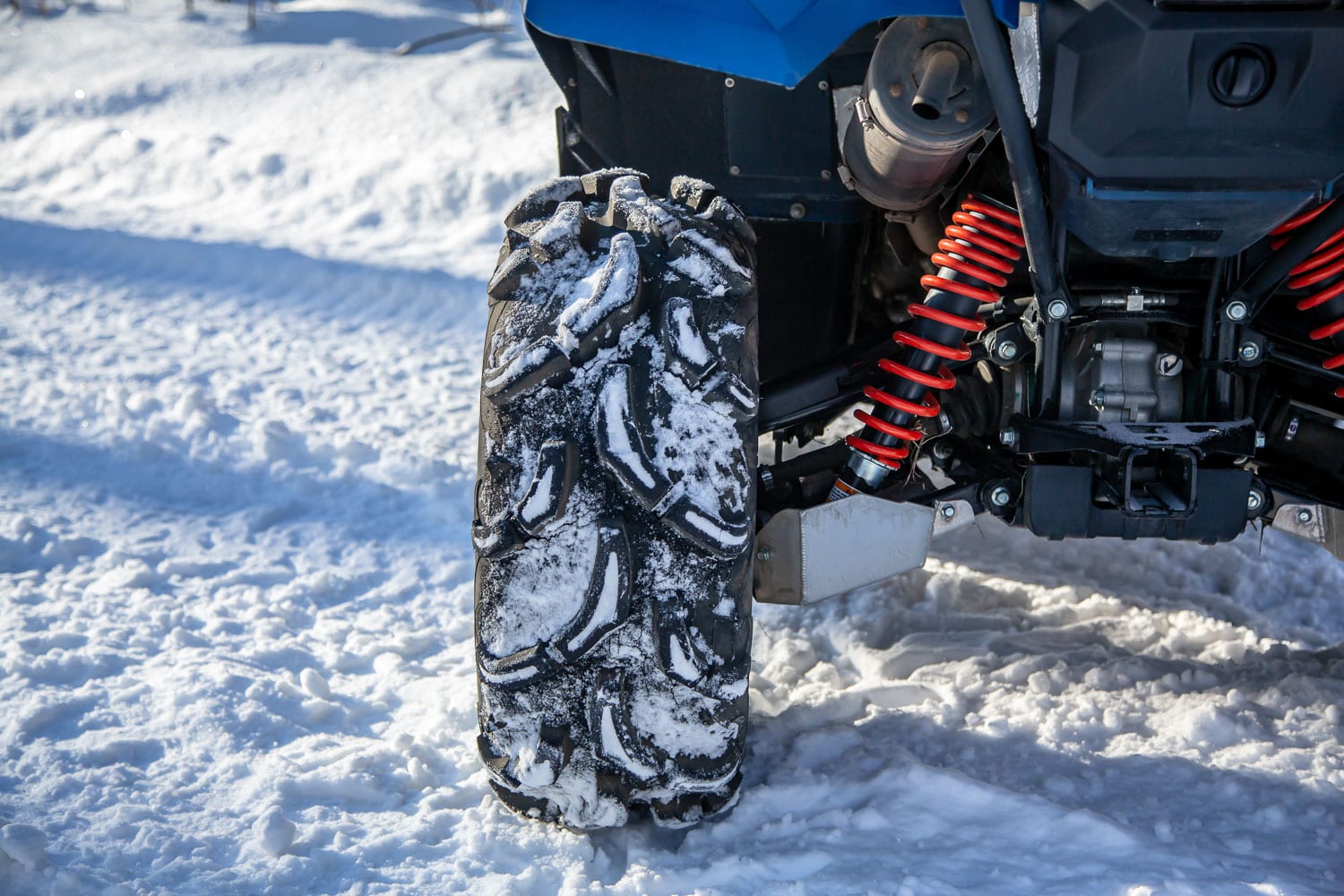 Surprising Tires!
The Grizzly SE model goes in a direction that is not familiar to an ATV. Typically, front tires are narrower than the rear. In this case, Yamaha equipped the Grizzly with aggressive 27 inches wide and 10 inches wide Maxxis Zilla tires on all four corners. While unusual, some people have this preference, because the wheel path made in snow, mud, or sand will be the same width forward and aft. The height of these tires also increases the ground clearance to 11.8 inches which helps to easily tackle obstacles. The Zilla tires are designed for above average traction. A quick look at them is enough to perceive their imposing tread patterns and conclude to their ability to face all types of terrain.
Compared to many other manufacturers that now use thermoplastics to manufacture their luggage racks, Yamaha remains conservative and returns with steel racks in 2019. They are resistant covered with a powder coated paint for long-term durability. Robustness and resistance are the qualifiers that would be appropriate to describe them adequately.
As for the suspension, Yamaha has opted for double wishbones at the front and rear. This independent suspension offers a travel of 7.6 inches at the front and 9.1 inches at the back. The nitrogen preload shock absorbers allow adjustment to our preferences with its 5 position settings. Of course, this combination makes it possible to face the multitude of different types of paths or terrain without difficulty.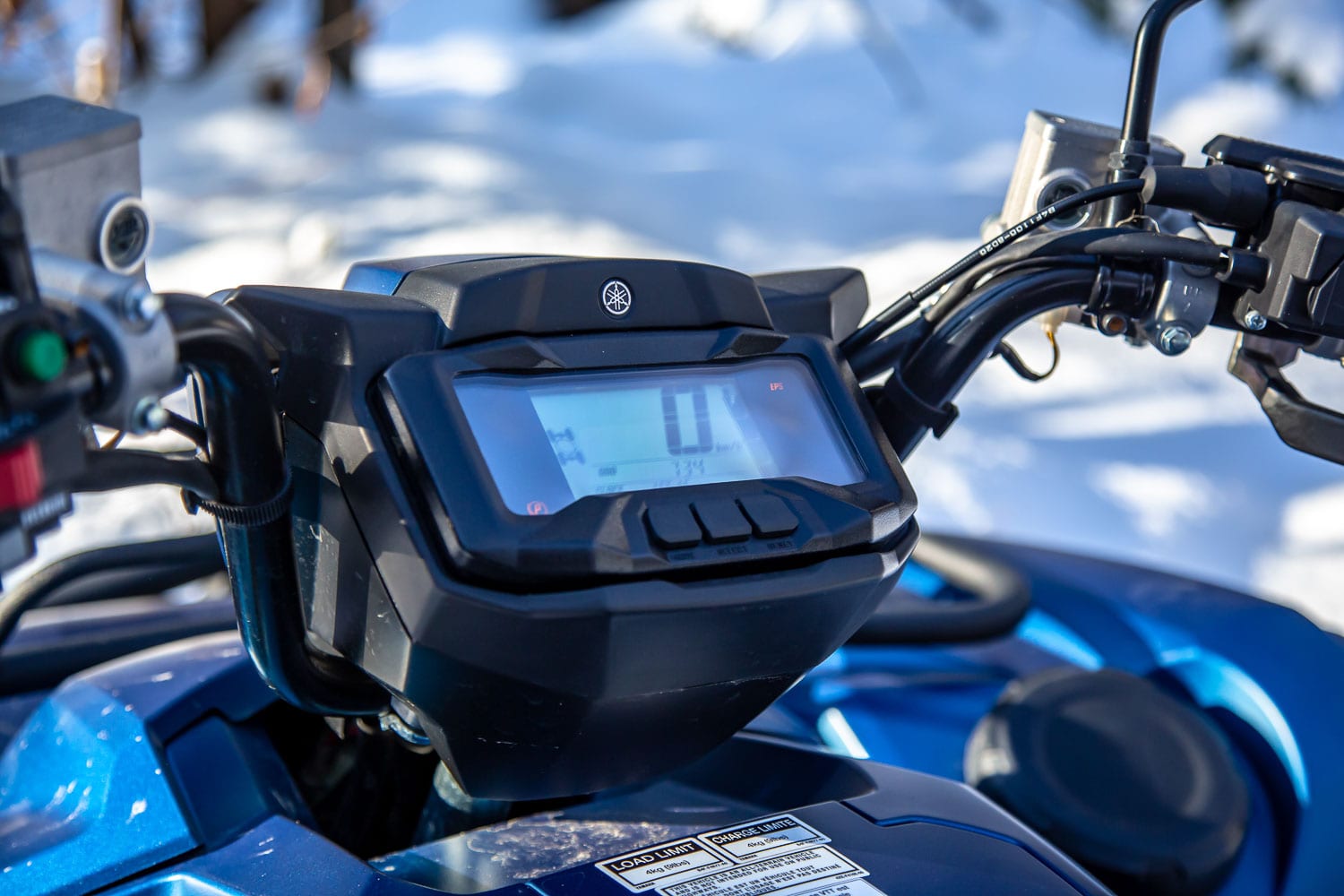 I also appreciate the CV joint protectors. You never know what might end up in your way on a trail, and a broken or damaged CV joint will compromise any ride. So, obviously, it's a good protection that takes away a lot of trouble.
The electronic power steering is a pure gem on this vehicle, just like the Yamaha name. Its feedback is positive, and it is one of the best-balanced power steering system on the market. In fact, the steering assist is very effective, and it also helps to properly feel the trail, without being excessive.
The aestheticism of the Grizzly makes it impossible to deny its origins. At first sight, most people would instantly guess it's a Yamaha. Its shapes have evolved over the years, but designers have kept the small catchy look, especially this year with the new Electric Blue color.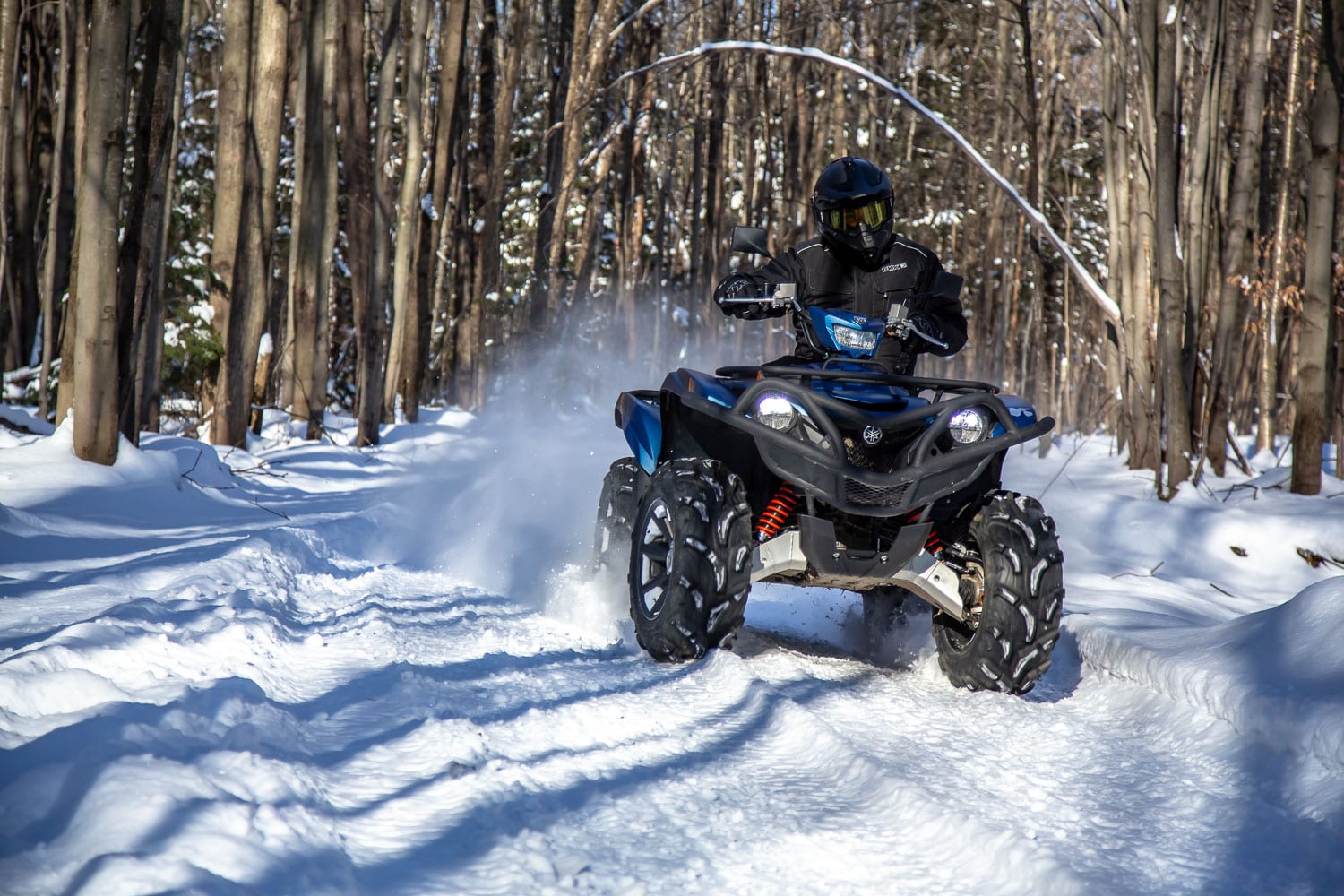 As for the storage, Yamaha has known that are perpetuated on the 2019model. The rear trunk is an atrocity in its design, in my humble opinion. It is of acceptable size, but you will not be able to house objects with peace of mind. This trunk is not waterproof to counter dust, water, snow or mud. It's a shame, because it would have taken small efforts from Yamaha's designers to make it hermetic. Thankfully, a space in the right front fender can shelter all valuables; they will be well protected by the waterproof cover.
One thing that I love: the handlebar directional headlight allows visibility at all times and allows us to see exactly where we want to go. This is a very simple addition that should be considered by all ATV manufacturers.
Does it pass the test?
In the past, I thought I had tried the best Grizzly it was possible to test to date. In fact, I was wrong. Yamaha pushed the boundaries of what I once thought almost impossible to achieve.
The Grizzly 2019 is not one of those heavyweight ATVs, but it is possibly one of its many advantages. Its weight and dimensions being smaller, the Grizzly allows us to perform technical achievements that some other ATVs cannot do.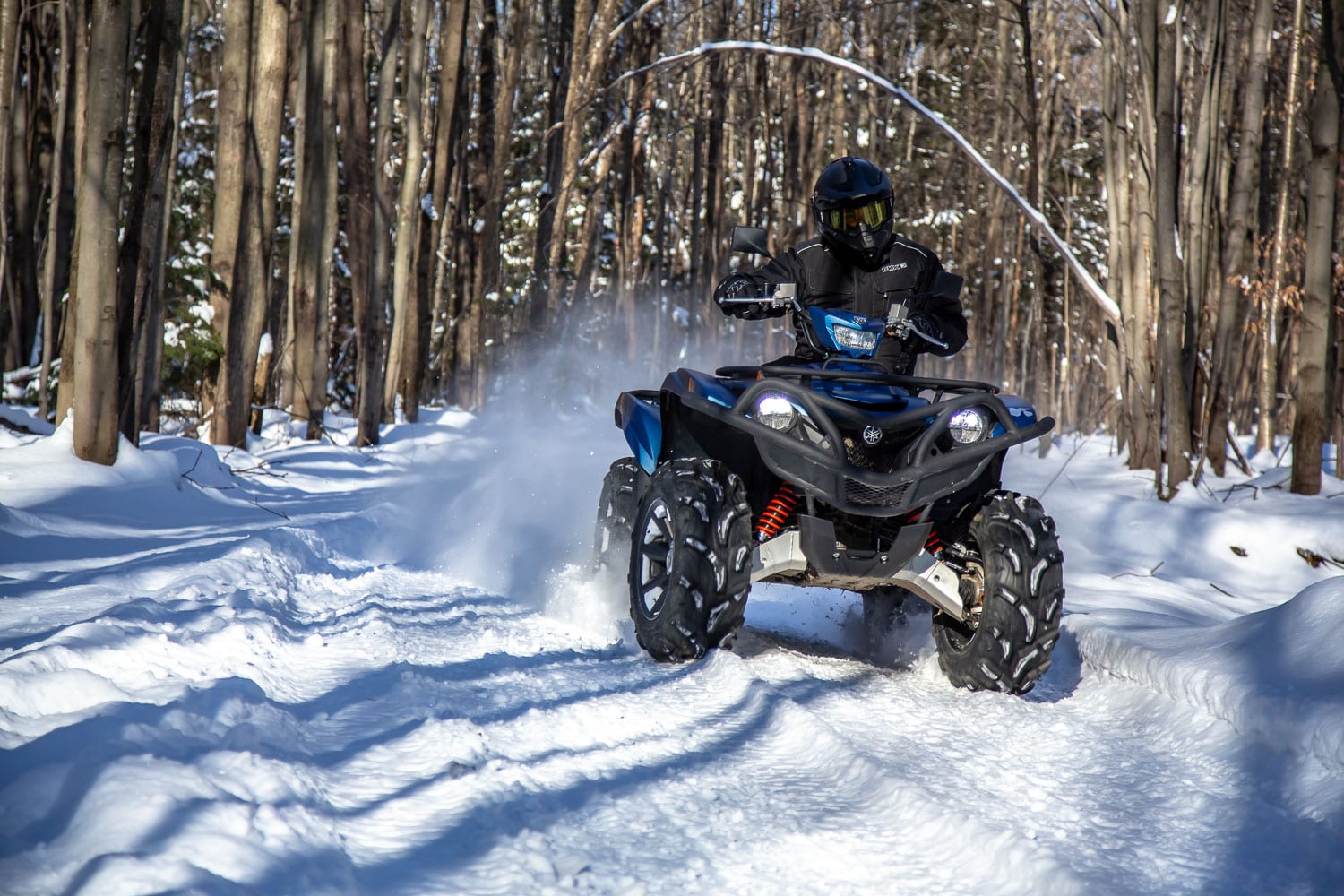 This makes me think of my debut aboard an ATV. What attracted me at the time was the maneuverability and the possibility of being able to extricate oneself from an unfortunate situation by mere human force. This is exactly what we find with the Yamaha Grizzly: a vehicle that reminds us of what were the first ATVs but equipped with today's technology and a renewed aestheticism.
I already participated, with the previous Grizzly version, in a comparative test among single-cylinder 1-seat ATVs, and the Grizzly won the competition hands down. At this time, I had three similar ATVs available from three different manufacturers that allowed me to switch from one to the other. It was disconcertingly obvious how the Grizzly was my favorite in every aspect. It was fast, had a great look, and offered great engine performance and maneuverability. The Grizzly was undeniably the king in every way. I think it has not lost anything and despite the changes it has undergone, the Grizzly continues its strong domination with a head start in its respective category. To my greatest delight the renewed version has lost none of its charisma.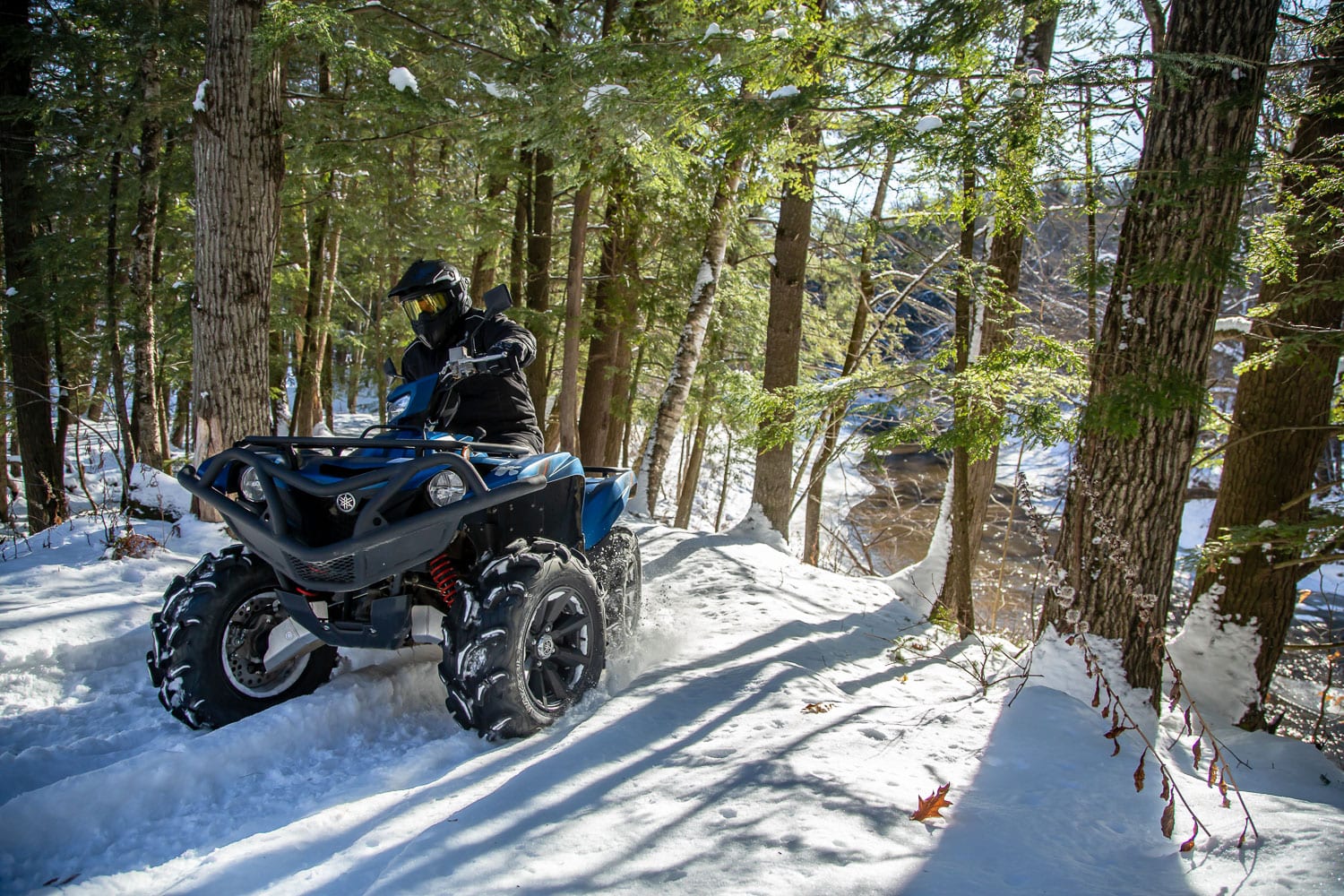 One of the things that amazed us in the first few laps is the low turning radius of the front wheels. It allows us to perform maneuvers that many other ATVs cannot perform in tight trails. Usually, we would need to do several back-and-forth movements to get us out of a situation, but the Yamaha Grizzly gets easily away from this problem, thanks to its low turning radius. This is a great advantage!
Its overall construction and the combination of all the other elements make the Yamaha Grizzly a fun vehicle to drive. And it fits us like a glove. We can afford a sporty conduct with a feeling of confidence.
If you seek an ATV for work, I recommend the Yamaha Kodiak, but if your goal is mainly recreational, the Yamaha Grizzly will be your ally. Its soul and DNA make it a vehicle that will never let you down, no matter the situation. In the end, I think that what makes this vehicle famous is the nostalgia it recreates each time we ride it. The owners of this model will tell you, to try it is to adopt it!