The name CFMOTO has been unleashing passions for years now. There are many die-hard fans of this brand and their consumer base grows year after year. But despite this, several questions are constantly brought to us concerning this manufacturer.
Even though the number of CFMOTO vehicles that we see on the trails is constantly increasing and many of them are also used in a utilitarian way, some users remain skeptical about the idea of turning to a machine of this brand. Does the past bad reputation follow CFMOTO like its shadow and mean that the company has to work twice as hard to erase this part of its history? Well, probably, and to tell you the truth, we are seeing an upward trend from CFMOTO that is unlike any other manufacturer in the industry right now.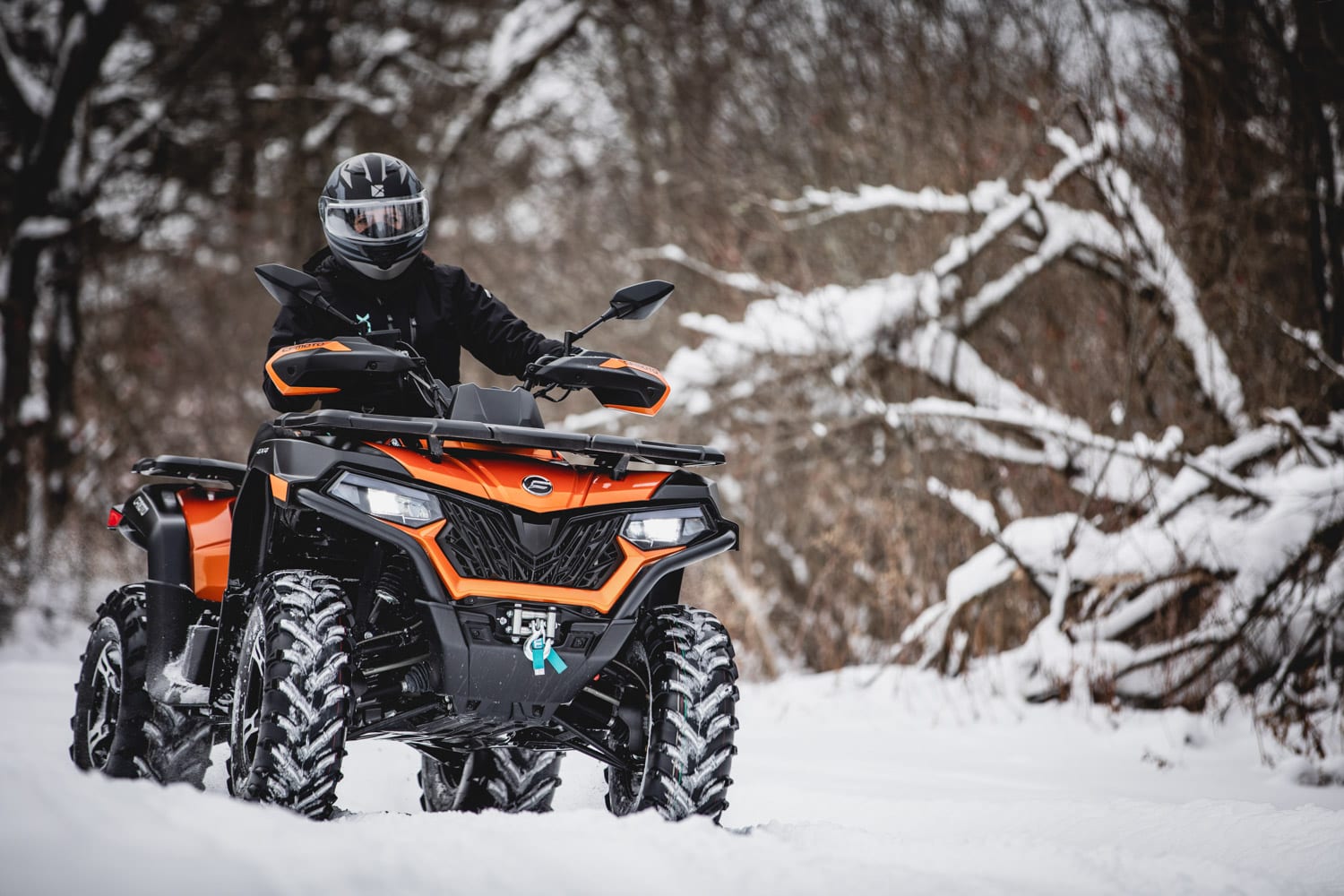 So, in a way, CFMOTO has to prove beyond a doubt that it delivers products that live up to expectations, and works hard with firm determination to wipe away hypothetical consumer worries. The manufacturer has offered several new products in recent years and we have to admit that they have shown great creativity to stand out from the crowd.
Among one of the newborns presented in early 2020, CFMOTO Canada has introduced a brand new ATV to its lineup: the CFORCE 600. The introduction of the CFORCE 600 is a serious warning to its competitors in this very popular product segment.
Our test vehicle: 2020 CFMOTO CFORCE 600 EPS Touring
To whom is it addressed?
This newcomer to CFMOTO is mainly aimed at a wide range of enthusiasts. First of all, beginners will find an ATV that is above entry-level vehicles which will give them a little extra to make them appreciate the quad activity. Second, consumers with a smaller budget will be able to get a new quad without excessively tightening their belts. Finally, regular users will be satisfied with a perfectly equipped mid-range ATV, having everything it takes to have fun on the trails.
A first glance says it all
To be honest, since the introduction of the 800XC model at CFMOTO, the aesthetic quality has improved greatly. The company now offers vehicles that do not have to be ashamed of the competition. If you come across someone who claims otherwise, I suggest you invite them to come and tell me straight in the face. You will be able to see that the list of critics will melt like snow in the sun.
Our test vehicle, the CFMOTO CFORCE 600, has benefited from a partnership with the well-known manufacturer KTM and its contribution is undoubtedly considerable. As a result, the firm Kiska Design, which is in charge of the aesthetic design for KTM and Husqvarna, has done an outstanding job to develop fluid and futuristic lines for this vehicle. We note the desire to bring the attractive qualities of these new quads to another level for the future. To complete it all, the paintwork in a glossy finish is vibrant and contrasting with the black protective body parts.
The front grille is definitely a highlight and its design probably comes from the luxury pickups we find on the market today. The grille shapes have been carefully drawn in harmony with the rich and homogeneous appearance that the designers wanted to give to this ATV. RIDEVISION LED headlights are a great feature at CFMOTO and they are standard at this manufacturer. They provide the right brightness for all desired circumstances. They have LEXAN type protection and are practically indestructible.
We were pleasantly surprised when we saw the rear part of the body. The rear lights as well as the turn signals are a real stroke of genius in terms of style. Who would have thought to see such superior elegance on a quad someday? CFMOTO has raised the bar in the design area and the competition can only bow down to such refinement and harmony.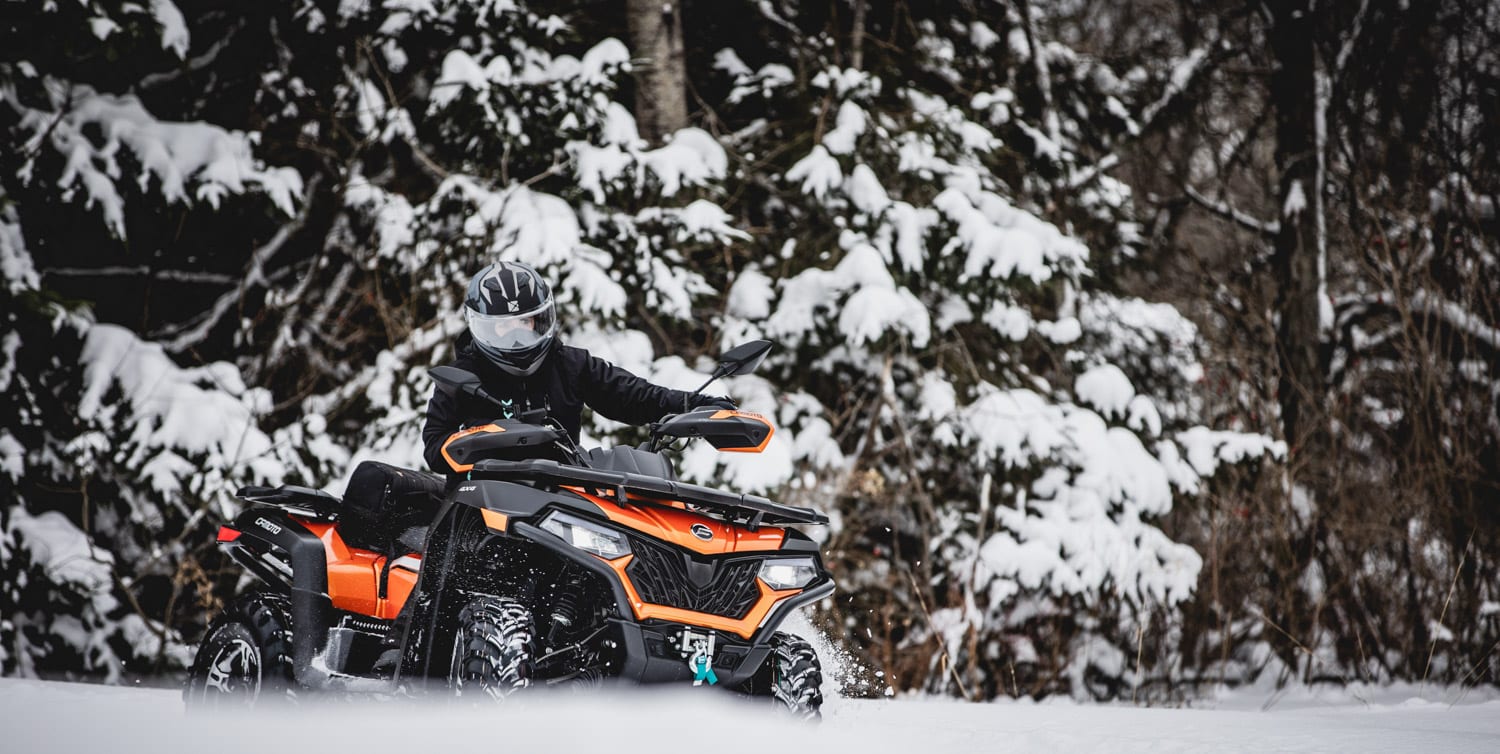 The front and rear racks dressed in thermoplastic are also supremely elegant. Unlike the painted steel luggage racks which deteriorated and losing their original glow over time, these will be durable and will keep their great finish for years to come.
The handlebars are fitted with handguards in the vehicle's colors, which give it a stylish look thanks to its homogeneous shapes. They are properly sized to protect your hands from the cold, mud, and debris that can get in your way while riding.
The pilot's footrests are more than adequate for all sizes of riders while the passenger footrests are raised and evenly molded for good protection from the elements.
The passenger seat of our vehicle, the 2020 CFMOTO CFORCE 600 EPS Touring model, is raised to allow our riding companion to get a clear view of the surrounding nature that is exposed to us. The seat height is not excessive so our partner does not have the impression that his head will drop off his shoulders during a more speedy ride. The grab handles for the passenger are very well designed and they allow different grips according to individual preferences.
New 600 cc engine
Even if it has been named 600 cc, it is rather a 580 cc engine that powers this newcomer to the CFORCE family. We're talking about a 40.2 HP single-cylinder engine here that is certainly not the bossiest on the market but still delivers good power for its class. It is important to be aware that this engine may experience vibrations when pushed to its limits. On the other hand, we must also be realistic and coherent when we acquire a vehicle in the touring category, the name says it all and we must take this into account. Even so, it is possible to have fun with the rear tires when the opportunity arises, with the approval of our touring partner, of course.
Regarding the clutch, connoisseurs are already well aware that CFMOTO uses a Quebec company in this very precise mechanical aspect. The CVTECH / CFMOTO collaboration is still in force to propel the 2020 CFMOTO CFORCE 600 EPS Touring. The CVT clutch calibration is perfectly adapted for the capabilities of the 600 engine and this combination provides smooth and progressive acceleration, to the great pleasure of the pilot and (especially) the rear passenger.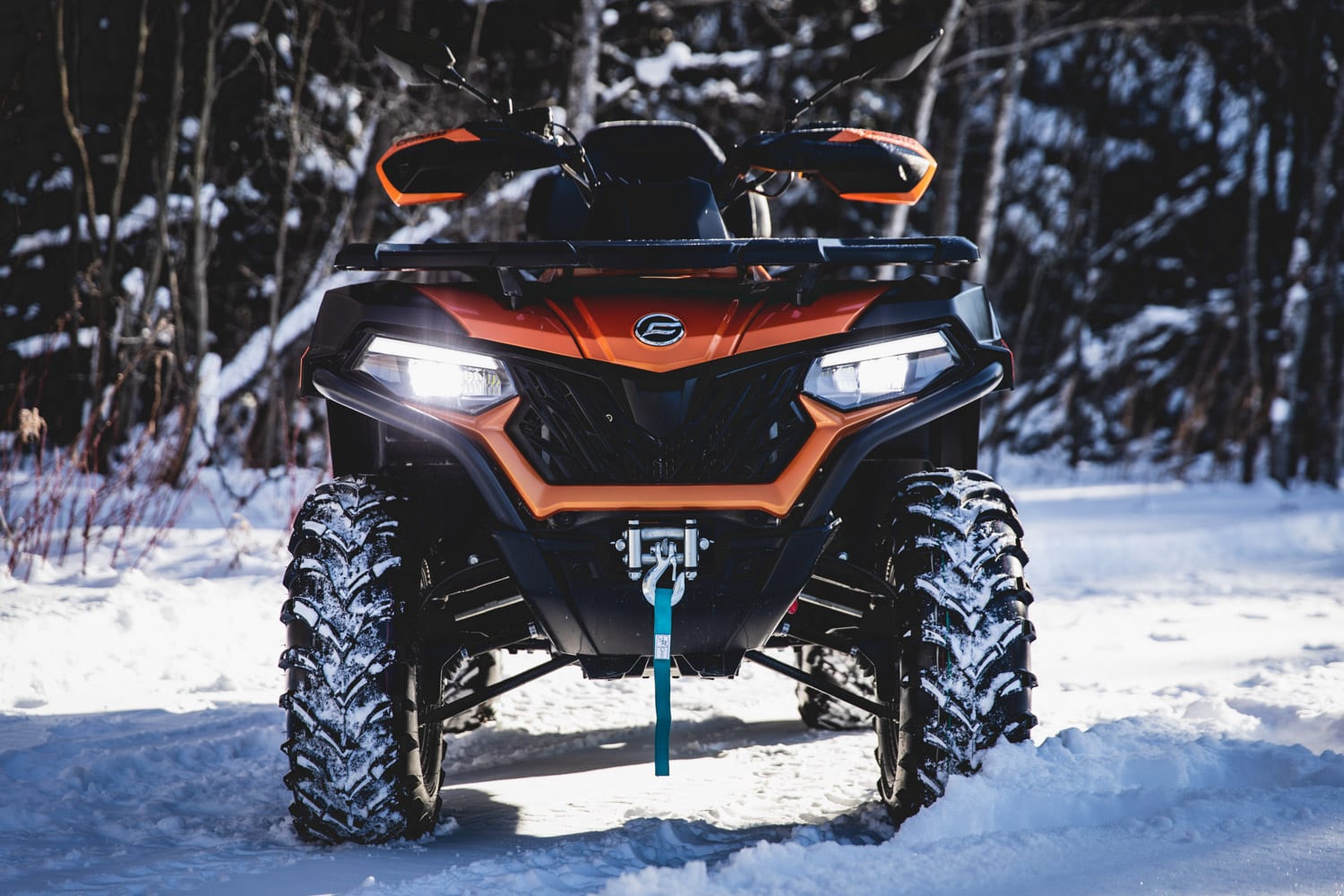 How does it behave under general conditions of use?
For its first kilometers, we decided to bring the machine for a ride at Forêt Ouareau regional park in Québec. With our 2020 CFMOTO CFORCE 600 EPS Touring ready to swallow all the conditions that our test environment had to offer, we tried, by all means, to get it out of its comfort zone. The crisp morning air was sucked in by a quite surprising engine, as we would have imagined much more timid performance for a single-cylinder of this size.
Going up each of the steep slopes that were presented to us in our playground, the available power was limited only by the other ATVs in front of us. As expected, the 2020 CFMOTO CFORCE 600 EPS Touring was very comfortable with its large plush seat. The grippy footrests kept our boots in place and the rider space was well distributed, even for a taller rider. With a full tank of gas and clear skies ahead, we knew it would be a beautiful morning.
As the day progressed quickly, we climbed the trails on the mountainside. Some narrower portions required us to put the agility side of the vehicle to the test. CFMOTO has equipped its CFORCE 600 with 5-position preload adjustable shocks allowing adjustments for a seemingly better and more refined ride in most conditions.
As the trees started to narrow the trails, we hit some wet areas, mostly creek and drainage crossings. The large footrests kept the wet snow away and greatly helped to stay dry. The electronic power steering was more noticeable on technical spots and tight trails at low speeds. Our vehicle drove through difficult terrain with confidence and predictability which made these sections a lot of fun and were much easier to handle than having to fight with a machine that doesn't have EPS.
Overall, the 2020 CFMOTO CFORCE 600 EPS Touring has a great ride. The 580cc single-cylinder engine provides great usable power although sometimes we would have liked a little more.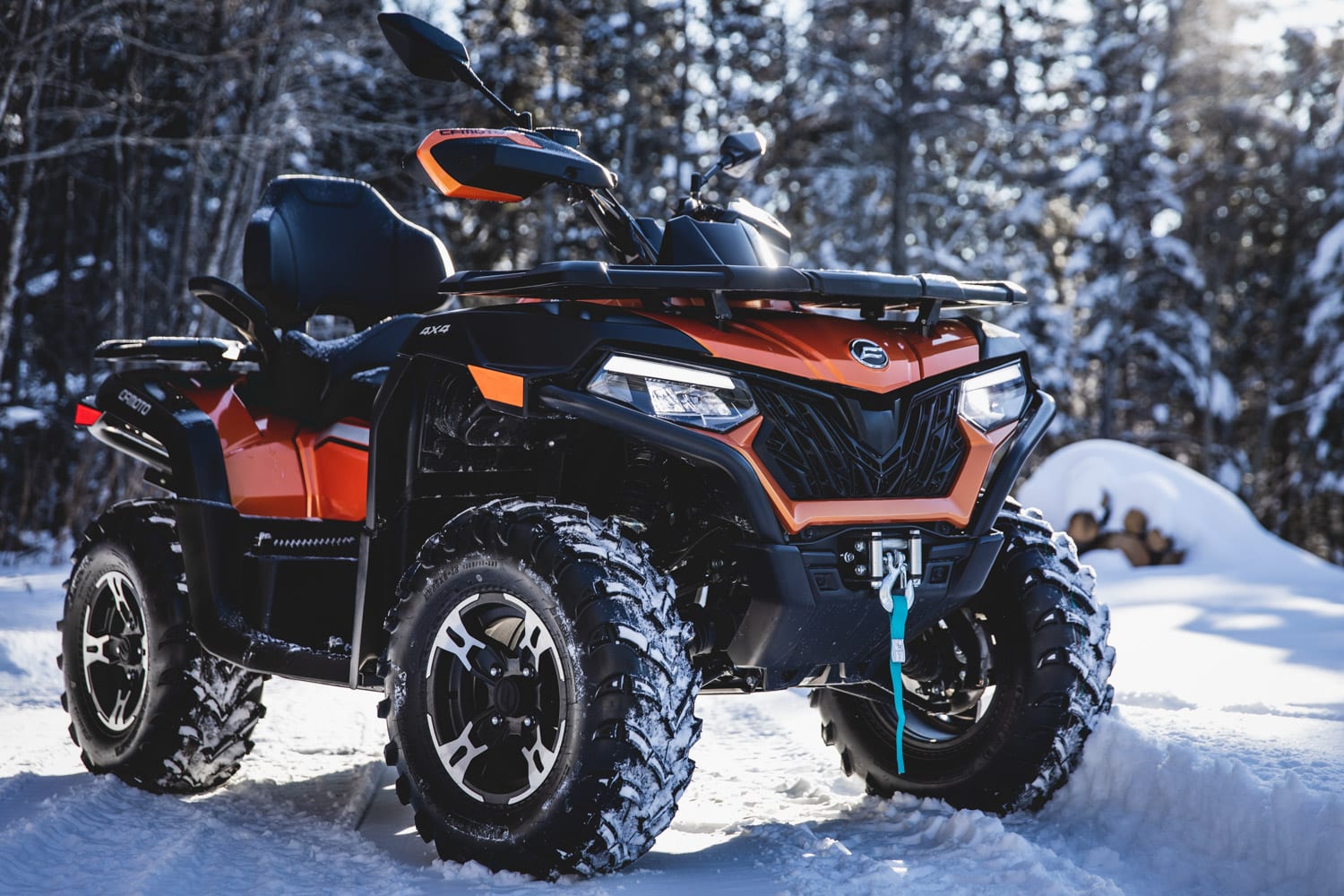 Highlights
We cannot ignore the full set of equipment for which CFMOTO is famous. This ATV is equipped standard with a 3000 lb winch which is more than enough to get this vehicle out of any embarrassing situation. It is also provided standard with a set of mirrors which is, unfortunately, not the rule among most ATV manufacturers. Its electronic power steering allows driving without any effort and it embellishes all types of riding. Its two watertight storage compartments will keep your items dry and free from contaminants. And finally, its 5-year limited warranty, unique in the industry, provides peace of mind for the customers.
The perfect machine?
Even if this ATV is more than user-friendly, the fact remains that we have found some areas for improvement. To begin with, the trunk, although very convenient, has a capacity that will be quickly reached. If you plan to carry lots of equipment during your rides, you may need to consider installing an additional trunk among the accessories available at your dealer. Next, this ATV is not equipped with cv-joint protections, so special care must be taken not to strike debris that will have the unfortunate consequence of damaging the cv-joint boots. Finally, although optional, a handlebar headlight is a very popular feature on any ATV. When installed, it illuminates at the exact spot where we perform a turning maneuver. Now, if these few improvement points seem optional to you, this ATV will suit you happily.
Finally, we must admit that CFMOTO now designs and builds vehicles of very good quality. Yes, it is a Chinese manufacturer but CFMOTO breaks the mold for products made in China that have a bad reputation. The company scrutinizes the competition very closely and is growing in popularity year after year. CFMOTO ATVs are now robust, their power and capabilities follow the trends of the most renowned brands in North America. Let it be taken for granted, this manufacturer is here to stay and will surely grow in the future.