This is the continuation of a story of which you can read the beginning HERE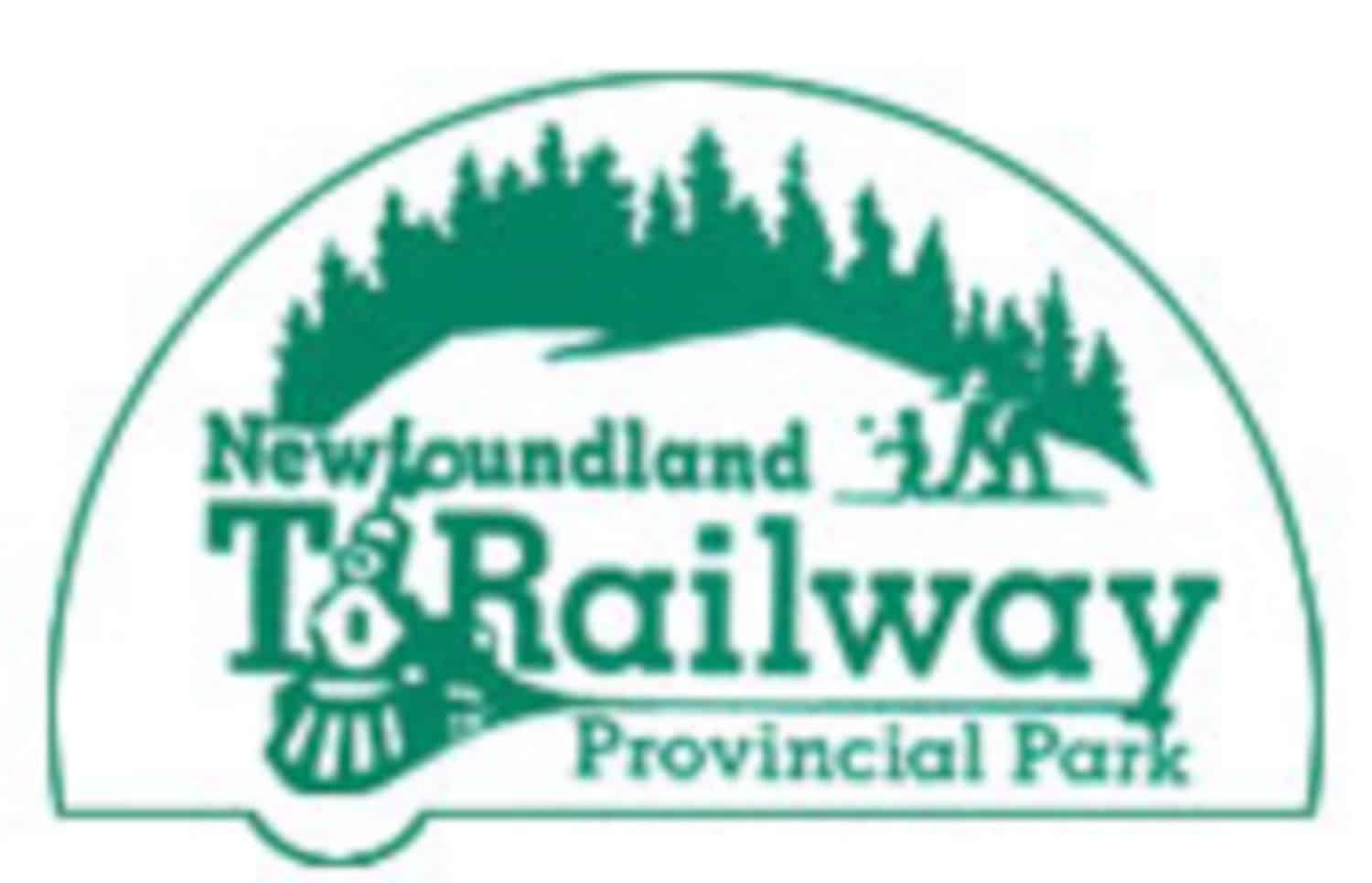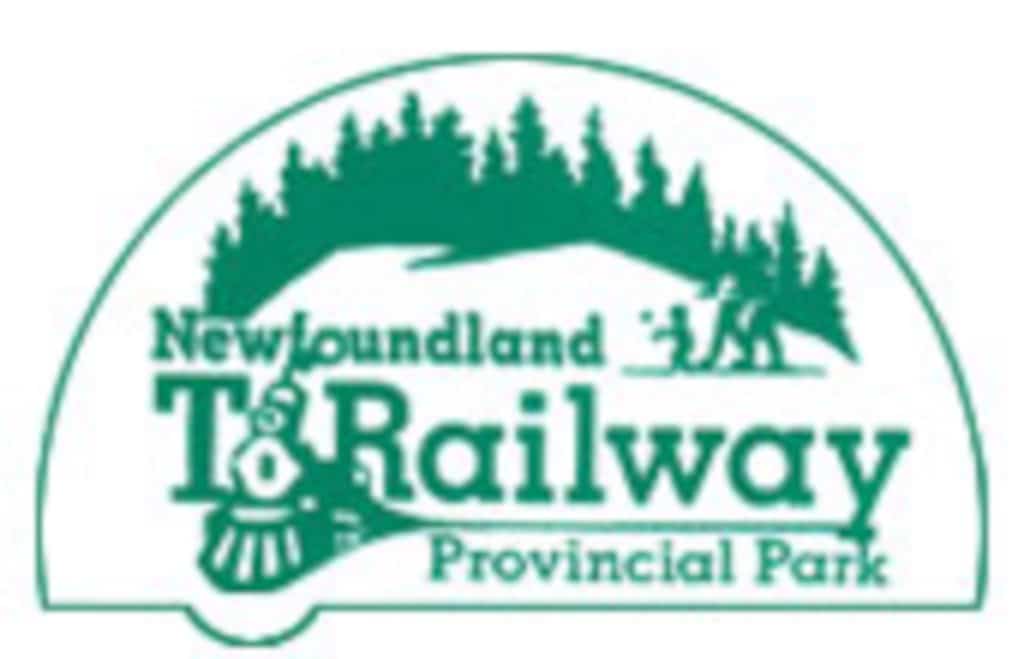 September 8: Badger to Lomond River Lodge
Cold morning with a light rain. The path is narrow, there are many shrubs on either side. It's almost impossible to cross paths if a ATV rider is coming from the opposite direction without having to drive over the bushes. Unfortunately, when crossing Gaff Topsail, we were in the clouds, we couldn't see much. In addition, in this place, you can go to the top of a mountain to have a 360 degree view.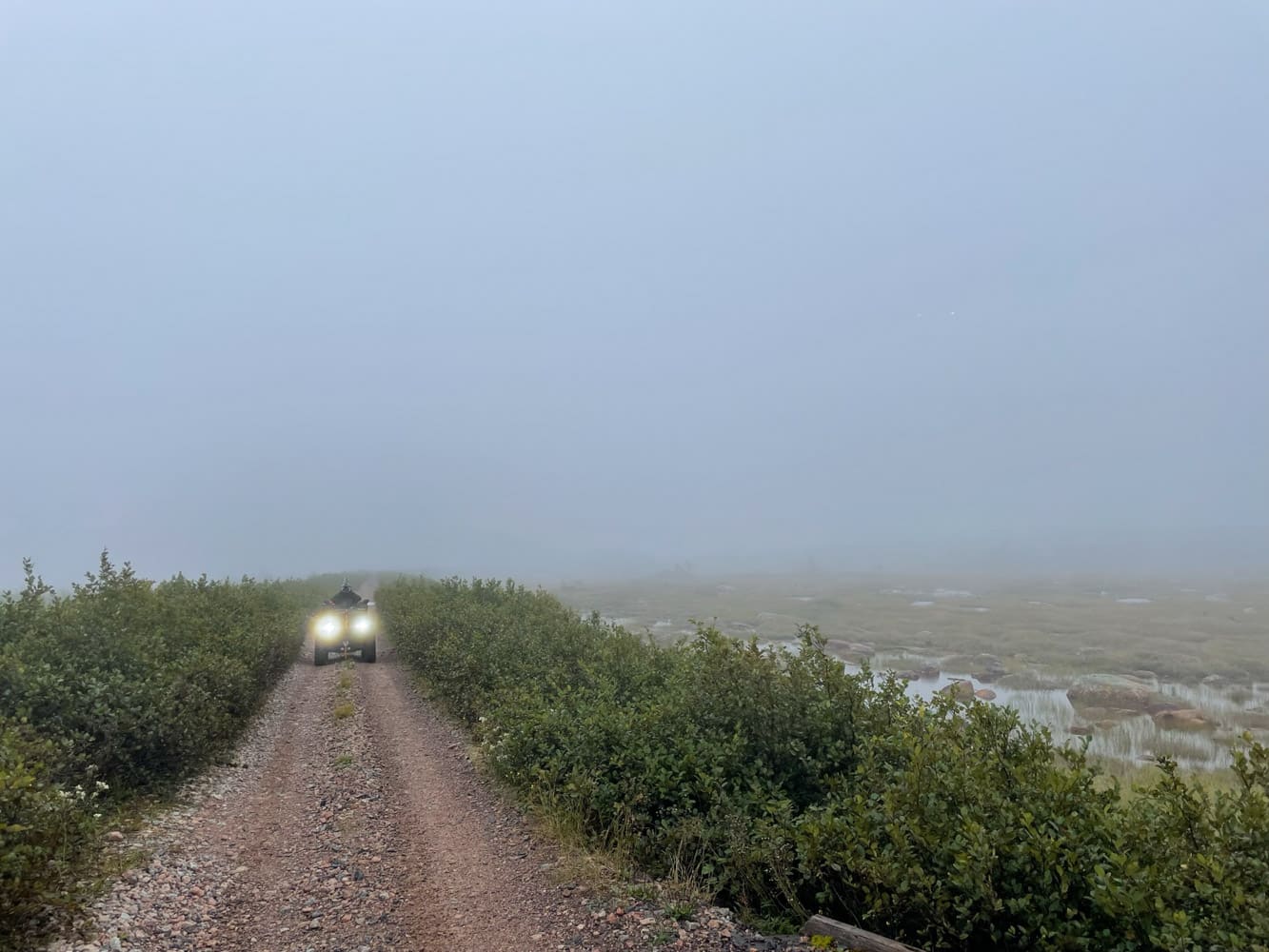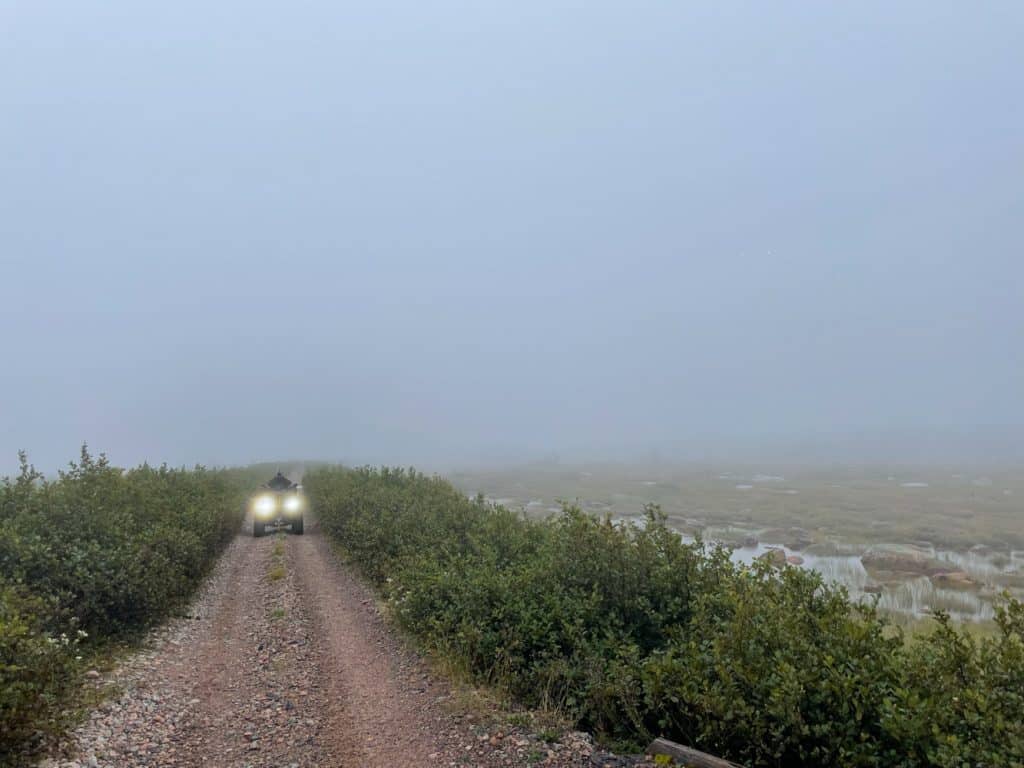 Gaff Topsail, in the clouds.
Here's a photo from 2014 to give you an idea of the environment, it's pretty special. In addition, in this place, we see erratic blocks of stone, that is to say, they were moved by glaciers. You can climb the mountain you see in the photo on a quad bike to get a beautiful 360 degree view.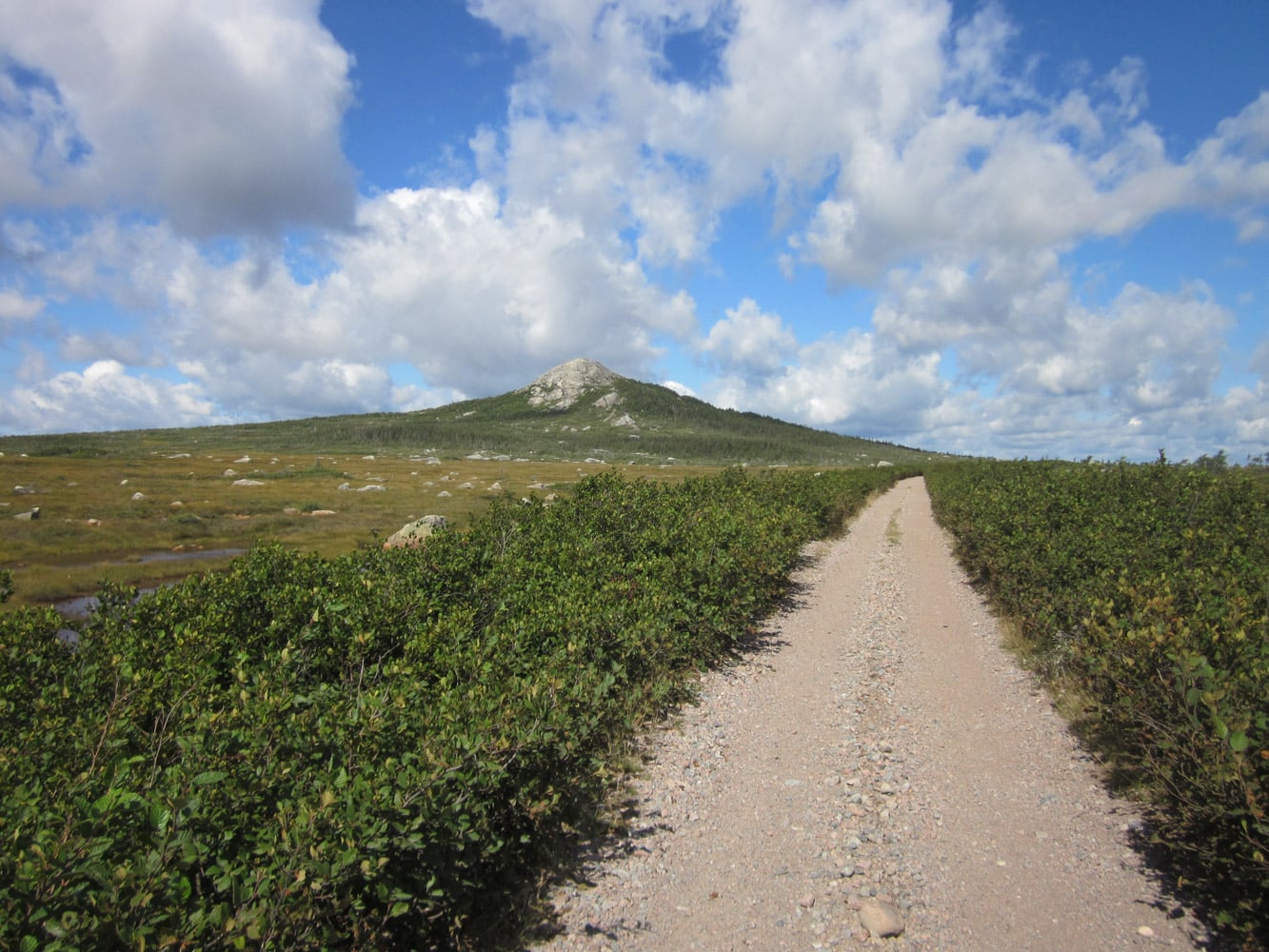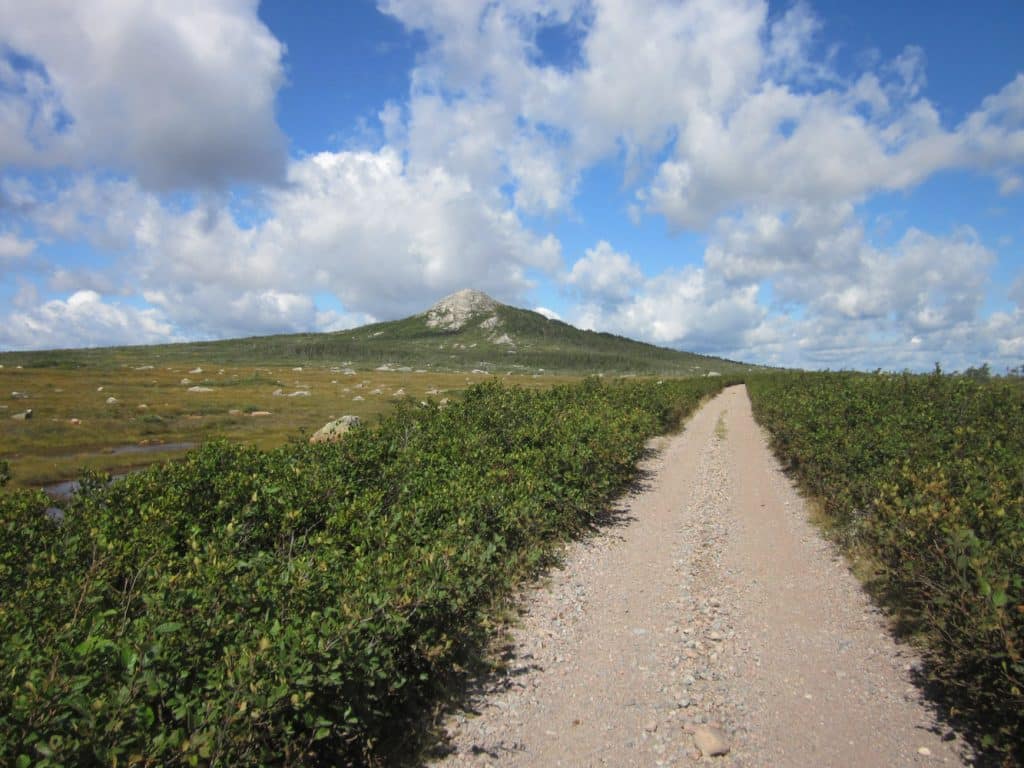 Gaff Topsail, in 2014.
The Kruger Dam
Once we reached Howley, the weather improved considerably, nice and warm. This town is known for its beaches and also for the introduction of moose to Newfoundland in 1904. In fact, there were no moose in this territory before that.
Just before arriving at Deer Lake, we come across a large Kruger dam, 225 meters long and 23 meters high. It was built almost 100 years ago and holds more than eight million cubic meters of water from the Great Lake. We cannot pass over this structure for safety reasons, but it is possible to pass in front of it. As we descended towards the dry riverbed, we saw signs that mentioned that the floodgates could open at any time without warning. To be honest with you, when we saw this, we stopped and listened to see if they were opening. It's better to be too careful than not enough!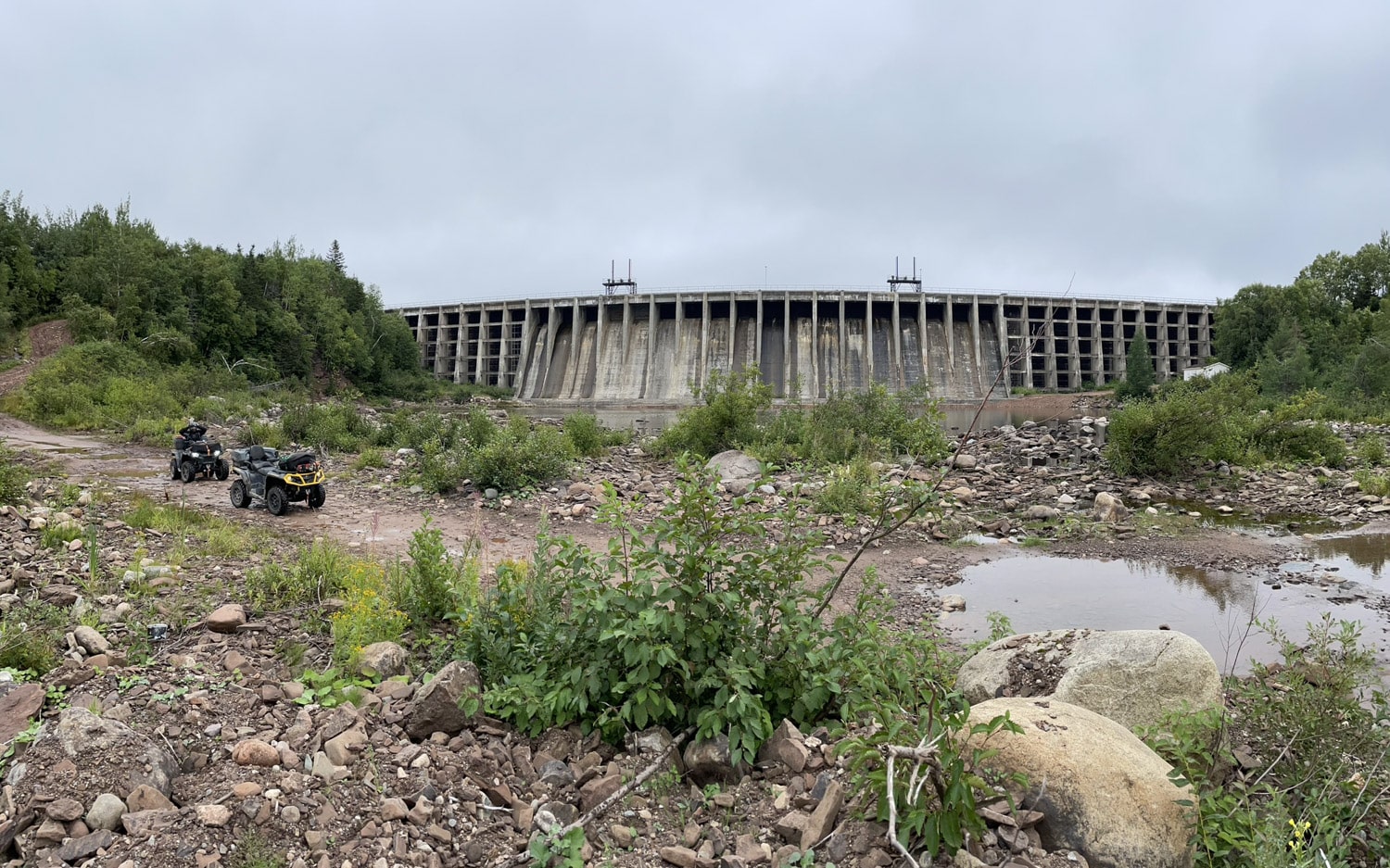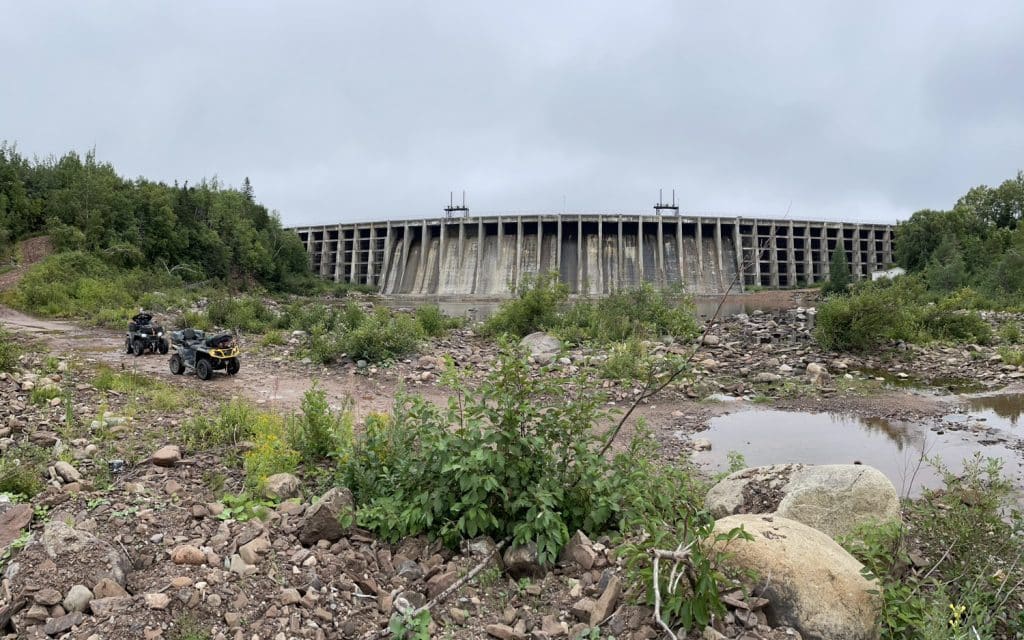 Kruger Dam, Deer Lake.
We stop at Deer Lake for a nice dinner. Afterwards, we head to Lomond River Lodge. The landscape changes drastically, geologically speaking, we are in the western area of Newfoundland, or "Humber". Its greatest characteristic is the presence of numerous mountains. They are formed from the ocean floor due to the movements and collisions of continents millions of years ago.
Just on the way out of Deer Lake, the zipper on Julie's Klim coat decides to fail. It is the only coat against wind and rain. No matter how hard we try to repair the cursor, it's a wasted effort. We decide to take a contractor grade garbage bag out of our survival kit to help out in the meantime.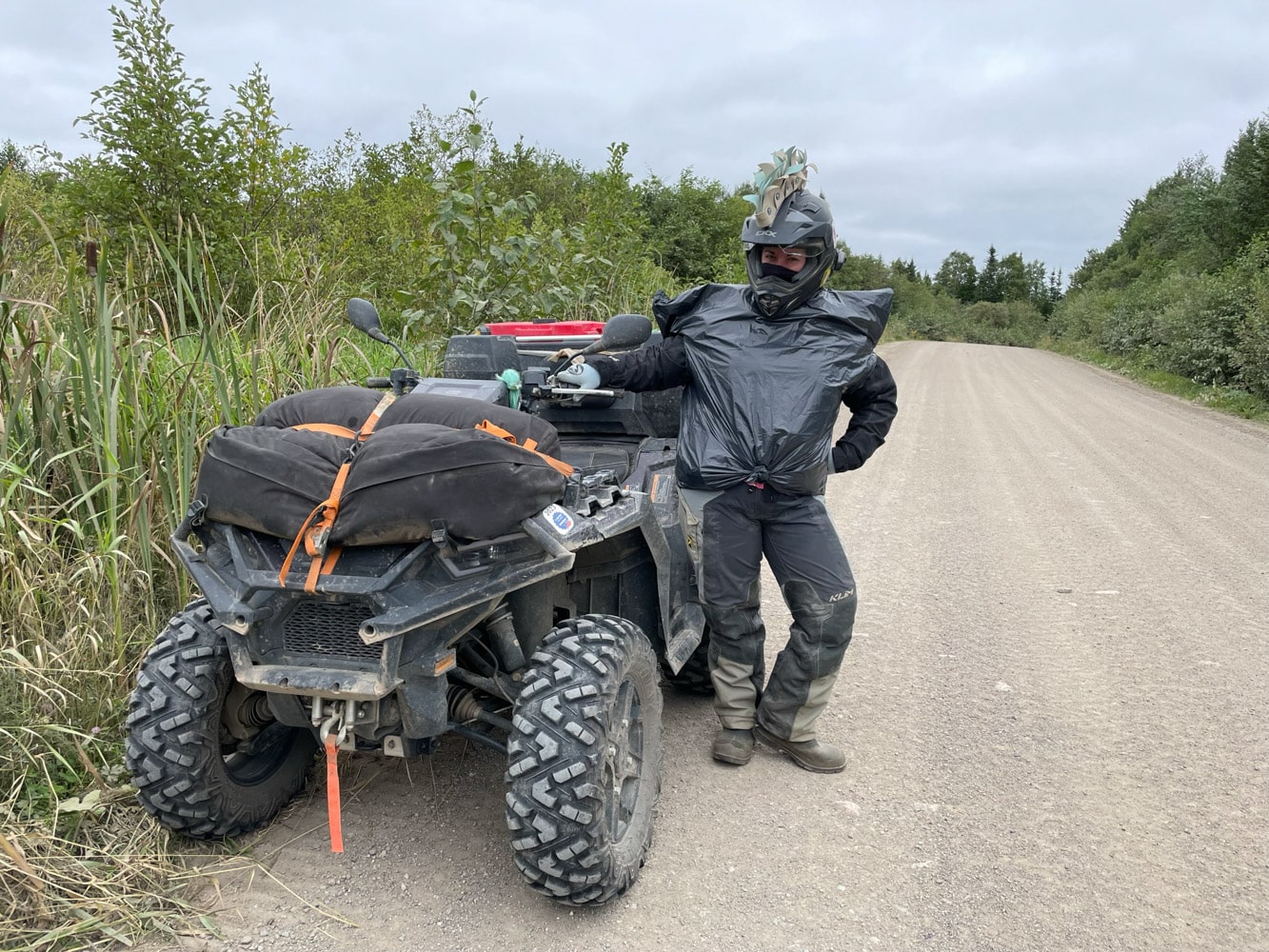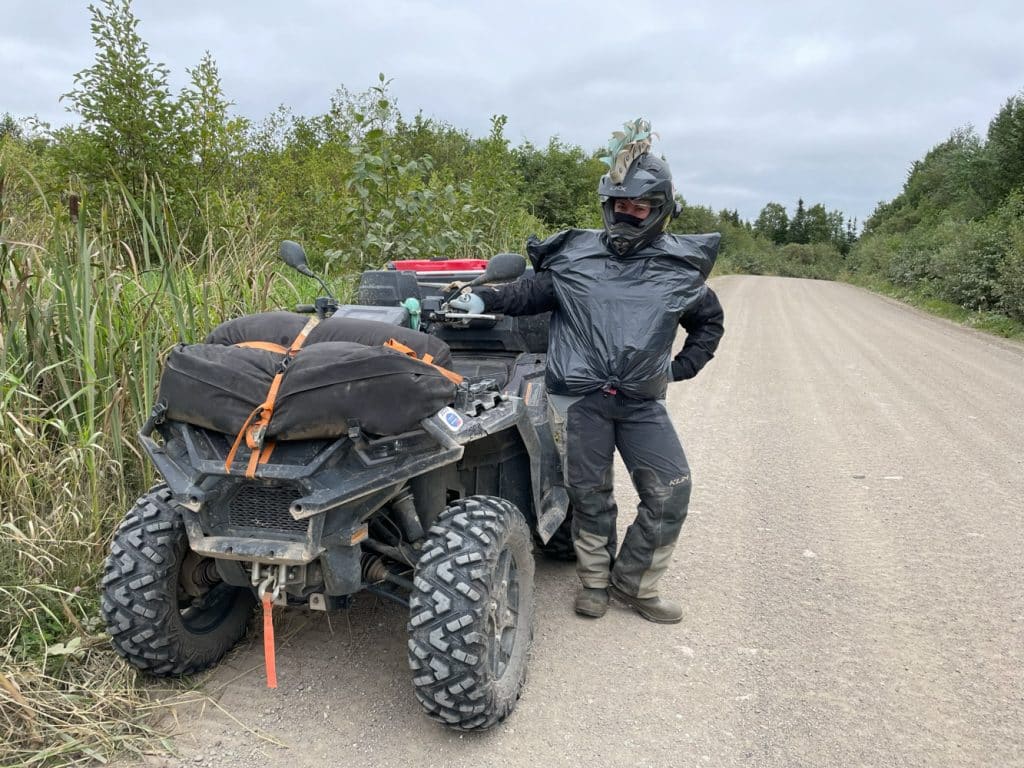 Julie and her "new" waterproof coat.
September 9: Lomond River Lodge to Corner Brook
It is the shortest circuit of the trip but also, once again, one of the most scenic. In the morning, around 7 a.m., the weather forecast predicts intense rain for two hours, 4 mm per hour. We decide to stay at the chalet and listen to a film until 9 a.m., while waiting for the torrential rain to pass.
We take part of the same route as we took the previous day and then head towards Corner Brook. One thing intrigued us: we came across a lot of vans on the forest roads. After passing yet another van, I stop it and ask the driver: "are we in hunting season? " He replied in the affirmative and that it was the first day. Oops! I ask him if it's okay for us to travel by ATV and he tells us that there is no problem, no path is closed during this period.
We are reassured, we continue on our way. Further on, I decide to leave the forest path to go see the viewpoint at the top of a mountain. When we got there, we came across a hunter. I ask him if it's okay if we're there and he answers in the affirmative. In fact, to my surprise, he even invites us to his camp nearby to warm up. I'm not sure I would have had the same reaction in Quebec.
We head to Cox's Cove for dinner and will see several beautiful viewpoints in this area: Goose Arm, Old Man's Pond, Frenchman Pond, Cox's Cove Waterfall, etc.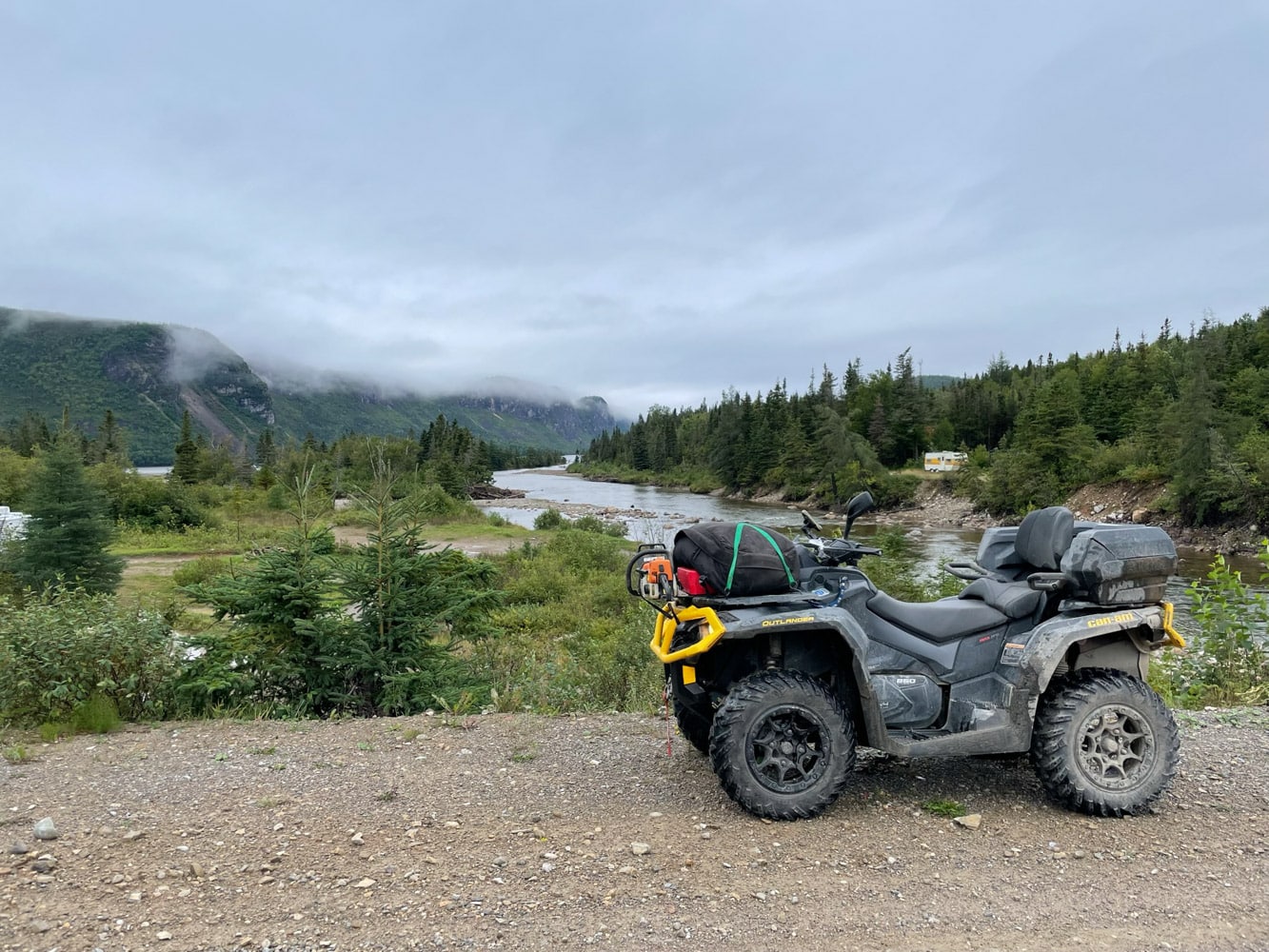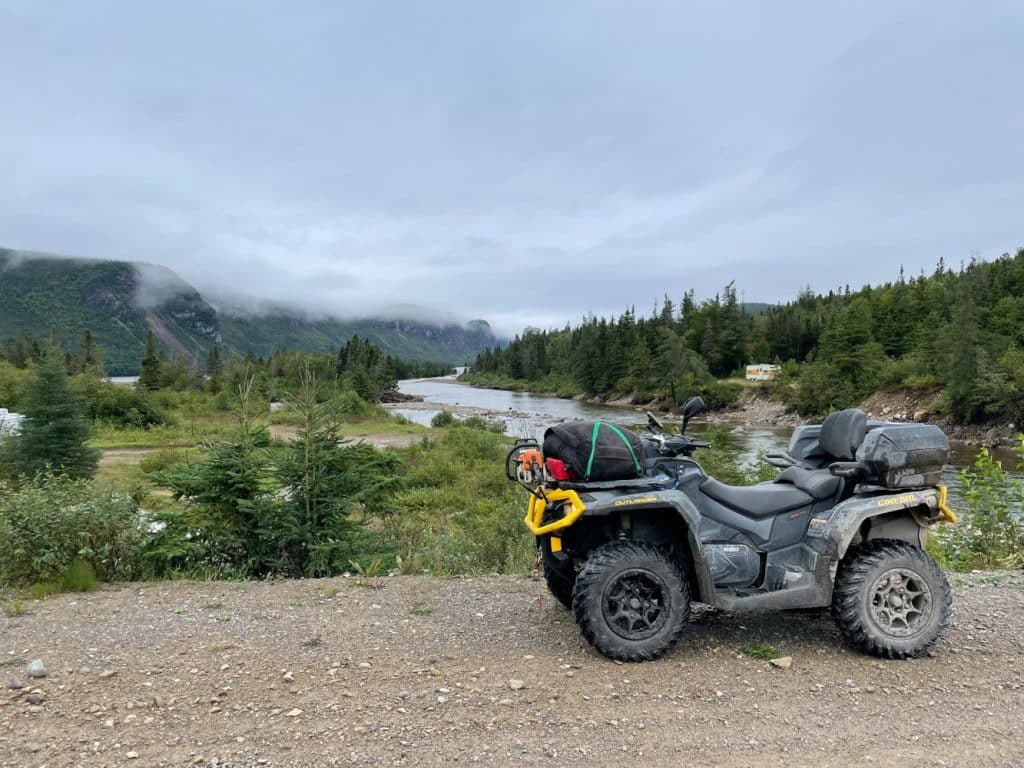 Goose Arm Brook, between Lomond and Cox's Cove.
After dinner, we continue our visit to the other viewpoints. We arrived in Corner Brook around 3 p.m. Once there, we head straight to the Rossy store to buy a raincoat for Julie before going to the motel.
September 10: Corner Brook to Robinson's
A beautiful day is ahead, cloudy with a few breaks of sunshine.
We leave Corner Brook to go to Serpentine Lake. We have to leave the T'Railway for this, it is an old forest road which is relatively well maintained. It's a very beautiful place to see.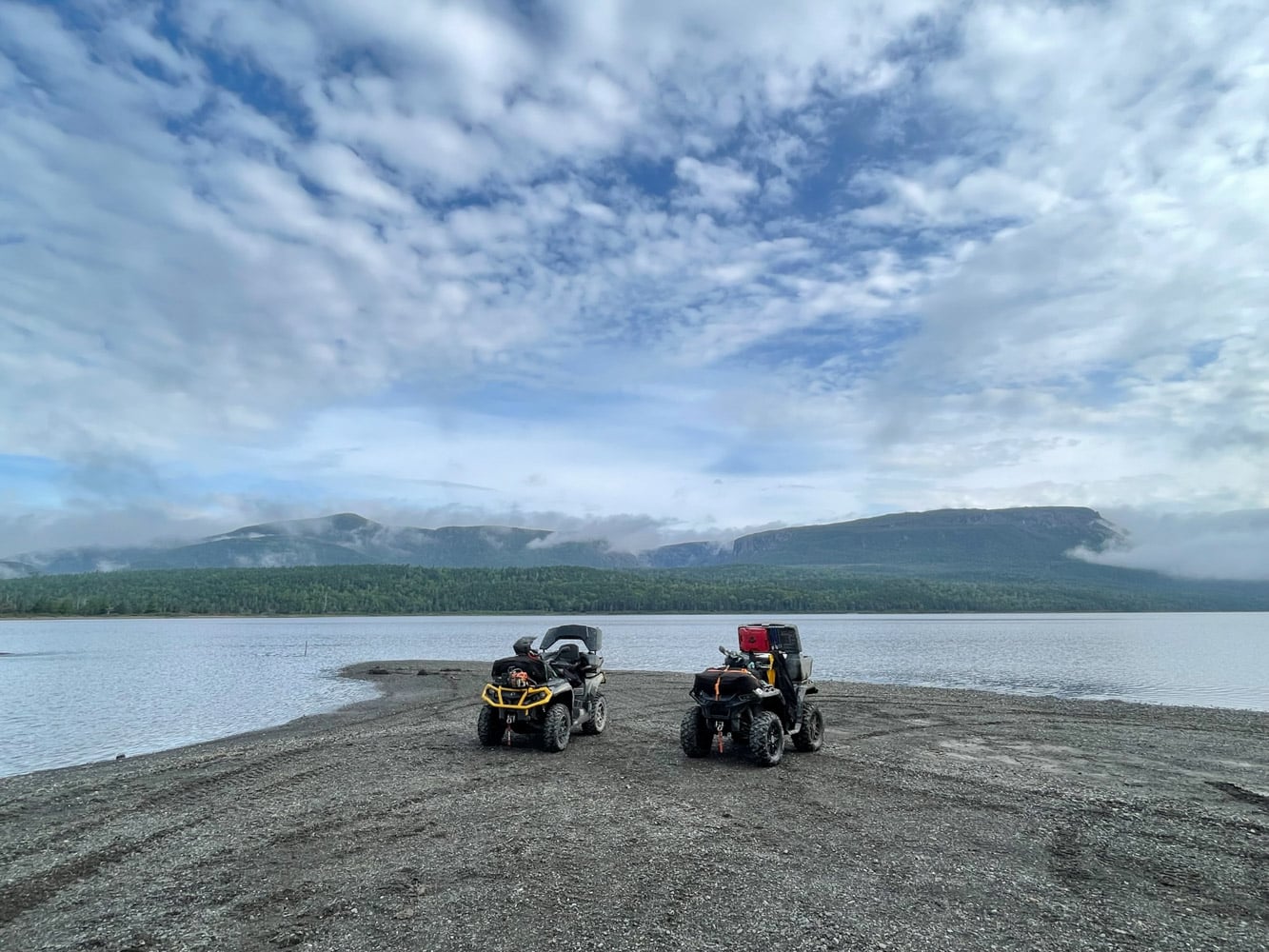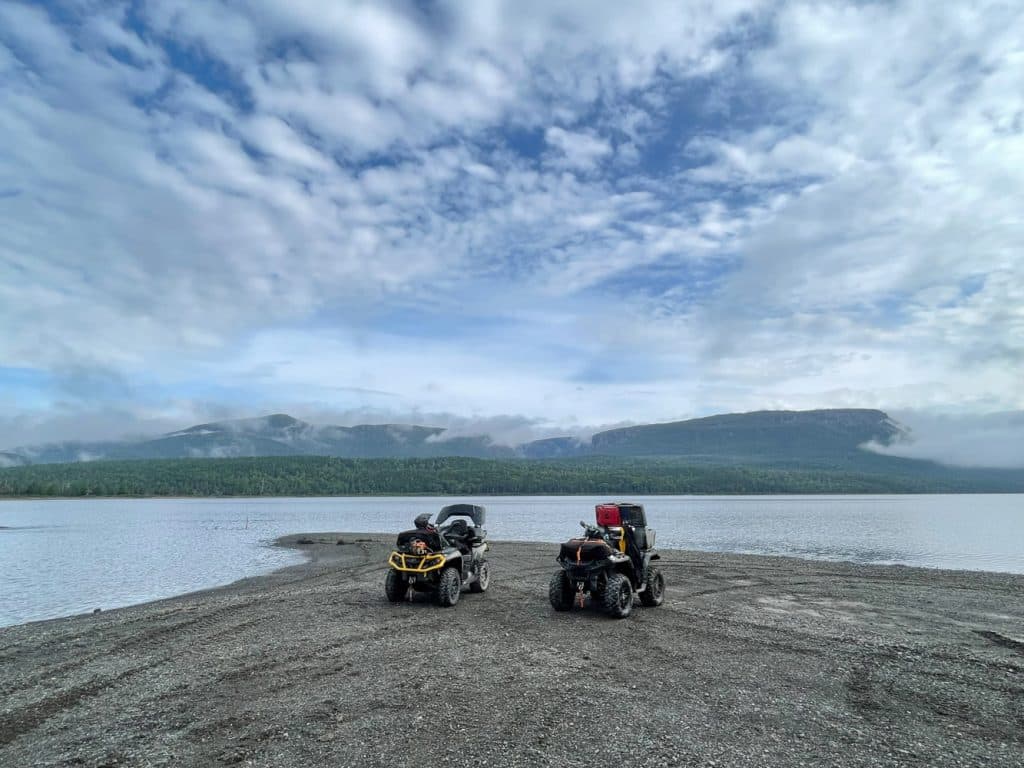 Serpentine Lake.
Then, we take a break on the shores of Lake George as well as on the beautiful beaches in Stephenville. The final section of the trail is more difficult, between Fischell's Bridge and Robinson's. Lots of valleys and water holes.
Finally, we arrive at the campsite and cabins to spend the night at Robinson's.
After dinner, we decide to go watch the sunset by the ocean.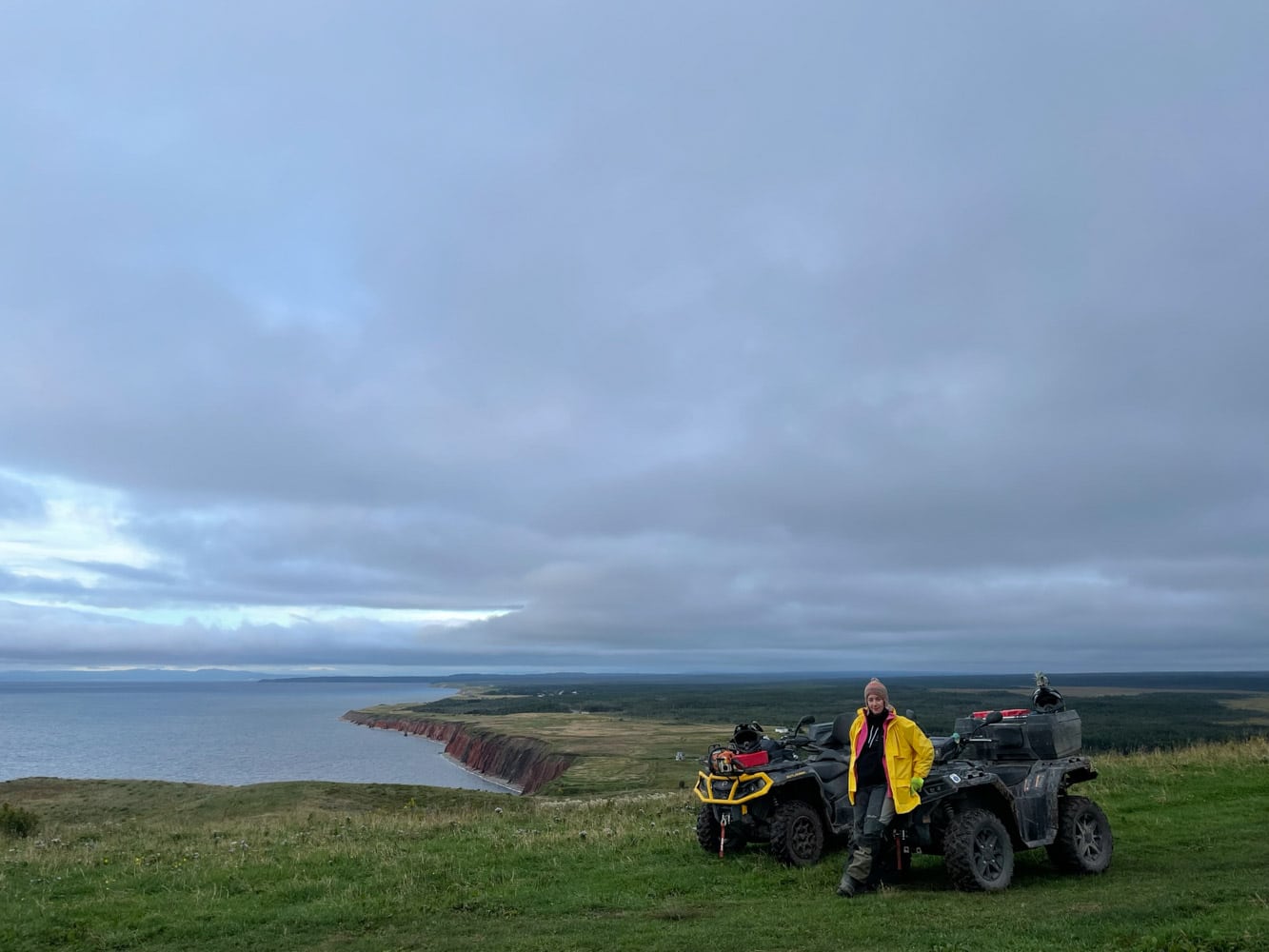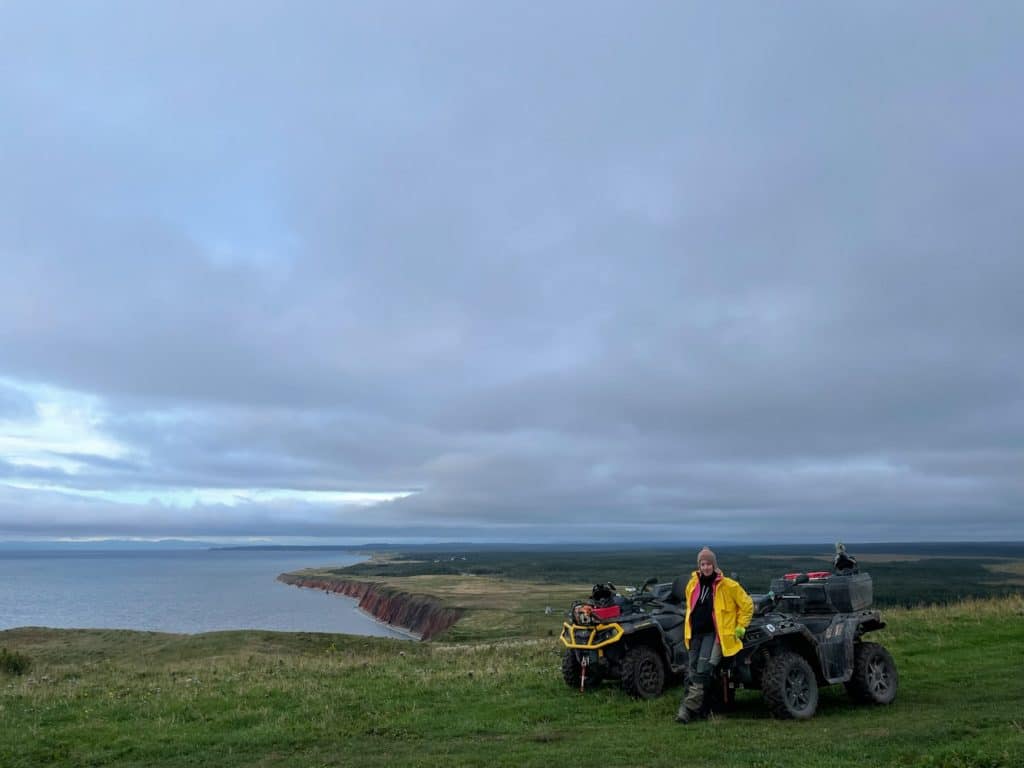 Observation of the sunset, on the edge of the ocean, at Robinson's.
September 11, from Robinson's to Port-aux-Basques
It's the last day before arriving at the ferry in Port-aux-Basques. We booked for 11:30 p.m., so we had plenty of time to do the last section of the trail.
In the morning, beautiful sunshine with a few clouds. The light rain arrived around 11 a.m. and did not stop all day; despite everything, the clouds were high, which allowed us to admire the landscapes in the distance. From Robinson's to Codroy Pond, the trail has many valleys and water holes. Afterwards, it is very beautiful.
In the corner of Coal Brook, we climb the trail that leads to the mountains called "Long Range Mountains". They are part of the Appalachian mountain range. Once at the summit, it's truly beautiful, a 360 degree view.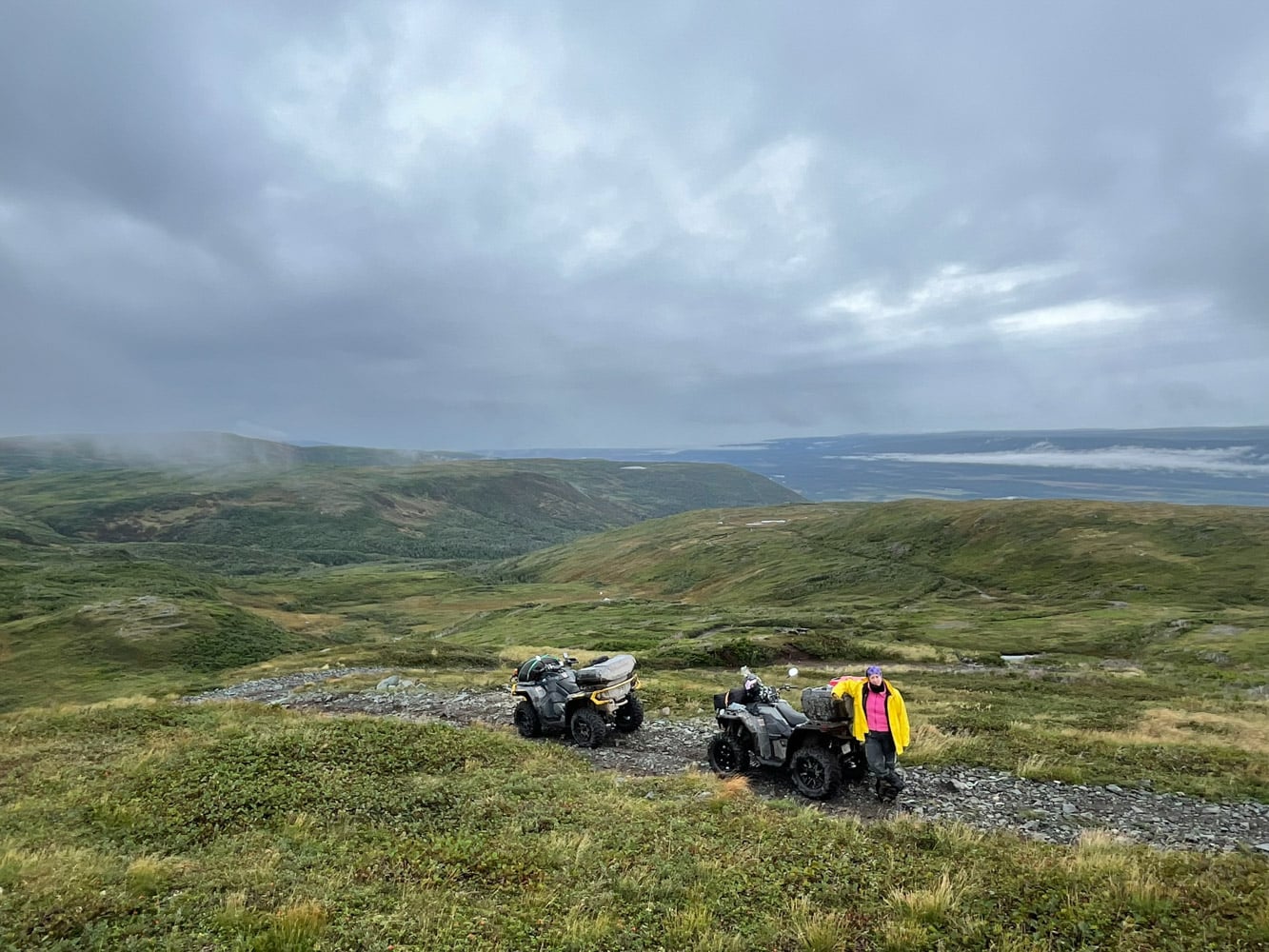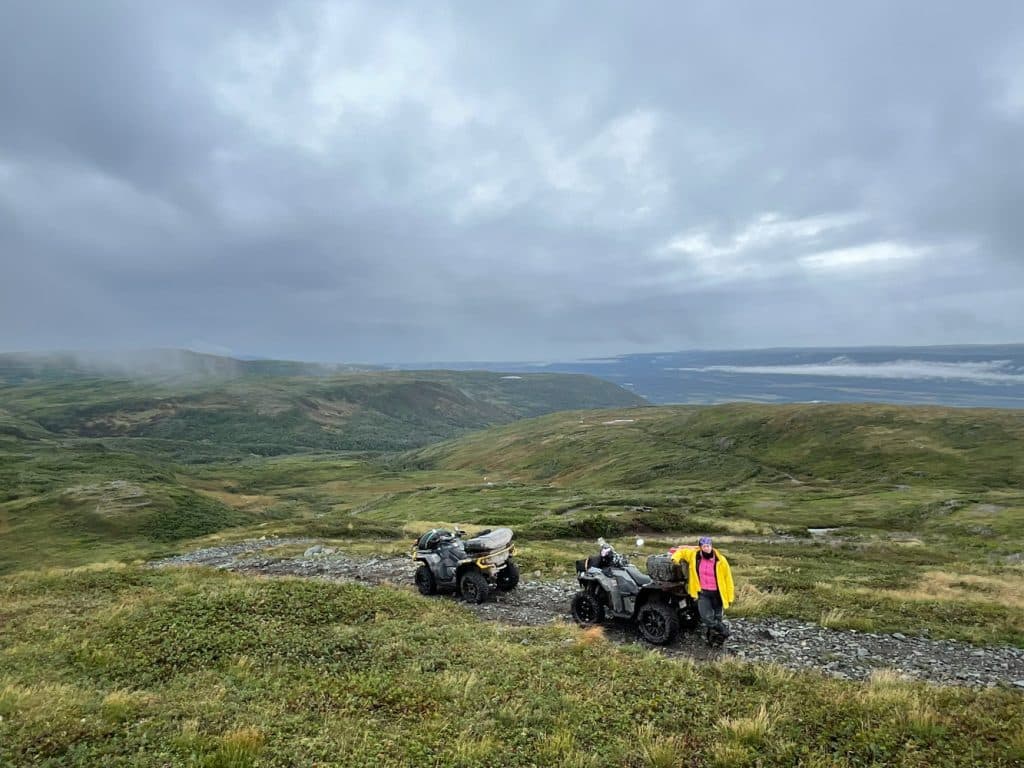 Summit of a mountain which is part of the "Long Range Mountains".
We go back down to join the T'Railway. A little further on, we leave it to go to dinner on the edge of Little Codroy Pond. The landscape is breathtaking! That's when the light rain started. We ate under a tree which protected us well from the downpour.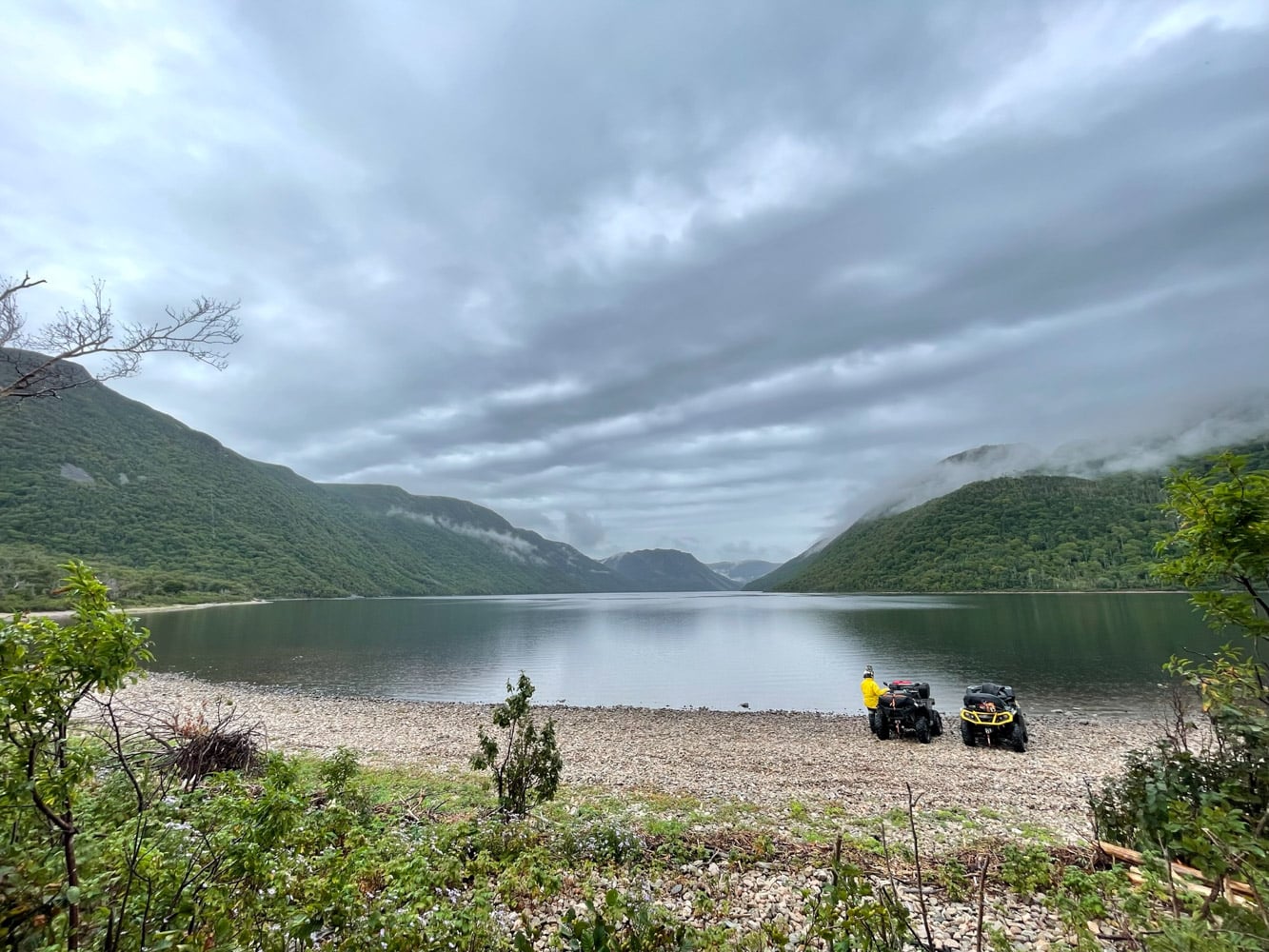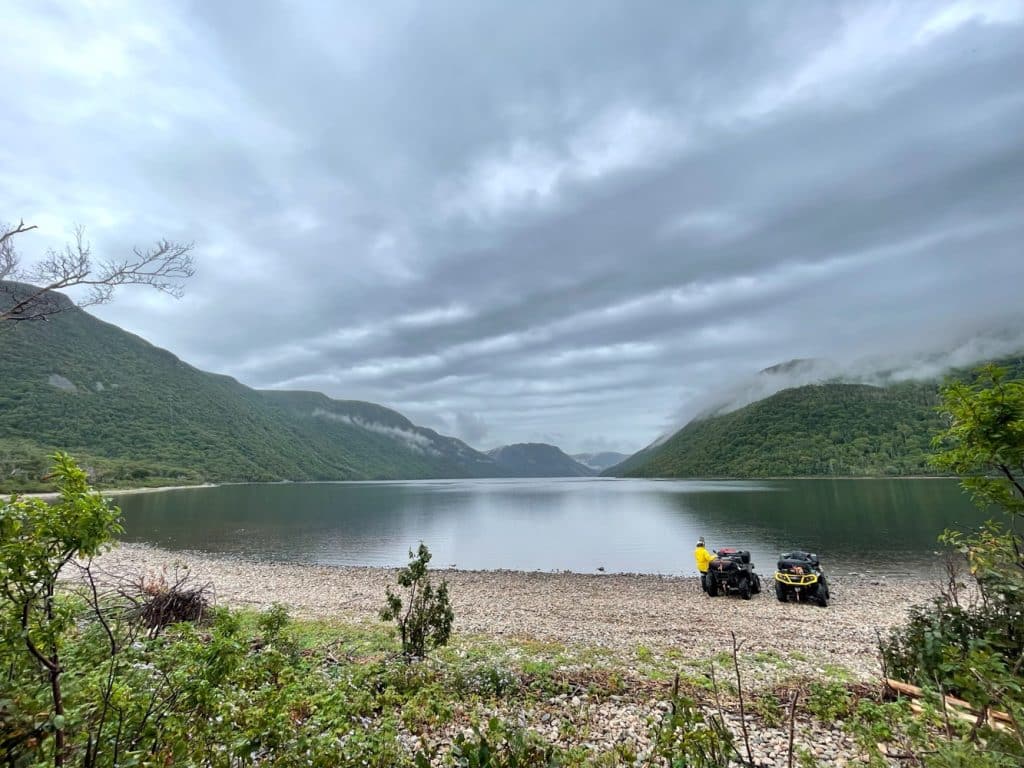 Dinner at Little Codroy Pond.
After dinner, we head to the beaches near Saint-Andrew's. Subsequently, we wanted to climb Mount Sugarloaf, where there is the transmission tower, but unfortunately access is blocked by rocks.
We decide to continue the path towards JT Cheeseman Provincial Park; the ground is sandy and we drive along the edge of the ocean.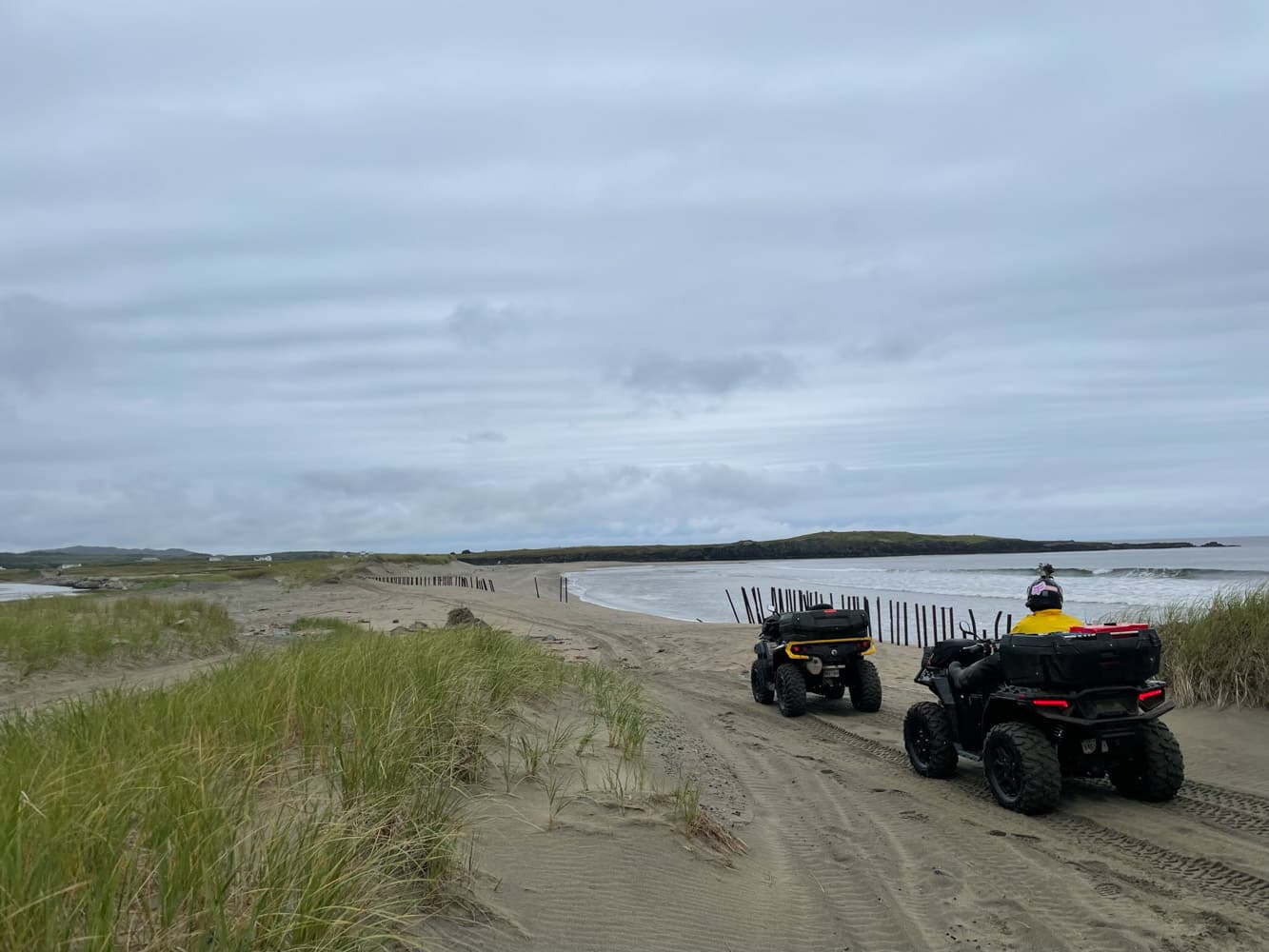 T'Railway at JT Cheeseman Provincial Park.
Soon the end of the journey
Then, there are 10 kilometers before arriving at our final destination, Port-aux-Basques, where a ferry awaits us.
We arrived at our destination around 3 p.m. We are very happy because it had been raining since 11 a.m., so we took a break by enjoying a good soup at Tim Hortons. As we still had time, we took the opportunity to visit the city by quad before going to the ferry boarding area.
We went to the terminal to change and had dinner there. At 9:30 p.m., a signal sounded on the intercom to announce that we must board.
The ferry left the port at 11:30 p.m. We were already in our cabin and went to bed because we had a 13-hour drive the next day to return home. The crossing lasted seven hours in total.
At 7 a.m. local time, we left the ferry which docked in North Sydney to go to our vehicle. Afterwards, we loaded our mountain bikes on the trailer and at 7:45 a.m. we were already on the way home.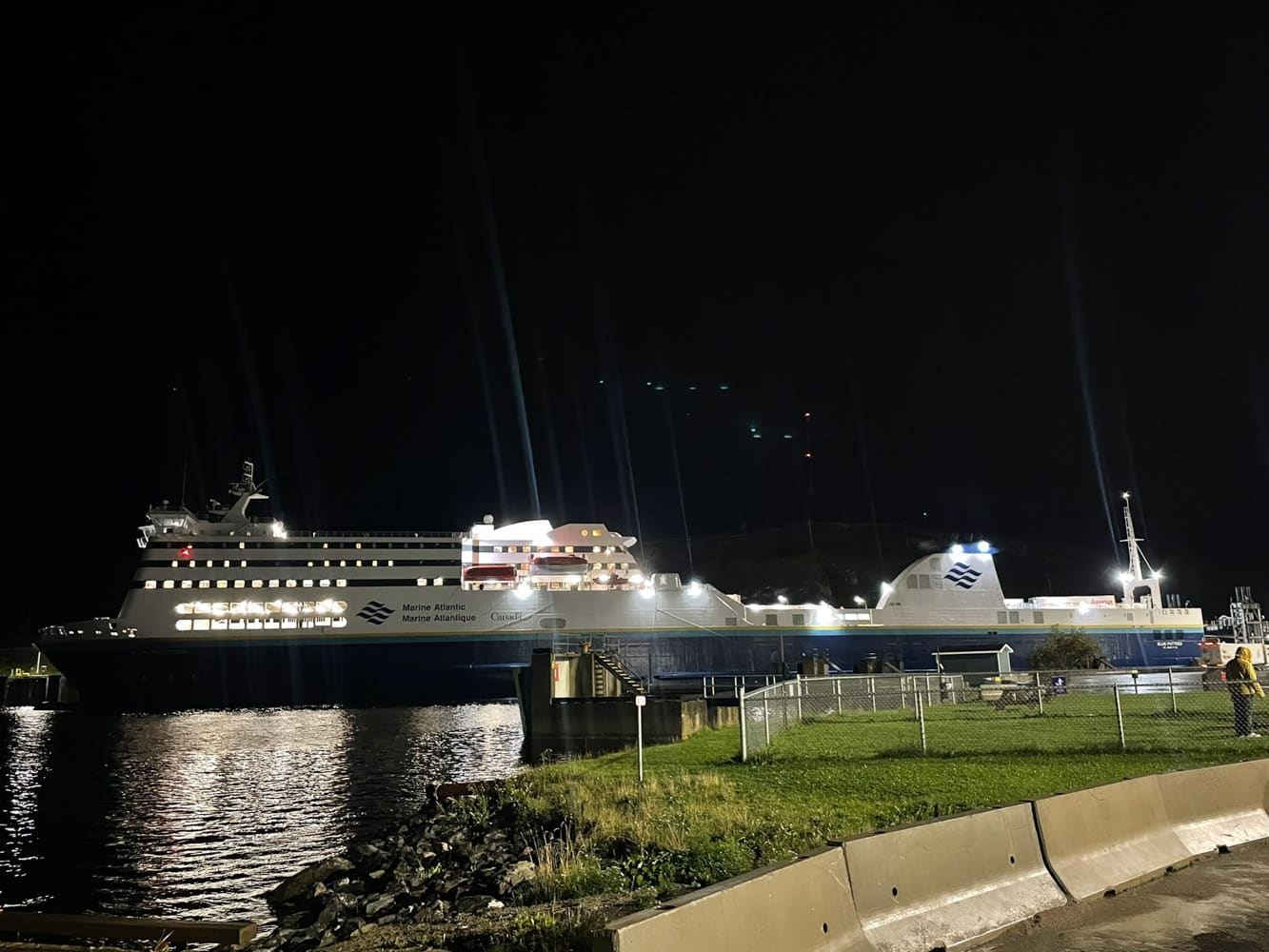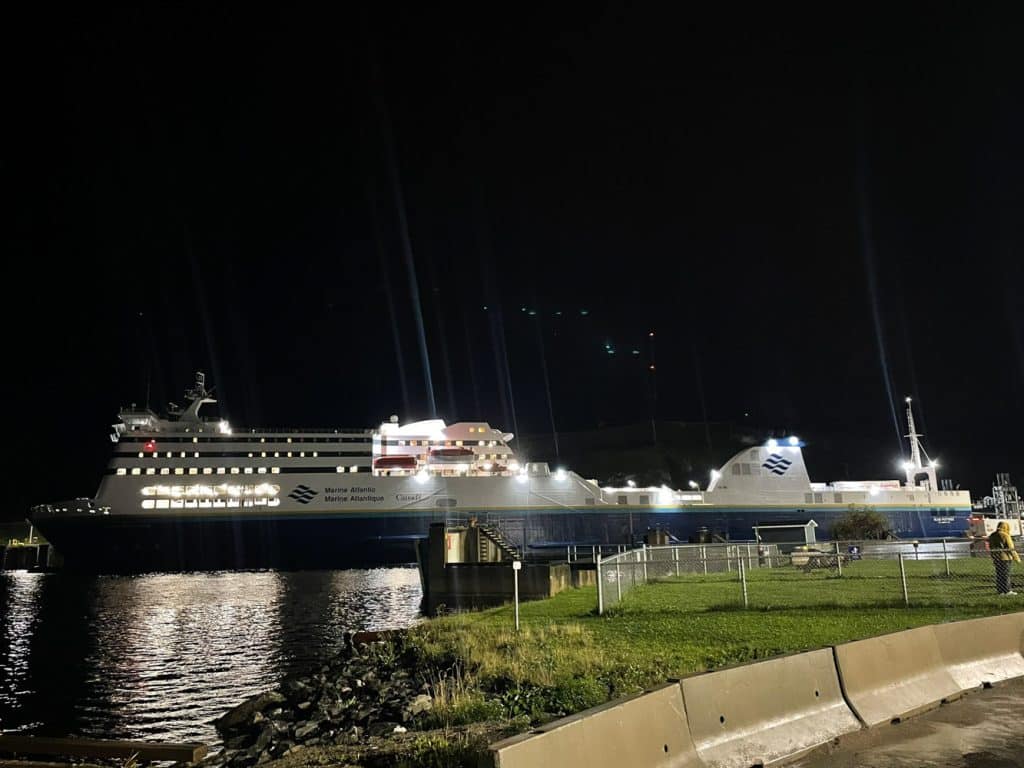 North Atlantic ferry "Blue Puttees", Port-aux-Basques.
Final words
Both times we've been to Newfoundland, we loved our time there. It's on an island, it's far from everything, the landscapes are different, our truck is on the other side of the ocean, in short, it's quite an adventure! This requires good planning and a lot of preparation.
Fortunately, ATV tourism in Newfoundland has evolved significantly since our last visit in 2014. In fact, in addition to generally improving the running surface of the T'Railway, more and more towns are accepting the circulation of ATVs on municipal streets. For example, on our first trip, the main trail was cut between Deer Lake and Corner Brook due to highway development. We had no choice but to use a transport service if we wanted to remain legal. It is not necessary any more. In addition, it allows us to admire the magnificent landscapes to the north of these cities.
We are already talking about returning there in a few years.
Text & Pictures: Eric Leblanc