The products now also reach a less adventurous clientele, but one that is seduced by the brand's adventurous image. The company uses colors that fit the season and let people express their own style with their coolers and other products. You don't have to be an adventurer to want one, all you have to want is a quality product. If you want the best, you need a YETI.
The company makes both hard- and soft-sided coolers, and the hard-sided coolers can be pretty big. How big, you ask? The SOLIDE TUNDRA 350 cooler weighs 40 kg when empty. It can contain 143 kg of ice, or 259 cans of beer (plus the necessary ice). It is 1 meter 61cm long. Ideal for hunting, fishing and anything else, really.
We tested out a smaller soft-sided cooler that is perfect for ATV adventures, the Yeti Hopper flip 12 soft cooler, which weighs 1.5 kg and measures 25.4 X 29.2 X 32.1 cm. Its cubic shape allows you to pile in the lunch and the drink for several people. It can hold 13 cans of beer or soda and the necessary ice in a ratio of ice/cans of 2 to 1. It can otherwise hold 7 kg of ice (without anything else).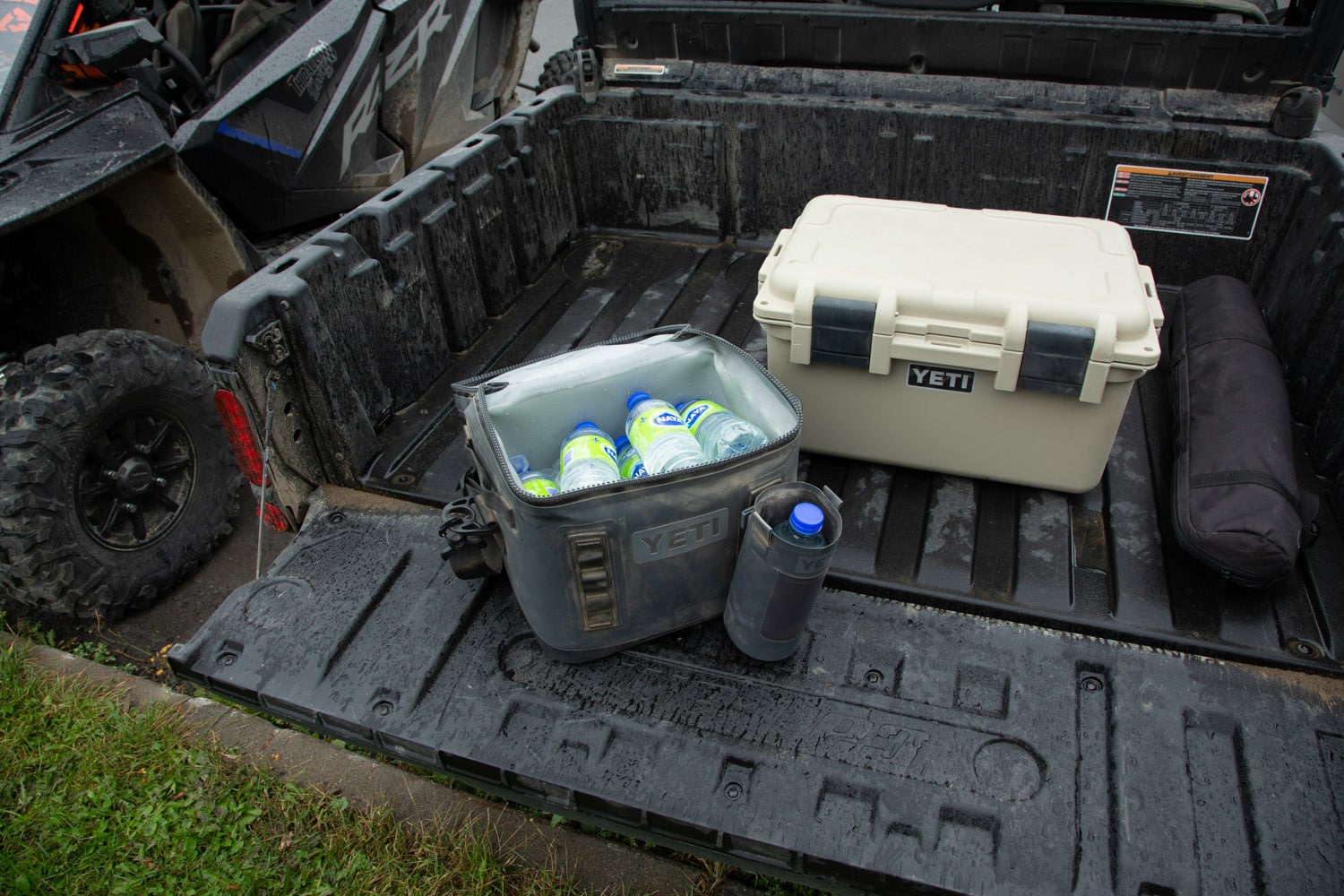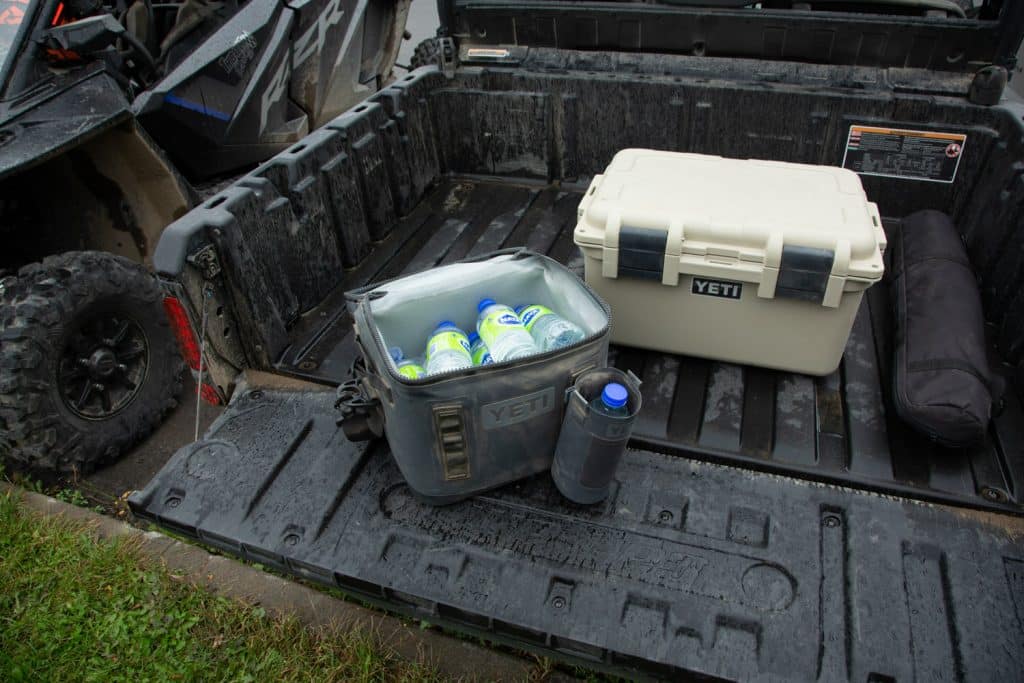 Yeti does not give any indication of how long the ice will keep in the Yeti Hopper because there are a lot of variables Making coolers is a bit of a trademark for Texas-based Yeti. The two brothers who founded the company in 2006 were frustrated that they couldn't find a sturdy model that would keep cool for more than a day. As they put it, "the handles would break, latches would come off, and lids would sink in." So they created their own product and the Yeti cooler was born. The very first ones were indestructible boxes, with professional seals to keep them airtight, and flawless insulation to keep them cooler longer.
Over time, YETI's products proved their effectiveness and the company rallied the fishing, hunting, and woodworking community behind them. The high prices are a bit of a shock, but most think of it as an investment in their fun. Let's face it, YETI set the standard for efficiency and strength when it comes to to take into account. But you can be sure that it will last two to three times longer than your traditional cooler. That's because the soft-sided versions are made with premium components, like a welded DryHide shell. This high-density fabric is UV-resistant and puncture-resistant. The materials are treated with anti-mildew for hygiene and longevity.
The HydroLok zipper is 100% waterproof and the ColdCell insulation is reinforced for cold conservation.
When carried in a canoe, it will not sink if it falls in the water, and there will be no seepage. The washing is very simple with water and soap, inside and outside. It is important to let the inside dry well before closing, because we remind you that it is sealed- so if you don't dry it, things can get nasty.
For transport on a quad, the Hopper flip 12 is equipped with several attachments that will allow you to attach the cooler on the quad. A shoulder strap allows for easier carrying. On the front, 6 attachment slots give the possibility to hang small items. On the side, there are carrying handles and two solid anchors to attach to the floor of a vehicle, on the quad or in the canoe.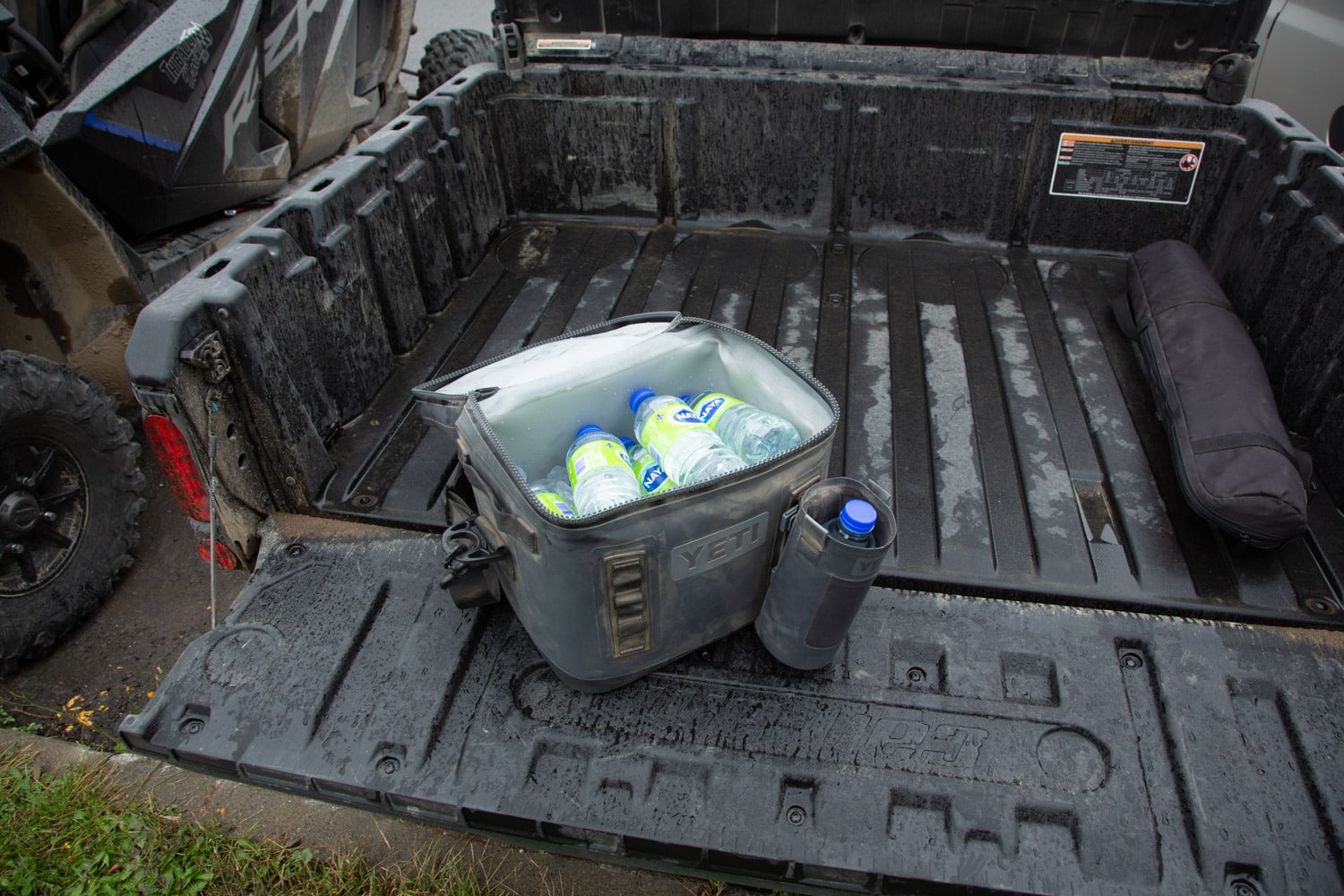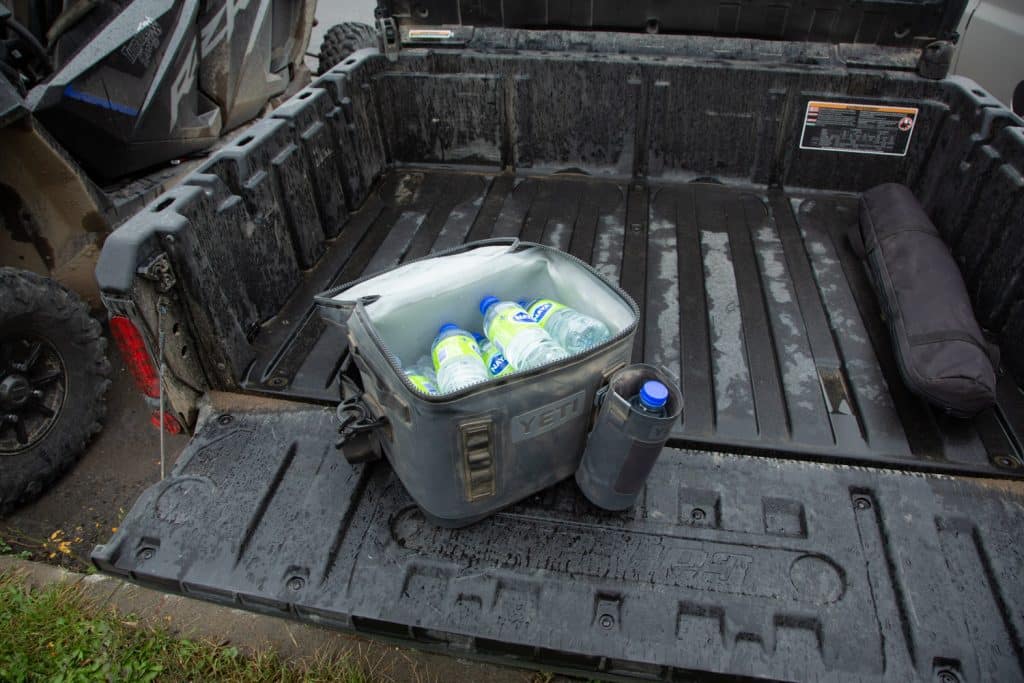 How to keep the ice longer?
Dry ice is the best solution for solid coolers, but not for the flexible YETI soft cooler models. Therefore, regular ice should be used in a 2:1 ratio to the contents. There are two types of ice: small cubes and blocks. Smaller ice cubes will cool faster, but will also melt more quickly. Block ice ensures longevity. Yeti experts recommend a mix of both types for optimal cooling and durability.
Cool your cooler before you fill it, don't drain the cold water, it's for insulation. But don't let the food come in contact with this water. Keep everything wrapped up and sealed tight.
Air accelerates the melting of the ice, so don't leave any empty space. Fill the space with ice or towels to evacuate the air. And finally, don't open the lid every five minutes, hot air is the enemy, it takes the place of cold and reduces the cooling time of your cooler.
The hardest thing to choose for a Yeti cooler is the size, then the color. They have a lot of options, but you will be very happy with the cooler once you have it. Our only flaw we could find was the high price, but the quality and function of the cooler makes up for it, as well as knowing that it will last a long time and stick around for years of adventures. That works for us.