We don't mess with humidity! When we are in the forest, our fragile and expensive electronic devices must be protected from shocks, water, and moisture. The Yeti Panga 28 backpack is a robust and reliable solution to prevent water from entering your backpack.
In Austin, Texas, two brothers spent their weekends fishing and hiking. In 2006, they could not find coolers on the market capable of keeping the cold for an extended time. They were also unhappy with the waterproofness of their luggage in extreme conditions.
They rolled up their sleeves to create their own products: coolers designed to keep the cold for several days and withstand the shock in the wilderness. They researched robust and waterproof materials. This is how they created waterproof bags capable of being submerged, resistant to shocks, and frequent abrasions.
Success came quickly, as many adventurers have the same needs.
Fifteen years later, the products have been proven, and the quality is there. Prices too, but saving your digital devices is priceless. Being able to keep your clothes dry is extremely important during winter or rainy outings.
You'll understand the value of the Yeti when a supposedly waterproof backpack ruins your camera and cell phone.
Product Description :
The YETI Panga 28 backpack is designed to be waterproof and rugged. The body of the bag consists of a Thickskin shell made of high-density nylon, covered with a thermoplastic layer TPU laminate to resist abrasion, impact, and water. Nothing is left to chance. The Hydrolok zipper is 100% waterproof.
During a winter ride, I had no hesitation in throwing it casually in the snow. In a nice thick pile of powder snow where the bag was practically covered. Without damage. Water and moisture did not penetrate the bag. Another adventure sprayed it with thick mud. Quite simply, it washes off with water. It is very useful for going for a walk, hunting or fishing. The straps are comfortable, and a lap belt can be added, so you don't lose it in water, mud, or powder.
The blue interior is washable. There are two separate compartments and a mesh divider net to empty pockets. It is possible to separate and store things efficiently.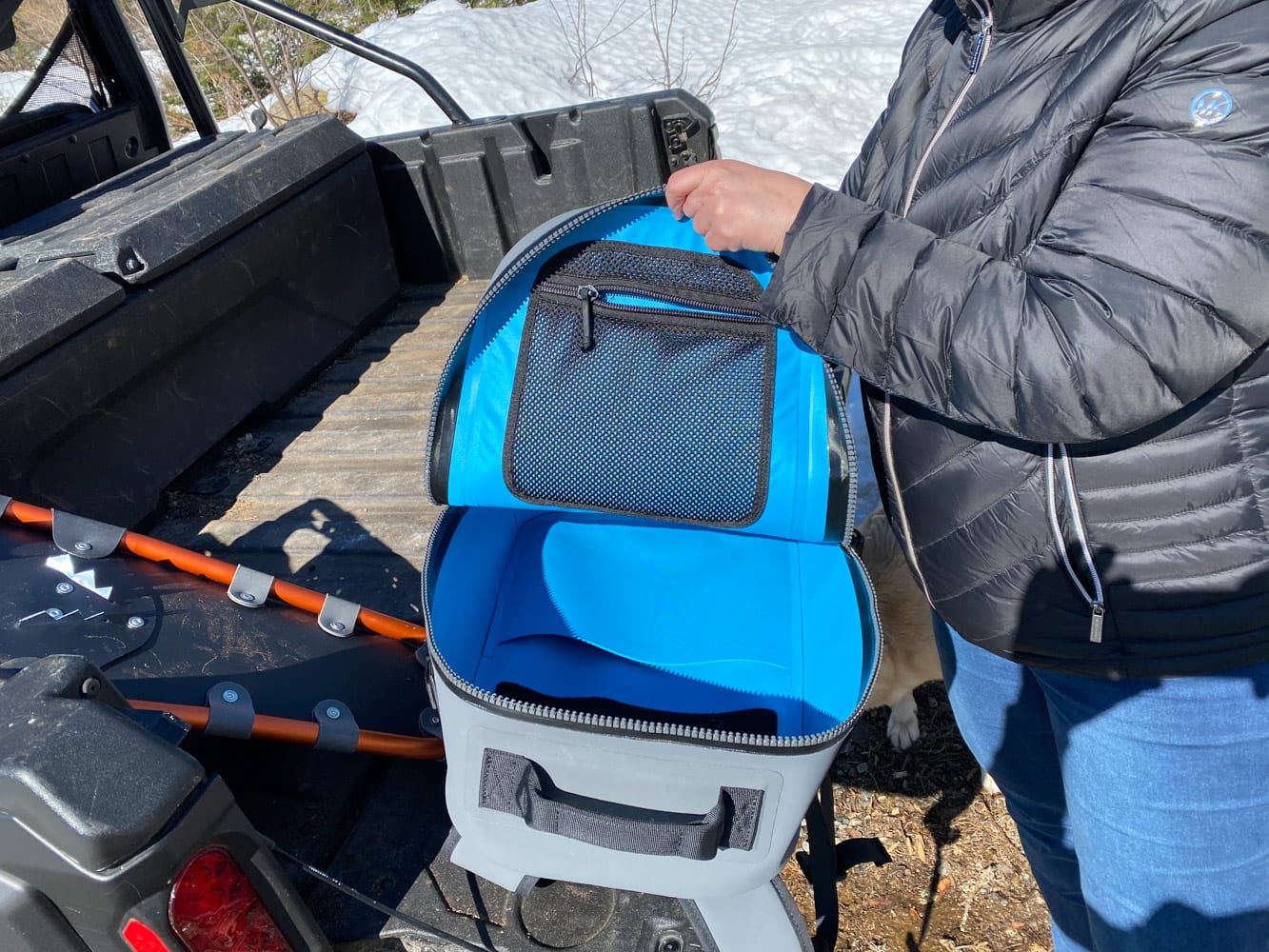 The bag has a carrying handle and side clips that securely attach it to a luggage rack. The seams are also waterproof so that water won't find its way.
Its size allows you to take a lot of items. It is 20 in high (50.8 cm), by 12 ½ in wide (31.8 cm) and 7 in deep (17.8 cm).
The Yeti is designed to be efficient, and it shows its mark. Its back is embossed with the Yeti brand. The interior blue color also brings a distinctive sign.
Its sleek style and amphibious finish make it a timeless object, which gives its owner the image of an enlightened adventurer.
Pros :
They are numerous and reinforced by the customer satisfaction rating of 4.7 out of 5.
I liked the comment from a customer who wrote, "Thanks to its quality, this is the last Yeti bag I buy". Indeed, this bag is designed to last, even in intensive use.
Cons:
We can see three elements.
It is pretty bulky. If it is worn on the back, it should be reserved for a single quad rider, as it is not comfortable for two people on a two-seater. The passenger may be uncomfortable. In fishing / hiking use, it can also be cumbersome. An intermediate model would be appreciated.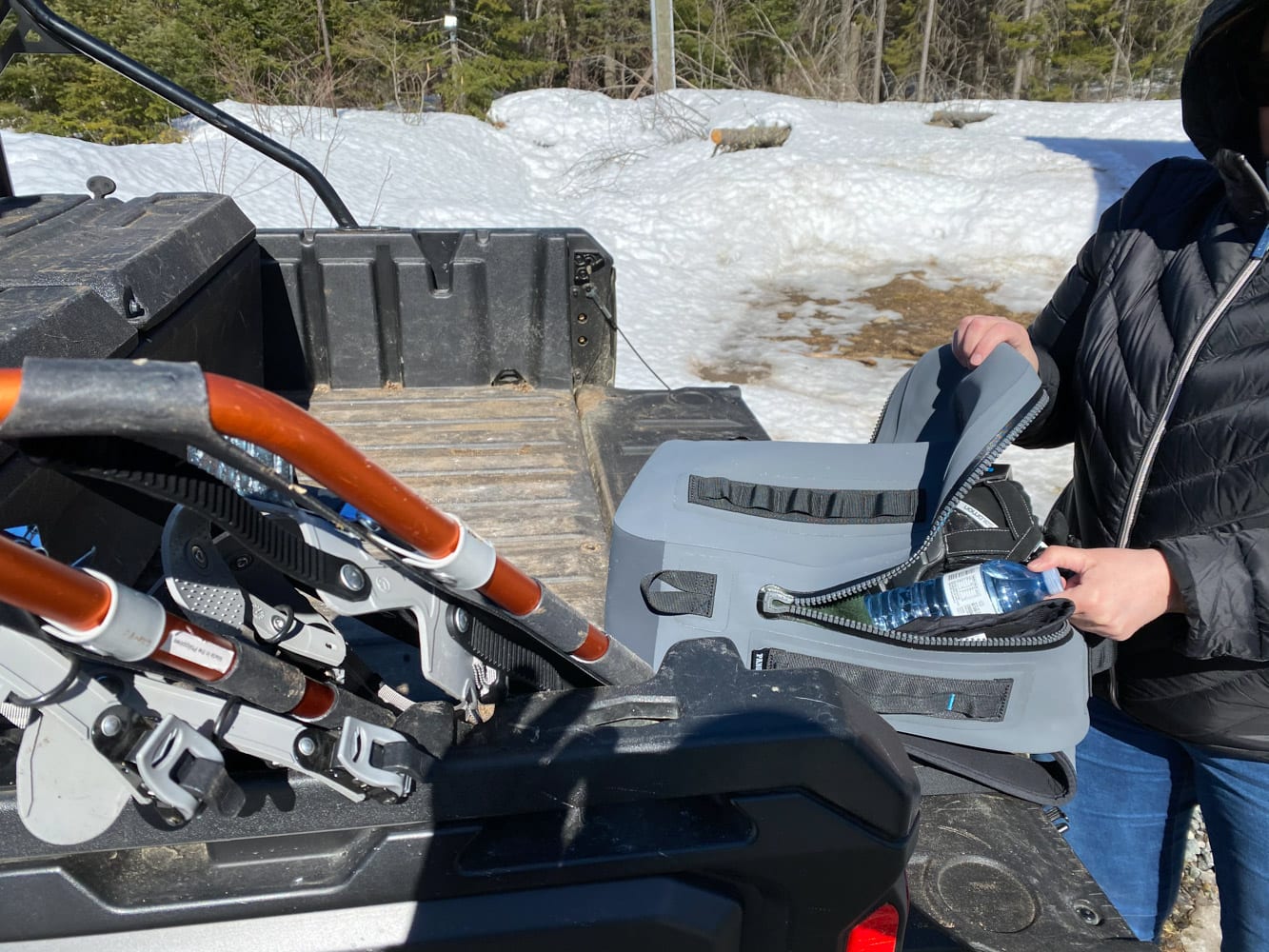 Its weight is significant. The Panga 28 uses quality products, and they weigh in the balance. It is heavy. With 1.8 kg empty, watch out for the load you will be carrying on your back.
With an MSRP of $ 399.99, the Yeti is not cheap. But it is an investment that will last for many years. Solidity and tightness are there. The Yeti is a strongbox for protecting precious objects: phone, tablet, or dry clothes.
Getting a Panga 28 is an investment like buying gold bullion. The sure values ​​do not let you down.
The official Canadian site will tell you more: https://www.yeti.com/en_CA