Toronto, ON – August 10th, 2022 – Yamaha Motor Canada announces their Proven Off-Road ATV and Side-by-Side (SxS) vehicles for model year 2023, highlighted with the Canadian introduction of the high-performing, extremely capable Wolverine RMAX2 1000 LE and RMAX4 1000 LE with iconic FOX iQS suspension.
Every Yamaha SxS and full-size ATV for the world is built in the USA at Yamaha's manufacturing facility in Newnan, Georgia. The 2023 models unveiled today include:
• NEW! 2023 Wolverine RMAX2 1000 LE and Wolverine RMAX4 1000 LE
• 2023 Wolverine RMAX2 1000 SE and RMAX4 1000 SE
• 2023 Wolverine RMAX2 1000 Sport
• 2023 RMAX2 1000 R-Spec and RMAX4 1000 R-Spec
• 2023 Wolverine X2 and Wolverine X4 lineup
• 2023 Viking and Viking VI lineup
• 2023 YXZ 1000R SS SE
• 2023 Raptor 700R
• 2023 YFZ450R
• 2023 Grizzly lineup
• 2023 Kodiak 700 and Kodiak 450 lineup
• 2023 Grizzly 90, Raptor 90, and YFZ50
"The Wolverine RMAX 1000 has redefined recreational off-roading by providing unmatched comfort, capability, and confidence-inspiring performance." said Andrew Scott, Yamaha Motor Canada Motorsports Specialist. "This year, we're expanding the Canadian Wolverine lineup with the introduction of the RMAX2 1000 LE and RMAX4 1000 LE variations. The LE line adds the premium FOX iQS suspension, allowing drivers to quickly adjust damping levels from a switch in the cockpit."
2023 Wolverine RMAX 1000: The Ultimate Off-Road Adventure Machine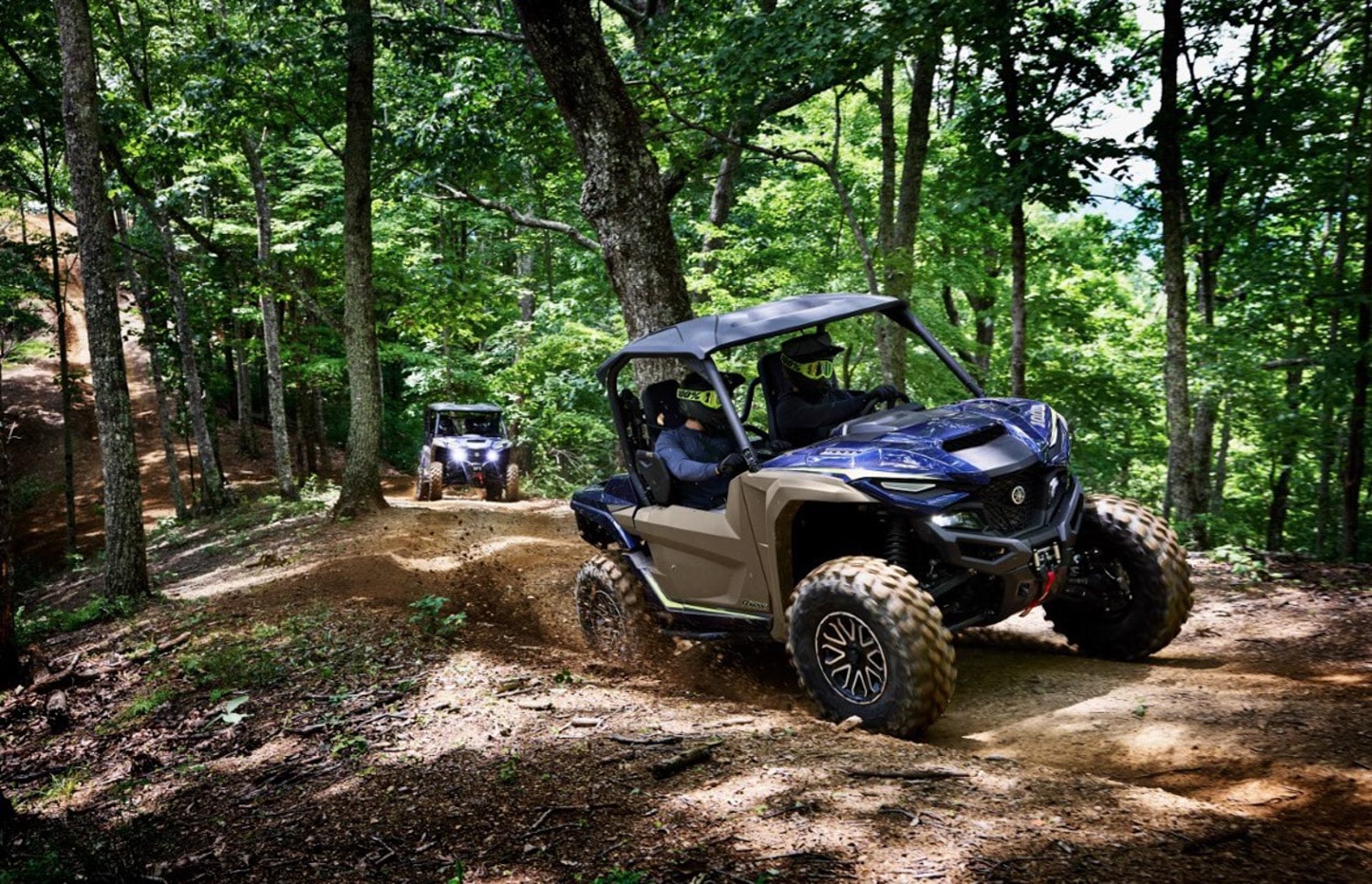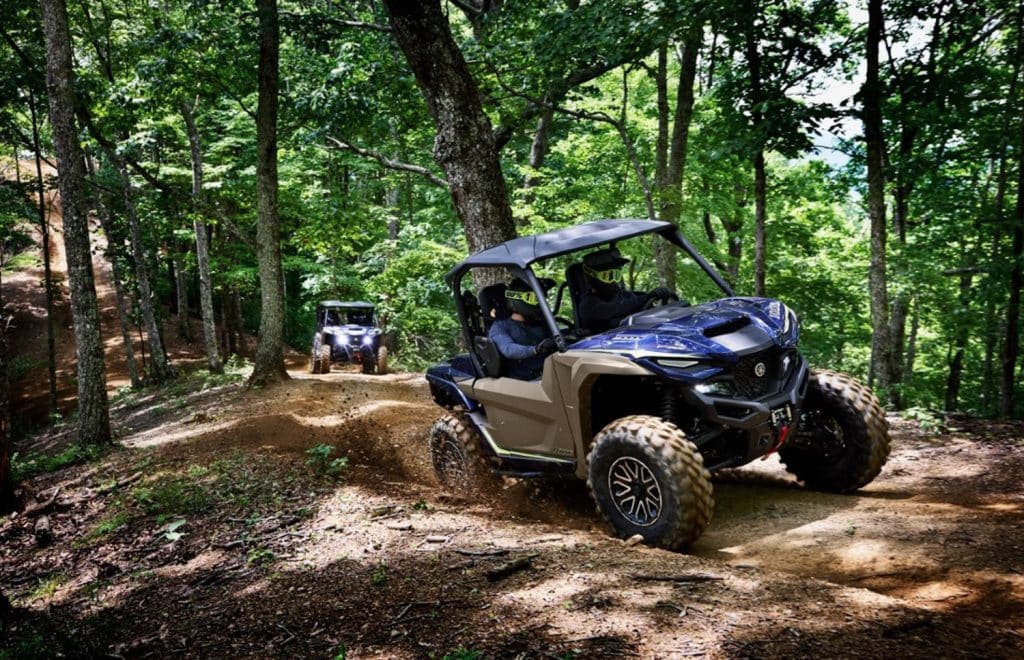 Wolverine RMAX 1000 models radiate dominance, powered by an advanced 999cc twin-cylinder engine housed in an optimized chassis built for next-level capability, extreme trainability, and remarkable rigidity in two- and four-seat configurations. The RMAX line ranges from the capable R-Spec models to the new flagship RMAX LE, ensuring there is an RMAX that matches your riding style!
2023 Wolverine X2 and Wolverine X4: Proven, Practical, Stealthy Recreational Trail-Exploring Machines
The 2023 Wolverine X2 and Wolverine X4 deliver superior handling, especially on tight technical trails, and combine it with Yamaha's legendary Real-World Tough durability and reliability. The smooth, ultra-quiet power comes from the 847cc twin-cylinder engine, which is paired with Yamaha's Real-World Tech including the proven Ultramatic CVT transmission that is backed by Yamaha's Industry Exclusive 10-Year Belt Warranty, Yamaha's On-Command System with 2WD, 4WD and 4WD with full differential lock, and Yamaha's exclusive EPS.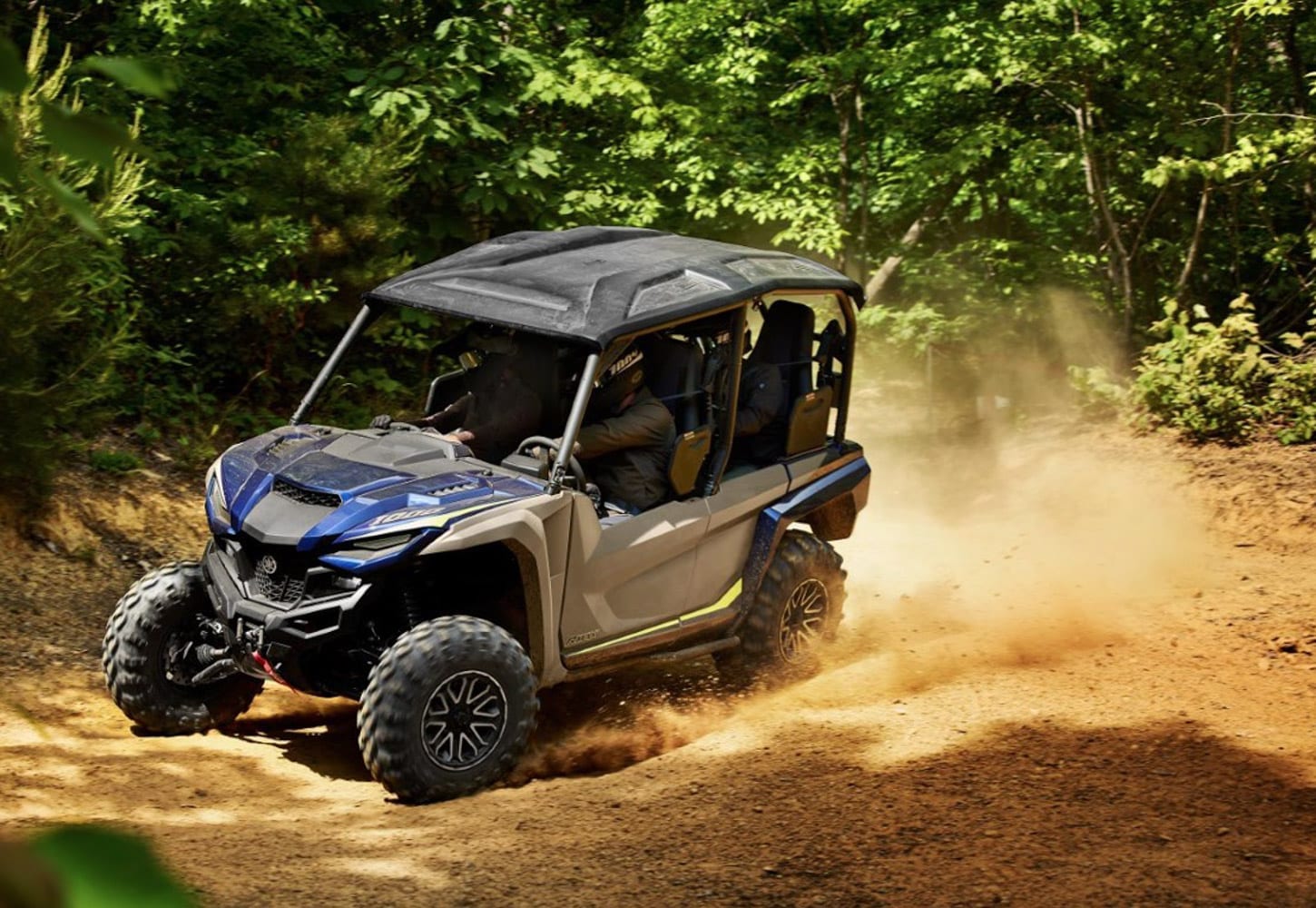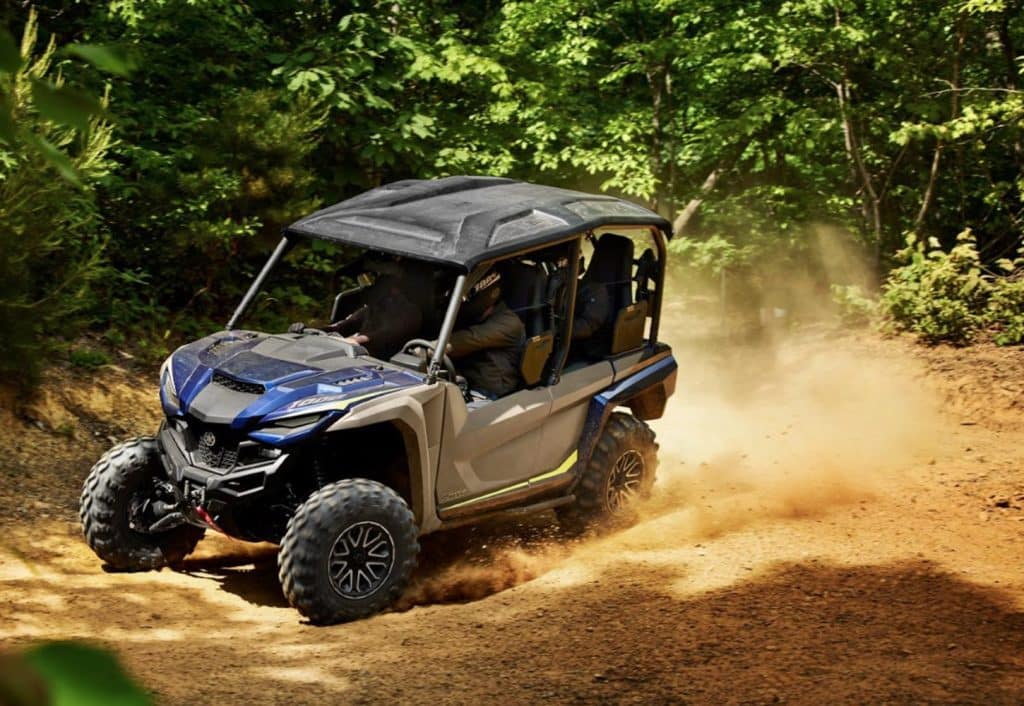 2023 Viking and Viking VI: Hardworking and Dependable.
Yamaha's Viking and Viking VI SxS vehicles are value packed with Real World Tough durability. The Viking line is equipped with Yamaha's reliable and powerful 700-class engine. Combined with a comfortable and confidence-inspiring ride in its class-leading cabin, the Viking line has seating room for three or six people. Vikings are the toughest and hardest-working utility-based SxS vehicles that are also fun to drive.
2023 Recreational and Utility ATVs: Power and Durability to Tackle Extreme Adventure or Heavy-Duty Work
Yamaha's 2023 Recreational and Utility ATVs offer the best of both worlds – capable of heavy-duty work when you need it, while providing endless fun on the trails when you want it. The 2023 Grizzly is the ultimate recreational ATV for excitement on every ride, delivering the ideal blend of big-bore power and performance for a smooth and powerful ride to conquer extreme off-road trails. The 2023 Kodiak 700 and Kodiak 450 combine Yamaha's legendary durability and reliability with class-leading capability. The Kodiak lineup delivers maximum value and work-ready performance in a compact, nimble chassis that is also at home in tight and technical trails.
2023 Youth ATVs: Proven Off-Road Capability for Young Trail Riders
The 2023 Grizzly 90 combines the styling and versatility of Yamaha's flagship ATV with a fun and confidence-inspiring 90cc engine and CVT transmission for entry-level riders 10 years old and up to develop their off-road abilities. The youth model offers several Grizzly DNA features including mud-protection fenders, trail-pointed comfort suspension, front and rear cargo racks, and aggressive tires to maximize traction on any trail.
The 2023 Raptor 90 brings the world of sport ATVs to riders ages 10 and up. With sporty styling based on the top-selling Raptor 700R and premium features such as electric start and reverse, this entry-level ATV brings Yamaha's Proven Off-Road sport ATV performance, legacy and quality to the entire family and the next generation of budding motorsports enthusiasts.
The YFZ50 introduces the fun and exciting world of sport ATVs to riders ages 6 and up. Inspired by the championship-winning DNA of the YFZ450R, this youth ATV brings Yamaha's Proven Off-Road performance and confidence to the next generation of growing motorsports enthusiasts. Featuring controllable performance and engine limiters with a power cut-off tether switch for safety, it's easy for young riders to feel comfortable as they grow their skills.