Yamaha Unveils 2024 Proven Off-Road ATV and Side-by-Side Lineup 
Introducing the All-New Wolverine X2 1000, Enhanced YXZ1000R SS, and New Raptor 110
TORONTO, ON., – July 26, 2023 – Yamaha Motor Canada sets a new standard for Proven Off-Road 2024 Side-by-Side (SxS) and ATV models with the unveiling of all-new models and technological enhancements. The 2024 collection showcases Yamaha's commitment to providing optimal capability, comfort, and confidence for every off-road enthusiast, whether conquering the toughest terrain or embarking on epic adventures.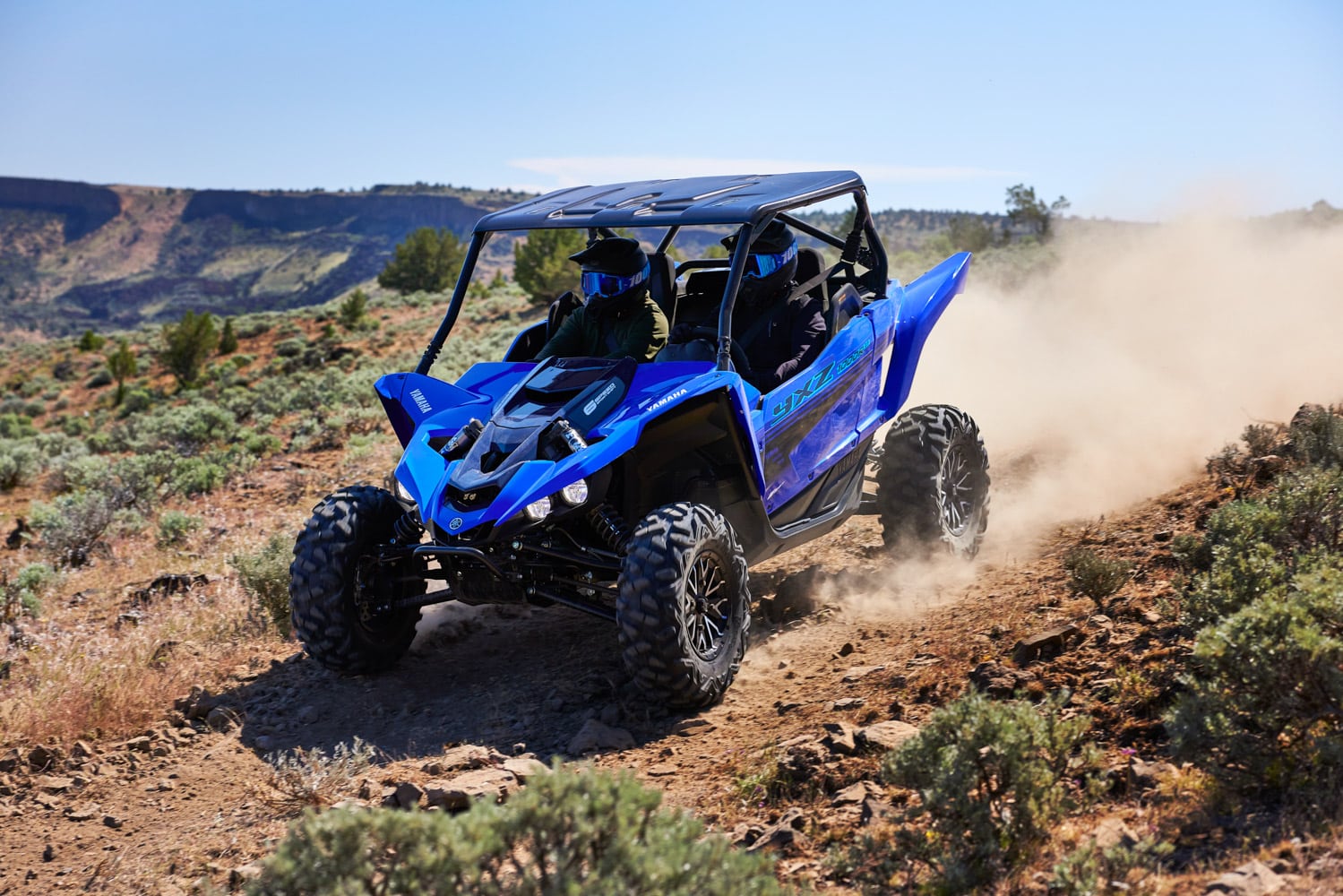 Manufactured with pride, every Yamaha SxS and full-size ATV is assembled in the USA and distributed worldwide. The 2024 lineup boasts a wide range of models designed to cater to various preferences and needs:
Multi-Purpose SxS: The Wolverine lineup takes the spotlight with the introduction of the all-new Wolverine X2 1000, while the Viking and Viking VI models continue to provide durable and reliable options for utility focused tasks. 
Pure Sport SxS: The YXZ1000R SS receives a new 6-speed transmission and Auto-Shift Technology for enhanced performance and versatility with the Sport Shift. 
Multi-Purpose ATV: The Grizzly, Kodiak 700 and Kodiak 450 offer maximum value and work-ready performance. 
Pure Sport ATV: The popular Raptor 700R and YFZ450R continue to dominate the track and trail. 
Youth ATV: The Grizzly 90 and YFZ50 models are joined by the new Raptor 110, expanding the offerings and providing younger riders with exciting off-road experiences. 
"With the powersports industry continuing to thrive and reach new audiences, Yamaha is expanding its product lineup to meet the needs of a wider group of off-road enthusiasts," said Andrew Scott, Yamaha Motor Canada's ATV and SxS product specialist. "Our goal is to offer a way for everyone to get out and experience the outdoors with friends and family."
All-New 2024 Wolverine X2 1000 Provides Extreme Durability and Value
The 2024 Wolverine models represent Yamaha's most versatile vehicles, suitable for both work and adventures. The all-new Wolverine X2 1000 combines the compact and nimble Wolverine X2 platform with premium enhancements derived from the RMAX 1000, delivering superior handling and exhilarating power for navigating everything from tight, technical trails to wide-open terrain. This includes an advanced 999-cc DOHC, eight-valve, parallel-twin engine, readily capable of receiving Yamaha's D-Mode, allowing for three power-delivery options (Crawl, Trail and Sport) to meet the varying demands of terrain and driver mindsets. The 2024 Wolverine X2 and X4 models offer smooth and ultra-quiet power with an 847-cc twin-cylinder engine housed in a sporty, compact chassis. 
The Wolverine lineup caters to different customer demands, with two- and four-seat configurations available. The Wolverine RMAX2 1000 and Wolverine X2 models feature a two-seat chassis paired with a hydraulic piston-assist dump bed, offering excellent utility for work and hunting, while allowing easy engine access for maintenance. The Wolverine RMAX4 1000 and Wolverine X4 models provide a four-seat chassis, with flexible options for additional cargo space, passenger capacity for up to four occupants, or a combination of the two.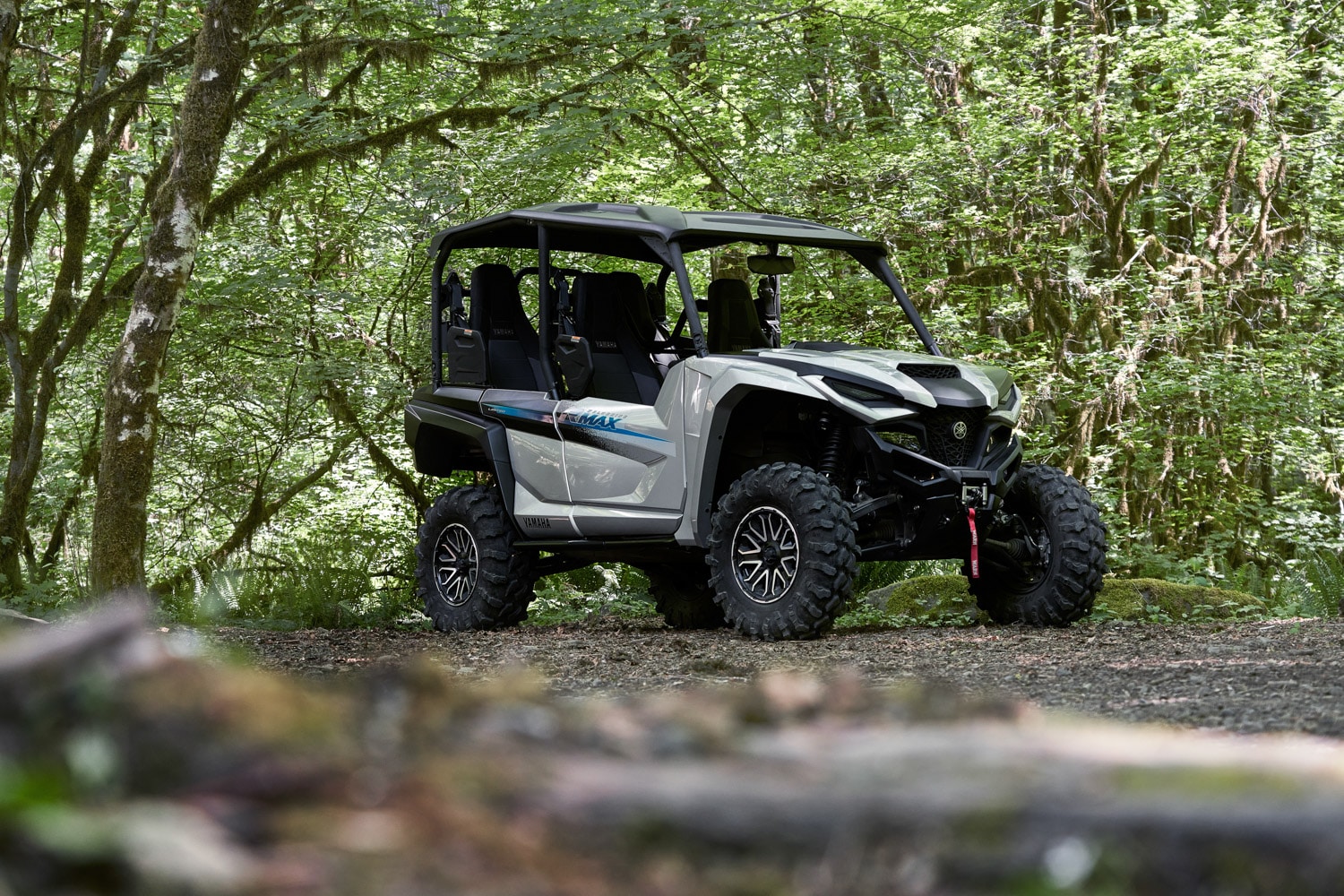 All 2024 Wolverine models come equipped with Yamaha's reliable Ultramatic continuously variable transmission (CVT), backed by an unprecedented, industry-exclusive 10-Year Belt Warranty. They also feature Yamaha's durable On-Command 4WD system, torque- and speed-sensitive Electric Power Steering (EPS) for the best balance of steering assist and trail feedback, bright LED lighting, a 2,000-pound towing capacity, 600-pound bed capacity, and pre-wiring for various accessories.
The Yamaha Wolverine RMAX 1000 R-Spec will be returning for 2024! The Wolverine RMAX2 1000 Sport features highly adjustable, sport-tuned FOX 2.0 piggyback shocks, a 30-inch asymmetric GBC Terra Master SQ tire design, and beadlock wheels.
2024 YXZ Lineup: Pure Sport Performance with All-New Auto-Shift Technology and 6-Speed Transmission
The YXZ1000R stands as the industry's first and only direct-connection pure-sport SxS, providing exceptional performance to off-road enthusiasts. In 2024, the YXZ lineup receives significant enhancements, including Yamaha's all-new Auto-Shift Technology in the SS variant.
The 2024 YXZ lineup boasts a new close-ratio 6-speed manual transmission, offering enhanced capability and comfort during low-speed operation. With optimized gear ratios and a 40% lower first gear, the YXZ models deliver the next level of aptitude and performance across various terrains. The new transmission also reduces "shift-shock" and noise, providing a smoother driving experience and increased clutch life.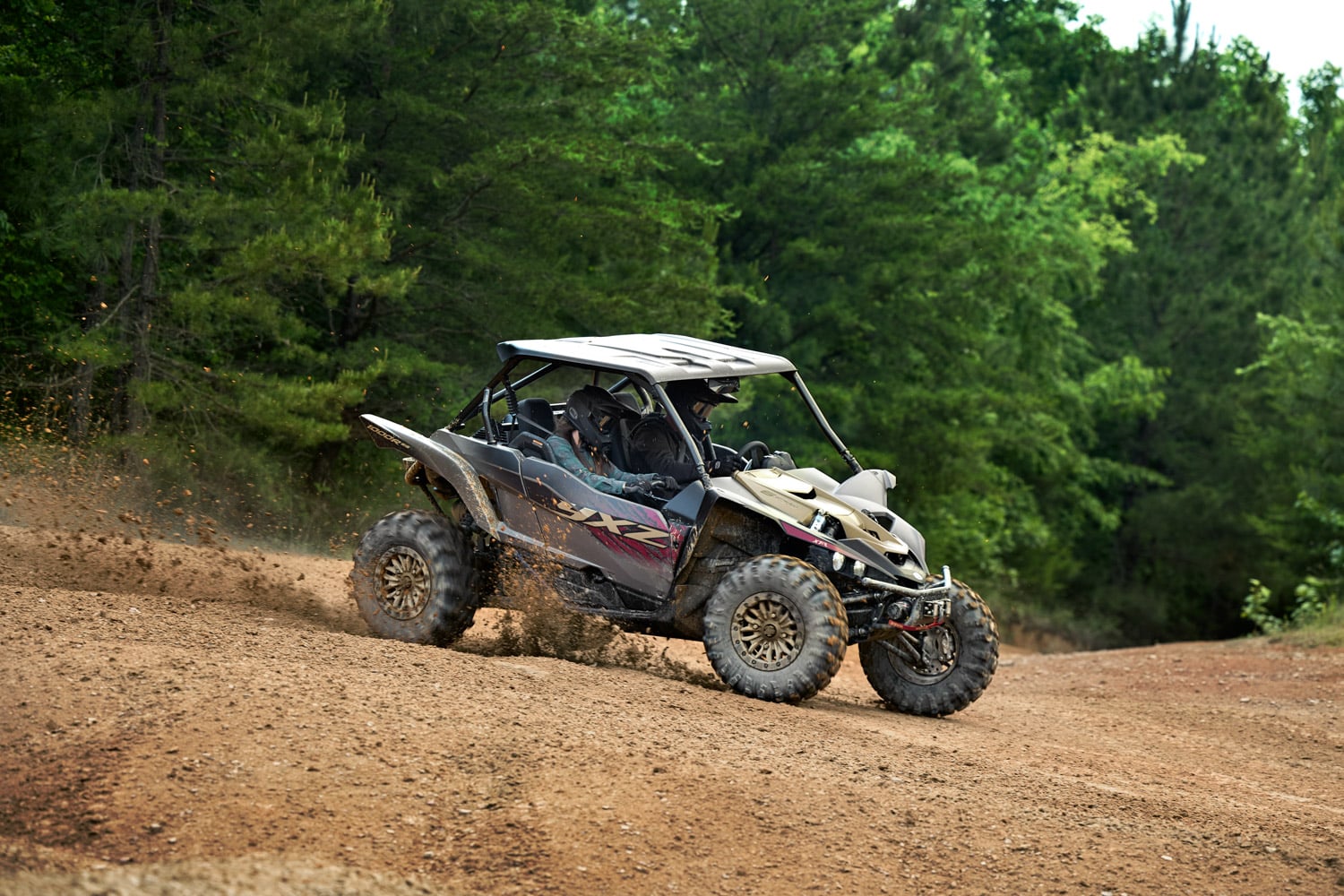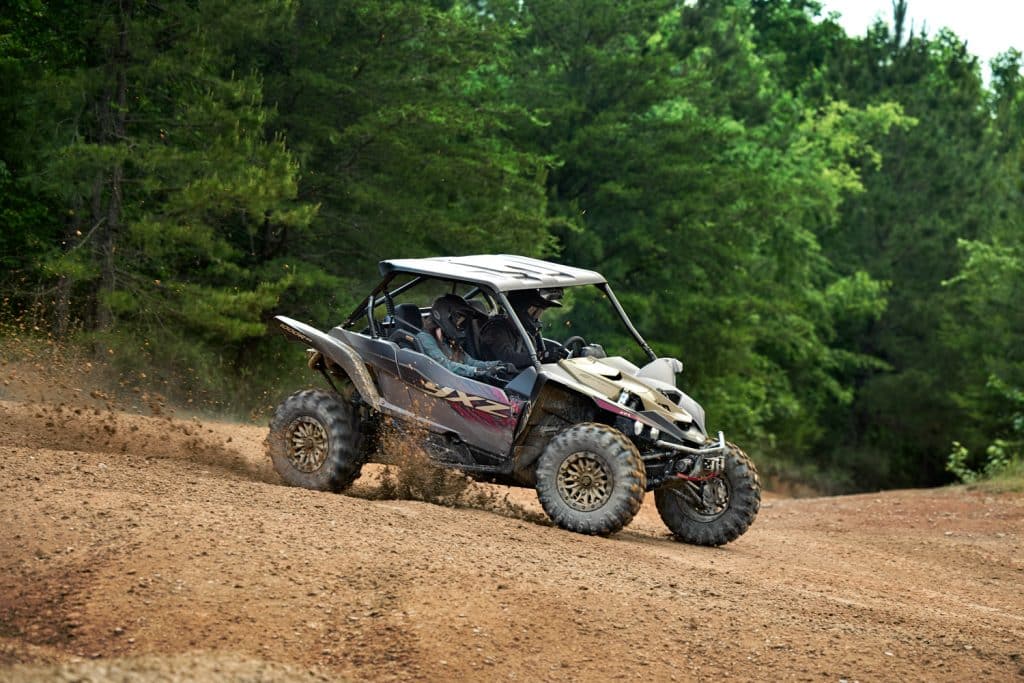 The YXZ1000R SS introduces Yamaha's all-new Auto-Shift Technology, allowing automatic-transmission drivers to experience the thrill of a pure sport and direct-connection feeling through the new close-ratio 6-speed transmission. Drivers can effortlessly switch between Auto-Shift modes and manual gear-selection on-the-fly using the dash-mounted dial. Yamaha's Auto-Shift Technology offers three user-selected modes: Auto, Sport Auto and Sport Shift, catering to different preferences and driving styles. 
The 2024 YXZ1000R SS are available in Team Yamaha Blue. The YXZ1000R SS SE is available with painted bodywork and a colour-matched interior, a centre-mounted rearview mirror, and a factory installed WARN VRX 4,500-pound winch. 
2024 Work-Ready and Stout Viking and Viking VI
Yamaha's 2024 SxS lineup features the Viking and Viking VI, vehicles renowned for their Real World Tough durability and exceptional value. Equipped with Yamaha's proven 700-class engine, the Viking models deliver outstanding performance all day long. With spacious cabins that lead the class, accommodating three or six people comfortably, the Vikings are built to tackle the toughest tasks.
Key features of all 2024 Viking and Viking VI vehicles include: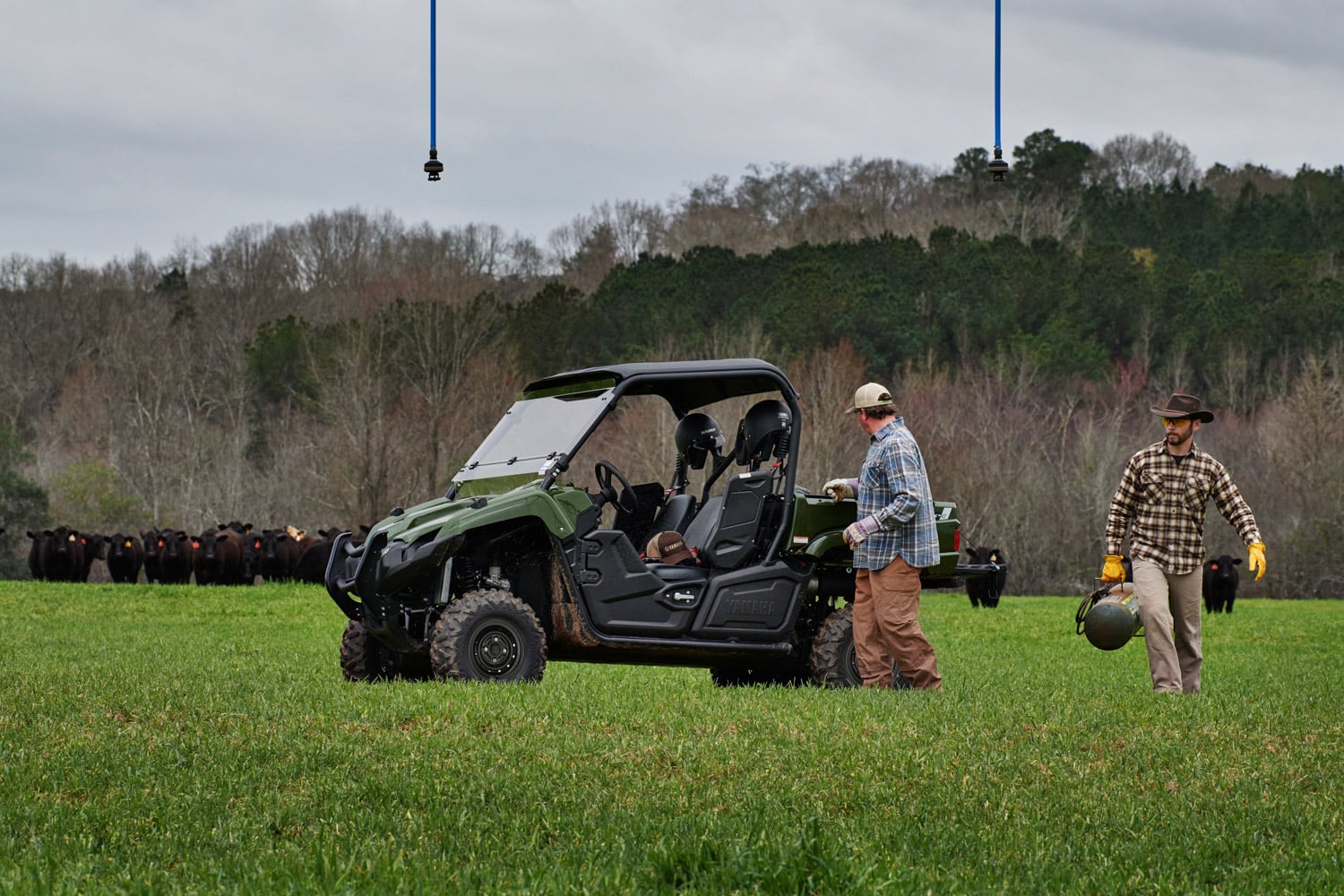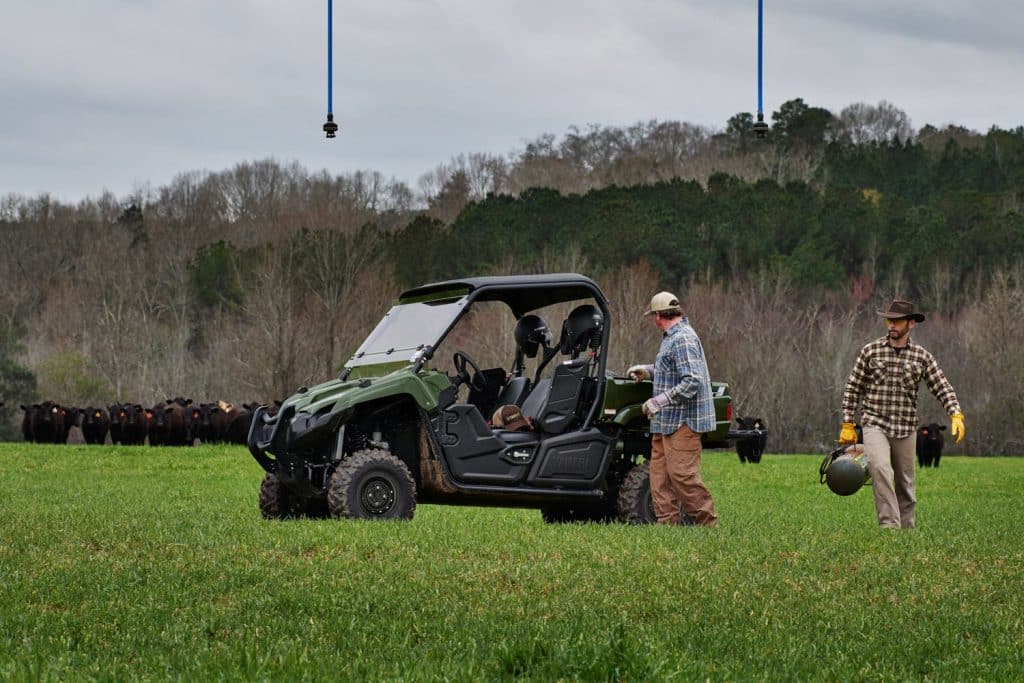 Yamaha's durable Ultramatic CVT, backed by an industry-exclusive 10-Year Belt Warranty, ensuring reliability and longevity. 
Yamaha reliable On-Command 4WD drive system with 2WD, 4WD limited slip, and 4WD full-differential lock, to handle any task or terrain. 
Yamaha's speed- and torque-sensitive EPS, providing the ideal mix of assist and positive feedback to reduce fatigue when tackling daylong chores. 
Impressive towing capacity of 1,500 pounds through the standard 2-inch hitch receiver, along with steel cargo bed rated at a 600-pound capacity for hauling heavy loads. 
Hydraulic piston-assist dump bed featuring a rugged rubber cargo bed mat for added convenience and durability. 
2024 Multi-Purpose ATV Lineup: Grizzly, Kodiak 700 and Kodiak 450
Yamaha introduces the 2024 Mulit-purpose ATV lineup, designed to excel in a wide range of applications from heavy-duty farm work to exhilarating off-road adventures. The Grizzly stands as the ultimate adventure ATV, delivering exceptional power and performance for conquering extreme trails. Meanwhile, the Kodiak 700 and Kodiak 450 offer maximum value and work-ready performance in compact and agile chassis, perfectly suited for navigating tight and technical trails when off the job. New for 2024, the Grizzly EPS Camo features a WARN VRX 25 winch, 27-inch Maxxis 'Zilla tires and 14-inch aluminum wheels.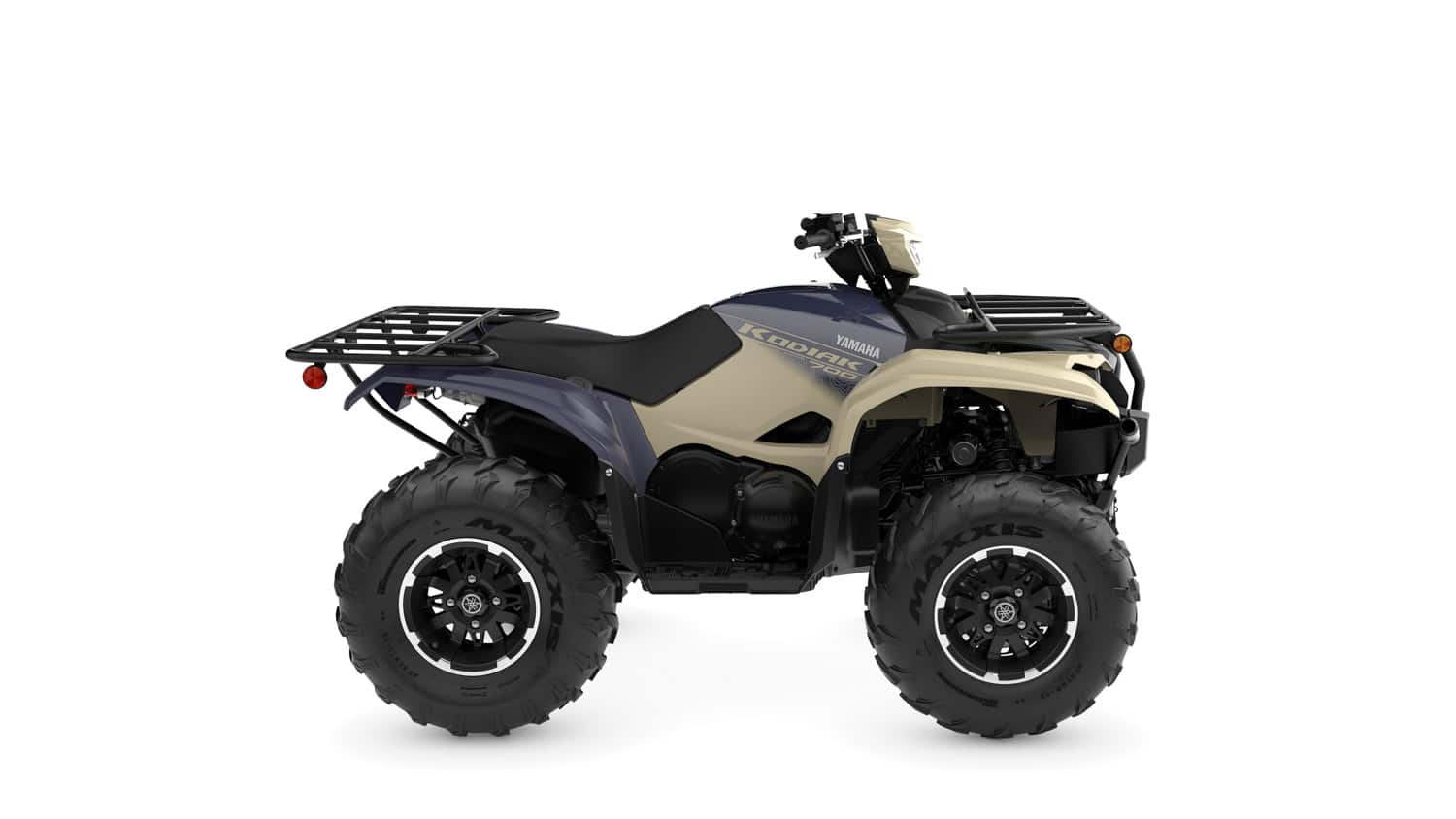 Key features of the 2024 Grizzly and Kodiak models include:
Yamaha's proven 700-class liquid-cooled SOHC 4-stroke engine, which powers all Grizzly and Kodiak 700 models. The Grizzly's engine exhibits a sportier character for recreational riding, while the Kodiak 700 
focuses on smooth operation and a milder initial power engagement. The Kodiak 450 features a 421-cc liquid-cooled SOHC 4-stroke engine.
Ultra-reliable Ultramatic CVT transmission backed by Yamaha's exclusive 10-Year Belt Warranty, ensuring consistent performance and peace of mind. 
Yamaha's On-Command 4WD drive system, enabling seamless transitions between 2WD, 4WD limited slip and 4WD full-differential lock to conquer varying terrain conditions. 
Yamaha's industry-leading torque- and speed-sensitive EPS on all Grizzly and select Kodiak ATVs, providing precise and effortless steering control for a comfortable riding experience. 
2024 Sport ATV Lineup: Raptor 700R and YFZ450R Continue to Reign Supreme
Conquering dunes and trails with ease, the 2024 Sport ATV lineup offers superior style, comfort, and performance. The undisputed podium-topping ATV in this lineup is the YFZ450R, which is trusted by the world's top racers. As the most technologically advanced sport ATV on the market, the YFZ450R boasts a 449-cc fuel-injected engine and a titanium five-valve cylinder head, delivering torquey acceleration off idle and abundant power throughout the powerband. Its professional-caliber lightweight aluminum frame with a tension-steel bottom allows the engine to sit lower, ensuring excellent mass centralization. Further enhancing the handling is the suspension system, featuring weight-reducing components and precise tuning for optimal performance. The assist-and-slipper clutch reduces clutch lever effort and enhances cornering speed, especially during downshifting.
The Raptor 700R feature a powerful 700-class engine that delivers enormous torque right off idle, transitioning into a potent mid-range and thrilling top-end. With an advanced hybrid steel-aluminum frame, aluminum subframe and swingarm, combined with race-caliber suspension, the Raptor 700R offers a light, yet durable and rigid structure that provides the best power-to-weight ratio and superior handling in all environments. 
2024 Youth ATV Lineup: New Raptor 110 Joins Grizzly 90 and YFZ50 for Budding Riders Seeking Adventure
Introducing the new 2024 Raptor 110, a dynamic ATV that combines sporty styling with confidence-inspiring performance for riders ages 10 and up. Designed based on the top-selling Raptor 700R, and featuring a new fuel injected engine, this entry-level ATV brings Yamaha's Proven Off-Road sport ATV performance, legacy and quality to new riders as they develop their skills and embrace their passion for motorsports. The new Raptor 110 is available in either Teal or Team Yamaha Blue and will be available later this fall.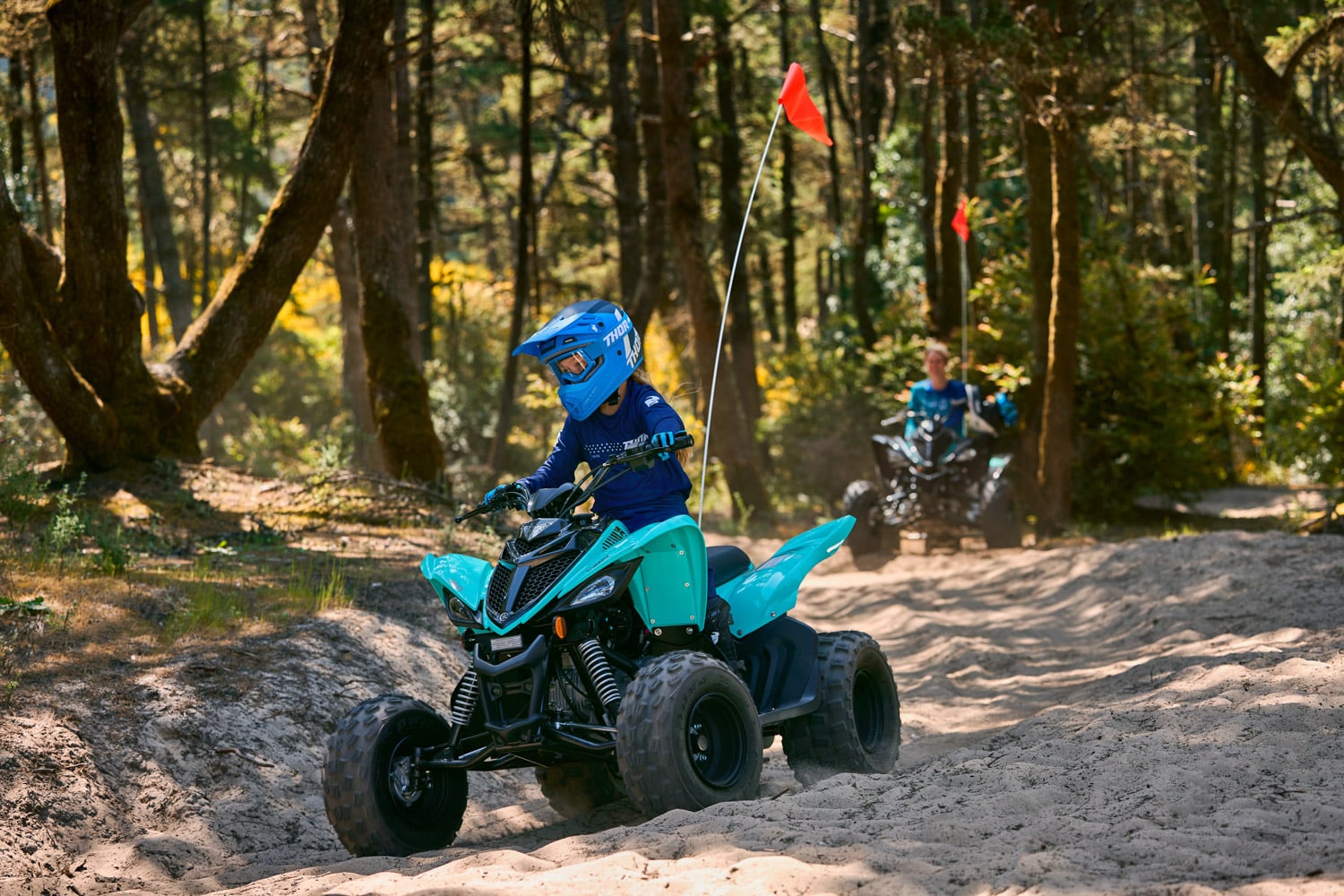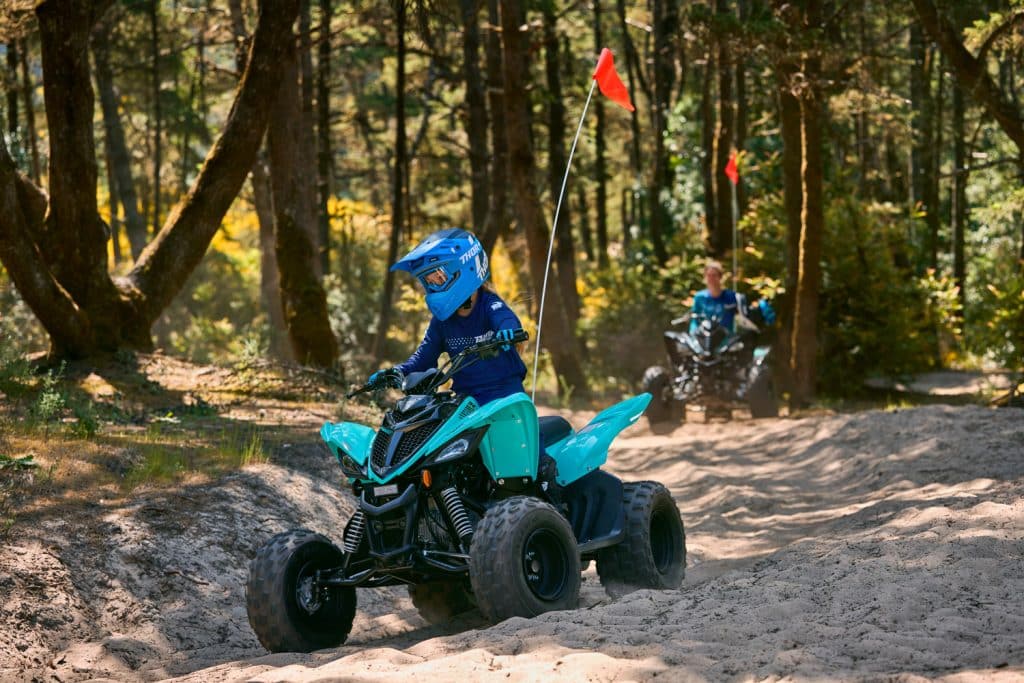 The 2024 Grizzly 90 embodies Yamaha's renowned performance and versatility, offering a fun and confidence-inspiring riding experience for entry-level riders aged 10 years and up. Equipped with a 90-cc engine and CVT drivetrain, this youth model incorporates several Grizzly DNA features such as mud-protection fenders, trail-pointed comfort suspension, front and rear cargo racks, and Grizzly-tread tires. Available in White and Armour Grey and Yamaha Blue. 
For riders aged 6 and up, the 2024 YFZ50 opens the door to the thrilling world of sport ATVs. Inspired by the championship-winning YFZ450R, this youth model brings Yamaha's Proven Off-Road performance and confidence to the next generation of motorsports enthusiasts. Riders can choose between the Team Yamaha Blue or Teal colour options. 
SxS Vehicles are recommended for use only by licensed drivers 16 years and older.
YFZ450R, Raptor 700R, and Raptor 700 are recommended for use only by riders 16 years and older.
Grizzly 90 and Raptor 110 are recommended for use only by riders 10 years and older.
YFZ50 is recommended for use only by riders 6 years and older.