BRP's Can-Am team introduced a new line of winter-ready PAC (Parts, Accessories and Clothing) accessories at the 2019 Ski-Doo CLUB in Dallas, Texas. New Apache Backcountry and Backcountry LT track kits, made for snow exclusively by Can-Am for Can-Am ATVs and SSVs, were unveiled. News also included the launch of a new line of Can-Am ProMount snow plows an accessories.
Finally explore winter with no traction limitations and no compromise, thanks to the unmatched performance of Apache Backcountry track kits. Engineered to thrive in the deepest snow—for work or play. Don't let winter stand in the way.
Ride on untouched trails, traveling deep into winter's embrace and you'll know: the same
technology behind our world-renowned Ski-Doo snowmobiles is at your command. With a larger contact patch, and more aggressive track design, travel beyond what you thought possible with the best snow performance.
APACHE BACKCOUNTRY TRACK SYSTEM
Designed to support ATVs and lightweight. SSVs while delivering better control.
All Can-Am ATVs
Maverick Trail
Maverick Sport
APACHE BACKCOUNTRY LT TRACK SYSTEM
Designed to support the heavier loads of SSVs while delivering better traction and an unmatched flotation level.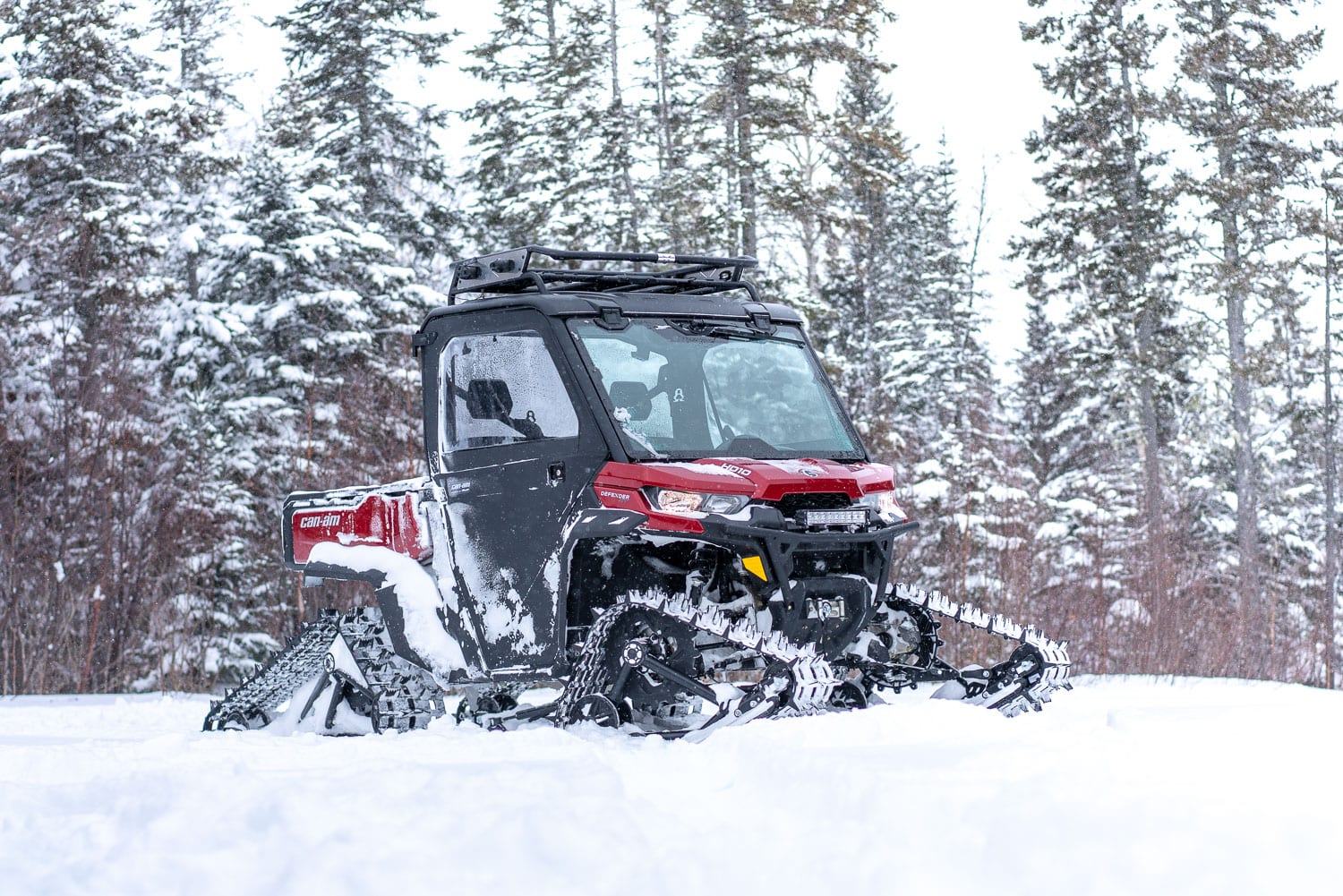 TRACK PATTERNS
2'' lug and 3'' pitch to increase floatation and traction in various snow conditions.
GEOMETRY
Aluminum slider system reduces rolling resistance and increases the contact patch.
ACCESSORIES
Customize your kit to your riding conditions with additional idler wheels, Vespel sliders and ice scratchers.
DPS MODULE
Enhance your track experience with a unique Can-Am Dynamic Power Steering module.
By configuring multiple settings such as power steering response and speedometer with the track ratio, your vehicle's speedometer and odometer will stay true and in sync.
EASY INSTALLATION
Use of Can-Am vehicle specific mounting brackets to simplify initial track installation. The integrated design allows them to remain fitted while using wheels, making future installations as simple as changing a tire.
COVERED BY A 1-YEAR WARRANTY
DETAILS
TRACKS WHEELS & SLIDERS
The Backcountry track pattern is designed for optimal snow traction, without compromise.
The 2'' lugs combined with the 3'' pitch allow your vehicle to "float" over deep powder and
challenging terrain with class-leading traction.
The Backcountry and Backcountry LT use a combination of rubber over molded wheels
and a snowmobile-like slider system. This combination reduces rolling resistance, maximizing power transfer to the ground.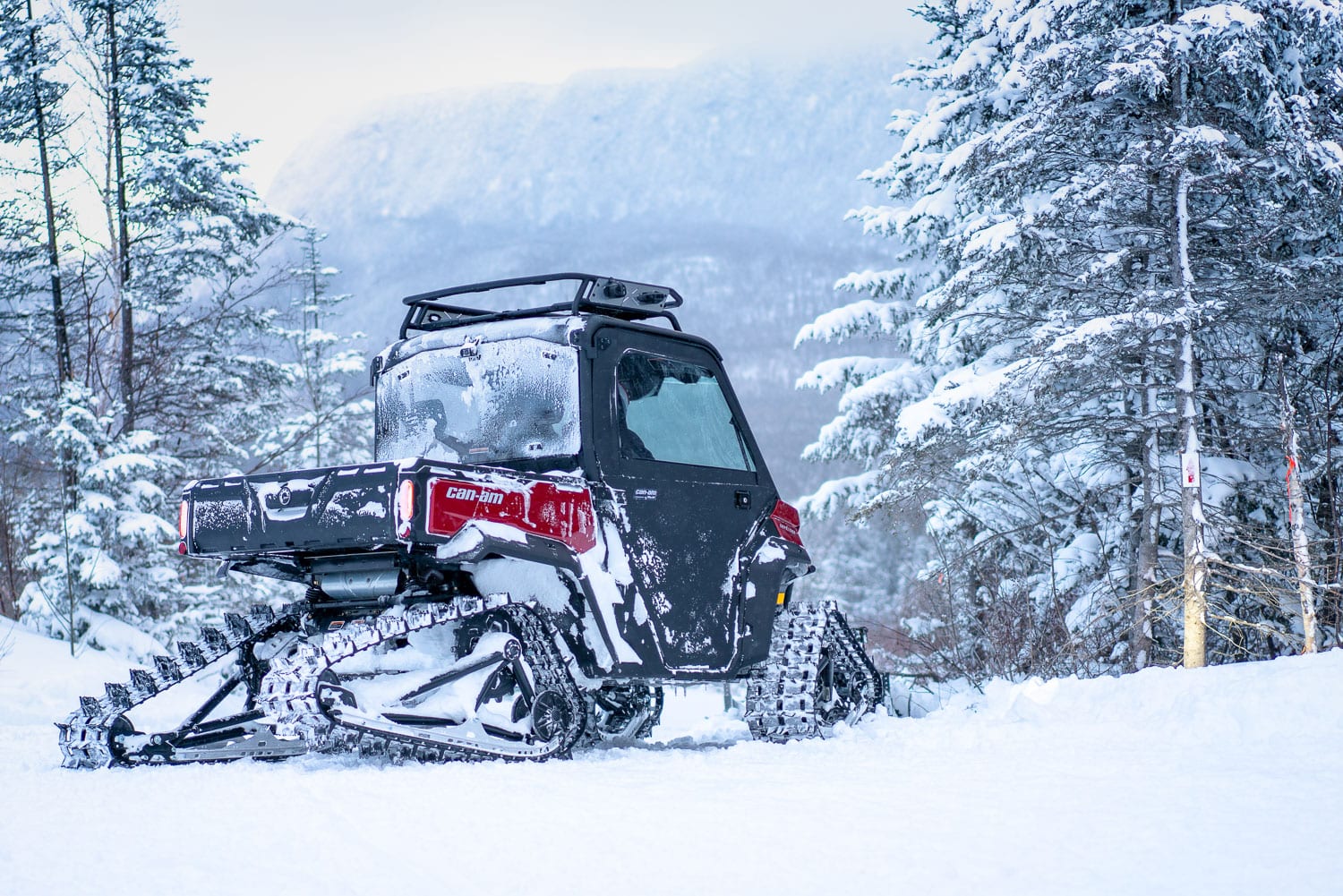 FRAME ANTI-ROTATION ARM
The Backcountry system was designed for one purpose: to increase the contact patch.
Composed of a steel upper section that supports lower aluminum sliders, the snowmobile-like geometry offers unmatched weight distribution on snow.
Adjustable pre-loaded spring and multiple rubber dampers keep tracks securely in place and ensure your machine's performance. Our unique system has been improved for better performance and control.
SPROCKET TENSIONER
The Backcountry and Backcountry LT use an external drive sprocket for slip-free power
transfer. Developed exclusively for Can-Am vehicles, it uses a 3'' pitch for optimized performance in deep snow. The Backcountry and Backcountry LT use an easy to operate snowmobile type tensioner.
See page 10 of product brochure for complete technical specifications and suggested pricing. Get the catalog here: https://can-am.brp.com/content/dam/canam-offroad/Track-Kits/EN_Final.pdf
Visit an authorized Can-Am dealer for more details or shop online at can-amoffroad.com.
THE POWER TO PUSH FORWARD
ProMount Snow Plows & Accessories
The new ProMount lineup was created for both professional operators and enthusiasts looking to take their tool kit to the next level. Designed to work as efficiently as possible, Can-Am reimagined the plow from frame to blade with its new ProMount plow lineup. There's a ProMount for every Can-Am, plus setups for specific heavy-duty use—and a stout quick connect frame mount for unmatched utility and convenience. Made from 12-gauge steel and designed for efficient plowing, the ProMount steel blades are offered in multiple sizes to fit jobs large or small.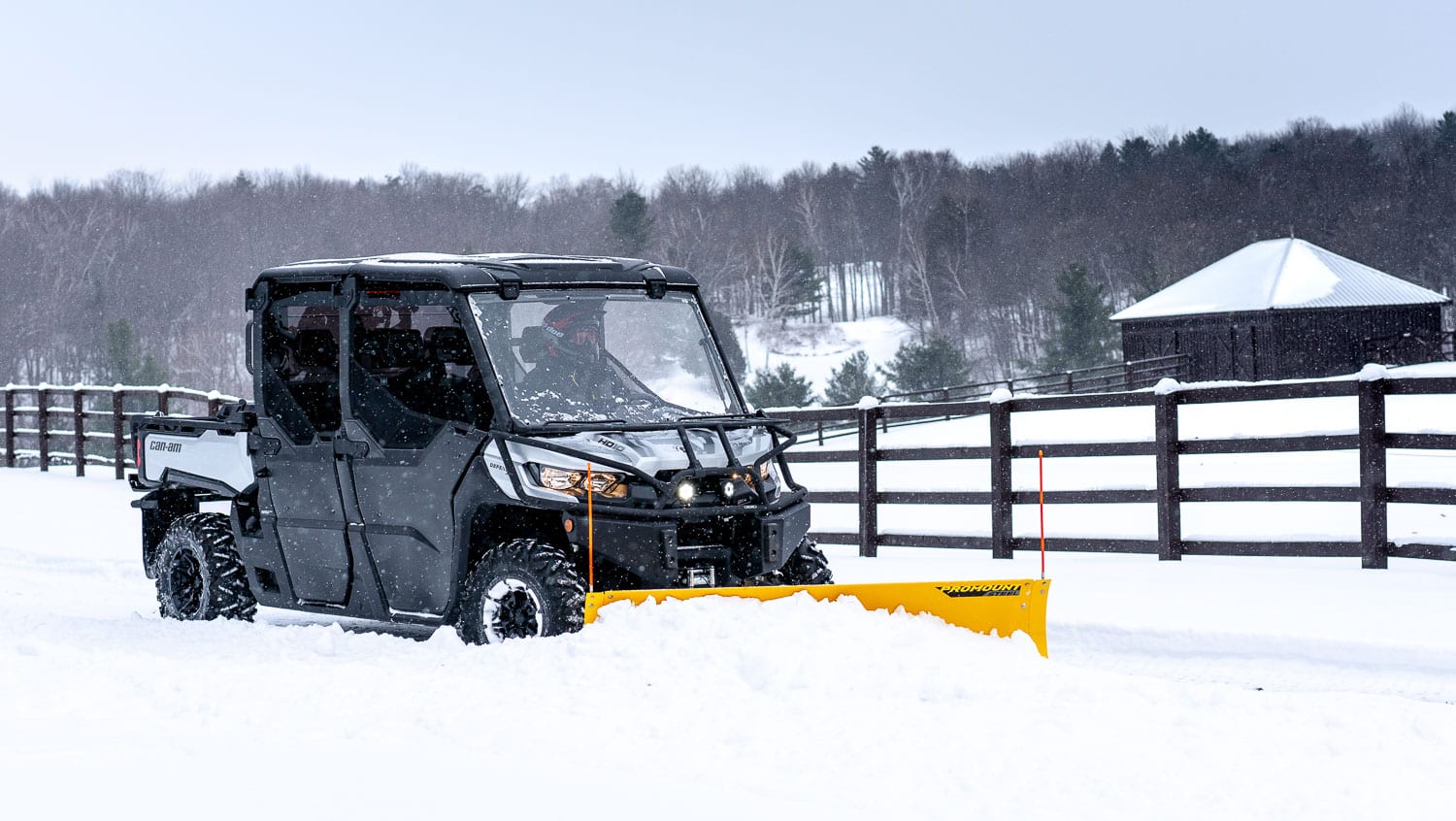 CAN-AM PROMOUNT STEEL PLOW KITS
These kits include: Can-Am ProMount Steel Blade, Push Frame with Quick-Attach System and Mounting Plate. The forward mounted push frame provides industry-leading lift height. Underbelly mounting plate provides the optimal angle of attack for best push strength. The low-profile mounting plate has little impact on ground clearance and can be left installed year round. In addition, the system allows you to create your own kit by choosing any plow type/length that you'd like for the push frame. ProMount Push Frames are compatible with all the blades.
CONNECTS WITH A CLICK
Attachable in four easy steps, the Can-Am ProMount plow system is the fastest, easiest way to start plowing and get the job done—minimal effort for maximum result.
1. Drive straight toward the plow.
2. Attach the winch cable to the plow using a guiding hook/roller.
3. Lift the plow until it clips onto the mounting plate.
4. Remove the winch cable from the guide. You're ready to plow.