We know that you and your four-wheeler are ready for the new season of hardcore riding. But will your clothes get through it? There are pretty specific requirements to what you wear on the trails, and because they are primarily for safety and performance, you want to listen. One question you may have is about the benefits of ATV riding gear vs casual clothing. Read this post to learn all about gear for ATV riding.
When Casual Clothes Double as ATV Clothes
If you're engaging in casual riding, not going particularly fast speeds and sticking to easy trails and roads, you will probably be okay with ATV riding outfits made of long sleeves, long pants, and a jacket when needed. They will keep you from getting sunburned and provide a little protection from elements. Make sure your attire is not bulky as you don't want it to weigh you down or restrict your movement. Your clothing should also fit well, not too loose and not too tight as either can make you uncomfortable or be distracting.
Yet finding casual clothes that wick moisture and you don't mind messing up on the trail can be difficult. Another problem is that the casual clothes you were thinking saved you from having to purchase specialized gear probably won't last very long. They aren't made to withstand the demands of the trail. If you encounter mud, the mud will stick to your clothes and weigh them down, making you wet and miserable, irritating your skin, and restricting your movements.
A few words about your footwear. You can wear sturdy closed-toe shoes that provide grip on the ATV and the various terrain you'll be walking on. Boots with sticky soles and maybe cleats provide the ideal protection. Whatever shoes you choose should offer ankle protection for more comfort and to avoid injuries. So please, no sandals, clogs, or light sneakers.
When You'd Better Opt for ATV Riding Gear
When discussing what to wear ATV riding, most people recommend ATV clothing and accessories that were specifically designed for off-roading. This isn't just a way to get your money.
ATV clothing brands design gear that addresses the needs of off-roaders. This gear wicks moisture so it keeps you comfortable and dry. It is tough enough and strategically designed to keep you safe from debris, branches, and the various injuries you could get in an accident on an ATV. The clothing is reinforced in areas ATV riders specifically need, the places that will be more likely to wear when off-roading, so they endure and do their jobs as long as possible. Many options are also waterproof and mudproof, when you're on outings that require those features. ATV clothing is also designed to be lightweight and ergonomic, so you can do whatever you want and need to do with your ATV without quickly tiring or being restricted.
Finally, ATV gear shows other riders that you're serious about your sport. You aren't just messing around out there. You mean business, when it comes to safety and fun. Right?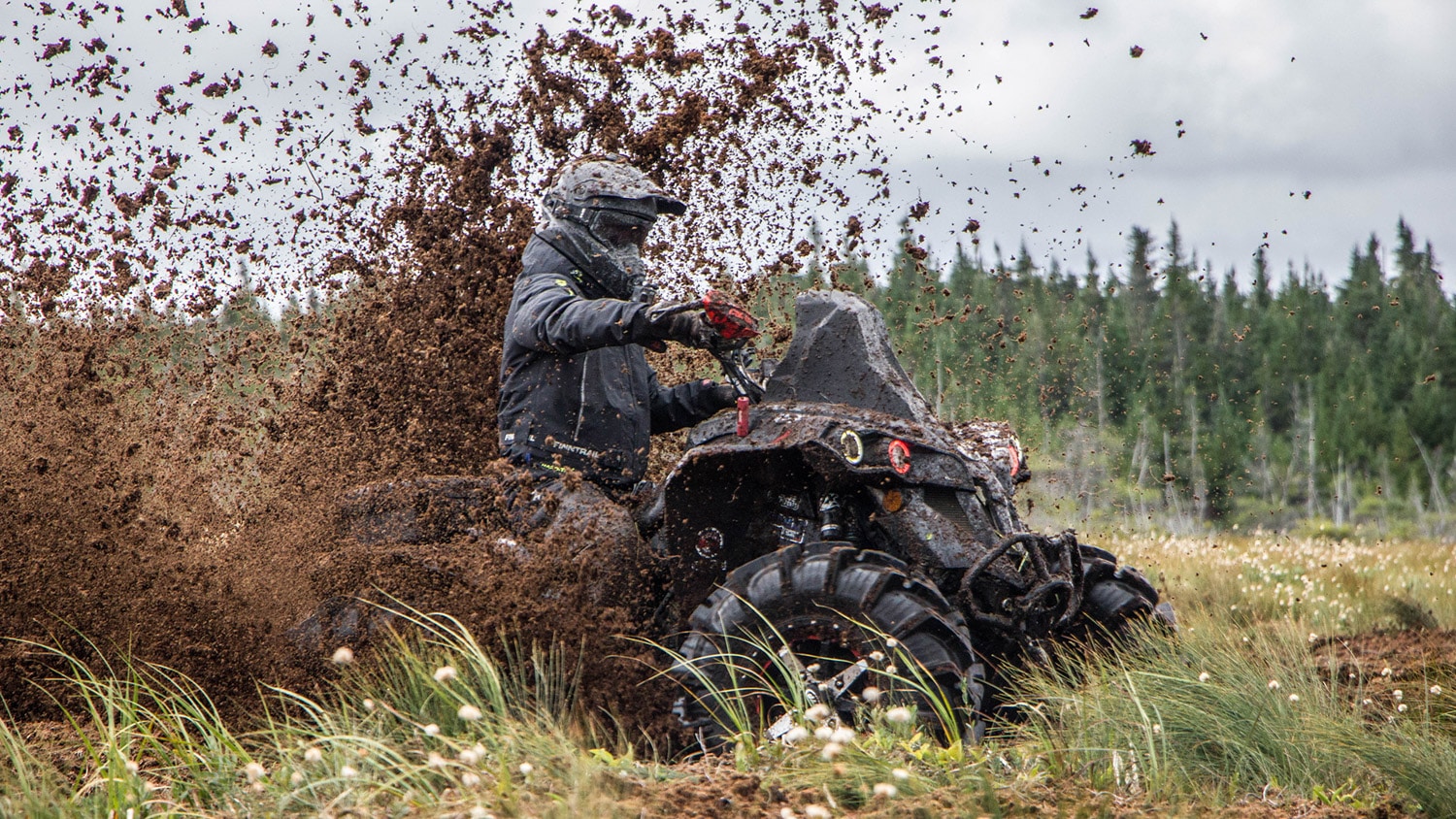 Casual clothes vs Pro gear. Who wins?
| | | |
| --- | --- | --- |
| | Casual Clothes | Pro Gear |
| Waterproofness | Not waterproof | 100% waterproof |
| Mud resistance | Casual clothing isn't protected against elements. Mud sticks to your clothes, restricts your movements and irritates your skin. | Mud-resistant, don't restrict movements. Pro waders have extra dirt-repellent coating such as Teflon. |
| Reliability | Easy to tear by ATV parts, branches, and debris, quickly wear out. | Made of durable high-performance fabrics, which have been specially developed for powersports activities. High-stress areas are additionally reinforced with abrasion-resistant technologies. |
| Boots required | Yes, any kind of boots is suitable. | Yes, require special wading boots which ensure protection, comfort, excellent grip and strong ankle support. |
| Footwear properties | – casual sneakers allow mud and water to flow in, – rubber boots can't be fixed well on the rider's foot | – comfortable wading boots keep your feet dry, provide ankle and heel support – ensure safe and steady wearing |
| Warm season | Suitable to wear with any T-shirt in summer | Pro waders are made of breathable membrane fabrics which wick perspiration away from the skin. Waders are recommended to wear with proper base layers even in summer. |
| Ergonomics | Jeans or ordinary pants restrict movements, may chafe and put much pressure on your knees, if you're sitting on ATV for a long time | Lightweight and flexible. Articulated knees ensure comfortable wearing even when you ride your machine in a sitting position for a long time. |
| Easy to put on and off | Yes | Require a little bit more time to put them on because of the wading boots |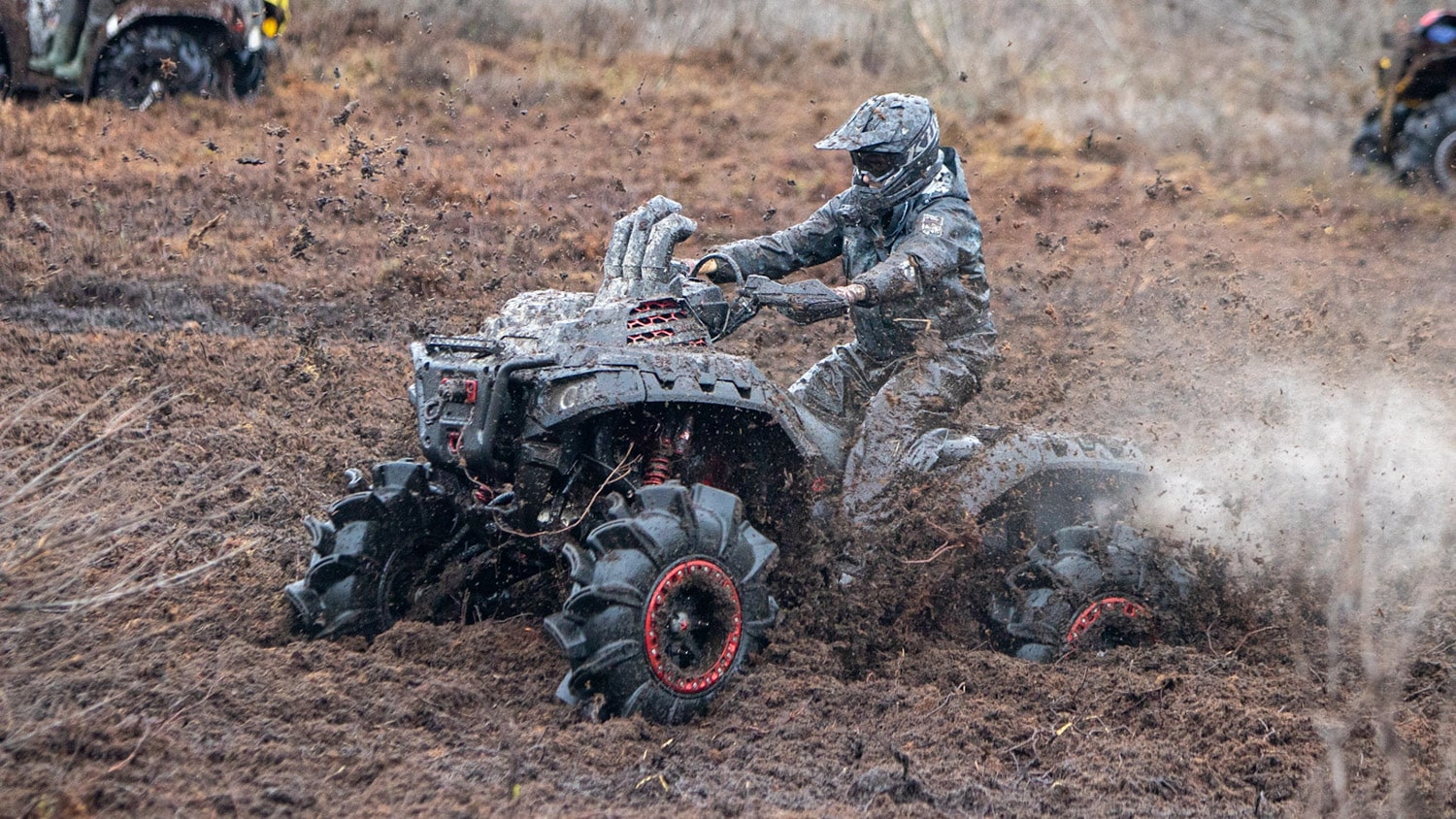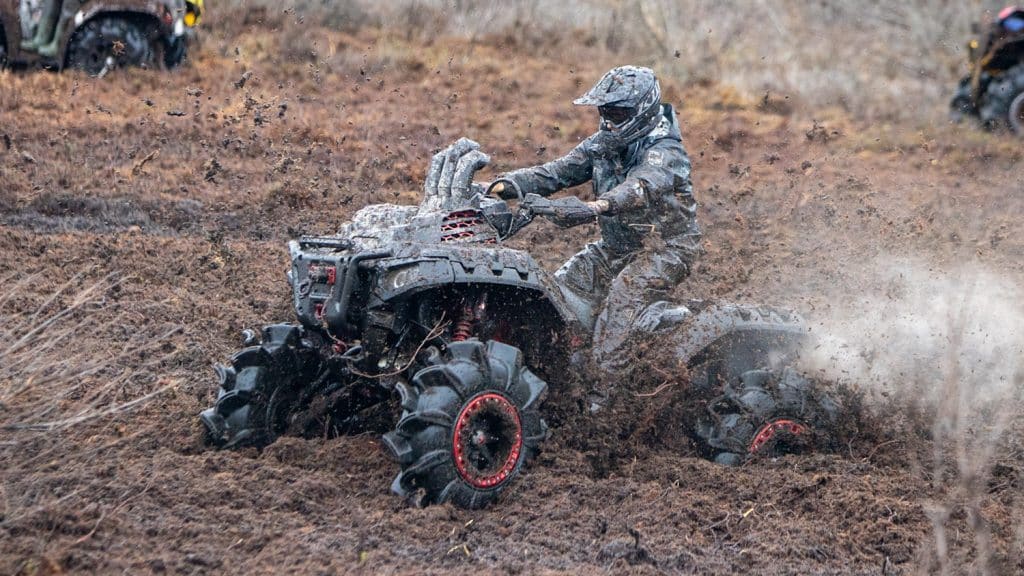 Takeaway
Sometimes casual clothes can serve you if you're just trying out ATV riding or if you are enjoying only very lightweight riding with less need for protection. You will still need to think about moisture wicking and the sun, and your clothes probably won't last long. You could probably buy technical gear with the money you'll be spending replacing your casual clothes. If you want to go mudding, get wet, or engage in average or extreme ATV adventures, you'll need ATV-specific gear. This is a sport like any other, and every sport has its own gear for a reason: usually performance and safety. You don't want to skimp on either.
Article: Finntrail Powersports