Some years are more successful for some manufacturers than for others. And they all tend to play innovations rather close to the chest. However, a common theme with most of them is that they want to please the customers with more powerful ATVs and UTVs offered in eye-catching colors. Most listen directly to the consumer and make changes and improvements based on feedback. Sometimes we get fully redesigned vehicles, while other times we get "Bold new graphics." It's always fun to see what the new model year holds from each company.
Yamaha
We will spare you the new colors of each ATV model at Yamaha this year, as well as the new accessories and the new "Proven Off-Road" badges. However, one of the major points in this category is the Yamaha's prewired infotainment system on all 2020 Grizzly models. This system allows ATV riders to track and plan their trips with thousands of preloaded waypoints, maps of the region, dealer locations and more. This change is helped by increased support for the brand's Adventure Pro GPS tablet.
Adventure Pro can be purchased from its dealer or via www.shopyamaha.com for $ 1,491.95 CAN.
Here are the main features:
• 17.7 cm LCD screen – no need to remove gloves to use the touch screen.
• WiFi connection and Bluetooth connectivity.
• Waterproof and shockproof.
• Preset to communicate via all social networks.
• Vehicle integration capabilities: vehicle speed, selected gear, coolant temperature, battery voltage, 4WD mode status, fault warnings.
• Comes with base maps of the United States only; maps of Canada can be downloaded and saved using the online planning/sharing tool.
* Includes a Yamaha exclusive website – TRX Trailhead (www.yamahaadventurepro.com) – which helps in planning and sharing your rides with other Yamaha enthusiasts. Take a look at this great online tool, post the trails you're on, and share them with other trail enthusiasts. Easily create a link, then give quick access to interested parties.
• Lifetime map and software updates at no cost.
• RAM support included for flexible and easy mounting (all necessary hardware included).
• The Magellan tablet has a language selection function, however, the Adventure Pro app is available in English only. The website is also English only.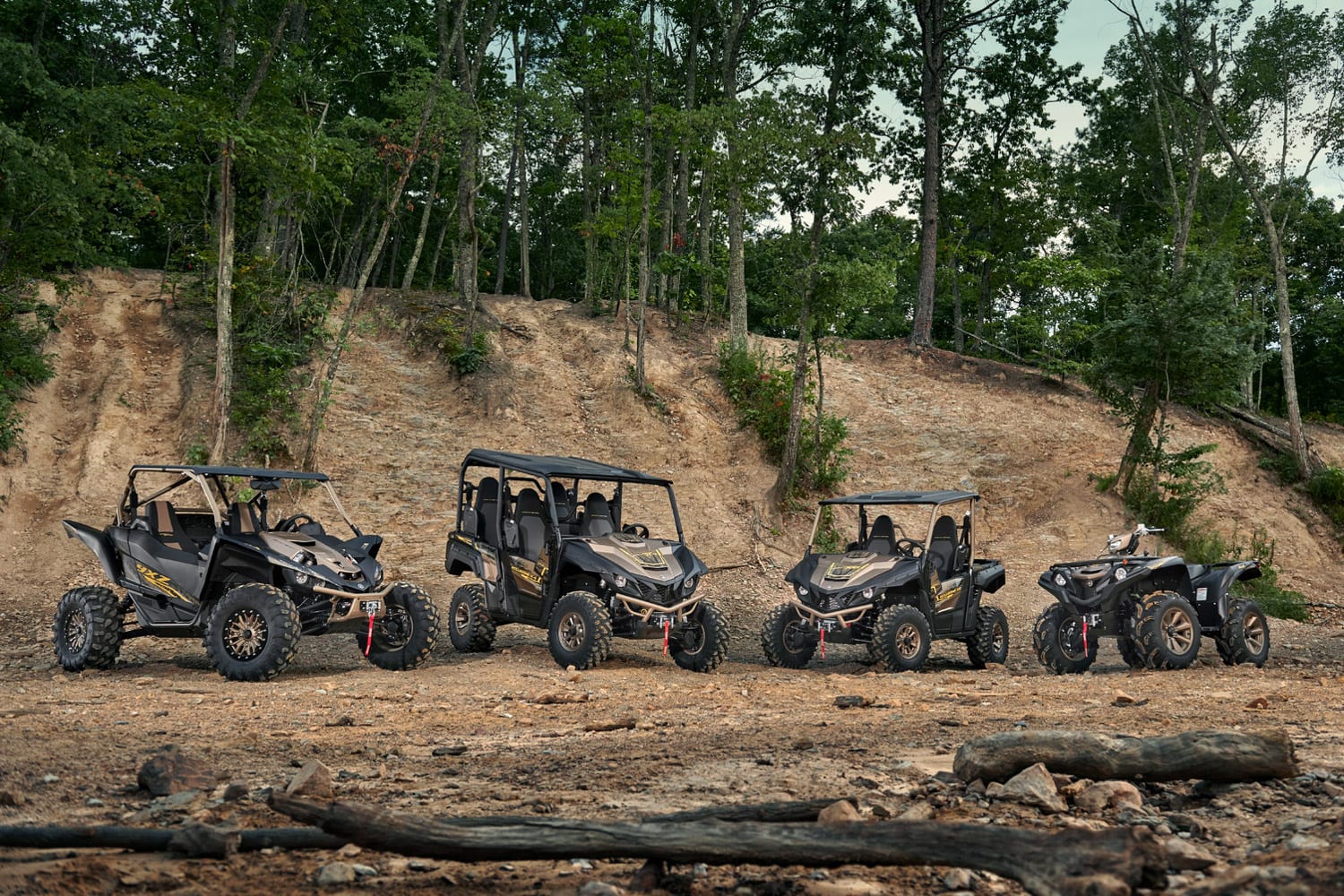 • To install this tablet on Grizzly 2016-18 models, on YXZ1000R/SS 2016-18 models and on 2018 models of Wolverine X4, universal wiring (sold separately) is required to provide limited data integration and full functionality of GPS. To install on Viking (all model years) and Wolverine (2018 and older models), universal wiring (sold separately) is required to provide GPS functionality only.
Yamaha offers new XT-R packages for the Grizzly, Wolverine X2, Wolverine X4, and YXZ1000R models. These packages are essentially new ultra premium versions. It is not just the addition of nice accessories, Yamaha seems to have designed editions to tackle the most difficult terrains, because each one is equipped with new, bigger radial tires, a WARN winch, etc.
In summary, for 2020 Yamaha offers new packages without adding new engines or new models. They seem to once again rely on the vehicles' reputation of high reliability to attract consumers.
Can-Am
BRP is a world leader in the design, development, manufacturing, distribution, and marketing of motorized recreational vehicles and propulsion systems. It is a Canadian flagship and we have every reason to be proud of it.
In 2015, when José Boisjoly became CEO of BRP, he pledged to unveil a new side by side vehicle every six months for four years, and so far he has kept his word. The designers at Bombardier Recreational Products are working tirelessly to remodel and design new vehicles for all types of users.
The Can-Am Defender launch took place in 2015 for its year of introduction: 2016. It was the manufacturer's first utility vehicle and this appearance in this new segment for BRP was an injection of Can-Am's DNA into what was to become the reference machine for work UTVs. Since then, a multitude of improvements and additions have been made to this platform until the launch, among other things, of the new model the 2020 Defender 6×6.
Although the Defender family has been one of the best performing off-road utility vehicles since its introduction, the 2020 Can-Am Defender 6×6 takes things to new heights with a huge cargo box, unmatched towing capacity and a more powerful engine. Add two more wheels and you get the most powerful work vehicle Can-Am has ever produced.
There is little point in adding two more wheels and the associated costs if you don't get a more capable machine. The Can-Am Defender 6×6 2020 does not disappoint. First, the rear cargo area has been extended to a whopping 72 inches by 54.5 inches. Although it already looks like a lot, you can also convert it to a flatbed configuration when even more space is required. Interestingly, you can carry up to 1,000 pounds in the cargo area, just like other Defender HD10 models with only four wheels.
Can-Am extends the Defender 6×6's towing capabilities even further. Thanks to the additional traction of the six wheels, the Defender can tow an incredible 3,000 pounds.
The Can-Am Defender 6×6 gets a multitude of features, including Dynamic Power Steering, new high-rigidity chassis, integrated steel bumper, central skid plate, 650-watt alternator, longer wheelbase of 115.5 inches, 16.9 gal of onboard storage, 140-watt headlights, 10.6 gal fuel tank and 4.5 inch digital display.
The words performance and Can-Am go hand in hand. Year after year, this manufacturer constantly pushes the limits of the power developed by its vehicles. Launched for the 2017 model year, the Maverick X3 is a good example of a hyper-sport UTV that gets on the top step of the podium in the power category. The Can-Am Maverick X3 RR version develops an impressive 195 hp for thrill seekers.
The Can-Am ATV lineup which has already undergone major changes in 2019 remains almost unchanged for 2020. New colors and graphics are the main improvements made to this range of Outlanders from Can-Am.
Polaris
"There is no better way to celebrate the 65th anniversary of Polaris than by introducing world-class off-road machines that really improve each brand's product offering," said Chris Musso, President of Polaris Off-Road. 2020 is a huge year of change for the American manufacturer. The manufacturer introduced sport side-by-side vehicles over a decade ago and continues to make improvements to this line of vehicles.
The brand new model, the RZR Pro XP, offers visionary design, professional performance and strong power to dominate any terrain. This new version is the most efficient, the most versatile and the most agile RZR ever designed at Polaris to date. Each Pro XP model offers 181 horsepower, 20 inches of front travel and 22 inches at the rear, a 96-inch wheelbase, eight times stronger axles and a three times more powerful drive system. The RZR Pro XP Ultimate is the premium version with unmatched technology, including the active DYNAMIX 2.0 suspension.
The utility lineup also received an upgrade for 2020. Polaris took the best-selling utility UTV of all time, the Ranger XP 900, and gave it the ability to haul more, tow more and last longer, providing unparalleled value for every dollar invested by bumping displacement to 1000cc's. The vision of Polaris is clear, they want to create once again the new generation of the best-selling utility vehicle in the world.
On the ATV side, 2020 is certainly a major turning point in this category and Polaris is without a doubt an instigator. Pioneer in the high-end ATV category for over 30 years, Polaris Sportsman launched the first 55-inch wide ATV with over 14 inches of unrivaled suspension travel. Designed to conquer boundless territories, the best-selling 4×4 automatic ATV brand presents the 2020 Polaris Sportsman XP 1000 S and the Scrambler XP 1000 S. The 55 inch width between each wheel will bring stability and confidence to any pilot. It remains to be seen how the competition will respond to this innovation.
Honda
The ATV lineup has undergone some noteworthy changes from this manufacturer with the highest reliability rating from consumers. The Fourtrax Foreman Rubicon gets an engine upgrade with the addition of an additional 43 cubic centimeters. A new lever has also been added to engage reverse gear for automatic models, replacing the somewhat awkward brake-lever switch system of previous machines.
Four different Rubicon models are offered, three of which are equipped with the dual-clutch transmission (DCT) which now has a manual priority function to allow switching on the fly while the transmission is in automatic mode.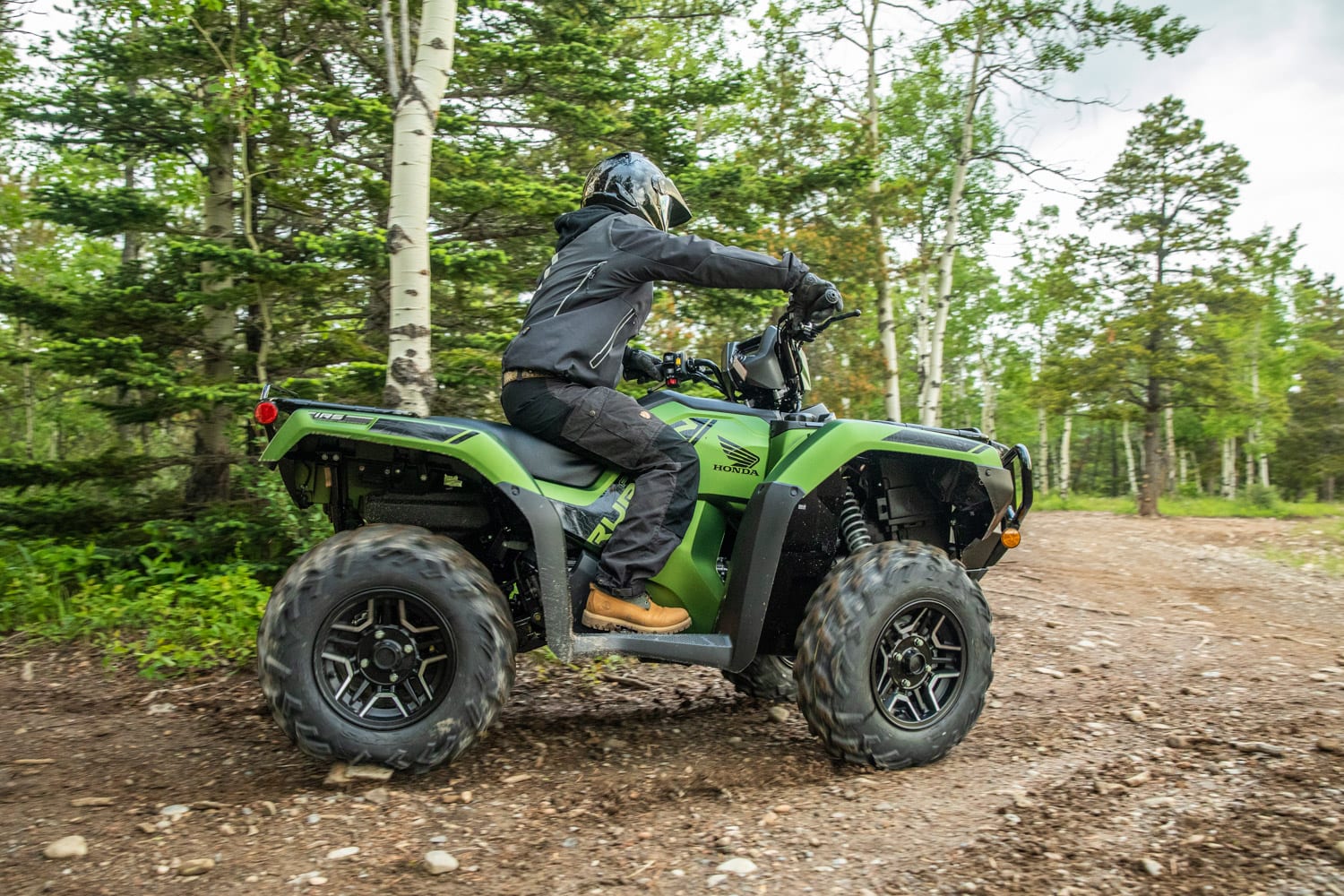 A sport-oriented UTV from this manufacturer has been eagerly awaited by all. Given that the Honda Talon, as well as a four-seater version, are now in the showrooms of the various Honda dealers, our questioning now focused on the possibility of adding additional horses to compete with the most powerful UTVs on the market. The answer was not long in coming and it is now possible to increase the power by around 60% compared to the 104 original horses, which puts the number in the region of 160 horses thanks to a turbo. The turbocharger itself is supplied by Garrett and can be installed without modifying, welding or changing internal components of the engine. Performance enthusiasts will be delighted to hear this news.
Arctic Cat
Three years have now passed since Textron purchased Arctic Cat for US $247 million. With this transaction, senior executives of Arctic Cat said the company was to evolve faster while presenting more innovations with its products and vehicles. The results were noticeable very quickly with the name change to Textron Off-Road and the launch of the Wildcat XX and the Stampede utility models.
Sales, however, were not up to the taste of the leaders at this American manufacturer and the only major change is a return to basics regarding the name. Arctic Cat rises from the ashes to probably reconnect with the followers of this brand. 2020 will probably be a year to stabilize its achievements and study a way to revive this legendary brand.
CFMOTO
Distributed in Canada for almost 15 years and established worldwide for more than 30 years, CFMOTO leaves no one indifferent and continuously imposes itself with sales in constant progression. Once neglected, this brand is now among the logical choices when fans visit dealerships to obtain an off-road vehicle that meets expectations. The quality of preparation and assembly is now worthy of a manufacturer established by an ever-growing network of dealers.
CFMOTO once again provides the industry's best 5-year limited warranty. It is certainly disturbing and the competition must now look at this new player on the market.
Even if the Canadian distributor of CFMOTO, Canada Moto Import, is uncommunicative on its future projections, when writing this story the only novelty for 2020 is the introduction of the all new CFORCE 600 ATV. A new chassis and a new 580cc engine developing 40.2 horsepower fill the mid-size category from this manufacturer. It is offered in solo and touring (2-seats) versions and is presented in two different colors – titan gray and orange. Like all CFMOTO vehicles, it comes standard with a winch, mirrors and a CVtech clutch.
Kawasaki
Kawasaki has been very discreet about new products for several years and we were questioning ourselves about the real interests of this company in regards to off-road vehicles. For 2020, however, Kawasaki presents a sport side-by-side vehicle that really raises the standards in this area. The Kawasaki KRX 1000 comes in the customary Kawasaki green color. Its looks make it one of the most enjoyable UTV to date. Its huge 31-inch tires mounted on beadlock rims cleared everything in its path. The only disappointment we have right now is related to its dimensions. Its 68-inch width limits its use to a number of locations. We hope that Kawasaki comes out with a narrower version for woods riding. If the latter ever happens, sales will certainly be on the rise. Still, we're really excited with what Kawasaki is doing.
Suzuki
Suzuki was the innovator of the four wheel drive ATV when they introduced the King Quad in the early 1980s. Despite the fact that they presented an improved version of their flagship vehicle two years ago, we must admit that they have been quiet in recent years. Suzuki can rely on a very enviable reputation of reliability going with an, "if it ain't broke don't touch it," approach. Still, we'd like to see Suzuki get back to work bringing out new stuff.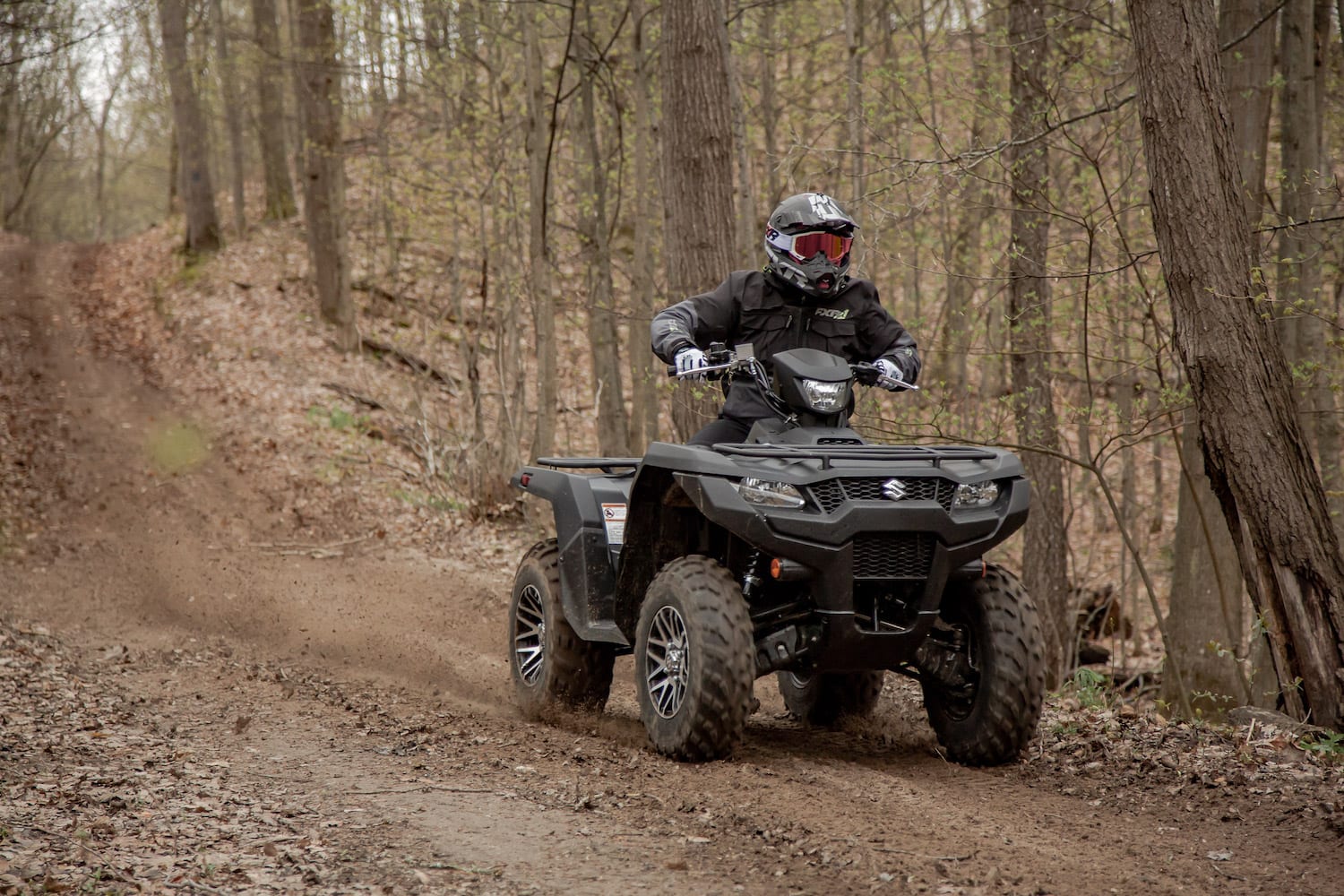 Argo
Argo, an XTV (Extreme Terrain Vehicle) manufacturer headquartered in Canada, was founded in 1967, it was named for its stamina on land and water after the Argonaut of Greek mythology. Its parent company, Ontario Drive and Gear Limited (ODG) has certainly learned a lot over the years about the ways in which off-road enthusiasts use their vehicles.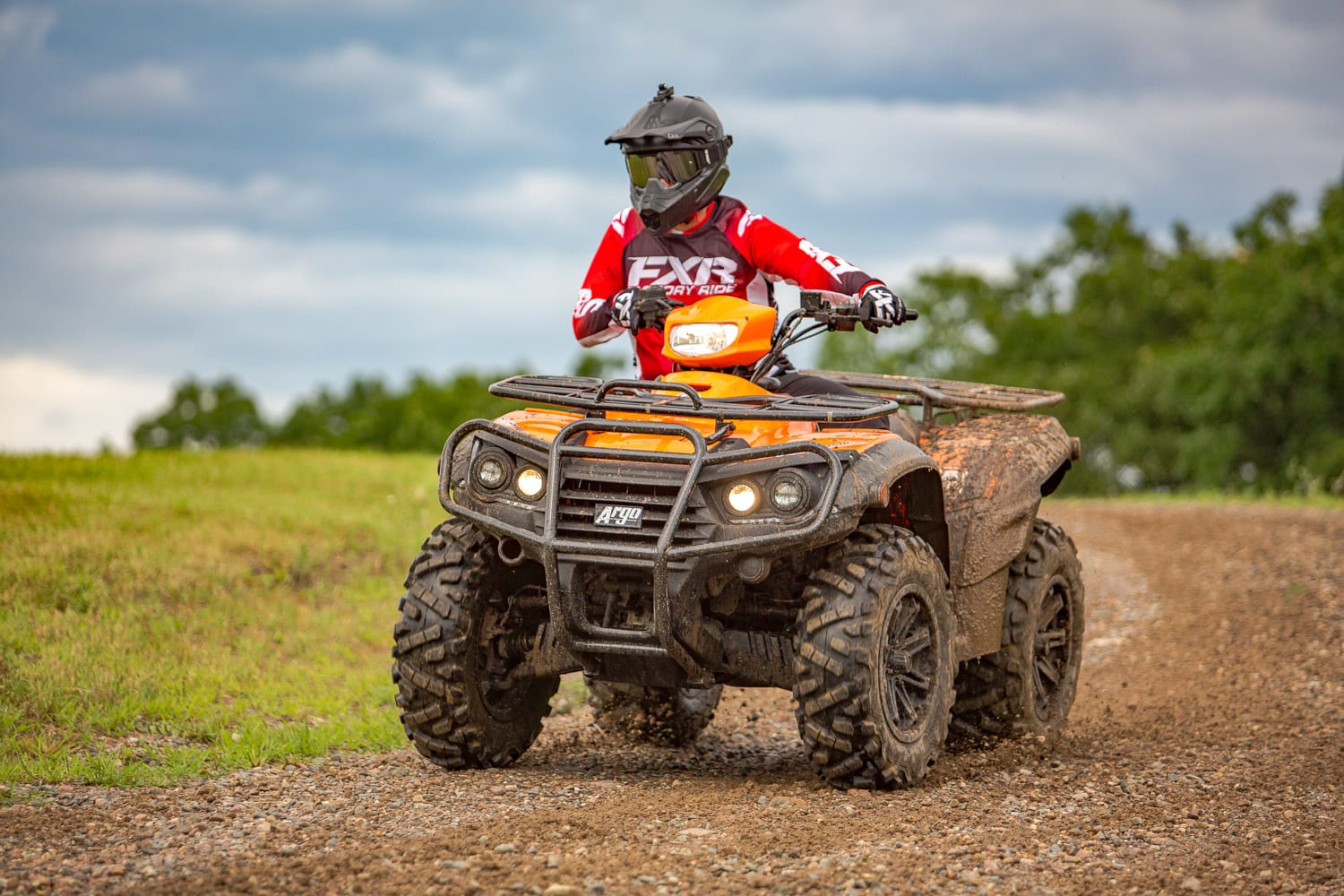 For two years now, Argo has offered a line of ATVs called Xplorer. Two engines are available – a 503cc single cylinder and a 997cc twin cylinder. The XT versions are a single seat while the XRT versions are 2-seaters. It is with audacity that this manufacturer tries to penetrate the ATV market, already having a rich history in the design of unique and unusual off-road vehicles.