UTV audio systems market is constantly changing. The systems have evolved over the years and have become almost essential tools as we enjoy their contributions to pleasant rides made to the sound of our favorite music. The variety of systems is very broad and reaching an informed decision could be a tedious exercise, but we're here to help.
The questions we have to ask ourselves are: what budget should I set, and what system power is appropriate for my use? We have therefore made a comparison of the major manufacturers in the audio system industry and also made the description of an audio system available from each of them that we feel is worthyof mention for your UTV.
Boss
A California-based designer and manufacturer with facilities in China, BOSS is backed by strong logistical and production capabilities to create optimized audio and video experiences and deliver innovative products. Its history is based on more than 30 years of innovation highlighting the latest technology while offering clean and powerful sound. BOSS Audio offers more than 400 different automotive, marine and motorsport products, and they are sold in more than 130 countries.
Universal Reflex Audio Bar:
Among the assortment offered by BOSS, the Reflex model stands out for its universal characteristics for our UTVs. This audio bar attaches directly to the ROPS cage using clamps and expandable mounting brackets. This unit can be used in singleor multiple waysby adding multiple Reflex bars for a thrilling audio experience.
The Reflex bar is available in two sizes – 40 or 46 inches. They are supplied with universal mounting brackets that can be adapted to any UTV equipped with a tubular cage. The 40-inch model will fit with a spacing of 43 inches to 49.5 inches and the 46-inch version fits from 49.25 inches to 56 inches. This bar is equipped with four high-performance 6.5-inch, moisture-resistant two-way speakers as well as a high-performance 8-inch center subwoofer. This system is powered by a D-class amplifier delivering up to 1000 watts and isalso equipped with an auxiliary input compatible with all smartphones and MP3 players. The heart of the Reflex system is a weatherproof control panel that allows you to master this audio beast. The controller is equipped with Bluetooth technology compatible with Spotify and Pandora applications, and a USB charging socket.

Specifications:
Four 6.5″ Full Range DVC Speakers + 8″ DVC Active Subwoofer
5-channel 1000W RMS Class D integrated amplifier
Shock resistant ABS main case
Weatherproof / dustproof for easy cleaning
Integrated quick access control panel for MUTE and DOME LIGHT functions
LED dome spot lights
Bluetooth remote control with adjustable bar mount
Bluetooth 4.1 to control your favorite streaming applications
Play / Pause / FF / FR Volume up / down
Soft Touch rubber control buttons
3.5 mm AUX-in
1A USB charging port
2V RCA output (Daisychain)
Connection set of 15 '
Simple and easy installation
Universal multi-angle adjustable clamping system (for 1.5 " to 2 " tubes)
For more information: www.audioaudio.com
SSV Works
With more than 30 years of experience in the automotive and off-road industries for high-end manufacturers, SSV Works delivers professionalism, support and customer service that lives up to expectations. Their mission is to provide off-road enthusiasts with audio systems and accessories that consistently exceed their expectations.
SSV Works Sound System for Can-Am Maverick / Commander:
This system, specially designed for the Can-Am Maverick and Commander models, provides high-definition stereo sound and is installed in less than 15 minutes in the original protection cage, above the occupants' heads. Its Bluetooth functionality allows simple connectivity with a smartphone or MP3 player. The system features a low-power 4 X 50-watt (200 watts) digital amplifier, waterproof speakers, and an AM / FM tuner with internal antenna. The enclosure is constructed of fiberglass for lightweight, maximum durability and better sound quality.

An optional auxiliary input and USB port can be added to power this system. It is also possible to change the speaker grilles to match the color scheme of your vehicle.
Specifications:
Weatherproof dock for iPod / iPhone, no radio required
Waterproof cabinet with push-lock polycarbonate latch door
Charges iPod, iPhone and touch devices
High efficiency 4 x 50 watt internal amplifier
Now with bass / treble / balance / mute *
6.5 " Marine Bi-Directional Waterproof Speakers
4 White Super Bright LEDs Dome Light
Rubberized Edge Mount Controls
iPod Control (Volume, FF / FR, Play / Pause)
Auxiliary Input 3.5 mm for MP3 or satellite radio
FM tuner with backlit display and external antenna
Optional micro-RCA output for system expansion
For more information: www.ssvworks.com
MTX Audio
MTX is a manufacturer established in the audio industry for almost four decades. It is an American company that manufactures audio equipment for applications such as car audio, home audio, marine audio and off-road vehicles. It is a major audio manufacturer with more than 750 employees around the world. The range of products and accessories for off-road vehicles places this manufacturer in a class of its own for their top-of-the-line and premium products.
650-Watt RMS 8-Element Audio System
Designed for Polaris RZR XP1000 and 900:
The RZR System3 is a complete audio system that turns your vehicle into a machine with a sound level that will be the envy of all. The finish and installation have an aesthetic approach very close to the original appearance of your vehicle. All equipment is installed directly and perfectly where it is intended. The connection wires are pre-cut for fast connection. The 6.5-inch speakers are installed at the front of the dashboard to avoid reducing the leg space in the cabin. The 50-watt wakeboard type rear speakers, on the other hand, are installed on the 1.5-inch to 2-inch protective cage tube. The 400-watt RMS compact amplifier is specifically designed for discreet installation under the dashboard. A 250-watt RMS powered bass subwoofer installed 'under-the-hood' adds to this complete package.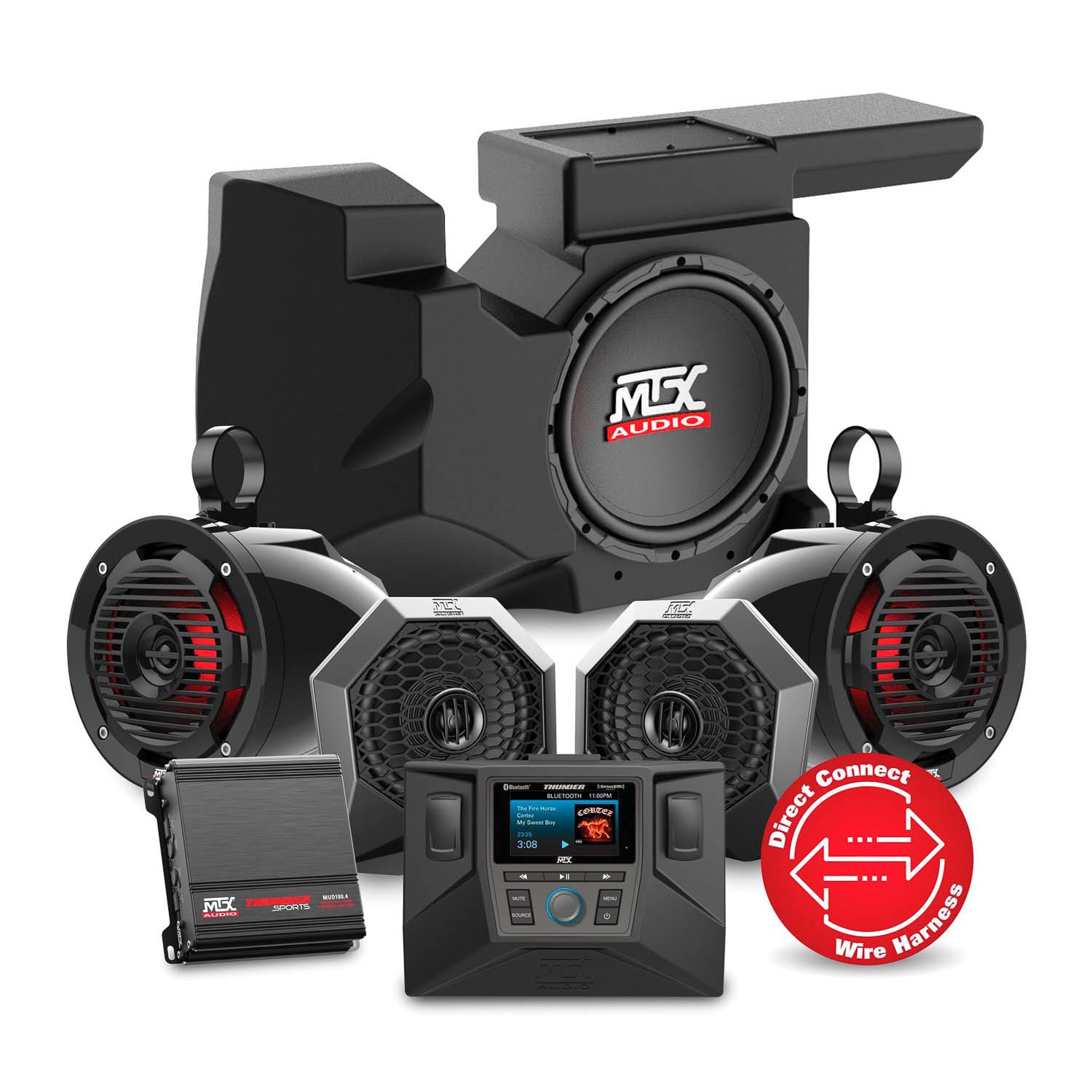 Finally, a control center with a 3-inch weatherproof screen allows the easy operation of this sound equipment. The features areAM/FM, Bluetooth and SiriusXM reception. The control buttons are backlit for quick and easy control. No doubt this MTX Audio system is the secret weapon to be the hero of your circle of friends. It should be noted that MTX offers several equipment layouts and that we recommend that you consult their website for an overview of the equipment that would fit your budget and your vehicle.
High Quality Sound Level 3
The RZRSYSTEM3 set includes everything you need to make your RZR even more extraordinary. This set includes the parts and accessories needed to install the system without having to drill or cut your machine. Set includes:
AWMC3 – Weatherproof Head with built-in amplifier
MUDRZRDK – set to fit the AWMC3 head in the RZR dashboard
RZRPOD65 – 6.5" In-dash Weatherproof speakers and housings
MUD100.4 – 400-watt 4-Channel Weatherproof Amplifier
MUD65P – Weatherproof 6.5 " Loudspeaker Enclosures,Rollover Cage Mount
RZRXP-10 – 250-watt, 10 " Direct Mount Amplified Subwoofer
RZRHARNESS3 Wiring harness kit
AWMC3
3 " TFT Color Display
Sirius XM Radio Tuner compatible
AM Tuner / FM / WB
Bluetooth audio transmission
4 x 50 watt internal power amplifier
IP66 Weather resistance
2 sets of preamp outputs (front / rear)
EQ selectable
Backlit control buttons
RZRPOD65
UV Protected Weatherproof construction
Fits RZR dashboard
No cutting or drilling required
MUD100.4
Compact design that can be installed anywhere
Moisture-proof printed circuit board coating
Fixed Splitters
High and Low-LevelInputs
MUD65P
6.5 " Weatherproof Speaker Cabinets
Fits 1.5 ", 1.75 " and 2 " diameter bars
Internal Distribution
Impact Resistant ABS Plastic Grille with UV Protection
RZRXP-10
Built-In 250 Watt RMS Amplifier
Low-LevelInput with External Gain Control
Installs under the dashboard of selected RZR models
For more information: www.mtx.com
AUDIOFORMZ
If you want to amaze your friends, and if your budget offers you this possibility, you have to take a look at what Audioformz has to offer. A Texas-based manufacturer since 1999, they strive to offer innovative fiberglass products for the automotive, marine and off-road industries. This is of course more than ultra-sophisticated audio equipment, this is cool stuffthat offersa breathtaking aestheticism. They design the entirety of their products for the sake of detail and quality. They also offer customization that would reach any customer's taste according to their requirements. This feature offers an infinity of choices and results in a unique product for the most demanding clientele. For an overview of their possibilities and the compatibility of their merchandise, we recommend that you check their website. However, we present you one of these special systems to titillate your curiosity.
AudioFormz Stereo Roof for Polaris RZR 1000 UTV – 4 – 20 W: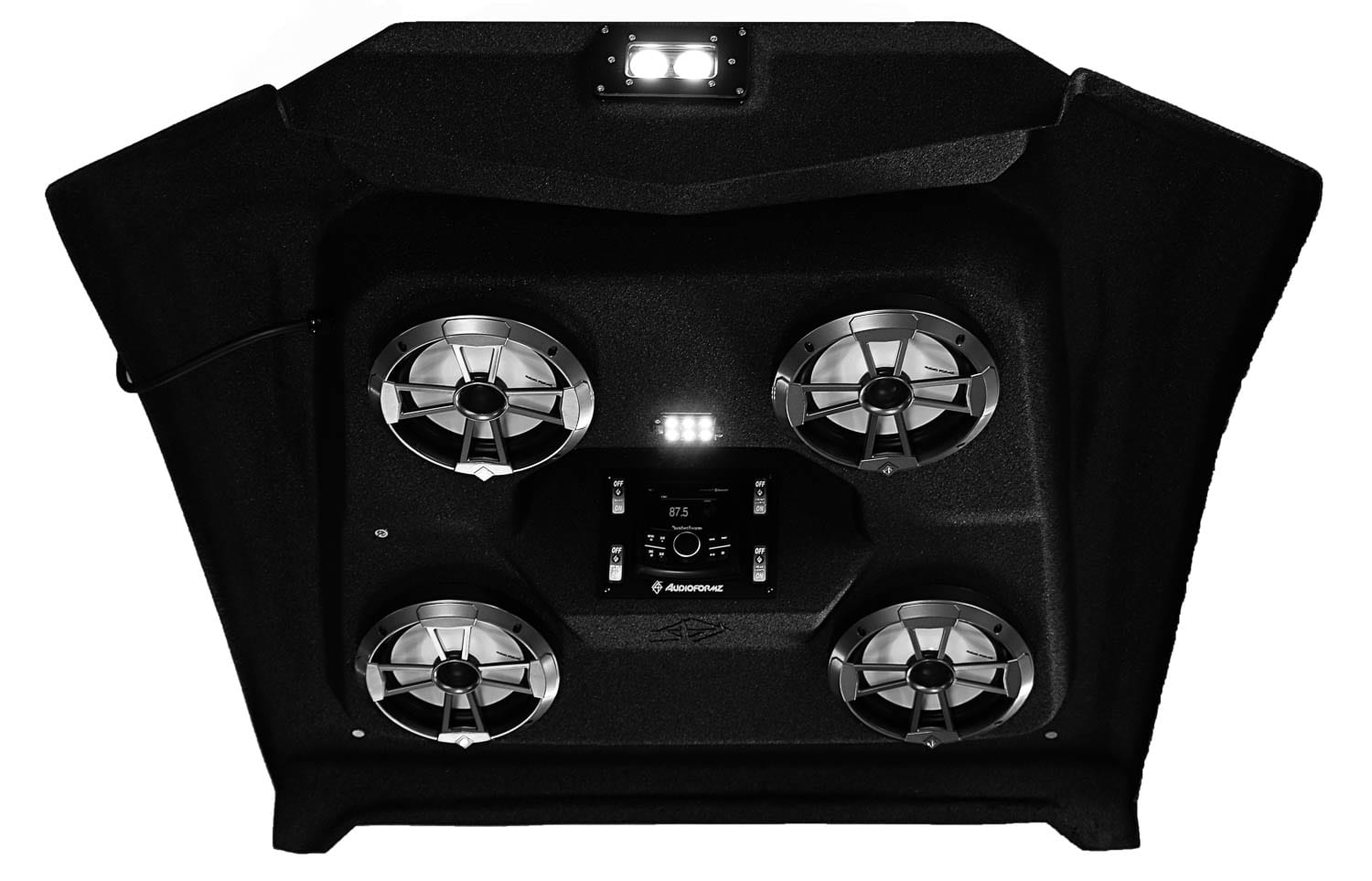 If you are interested in an audio system embedded in a UTVroof that offers an original aesthetic, you need Audioformz. This fiberglass roof provides the most "baddest" sound system on the market. Its configurations allow the addition of more efficient amplifiers, subwoofers or speakers according to the desired budget. Highly efficient LED lights of the desired color can also be installed. Bluetooth media players or controllers to stream your favorite music complete this high-end sound package.
General features:
Made in the USA using 100% hand-molded fiberglass
Unparalleled performance in a molded, lightweight and aggressive design
Designed with optimal clearance for a very good low-frequency response and excellent sound quality
Various models are available with optional, rear-open speakers and two 10 " subwoofers
Marine grade Sony and Rockford Fosgate player with Bluetooth and FM tuner
Control panel with four watertight switches and LED dome lighting
AudioFormz EVO Marine Speakers with RGB LED Lights
High Power Recessed front and rear LED Lights, exclusive to AudioFormz
Simple and quick 30 minutes installation with two-wire connection
Choose your level: (Level 1 = Basic / Level 5 = Deluxe)
Level 1: Stereo roof, Sony Bluetooth radio, four 6.5 " Evo speakers, four round 10-watt LED lights on the front and one 10-watt round LED light on the back.
Level 2: Stereo Roof, PMX-2 Rockford Fosgate Bluetooth Radio, 4 x 8 " EVO Speakers with RGB LED Light and RGB Controller, four 20-Watt LED on the front and one 20-Watt LED Light on the back.
Level 3: Stereo Roof, PMX-2 Rockford Fosgate Bluetooth Radio, 4 x 8 " EVO Speakers with RGB LED Light and RGB Controller, 600-Watt Audioformz Recessed Amplifier with Battery Voltmeter, four 20-Watt LED Lights on the front and one 20-watt LED light on the rear.
Level 4: Rear-facing speakers stereo roof, PMX-2 Rockford Fosgate Bluetooth radio, AUX / USB input jack, 6 X 8 " EVO speakers with RGB LED light and controller, 600-watts Audioformz Recessed Amplifier with Battery Voltmeter, four 20-watt LED lights on the front and one 20-watt LED light on the back.
Level 5: Stereo roof with Pro-Subwoofer on the back, PMX-2 Rockford Fosgate Bluetooth radio, AUX / USB input jack, 4 x 8 " Evo Pro-Speakers with RGB LED light and controller, two 600-watt Audioformz Recessed Amplifiers with Battery Voltmeter, 2 x 10 " subwoofers, four 20-watt LED lights on the front and one 20-watt LED light on the back.
For more information: www.audioformz.com