The machines that make most ATV riders dream are the most powerful, the fastest, and impressive. Understandably, they are presented by advertisements in situations that put them to their advantage, exacerbating the urge to dominate nature. The power is so seductive …
On the other hand, their cost is much less attractive. These exceptional high-performance machines will relieve their future owners of a few tens of thousands of dollars, or even fifty thousand dollars if the enthusiastic buyer indulges in the game of customizing the coveted vehicle.
However, if we go back to the essence of the quad activity, a modest displacement of 400 or 500 cc will take you wherever you want and bring you back. As a bonus, the owning and operating costs will remain very reasonable as long as we take care of not getting tempted by the most equipped versions. However, it also happens that the higher model is almost the same price. Let's take a look at the market to remember the small engine ATV models.
Arctic Cat: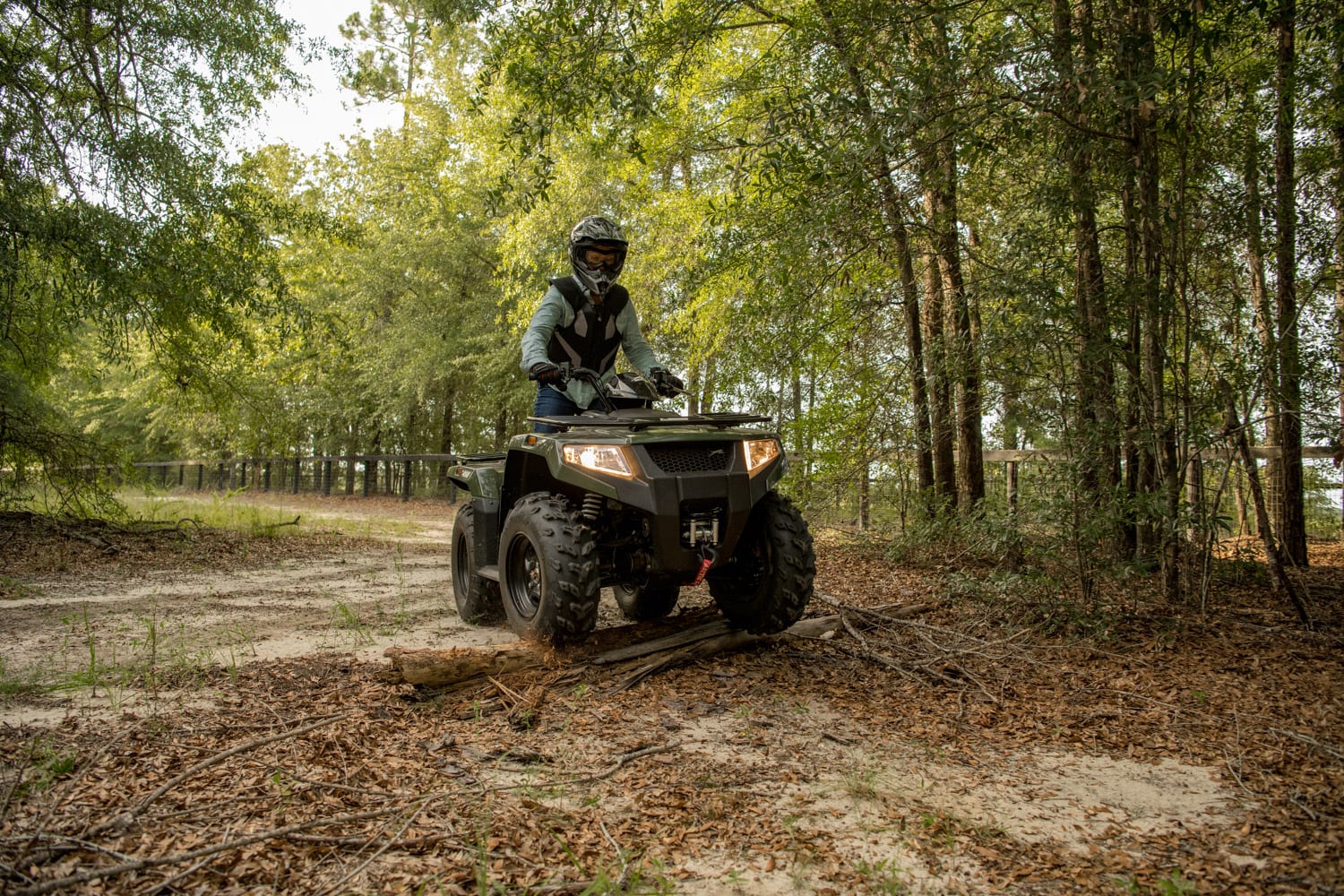 As an entry-level, Arctic Cat offers the Alterra 450, a joint venture with Kymco and build for riders wanting new features and modern designs. That machine offers good value for money. If you're looking for quality, look at the Alterra 570 or the new Alterra 600 that's coming to market.
Alterra 450 Retail Price: $ 7599.00
Can Am Outlander 450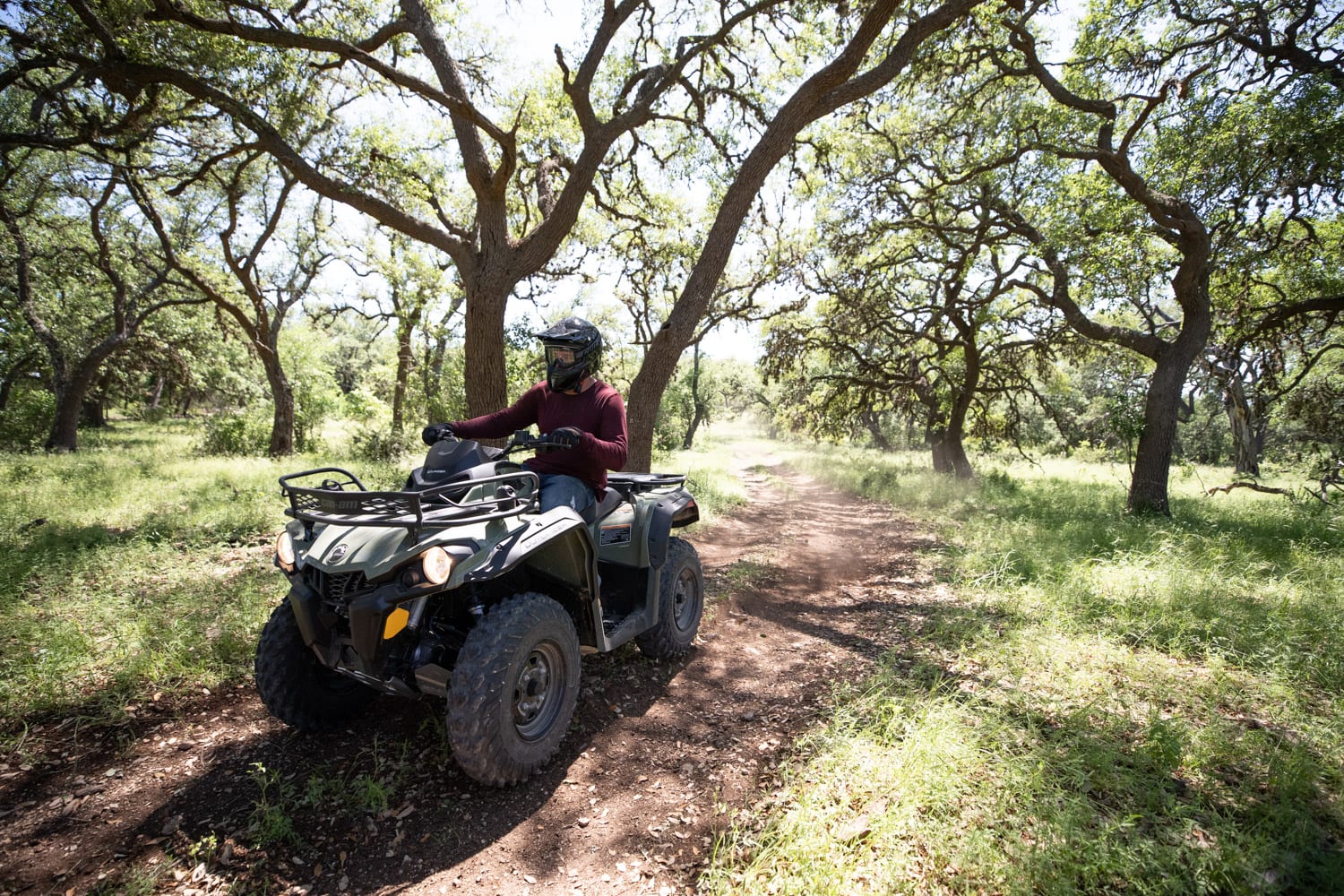 Few people look at the small Outty 450, which is Can Am's entry-level ATV. Some of its capabilities and features are less generous so as not to cannibalize Outlander's upper lineup. Regardless, the vehicle remains skillful in the handling and comfort departments, as most of Can Am's genetics are still there.
This quad is also offered in a two-seater Outlander Max 450 version, which is exceptionally well suited for a couple wanting to enjoy a healthy lifestyle while off-roading.
Outlander 450 retail price: $ 7899.00
CF Moto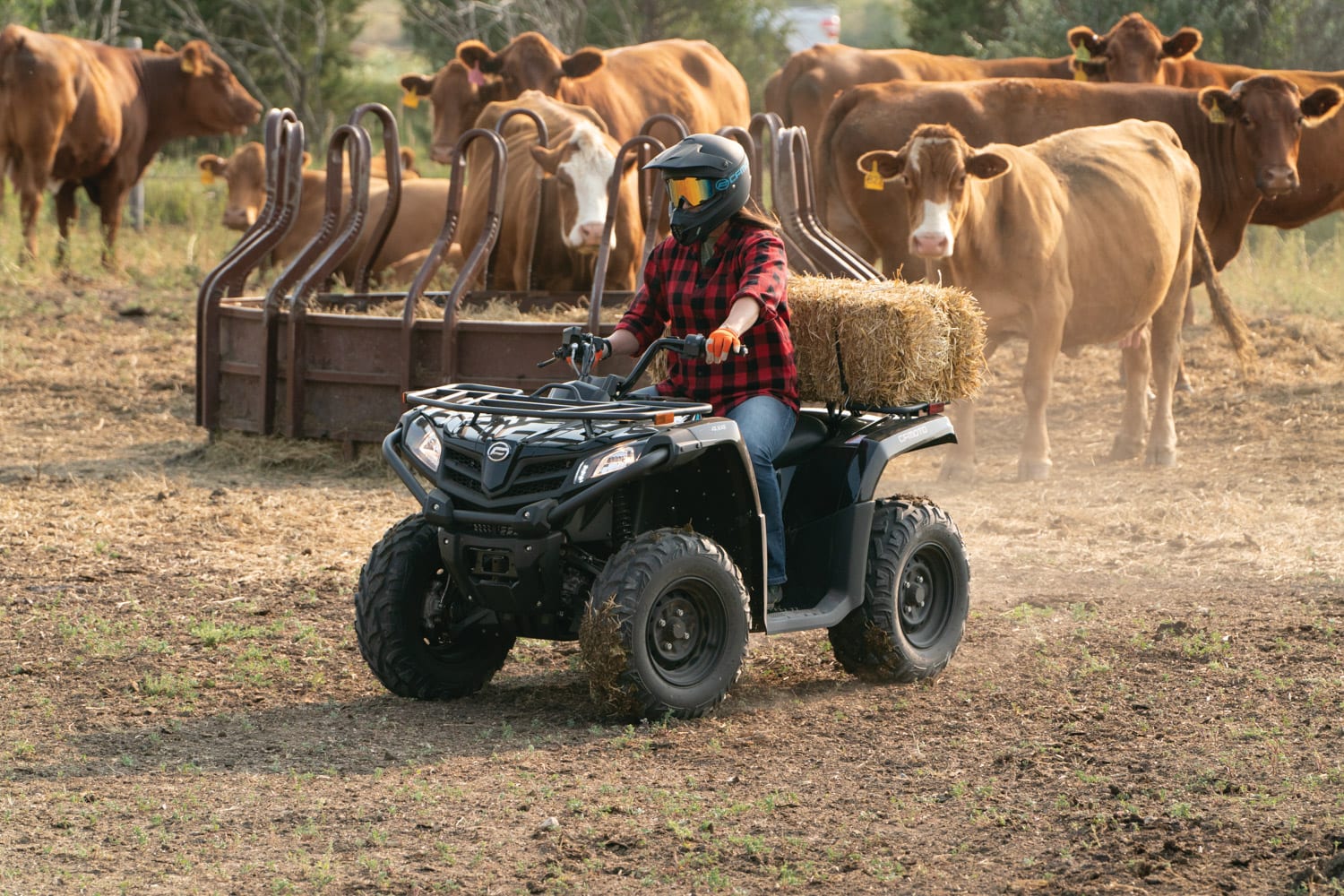 The CForce 400 and 500 are CFMoto's entry-level ATVs that come well-equipped when they leave the factory. All CFMoto quads are now delivered with power steering and a good equipment package. The CForce 400 is offered as a single or two-seater version and the CForce 500 as a single-seater version only. The two-seater CForce 500 is replaced by the CForce 600, which is a slightly more expensive mid-range vehicle, but it is well worth the price difference.
Retail price of Cforce 400: $ 7399.00
Honda TRX420 Rancher:
The Rancher is Honda's entry-level quad. This model offers the indestructible 420 cc engine with electronic injection coupled to a 5-speed beltless transmission. The combination of a very low center of gravity, reduced size, and weight ensures easy and predictable handling. The base version is affordable, but if you crave power steering and independent suspension, look at the Rubicon 520.
Retail price of TRX420: $ 7999.00
Kawasaki BruteForce 300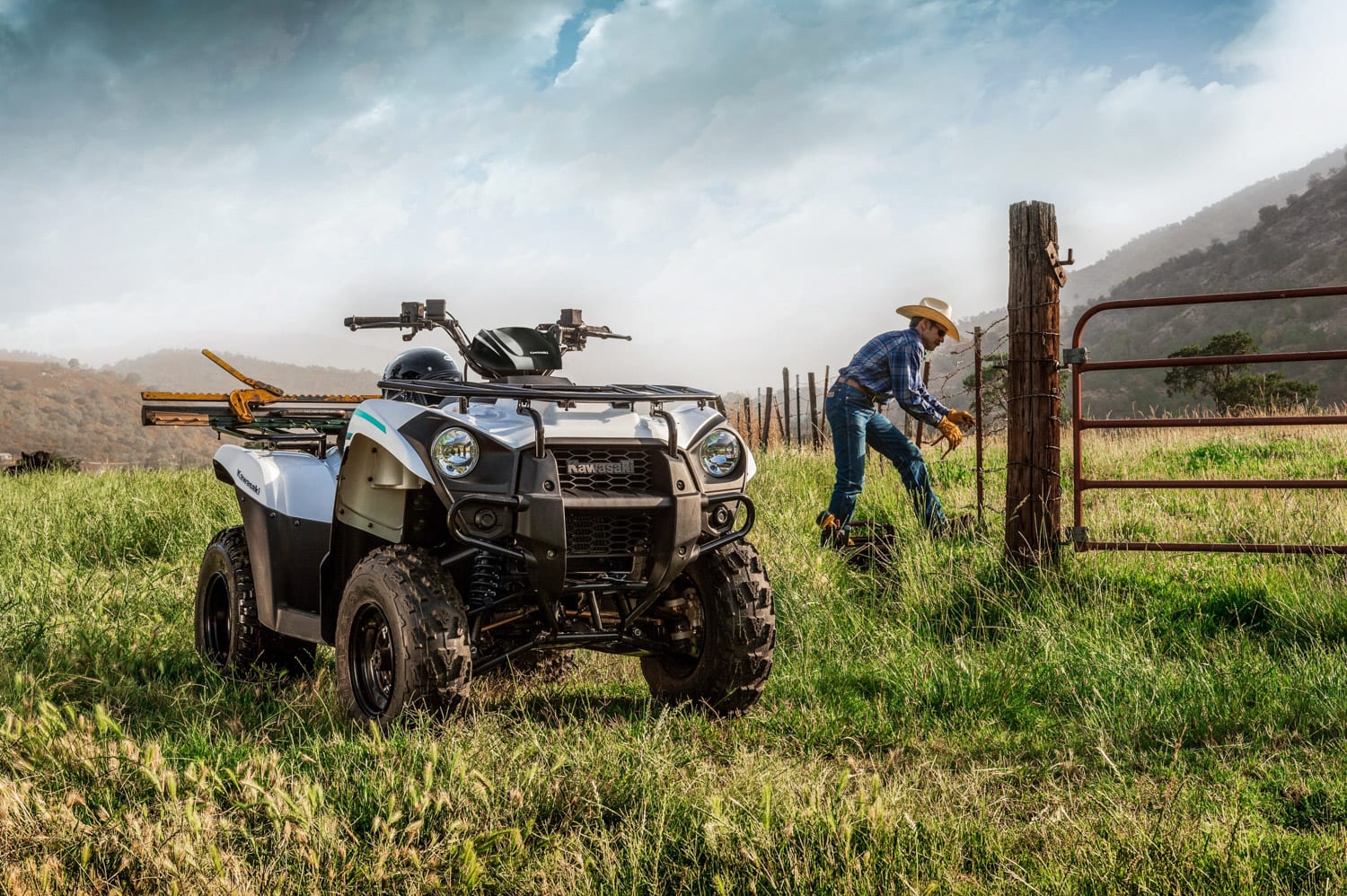 Despite being an entry-level budget quad, it offers a generous amount of space, a very well-balanced riding position, and excellent handling on the trail. However, the absence of a four-wheel-drive system will limit its use in winter and challenging terrain, even with the hi / lo range transmission.
BruteForce 300 retail price: $ 5199.00
Polaris Sportsman 450 H.O.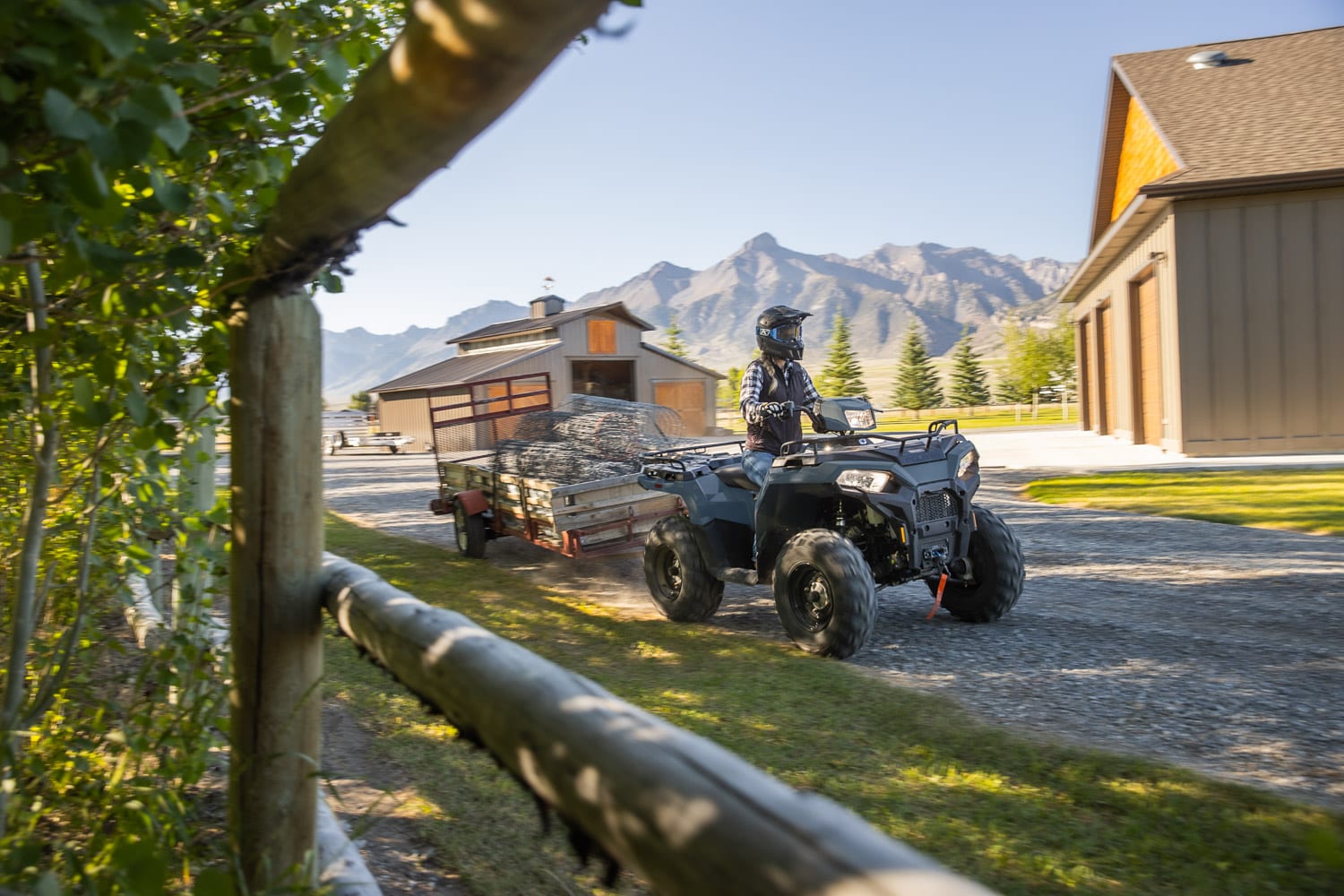 The Sportsman 450 H.O. is Polaris's entry-level ATV on a budget, with enough power to explore the great outdoors and have fun. To grab the consumer's attention, Polaris gave it the same body facelift as its sibling, the Sportsman 570. Despite its low price, the Sportsman 450 HO drives as well as any other, and it holds up well in riding. The 500cc ProStar engine with EFI might not be the most powerful with its 33 horsepower, but you'll be surprised at the generous amount of low-end torque it delivers.
Sportsman 450 H.O. retail price: $ 7799.00
Suzuki King Quad 400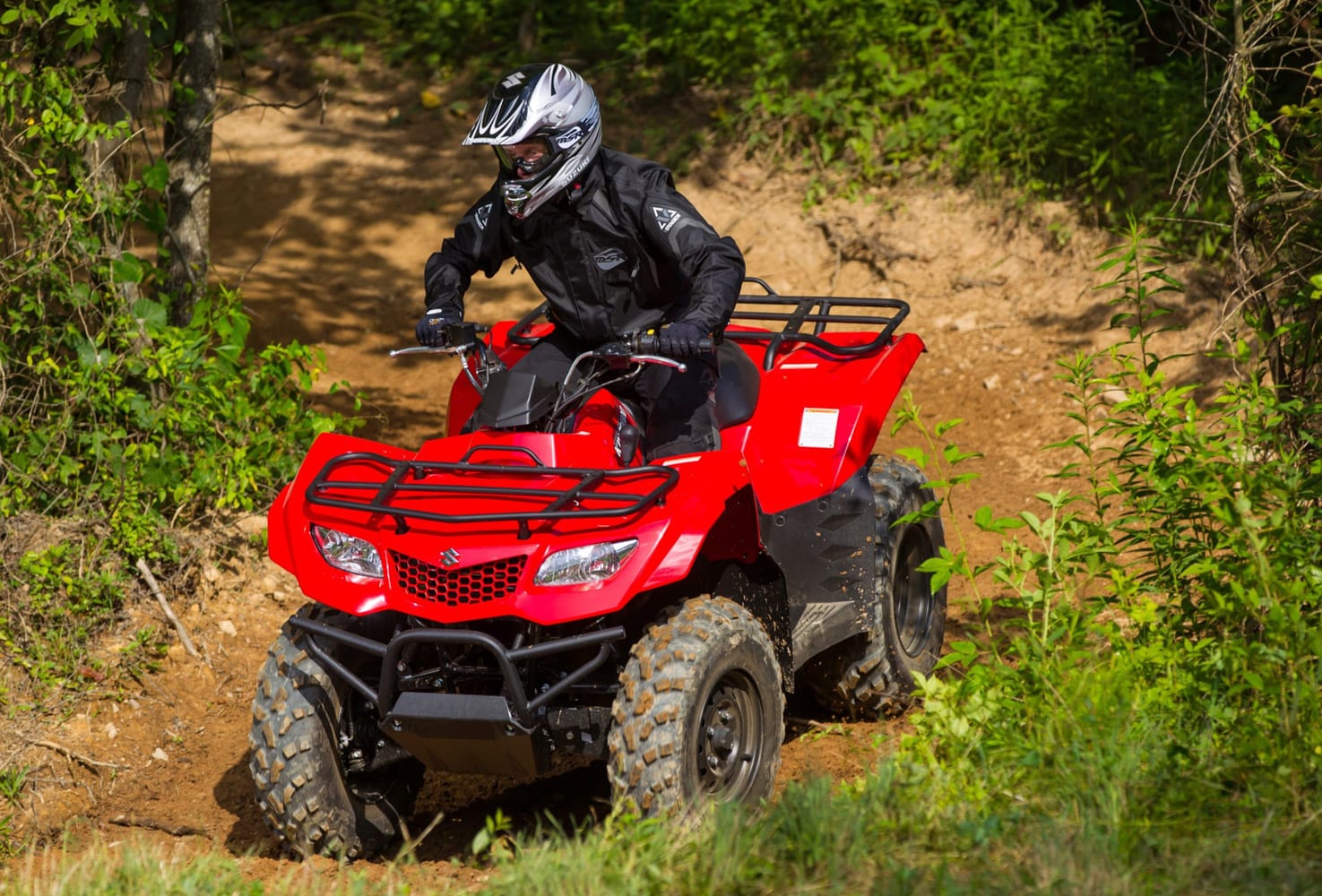 The King Quad 400 has been on its way for more than 19 years without having undergone any noticeable change. The LT-A400A version comes with a TVC automatic transmission, and the LT-400F is equipped with a 5-speed transmission with a semi-automatic clutch, one of the last still available on the market. Both machines can be perfect for those who want to have fun while staying on a tight budget. On top of that, its widely proven mechanics will give you flawless reliability.
King Quad 400 Retail Price: $ 7599.00
Yamaha Kodiak 450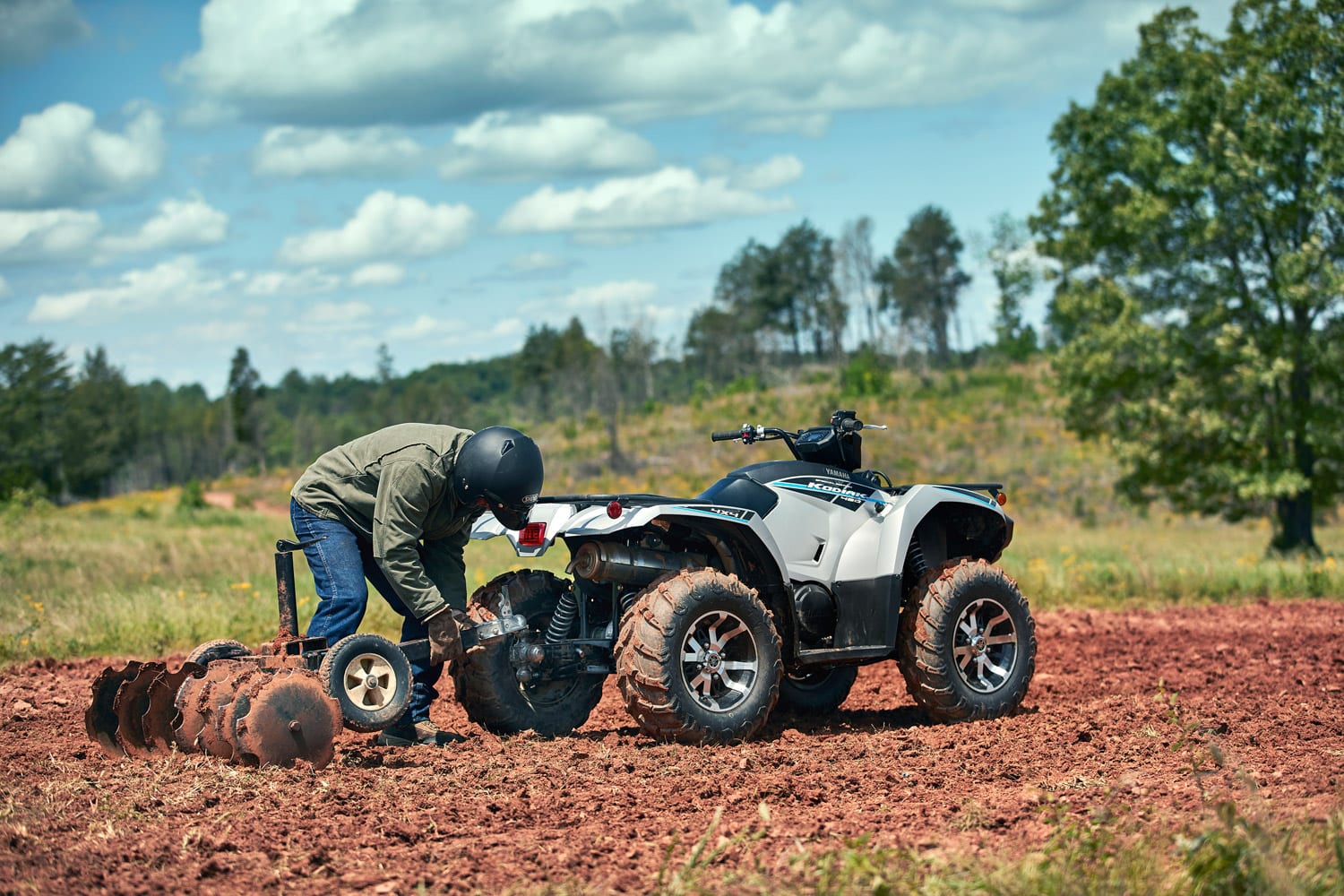 This midsize vehicle fulfills the need of riders looking for a complete ATV without a powerful engine. It is for the buyer on a budget who doesn't want to sacrifice sophistication. Whether on the job or the trail, the Yamaha Kodiak 450 will keep you satisfied for years to come and is one of the best deals in the industry: simple, reliable, and flawless.
Kodiak 450 Retail Price: $ 7899.00
What about side-by-side vehicles?
The craze quickly turned to performance vehicles in this class, and manufacturers neglected the affordable, less profitable entry-level SSV. But, although less numerous, it is possible to find attractive side-by-side vehicles:
Arctic Cat Prowler 500: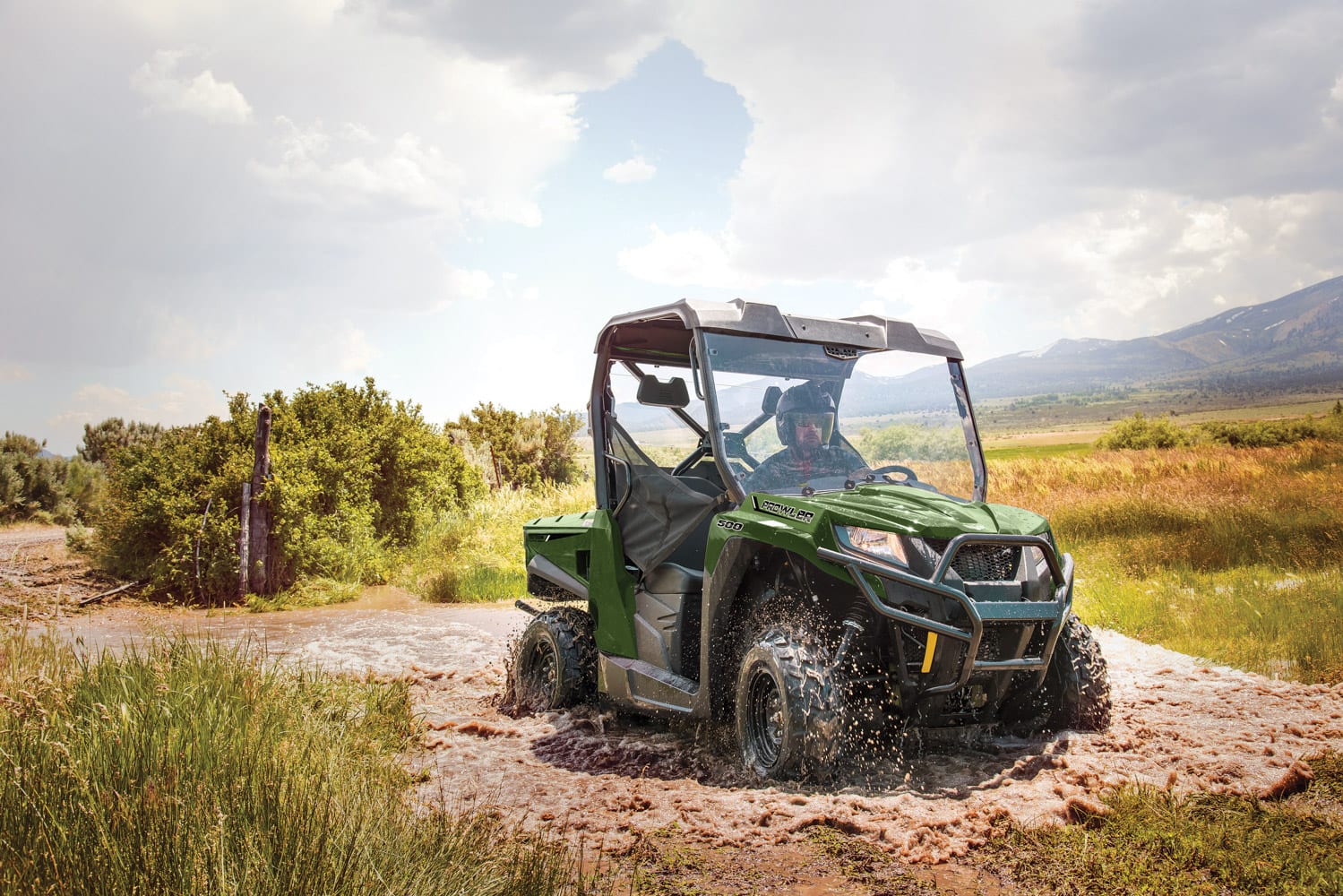 The Prowler 500 is actually a Kymco UXV 450i. Arctic Cat fully collaborated with its Taiwanese partner, and this machine is full of features and offers more versatility in the Arctic Cat range. This more compact model will allow you to explore narrower trails than aboard a full-size SSV, plus it can be transported in a full-size pickup truck bed. It has several storage places in the cabin, but you must be aware that the engine is a bit low in power.
Prowler 500 Retail Price: $ 11599.00
Can Am Maverick Trail 800: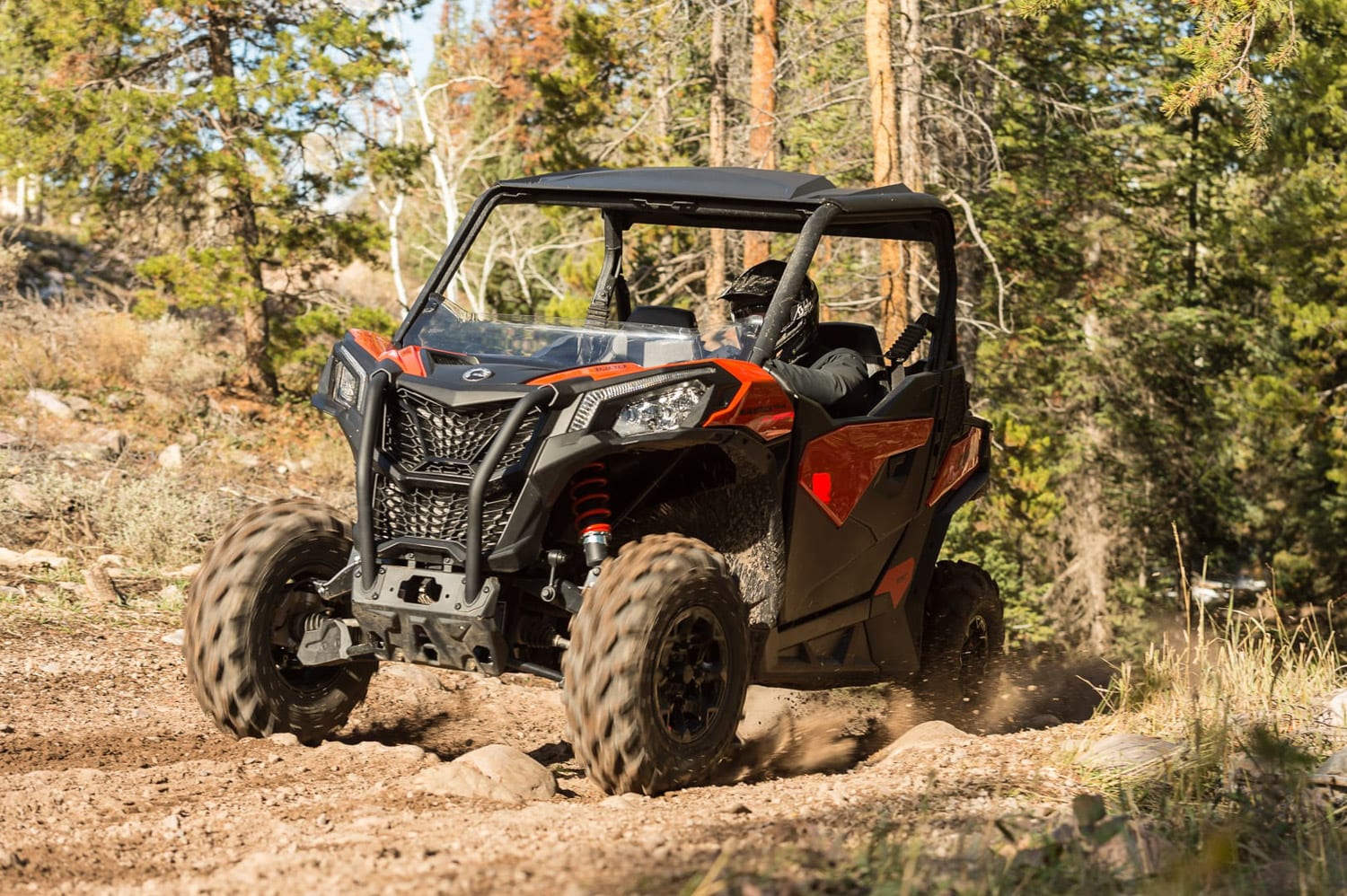 The Defender HD5 is cheaper than the Maverick Trail 800, but the latter is much more balanced for the recreational side. The Trail 800 is a 50-inch-wide vehicle that played lengthwise to fetch passenger space: the reclining driving position might be confusing for some users and the wheels that are pushed to the ends. The trail handling is good, and the engine works very well with the transmission.
Maverick Trail 800 Retail Price: $ 13999.00
CFMoto ZForce 500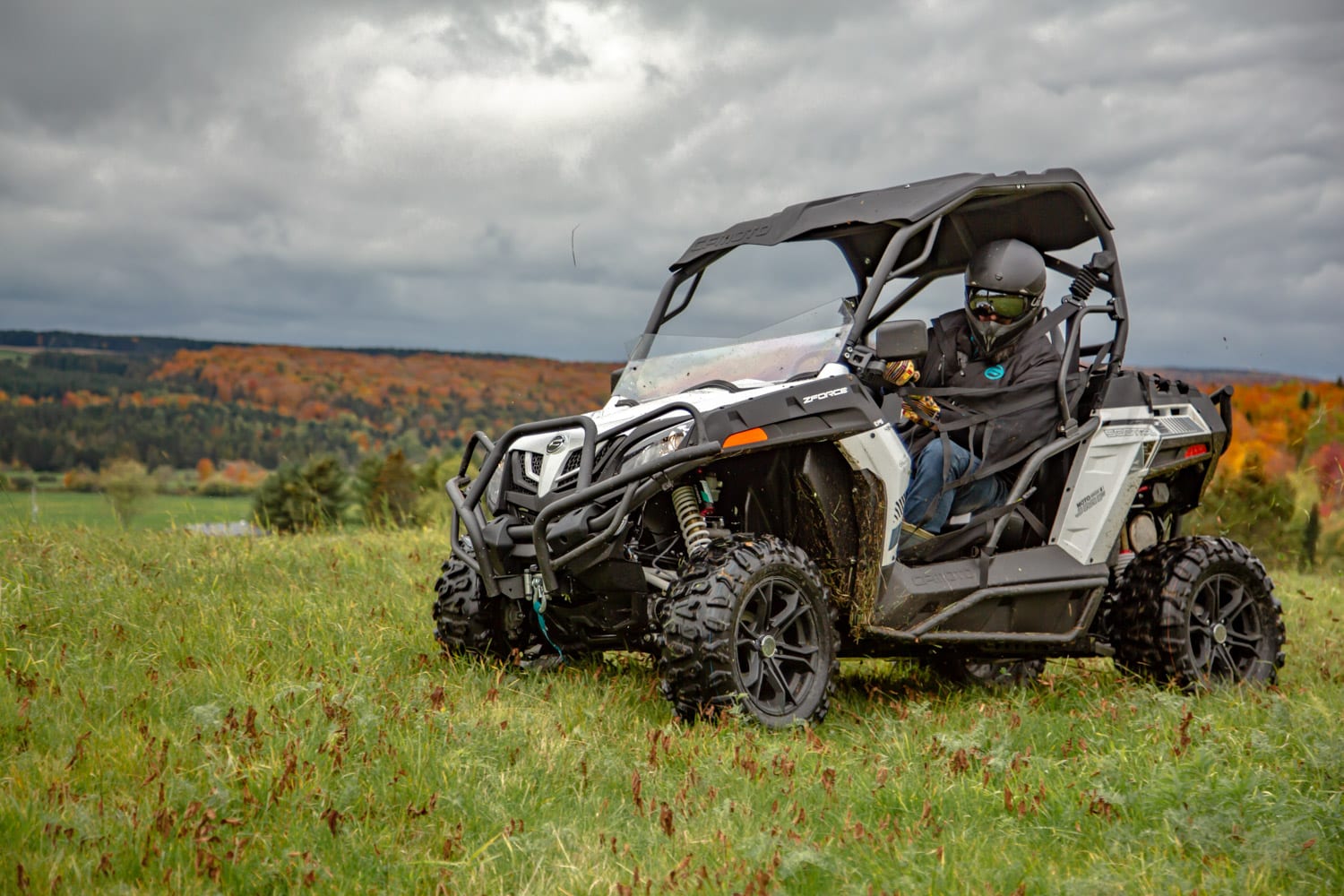 The ZForce 500 is CFMoto's gateway to the recreational and sport SSV category. The body and overall dimensions are the same as the ZForce 800 Trail. The cabin is similar too, with the same comfortable seats and a well-designed interior. The finish is average, but the driving space is slightly more limited than in other models, especially legroom. It's a well-equipped vehicle that will never make you feel like you are riding in a machine designed for its low cost except for the limited power provided by the engine.
ZForce 500 Retail Price: $ 12699.00
Honda Pioneer 520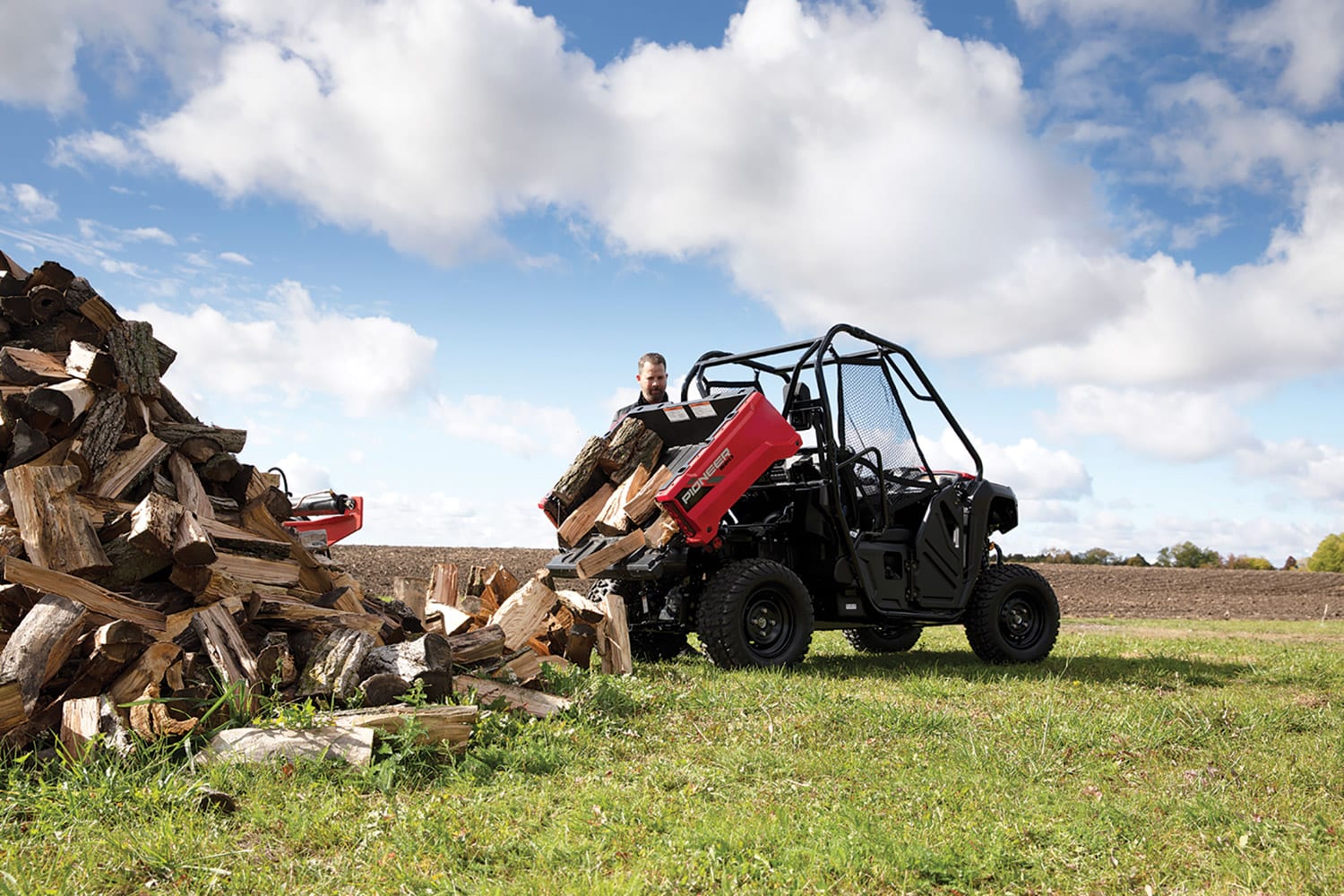 Driven by the mechanics of the Rubicon 520, the Pioneer offers reliability and the proverbial Honda manufacturing quality. However, it has limitations in its dynamic performance (maximum speed of 50 km / h, for example). Its compact size will allow you to transport it in a pickup truck bed. Note that this year, the rear luggage rack has given way to a conventional tipper.
Pioneer 520 Retail Price: $ 13499.00
Kawasaki Teryx 750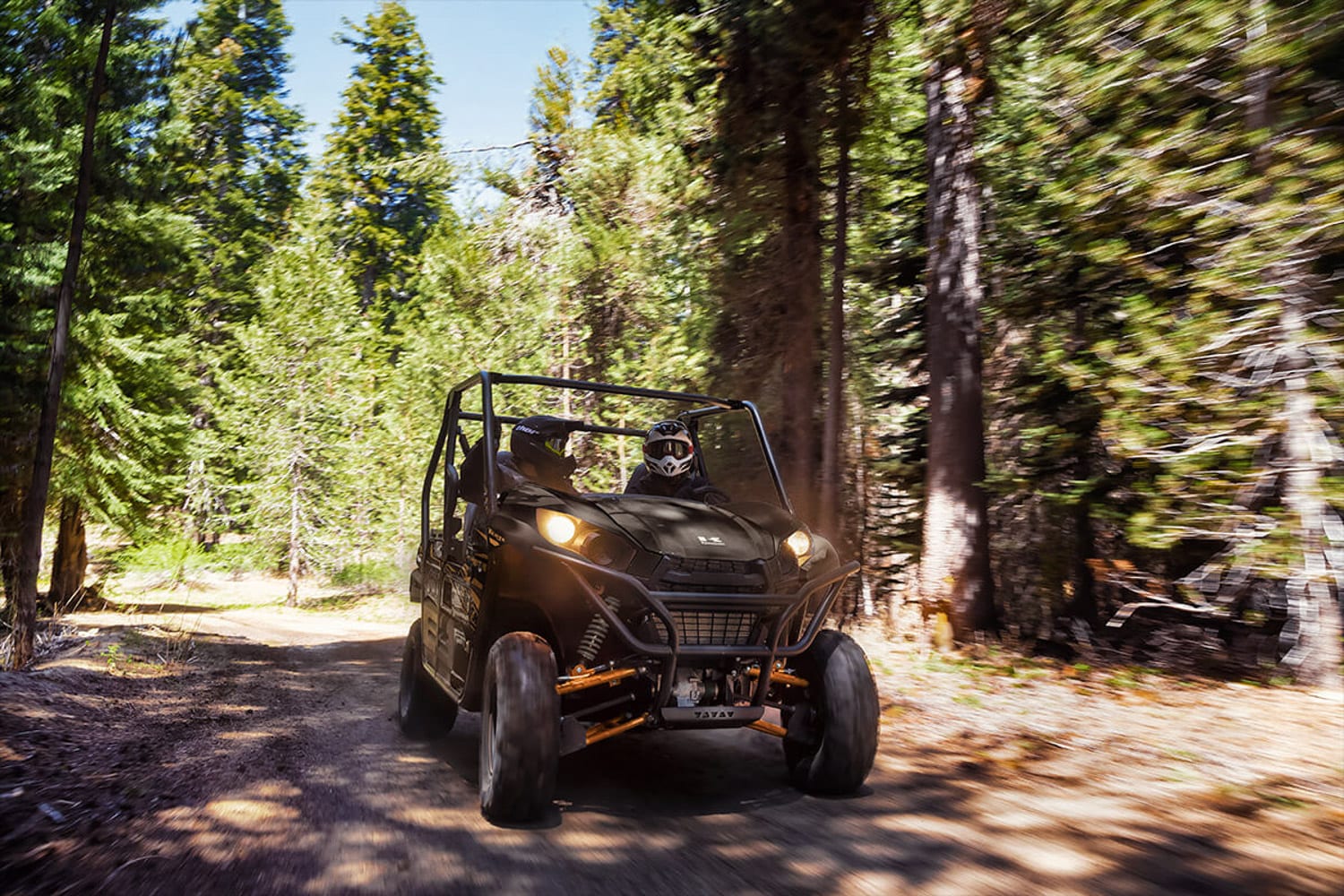 The Teryx is an SSV with spicy handling in line with Kawasaki DNA. Its off-road and sport capabilities are superbly balanced, so it's just as fun to drive as a Polaris RZR. Good acceleration and strong torque at all speeds, especially at low / medium speeds, are some of the reasons that make it so unique.
Teryz 750 Retail Price: $ 16699.00
Polaris RZR 570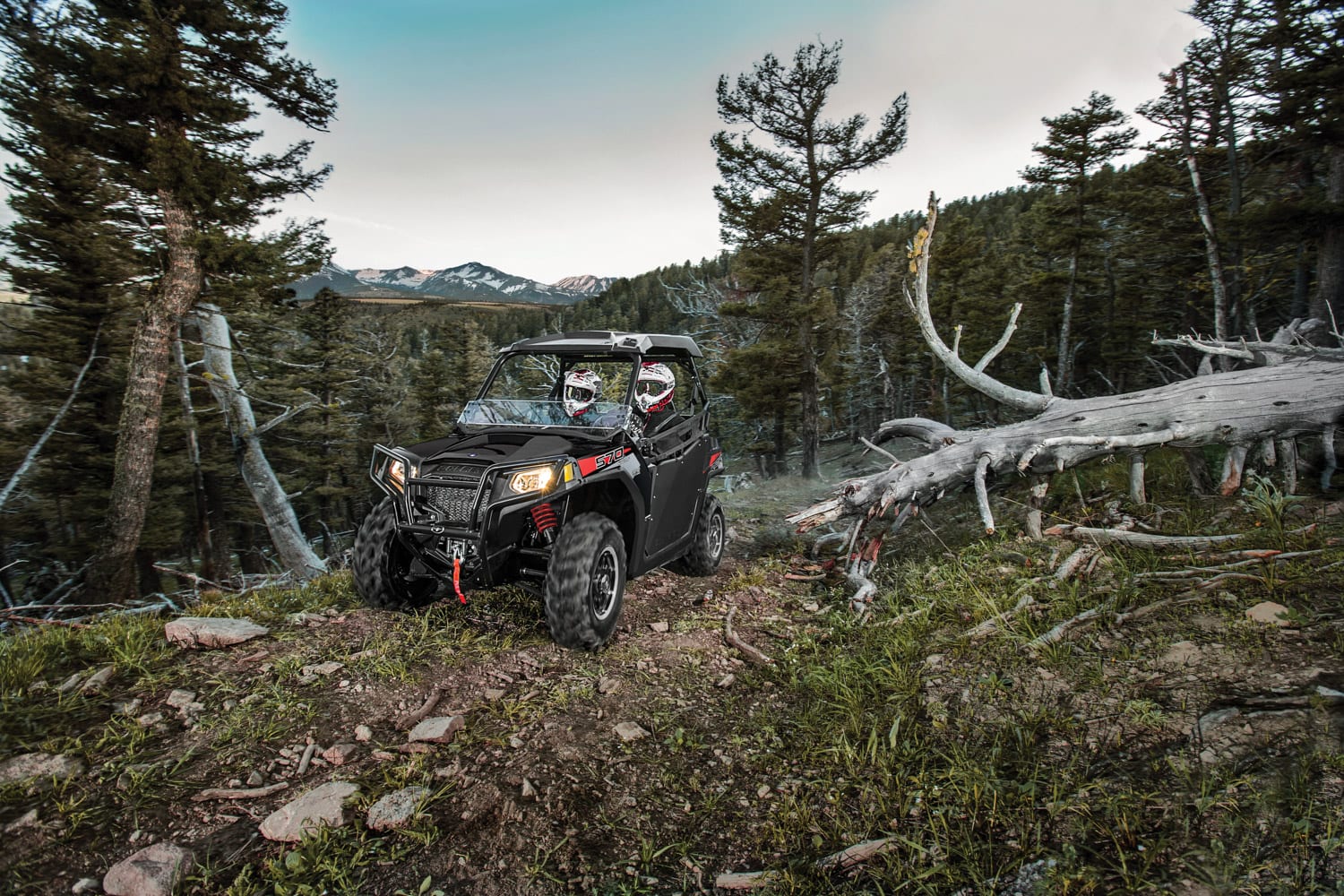 RZR 570 Retail Price: $ 12999.00
It was with this model line, with the 800cc engine, that it all started in 2007 when Polaris launched its first sport SSV model. The 570 is the smallest of the group, and at 50 inches wide, it is surprisingly stable on narrow trails. The 570 engine is powerful and develops 45 horsepower, which is not bad for a machine of this size.
Yamaha Viking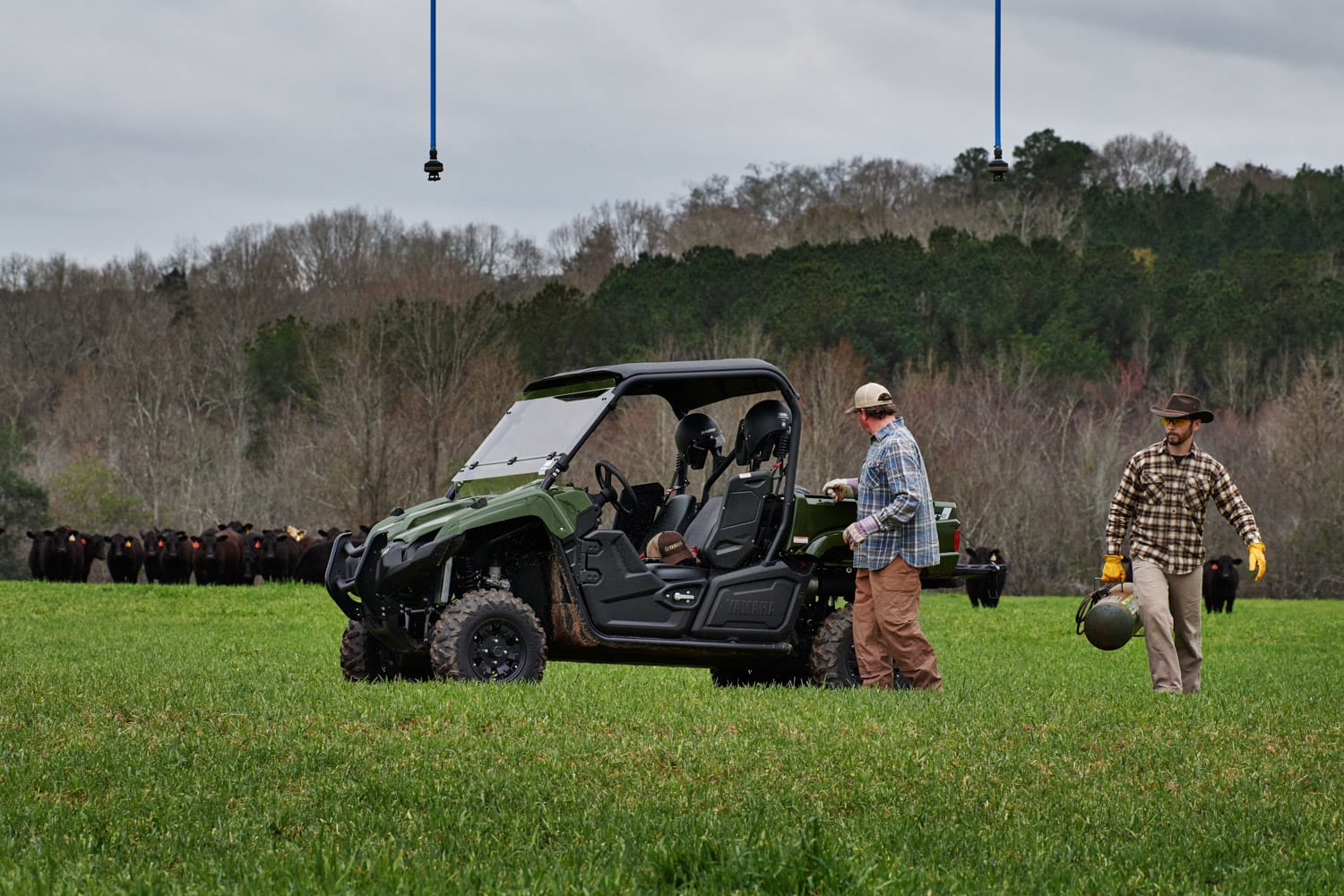 No, we will not talk about the Yamaha Wolverine here. The Viking is a vehicle developed for work, but its cabin comfort for passengers, whether the seats or the suspension travel, is noteworthy. Enough to consider the Viking for recreational use, and also because it will cost you $ 4000 less than a Wolverine.
Viking Retail Price: $ 14799.00
Here is a brief overview of the affordable machines that will give you lots of fun for less money.