The winch is one of the most important accessories to have on an ATV. When buying your new ATV, it is the first accessory you should include in the purchase. It's simple to use, but so important. We asked a group of great winch torturers to share their experience with us. I named the Bouette Quebec group as part of the evaluation panel. I offer you five choices that we believe are the best on the market today. The quality of the product, the durability and the possibility of obtaining spare parts in case of breakage will be our criteria in our choices.
Number one : KFI SE35 Stealth :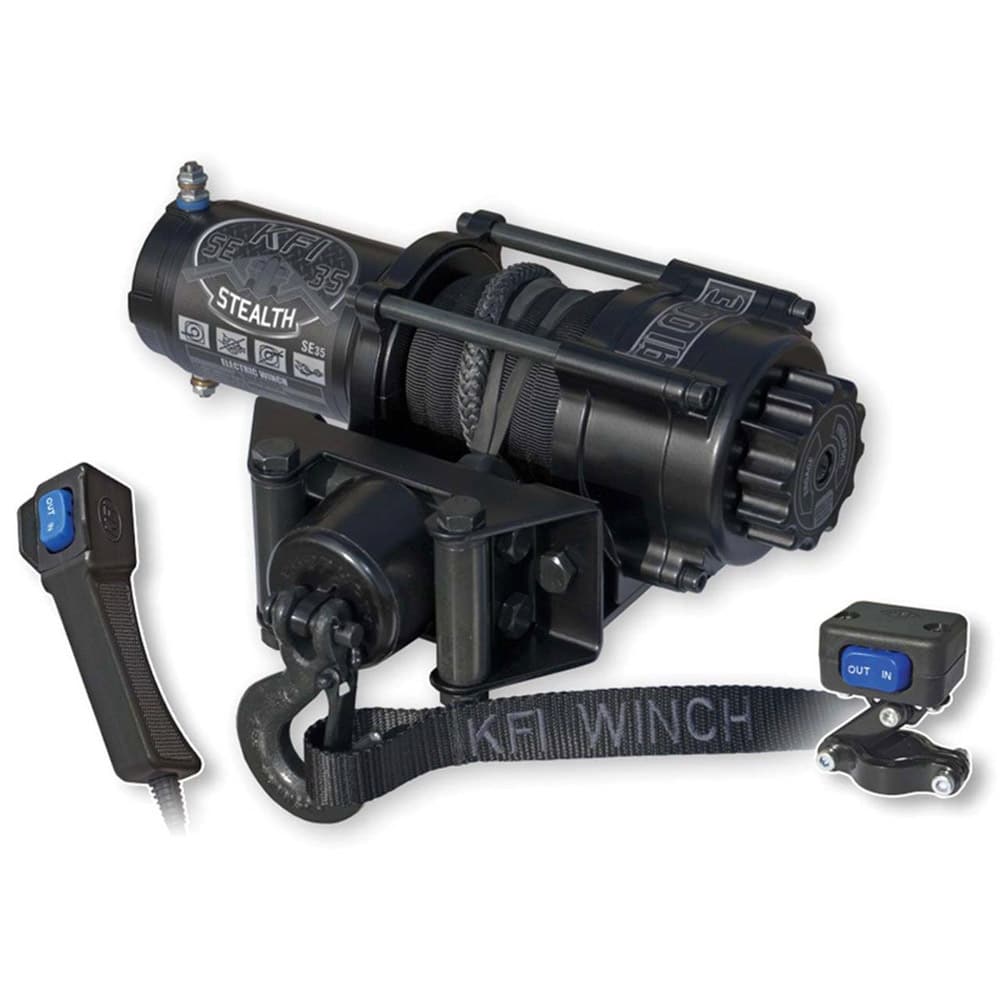 KFI needs no introduction, they are known for making quality winches with incredible durability. The SE35 will be an excellent choice with a capacity of 3,500 pounds. This unobtrusive winch arrives with a 3/16 diameter synthetic fiber rope that is fifty feet long. With its 12 VC.c 1.5 HP magnet motor, it will give you the power you need in any situation.
Number two: Warn Axon 35: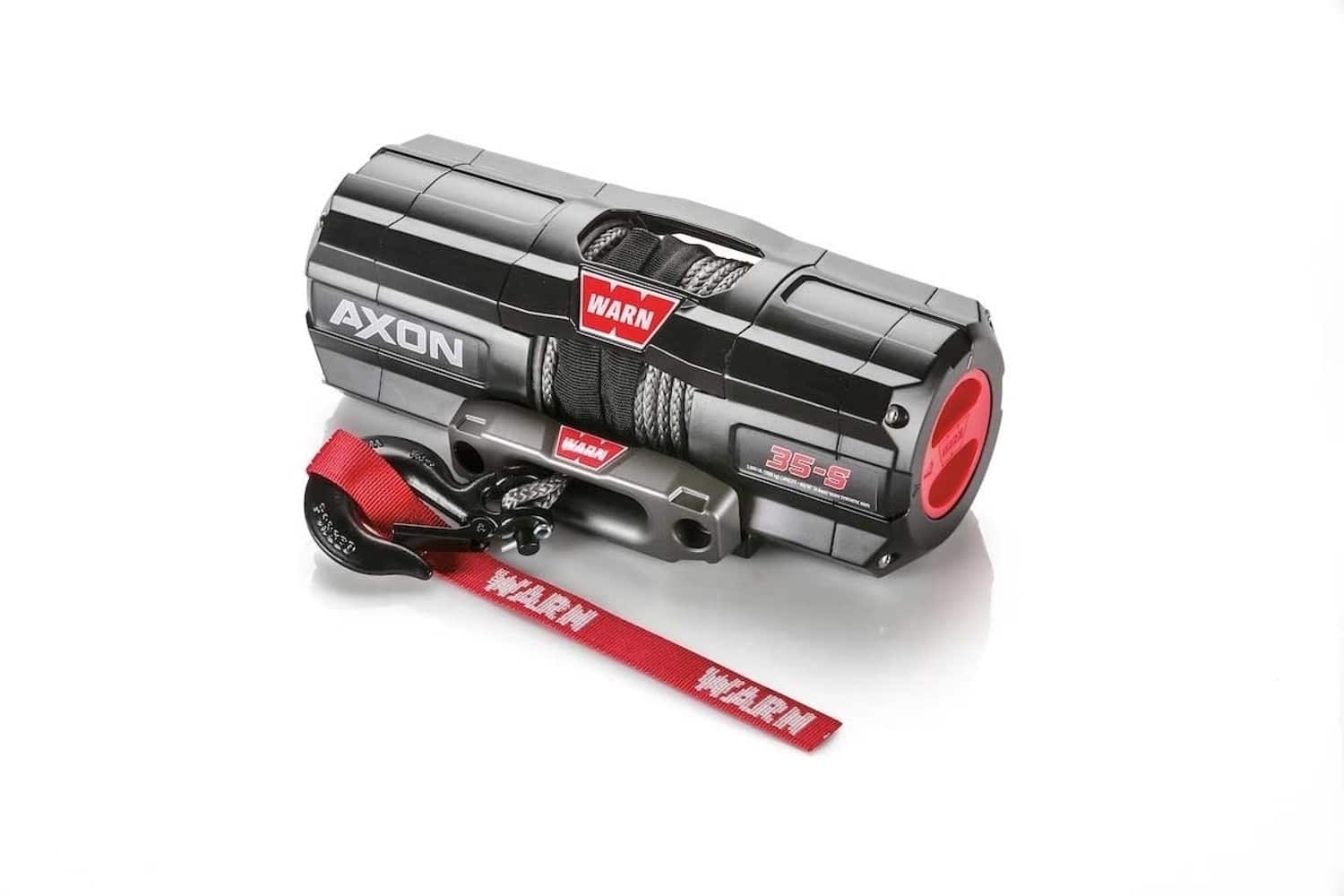 Warn is known worldwide for the manufacture of their winches, and has been for decades. During these years of expertise, they have been able to create winches of a high quality. The Axon 35 is one of them, it comes with a robust 7/32 steel cable of fifty feet long. It also includes a roller cable guide and a black hook. It also includes an automatic load holding brake for perfect winch control. With an exceptional pulling capacity of 3,500 pounds, it is sure to please the big mud lover.
Number three: Super ATV Blacks Ops 3500: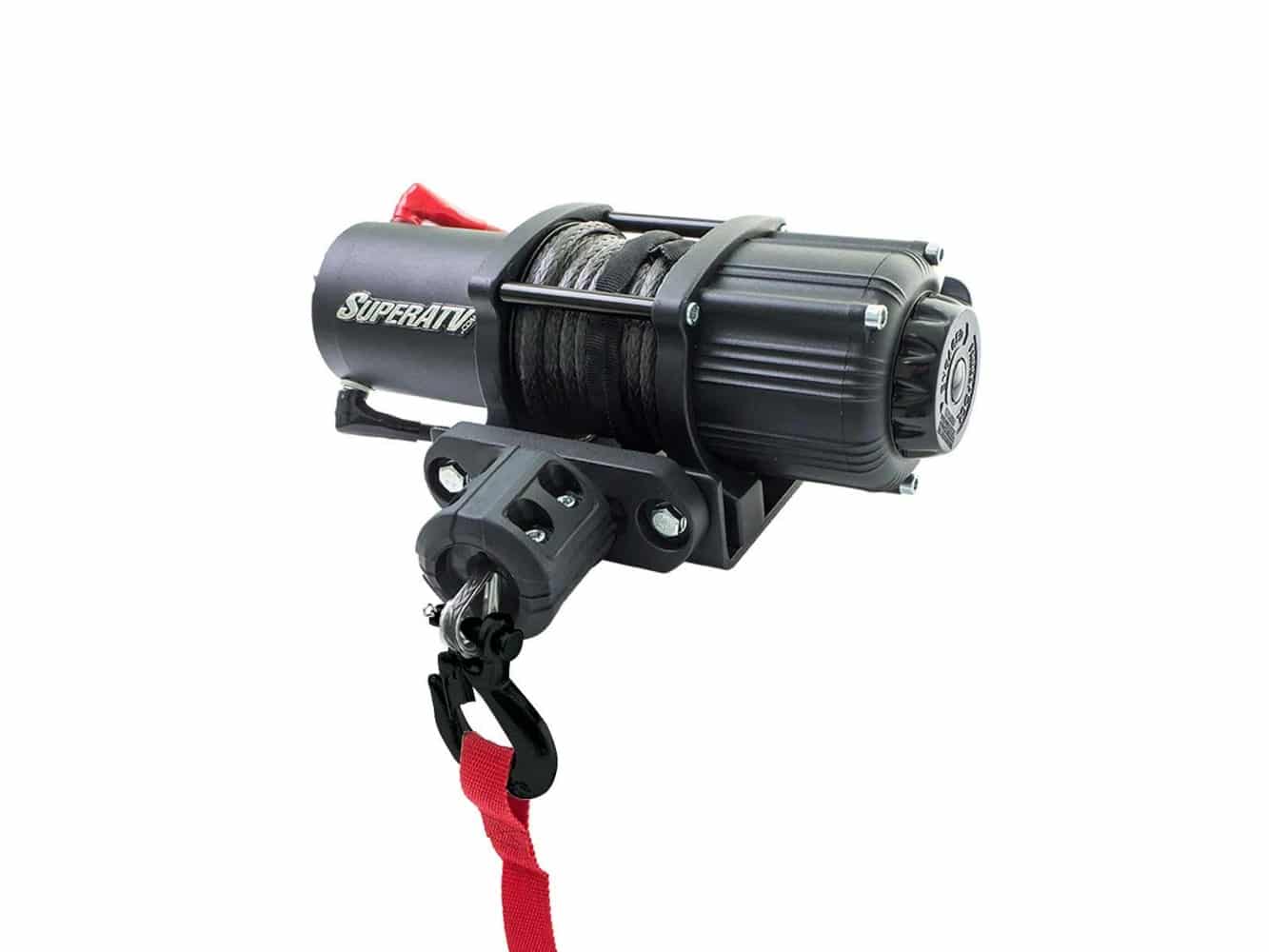 Super ATV is well known among ATV enthusiasts for their line of the most sophisticated accessories. Therefore, yes, they also have a share of the market for making excellent winches. The 3,500 pound Blacks Ops is equipped with a fifty foot long synthetic cable. With a powerful 1.2 HP motor, it will be able to get you out of trouble in any situation. It includes a wireless remote control with a fifty-foot range for added convenience and, of course, a fixed handlebar control.
Number Four: Warn Pro Vantage 3500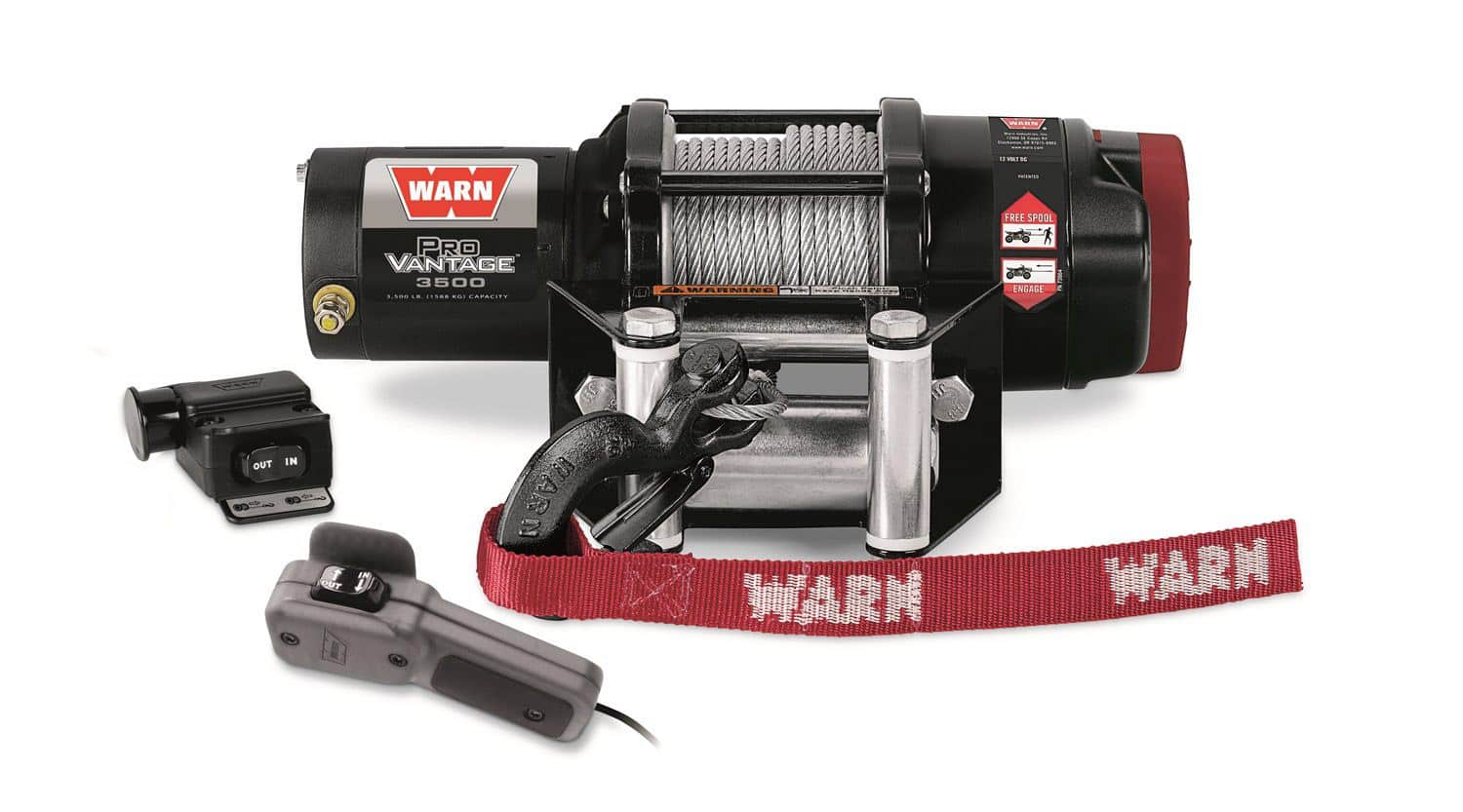 As we suspected, Warn is back in our top five for a second time with, this time, the Pro Vantage, which has two models: the 3500-with steel cable or the 3500-with synthetic cable. Each rope is fifty feet long by 3/16 diameter. This winch has a winding speed of 5.8 feet per minute and an ergonomic clutch handle. Like the Axon, the planetary gears are made entirely of metal for added durability. It has a patented disc brake with roller for great control when hauling.
Numéro cinq : All balls Synthétique 3500 :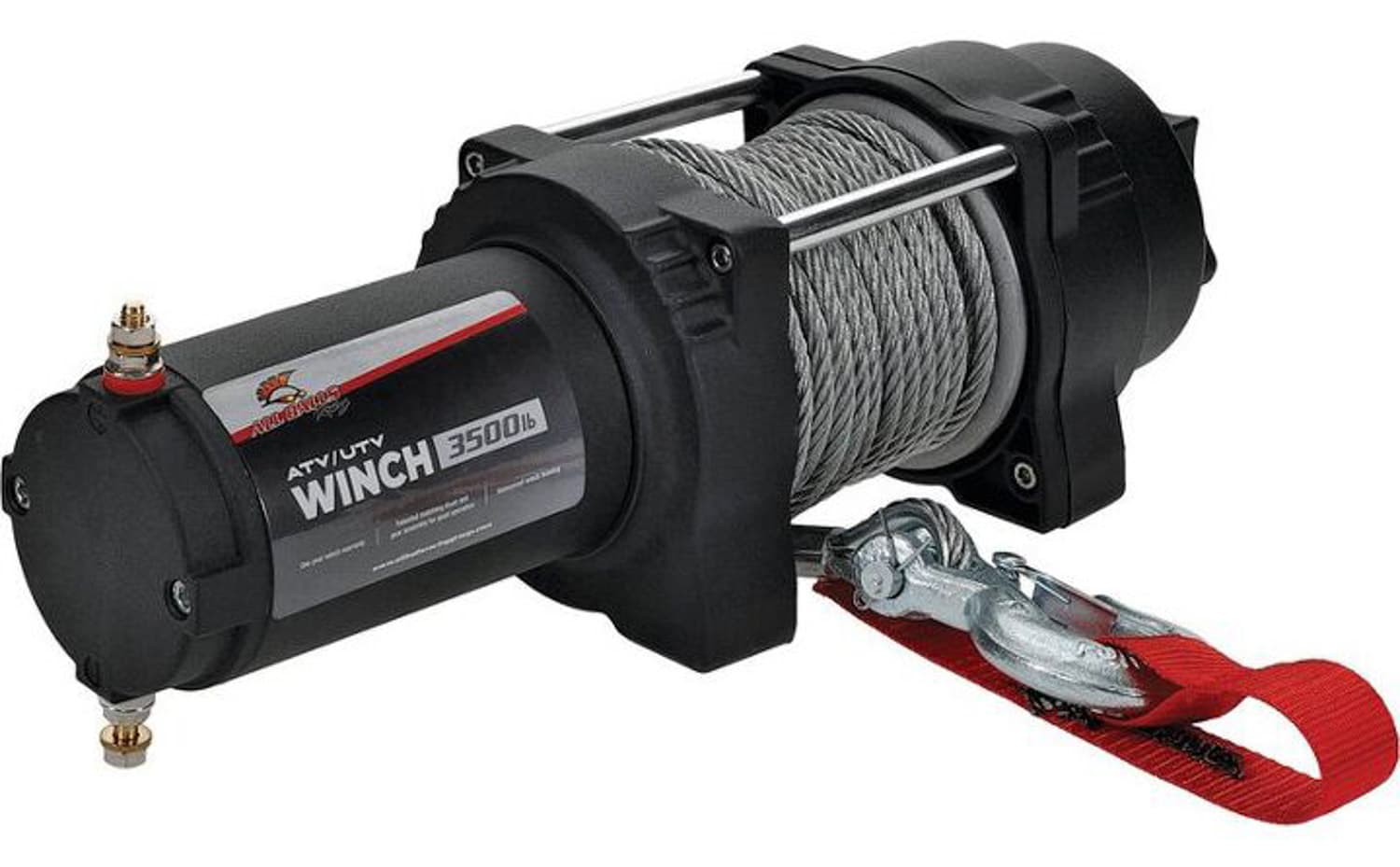 To finish it all off, I present the All Balls 3500, the lesser known, but just as effective. The all-metal crown construction gives it extra strength and durability. Its high efficiency, yet low current motor minimizes battery usage, interesting for this option. The planetary gears are all-metal construction, which increases durability. The brake system is automatic and completely independent for greater reliability and safety.
Conclusion: the winch, your ATV's best friend
As you can see, I have made a brief description, outlining the strong points of one winch to another. This addition will be of great help on the trail or for work. In other words, I have recommended companies that offer the possibility of ordering replacement parts. I consider it important to have the possibility to repair a broken one instead of having to buy a new one. There are several manufacturers that install it in the factory on certain models and will be of excellent quality for your needs. If the winch is not included in your choice, you will be able to choose yours according to your needs. Each winch offered is also available in a 4,500 pound version. It is important to always use the winch safely at all times.
In closing, we would like to thank the Bouette Quebec group for sharing their expertise with us in the field.

On that note, enjoy the ride!
Louis Gagnon Columnist