When we acquire a new off-road vehicle to review, most of the time we also make a list of accessories that will be essential during its use. To be honest, the accessory that comes on top of this list is almost always a winch. This item is very useful in difficult situations and it also offers insurance and confidence to its owner when crossing hazardous terrains. Let's face it, winches are really quite handy.
We all like to push our limits and those of our ATV or our side-by-side vehicle. When we have exceeded the traction capabilities of our machine, it is good to know that we can count on our winch to get us out of trouble. We have, therefore, set up a top five list of winches which, in our opinion, are the best purchases in the category.
1- Warn AXON 45RC:
We were privileged to have received and installed a few months ago, what we consider to be a revolution in the winch world. Warn pushed the limits once more when they introduced the new AXON series. They bring new levels of technology, durability, and performance in the winch market for off-road vehicles.
We were able to test the Warn AXON 45RC to verify all the work that has been done on it and to ensure an unequaled lifespan of this new winch. It features a capacity of 4,500lbs, a short and narrow drum configuration for space constraints, as well as a 27-foot, ¼-in Spydura synthetic rope. It is also equipped with an "Epic Hawse" cable guide and a digital control switch. If you have once installed a winch, you will be delighted to equip your vehicle with this one, because the designers have done everything to facilitate easy connection and a quick installation. It is an upgrade that we can qualify as "Plug and Play," and it can be carried out with little technical knowledge and a few basic tools.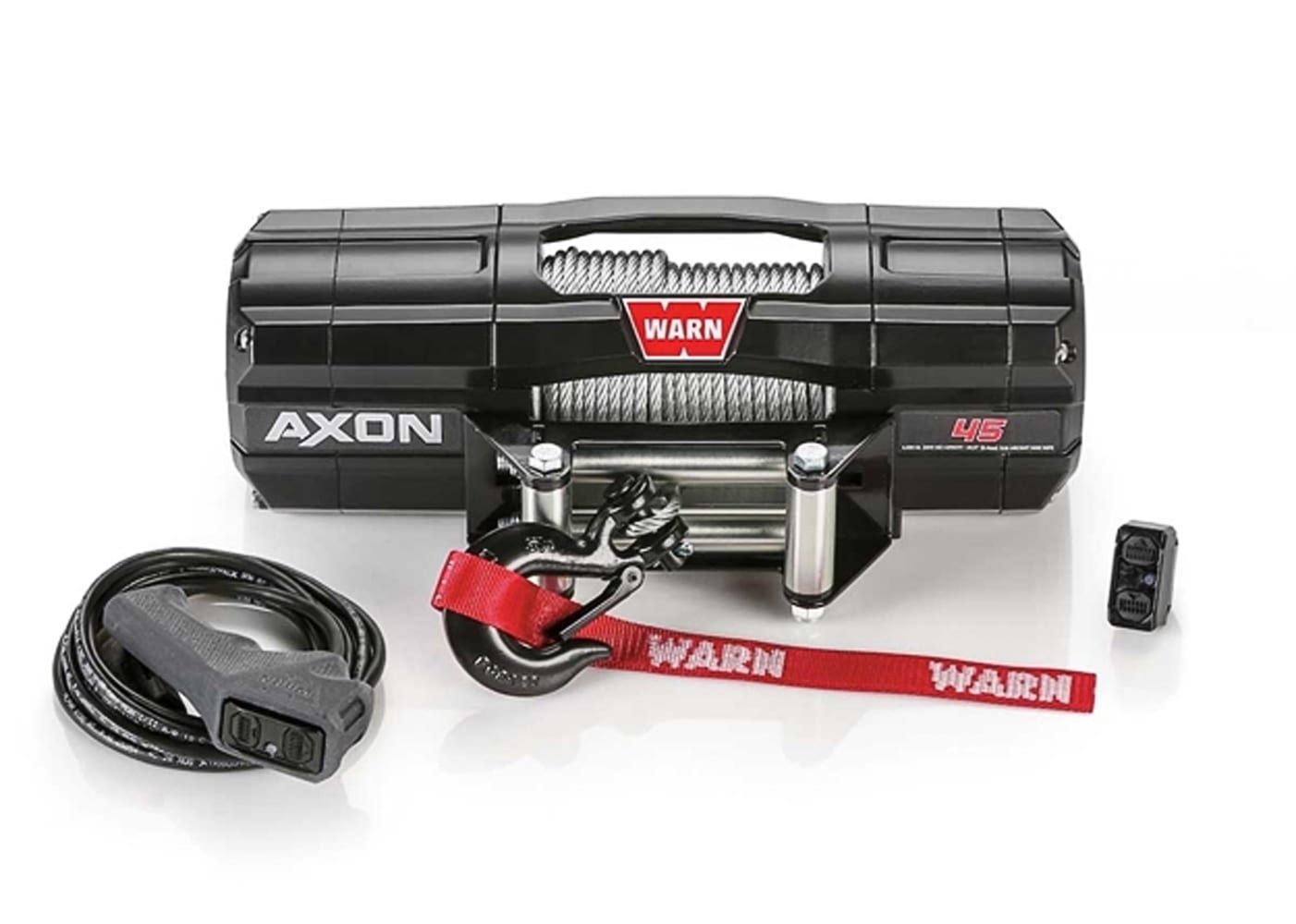 Another new addition is the Warn Axon 45RC dashboard switch for cable entry and exit. One of the interesting features is its indicator light. When you have reached 50% of the winch capacity, the indicator gives off a yellow light; at 75%, it turns orange; at 90%, it lights red. Finally, when you exceed its maximum capacity, the indicator flashes red and the winch stops operating to prevent damage to its components. The Warn AXON 45RC winch offers a unique digital control that provides users with new levels of feedback, including information on load, engine temperature, and battery level. As a result, you get the most advanced and efficient winch ever designed. A remote control is also provided with this winch to facilitate its use outside the vehicle.
The sturdy frame, its ease of installation as well as the general quality of its components set new standards in its category and that is the reason why we decided to place this unit on top of our list.
To be honest, it is a relatively expensive winch, however, it is considered a benchmark in its category. Costing approximately $800, its price is probably the only negative point we can find. In our opinion, the purchase of a WARN AXON RC45 winch should be seen as an investment, as it can be of great service to you over a long period of time and it can also be transferred from one vehicle to another over the years if necessary.
2- KFI SE35 Stealth:
This 3,500lb. winch includes a synthetic fiber rope, an anti-slip cable hook, a dynamic and mechanical braking system, watertight seals to withstand bad weather, a standard 4-hole mounting system, and a robust rotary clutch all made in metal. This winch also has a rubber bumper allowing full retraction of the cable and preventing the hook from being free from any movement which may cause unpleasant noises.
The Stealth series is the premium model of KFI winches. This winch features a 50-foot synthetic cable with a protective sheath, a rocker switch, a portable remote control, and the famous cable hook stopper which is installed without having to remove the cable from the drum (a very convenient feature). The KFI SE35 Stealth has a rating of 3,500lbs, offering plenty of capacity for most ATVs. It is sealed to prevent external elements from infiltrating. It also features a one-year warranty.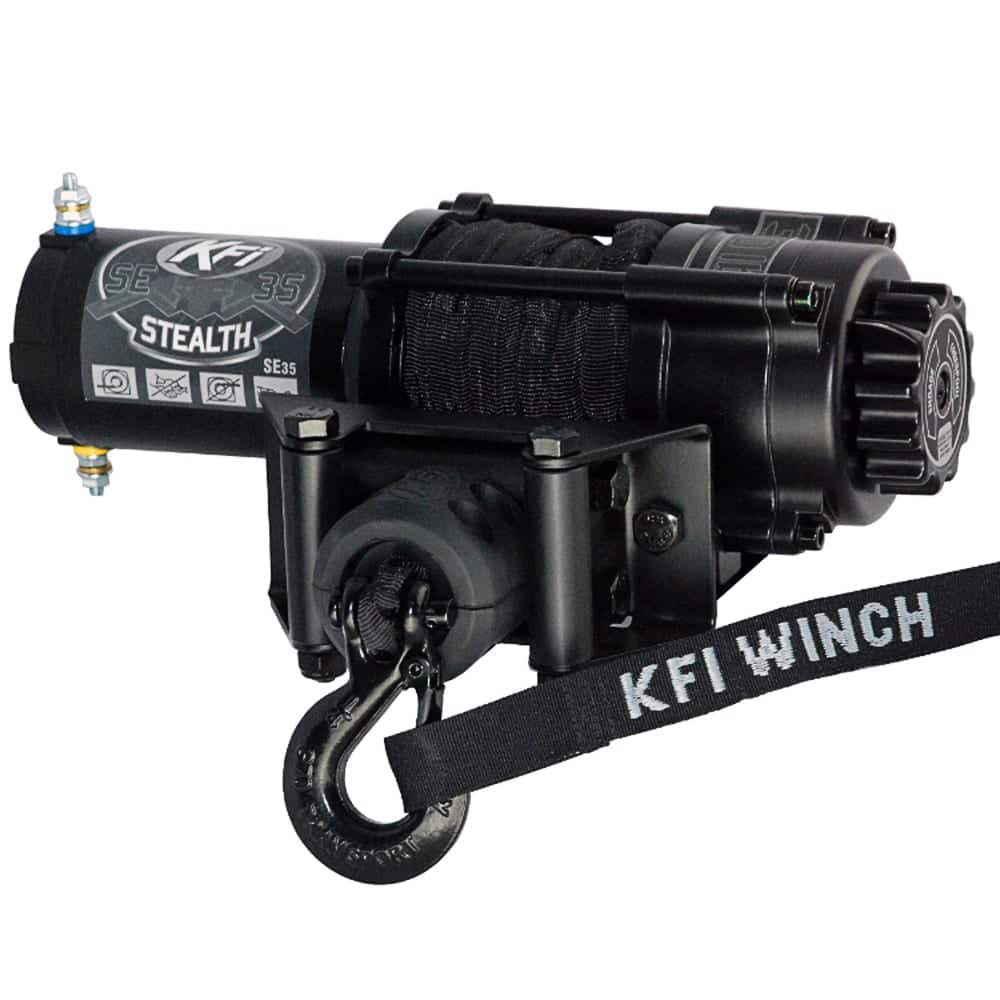 The KFI SE35 Stealth winch has a pretty discrete look with its predominant black color. However, it can work with confidence and it has always met our expectations at every opportunity.
We can claim to have installed numerous winches on many different vehicles over the years. The KFI SE35 Stealth winch is installed in 2 steps. First, we had to install the mounting bracket for our vehicle. Second, the winch bolts in quickly and easily. Wiring is just as easy by following the steps provided in the instruction booklet. Both experienced and novices will be extremely comfortable performing these steps.
KFI has a reputation for designing reliable winches in its Stealth series. Our experience with the KFI SE35 is excellent. If you are looking for a winch you can rely on in difficult situations, then consider a SE35 winch from the Stealth series.
3- SuperATV 4500 Black Ops:
A well-designed and balanced tool, with a pulling capacity of 4500 pounds, the SuperATV 4500 Black Ops is a solid and stable ATV or SxS winch that can do a multitude of tasks and be used for snow plowing, too. Also, it has a wireless remote control, which means that you can have full control while staying out of the potential danger zone.
The SuperATV 4500 Black Ops winch is an excellent compromise for all ATV and side-by-side users who love to enjoy their vehicles in hostile environments knowing that they can count on the right equipment to get out of embarrassment if necessary. Its electric motor offers linear power and its constant control is moderated by a quality brake system.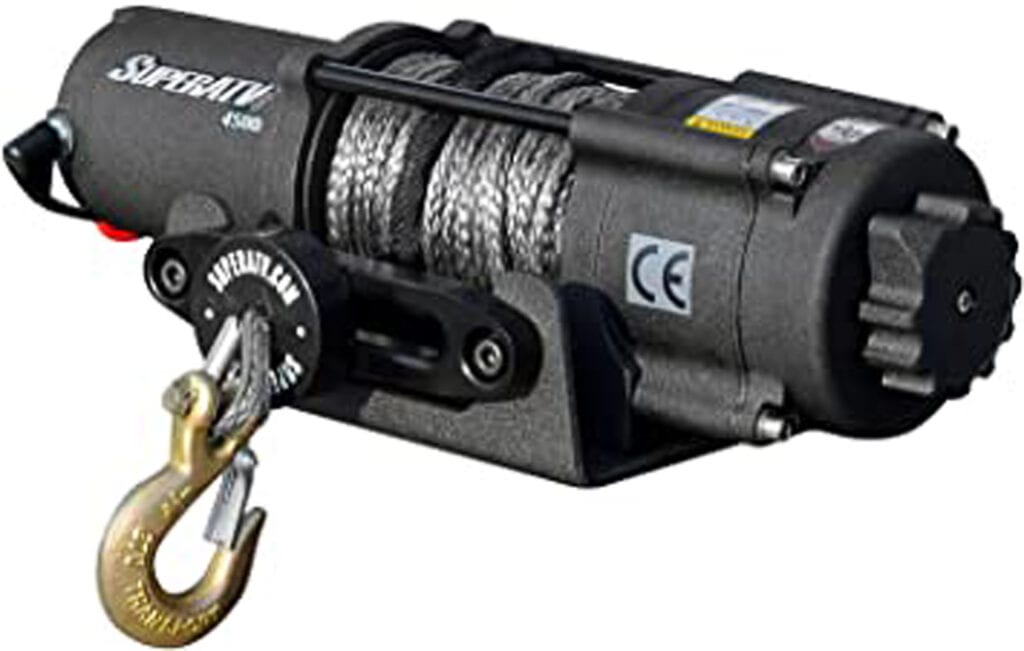 Controllability is one of the best features of this winch. The waterproof and sensitive wireless remote control of this winch allows you to control it with one finger. The powerful 12-volt motor provides strong and robust traction. It also offers incredibly fast winding speeds. In addition, its braking system gives you total control over the cable length. The SuperATV 4500 Black Ops winch synthetic rope is capable of pulling heavy loads without fraying or breaking. The three-stage planetary gear system is the essence of reliability and durability. In addition, it is equipped with a suitable guide so that the synthetic rope winds correctly on the drum.
Using the SuperATV 4500 Black Ops winch is a child's play. Even after several hundred kilometers in the dust, water, and mud, the clutch works without problems. It works hard and gives a solid feeling that it will get you out of a multitude of situations without difficulty. Even on the steep slopes where it has been tested, it has been of great service and we knew we could count on it when it matters.
4- Superwinch Terra 35:
This winch, from the Terra series from Superwinch, is a compact accessory producing the power necessary to get any vehicle out of a sticky situation. The durable Terra has been designed for the most difficult terrains. Producing 1.6 HP, the winch motor is powerful enough to offer 3500lbs of capacity, and its low energy consumption will not drain your battery.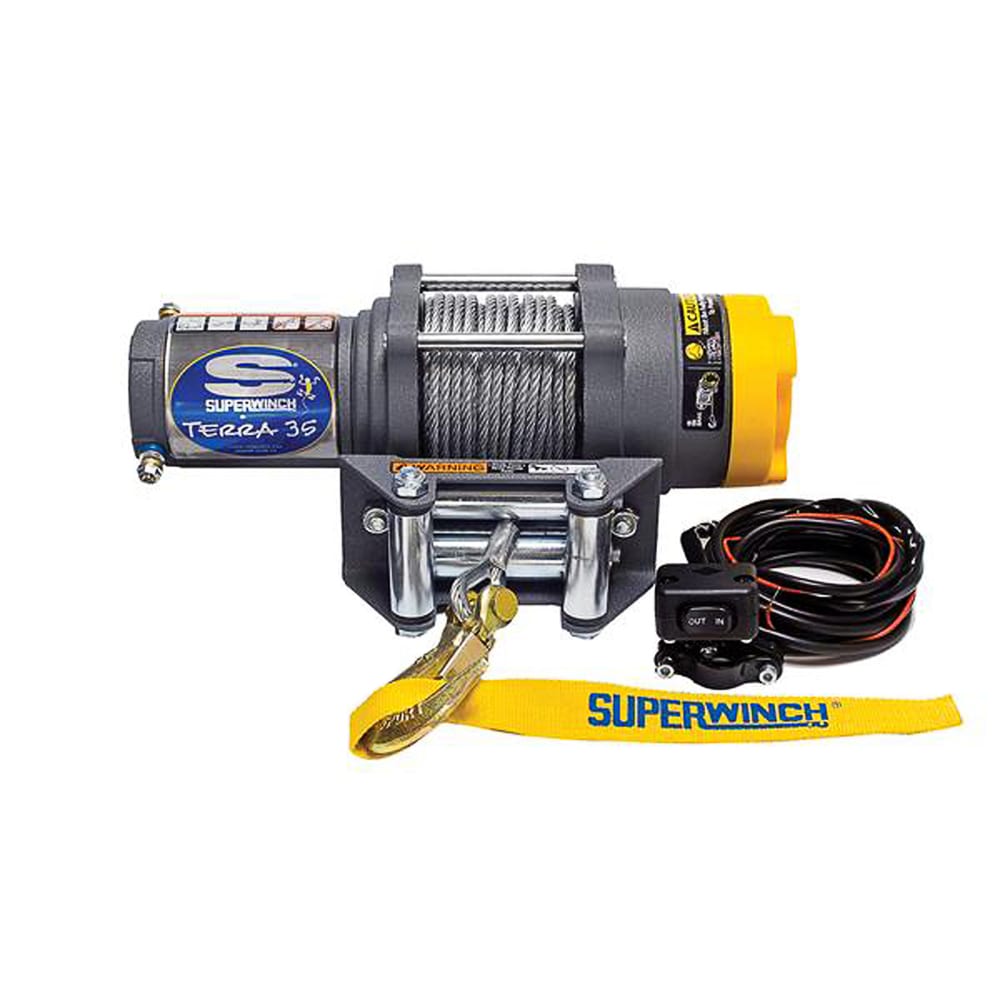 If you are looking for an excellent general-purpose winch for your vehicle, the Superwinch Terra 35 has everything you need. It is tough with planetary steel gears and bronze bearings in an oil bath that will ensure long service life. In addition, the Superwinch Terra 35 set is delivered with a universal mounting plate. This winch can be used with both a steel cable and a synthetic rope as long as you use the appropriate cable guide. It does, however, come standard with a 50 feet steel cable of 5.2 mm in diameter, as well as a 4-way roller guide that allows you to pull in any direction.
The Superwinch Terra 35 is designed to withstand various elements: rain, freezing rain, mud, snow, and extreme heat. Its design allows you to pull heavy loads, free your vehicles from a perilous situation and dangerous terrain.
5- Kimpex 3500 lb winch kit:
Kimpex makes the 3500lb model a very attractive choice for ATV riders or hunters who need a versatile winch. The Kimpex ATV/UTV 3500lb winch set has a very linear pulling capacity as well as a mounting plate and remote control to make your experience with this winch even easier. With a robust 12-volt motor, this winch provided effective pulling power when and where it is needed.
We are often challenged by ATV riders who ask us for recommendations on winches that can give them full satisfaction without making a huge hole in their budget. Our advice frequently goes towards Kimpex, because they offer a variety of winches for all budgets as well as different capacities that will fulfill the needs of all kind of users. Do not hesitate to compare our opinions and you will be surprised at the number of dollars it will be possible to save.
This 3,500lb unit from Kimpex is capable of pulling your ATV out of trouble, and it is good for using a snowplow regularly, thanks to its toggle switch remote control on the handlebars. It also features a roller guide for steel cable or an aluminum guide for synthetic rope, depending on the chosen option.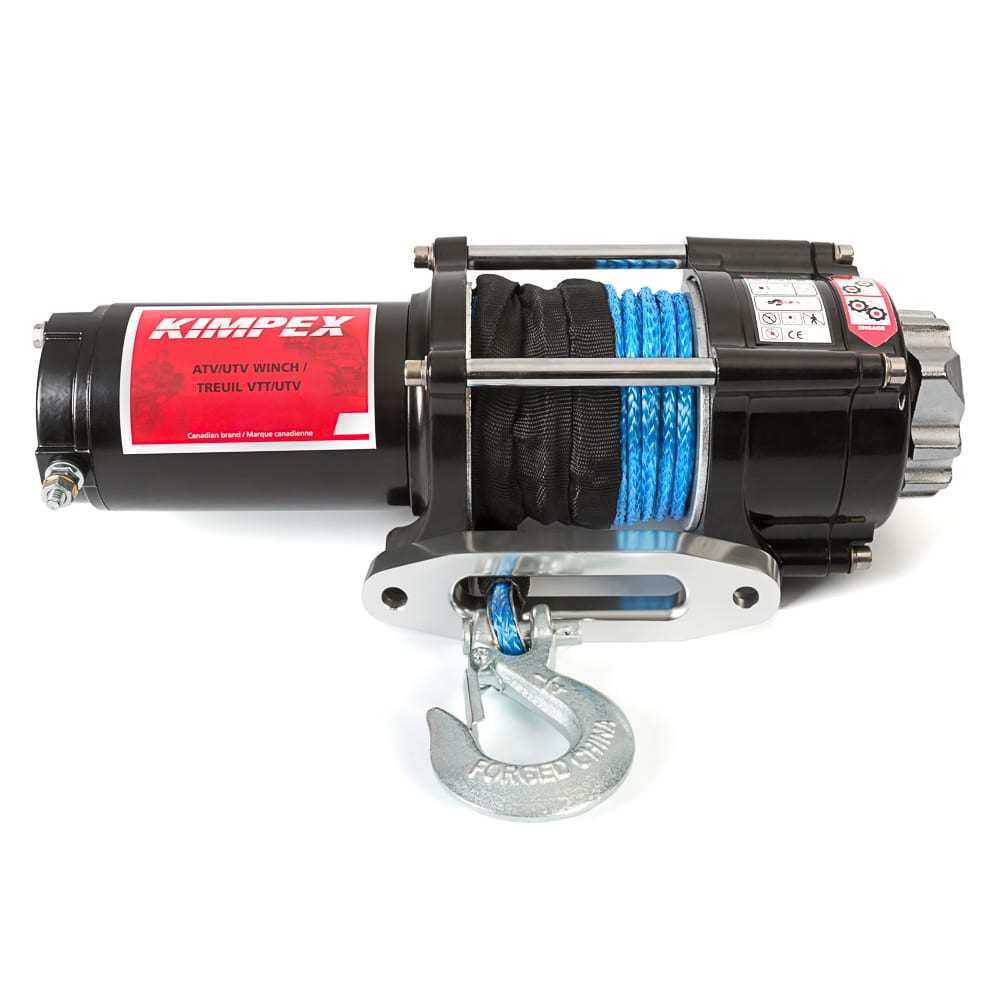 This winch offers superior performance on a multitude of tasks and is a good option for ATV riders who want a rescue winch that can also move bulky trees and drag them off the trail. The one-year warranty on the Kimpex 3,500lb winch assembly is excellent proof of this manufacturer's confidence in its product.
One last thing: we would like to highlight the differences between a steel cable compared to a synthetic rope. Each has its pros and cons:
– Steel cable is ideal when used on abrasive soils such as rocks and stones because it is less prone to fraying and wearing from friction. However, its major disadvantages are that it can rust and develop sharp burrs requiring the wearing of gloves for its handling. It is also prone to fold, making it more difficult to properly wind the cable on the winch drum.
– Synthetic rope is made of polyethylene, it is much safer than the steel cable in many ways. Significantly lighter, the synthetic rope will store less energy than a steel cable and thus cause less damage in the event of a break. Its high flexibility and lightness make handling easier and its propensity to twist is almost zero. Its design prevents the appearance of burrs and therefore possible manipulation with bare hands.
If there is one accessory that should not be overlooked when purchasing the off-road vehicle of your choice, it is the installation of a winch. The right equipment ensures carefree rides and greater satisfaction while you ride.