The magical winter landscapes lead us to take advantage of the activities offered by the abundant white powder. Canada puts on its most beautiful white coat to experience the magic of winter. You would think winter was created here. When snow covers and transforms the landscapes, an atmosphere of calm and serenity prevails. For us Canadians, it's more than a season; it's a way of life, where all opportunities are good to play outside.
We have the privilege of having four very distinct seasons, and each has its advantages. But winter has its characteristics that require more equipment and accessories to take full advantage of its benefits. By being well prepared and equipped, we are sure to experience moments that will remain engraved in our memories.
We have prepared a list of practical tips that will allow you to fully enjoy your quad in winter in complete safety, in harmony with yourself and nature.
Get the right clothing
Be aware that the worst enemy in cold weather activities is humidity. Take care to choose clothing that will provide sweat-wicking from the skin's surface to the outside, protection against heat loss, thermal insulation, and ventilation of areas of increased sweating and heat emission. Your days will be significantly enhanced if you have clothes that exactly match the needs of the quad riding activity.
It is possible to obtain heating elements to counteract the winter cold. Soles, jackets, pants, gloves, liner gloves, and visors are all accessories that enhance winter riding. They can be connected to a 12V socket designed for this purpose or to a portable lithium battery with a controller.
You must have a helmet that adequately fits your head and offers good airtightness. A helmet designed for winter will have a double visor to prevent fogging. The dealerships provide a wide variety of models, and you will be spoiled for choice.
A few rules of conduct:
Reduce your speed to avoid skidding
Always drive in 4X4 mode
Get the passengers off the vehicle when you have to climb a steep slope or take hazardous passages
Stay on groomed trails, such as ATV club trails. Otherwise, you could venture into crop fields that you will destroy; this is how rights of way are regularly lost. Don't be part of the problem!
The vehicle
It must be in perfect mechanical condition at all times, but you must pay particular attention to the tires. The grip will be better with more contact surface on the ground. To do this, the tire pressure should be relatively low. Rely on the vehicle's maintenance book rather than the tire manufacturer's specifications. The use of automotive-type tire studs is allowed in most trails. The battery is also another critical element, as it has to start the quad even at temperatures below -30 ° Celsius.
Tracks
It is unnecessary to equip your quad with tracks to trail ride in winter. Note that tracks continuously evolve and improve, which may cause many enthusiasts to install them on their vehicles in the future. Quad vehicles equipped with tracks are only allowed on the trails of specific quad clubs that accept them. Refer to the quads clubs to determine which ones accept quads fitted with a track system on their trails.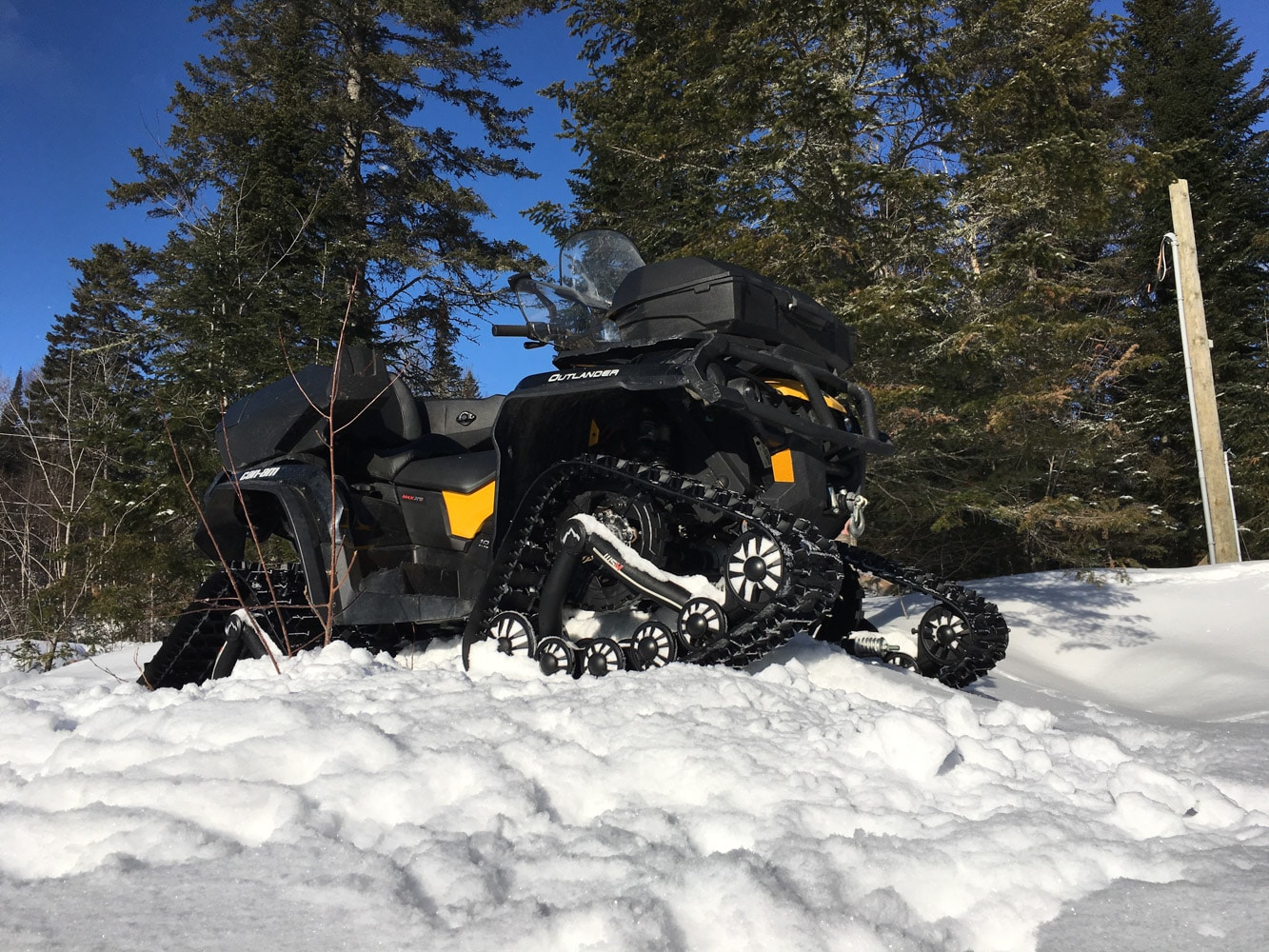 Be prepared before going on a ride
First of all, knowing how your vehicle works like the back of your hand is essential. Having read our owner's manual beforehand is a must, and the ideal place to study it is not in the middle of the trail during a mechanical glitch.
Check the weather forecast before going for a ride, considering the conditions for your return. Being stuck in a snowstorm without seeing the trail ahead is not a great experience, I can tell you.
When you go for a ride, let your loved ones know where you are going and when you expect to arrive. This way, it will be easier to give accurate information to the search teams if an unforeseen incident arises. These are details that can make a big difference and decrease the anxiety for our families.
Get the habit of always going on a ride with a friend. In addition to being more pleasant, it is safer to count on a friend if something goes wrong.
We are not immune to the unforeseen, and a mechanical failure can occur at any time. A rigorous inspection of your quad before each ride is a routine we all have to do. It will undoubtedly prevent repairs on the trail, which would have been better to perform in a heated spot and equipped with the appropriate tools.
Bringing a basic survival kit with you on your rides also means planning ahead. The kit may include the following:
set of essential tools and an additional ignition key
set of spark plugs, a CVT belt, and antifreeze coolant
first aid kit and manual
sharp knife, a saw, or ax
nylon rope that can be used for towing (about 10 m)
geographical map and a GPS or a cell phone with the local maps application
waterproof matches, flashlight, and whistle
emergency thermal blanket
It is essential to keep the vehicle's headlights on and drive on the right side of the trail to allow safe passage of vehicles coming the other way. Even if in most groomed trails the maximum permitted speed is 50 km/h, we still have to adjust our speed depending on the conditions, especially in a forest trail where the visibility is reduced.
The snow conditions are not to be neglected
Following a snowstorm, we are all excited to go out and test the capabilities of our machines. However, allow time for the grooming teams to prepare the trails. It is best to wait for the snow to harden to produce tracks with a packed bottom. Too many people rush to go on the trails and destroy the hard work of several hundred volunteers. Please be patient and let the cold harden the surface.
These are the main lines to take advantage of thousands of kilometers of trails. It is up to you to be the architect of the success of your rides. In closing, don't forget to bring your camera to immortalize your moments of peace and harmony so that you can pass your passion on to your friends. See you on the trails!