By Craig Weston
Photo Credits to Kelsey Livingston Photography
Six months ago Craig Weston, widely known in the off-road world as "The Thrill Billy", had a goal in mind.
When the Lethbridge, Alberta, Canada man set out to customize his 2017 Can-Am Renegade X mr 1000R, he wanted to create something that would blow people's mind. "I wanted to create a machine with high detail and a wild look," he says. "There are lots of built machines out there, but not with the Thrill Billy touch".
To say the machine stands out is an understatement.
Now black, teal chrome and white, with custom wheels and exhaust, the "Thrill Billy Cortez" machine is virtually unrecognizable from the black and silver stock model he purchased several months ago. "I had to stop at some point", Weston says with a laugh.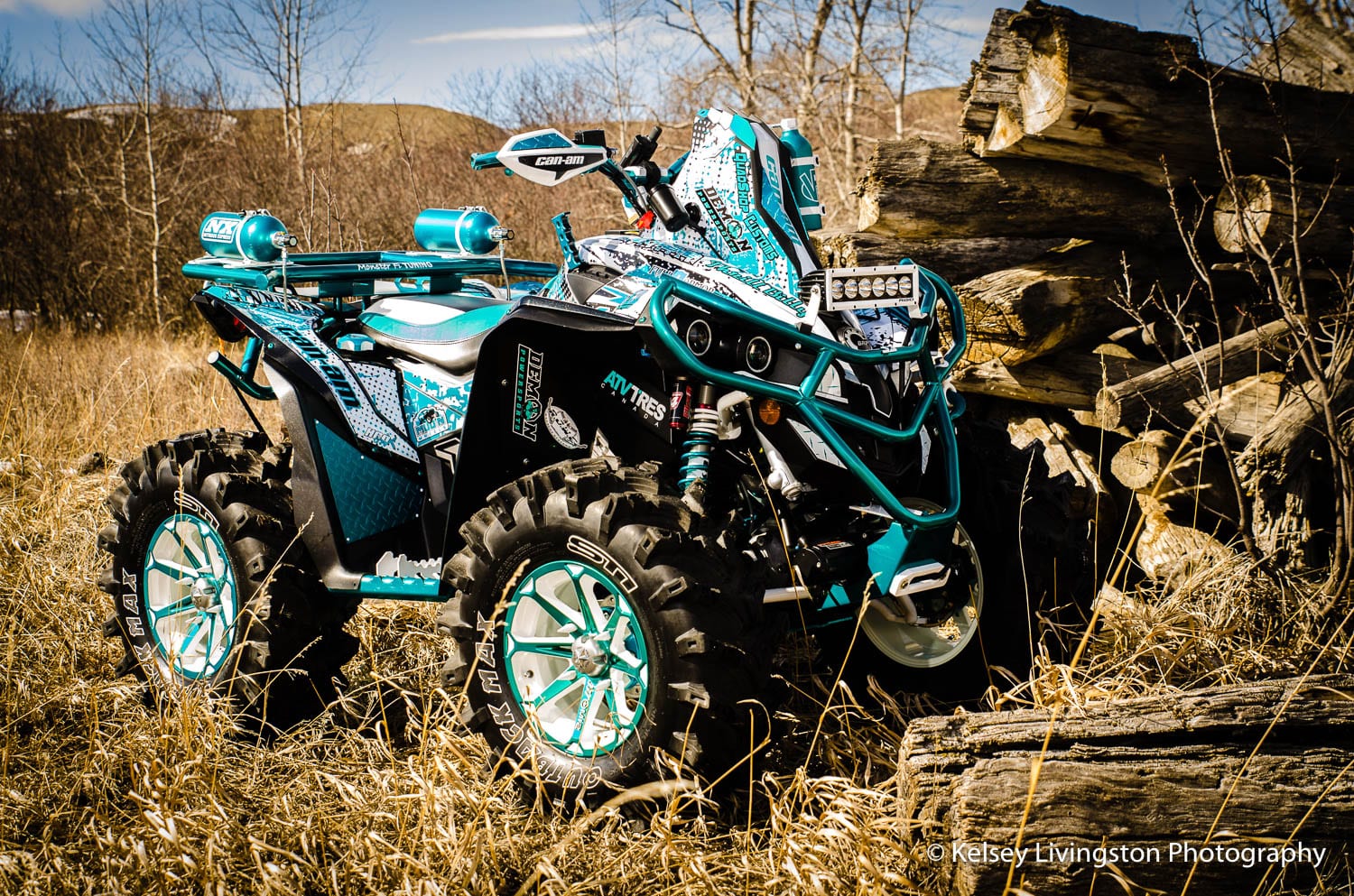 Modifications to the machine are extensive, including custom exotic powder coating – all professionally done by himself in his own shop Thrill Billy Powder Coating – Nitrous, custom designed full body wrap, windowed clutch box, Elka suspension shocks and three different computers communicating with the EFI and the nitrous system to auto-tune the bike while it's being ridden. It's his tenth custom build –the third on a Can-Am machine – and definitely his favorite.
"This was an awesome project to do, nothing like letting your imagination run wild on a crazy build like this". Although his custom builds eat up almost every spare moment he has (he estimates this latest project took 250-plus hours to complete), Weston loves the challenge of taking a stock vehicle and altering it. A handy guy already, designing and building Thrill Billy Powder Coating- customization gives him another outlet for his creativity.
"There are many builders out there that will take a machine and put parts on it," he says. "But that's not what I'm interested in. I want something custom, something that you just don't see".
The desire to stand out drives Weston to think way outside the box with his mods – "I built and designed my Powder Coating outfit with the goal of wild custom machines in mind. How many builders out there have their very own powder system?" Very few.
It's not a way of thinking that's new to him – as a nine-year-old he got in trouble for taking apart an alarm clock and his father's new calculator to rig up an alarm system for his bedroom. At eight, all he wanted for his birthday was a soldering gun and solder.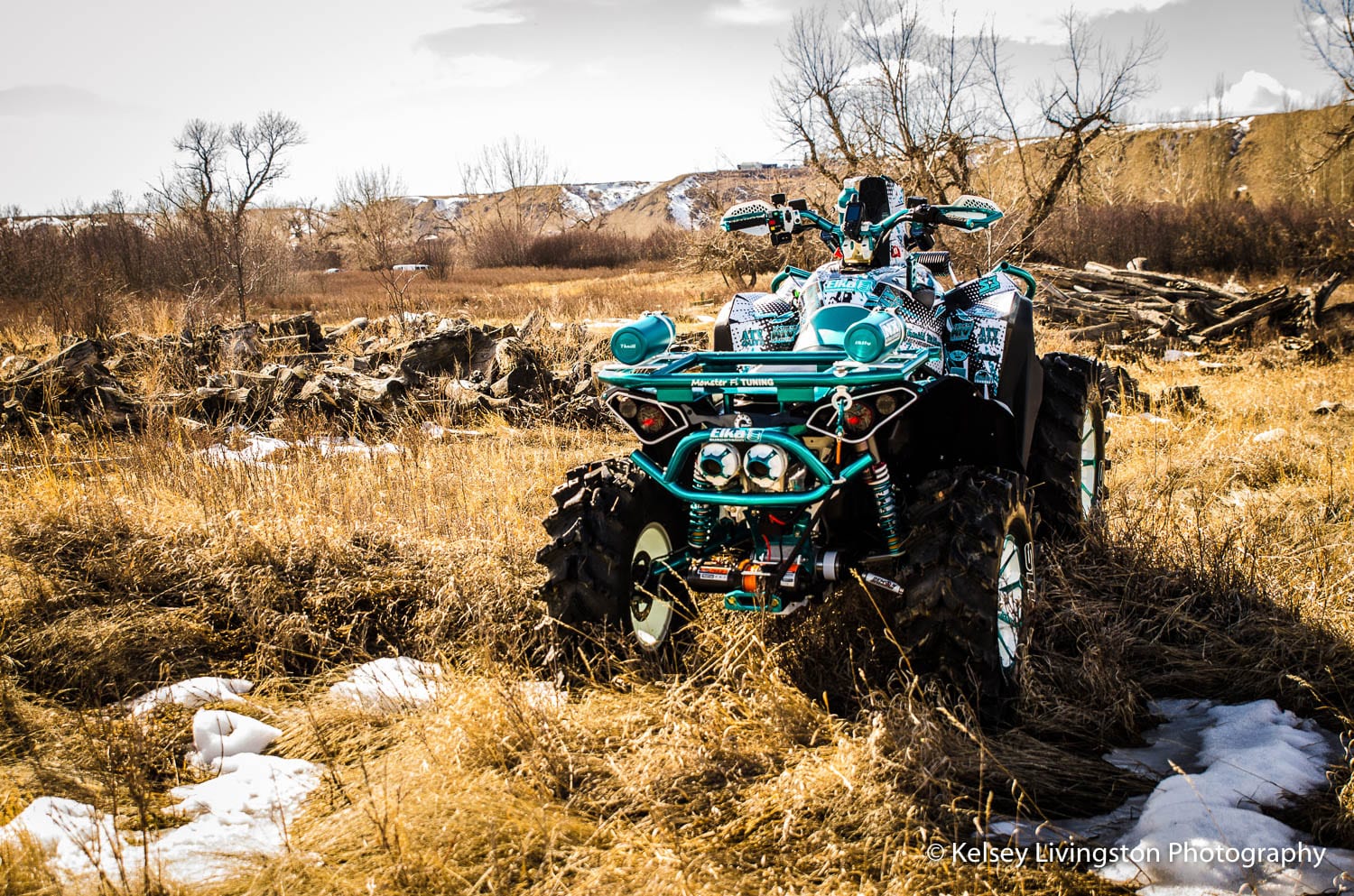 Weston credits his father with modeling a hands-on, work-it-out approach to building and fixing things. Growing up in a household with an average income, Weston says his Dad would use parts he had on hand to fix something before he'd run out and buy a new one.
"He was the kind of guy who would fix something and fix it better than it was". Weston, 41, maintains that work-it-out mindset when bringing his vision for a machine to life. For example, he built the windowed clutch box cover, 3 different times before he got it right. "I just keep on doing it until it looks like the vision in my head," he says. "I don't care how long it takes, perfection takes time".
There's nothing Weston loves more than seeing positive results from the time and effort he invests. On the heels of his previous highly successful build such as "The Thrill Billy Hot wheels", Weston has gained a long list of company build sponsors. 14 to be exact. "To build a machine like this takes many people and great products to be involved. I selected the sponsors based on what they could contribute to meeting my vision of the build".
"When I achieve a good outcome on a project it drives me to keep coming up with new fresh ideas for future projects," he says. "I want to create builds that are head-turning, that people can't believe".
One of Weston's favourite mods to the Can-Am unit is the Nitrous Express Nitrous system, which Weston notes is "good for getting you out of trouble or for getting you into more trouble. The reaction you get when you pull up on a bush machine with Nitrous is amazing," he says with a chuckle. "It's for fun and performance, it's something not many are crazy enough to spend the money to do".
A close second on the list is performance Elka Suspension shocks. "The handling that these shocks produce at high speeds is amazing, with rebound control, the machine responds to your every move". It is an expensive addition to the machine, however an integral part of the project.
Rounding out Weston's top three favourite mods is the powder coating he produced in his own shop. "Custom teal chrome powder looks very impressive, it's something that I've never seen on an off-road build".
To achieve it, Weston actually built his own powder coating system which allowed him to custom coat all pieces right in his shop. The project was extremely labour intensive as he took the machine apart to powder coat everything from the custom checkered aluminum plating he cut, right down to the winch.
"I focused on really high detail," he says. "I've seen lots of custom-built machines and I wanted to take it a step further, right down to having polished nuts and bolts".
While Weston plans to enjoy his one-of-a-kind machine, he's already daydreaming about his next custom build.
"I love seeing all the new machines that come onto the market constantly," he says. "I dream about what I can do to each one, select one, and go for it!"
Build Sponsors:
ATV Tires Canada
Demon Powersports
Mile Marker Winch
RJWC Exhaust
ATV Guys Canada
Quad Shop Customs
Mud N Wheels
Thrill Billy Powder Coating
Kelsey Livingston Photography
Monster Fuel Injection
S3 Powersports
Extreme ATV Offroad
Madd Mack Motorsports
Full Armor Offroad
Cap-IT Truck Ware