If the cost of new machines has you down, this new UTV has everything you've been needing at a price you won't hate.
If you're like us, and I know you are, you look at all the new machines, especially the sport UTVs, that come out every year and the prices keep going up and up and up. Some of the higher-end options cost more than a new truck!If you're looking for a new ride with trail-friendly performance and sweet styling, CF Moto has been listening, and they have redesigned the ZFORCE 800 TRAIL GEN 2 with you in mind. With this new machine, it is possible to get the thrills you crave, without the chills your budget gets when it comes time to pay for it.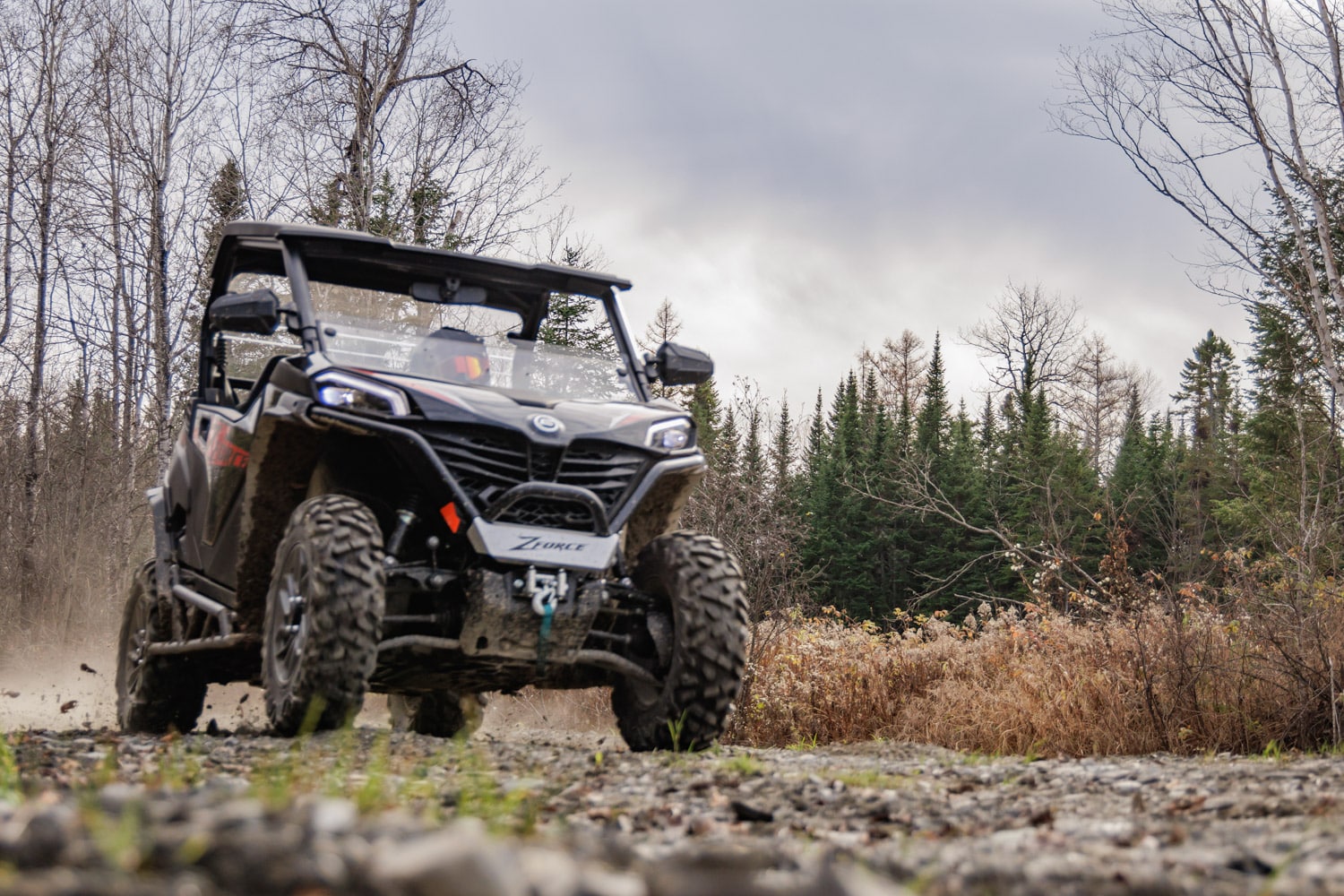 New year, new platform
The Trail platform is all-new for CF Moto for 2023. This machine is designed for fun and thrills on the trail, vehicle at the same time being the perfect size for most trail systems. The chassis and suspension are geared toward soaking up the terrain at a brisk pace, while still remaining comfortable for the average trail driver. In other words – you can have some fun and you won't get beat up by the machine or the ride.
Powering up
The ZFORCE 800  uses an 800cc, V-twin cylinders, liquid-cooled motor with Bosch electronic fuel injection  that has two designed-in driving modes – one for speed and one for fuel economy. This motor produces 62 horsepower and 72nm of torque. That gives you lots of power on tap for trails and for clearing obstacles like hills,  and the need we all feel now and then to get on the gas and let it loose. 
The power gets to the ground through a CV-Tech CVT belt-drive transmission with high, low, neutral, reverse and park. The ZForce has a four-wheel drive system with a locking front differential and fixed rear differential. That should get you out there and back again, and the electronic power steering system makes sure you don't feel beat up by the drive.
Riding in style
Aside from the new design that gives the ZForce 800 Trail GEN 2 a unique look compared to other machines in the class, the CF Moto has some of the added bonuses you come to expect from the brand. It has half doors and a full roof, along with side mirrors, items you often have to pay extra for with other brands.
It comes with a 5-inch TFT digital display to give you all the info you need from the machine during the ride, a sporty steering wheel, sport seats and LED headlights, too. At the corners you'll find 14-inch aluminum wheels with 26-inch, 6-ply tires wrapped around them. CF Moto has always been known for value and this machine keeps that tradition going.
The ride
The new 50-inch Trail platform means an all-new chassis with new sporty suspension. The ZForce 800 Trail GEN 2 has dual A-arms up front with gas-charged shocks that provide 255mm of travel. Out back, you'll find a comfortable yet zesty torsional trail arm system like you'd find on higher-end sports machines. It comes with shocks providing 305mm of travel. The suspension and chassis updates combine to give you a spirited ride and lets you drive aggressive when you want to, but keeps you planted when you are just cruising around – exactly what you want from a sporty trail machine. Hydraulic disc brakes bring you to a halt when you want to stop the fun, too.
The ZForce 800 Trail GEN 2 holds two people and has a 27 liter fuel tank for a good range. It will tow 680 kg all on a machine with a 2,286mm wheelbase. It comes with a 12-month warranty, too, for some added peace of mind.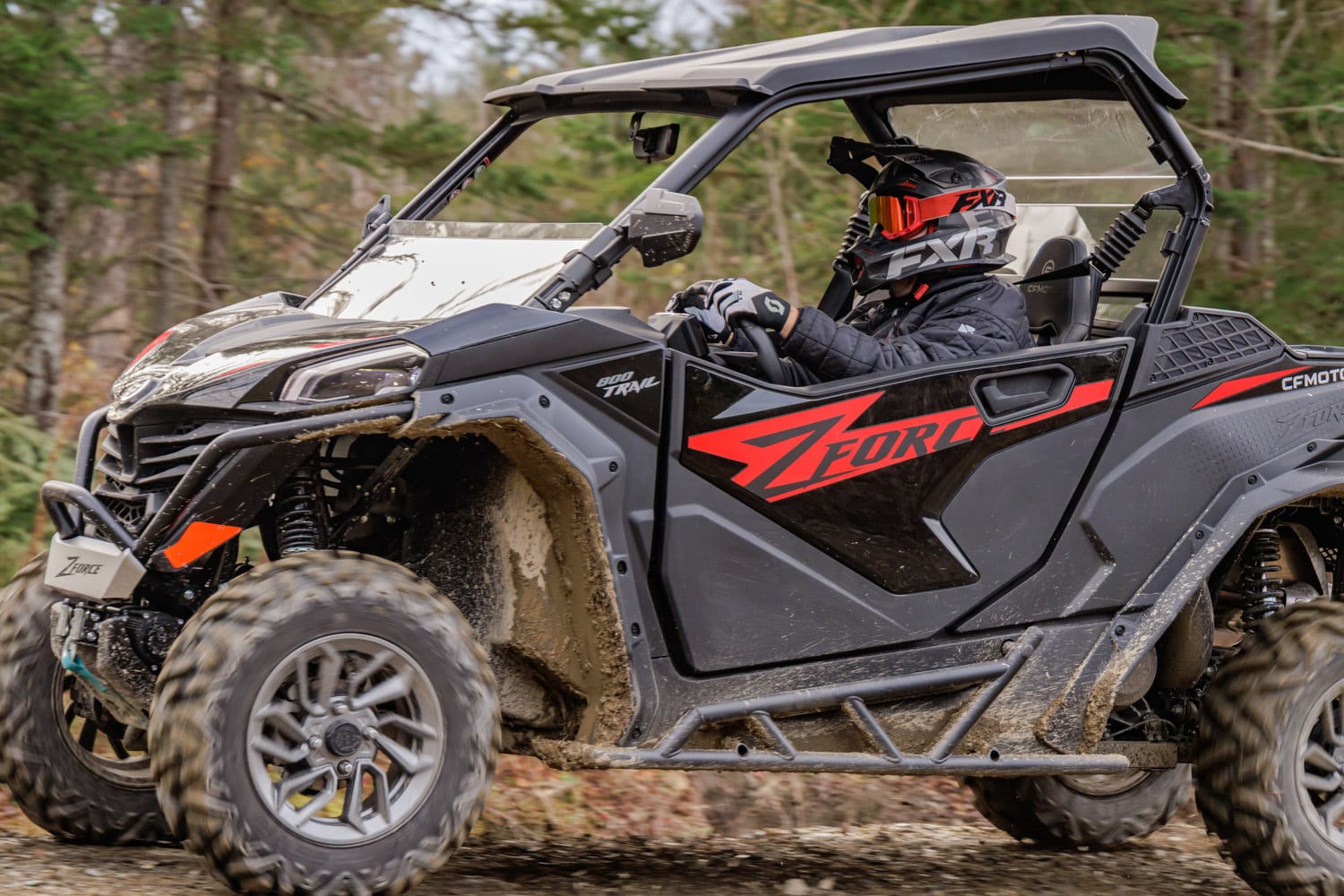 Bottom line
We're excited to see more 50-inch trail-friendly UTVs coming out and this model looks like another winner from CF Moto. It will have just enough of everything to make it a fun machine to drive, and enough room in the budget to allow more people to get into buying one and into the sport. If you're looking for a two-person, trail friendly machine, this could be a great option, especially if you're not looking for a turbo-powered screamer, but a fun cruising machine with just enough power to make things fun.
Pricing hasn't been released yet, but CF Moto assures us that it will be the best value you'll find in a sporty trail UTV. We're liking the idea of a manufacturer putting development and style into a budget-friendly machine, so we're excited to see how this machine does when it hits the showroom floors and then the trails. Look for a review in the future, and maybe even a build project. This looks like a great platform to us for something cool. What do you think?