A life dedicated to the competition
Sylvain Arseneault, the Arsene Racing shop owner, is also a Quebec champion racing championships for 34 years as a pilot. He also works in the background as an organizer and is a strong advocate of four-wheel racing. Sylvain is an internationally well-known vehicle builder and tuner who refines engines in his Arsene Racing workshop in Notre-Dame-du-Mont-Carmel, Qc. He also sends parts worldwide.
Sylvain was born in Shawinigan on January 27, 1965. His father was a snowmobile enthusiast, and from a very young age, the sound of the two-stroke engine and its distinctive smell of burnt oil were part of his world.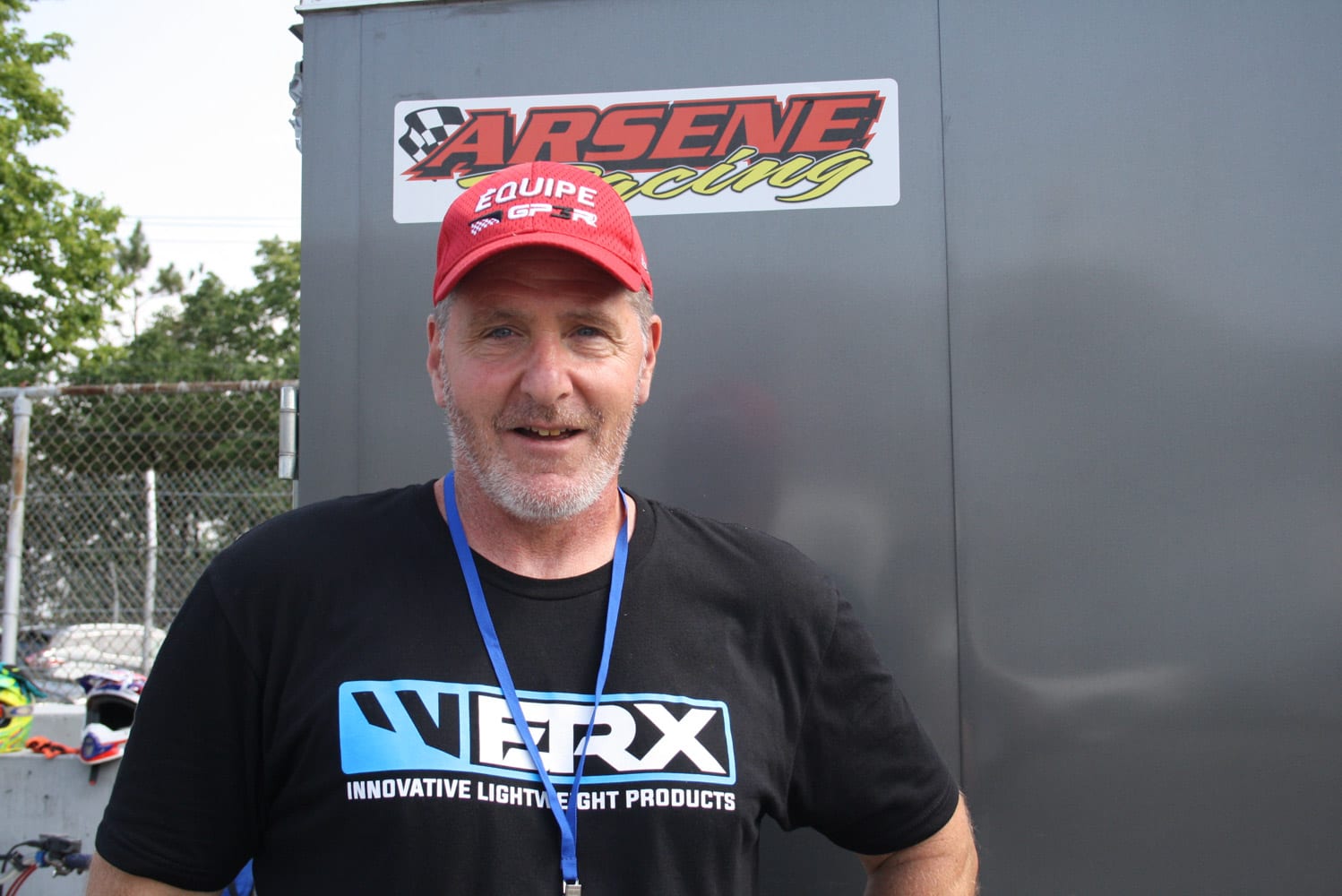 From the age of 6-7, Sylvain was having fun on his dad's Ski-Roule sled. Then his dad offered him a Honda CT 70 at eight years old. It was at this time that his passion began. As he speaks, another fond memory comes back to him: holding the family car's wheel, sitting on his father's lap.
Good times are unfortunately too short. His mother died in 1975 while Sylvain was ten years old. Then he lost his daddy three years later, at thirteen. His father had a new spouse who became Sylvain's legal guardian. Unfortunately for him, his mother-in-law didn't like motorcycles. So motorcycle and snowmobile rides were over. Well, not totally, because Sylvain could count on a Mobylette moped to get around at 14 and 15 years old. However, the passion was too strong, so he secretly bought a motorbike.
As soon as he reached the majority, he became a motorcycle salesman. At 19, in 1984, he worked at Desprès Equipment, the Honda dealership in Shawinigan, Qc. It was at this time that he fell in love with a Honda ATC 200S three-wheeler. He thought it was good looking but had no idea how to handle it.
Even without social media, in those years the news spread quickly in Shawinigan. A competitor invited Sylvain to a three-wheeler race the day after the purchase. Sylvain did not have any equipment. He grabbed a pair of steel cap work shoes and an old snowmobile helmet from his father, and he was ready for his first race, which he won in his class, much to his amazement. The passion was growing bigger and stronger.
I'm sure you know a bit about the three-wheelers ATVs: they have no stability. But that was the perfect machine for him to learn more racing techniques! The following year, Sylvain organized races at the Spot 55 bar in Shawinigan, off the 55 highway in Quebec. He bought a Honda ATC 250R and won the Canadian championship. Sometime later, it was the end of three-wheelers as manufacturers no longer made them because they were too dangerous. In fact, the most significant accident suffered by Sylvain happened with this type of vehicle.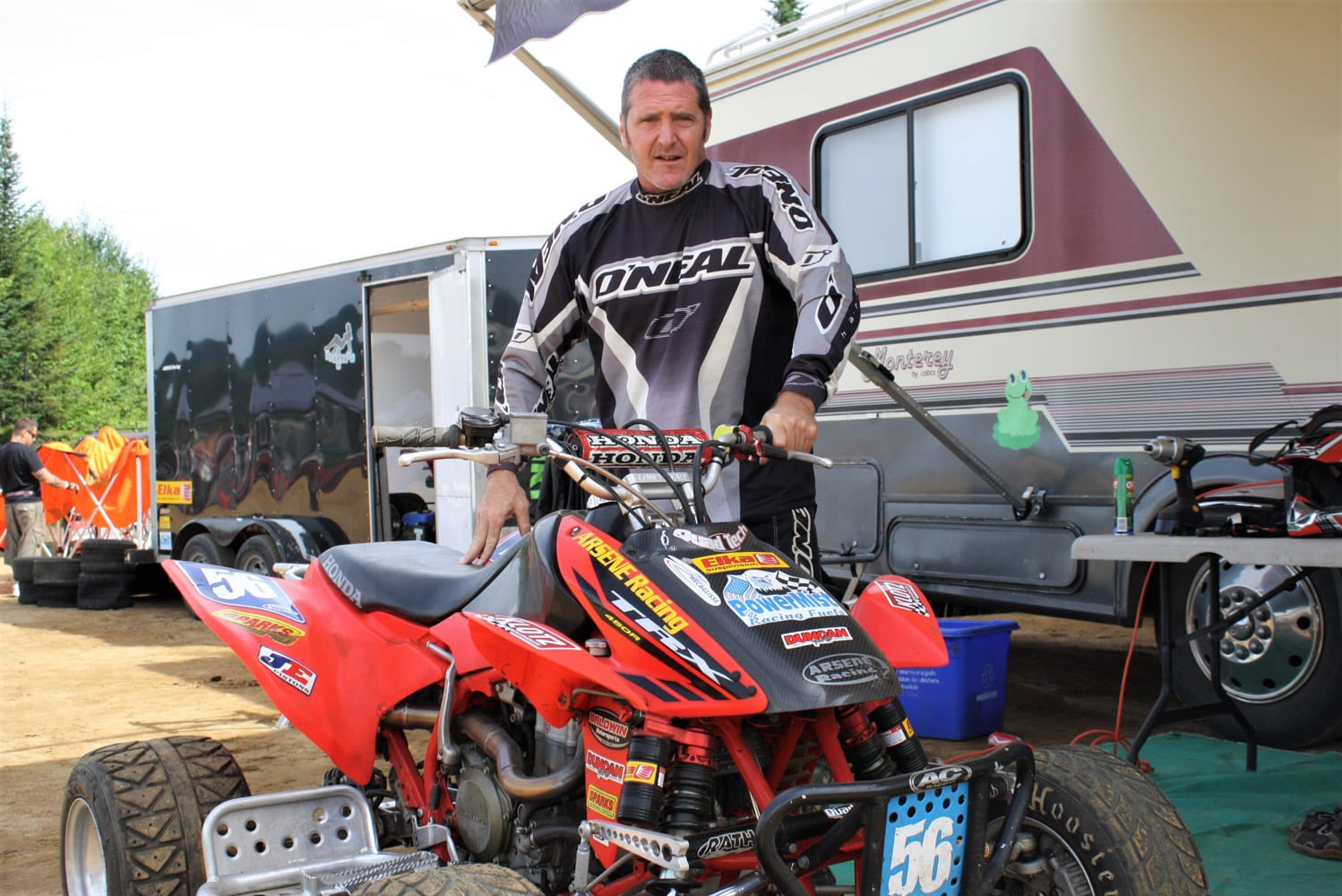 In 1986, it was his first participation in the Montreal Supercross, a big event at the Olympic stadium. With a four-wheeler, Arsène, as many like to call him, has taken part in more than 20 races at the Olympic Stadium. He is the driver who participated the most in this legendary competition, bringing together up to 60,000 spectators in the best years.
Sylvain was also the Superquad program director at the Olympic Stadium for fifteen years, along with Pierre Corbeil as the organizer. They brought in American pilots, including several # 1 plates.
In a podcast with another motocross legend Ben Milot, Sylvain shared several anecdotes. He remembers an American pro champion that came in with his hyper-sophisticated racing quad to be finally beaten by a rising unknown young pilot named Jasmin Plante, who was riding a much inferior Yamaha Banshee.
In the following years, 1987-1989, Sylvain won the newly created MX quad championship. He salutes Buddy Ford's work, who has been the most prolific championship organizers, dealing with Dirt Tracks, MX, Ice Races, and even early Supermoto races. Sylvain "Arsène" brought back many trophies and Canadian championship titles in these different categories.
The tireless ATV ambassador was the first Canadian rider to race at the 12 hours of Pont-de-Vaux in France, in 1999. This event is an unforgettable moment of seeing 18 nations running together in an international race. Sylvain climbed on the podium in 2005, with the French Julien Tusset and Cyril Lamet. To this day, he is the only Canadian to have achieved this masterstroke.
He also helped the Fédération Québécoise de Quad to create the well-known 12 hours of Endurance at La Tuque. In fact, every time there was a dirt bike competition, Sylvain would call the organizer to ask why the quads weren't represented. And believe me, Sylvain was very persuasive!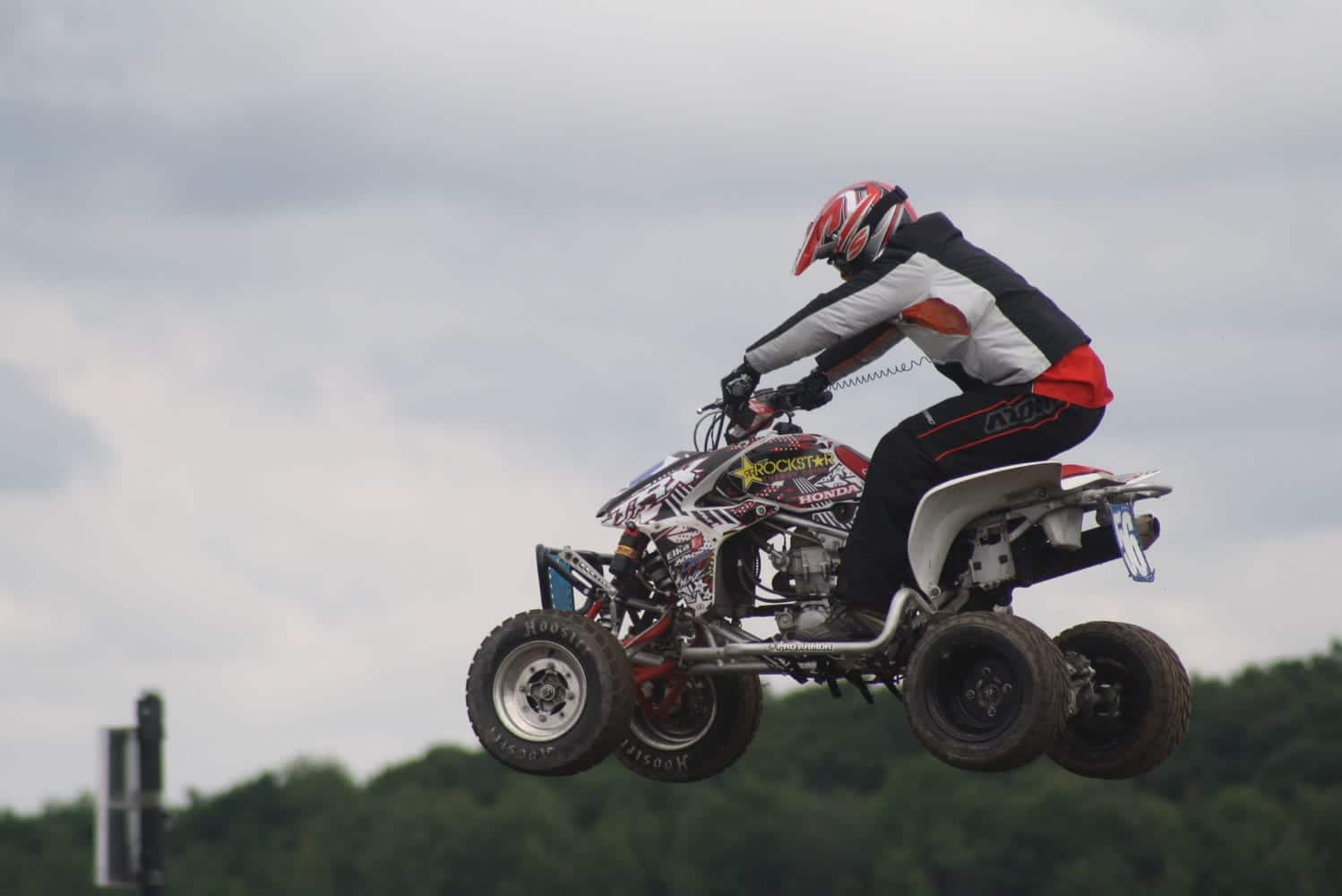 In 1999, he put together a series in collaboration with ASM. Quads were racing with superbikes on asphalt circuits all over Quebec. This series was called Superquader, named after a European series. As Sylvain puts it, "On the Saint-Eustache circuit, for example, to our surprise (and that of the motorcycles especially), the ATV times were by far much better than the motorcycles, apart from the Pro Superbikes which had us by no more than 1.5 seconds!"
He managed the ATVs for Supermoto Quebec, the ice races in Valcourt, the Mc-Gregor races, and the Dirt Track's return in Trois-Rivières in 2017, and the Elka Superquad races at GP3R (Grand Prix de Trois-Rivieres) as well. He worked hard for several years with Dominic Fugère, general manager of GPR3, whom he knows well, to get the quads accepted for the event. He brought in the American national champion for the first edition to help get a very high-quality competition level at the Grand Prix de Trois-Rivières.
Also in Trois-Rivières, he helped Marc-André Pagé of Flat Track Quebec to relaunch the event in 2017 at the legendary Trois-Rivieres hippodrome (HR3), where he had won a dozen times in the past. He fondly remembers the death of one of his quad rider friends on the racetrack in 2000. This tragedy was profoundly impactful for Sylvain.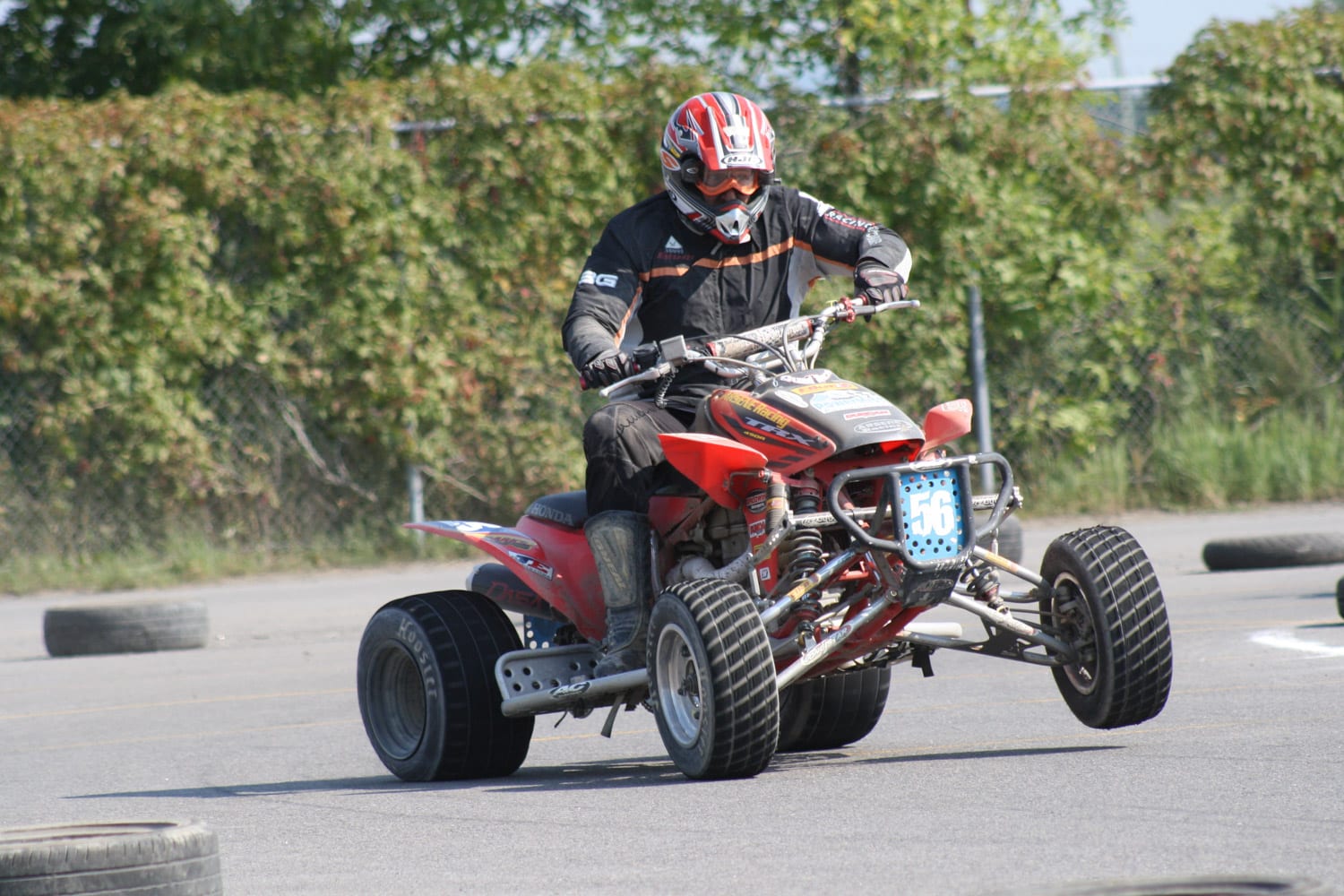 In 2017, at 52 years old, he had the best qualifying time with peaks of 153 km / hour. In 2018, a week and a half before the race event, he learned he had cancer of the salivary glands. The doctors gave him no choice: he had to go to surgery immediately to remove the infected gland. His face was open sideways from bottom to top. Even though he couldn't race, Sylvain was still there to coordinate the Dirt Track quad races on the H3R tracks.
As he tells Ben Milot, "My name got drawn out of a hat for this cancer. Why me ? I am athletic, I eat well, I have a healthy life. I experienced it as an injustice of life". In 2019, he returned to his favorite HR3 racetrack and won the pros final, at 54! This moment is another landmark for this high-level athlete who does not want to stop yet.
In his list of hits, he has been crowned fourteen times Canadian champion in ATV ice racing. He is also the only Quebecer to have participated twice in another international competition, the Superquader in Mettet, Belgium. While he was there, he noticed that the Europeans were one step ahead in the organization of races, and he made them a role model.
As a vehicle builder / tuner and distributor of racing parts, Sylvain likes to say that he is dealer number 7 at the famous shocks manufacturer ELKA. The first six companies have all closed, so Sylvain's "Arsène Racing Shop" is now ELKA's oldest distributor still in operation.
In his 37-year career, he can name many pilots and contributors to ATV racing. But he points out the Desormeaux family, and more particularly Jeannot Desormeaux, for whom he has great respect. He was the one who taught Sylvain all the performance mechanics, as he started from scratch. One day, at the 1994 Montreal Supercross, the great Jeannot called on Sylvain to solve a starting problem. He wondered why the teacher was asking the student. But Sylvain found the solution. Jean thanked him: "I hadn't thought of it!". That day, "Arsène" earned his stripes as an expert tuner, which enabled him to prepare numerous racing vehicles that finished on the podium's highest steps.
In closing, if Sylvain had a message for new pilots, he would remind them to ride for the fun of it, for themselves, and not for parental pressure or recognition from friends. There is no big money to be made there, but it is a great sport to play and a constructive discipline in life.
Sylvain Arseneault hopes to rub shoulders with these drivers for a few more years to our everyone's happiness because he is a fundamental pillar of the sport.