From Rivière-du-Loup to Valcourt, Québec, Simon Belzile's life revolves around competition and technical service. He further expands his horizon and that of BRP by ensuring that Can-Am and Ski-Doo shine at the top of international competitions, at the highest level, such as the Dakar Rally or the World Rally Championship.
Simon Belzile was born in Rivière-du-Loup in 1978. He is the second in the family; his sister Renée is five years older than him. He rode his first motorcycle, a PW50, at the age of six.
The city of western Bas-Saint-Laurent region is also the city that has hosted indoor motocross in an arena since 1981. This competition rocked his childhood, especially since Simon's father held the Bombardier Suzuki Sport dealership at the time. He was also an oval snowmobile pilot during the heyday of Villeneuve and Gaston Ferland.
Simon started his first competition at 13, in motocross at Ville-Degelis with a Suzuki RM80, in 1991. He finished 6th in a race where he faced big names like Marco Dubé or Alexandre Dionne.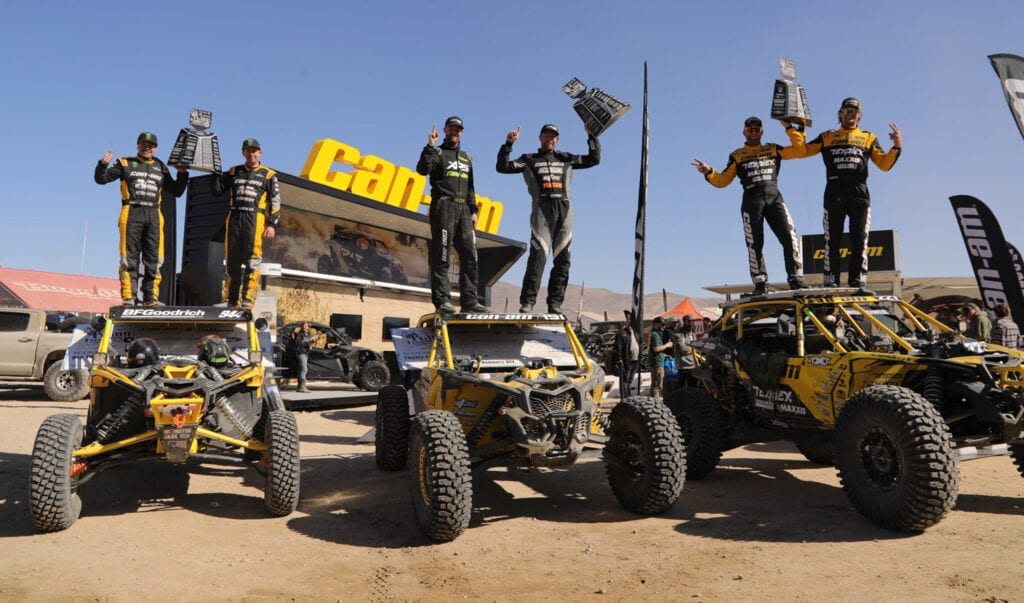 In 1993, he was CMA Eastern Canadian Champion. He moved to the Pro category in 1996, after a year in junior 1994, then senior in 1995. His first pro year ended with an injury, but he continued and won the provincial title in 1999 in the 125 series and then in 2000.
At the same time, from 1998, he raced on a snowmobile, participated in the Montreal Snowcross, and crossed the lines to compete in American competitions in Rock Maple, New England (2003 to 2005)
Simon was immersed in the world of competition from a young age, and it is no surprise that he graduated in recreational mechanics. He quickly joined his father's dealership. He does a bit of mechanical work, but he enjoys working more in the dealership department, where he likes to diagnose mechanical problems and provide solutions.
In 2001, at 23, life changed and opened doors for him. He was hired in Valcourt at Bombardier. A pride for the son of a dealer! He started as an after-sales warranty analyst, then moved quickly to technical service. He now rides a KTM motorcycle. It may have served him well when the company was restructured in 2004. Simon lost his job, but he bounced back to the Canadian importer of KTM, based in Saint-Bruno-de-Montarville. He finds Mario Lajoie, who also comes from Bombardier and runs the Austrian brand's subsidiary.
The assignment would last less than a year, and in 2005 he returned to BRP. It was the year he suffered a big motocross accident in Baie-Comeau, riding his KTM.
In 2007, he joined the racing service of the Quebec manufacturer, at the same time as the introduction of the new Can-Am DS450 sports ATV. No more competition as a pilot. He will now act as a reinforcement for the racing teams. He will help to adjust and calibrate the engines, check the reliability of the elements of competition that are pushed to the test. He may propose modifications to chassis and suspension components to improve their reliability or performance. The competition is an essential testing laboratory. The parts are used in extreme conditions. This makes it possible to predict vehicles' breakages and modify componants to improve the longevity or performance of production, sports, or passenger models.
In 2008, he got into it by participating in 26 weekends of races in Quebec and the United States. He runs through all the GNCCs and AMA races. He rubs shoulders with all the official American pilots such as John Natalie jr, Chad Wienen, Cody Miller, Josh Frederick, and Quebec pilots Richard Pelchat, Mathieu Deroy, Yani Desjardins, and Amélie Lavallée, to name a few.
This is the job he now does regularly within the competition department of BRP, a team of around 14 people under Jean-François Leclerc, which also includes two project managers, one for Can-am and another for Ski-Doo. Several technicians can modify or assemble parts. Two assistants take care of pilot requests and other administrative formalities. A coordinator completes the team and takes care of the United States.
The team can count on the South Racing Can-Am European racing team based in Portugal and Germany. This team prepares and follows the vehicles involved in the World Rally Raid Championship and the Dakar.
Simon Belzile was the only one of Valcourt in the Dakar in 2019, in Peru, to reinforce the South Racing team. He hasn't been to Saudi Arabia this year, but he was in contact with South Racing to deal with any eventuality. And for the 4th time, Can-Am won the Dakar Rally in the SSV category and the World Rally Raid Championship.
It is a great pride for BRP to shine around the world thanks to its international results. Side by side vehicles are very popular. They are an essential part of Can-Am off-road sales, although there are no official sales statistics for this type of vehicle. In fact, the DS 450 sports ATV is not produced anymore since 2015. Now, Can-Am UTVs are available up to 72 inches wide, which is not legal for Quebec federated trails. But they sell very well on the American and South American markets, especially for the Bajas, the deserts, and the dunes in California.
Turbo models are very efficient, and restrictors are mandatory to lower their power. The most important thing for Simon is to fight on an equal level with other brands.
For the United States, Simon regrets the end of side-by-side racing in GNCC races, enduro races also open to motorcycle and quad classes. But demand is very high for races like Best in the Desert (BitD). Races organized by Score, such as the Baja 1000 or 500, are also very popular. A new type of racing is also emerging, the King of the Hammer (KOH). Different types of off-road vehicles are represented, and UTVs have their place.
There are fewer and fewer races in Quebec, regrets Simon, and the SSVs are poorly represented. The GP3R, the McGrégor series, and the late 12 Hours of Endurance at La Tuque, where side-to-side races were famous and spectacular.
The first Maverick X3 was tested at the 12 Hours of La Tuque. A 4-seater model had been used to integrate the engine by changing the center of gravity centrally. The machine had been entrusted to Yani Desjardins, who had flown over the event, in addition to being able to count on suspensions adjusted ideally for the rutted dirt track part of La Tuque.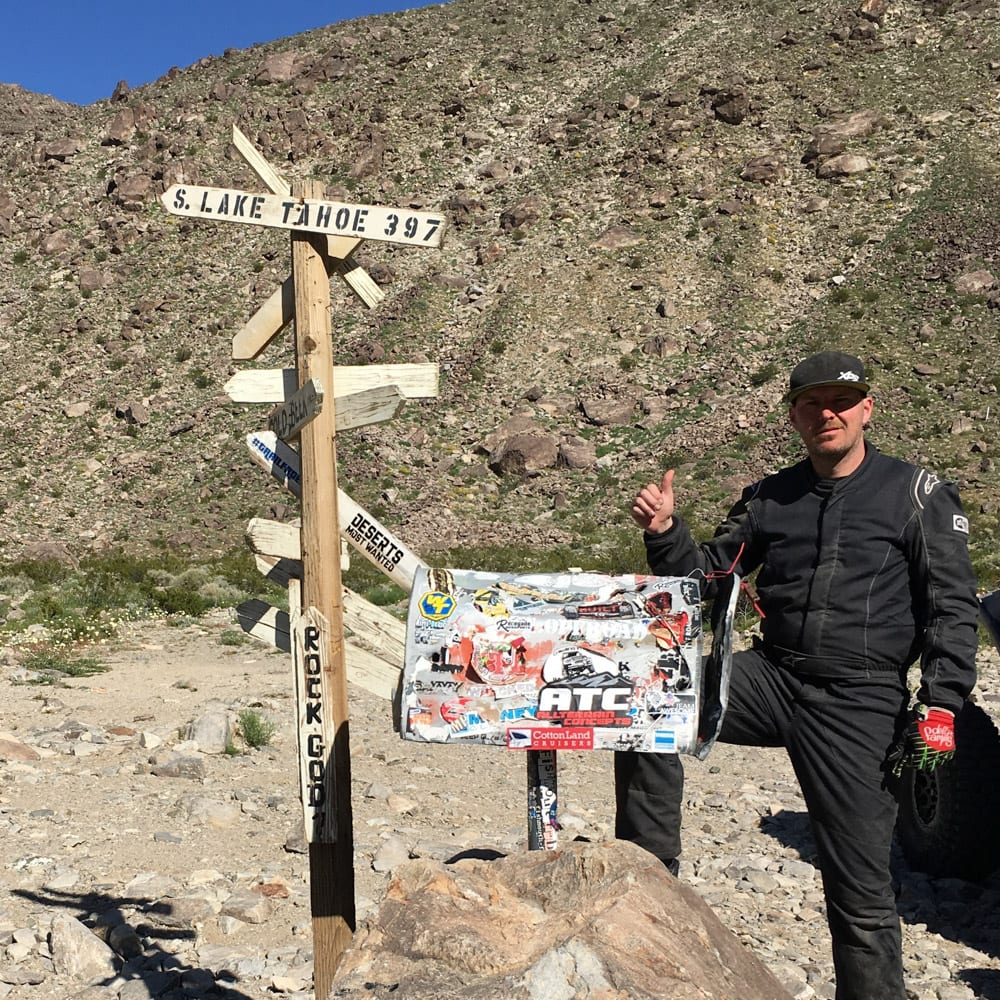 It is also interesting to see Simon Belzile and his colleagues Jean-Philippe Breton, Danny Poirier, and Patrick Lussier busy at the Grand Prix de Trois-Rivières (GP3R), in front of Andrew Ranger's Can-Am Maverick X3, or else advise Marc-Antoine Camirand. SSVs have to adapt to asphalt with short jumps. The suspensions, the electronic calibration, and the choice of tires must be modified to perform on a completely different surface.
It is a great responsibility for Simon Belzile to be Can-Am's "back-up toolkit" during high-level competition, but it has been part of his DNA and passion from a young age. He is also the BRP representative at the FIA, the famous Fédération Internationale de l'Automobile, for technical regulations.
It will be twenty years since he started at BRP, and the passion is still intact. He is one of the few people who makes a living from competition within a company.
For his leisure, Simon follows his son, who takes over in off-road racing. His sister does the same with her three children and her partner Dany Pominville, and they are great weekends where the family can get together while enjoying the great outdoors.
Thanks to his extensive knowledge of the race and the technical parts, Simon Belzile worked behind the drivers' scenes to avoid breakages and improve performance, without counting his hours, and always with constant involvement. As such, he deserves to be part of the Builders page!