What is very often put forward in the Powersports media is the perpetual battle of the big bore machines. You know, those machines that deliver more and more power, immense suspension travel, a multitude of gadgets of all kinds, and the possibility of reaching unparalleled heights ever. Although these mind-blowing machines make us all dream, they are still quite expensive and, most of the time, just too extreme for our real needs. This is where entry-level machines come into their own. In fact, there are an impressive number of models in this category, and we rarely look at these quads which deserve to be known. Today, we're talking about the Polaris Sportsman 570, which is undoubtedly one of the most capable entry-level ATVs on the market, if not the best in its category!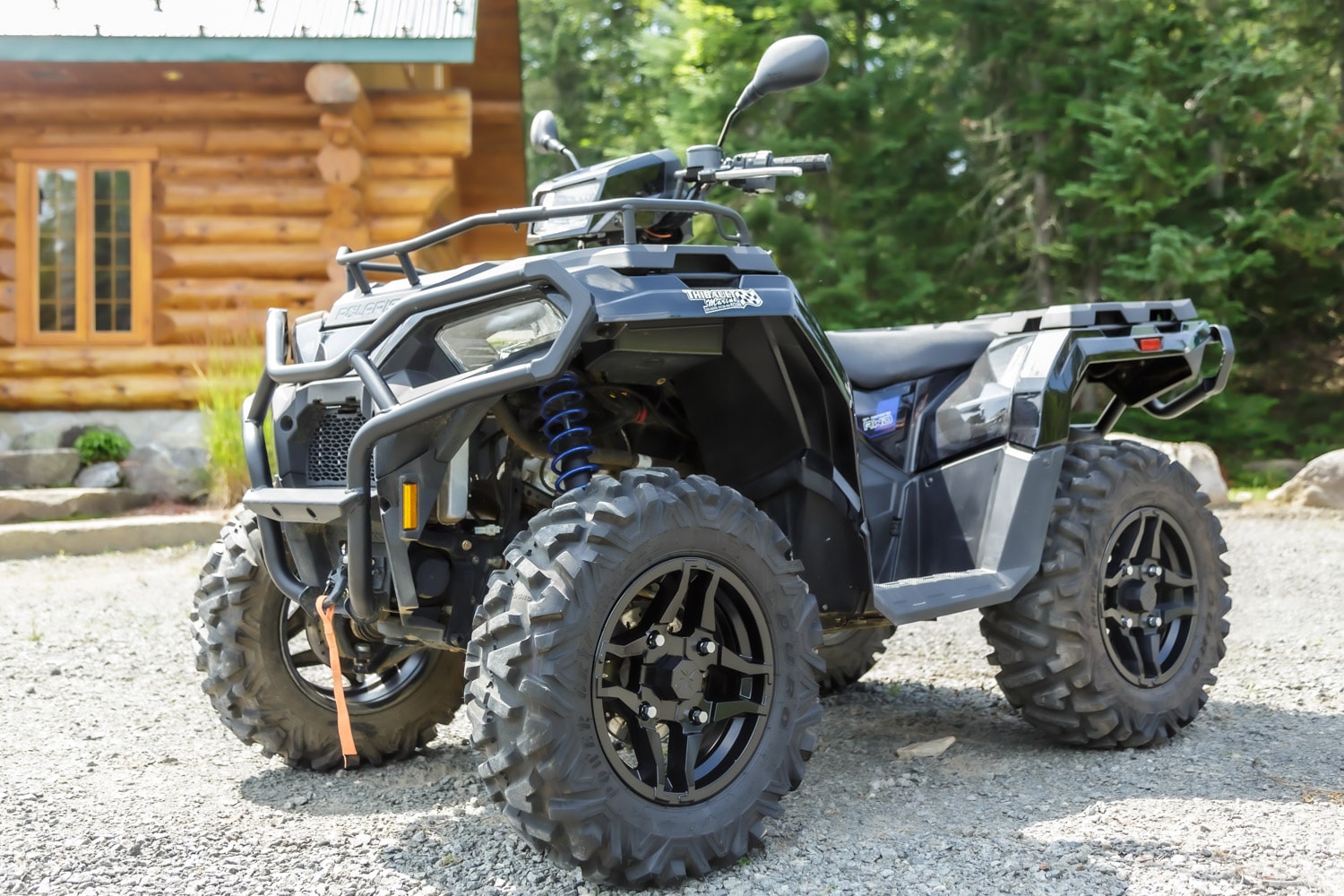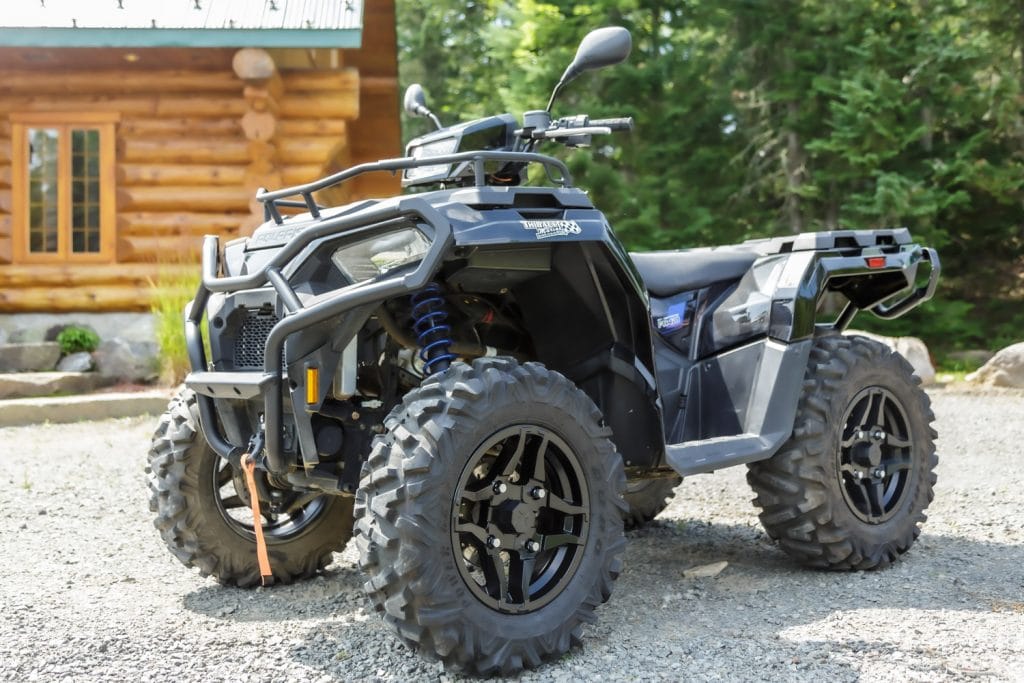 At first glance
First, let's talk about its look. With its aggressive lines and distinctive design, the Sportsman 570 is without a shadow of a doubt part of the Polaris quad family. We are happy to note that its general look is of just as good quality of finish as the other more luxurious models of the manufacturer.
One aspect that our team greatly appreciated is the generous dimensions of the model. Polaris has chosen to keep proportions very similar to the 850 and 1000, and that's a good thing. You feel comfortable without having the impression that manufacturing costs have been reduced. That is to say that we do not think in the presence of an entry-level vehicle when we compare it in the complete line-up.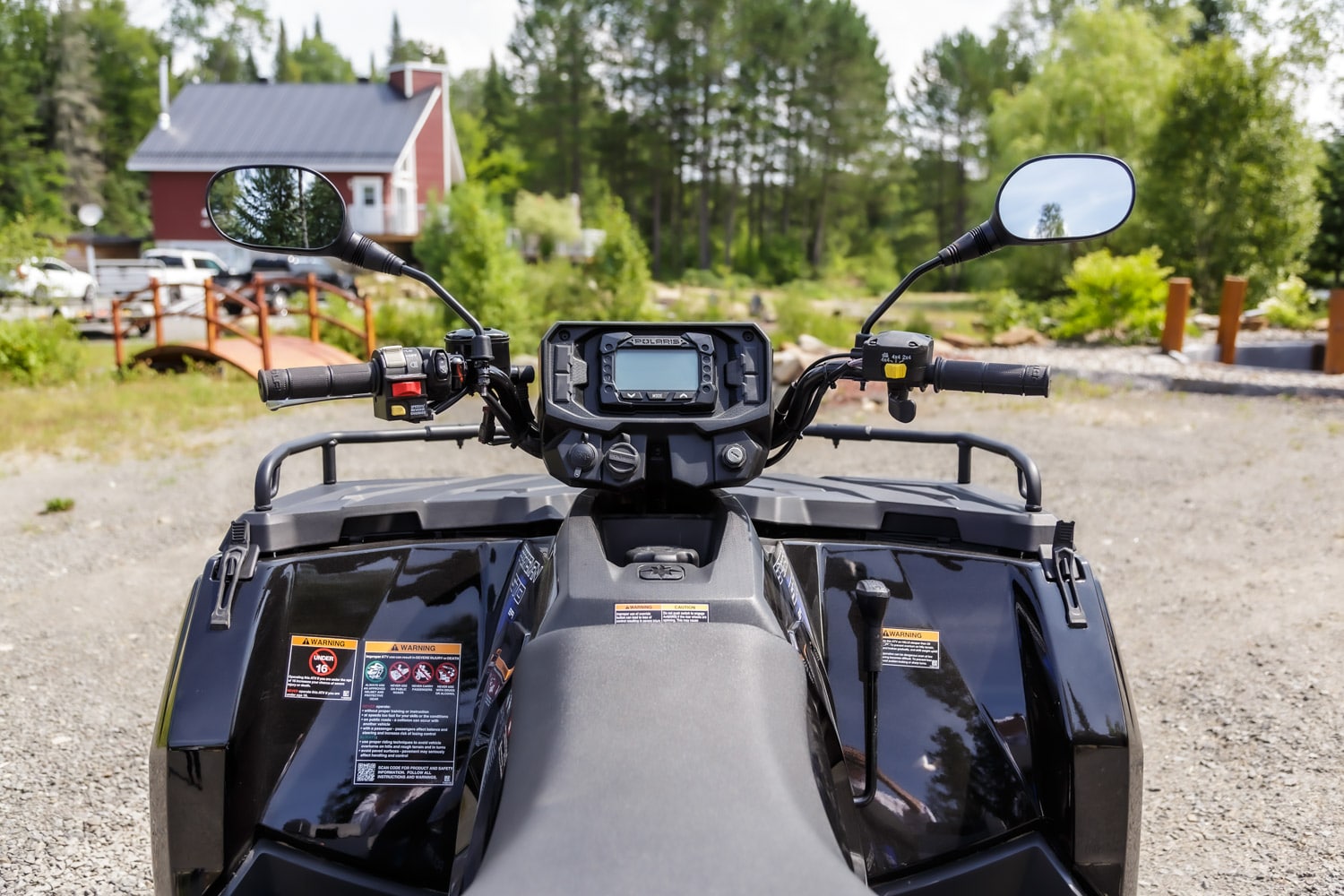 Also, several additional elements were standard on our version, adding a great look while providing more functionalities. In fact, the TRAIL edition offers a lot of options that quad riders will appreciate, with several accessories already included, which are for the most part essentials for us:
Front and rear bumper to protect your quad
2500 lb winch to get you out of trouble
Luggage rack extension on the front rack to more easily attach objects
New LED lights (not present on the demo model in photos)
Great looking 14″ black aluminum wheels
26″ Duro Powergrip tires provide plenty of traction
Thanks to all this equipment, the TRAIL version indeed allows you to have in your hands an all-terrain vehicle ready to face long demanding expeditions, with the peace of mind of being prepared for all situations that you will encounter during your journey.
Engine
What drives this Ranger version is the single-cylinder ProStar engine with double overhead camshafts and, of course, electronic fuel injection. This 567cc mill offers good torque throughout the rev range and 44 horsepower. Although this figure may seem small compared to large displacements, this engine is really surprising. The CVT transmission has been well calibrated for fast accelerations but still smooth with a well-tiered rise in the revs.
We noticed a pleasant engine sound and very few vibrations compared to what we would normally expect from a single-cylinder engine. In addition, the fuel consumption also surprised us by being lower than the competition.
Suspension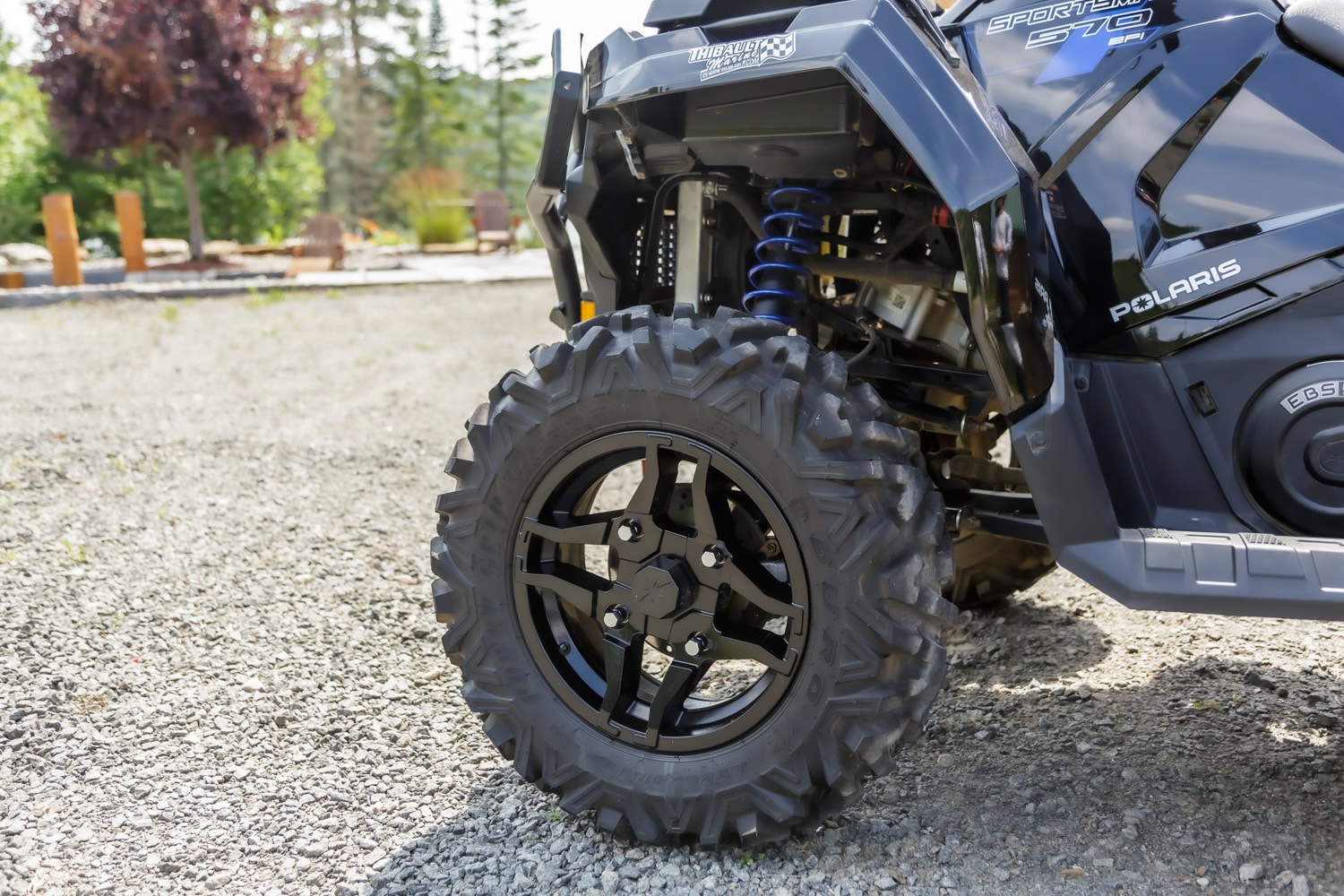 On the suspension side, there are relatively basic shock absorbers with spring preload adjustment in a few positions. You get 8.2 inches of travel up front and 9.5 inches in the rear. With its ground clearance of 11.5 inches, it is in the average of this market range. However, although the components are quite basic, the calibration by Polaris engineers is excellent. We have a good balance between flexibility for comfort and firmness for control in sporty driving.
Driving impressions
By taking place on the quad, we immediately notice the ergonomics of the pilot. The controls are well laid out, the seat is cushioned just as you wish, and the body position is relaxed. Then, we must mention the quality of the finish, which has increased compared to previous versions. There are fewer vibrations and noises, the body panel layout is tighter, and the different textures feel nicer to the touch. However, there is still room for improvement on some assembly quality points compared with Can-Am or Yamaha, who are at the top in this aspect.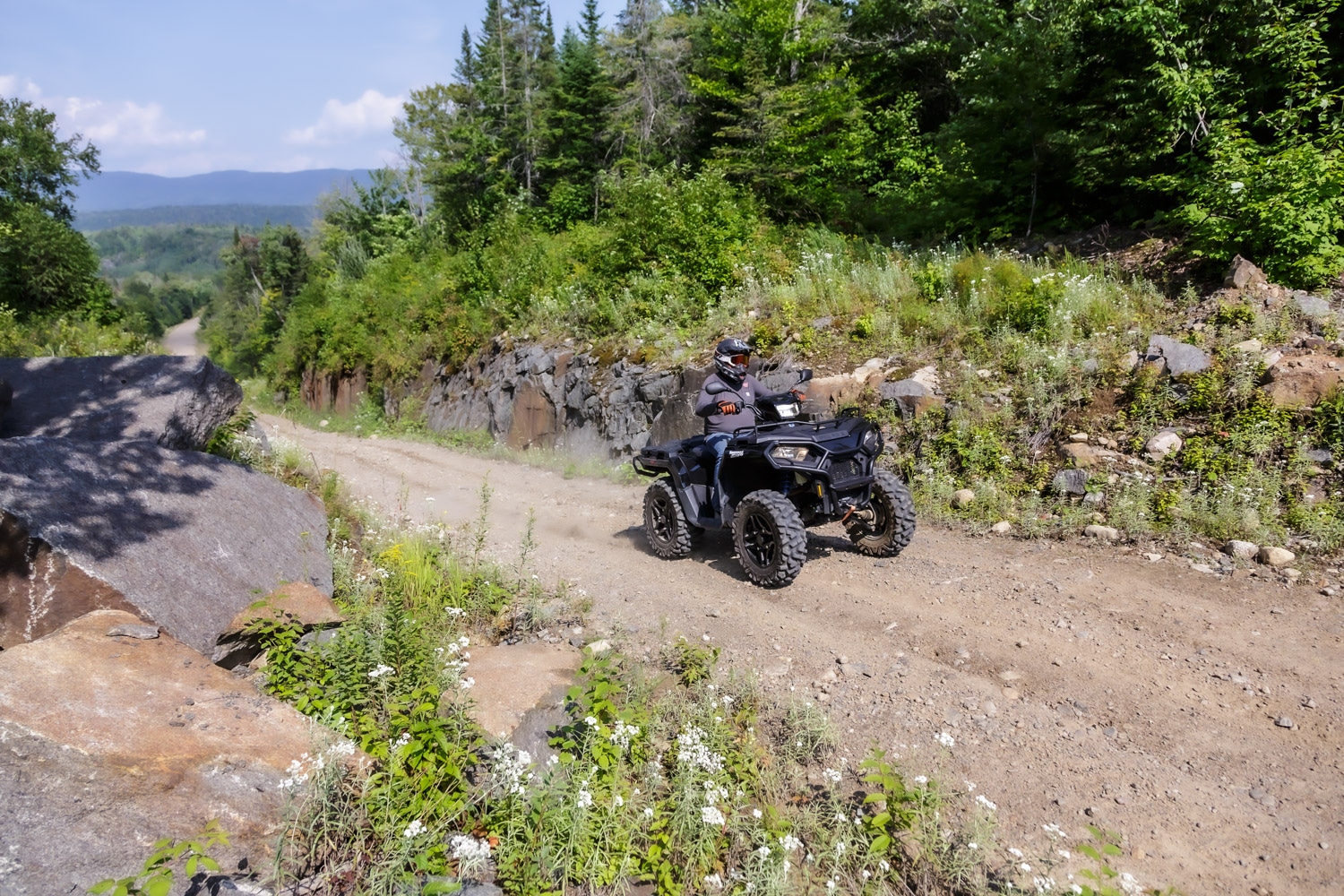 After a hundred kilometers on board, we find that the throttle response is instantaneous, and we come to discover that up to 45-50 km/h, there is not a big difference versus big-bore machines. We can say that the engine punches well with lively accelerations and is perfectly adapted for driving on trails. In short, the engine offers much more than one would expect from a single-cylinder and an entry-level machine.
So why pay more when you get a mechanical package that offers almost as much and costs several thousand dollars less than an 850cc, for example? The difference will be felt especially over the 50 km/h mark, where accelerations will be less vigorous. Despite this, the single-cylinder of the 570 engine works well, and it would be interesting to put it to the test compared to a larger displacement. I would not be surprised to find any significant difference in performance up to 50 km/h.
The power steering is also well calibrated. It effectively supports the pilot's intentions by limiting the effort required to drive while maintaining precision in turns. The driving precision is always present and the feedback to the driver is perfect. So, you don't feel any floating when you increase the machine's speed.
The suspension does an exemplary job. In everyday trail riding, we are in princely comfort. All the bumps are well absorbed, and you will never feel out of control. When you want to push for more speed in bends or bumps, the suspension shows that it can take it thanks to its firmness. Same thing in turns: you will never feel the vehicle lean too far out. The people from Polaris have done small miracles on this aspect with perfect calibration, although we are in the presence of basic shock absorbers. The vehicle has a suspension perfectly balanced between smoothness and firmness.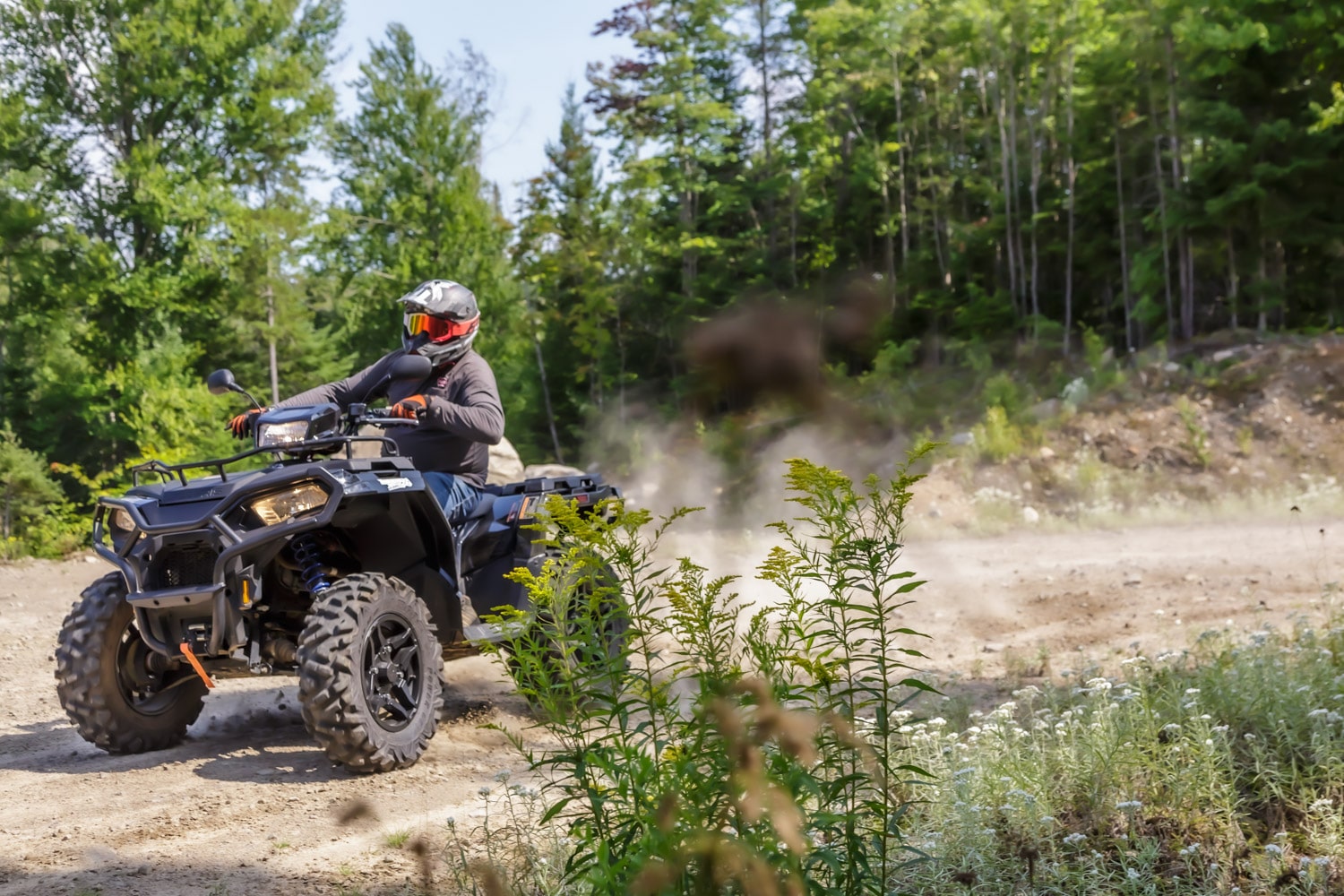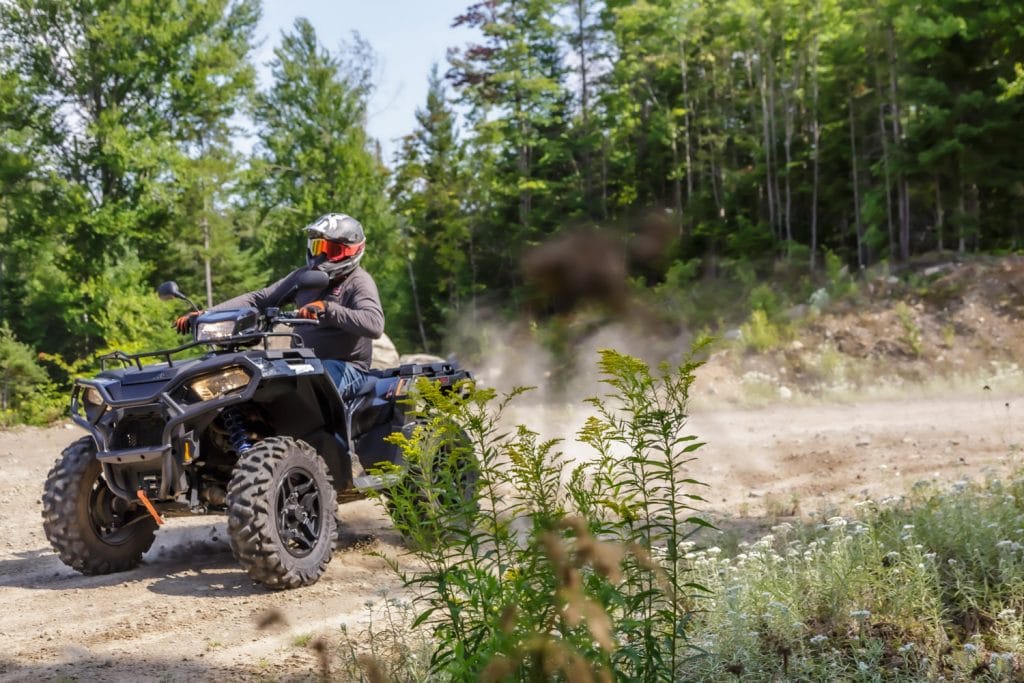 Two less glorious elements on the Sportsman 570
The gear selection lever. Year after year, we hope to no longer see this system, which could be described as deficient, as it is inefficient and too often leads to frustration. You are never sure of the exact position of the lever, and too often, you slip the gears of the transmission. It's infuriating when you have to engage the forward and reverse gear several times. Also, there will certainly be more rapid failures caused to the transmission in the long term.
The transmission air intake is very poorly located. Indeed, it is located at the rear of the vehicle, just next to the left wheel. Thus, water and debris can enter the intake when driving at a good speed in a mud hole. As a result, water gets on the CVT belt and pulleys, and you lose power. In addition, we can imagine that this could lead to more frequent maintenance and repairs in the medium and long term.
Despite this, I would sum up my impressions of the Sportsman 570 with a good 8.5 / 10. Everything is there to give you years of pleasure. Here are the highlights:
Pros:
570cc engine that pushes very hard for its size. Sharp and sustained accelerations. No need for more when riding on organized trails.
The suspension is well calibrated to offer comfort while allowing rather sporty driving.
Generous dimensions, even if it is the entry-level model. Can we really call it an entry-level model when considering its performance and what it offers?
The Trail version is well equipped (our test model).
Cons:
Poorly located CVT transmission air intake; it is too exposed to the rear wheel water and mud projections, which will strongly affect its operation.
Poor design of the transmission gear selector. Too often we believe we are engaged and we slip the gears. It would be better to have gated positions.
I believe this machine to be one of the best options for the money. Of course, it's always possible to have more power and improved performance with more expensive machines, but do you need it?
The Polaris Sportsman 570 TRAIL offers very competitive value for money in such a tough market. It is not a surprise to find that it is one of the best-selling ATVs! The performances are high, and the TRAIL package offers many advantages.