Falling in Love with the 2022 Polaris RZR XP 4 1000 Premium All Over Again. They say you never forget your first loves. That's true in more ways than one. I remember when the first Polaris RZR models rolled out. They were such a huge departure from what we had that it was hard not to love them. Then Polaris upped the game by leaps and bounds with the first  XP 1000. We got our hands on the four-seat model and instantly fell in love with how amazing the machine was. All that power and suspension – It was so much fun to drive. Of course, now there are models available with more than twice the horsepower, and more advanced and amazing suspension, but still it is hard not to think highly of that first XP. The 2022 Polaris RZR XP 4 1000 Premium is a better machine than the original in most every way, but when we got behind the wheel, it felt like rekindling an old flame. It was hard for us not to fall in love with the 2022 Polaris RZR XP 4 1000 Premium all over again. 
The RZR Xp 4 1000 is one of Polaris' best selling sport UTVs for good reason. Comfort-wise, the machine is amazing for all four people riding in it, and the power, suspension and handling is on point for those not feeling the need for a turbo-charged ride. Believe me when I say you can still go really fast in the RZR. The hardest thing to accept about the XP 4 1000 is that with things as they currently are, finding one for sale at your local dealership may prove to be a little tricky. The company sells just about every machine they can make, so you might have to order one and wait a little while. If you can find one, jump all over it, as this is a fun machine to hit the trails with.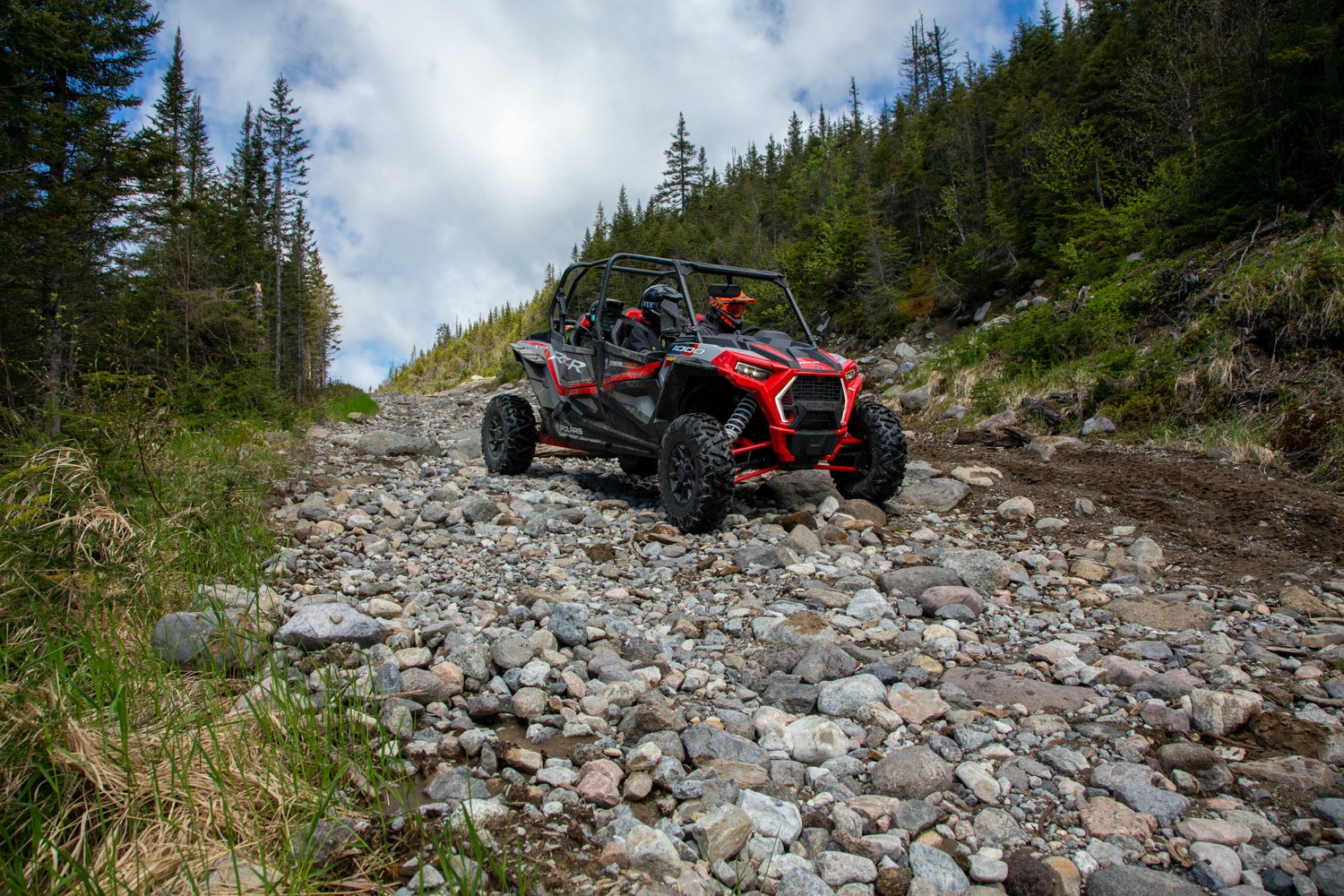 Enough power?
In the age of turbo-powered machines, how well does the naturally aspirated 999cc, four-stroke DOHC Prostar motor of the RZR stack up? In our opinion, quite well. Producing 110 horsepower, the motor of the RZR will propel you down the trail at a pretty solid clip. The electronic fuel injection system feeds the motor, and not at the higher rates a turbo motor, or Polaris' beast they run in the RZR Pro R would want to be fed. This is another consideration with the cost of fuel going up as fast as it is. It has a 9.5 gallon tank that can last quite a while, even when your right foot is having a little too much fun.
The power goes to the tires via a CVT-style transmission with high, low, neutral, reverse and park. A few years ago, Polaris upgraded the transmissions and On Demand All-Wheel Drive systems to be more durable and more tuned into a high-performance machine, making the response to the throttle quicker with better clutching. It makes a big difference and makes the RZR XP 4 1000 more fun to drive.
One of the things we hear from people is regarding if this machine is fast enough for the trails. Obviously, it is, and you can have one heck of a thrill when you hit the gas and launch down the path with the RZR. We used ours for some epic adventures and even fully loaded with four people and some gear, the RZR XP 4 had as much zip as you'd ever need for a fun day of riding. This isn't saying that the turbo models aren't fun, or are too fast. Not at all. But you should know that the RZR XP 4 1000 is most definitely "fast enough."
Ride quality
The Polaris RZR XP 4 1000 rolls in at a nicely sized 64-inches wide. This makes the machine stable when handling at speed, yettot too wide for many trails that don't have the 60-inch restriction. It comes with 14 inches of ground clearance and rolls on 29-inch radial tires mounted on 14-inch cast aluminum wheels. Polaris, like several other OEMs, took some of their tire production in house, which is a fancy way of saying they opted to have a tire company produce their tires for them under their own brand name. The RZR rolls on a Maxxis Bighorn clone, which is what the machine originally came with. Everything we've seen about these tires so far says they perform as well as the original. That's a good thing.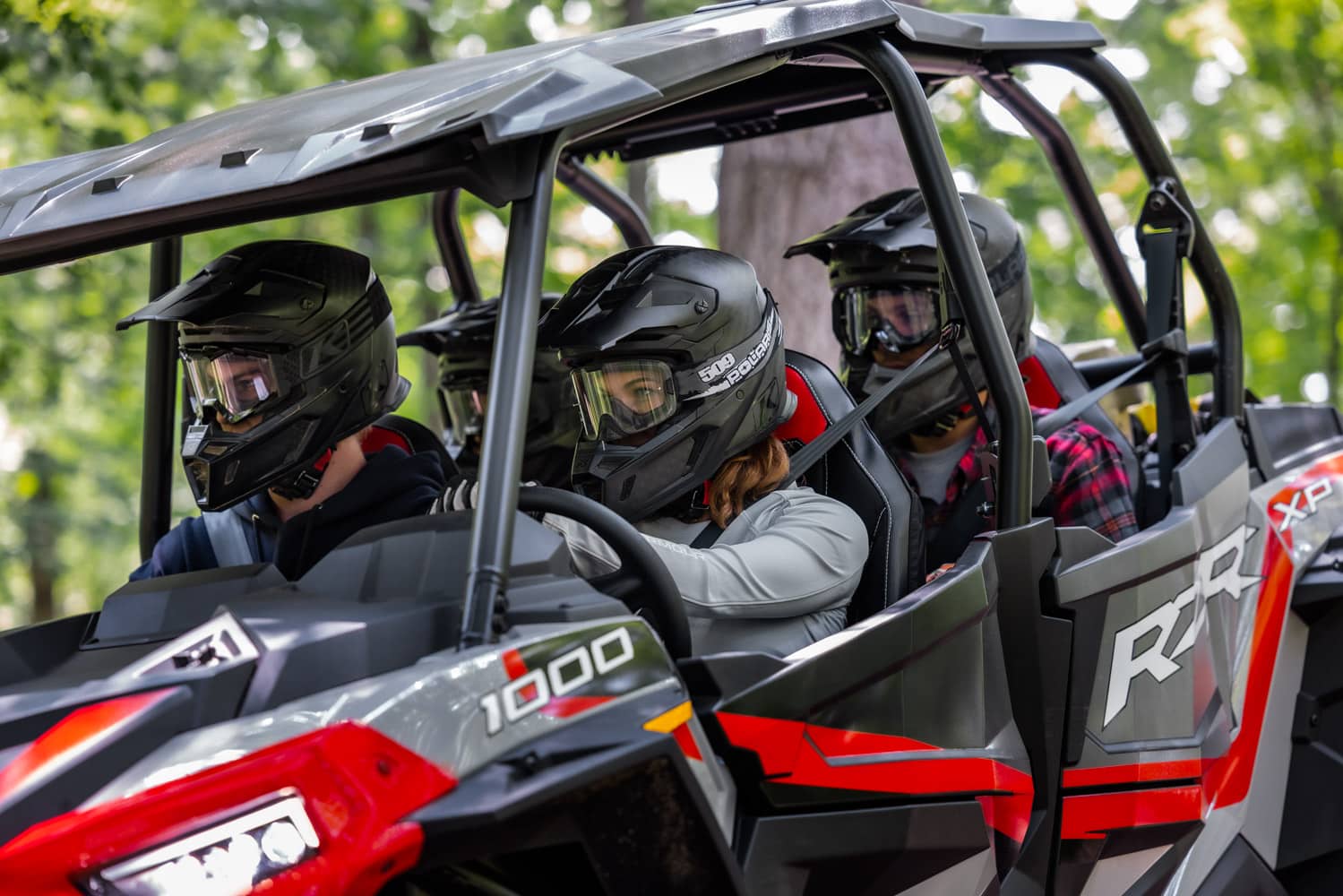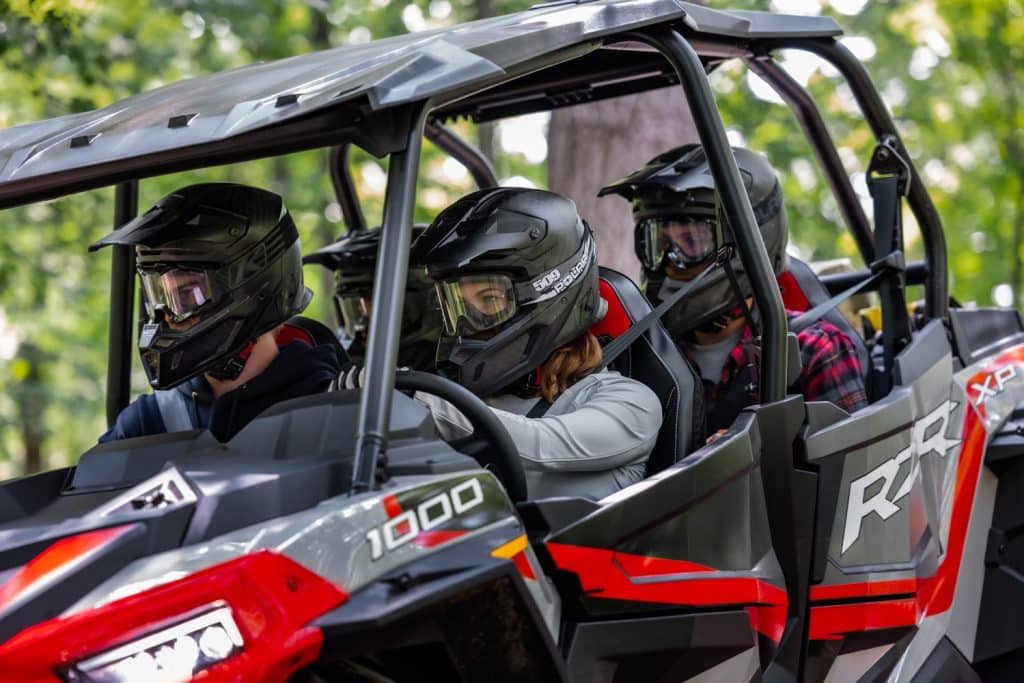 Suspension action is a big point with the RZR. They use Walker Evans Racing Needle Shocks on all four corners of the RZR with a 2-inch shock mated to dual A-arms in the front and 2.5-inch shocks mated to a trailing arm design out back. Both ends have a stabilizer bar to reduce body roll (an issue with the original machine) and have 20 inches of usable travel. You have 16 clicks of adjustment for each shock, too, so you can tailor the ride to your driving style. We usually kept ours a little stiffer in the rear shocks to help plant the rear tires when driving hard out of a corner. Overall, the suspension action is outstanding. The machine soaks up the trail well, regardless of the speed and you'd have to be really sending it to soak up the whole 20 inches of travel.
The ride quality of the RZR XP 4 1000 is really nice, and greatly improved over the original. Polaris keeps tweaking this machine to make it better, while still keeping the original spirit of the machine intact. Like we said, we had four people and some gear, and were totally comfortable with the ride quality. Could it be improved? Sure, but then just about everything can with the right accessories. We had the RZR Xp 4 1000 Premium Edition, which includes full doors and LED lighting. The doors are a nice touch, but we'd add a roof, and we did add accessory mirrors, which is something every side-by-side needs to have. While we're at it, we'd add a bumper and winch, along with some additional lighting. The Premium's LED lights are an improvement over the standard headlights, and the LED accent lighting is cool and helpful. An additional LED lightbar would help with nighttime trail riding. The Premium model also has Polaris' automotive-style paint and graphics, making it a sharp machine. That doesn't help with the ride quality, but it does make for a better looking UTV, and that's not a bad thing at all.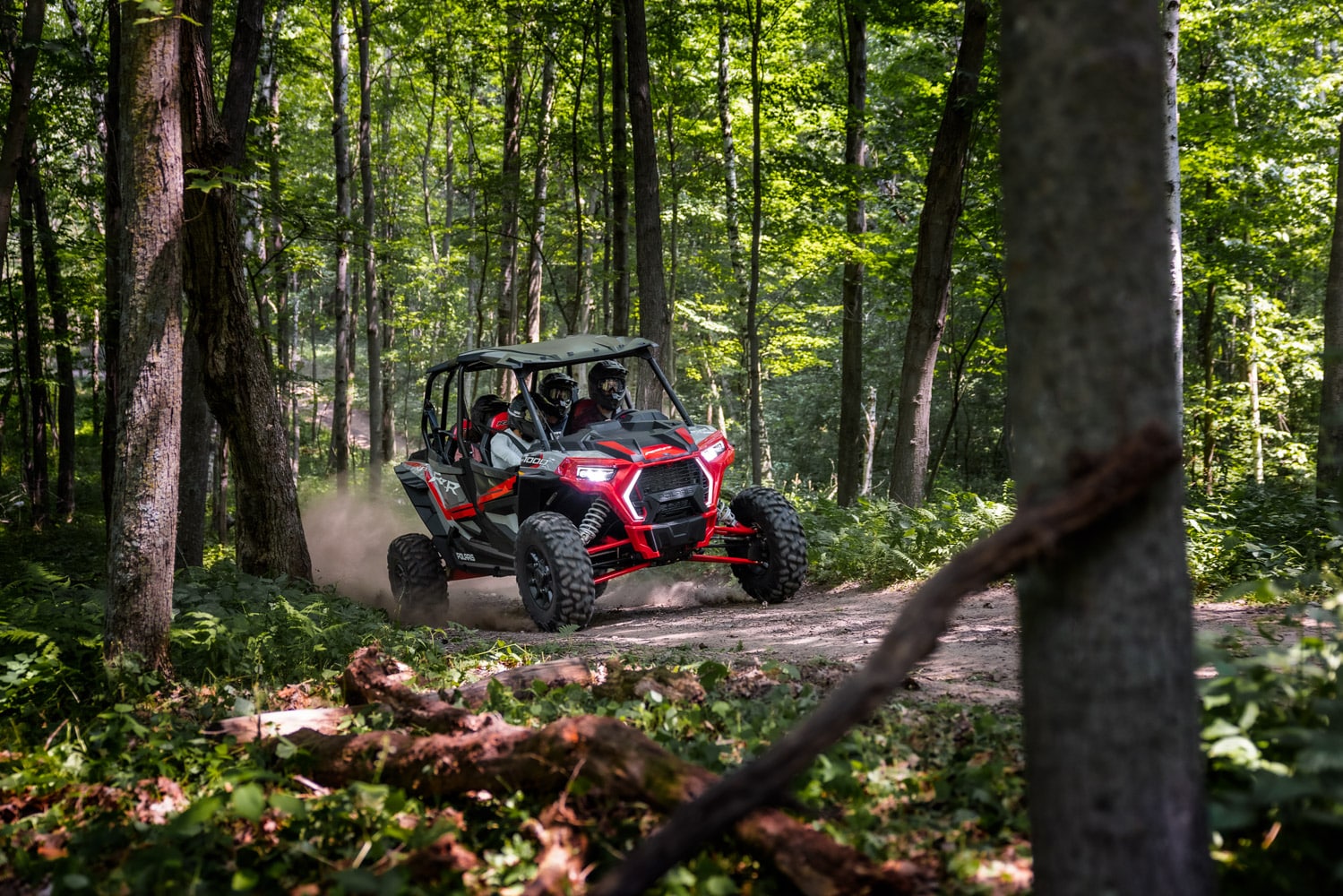 Parting thoughts
Overall, if you're looking for a sweet trail machine for 4 people, the 2022 Polaris RZR XP 4 1000 is a sweet ride. Compared to the original, this is a whole new machine, with improved power, response, suspension and handling that improves on every area. There are three variations of the XP in the Sport, Premium and Premium Ride Command models. The Premium package adds paint, full doors LED accent lighting and headlights to the machine, and if you want the benefits of Polaris' awesome Ride Command system, you can opt for that model, too. The basic machines are all the same otherwise, and you'll find that it is a great blend of handling, horsepower and comfort that makes it an extremely fun trail machine.
As one of our testers said during our evaluations, "I haven't been behind the wheel of the XP 1000 in a while and I forgot just how much fun it is to drive one." That sums up how we feel about the 2022 Polaris XP 4 1000 Premium machine. It is a ton of fun to drive and ride in and we were all instantly reminded why it was that we fell in love with the machine in the first place. If you can get your hands on one, we recommend it. You won't be sorry.