Owning a quad is nice, but knowing how to use it safely is better. There are several training courses available for ATV users, and they are very interesting and instructive especially for new users. They allow you to learn the right actions to take in real situations.
In Canada, the Canadian ATV Safety Institute (CASI) – a division of the Canadian Quad Council (CQC) – has joined forces with the ATV Safety Institute (ASI) and the Canadian Off-Highway Vehicle Distributors Council (COHV) to offer the CASI ATV RiderCourseSM. This course provides an opportunity to increase safety knowledge and practice basic riding skills in a controlled environment under a certified instructor's direct supervision.
Please consult your local ATV Federation to know the safety rules and safety training offered. For example, in Québec, the four to six-hour course ATV Driver Course is given by the FQCQ (Fédération Québécoise des Clubs Quads). This certification is mandatory in Québec for any rider aged 16 and 17 and for any driver carrying a passenger on a one-seater ATV with a passenger seat.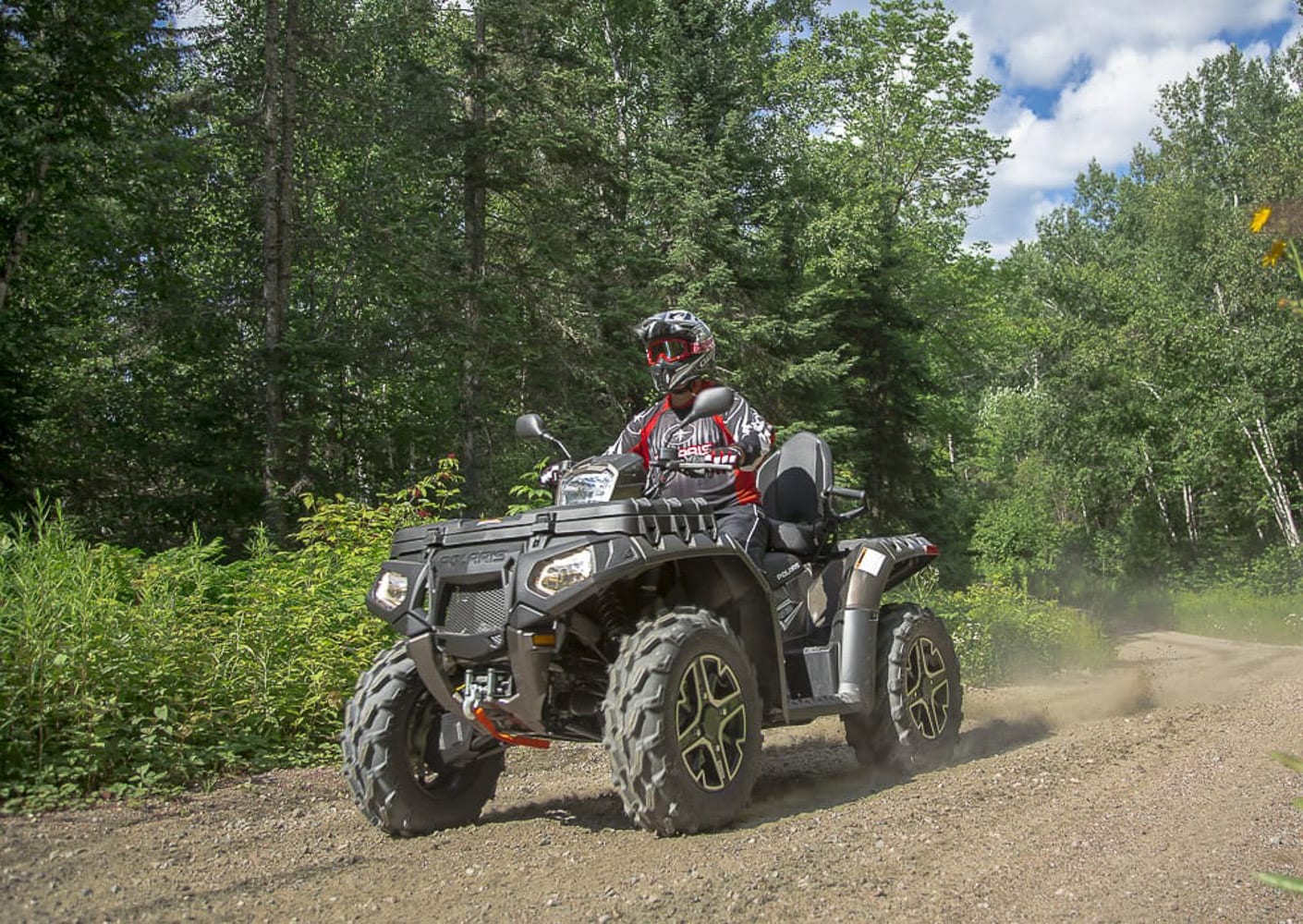 Program Highlights:
Most current ATV safety program in Canada
Most hands-on ATV safety program available
Based on the recognized ATV Safety Institute (ASI) program
Program enhanced with input from Chief Instructors across Canada
Supported and endorsed by the Canadian Off-Highway Vehicle Distributors Council and through the Council – all major ATV manufacturers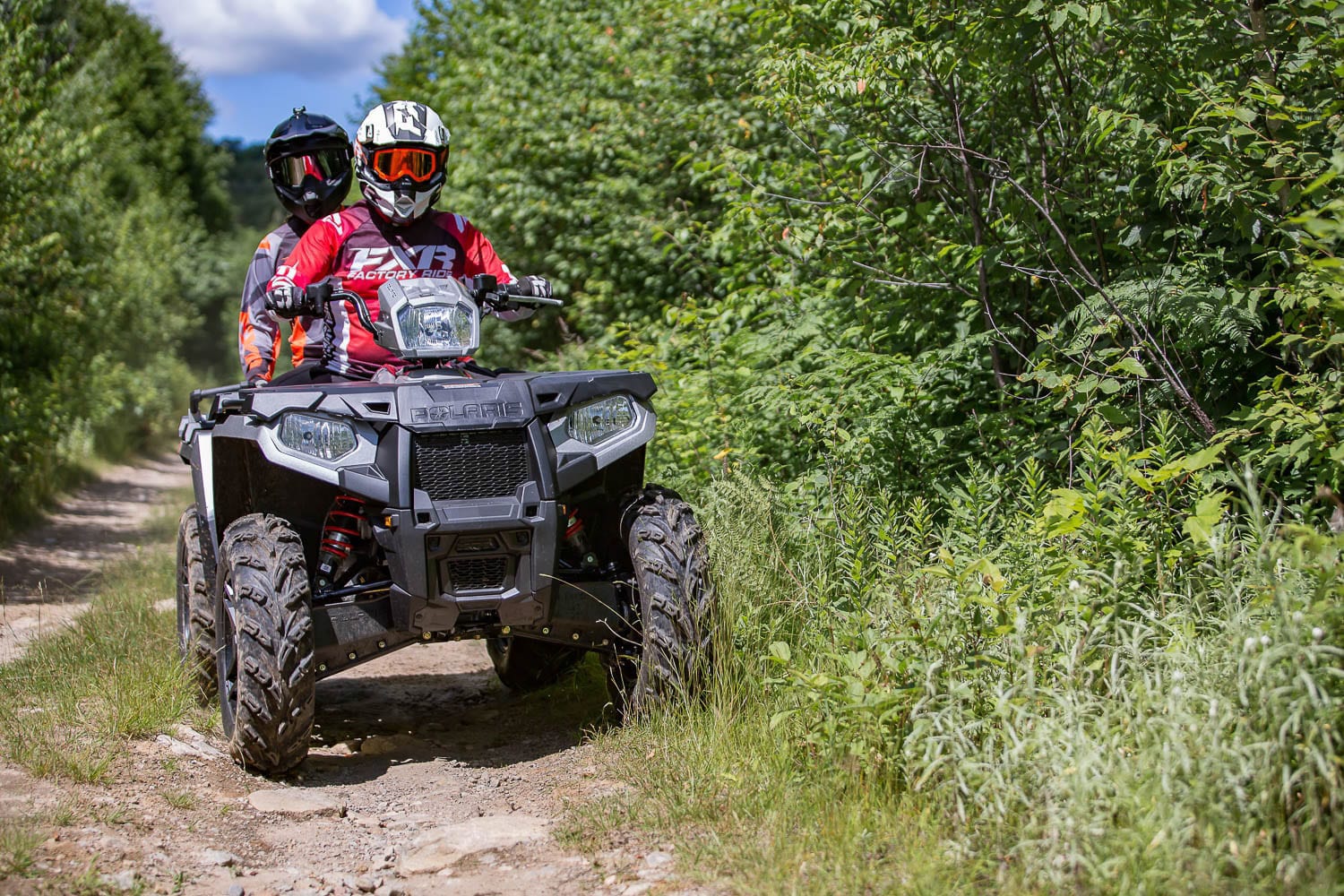 Course content :
Welcome and registration
Pre-ride inspection: Perform an adequate examination of your ATV before departure to ensure a safe ride and avoid mechanical problems
Safety introduction and awareness: Security alert – Risk awareness – Risk management
Preparation for driving: Clothing – Warm-up – Learn and recognize trail signals to follow your instructor's instructions during the training
Vehicle controls: Starting and stopping procedure – Be familiar with the positioning of the vehicle's controls to develop good reflexes while driving
First run: Posture – Getting started – Shifting – Braking – Parking
Turns: Basic rules of turns – Fast turns – Tight turns – Understand and practice weight transfer to handle any turn
Braking: Learn different braking techniques that will ensure safe stops in different situations
Driving strategies: Study different driving techniques using several images and contextualization to adapt the best driving strategy
Quick stops and swerves: Become familiar with emergency driving in all circumstances
Obstacle crossing: Know the proper techniques to overcome an obstacle without incident
U-turn and slope crossing: Climb, cross perpendicularly, and descend a slope using the appropriate techniques to drive safely on hilly terrain
Closed-circuit and trail driving: Apply driving strategies when riding on a closed circuit or public trail
Transporting an ATV: Loading – unloading – How to secure the ATV
Safe driving practices: Planning – Survival kit – First aid – Trail signs – Towing – Laws and Regulations – Environmental issues – Civic mindedness – Where to ride with off-road vehicles
Riding a quad safely also requires you to signal your intentions to other riders of your group, but also to other users you meet on the trail. There are universal signals you should learn for the benefit of all.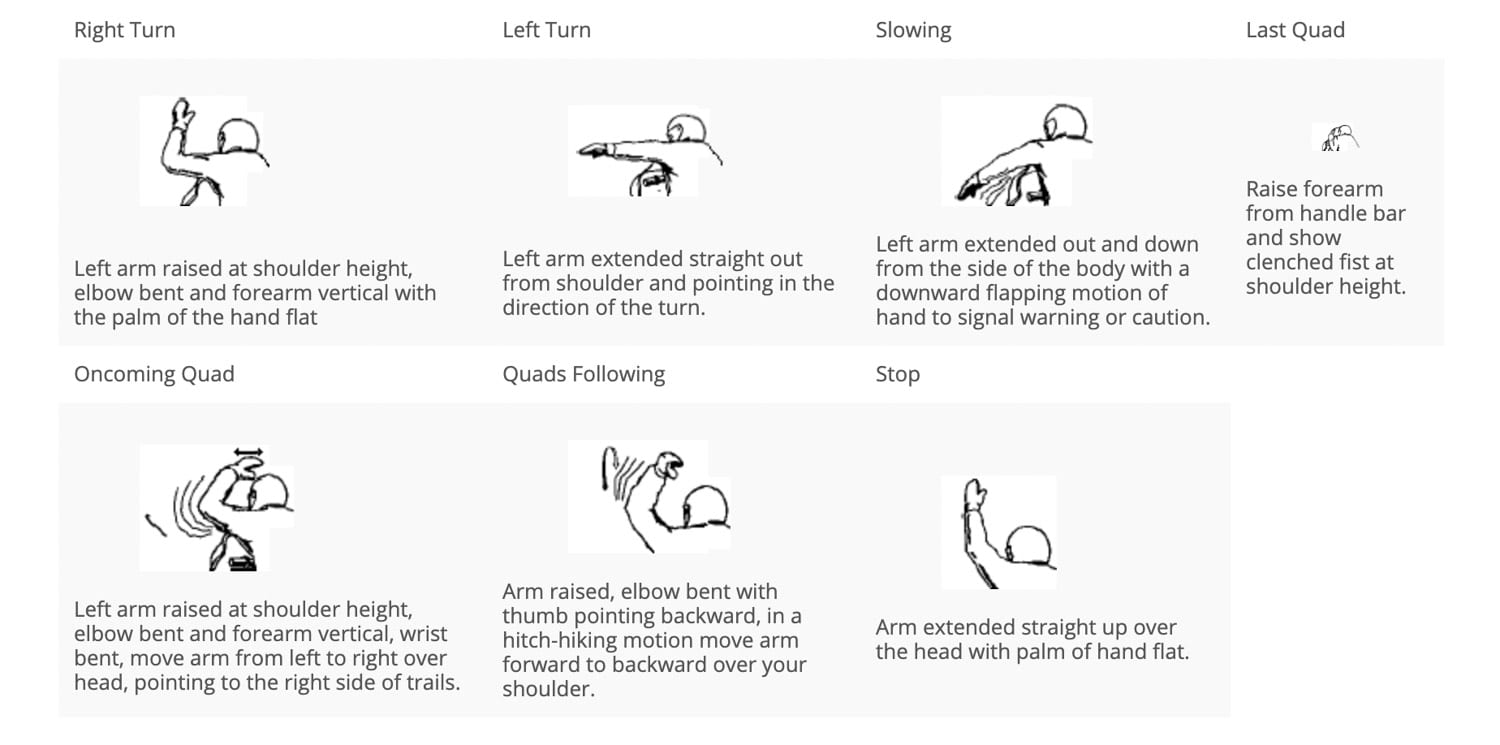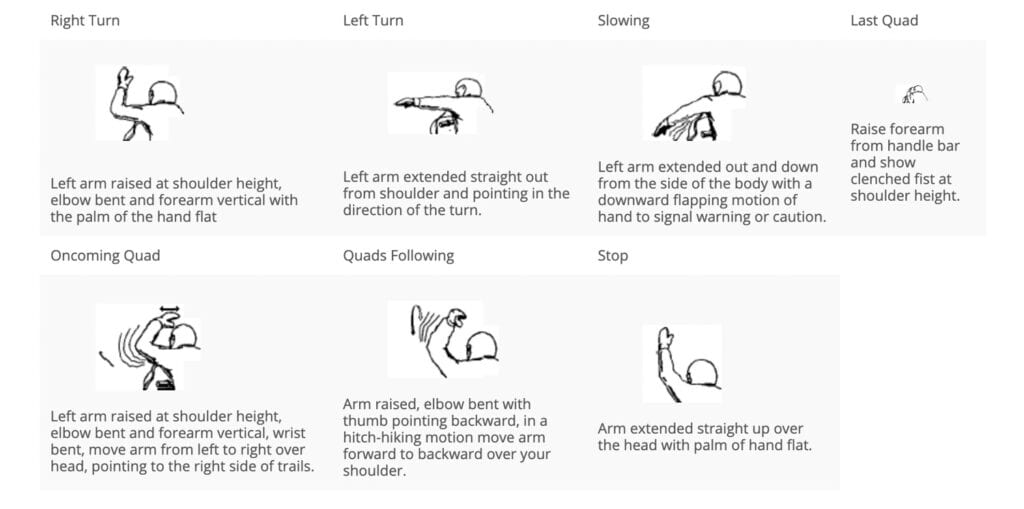 In conclusion, once you have completed the training and become aware of the hand signals on the trail, you will be more confident in your new vehicle. Contact your local ATV club or Federation to determine where and when the training sessions take place in your area.