Just when we believe we have toured Canada and all its trails, we quickly realize that some places have not yet been explored. That's also at this time that we understand that our playground is huge and that, once again, we still have great discoveries to find.
I would be lying if I told you that I have no preferred regions compared to others. More specifically, the Hautes-Laurentides region in Quebec is one of my favorites as it offers a multitude of alternatives for ATV riders, especially on the outfitter side. The spaces are vast and they offer a change of scenery just a few hours from the major urban centers.
As luck would have it, we had CFMOTO vehicles to test and we wanted to make things useful by testing the vehicles in places that were unknown to us. It was at this time that we had an invitation from the owners of the Pourvoirie Le Triolet outfitter. It was an easy choice and we decided to set course for this unexpected and new place.
We quickly made the last minute preparations and got the off road vehicles on the trailer and then headed in direction of Notre-Dame-du-Laus, Quebec. Our three-hour trip allowed us to pass through several small villages that seemed to be frozen in time, with their very rustic look and the absence of invasion from the big box stores.
When we arrived at Notre-Dame-du-Laus, we had to take an unpaved road a few kilometers long to reach our destination. The dryness of the gravel road in early summer created a dense cloud of dust that quickly retreated when we stopped our vehicles. It was nice to arrive at our destination.
Our hosts, Nathalie and Benoit, warmly welcomed us with contagious smiles. During our first contact, they gave us the keys to our chalet and we agreed to meet again later to discuss the attractions of this beautiful part of the country. This is exactly the type of welcome we appreciate: simple and with a dose of good humor.
We quickly situated ourselves and unloaded the vehicles from the trailers, because we were eager to find out what this place had to offer. We also learned about all the possibilities that the Pourvoirie Le Triolet has. Although we were only there to explore the surrounding ATV trails, located 54 km north of the city of Gatineau and 44 km south of Mont-Laurier, it was surprising to learn that this outfitter is located on the shores of the Poisson Blanc reservoir, which covers an area of ​​85 square kilometers. This reservoir flows into the Lievre River, which is a tributary of the Ottawa River. It was in 1928 that a dam was erected on the Lievre River, upstream from the Cedres stream, 1.9 km northwest of the road bridge in the village of Notre-Dame-du-Laus. Consequently, this dam created a reservoir 25 km long and 4 km wide, enlarging the original Poisson Blanc lake. This large body of water allows, through the outfitter Le Triolet, the use of motorboats, canoes, kayaks and pedal boats (available on-site). In other words, we wanted to go fishing, too.
This outfitter also provides 11 chalets, 2 of which are recently built for availability 365 days a year. All-season activities are available to all kinds of nature lovers – swimming, hiking, hunting, fishing, snowmobiling, and ATV riding.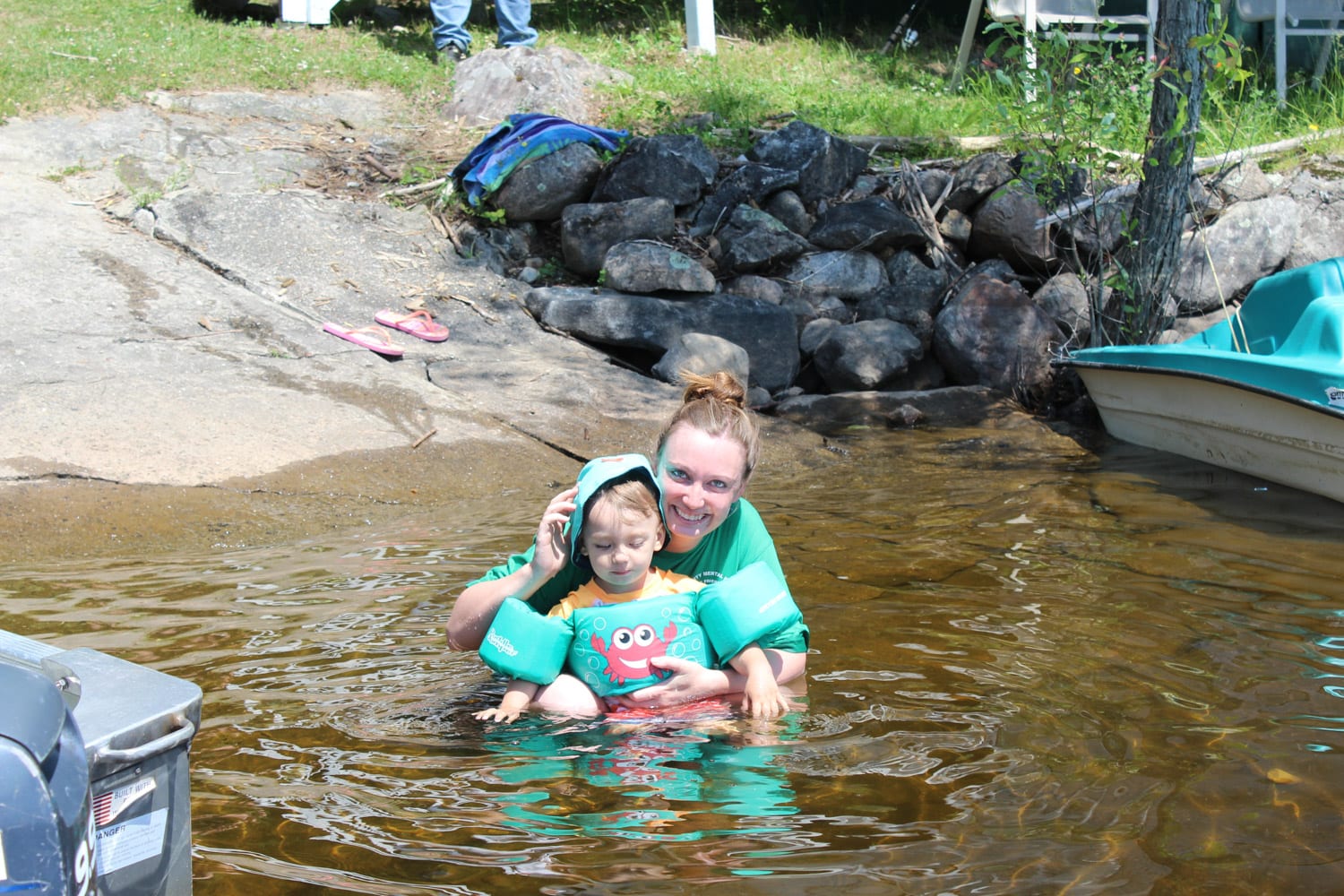 Although we were initially here to explore the ATV trails and test our machines, we were interested in learning more about the local ATV club. We had the chance to meet the president of the local ATV club, the Quadri-Laus club, which has existed for more than 20 years, and over 400 km of trails to maintain. About 600 members are part of this club, which is, by its geographical location, a prime location to centralize ATV activities for the large surrounding cities.
We agreed to go to bed early to get a good night's sleep and to be ready to hit the trails at dawn. Although our chalet did not have air conditioning, we took advantage of the fresh air of the wooded area and the wide-open patio door to be lulled by the song of insects. The first light of the day got us out from our cozy bed to be ready to hit the trails with our CFMOTO vehicles. We were probably the first people out of bed that day at the outfitter.
We had already agreed on our destination based on the recommendations from the president of the local ATV club. We wanted to have a bite to eat at the restaurant-pub in the municipality of Notre-Dame-de-Pontmain. Our departure from the Le Triolet outfitter was very early to take full advantage of all that the Hautes-Laurentides landscape has to offer.
The riding was magnificent. We used narrow trails in some places and wide in some others, allowing us to exploit the full potential of our machines. Some hill climbs were very technical due to the high level of difficulty, thanks to Mother Nature. We loved it, too. What a ride!
We felt like we were blessed by good fortune and these magic moments provided us with interesting content to carry out a comprehensive review of the vehicles we had tested.
Our stay at the Le Triolet outfitter made us appreciate once again our profession related to the Powersports world. Beyond the amazing ATV riding, meeting other passionate people that are proud of their hometown and their part of the country is a joy unto itself. It gives us the motivation to continue in the same way.
www.pourvoirieletriolet.com
www.quadri-laus.com