Part of the quad activity is getting out of your comfort zone. We have to adapt to different environments and changing nature. These aspects are even more significant when we explore a foreign country.
In Canada, we are familiar with well-established trail networks that allow us to ride from region to region for thousands of kilometers. However, it is quite another thing in other areas of the globe. Travel opens up horizons for different perspectives on life.
During a recent visit to the island of Kauai, in the Hawaiian archipelago, we were received by the Kauai ATV tour team. First, we were surprised by the unusual landscape and the reddish color of the ground; the very greenish vegetation results from frequent rainfalls.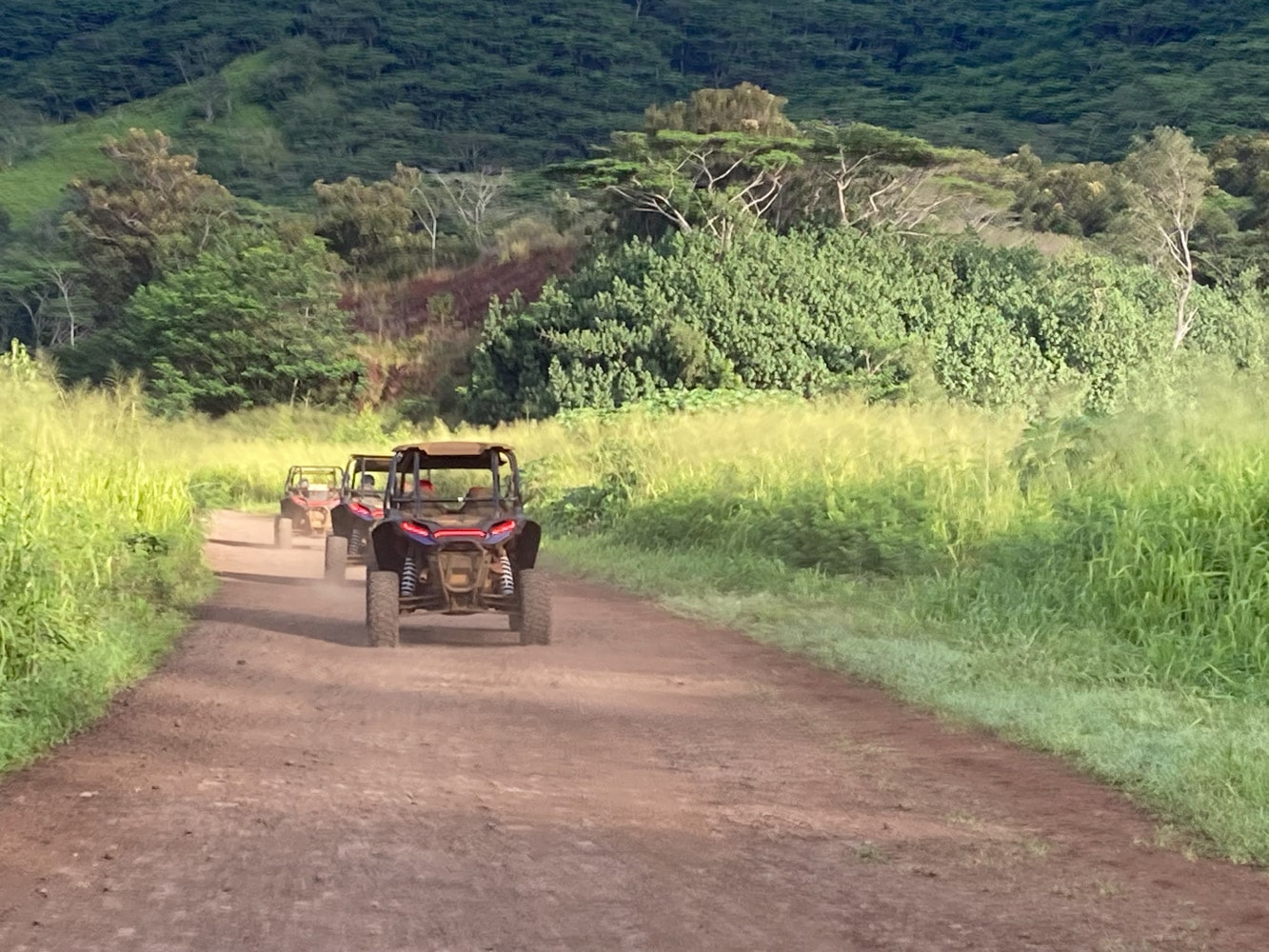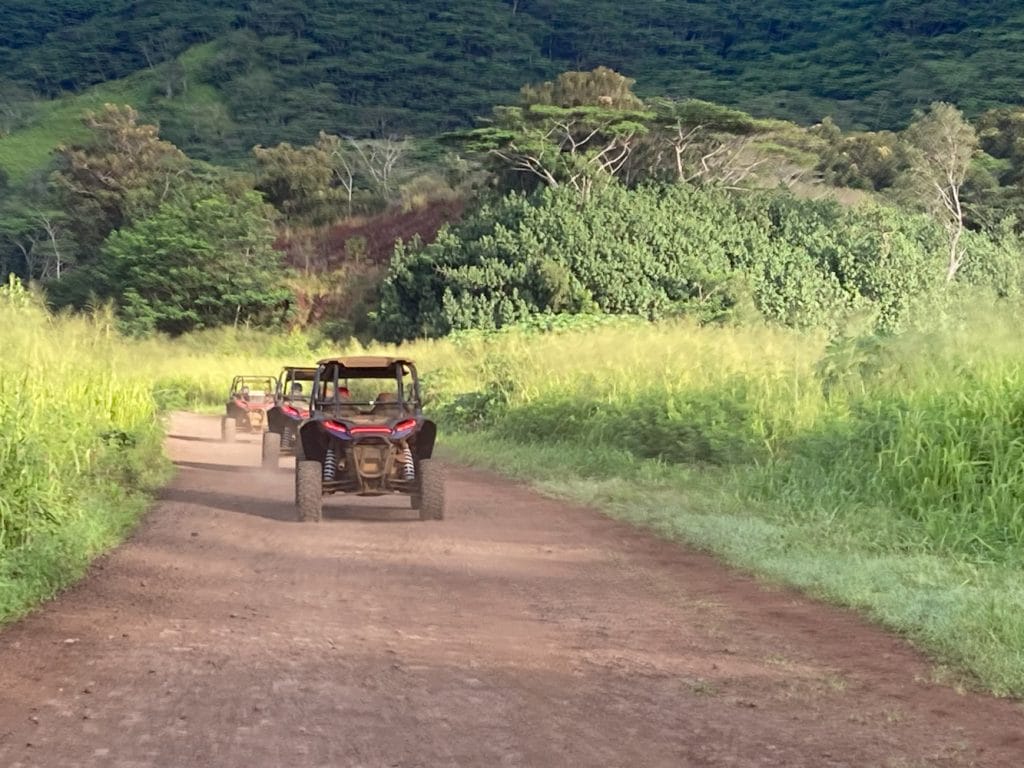 Kauai is an island in the Hawaiian archipelago located in the central Pacific. It is nicknamed "the Garden Island" because of the tropical forest covering most of its area. The stunning cliffs on the Na Pali Coast have served as the backdrop to major Hollywood movies, while the 10-mile-long Waimea Canyon and the Nanny Trails that cross the ridge of the Sleeping Giant are popular hiking destinations.
The population is very welcoming, as most of the island's economy is based on tourism. It is fascinating to chat with the local people, and they have a unique sense of humor. The most important city on the island is Lihue, and the airport is located there.
Quad rider activity at its best!
Kauai ATV tour is an off-road experience presented on the South Rim of Kauai. They offer many activities, and they are always looking for the best ways to experience Kauai. Their most popular activity is, without a doubt, the side by side vehicle excursions. They offer a 3-4 hour Koloa tour with a historic half-mile-long sugar cane transport tunnel and the Waita Reservoir.
However, their most popular ride is the 4-hour waterfall tour, which takes you through an 800-meter-long tunnel, deeper into the south rim on the Kahili side, where they offer to visit two waterfalls.
They also offer bass fishing as an excursion to the Waita Reservoir. Guests can choose from kayaks or boats for this adventure, where you can catch and release tilapia and largemouth bass.
Waterfall tour
We opted for a guided ATV tour of the south side of Kauai. This tour allows us to experience 25 miles (40 kilometers) of various off-road trails, including breathtaking panoramic views, famous movie sites, lush Hawaiian jungle, and a remarkable hidden tunnel. We must warn you that these excursions require a change of clothes, as mud and water are everywhere on the route.
After signing various forms and waivers, we headed to the starting point of our adventure, where we met the guides for our journey. It should be noted that in several places, and this is the case in Hawaii, the wearing of helmets is quite random. In this case, simple bicycle helmets and glasses are offered for protection. A tube scarf is also given to us during registration. It was later in the adventure that we discovered its importance.
It should be mentioned that Kauai ATV has a very close partnership with the manufacturer Polaris and that its entire fleet of vehicles consists of RZR XP 4 1000 from the current year. These vehicles allow us to drive in complete comfort with the features of the Ride Command system. It is a vehicle already familiar to us, and we love it. Its longer wheelbase makes this SXS a maneuverable machine with the power required for beginners and most experienced drivers.
After the usual safety instructions, we set off on the tracks through a dense jungle and were more open when crossing old sugar cane plantations. The dust raised by the vehicles in front made us aware of the importance of wearing the tube scarf given to us on our arrival. We highly recommend it, as we learned the hard way later that this soil quickly affects our breathing capacity.
Our first stop allowed us to discover an impressive tunnel a few kilometers later. Our guides took advantage of this stop to introduce the history of the places and the origins of the tunnel that predominated before us. Rather than hauling the sugar cane harvested from the Grove Farm cane fields to the Koloa Mill via Knudsen Gap, a half-mile long tunnel, 20 feet wide by 20 feet high was dug through the Haupu mountain to connect the fields to the Koloa mill directly.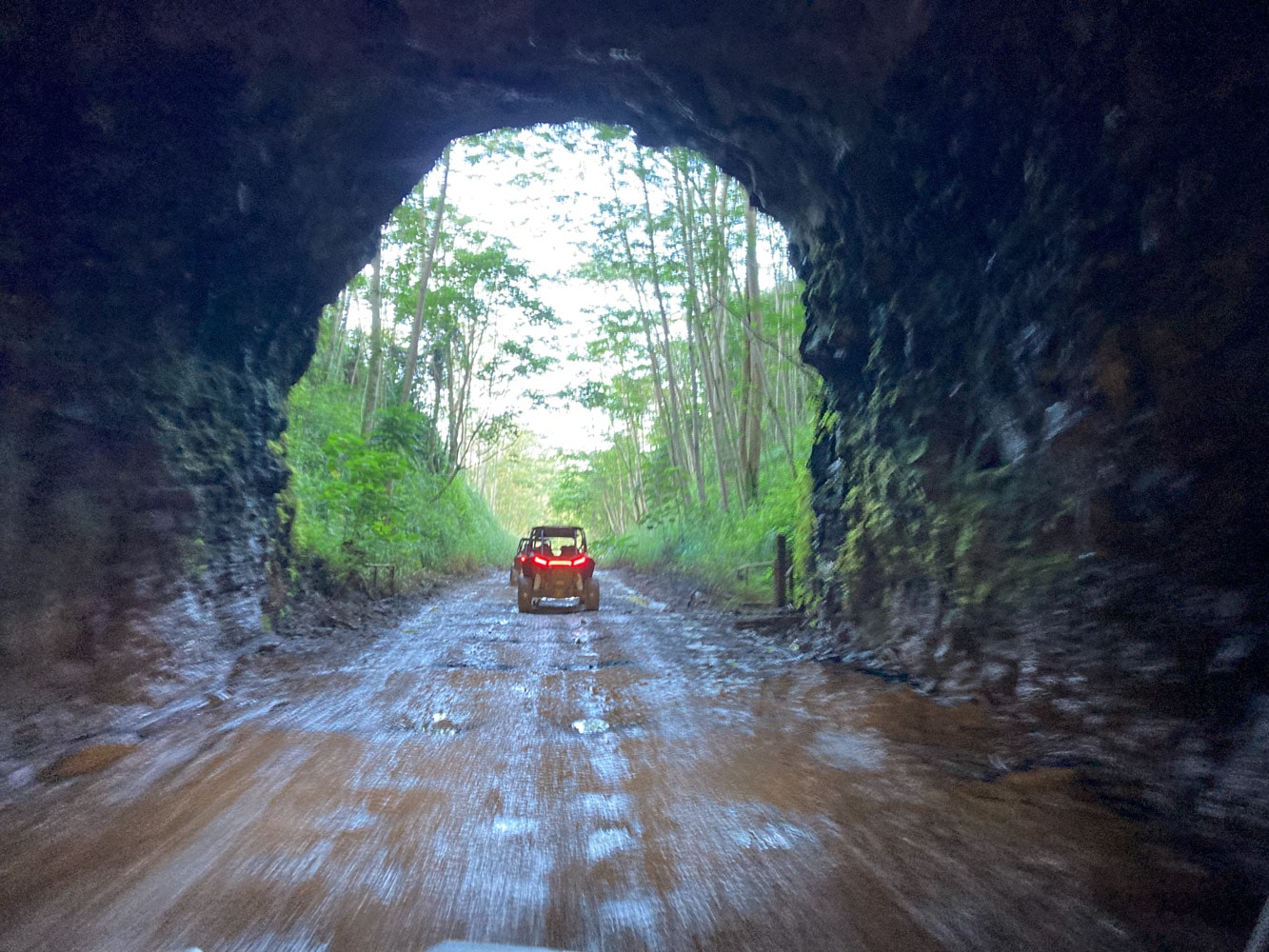 In 1973, in anticipation of financial losses, the management and shareholders of Grove Farm decided to shut down Grove Farm's sugar operations and lease its 10,000 acres of cane-growing land to McBryde Sugar Co. and Lihue Plantation Co.
As a result of this closure, Grove Farm, which had approximately 22,000 acres, became a land development and leasing company primarily. In December 2000, AOL founder Stephen Case purchased Grove Farm from the Wilcox family, who had owned it for 136 years.
It is impressive to note the evolution of this island during many years and the reorientation it had to face to thwart the stopping of sugar cane production. Our passage through this tunnel had a particular cachet by its immensity and the respect for the men who worked for months on its creation.
The second stop was at a bunker built during WWII. Our guides made us enjoy the long humid corridors of this vestige by teaching us about its history during a sad passage of our humanity. We felt a sense of compassion for those soldiers who stayed in those damp tunnels in the dark.
Subsequently, the many muddy trails through the jungle brought us to a gorgeous waterfall. To our surprise, we learned man once created it to provide water for the sugar cane plantations. We took advantage of this break for an improvised swim and refreshments offered by our guides. They were also available to answer the many questions raised by the participants on site. This waterfall is symbolic of the place. Its runoff and flow impressed us, and it is a relic testifying to the past activities of this island.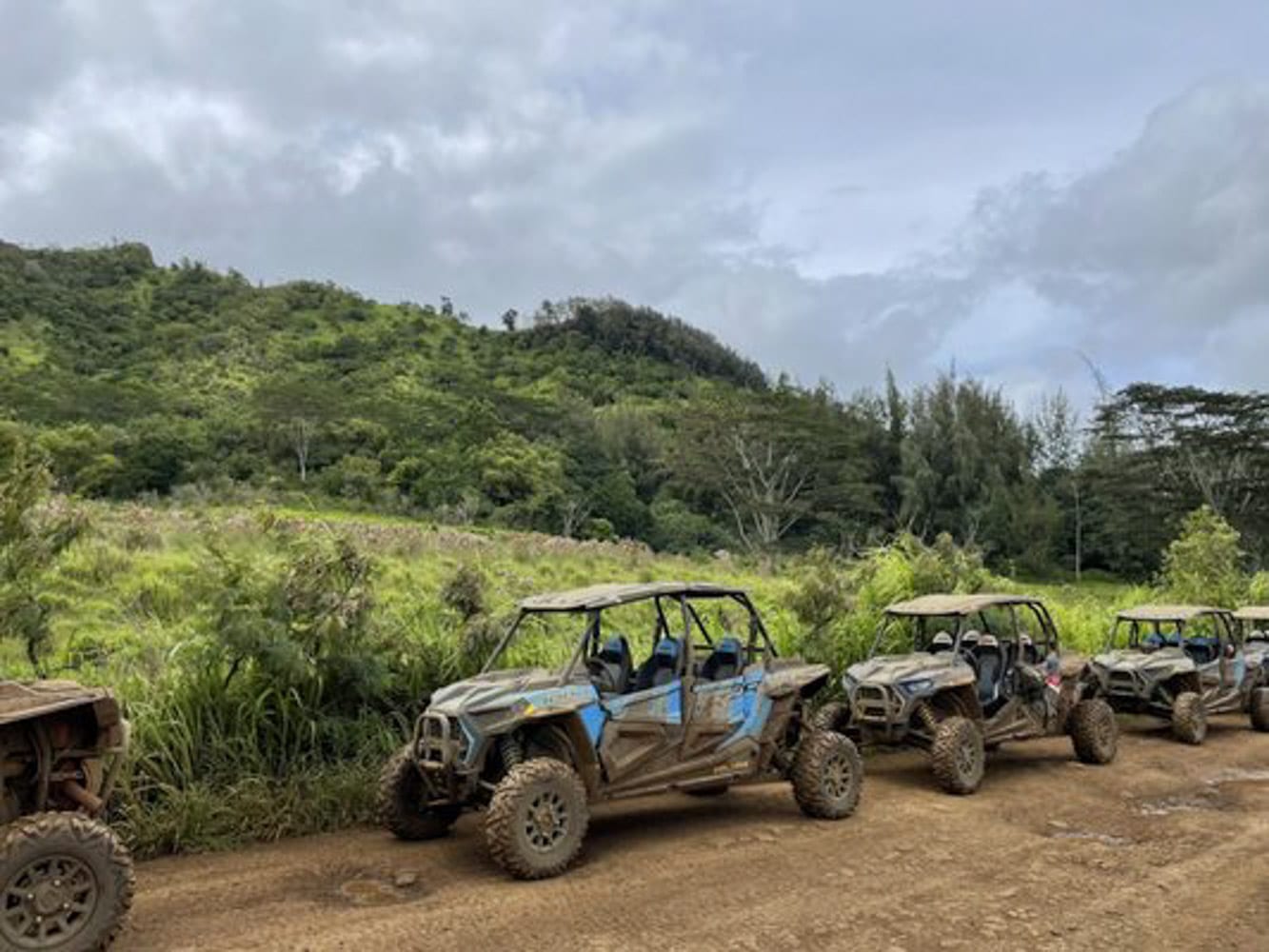 It was interesting for us, on two subsequent stops, to see the shooting locations of several successful films like Jurassic Park and Fast and Furious, to name a few. The hours we spent on this guided adventure have passed in a snap. Our guides were fantastic throughout our journey. They reflect very welcoming people from this part of the country. These are people who take pride in helping us discover their stories and customs. We also rubbed shoulders with participants from all over the United States who also had the same smile of satisfaction.
Even though our clothes were filthy with mud and dust when we returned, as they like to tell us: "The dirt cleans up, but the memories last forever." It's a saying we should practice and remember for the rest of our lives.
For more information on the ATV Tours offered, you can visit www.kauaiatv.com