Quad riding allows us to explore large areas. It grants us moments of harmony with nature, no matter where we are on the globe. It is the beauty of this activity because the place where we practice it requires us to adapt according to the climate and the environment.
When we refer to Hawaii, specifically Oahu, we automatically think of the many beaches this island is famous for. Tourism and relaxation are the main activities of this exotic and tropical environment.
We must admit that the quad practice is not omnipresent in Hawaii because there is no public land or established networks. However, private lands with guided tours are present to entertain tourists searching for thrills.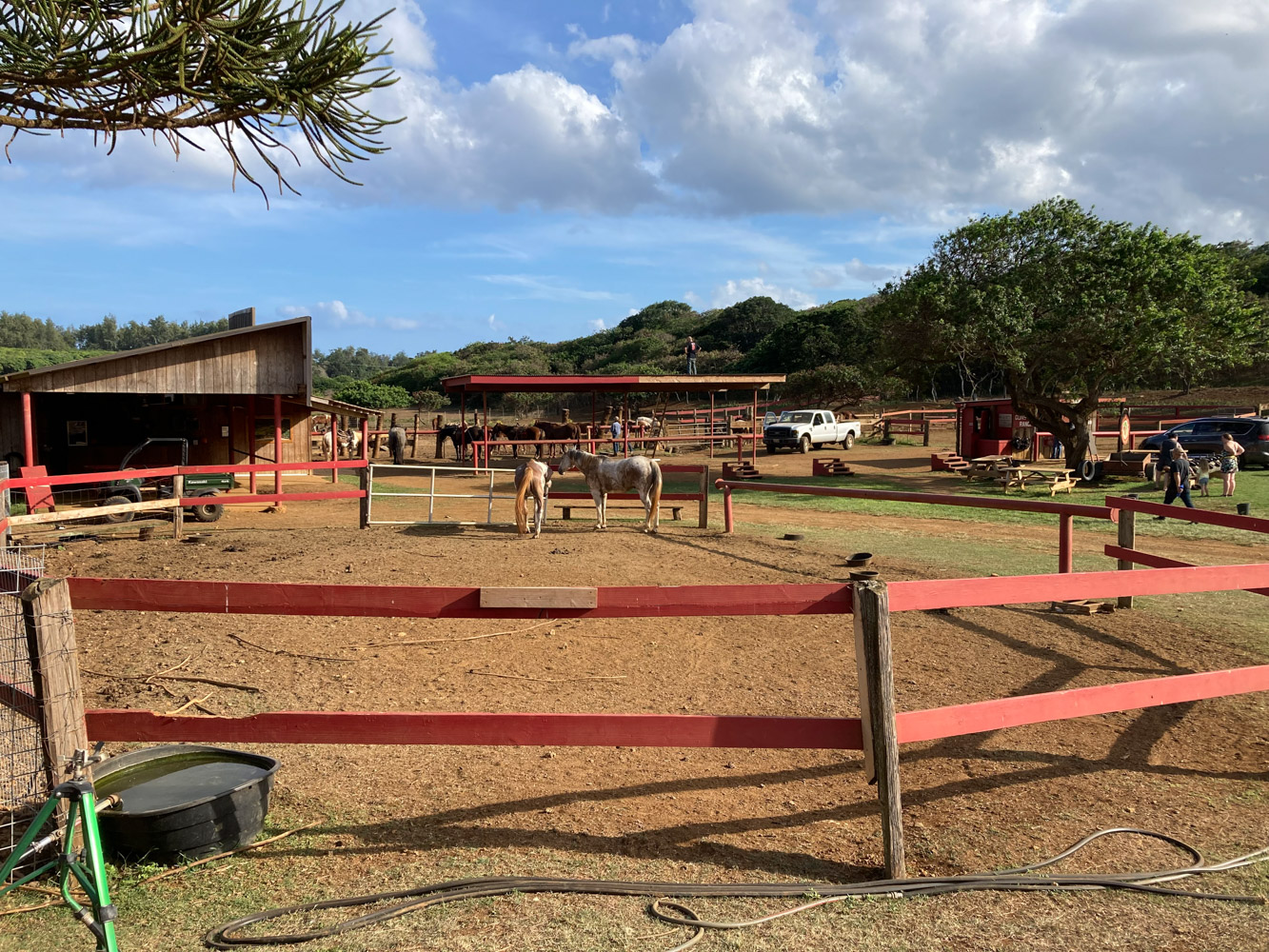 The total change of scenery on a ranch
Gunstock Ranch is an authentic western-style ranch in Hawaii. The large fenced meadows and the horses galloping have more of a Texan look rather than a Hawaiian atmosphere of which we have a preconceived idea. However, on the North Shore of the island of Oahu, a ranch has been successfully established there. It's got it all, from boarding, beef, livestock sales, rentals, transportation, an arena, and 900 acres based against the majestic Ko'olau Mountains on Oahu's beautiful North Shore.
Gunstock Ranch is a family-run horse and cattle ranch nearly five decades old. Adventure options include horseback riding and all-terrain vehicles, hiking, and walking tours. In addition, they strive to reforest 500 of the 900 acres of the property by offering visitors the opportunity to dedicate a tree. As a result, to date, Gunstock Ranch has planted over 18,000 native trees in Hawaii's Legacy Forest!
In Gunstock, they use the American Quarter Horse. It gets its name from being the fastest over a quarter-mile. It is the most family-friendly horse and loves to do its job.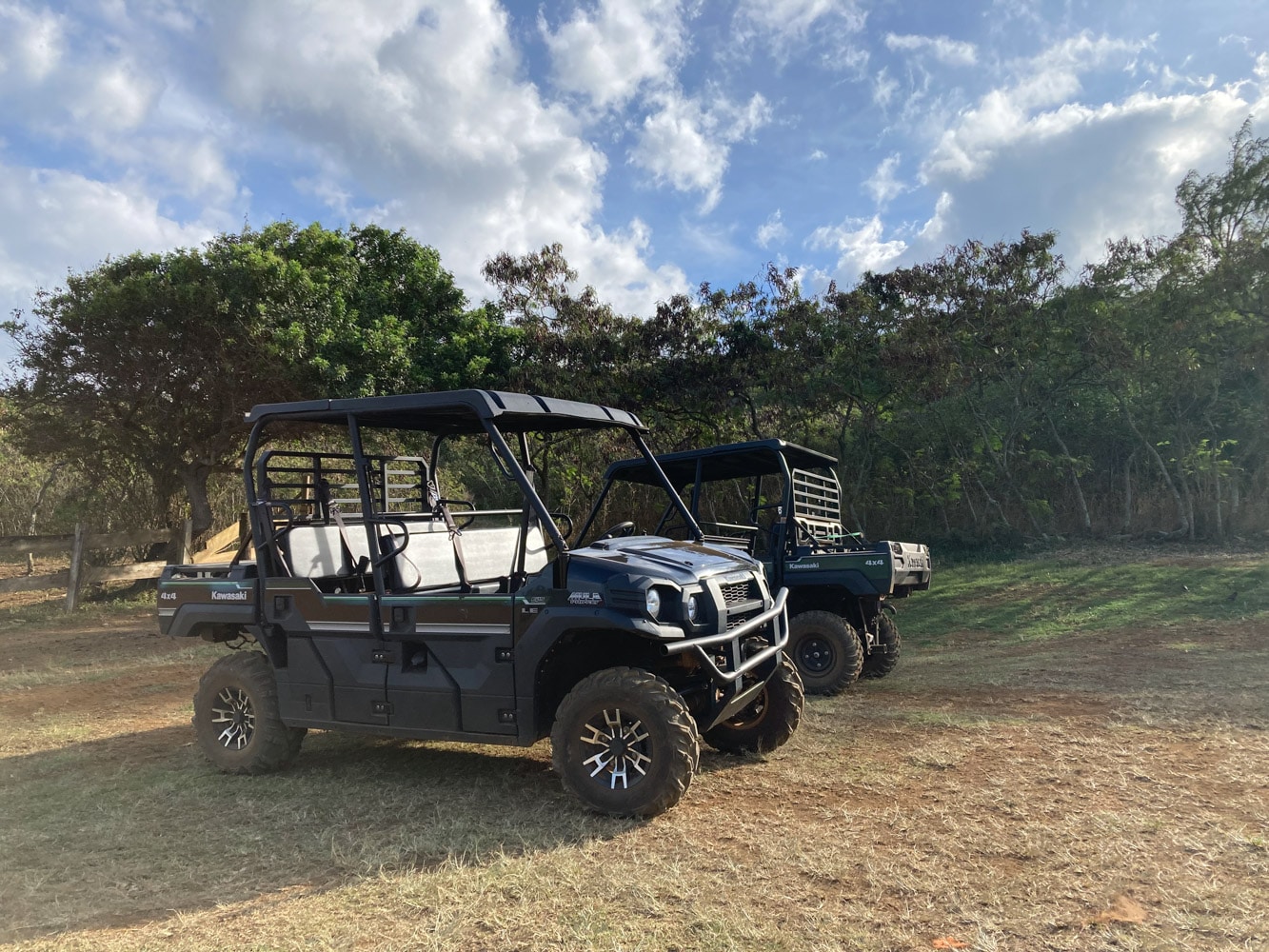 Quad bike guided tour
Gunstock Ranch has several Kawasaki Mules available for private guided rides. They let us experience all the best Gunstock Ranch has to offer, including scenic mountain trails, historic WWII sites, and a hidden cave used as a filming location for the 'Hawaii 5-0' series. Their guides bring the trip to life with stories, legends, and a few jokes.
For our part, we had the privilege of being accompanied by Cole Volpe. The young 24-year-old surfer from Florida describes himself as a citizen of the world, and to be honest, he has a cute face that would make most young girls blush. Cole introduced himself to us, and the connection was automatic when he jokingly mentioned with his broad smile, "From now on, I'm your best friend."
We could not remain insensitive to his sense of humor, blond hair, and bronzed skin caused by his too-long days exposed to the sun. Cole is a typical American who found himself in Hawaii in search of a job one day.
I think he targeted us right from the start when we mentioned that we were journalists from a Canadian Powersports outlet reporting in Hawaii. He quickly realized that this was not our first rodeo. It is the reason why he quickly adapted to our experience of this type of vehicle and our almost non-existent fears of quad riding.
Cole was very generous when explaining the history of this side of the island and the ranch, which is his pride. He admits that he would like to be the owner but that several million dollars keep him away from his ultimate dream. Never mind, his dedication is such that he seemed the perfect historian of the place for a moment.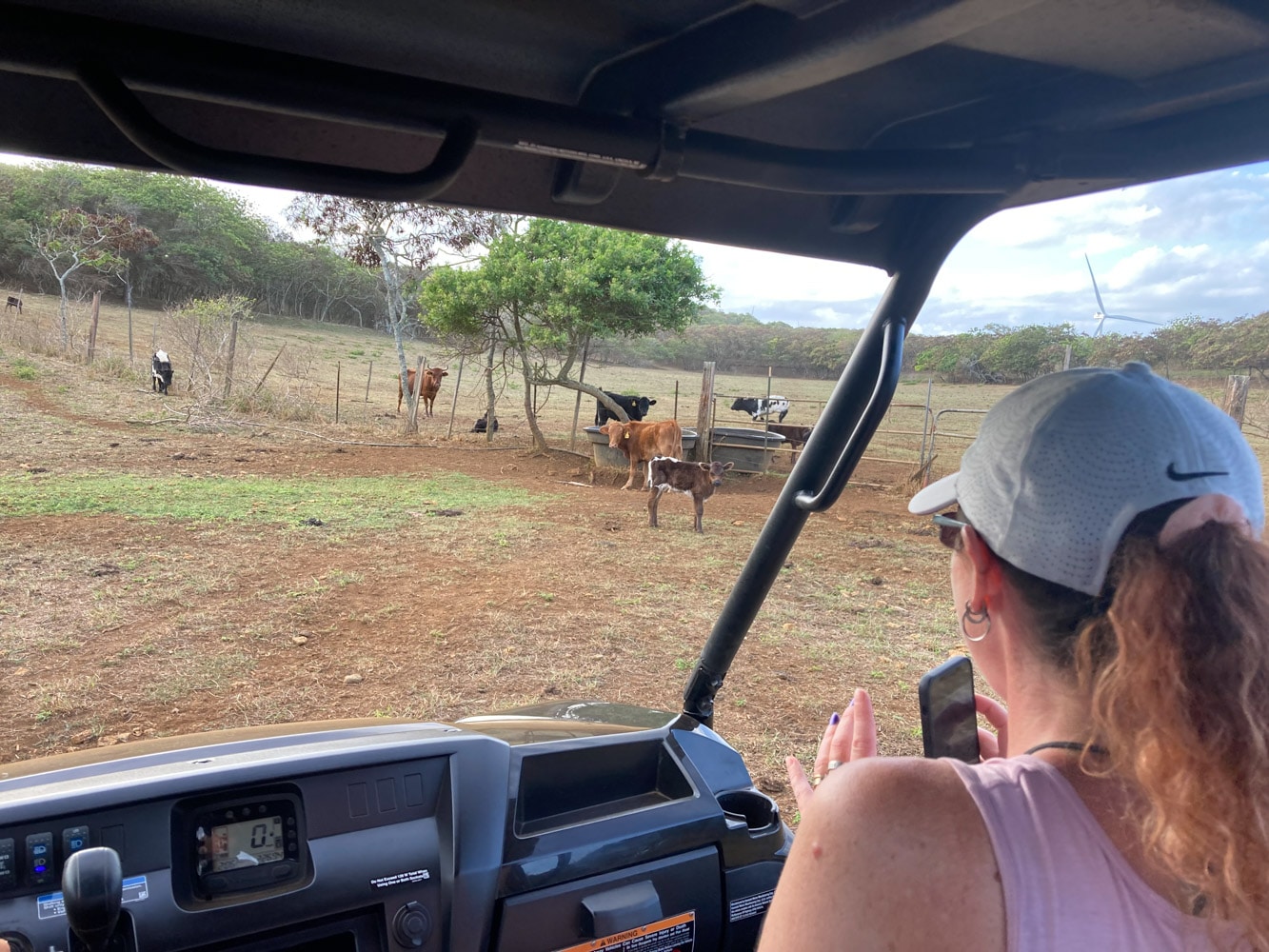 We crossed several pastures containing cattle. It was impressive to see the cattle approaching us without fear of the quad bikes. Even at times, we would probably have hoped for them to be afraid a little bit, as they seemed to appreciate our presence. For those who are unfamiliar, this type of animal has a fleshy, elongated, and highly mobile tongue. We had to be on our toes not to get a rough lick lovingly offered by these cattle.
Cole took advantage of a stop to show us a cave at the start of a tunnel that once smuggled alcohol into these lands. Also called moonshine, it is alcohol distilled illegally under specific conditions. A few pieces of glass on the floor of this cave testify to the illicit activities that have taken place in the past.
We were lucky to be at the right time of year, as our guide found some fresh fruit to taste on our journey. We found Ali Koa, ferns, passion fruit, strawberries, guavas, Hawaiian orange trees, and even noni on the trails. The noni is a popular fruit used in Hawaiian medicines due to its enormous health benefits.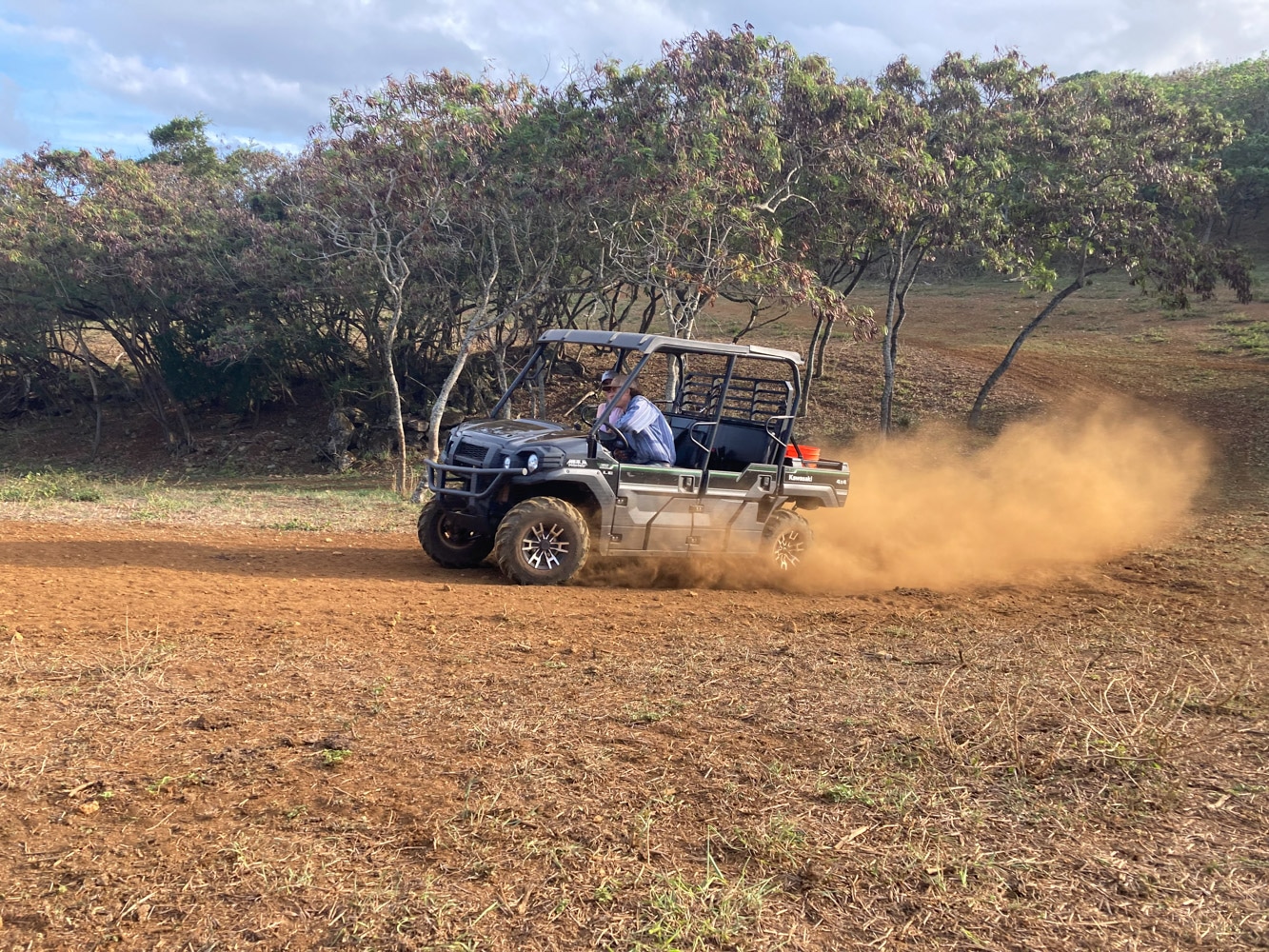 A mind-blowing finale!
The highlight of this beautiful ride in the heart of nature in a picturesque setting is undoubtedly the dinner at sunset, with a breathtaking view of the Pacific Ocean. Cole took care to bring us to one of the highest points on the property. To be honest, we remained almost speechless in front of such a setting worthy of the wildest dreams.
Of course, Cole had accomplices who took care of transporting our supper while he was busy entertaining and guiding us around the property in our Kawasaki Mule. He finally took care to light the campfire before slipping away so that we could enjoy this good meal alone.
If you're looking for something fun and intimate to do on your trip to Hawaii, check out Oahu's incredible North Shore. Gunstock Ranch in Kahuku offers an authentic Hawaiian experience away from the big crowds and closer to the area's natural beauty.
Guests can enjoy private horseback riding, off-road tours, and tree planting. If you're looking for the best way to capture the feeling of exploring the Hawaiian countryside, you've come to the right place. And if you are fortunate to have Cole Volpe by your side to enhance your stay, you will be more than satisfied.
For more details, visit www.gunstockranch.com