Regardless of our leisure activities, we like to immortalizing these moments of peacefulness and well-being using a camera to preciously keep these beautiful moments of our lives in our archives. Smartphones are now evolved to such an extent that the quality of the photo and video function provides us with lasting memories. However, we are all aware of certain limitations of our phone, for example, its waterproofness. It is also very fragile and sensitive to shocks to the point that we never know if it will withstand the misfortune of slipping out of our hands.
The alternative is, of course, an action camera specially designed to deal with impacts and just about anything that might be in its path. When we mention the term Action Camera, the name GoPro instantly comes to mind. Each GoPro has a strong plastic case that provides a comfortable grip and can withstand incredible shocks. There are videos of users dropping their GoPro from different heights or driving over it with a car, or even setting off an explosion next to it. The GoPro has survived every time. These cameras have been present in our lives for many years, and they have considerably evolved.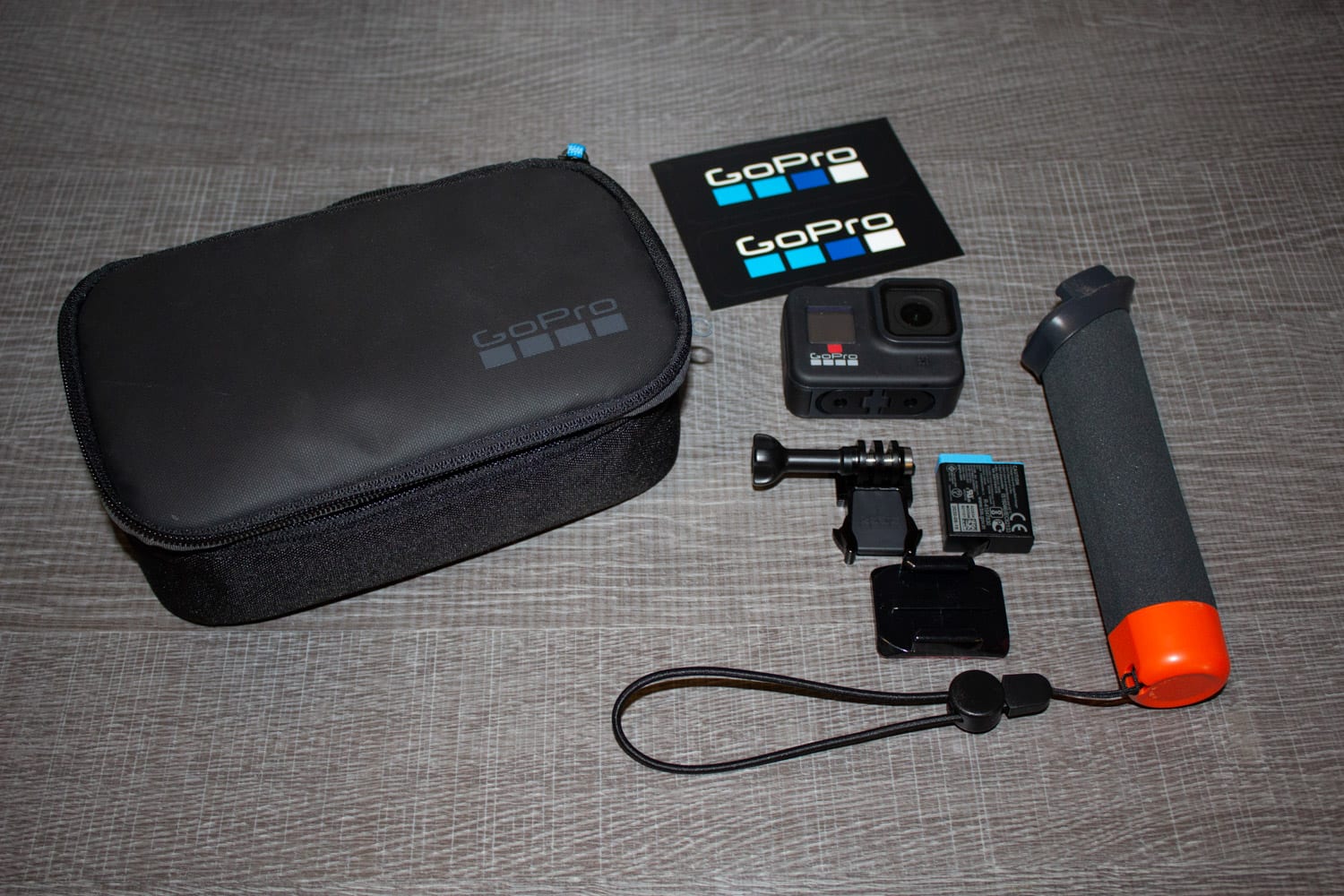 One thing is sure, GoPro knows how to make and sell action cameras. Just take a glance at their promotional videos, and you'll see athletes, fearless performers, and adventurers performing spectacular stunts, mostly in supernatural settings. Dramatic staging is always captured in stunning detail. The message is clear and straightforward: If there's a moment of adventure in your life that is worth recording, you need to film it with a GoPro.
Is all this hype justified? Is a GoPro the essential item we must own at all costs? The answers to these questions may vary from person to person. Of course, a GoPro action camera is just one more tool in all the elements of our life. Still, it will definitely add that little extra if you want to wow the gallery or if you want to keep high-quality memories of your adventures.
Why choose a GoPro?
We are flooded with cheap offers of generic action cameras supposedly of 4K resolution offered at ridiculously low prices. Why is there such a big price difference between these cameras? Are we only paying for a name? These fantastic offers have tempted me, and I thought I was sniffing out a great deal. However, I was deeply disappointed with these cheap copies.
Therefore, while acquiring a GoPro branded camera may require a budgetary effort, it should be seen as an investment in itself to preserve those digitally engraved memories.
GoPro HERO 8 Black:
Why not spend the dollars in the right place and treat yourself with the Cadillac of action cameras once and for all? You will put aside the frustrations of images that do not do justice to the great moments worthy of being immortalized.
The HERO 8 has received a slimming cure compared to its previous version, the HERO 7. Its smaller dimensions make the HERO 8 easier to fit in our luggage. One way to accomplish this was to put the lens slightly lower, but the tradeoff is that the front lens element is no longer removable. The new front lens element is thicker and made with Gorilla Glass, and GoPro claims it's twice as impact resistant.
The other significant physical difference is that there is now only one large door on the camera side that covers the battery, microSD card, and USB-C port. Therefore, all the items are grouped in one place.
The GoPro HERO 8 Black also uses a new type of battery. It is the same size and shape as before, and it packs the same power (1220 mAh). Aside from the blue background, what has changed is not so obvious: the most significant difference is that it allows a higher discharge rate. This higher discharge rate enables HyperSmooth 2.0 (stabilizer) to be activated in all resolutions and frame rates. The HERO8 Black battery is also compatible with the HERO5 Black cameras. Likewise, the HERO5 up to HERO7 batteries are compatible with the HERO8 Black, but the user will receive a warning that some features can not be enabled.
My set includes two batteries for better autonomy during prolonged use and lowered battery capacity during the winter season. However, in my starter set, I would have appreciated having a separate charger instead of using the camera to recharge each of the batteries successively. I did load durability tests to check the autonomy. The first test was made in linear 4K24, HyperSmooth 2.0 on High, Wi-Fi, and GPS enabled. This test turned out to be energy-intensive, and I slightly exceeded an hour of battery life. The second test, at 4K24 Wide, with everything turned off and the low bit rate setting, the battery life extended to 1 hour 30 minutes.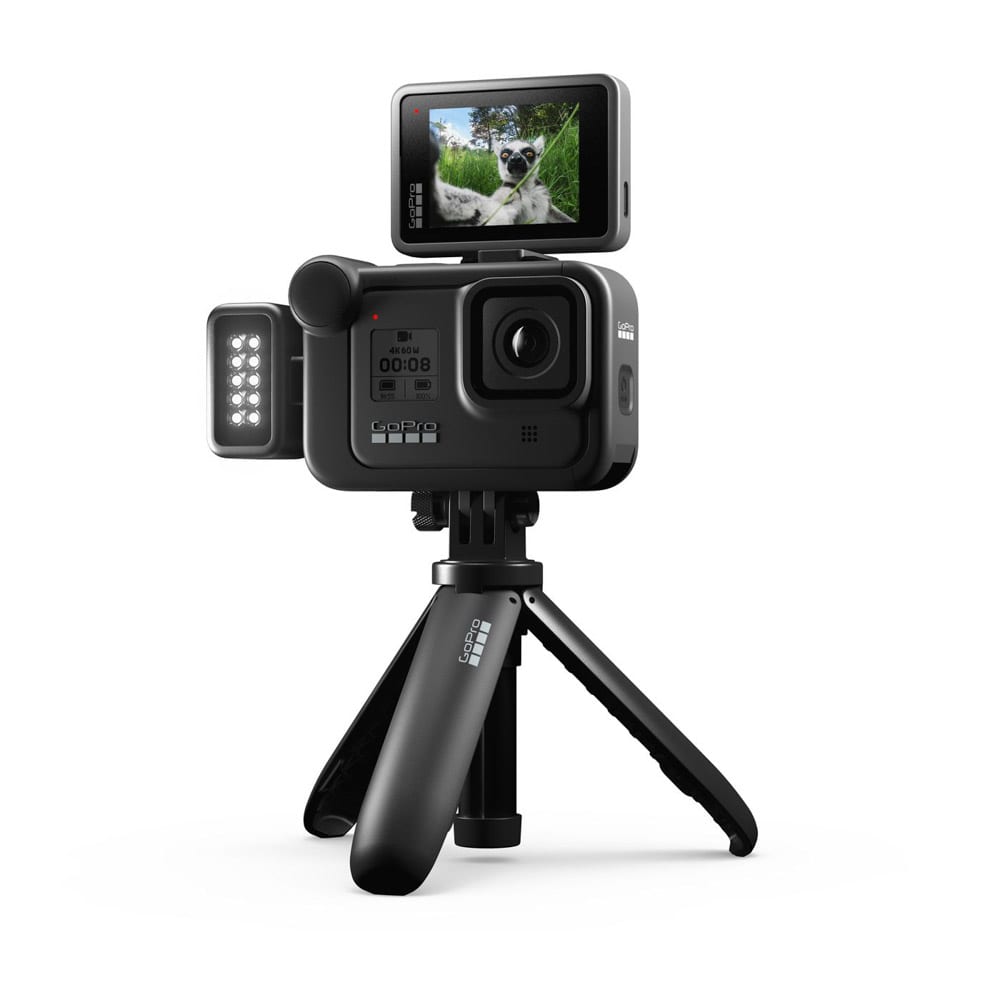 With the new lens of the HERO 8, GoPro has chosen to rethink its automatic white balance and color adjustment. It is especially evident in skin tones, reds in the dirt, blues in the sky, and greens in the leaves. Overall, the default GoPro color looks more punchy and dramatic, and the details are excellent. But at the same time, I think the contrast is a little too high. The highlights are almost blown away, while the shadows are significantly darker than those with the HERO 7.
However, I have noticed an anomaly that worries me a bit. The GoPro tends to get quite hot during prolonged use. Therefore, I guess it was much warmer inside. I've never made it overheat and shut down completely, but I'm still worrying, especially if you're filming on a hot summer day.
As the camera no longer needs to be integrated into a frame like in previous versions, GoPro moved the primary mic to the front of the camera, just below the lens. It has, without a doubt, the best sound of any GoPro model. Even on a windy day, it picks up my voice much better than before. It is a very noticeable improvement and is not negligible in producing higher-quality visual content.
The HyperSmooth 2.0 offers greatly improved stabilization qualities compared to its original function. Even on a bumpy trail, we were able to take clear and stable shots, letting us believe that we were driving on a freshly paved road free of imperfection. So its efficiency is excellent.
GoPro's built-in menu system has also improved a lot with the HERO 8. We can now preset some favorite profiles and switch between modes with just a few clicks. Everything is organized more intuitively, and I spent less time searching through the menus.
With the camera comes a new GoPro app. The most significant change is that GoPro's video editing companion, Quik, is now integrated into the only GoPro app. It is much more straightforward and more intuitive. There is now built-in horizon leveling and more options for music, text, and video templates. GoPro says it now uses metadata to identify meaningful moments in videos that are automatically edited in the app. This application also allows controlling the GoPro remotely using Bluetooth wireless technology. Therefore, we can fix our camera at a specific location and activate recording and stop it from our smartphone.
In conclusion, the GoPro HERO 8 action camera offers a tremendous amount of functionality that makes this device the perfect travel companion that we must bring with us at all times. Its general quality is undeniable, and all GoPro owners know it as soon as they have tasted its advantages which far exceed the competition.