In our profession as Powersports columnists, we have to travel thousands of kilometers each year to gain access to various remote areas. You will agree, some vehicles are better suited to accomplish the tasks to which we are assigned.
Like many team members at Raven Media, I prefer pickup trucks. I like its advantages of traction, visibility, and towing capacity. On the other hand, despite being very useful, the rear cargo space requires additions that are not necessarily included when purchasing a vehicle.
Depending on the budget we want to allocate, several alternatives are available. For our part, to secure our load and keep it protected from the elements, we used none other than the DiamondBack HD tonneau covers.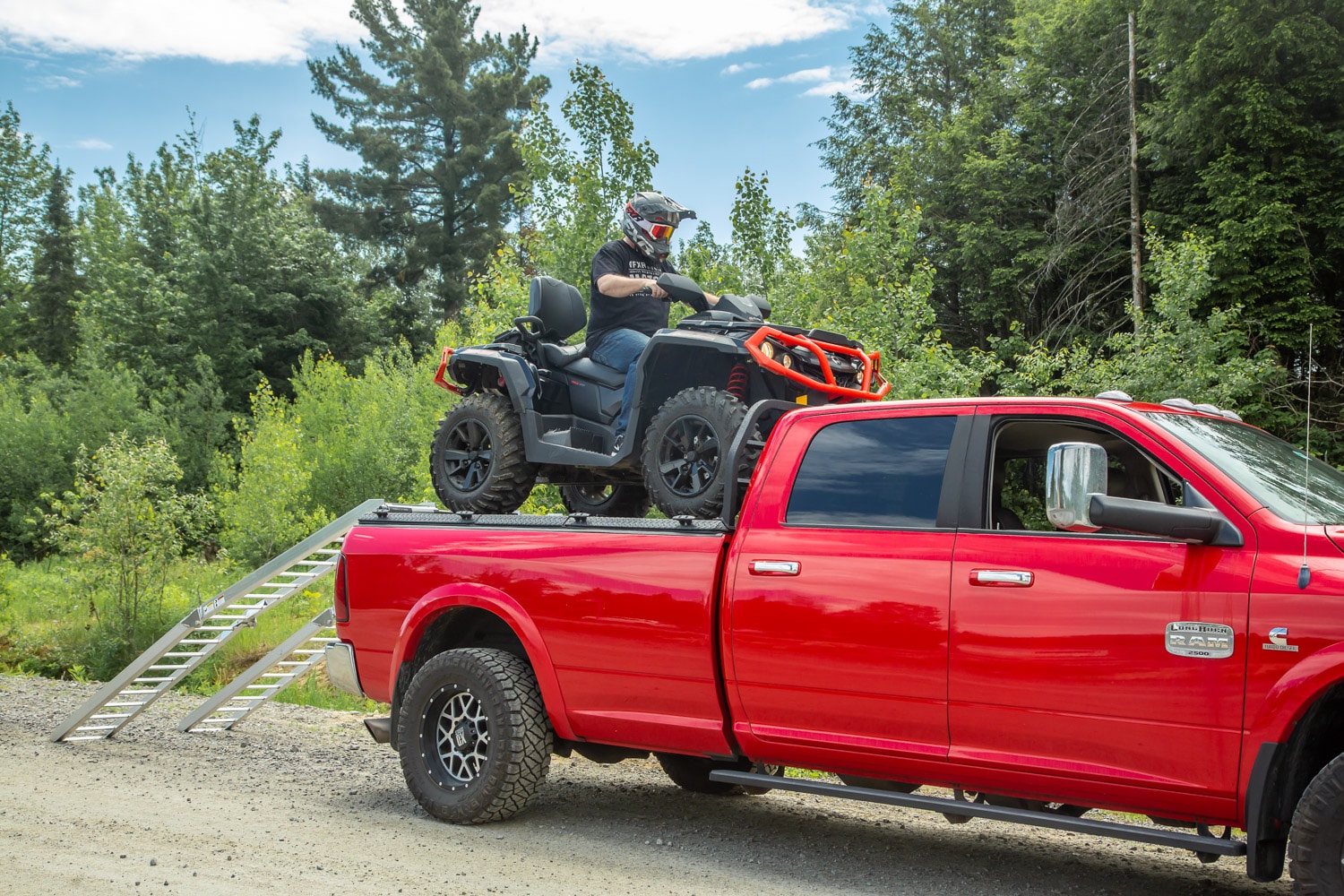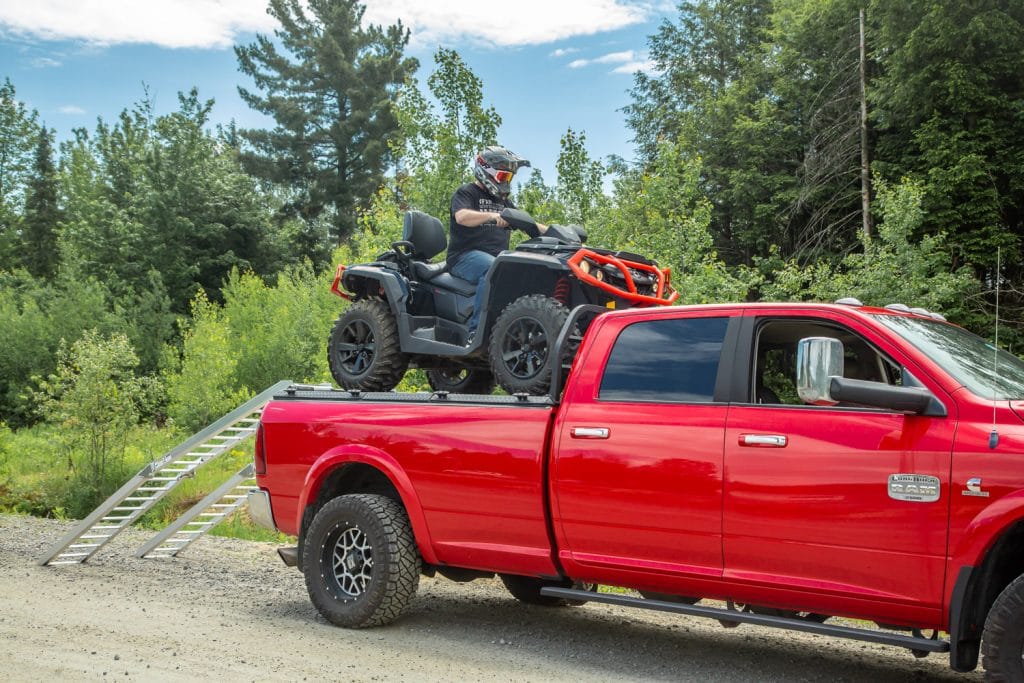 A logical choice
The reason is quite simple; it is the only product that satisfies all the established criteria. We wanted a tonneau cover that increased our storage space to transport all of our equipment safely. It could also receive and carry heavy loads without a problem and keep its original look for many years.
Its aluminum construction allows for quick and easy installation with basic tools. Compared to other products, its material will not tear like vinyl or crack like fiberglass. The lightness of its components allows a solo or 2-person installation by carrying out easy and simple installation steps. Three panels are used to take full advantage of the DiamondBack HD. The center panel must be installed first and is retained with clamps. It will remain fixed and act as an attachment and pivot point for the front and rear panels.
An important option
We also took the opportunity to bolt in a protective screen for the rear window. It is constructed with a design that matches the contour of the cabin, providing window protection against large cargo carried over the top of the cover. It attaches directly to the DiamondBack HD cover with stainless steel bolts, so there is no drilling to do on our truck. Drilling the holes on our tonneau cover took a while, but it worked fine.
We added window protection to our HD cover and, to tell you the truth, we are happy we did. It is rock solid, and its cost is an investment compared to replacing a shattered rear window.
The Diamondback tonneau cover has two detachable access panels that weigh only 30 lbs each. The front and rear panels fit snugly into the hinges for installation in seconds. The panels connect easily with stainless steel locking hinges that only detach when the panels are tilted beyond 90 degrees. The installation of four gas shock absorbers will allow the covers to be held in open positions and provide a very soft closing.
As you can see, it has rear and front access. Hence, you don't need to crawl into the truck bed. If you want to access the front of your cargo area, all you have to do is open the front access panel.
The overall design and the addition of gaskets keep water, snow, ice, and dust out of the cargo space to keep our load clean and dry at all times. Isn't that what we want? Well, DiamondBack offers it on a silver platter … or instead on an aluminum plate in this case.
Secure our property
Concerning the security aspect, our equipment and our goods are at all times protected by an almost indestructible lockable system which will overcome the patience of most malicious people.
The capacity of this tonneau cover is 1600 lbs and is beyond the payload of some pickup trucks on the market. Also, the included 12 feet folding loading ramps allow us to load and transport up to two quads, or a UTV in some cases with an 8 feet bed preferably.
Ultra-resistant and non-slip surface
The panels are coated with Line-X coating which is ultra durable, scratch resistant and gives the tonneau cover a bold and rugged look. The non-slip coating covering the entire exterior surface provides the traction we need all the time, no matter the season. Twelve tie-down points are included to secure the cargo as required.
In my opinion, the DiamondBack Covers HD is the best on the market right now. We have tested it in multiple ways for over two years now, it has not shown any signs of weaknesses or failures, and we are sure it will not happen anytime soon. For me, it adds enormous functionality to my truck that couldn't be achieved otherwise. Now I can load all my hunting gear into the bed and keep it all out of the backseat. I can load the ATV onto my DiamondBack cover, and there is no need for a trailer! I can keep all of my gear safe and dry while keeping dirt and odors out of my truck and still being able to bring my quad with me.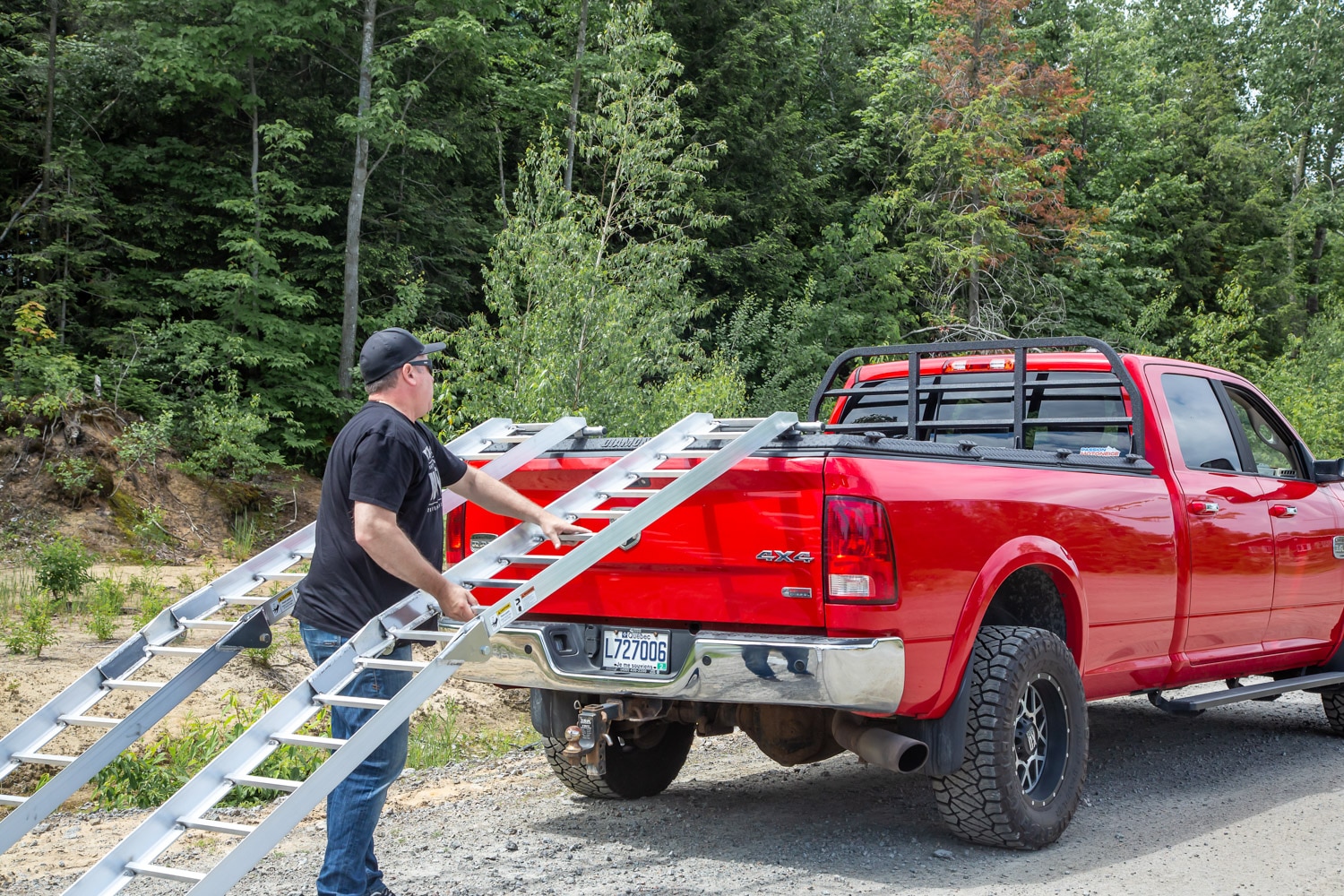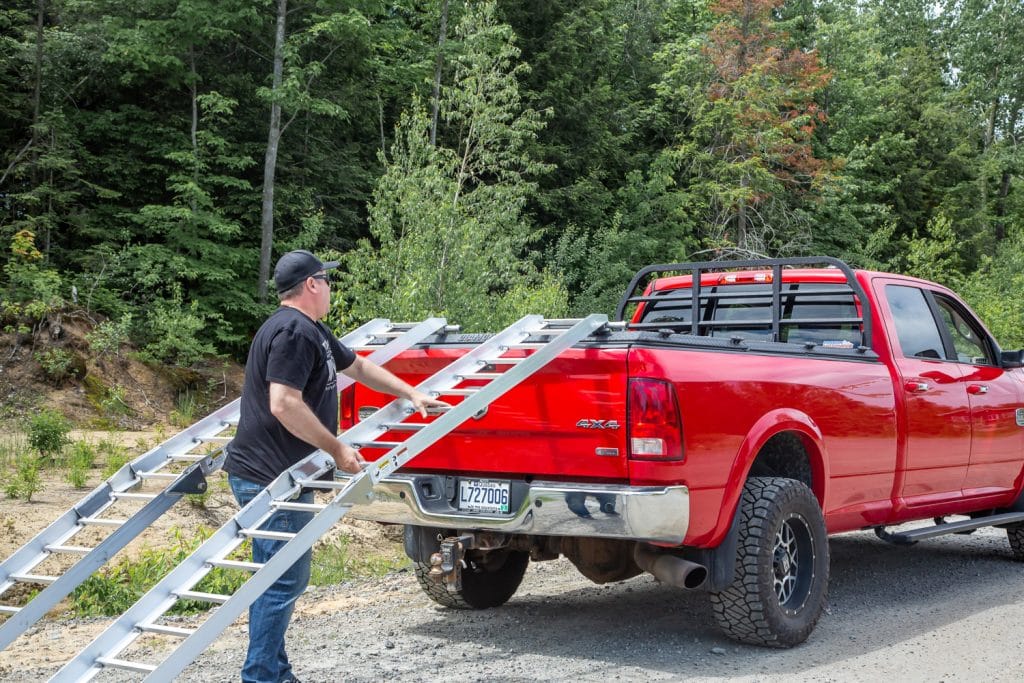 I often left my ATV at home on quick hunting trips because it wasn't worth loading the trailer, etc. Now I keep the quad loaded directly onto the truck for a week or more if I want. If I know I'm hunting a few days this week, I keep it loaded, and I'm ready to go anytime!
When we make family outings to the chalet, we can transport the quad by taking all our luggage and food inside the bed box. Therefore, we keep the space in the front cabin for our family, and we are free to move around because we are not cramped with the equipment.
Even though we have changed trucks in the last few months, we have transferred the DiamondBack Covers HD to our 2020 F150 without a problem. Since we discovered DiamondBack tonneau covers, it is now a must-have. If you're looking for a way to maximize your truck's carrying capacity while providing secure storage for your gear, DiamondBack truck bed covers should be on your shopping list.