You will agree on one point – when a group of enthusiasts all get together to share in a common experience, the result is sure to create lasting bonds. Sometimes, these encounters mark our lives and remain etched in our memories.
A few years ago, during the Ste-Béatrix Off-Road Festival in Quebec, I had the opportunity to compete, and I was privileged to witness everything that was happening nearby and on the track. This opportunity allowed me to have friendly face-to-face meetings both on the track and during periods of inactivity. That year, I was amazed by a driver who clearly stood out from the crowd. When he was behind the wheel of his UTV, the crowd seemed to become mute and all eyes were turned on him, mesmerized and drawn like a magnet in a direction that we could not control. He was THAT good.
Daniel Tardif was on fire as he attacked the turns and take the jumps at speeds that no one else was able to achieve. It was a lot of fun to watch. And you could tell he was enjoying it too, by the look on at the end of each race. From that day, I started to follow his racing exploits closely and learned that while he has a talent behind the wheel, his life hasn't always been a basket of roses.
His rebirth
Daniel is like an open book when he talks about his past. March 14, 2012, was a turning point in his life when he decided to take charge. From the early twenties until that date, he was a heavy user of alcohol and hard drugs. He humbly admits that he had hit rock bottom and this resolution gave him the momentum to become what he wanted to be in life. He is now proud to say that he has been sober for 8 years and if he can help anyone get away with his experiences and years of addictions, he will do whatever he can to support them.
That date will forever remain what changed everything in his life because he has now found a balance between family, work and leisure. His dependencies on the past numbed him. He was amorphous and they changed how he faced life. His sobriety made him reborn and it gave him the energy to face new challenges. Although he had always worked in the construction field, this change for the better allowed him to become co-owner of ACT Ventilation more than 6 years ago, and he is very proud of it.
Passion for motor vehicles
When Daniel was a child, he was raised in an agricultural environment and the great outdoors allowed him to devote himself to motocross. This is probably what enabled him to discover his interest in speed and the feeling of freedom that power sports vehicles provide.
It was not until around the age of 20 that he acquired his first ATV. He had a friend who raced ATVs and he was kind enough to sell him a Yamaha Banshee, which he had used during a competition at the Olympic Stadium during the late SuperMotocross of Montreal. Daniel had an agreement with this person to teach him the basics of racing on four wheels. Unfortunately, a few weeks later, a serious accident stopped Daniel's momentum and. His recovery period left him a little fearful, but despite everything, the racing fire was still burning in him. This desire led him to turn to automotive events, because the feeling of security in a cockpit reassured him.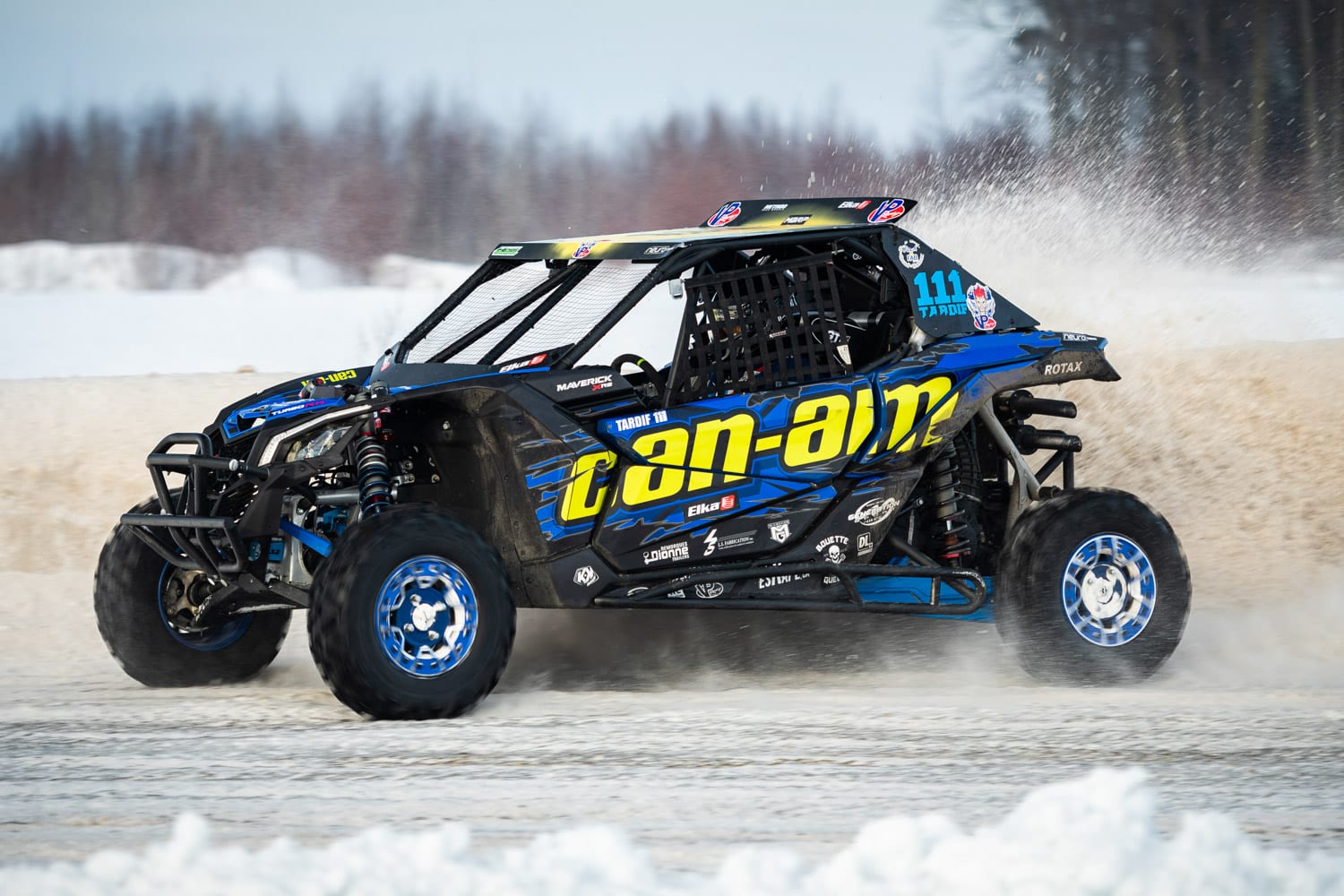 Although he had already been through a bad experience on an ATV, he had attempted a return a few years ago with this type of vehicle, but his recklessness caused him another accident, without serious consequences this time, but which led him to think again about his future intentions. Did he really want to race an ATV? He didn't know. In the meantime, one of his friends allowed him to test drive a Polaris RZR. That was all it took and he bought a side-by-side the next day. This was his beginnings in amateur competitions for this type of vehicle.
The alignment of the planets
Since Daniel chose total sobriety, he believes that he has reset the counter to zero and that, from that moment, nothing can stop it. His SME provides him financial security, but his spirit demands the adrenaline rush that the racing circuit provides. Daniel is now making a "little guy" dream come true. He realizes that he has reached a point in his life where he can still afford to splurge as he has the health and support to line up with the McGregor Offroad Series drivers. This structured series provides drivers like Daniel all the support and logistics to compete professionally on safe circuits.
His experience and his charisma allowed him to be in contact with several companies in the industry and these immediately turned into financially support him in this adventure. It is not surprising that renowned companies such as ELKA Suspension, Flex A Fab, Eskape, Kimpex, Génération Sport, DL Performance, MS Gear and VP Fuels, to name a few, have named him a full-fledged ambassador. He wants to add that, if you own a business, his vehicle still has places to put your mark on it. Just saying.
He is extremely excited the few days before a race. He loves reconnecting with other competitors, who have become friends and almost family members. The McGregor Series has created a brotherhood between pilots and mutual aid is something they all feel strongly about.
Daniel's machine carries the number 111, and he admits that this figure has no precise meaning. He used the #3, but opted to change. Subsequently, he had decided to opt for the date of his birthday, the 11th, a number that had been beneficial to him on certain occasions. However, during an amateur competition, another participant had taken #11 and it was at this moment that he had no choice but to convert to #111. He has not regretted it one bit, as now the #111 car has driven to several victories.
His racing cars
During his first year of professional competition in the McGregor Series, Daniel used a Yamaha YXZ equipped with a turbocharged engine developing an impressive 215hp. In the fall of 2019, he acquired a 2020 Can-Am Maverick X3 RR. Daniel, doing nothing halfway, continues to make the necessary modifications to his new vehicle to be as fast as possible. He is trying to adapt his vehicle according to his requirements as a driver.
He also has the opportunity to have the support of his wife and friends to achieve his goals and he is very grateful to them for this. The leaders of the McGregor Series, Serge and Guillaume Michaud, also offer support. They are also listening to competitors to raise the series to a higher level. Daniel plans to pursue his dreams in this direction as long as he has fun. The racing series is gaining momentum from year to year and perhaps one day, it will cross borders and when it does, Daniel will be on the front line to defend Canada.
Everyone agrees that Daniel is a motivator and an example to follow. He never ceases to encourage participants: his courage, his passion, and his determination motivate the people around him to pursue their dreams. Daniel is grateful for everything he is currently experiencing. The pitfalls and experiences from the past have forged the endearing human person we know today.
Rightly so, we could call him an ambassador for pilots of his generation. Even if he always believes that he still has room for improvement, his hard work and his temper allow him to frequently be on the podium steps for the McGregor Series races. Being a leader cannot be learned, it is in the DNA and Daniel is a good example.
To follow Daniel in the McGregor series, you can visit www.mcgregoroffroad.com for the complete schedule of events.