When we think back to the early years of Chinese manufacturer CFMOTO in the North American market, we remember them for their vehicles at lower prices for obvious reasons. However, for several years now, we have been entitled to better-designed products: more reliable mechanics, better quality components, and above all, a brand image that is tracing its own path.
The 2022 UFORCE 600 is coming up on the market, and we can say this new vehicle has nothing to envy the competition. Discover with us the latest model in the UFORCE range from CFMOTO. A design all his own, robust mechanics, and good capability for hard work. And to seduce many customers, a complete list of equipment that comes standard.
Engine
What gives life to the UFORCE 600 is a 580cc 4-stroke single-cylinder engine. It is the latest generation engine from the manufacturer, and we already know it from the popular CFORCE 600s series. This mid-size motor offers good performance, fuel economy, and proven reliability. Its 40 horsepower is deployed very linearly, and the 36 lb-ft of torque provides everything you need to tackle heavy tasks. We all agree that it is not a performance monster, but the power is transmitted efficiently to the ground. To achieve this, we can thank the fact that the engine is paired with a CV-Tech clutch.
Suspension
The suspension is not the most efficient on a vehicle dedicated to working. On the other hand, it can be said that it is well suited to the UFORCE 600. Hydraulic shocks offer good stiffness when you want to put the machine to the test while also providing a certain amount of comfort for rides at moderate speed. They can adjust in 5 positions in preload to modulate them according to your preferences. Although this is quite basic, the suspension reacts relatively well to all types of terrain.
Interestingly, the front suspension arms are arched-type, allowing more ground clearance between the wheels. However, the deflections are somewhat tight when the terrain gets very rough. Even so, the total ground clearance of 10.5 " provides ease of moving through obstacles without too many problems.
Cockpit
When you open the mesh door to board the UFORCE 600, you instantly notice that the quality of the finish has been improved and that the dashboard's design has been well thought out. All the elements are well arranged to offer intuitive handling. We can say that the ergonomics are successful. As for the seats, they are comfortable, and the driving position is natural, although it is very "square." Knowing this machine is more intended for work than anything else, the seats and backrest are almost positioned at 90 degrees. We also noticed that the bench shape and width seem to offer enough room for three occupants, but there are only two seatbelts. We would have appreciated finding three seatbelts to provide the possibility of transporting a third person safely and legally.
Once on board, we have an excellent view of the new color LCD instrument cluster. It allows clear reading of all the necessary information for efficient driving. The brightness is well balanced, and the display will be different depending on the chosen driving mode (Sport or Eco). This cluster is a very successful design, and other manufacturers who charge small fortunes for such features should take notes.
Equipment for work
The first mission of the UFORCE 600 is work. That being said, it would be difficult not to talk about the dump box. With a capacity of 600 pounds, it offers good cargo space, and it seems pretty robust to us after several uses. However, the tailgate panel could have been stiffer, and its two-sided fastening system is very basic. We would have much preferred a single handle mechanism to ease its use and offer a more refined look. With the dump box, you will be able to transport tools and materials on your property. And if ever the 600 pounds capacity seems too little for your ambitions, it is good to know that the vehicle's towing capacity reaches 2000 lbs.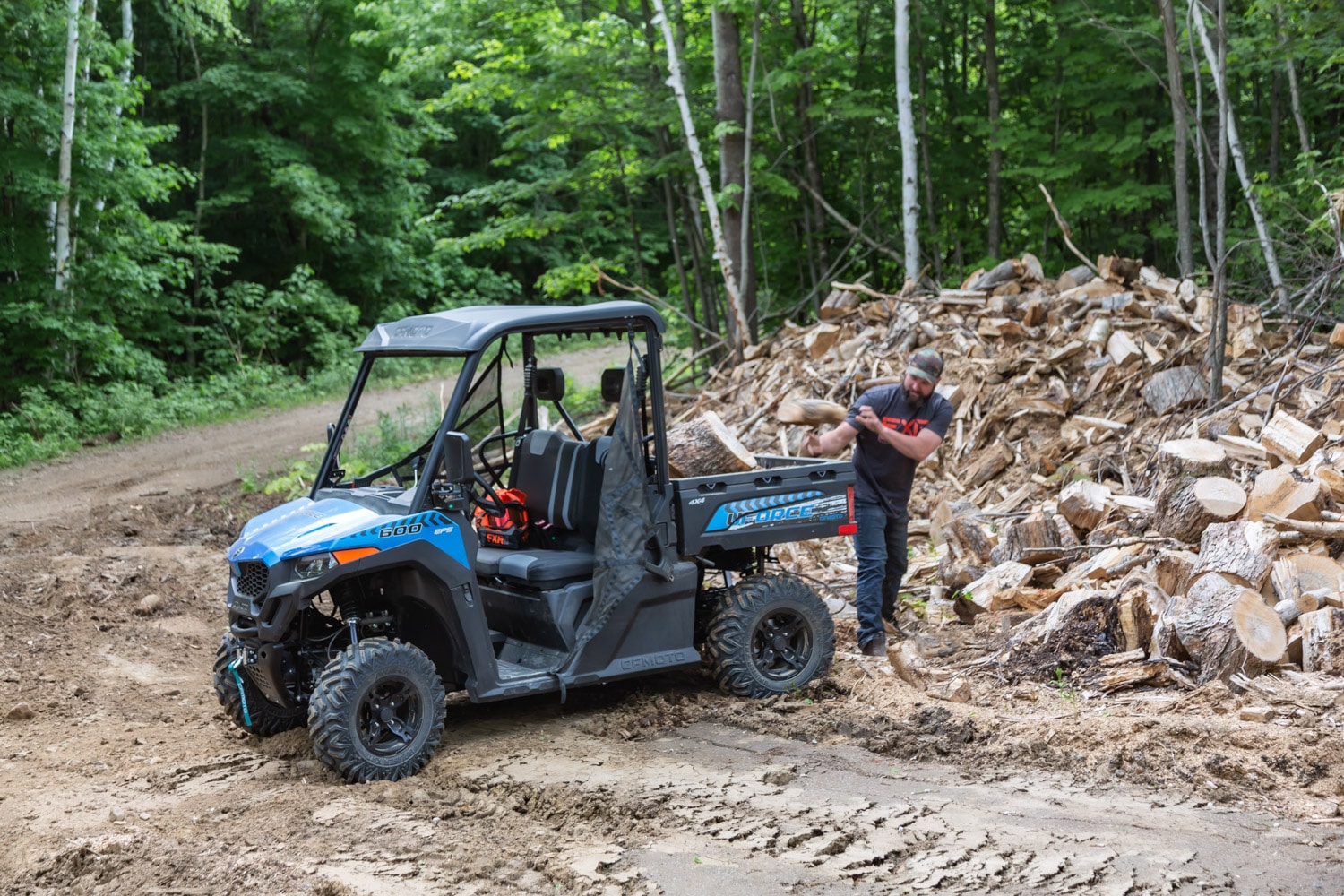 Another essential for work is undoubtedly a winch, and as we are used to knowing it with other vehicles from CFMOTO, the UFORCE 600 is equipped with one as standard. Its capacity is 3500 lbs, which is good enough to get you out of a bad situation or move a tree blocking your path. Also, the winch can be controlled both from inside the vehicle or outside with a wireless remote controller. It is a great feature since you will more than likely want to have better visibility rather than staying in the vehicle while using the winch.
Driving impressions
We rode for several days and in various situations with the UFORCE 600. We were able to test its skills as a work companion and trail riding. Each time, we were surprised by the capabilities of this vehicle. It performs well when asked to pull loads or move at low speed to complete specific jobs. It is well designed for easy entry / exit of the vehicle.
When we took it on the trails, we found that CFMOTO engineers gave more flexibility to the suspension and a more powerful engine to enhance the driving experience. It is still not a full trail machine to swallow several hundred kilometers a day, but its performance is improved compared to the old version, the UFORCE 500, which ran out of steam too quickly.
The presence of a mode selection (Sport or Eco) pleasantly plays with the driving sensations returned to the pilot. We noticed that the gas pedal is more responsive in Sport mode, and the engine feels and sounds more aggressive. For trail and moderate speed riding, this is the mode to choose. Conversely, when you want to work and make gradual movements at reduced speed, Eco mode offers a lot more flexibility on the throttle. The two modes avoid having a vehicle calibrated in one way without being optimal for the different types of work in which we want to operate the machine.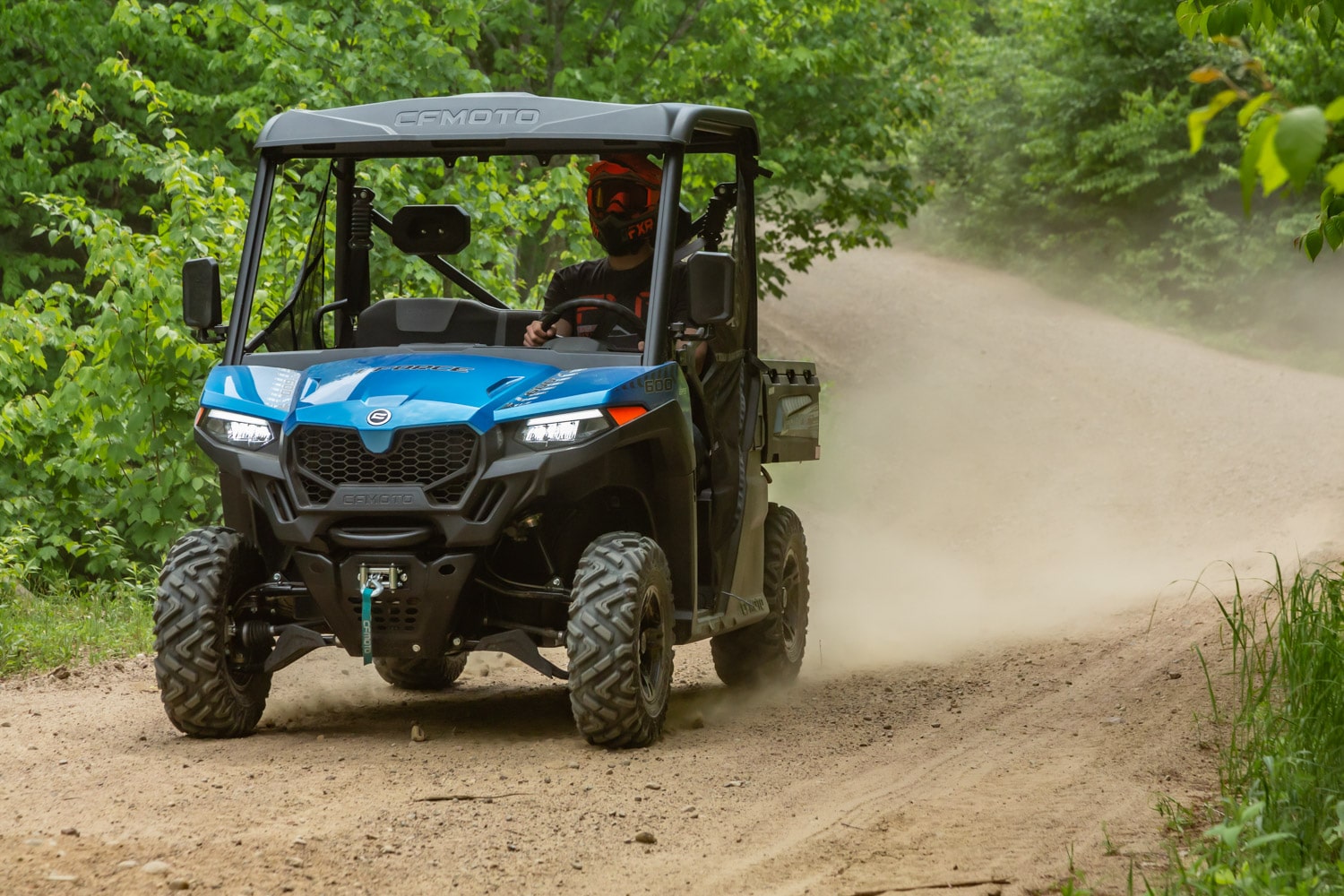 Trail driving is pleasant for a work-oriented vehicle, and the seat comfort is good. As expected, the bench-type seat doesn't offer much lateral support, and when the terrain deteriorates, it's best to hold on more firmly. And here we are at the famous nets on the sides. From a legal standpoint, we need a "barrier" with the outside to protect the occupants. On the other hand, the nets really look bad, and the use of full doors would be more harmonious with the rest of the UFORCE 600. In addition, the doors allow you to cling more comfortably when you are on a bumpy path. We are pretty sure that accessory doors to replace the nets will be available shortly.
There is plenty of storage here and there on this machine. The one I liked about this model was the one hidden under the seats. The storage volume is enormous, well divided, and well protected from outside elements. So you can bring a whole bunch of tools with you when working on your woodland, for example. Hats off to CFMOTO for emphasizing those small details that make a big difference and make you like or LOVE your vehicle!
Pros:
Well-adapted mechanics that offer good torque and robustness
Complete list of standard equipment that makes it ready for work and the trails as well
Successful and dynamic look for a work-oriented vehicle
Short turning radius for easier maneuvering
Cons:
Bench with three seats but only two seatbelts.
Increased quality of finish, but still a lot of vibrations noises.
Two fasteners latch on the dump box. We would have preferred by far a single handle mechanism.
Conclusion
The 2021 UFORCE 600 is a new vehicle in the CFMOTO utility lineup, and we are delighted to see that it goes in the same direction as the latest models recently unveiled. The machine offers a more distinctive look, enhanced performance, a complete list of standard equipment while keeping a lower price than the competition for a comparable model. This makes the brand strong in the market, and we hope these features will be here to stay.
UTV Trail Rider would like to thank CFMOTO Canada for making this test possible. If you would like more information, visit your nearest CFMOTO dealer or the CFMOTO Canada website CFMOTO.CA