Getting kids riding is the future of our sport. Yeah, we've all heard that before, but seriously, it is true. If interest starts to fall off and fewer and fewer people are out on the trails, the trails will no longer exist for all of us. The issue we face is – we're not just trying to get kids to take an interest in riding ATVs anymore. It is getting harder and harder to get kids to want to be outside at all. Luckily, there are some really cool and amazing things available for the littlest riders out there that are far better and more fun than anything we had at those early ages. One of the best is the 2021 Yamaha YFZ50, a sweet machine that is like the amazing Yamaha YFZ 450, only smaller.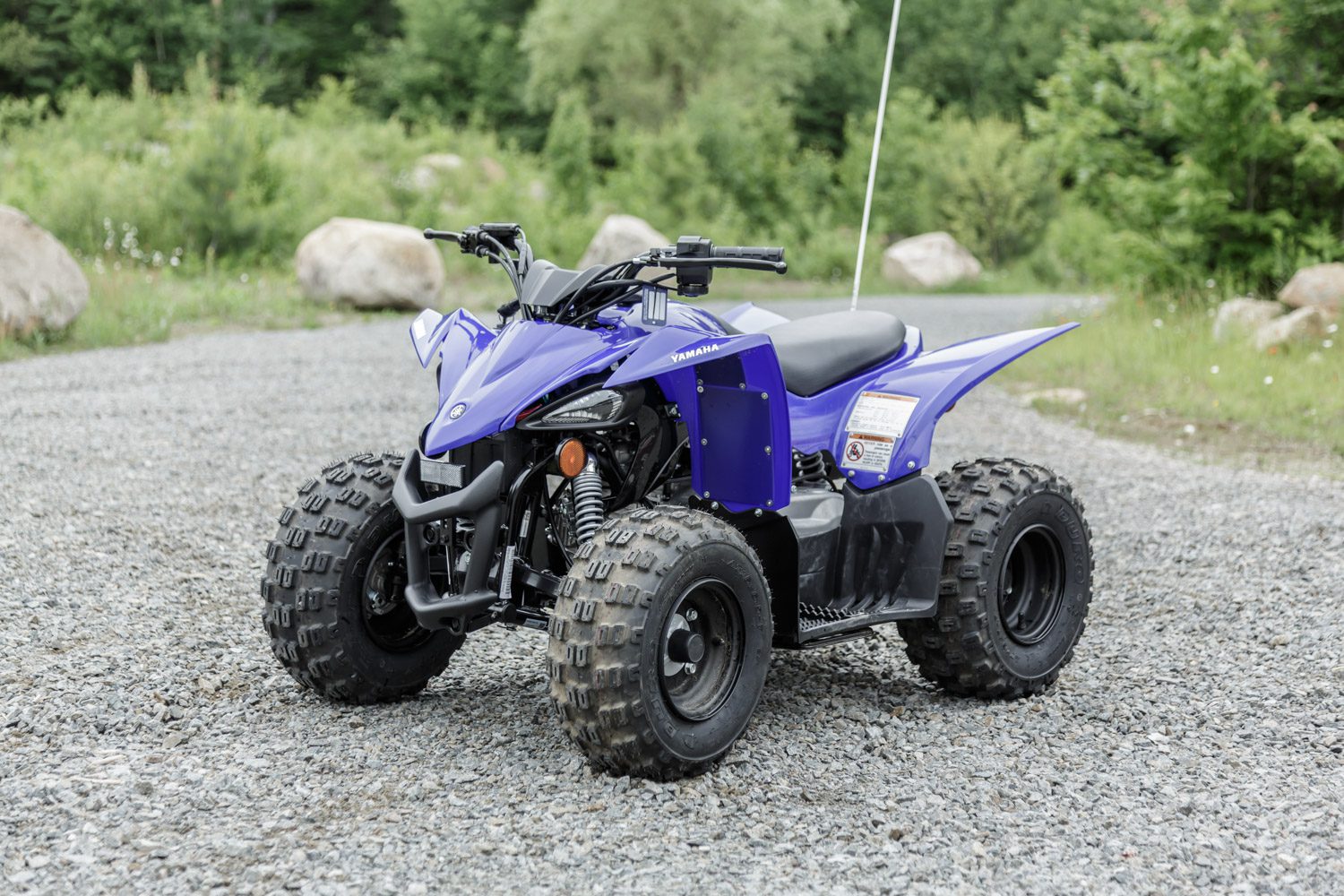 Not for you
I'm sad to say that the YFZ50 is not for the adults. That's right, you can't ride it. Well, you could, but you probably would want to make sure no one saw you or, even worse, take pictures or video of you doing it. No, this one is for the kids. Specifically, those kids ages 6 through 9. Once they hit the magic 10 age, they camp bump up to the next size range, 90-110cc. For the younger crowd, the 50 is just right.
This is an important age range for kids, too. Not only are 6-9 year olds at a wonderfully impressionable and exploratory age, but you also have a better shot competing with electronics and digital distractions that have lured so many kids away from the great outdoors. To you and I, this may seem odd. I remember when I was young and would stay outside as long as I could, usually coming in well after dark. And I could entertain myself with something as simple as a good stick. When I was able to throw a leg over an ATV or a dirt bike, well, that was it. I was hooked. That's why these new youth ATV models are so cool. Imagine how you would have felt if you had one of these when you were 6?
The specs
Yamaha's smallest ATV runs on a 49cc, air-cooled, single-overhead-cam, two-valve four-stroke motor. It has a compression ratio of 8.5:1, so starting is pretty easy. The motor is fed through a carburetor, so you do need to be aware of that when trying to start it in cold weather. Thankfully, the electric start system helps a ton, so getting the quiet little Yamaha purring is pretty simple. The electric starter is a nice feature too, for the kids. It makes operation much simpler for them, and less intimidating.
The transmission is a simple CVT with only a forward speed. The final drive is a chain/sprocket combination – just like the big YFZ. The simplified drive helps make it easier on your child to focus on the trail and the fun factor, and it helps keep costs down for you, another plus.
Another simplified feature includes the servicing of the machine. A tool-free air filter removal process makes cleaning it easier, so more time can be spent riding. When I was young, I really enjoyed getting my hands in there and doing as much of my own maintenance as I could, so having an easily removeable air filter would be another great way to spend some additional bonding time, while giving your child a look at the responsibility of maintenance and some hands-on learning.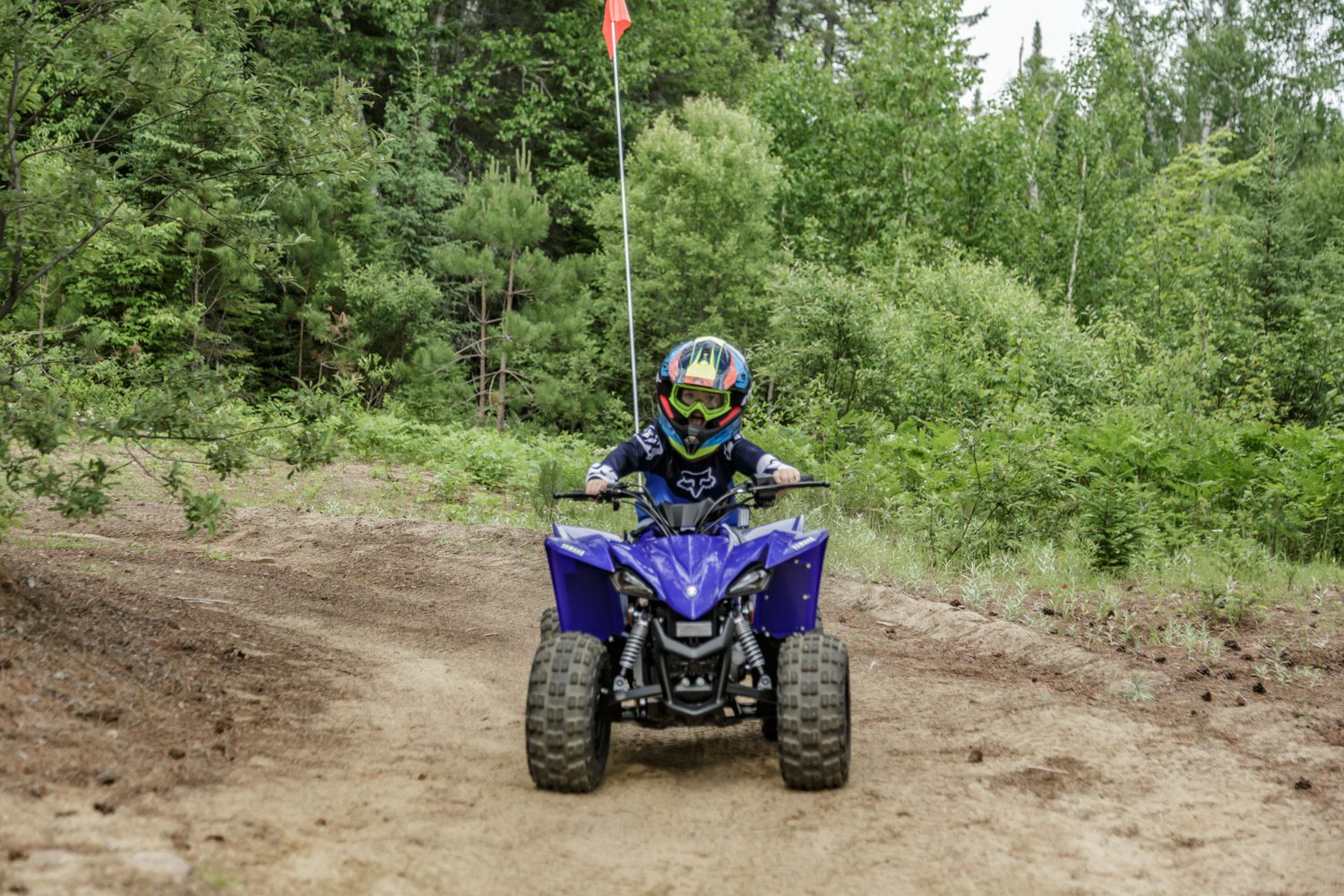 Like many of the kid-sized machine, the suspension on the Yamaha YFZ 50 is simplified, too. Single front I-arms support small gas-shocks with 2.4 inches of travel. The rear is a swingarm and solid rear axle design, just like the YFZ, although again, simplified and designed for the 2-inch of travel offered by the single shock. This setup gives the YFZ50 a sporty ride for the youngster along with some confidence-inspiring stability. The 16-inch Duro tires help with that, while providing good traction for most terrain types your little speedster will be riding on.
If you rider needs to grab some brake, dual handlebar mounted levers control the braking, with one dedicated to the front drum brakes and the other handling the rear drum brake. It helps get your child used to using hand-operated brakes and gives them a way to stay in better control. Don't worry though. There are parental controls, too so you can limit the speed of the machine. That should make you feel a little better. A tethered kill-switch is there, too, so you don't have to worry about the machine taking off if the rider falls off.
The styling of the YFZ50 is really in line with the YFZ450, from the fend shape, to the graphics, to the headlight positioning. The machine comes in white, as well as the cool Team Yamaha Blue color that we often associate with the bigger machines.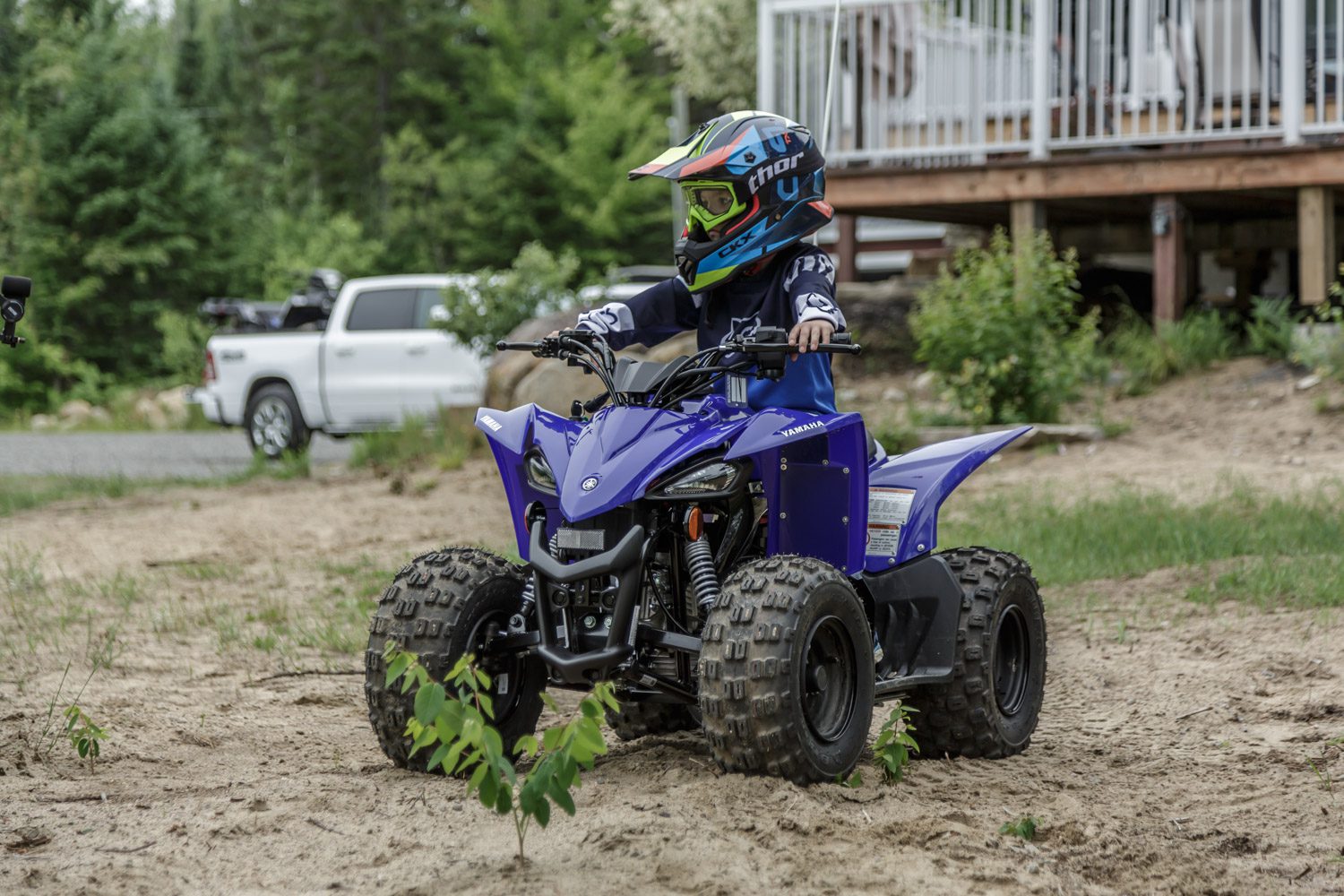 Riding it
Kids are all smiles when they are on the 2021 Yamaha YFZ50. It has some pep to it, but not enough to make you too concerned. It will let your child grow to where they feel comfortable, and it will be a fun ride up until they graduate to a bigger machine.
Sizing is on the smaller side, which is better, in my opinion, for first-time riders and those kids on the lower end of the age scale. I know some nine-year old kids who would feel a little cramped on it, and they'd be ready to move on pretty quickly. It all depends upon you and how you want your child to progress. Now, if you ride a Yamaha, it makes perfect sense to start out the little ones on a Yamaha too. One thing to keep in mind with the smaller sized youth ATVs – the value doesn't diminish much, so if you and your child take care of the machine, when it comes time to upgrade to a YFZ90, you'd be able to sell it to the next family and do quite well.
Overall, the Yamaha YFZ50 is a great machine for the younger riders and a great way to get your little one out and enjoying the trails and the great outdoors in a sport we all know and love.