We all remember our first ATV. For some of us older guys, we may have started out on a machine that was a little too big for us. Kids today will never know the sheer terror of losing control of a machine that is way too big for them, or at least they shouldn't. Especially when the manufacturers are building kid-sized machine that are as cool as the new 2021 Polaris Outlaw 70. This is an all-new machine that helps kids get the most enjoyment out of being introduced to this great sport. It also helps the parents in several ways, too.
The 70 is an all-new style of machine for Polaris. It is a bigger machine, both in displacement and in size than the ATV it replaces, the Outlaw 50. While there are some really good safety features, which we'll get to, one of the many things parents will appreciate is that the new layout of the machine allows kids to get enjoyment from the machine and be able to ride it with control, but have a little longer to enjoy the machine before they outgrow it.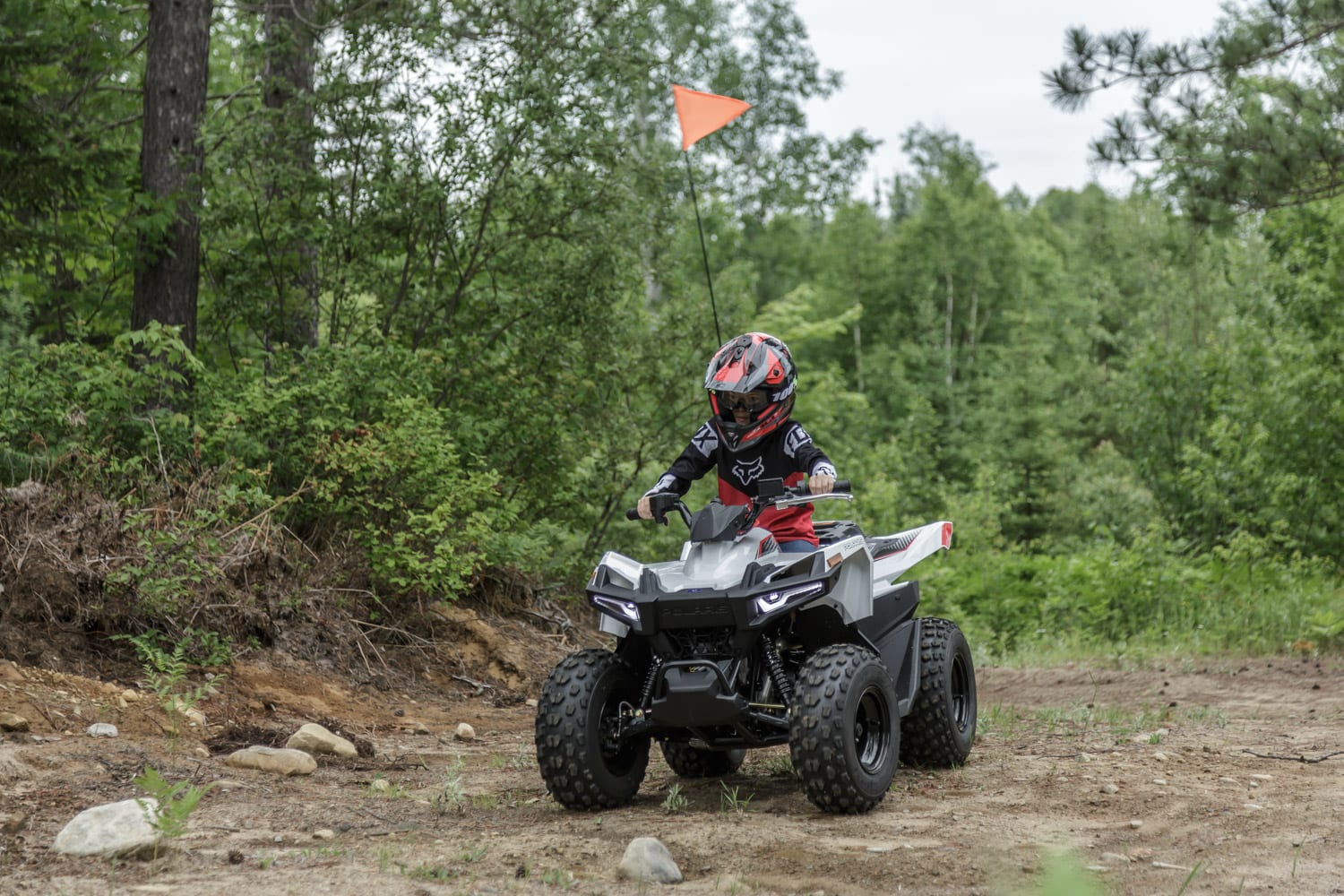 Relax Mom and Dad
We worry about our kids. Heck, that's our main job as parents, and it's one that never stops. With the 2021 Polaris Outlaw 70 EFI, parents have an adjustable speed limiter that allows them to adjust the machine as the kid's skill and comfort grows. This is an important feature, and one we took advantage of. The lowest setting helps build your child's confidence. It also really helped me feel better about things, as I watched him handle the machine around the yard in a controlled setting and at a pace I was comfortable with. I remember my first time riding, and feeling intimidated by the throttle. I was scared of it getting away from me and me crashing. Both of those things happened, too, which kept me from riding again for a while. Speed limiters make that a thing of the past, though.
Like the full-size Polaris ATVs, the Outlaw 70 has a single-lever brake system. While this comes as no surprise, it should comfort Mom and Dad some more, as well as inspire some additional confidence in the rider. The ability to stop is just as important as the ability to go for everyone involved. Our advice is to teach the rider right off the start that riding with one finger on the brake helps prevent panic grabbing. It's not a bad habit to get into from the get go.
The machine design is also a little bigger and more stable than previous models aimed at this age group. 18-inch tires give a little more ground clearance and help with the stance of the machine. Anything that helps keep the machine more stable will help inspire confidence.
The machine
Right off, you'll notice the difference between this machine and previous kid's machines. The styling is all new, and somewhat resembles the Scrambler performance machines. That's a big plus, because kids may not get to go fast, but they want to look like they can for sure. It also comes with LED lights, which show up brighter as an added safety benefit, but also look way cooler, which helps the little one's desire to ride.
The engine is a 70cc, air-cooled, single-cylinder four-stroke with electronic fuel injection (EFI). Having EFI on a kid's machine is a great feature because it helps with cold-weather starting. The engine compartment is closed off, which again helps the child feel like they are on the same equipment as the adults, and also helps prevent feet, legs and hands from touching the engine when it gets hot. The engine feeds an automatic CVT transmission that does not have reverse. If your child gets into a situation, they'll have to get off and push, just like we had to.
The machine also has full suspension with 4 inches of travel from the front and rear shocks. Up front, you'll find dual A-arms. The rear setup is a swingarm/axle combo with chain drive, much like a sport ATV. We like the thought of a solid rear axle for kid's machine simply because it helps prevent body roll when cornering, which can help with confidence levels. It also helps cut costs, but it does have a drawback. I've found it helps the little ones learn to slide the backend around easier, and I have the torn up yard to prove it.
Throttle response is very linear, which is perfect for a kid's machine. You don't want a snappy powerband on a youth machine, as that can really up the intimidation factor. It's still peppy enough for the kids to have fun on, even as they start to reach the upper limits of the age class it is intended for.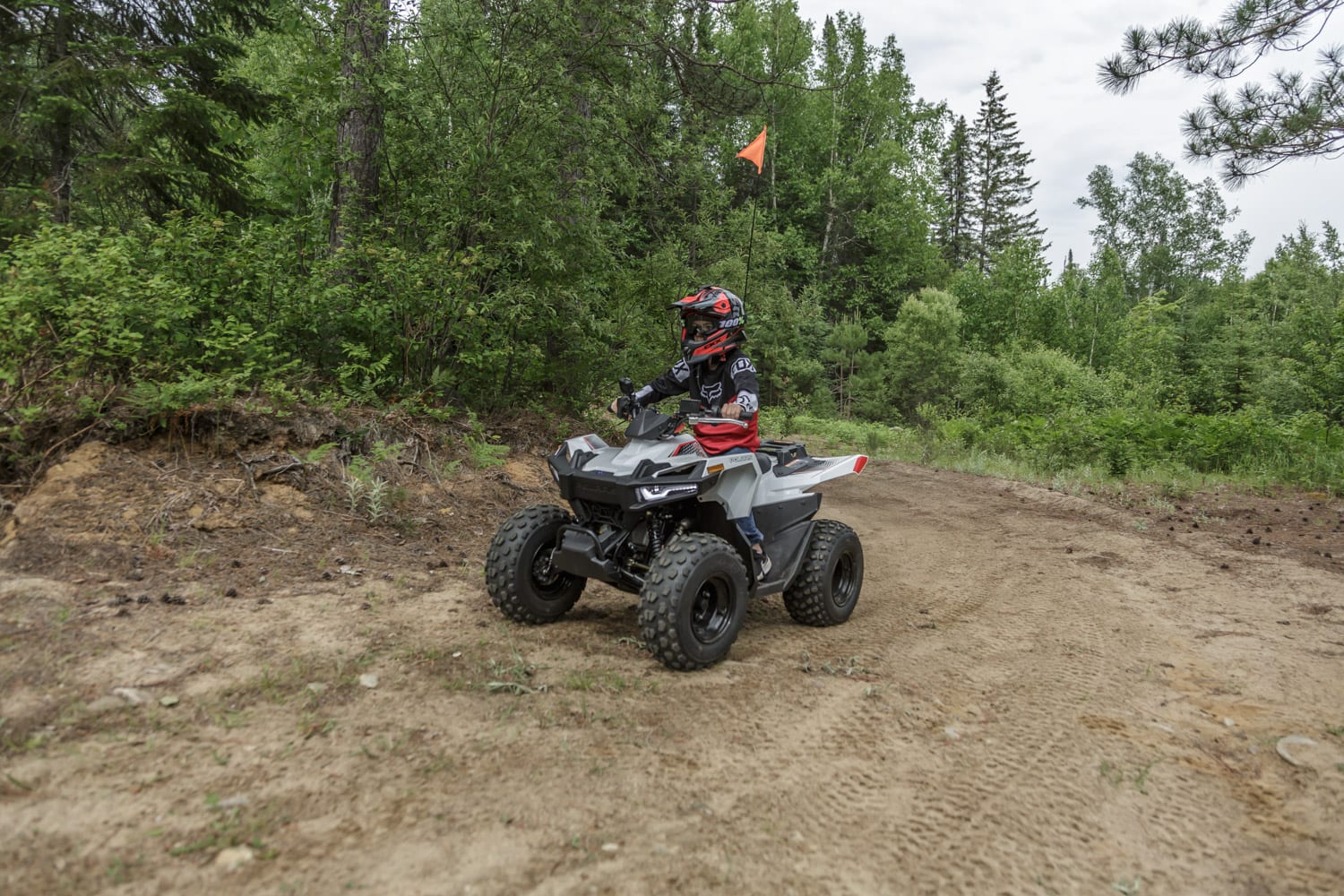 Why a 70?
In looking at the Polaris lineup the engine size went from 50cc and then jumped to a 110cc machine. The 70 replaces the 50 and is a much better option than previous machines for one main reason – it does a better job bridging the gap. The small 500 machine was fun for the bottom end of the age bracket, but those kids would quickly outgrow the machine, making it not as much fun for the kids. This new 2021 Polaris Outlaw 70 EFI retains all the features and performance that are perfect for a young, beginning rider, while offering enough performance and handling to keep the spark going as they work into the next size machine.
The importance of the age classifications and machine sizes can't be stressed enough. We know that it may seem logical to just buy a 110-class machine for a youth who should be riding the 70. We get it. You don't want to make multiple purchases. However, the safety and enjoyment factors can't be overlooked. If you're wanting your kids to enjoy the sport and understand every aspect of riding, fear and intimidation shouldn't be a factor when they are settling in. This new ATV from Polaris shows that Polaris gets it, too, and they have designed an excellent machine for that purpose.