With the introduction of the Polaris Sportsman XP 1000 a few years ago, we have had a serious affinity for the machine. It has ample power for anything you could ever want it to do, and the ride is smooth and very fun. When word leaked some time ago about a new version of the big machine coming, we weren't sure what to expect. Polaris loves to throw surprises at us. When we first laid eyes on the Sportsman XP 1000 S, it brought serious smiles to our faces.
What does the S have in Store?
Polaris has been using the "S" designation for a while to indicate a machine with an enhanced ability. With the Sportsman XP 1000 S, there are many things that combine to make this a serious adventure machine.
Let's start with the obvious. The XP 1000 S is wider than a standard Sportsman. In fact, it is 55-inches wide, making it 7.4 inches wider than the standard Sportsman XP 1000. What does this add to the machine? When you're doing some aggressive riding, that added width adds a ton to the stability of the machine. In the case of the XP 1000 S, this machine makes big horsepower numbers -89 to be exact – So if your trail riding is pushing the machine by going harder into the corners, or exercising your thumb with the throttle, you have more stability. Stability equates to confidence and performance.
Of course, just making the machine wider alone is not enough. You have to adapt the suspension and geometry to match. Polaris gave the XP 1000 S a set of Walker Evans Racing 2-inch diameter shocks with remote reservoirs and a whopping 11.6 inches of travel up front and 14 inches of travel out back. These shocks ride in sealed, arched A-arms and the geometry comes in to play with how this system works. There is no wheel scrub, as the wheel travels straight up and down. It makes the ride rock steady and providing more of that comfort and confidence to the rider.
At the commercials would say, "But wait, there's more." Polaris added their exclusive ProSteer design that uses a dual pitman arm and draglink setup. This system is basically the same as a RZR side-by-side and virtually eliminates bump-steer from suspension negative feedback and minimizes the felt impact to the handlebars. It gives the XP 1000S a precise feel and lets you ride it more aggressively that you could a standard Sportsman. This is something we're really looking forward to putting to the test because if you've ever pushed a big rec/utility ATV to the limits and past them, you know how quickly a great ride can turn into a bad situation. Polaris is listening to the input from riders and creating machines to match what riders need on the trail.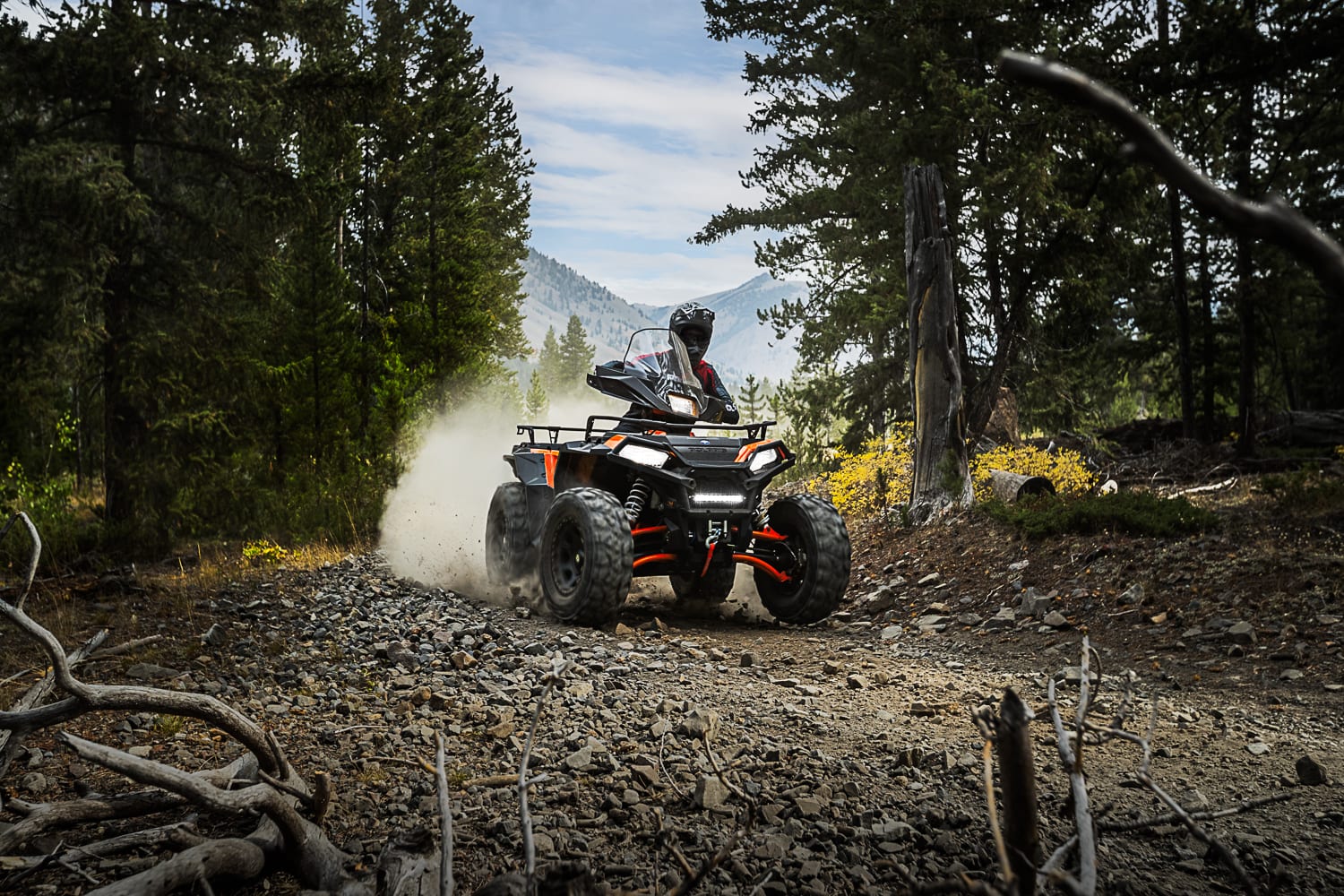 What else is new with the XP 1000 S?
Plenty, my friend. More and more manufacturers are using 27-inch tires on ATVs and the XP 1000 S does the same. New 27-inch Duro PowerGrip tires are wrapped around a newly-designed aluminum wheels that adds strength. The tires are extremely puncture resistant with a tread pattern that works across a wide range of terrain. It has similarities to the Maxxis Bighorn but is more refined for more aggressive riding. Take these tires and add in the arched A-arms and extended travel, and you wind up with 14.5-inches of total ground clearance. That is huge and will be a big plus on the trail.
You'll also find something on the rear of the machine that we've been begging for from Polaris – a 2-inch receiver hitch! For those of us that tow with our ATVs, this is so very welcome. It is very nice to have a hitch that matches what is on our trucks, so we don't have to buy extra towing equipment.
We Can't Wait to Ride One!
We haven't done any serious testing yet, but that is coming. A good friend of ours has done some riding on one of these machines and gave us some insight as to what to expect. He rode one in some varied terrain, including some rocky, rutting trails. The added width, new suspension and steering made it what he calls, 'The most stable Rec/Utility ATV to come from a manufacturer yet." This may be true, as we'd like to see for ourselves, but we trust our friend too. He has spent as much or more time on an ATV as we have. He says it is more stable than a standard Sportsman, but you do lose a little of the agility. Cornering is outstanding comparatively speaking, too. We'll go in with an open mind, of course, but it is nice to get a little bit of a preview perspective of one.
Other Worthy Features
From an aesthetic standpoint, the Orange Madness color is certainly appealing It's a sharp machine. Polaris also added their heavy-duty front and rear bumpers to the XP 1000 S as well as one of their Polaris Pro 3,500lb winches, which we have become big fans of.
Once you get past the look and, of course, the stance of the machine, there are a few other things you really need to know. The frame is hydro-formed and is 31% stronger according to Polaris. They have been working to make their frames more rigid and responsive for a while now and this one looks to follow suit. It has a towing capacity of 1,750 pounds and the racks have a 500-pound combined capacity. So, while the XP 1000 S is made for fun, it is also extremely capable of serious work, too – the whole reason behind the design of the entire Sportsman line.
The engine is the 952cc ProStar twin cylinder powerplant you'd expect. The horsepower rating is 89, compared to the standard XP1000's 90. Polaris says the added frame and weight takes a little juice from the motor, but on the trail, we'd never notice. All the other Polaris goodies are there, from the On Demand All-Wheel Drive, power steering, all-in-one brake system and more.
We'll be extremely interested to test one and see how well it does on the trail and in the market. This is a big departure in ATV design, and if it goes over well, could spark a new segment of growth for the industry. Sounds pretty good to us. Stay tuned for more as we eagerly await getting our hands on one for some serious testing.