When a Honda vehicle catches my eye, I can't help but think back more than 30 years. The winged symbol brings back memories of earlier times and my start behind the handlebars of a vehicle produced by this mythical company.
I grew up in a rural area in the 1980s, and Honda was legion in the category of off-road vehicles, among others, designed for working on a farm. These off-road vehicles already existed at the time of the workaholics, and any one of them could have succumbed to exhaustion, but this little, red machine would grin and bear it. As a result, the opportunity to take part in a trial run in the company of a vehicle with a brand that is part of my childhood heightened my senses. And, without a doubt, smell is the one that was one of the most aroused. The scent released by the Japanese manufacturer's vehicles is familiar, specific, and transcendent. Therefore, it's not surprising that I have a symbolic affection for this manufacturer.
Honda's enviable reputation was built over several decades, and it continues to grow with no signs of fading. Whether it's because of its durability, its dependability or its tenacity, Honda knew how to create a sense of belonging among its customers. We can't deny these facts, and the efforts of its designers regularly attest to this.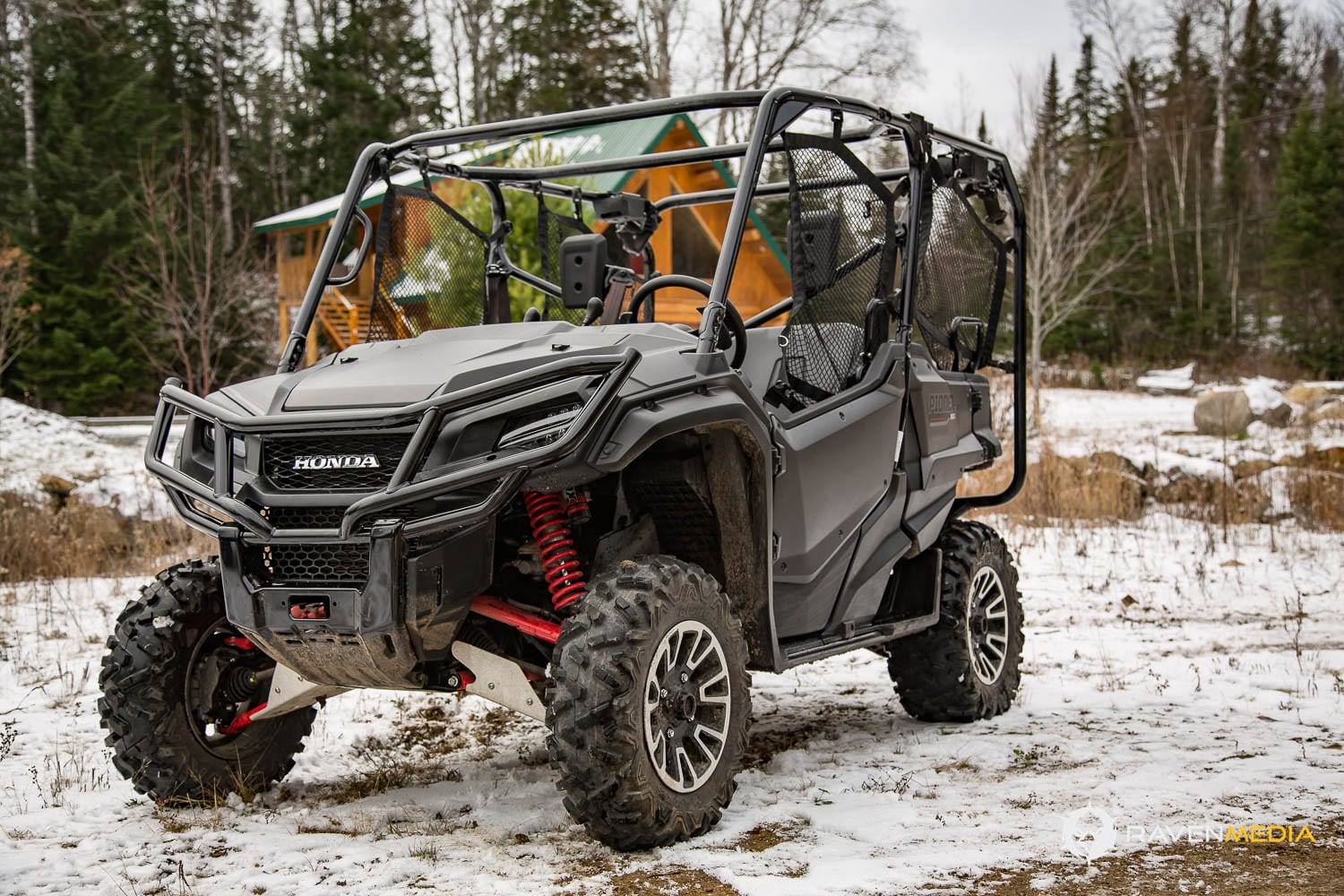 The range of multisegment vehicles is continuously evolving. These vehicles are a hybrid between a sport machine and a utility UTV. They seized on a combination of the features of each one of these categories to create a vehicle that will be able to perform a multitude of tasks.
The Honda Pioneer 1000-5 EPS LE is a logical follow-up to its predecessors in the entry-level, smaller engine category. Aside from sharing the name, its refinement is at another level that has, among other things, many features that were once reserved for the automotive industry.
The Honda Pioneer 1000 Limited Edition (LE) is equipped with power traction that has never been used until now in this UTV category. This system propels the off-road driving experience to a whole other level. When the I-4WD mode is activated, the vehicle has the same grip as that provided by a locking differential, with no additional effort on the part of the driver behind the wheel of the vehicle. This feature offers brake traction control, hill start assistance, and electronic brake-force distribution.
Intelligent 4WD (I-4WD)
The principle is simple: When one of the wheels loses traction and begins to slide, the speed sensors on this wheel emit a signal to activate the brake on this wheel. This brake force is multiplied roughly 4 times by the limited slip differential, which applies torque, and is transferred to the opposite wheel as a driving force to increase its traction.
To really understand how this smart traction system works, we put our Honda Pioneer 1000-5 I-4RM LE to the test on a course with several steep slopes. Our test terrain would have discouraged reckless fans. Our limited edition succeeded in clearing these obstacles with disconcerting ease. When one of the front wheels was no longer able to grip, it braked automatically, and the opposite wheel benefited from the increased driving force.
Honda's Pioneer 1000-5 LE performed this feat when the four-wheel drive was activated. However, this multi-segment vehicle also offers two additional drive modes: 2WD and turf.
Hill Start Assist
Our test vehicle was equipped with a feature that caught our interest. When we stopped on a slope, all we had to do was push a switch. The hill start assist maintains enough brake pressure to start the UTV without worrying about maintaining pressure simultaneously on the accelerator and the brake pedal to avoid rolling backwards. This feature is extremely helpful, as it makes it easier to start the vehicle when carrying passengers or hauling a load.
Electronic Brake-Force Distributor
Available on most modern motor vehicles, this driving aid's primary function is to maximize the distribution of braking between the front and rear wheels by taking into account the weight transfer. In this case, whether we were hauling a load or transporting passengers, the braking on the Honda Pioneer Limited Edition was optimized.
A Transmission Inspired by the Automobile
While the competition is betting mainly on the CVT (continuously variable transmission), Honda is opting for a DCT transmission on some of its recreational vehicles. Honda introduced it on its VFR motorcycles in 2010, then followed this up by installing the Dual Clutch Transmission, or DCT, on some of its off-road vehicles. The Pioneer LE 6-speed gearbox contains two concentric shafts, with one inside the other. The one manages the even gears, while the other controls the odd gears. In this way, each subsequent gear is pre-engaged for quick shifting and no rebound.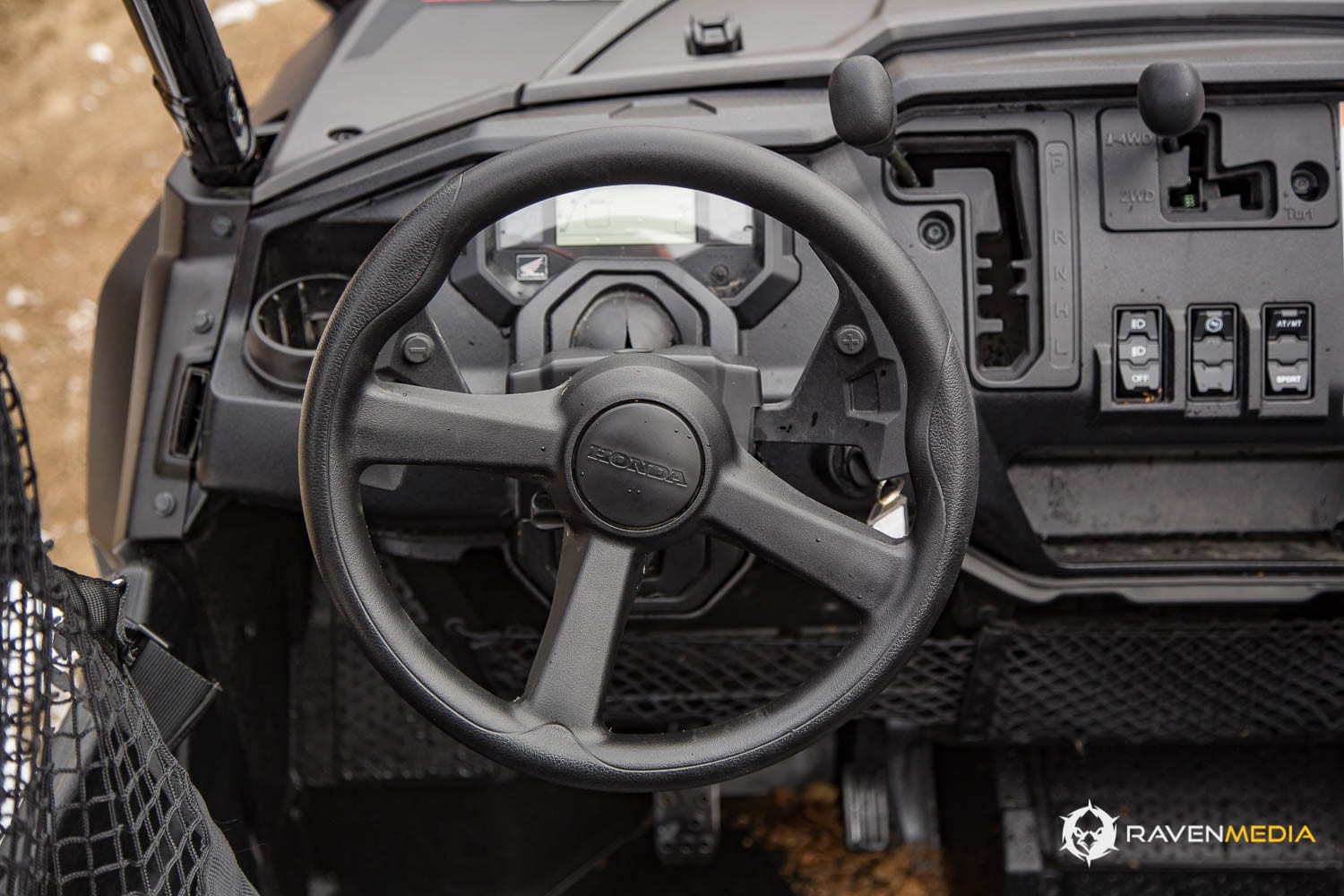 The Honda Pioneer 1000-5 EPS LE offers two modes: manual and automatic. Gears are selected in manual mode using paddles located behind the steering wheel. The driver uses the right selector to shift up, while the left selector is used to shift down. In automatic mode, a microprocessor determines the right moment to change gears. As a result, acceleration is rectilinear, creating a gentler ride for the driver and passenger. It's also possible to select a "sport" mode in automatic mode. This mode delivers one additional engine revolution with each gear shift. However, there is a noticeable increase in fuel consumption.
Engine Specifications
This exceptional vehicle is built around an engine that is just as exceptional. This 999 cm3, inline, two-cylinder, 72 HP engine is worthy of the Japanese manufacturer. It's also one of the most technologically advanced engines using the exclusive design of Honda's Unicam cylinder head. Built specifically for the Pioneer 1000, this engine is calibrated to generate all the power needed for this side-by-side.
On several occasions, we noticed the efficiency of the heart and soul of this vehicle and we were never disappointed. It reflects the quality of what we were expecting from this manufacturer. Honda has always set the bar high when it comes to its engines, and it offers what consumers want the most: an engine that is both reliable and high-performance. It's rare to see someone regret buying a vehicle that has an engine that offers these highly sought-after qualities.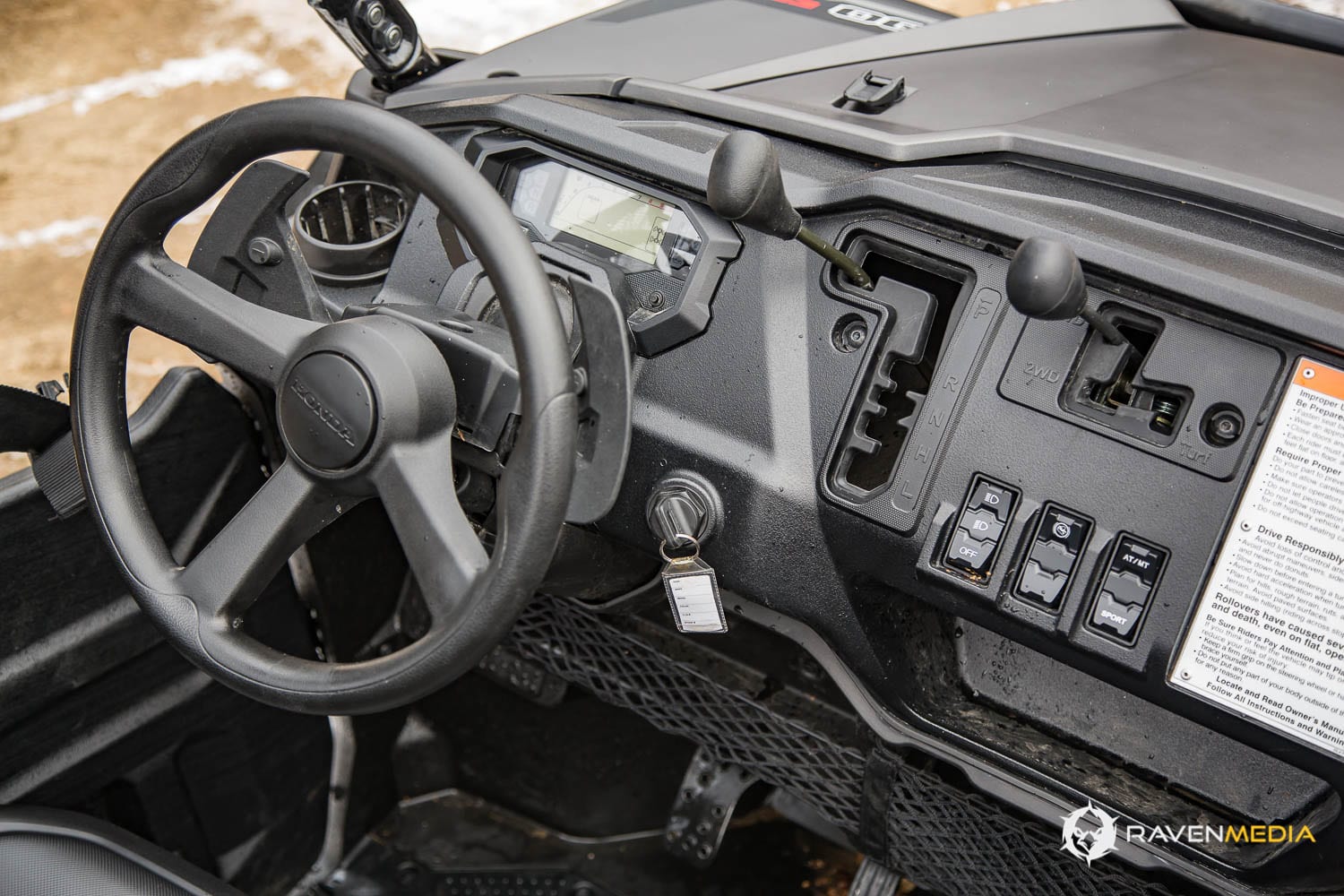 A Spacious Cabin
The Honda Pioneer 1000-5 4WD LE is a versatile vehicle that can be configured in several ways. The front seats are relatively comfortable for a vehicle in this category. The riding position is straight, just as it is on most utility vehicles. However, it's not unpleasant, and it doesn't affect comfort and enjoyment when riding. Aside from the front bench seat, which can accommodate three passengers, this UTV also comes with 2 independent folding seats in the rear cargo box, allowing two additional passengers to be added quickly and safely. These seats may appear rudimentary, but they are surprisingly comfortable for an average adult. However, when these seats are upright, the cargo space is small to almost non-existent. Yet, when they're folded away, the maximum cargo capacity is 454 kg (1,000 lbs.). The box tilts, and the tailgate can be folded down to make it easier to load and unload cargo.
Honda designed several storage areas in the front of the cabin of this side-by-side. Aside from the glove compartment and a space located under the driver's seat, there is another storage area located under the dashboard that runs almost the entire width of the vehicle. An elasticized mesh helps to hold a lot of practical accessories held in place.
A Successful Body and Style
For many buyers, an eye-catching look is one factor that triggers interest in a vehicle. In this regard, the limited edition of the Pioneer does not go unnoticed. Its esthetics are brilliant, and the manufacturer's symbol on the front grille leaves no doubt as to its origins. The limited edition we tested stood out thanks to its matte grey metallic finish. A full, protective cage made of large-diameter tubes keeps the occupants safe. Rigid doors and protective mesh also protect passengers from mud and debris, and 3-point automotive-style seat belts provide additional safety. A front, full-size bumper is standard on this vehicle to protect the Pioneer LE against anything that may get in its way.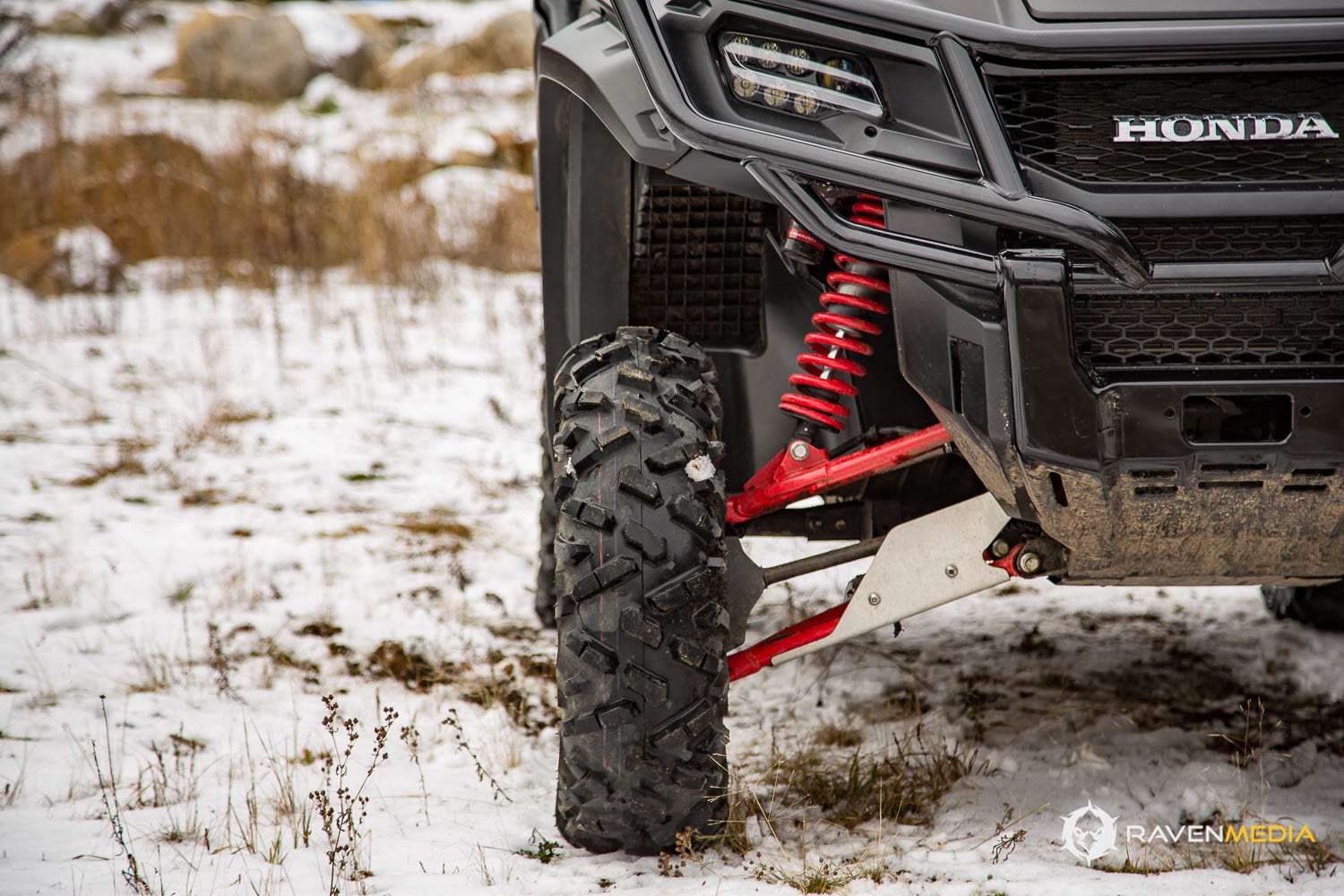 Suspension
This side-by-side is equipped with a double-wishbone suspension in contrasting red and an aluminum skid plate. FOX QS3 shock absorbers are one of the beautiful innovations in this area. They are surprisingly easy to adjust. A dial selector offers three settings: soft, average, and firm. Their effectiveness has already been tested, and they perform on all types of terrain. These shock absorbers have 10.6 inches of travel at the front and 10 inches at the back. The combination of these shocks and the double wishbone suspension provides the chassis with 12.2 inches of ground clearance. We were surprised by the effectiveness and softness of our UTV's suspension. A beginner will be able to adjust the suspension easily, which is an advantage.
Additional Specifications
There are a few other points of interest worth considering too :
This side-by-side is equipped with standard power steering. It's almost unthinkable that a vehicle with this weight (1,773 lbs.) and this size would not have this driving aid. It's correctly calibrated and requires little effort on the part of the driver at low speed. There's also little need for extra steering input from the driver at higher speeds, as the Honda Pioneer succeeds in easily maintaining a straight line on a bumpy trail.
The limited edition is equipped with the same distinctive, 14-inch, cast aluminum rims as the deluxe edition, and Maxxis Big Horn 2.0 tires. These are well-known in the industry and are a very good compromise for all the types of surfaces this vehicle will have to face.
The Honda Pioneer 1000 is the type of UTV that's designed to measure itself against the tough tasks assigned to it. With a towing capacity of 2,000 lbs., it will meet the needs of the most demanding workers. No other side-by-side can haul as much as this workhorse.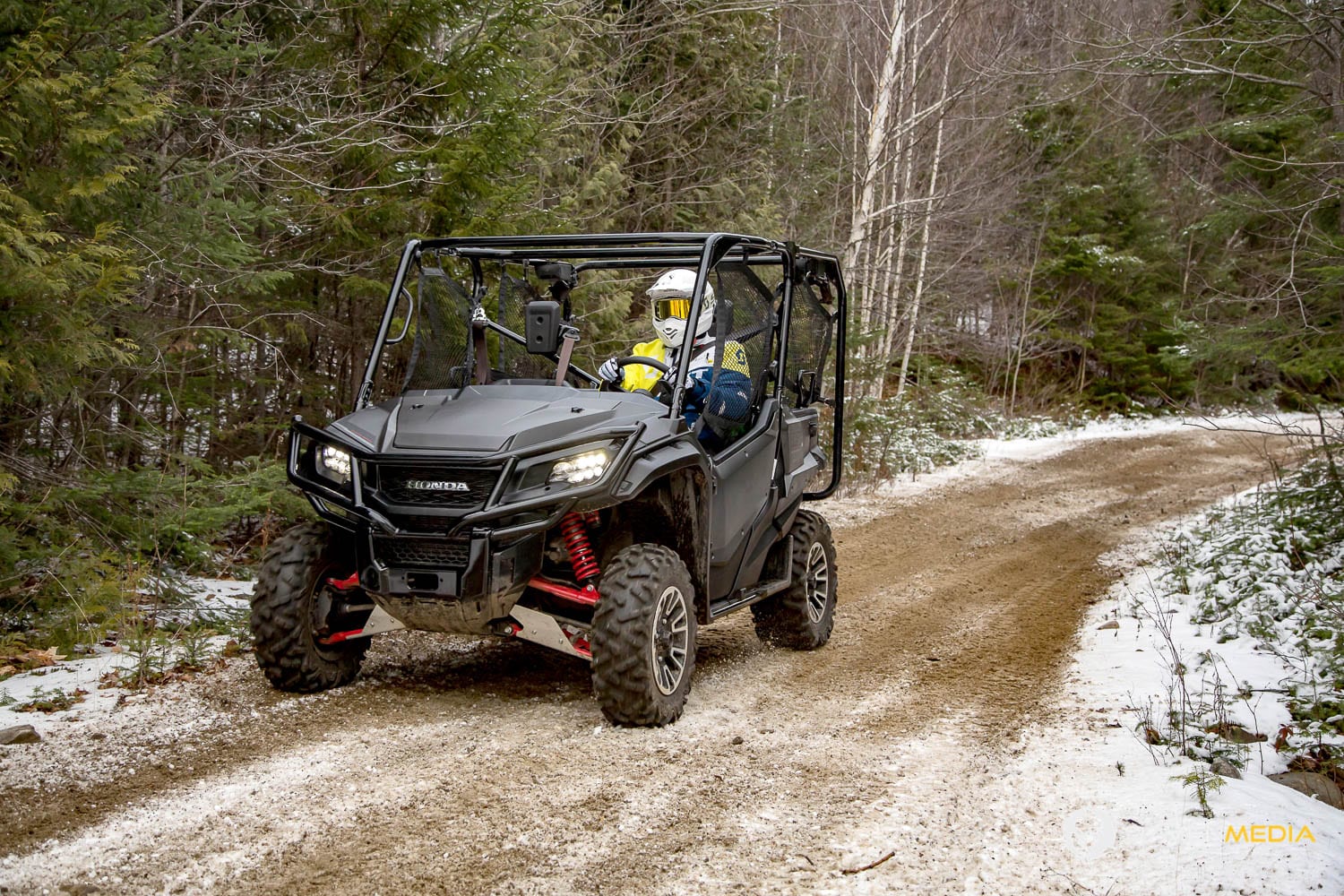 Conclusion
Sitting inside the cabin of an exceptional UTV like the Honda Pioneer 1000-5 I-4WD LE is undeniably a privilege. The supreme quality of its assembly and the pleasure of driving this vehicle using its paddle selectors in manual mode is beyond enjoyable. Its smart drive system, which is unique in the side-by-side category, puts it miles ahead of the competition.
Without a doubt, this UTV kept my affection for this Japanese manufacturer alive. The Honda Pioneer 1000 LE is undeniably and clearly the standard-bearer of tomorrow's side-by-sides.