DCVs are all the rage, and their popularity is skyrocketing all over the world. With so many manufacturers on the market, the choice of models can be complicated or difficult for some people when shopping. The team offers you five models in the 1,000 cm3 range with naturally-aspirated engines.
2023 Can-Am Maverick Sport X xc :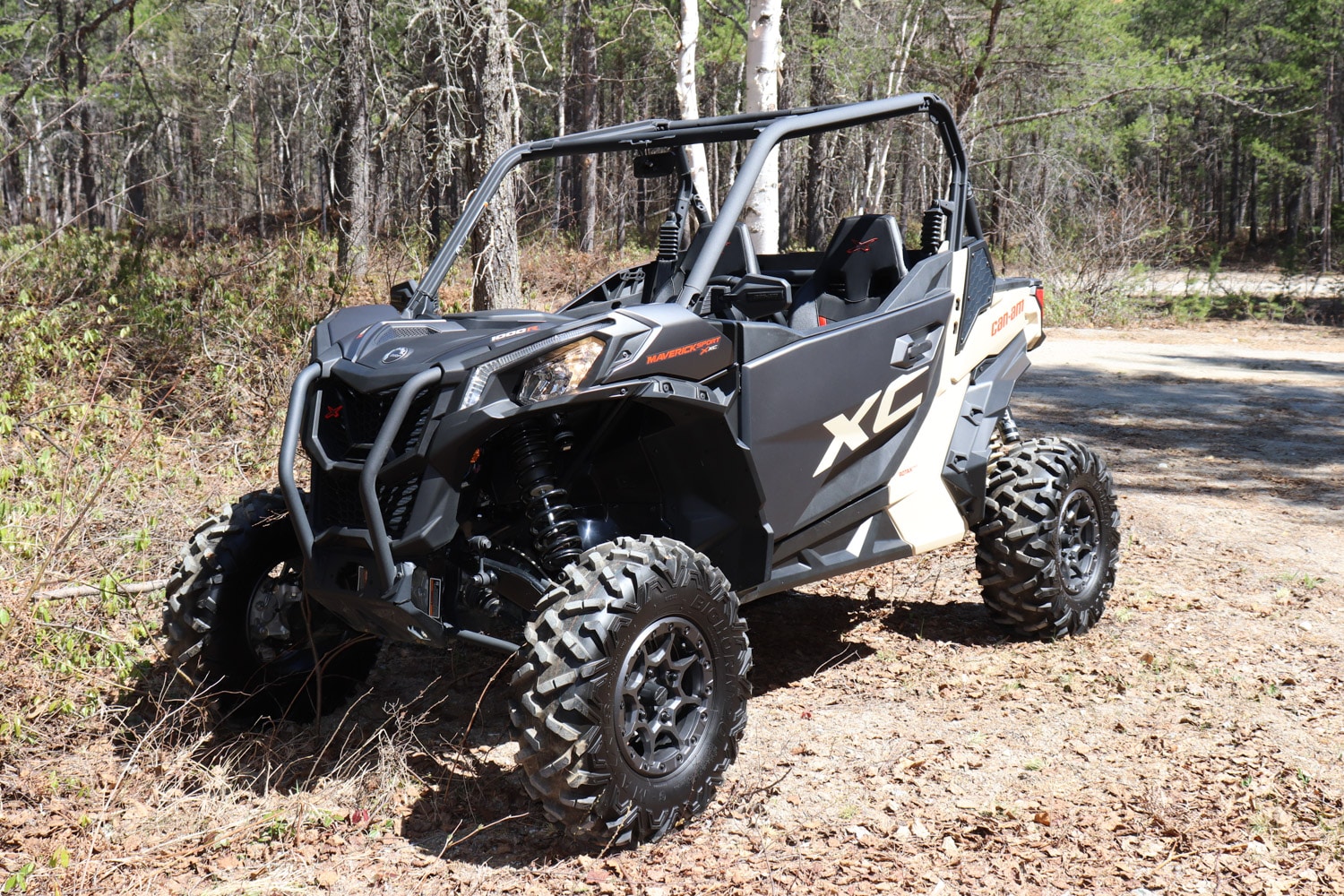 Can-Am has made a habit of producing quality SXS, and the Maverick Sport X xc 2023 is one of them. It's powered by a powerful 976 cm3 Rotax V-twin engine that develops 100 horsepower. The Maverick will surprise you with its smooth ride and trail agility. FOX 2.5 podium QS3 shock absorbers provide incredible comfort on the roughest trails. The QRS CVT transmission with high-flow air intake and electronic belt protection system is simply sublime. The front suspension features arched double wishbones with stabilizer bar. At the rear, the suspension is an independent wishbone with stabilizer bar. Front and rear suspension travel is 14.8 inches. As for tires, the Maverick is fitted with Maxxis Bighorn 2.0s, 29/9/14 at the front and 29/11/14 at the rear. The front differential is lockable with Smart-Lok technology. This is a true four-mode two- or four-wheel drive system with a locking front differential. The X xc 1,000 will give you a great feel for sporty riding with the sport mode activated.
SXS performance and agility in all conditions: Intermediate to experienced driver
2023 Yamaha Wolverine Rmax 1000 :
Yamaha was the world's first SXS manufacturer, so it's certainly one of our choices with the Wolverine RMAX 1000 2023. On the engine side, a 999 cm3 parallel twin develops 109 HP. Yamaha has equipped the RMAX with an electronic device that controls power in three modes: Trail, Sport and Crawl. It features Yamaha's legendary Ultramatic CVT shaft drive. The final drive is the On-Command system, with three differential lock modes: 2WD, 4WD and 4WD with differential lock. The Wolverine will convince you with its independent front and rear double-wishbone suspension and Fox QS3 Piggyback shocks. A 13.8-inch ground clearance will enable you to overcome any obstacle. The tires are GBC Dirt Commander 30″ in diameter. Yamaha enjoys a reputation as a manufacturer of very reliable SXS, so the Wolverine RMAX is worth considering in your choices.
High-performance, rugged SXS: beginner to experienced rider
2023 RZR XP 1000: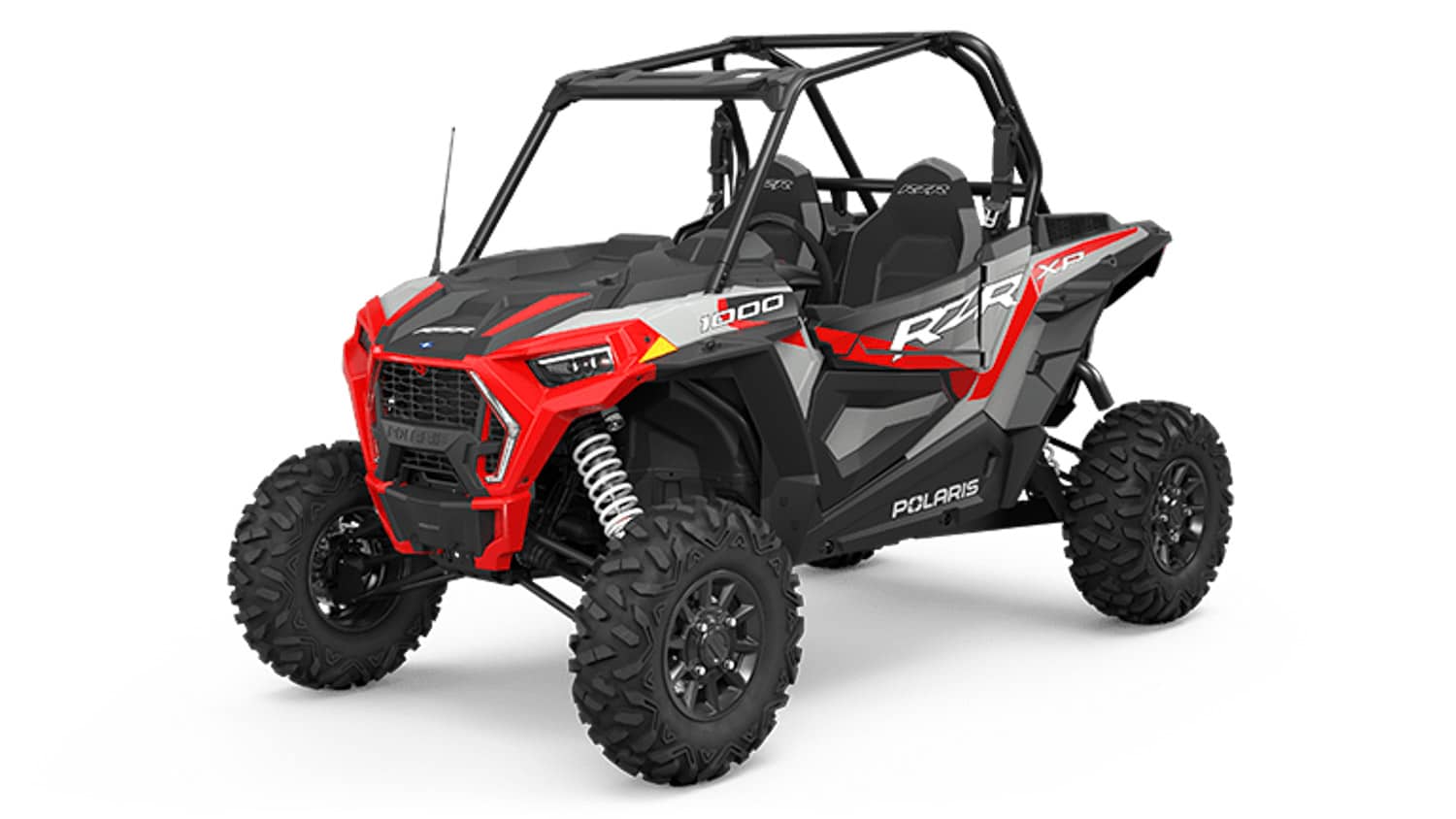 The Polaris RZR needs no further introduction with its eye-catching styling on the trail. The RZR's Prostar engine is defined by a four-stroke SOHC twin with a displacement of 952 cm3. It now develops 110 horsepower. And the RZR's automatic CVT transmission completes a perfect match with the engine. As usual, Polaris delivers an extremely comfortable RZR XP, thanks to its mastery of damping. The front suspension is a double A-arm with stabilizer bar and the famous Walker Evans 2.5 gas-charged shock absorbers. At the rear, we find swinging arms with stabilizer bar and the same Walker Evans 2.5 gas shocks. The high-performance, true all-wheel-drive/two-wheel-drive on-demand drive system is truly responsive in the field. The 14-inch ground clearance is truly impressive, allowing you to get around on the worst terrain. Equipped with 29-inch diameter tires, it'll have some of the best traction around.
SXS performance and comfort: Experienced driver
2023 Honda Talon 1000 X :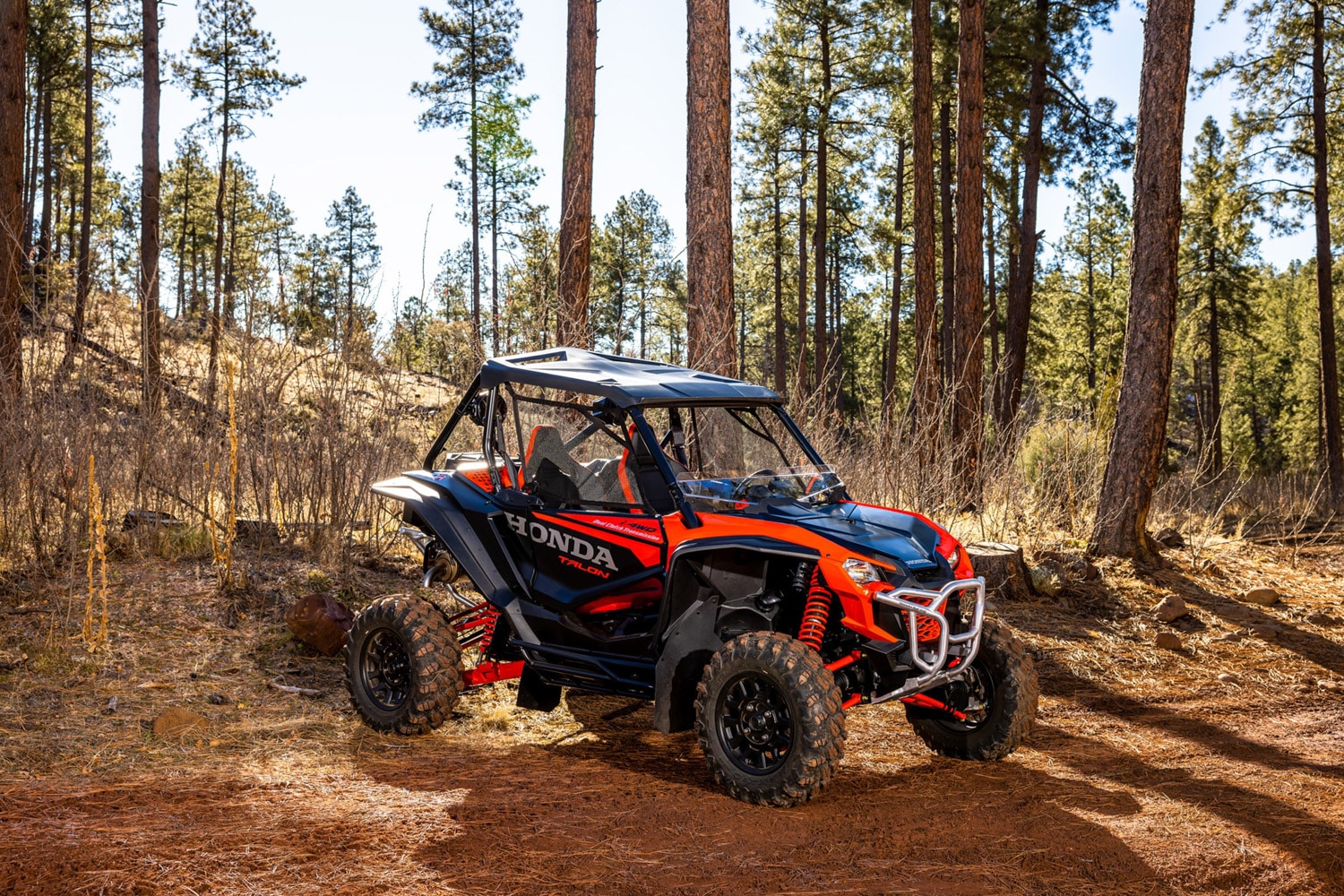 Honda is world-renowned for designing quality products that stand out from the crowd. As a sporty CCV, the manufacturer offers the Talon 1000 X 2023. Honda has housed the Pionner 1000's extensively revised 999cc parallel-twin engine under the Talon's hood. It produces a convincing 104 horsepower. Both the intake and electronic fuel injection have been revised. The engine's transmission is also that of the Pionner, tuned for very aggressive operation. The six-speed dual-clutch transmission lets you select gears via paddles behind the steering wheel. You can also let the system work automatically. Front suspension is independent double-wishbone with FOX podium 2.0 QS3 hydraulic shock absorber and stabilizer bar. Rear suspension is a three-link swingarm with FOX podium 2.0 QS3 hydraulic shock absorbers and stabilizer bar. Comfort assured on rough terrain. As for ground clearance, we're talking about 12.7 inches, which is still pretty good. Honda uses 28-inch Maxxis tires for a comfortable trail ride. The Honda Talon 1000 X will give you a lot of fun with outstanding reliability.
SXS performance with excellent design: Sporty, experienced rider.
2023 CFMOTO ZFORCE 950 Sport 2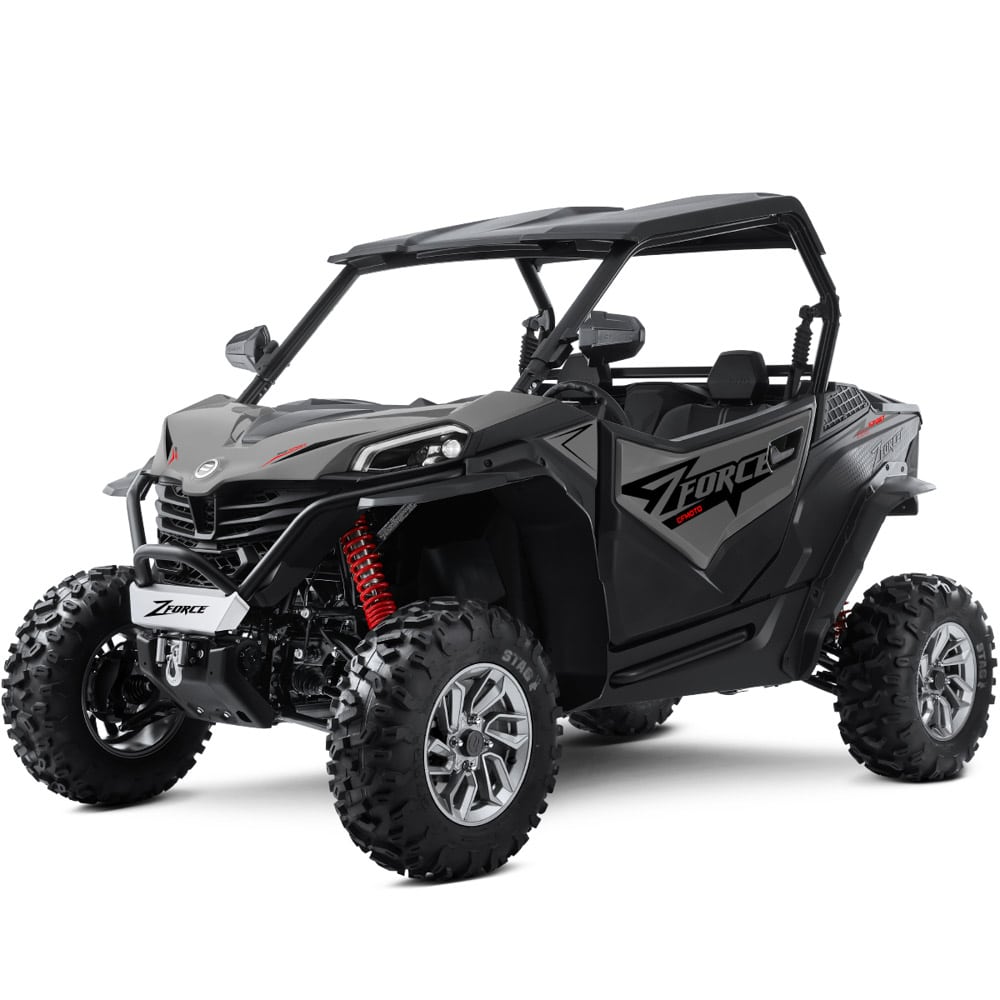 The Chinese manufacturer hasn't said its last word, and with the ZFORCE 950 Sport 2023, it's stalking the competition with a performance SXS. The ZFORCE is equipped with a 962.6 cm3 V-twin four-stroke engine with eight valves. In 2023, its full power, increased to 90 horsepower, will be expressed at high revs. It is combined with the excellent CV-TECH IBC transmission, featuring high and low range. The drive system is two- and four-wheel drive, and one is equipped with an electronic locking differential. The transmission has been calibrated for quick engagement and better acceleration. Front suspension: independent, double-wishbone and rear independent, swing-arm, for excellent trail comfort. With 10 inches of ground clearance, you'll be able to overcome most obstacles on the trail. CFMOTO has equipped it with CST Stag six-ply 27-inch tires, an excellent choice. An interesting feature of the ZFORCE 950 Sport is the abundant standard equipment: front bumper, 3,500 lb winch with remote control, side mirrors, handbrake and much more. You'll love this SXS, I'm convinced.
SXS performance: Beginner to experienced driver
In conclusion:
Whichever you choose from this list, you'll be pleasantly surprised by your SXS, and it will provide hours of wilderness fun. The five choices could have been number one on this list. Basically, we've rounded up five manufacturers who stand out in the 1,000 cm3 category.
Enjoy the ride!

Photos: Louis Gagnon and manufacturer's website