There are so many great machines available right now, at least in theory. I say "in theory" because we all know that if you walk into a dealership right now, there may not be five to choose from. That's another story for another day. Ideally, I'd like to discuss what would be the top five UTVs for 2022 if you could take your pick. Let's talk some about what makes a UTV one of the top UTVs for the year. This is a subjective list, for sure and what makes our top five might not be your own top five. What I'm getting at here right off the bat is, don't be upset if your favorite machine isn't on the list. Here are our top five, in no certain order. After all, you can't expect me to pick just one! That's like asking a parent which kid is the favorite.There may be one you like better at a given moment, but in the end, they are all loved equally.
Can-Am Commander MAX XT 1000R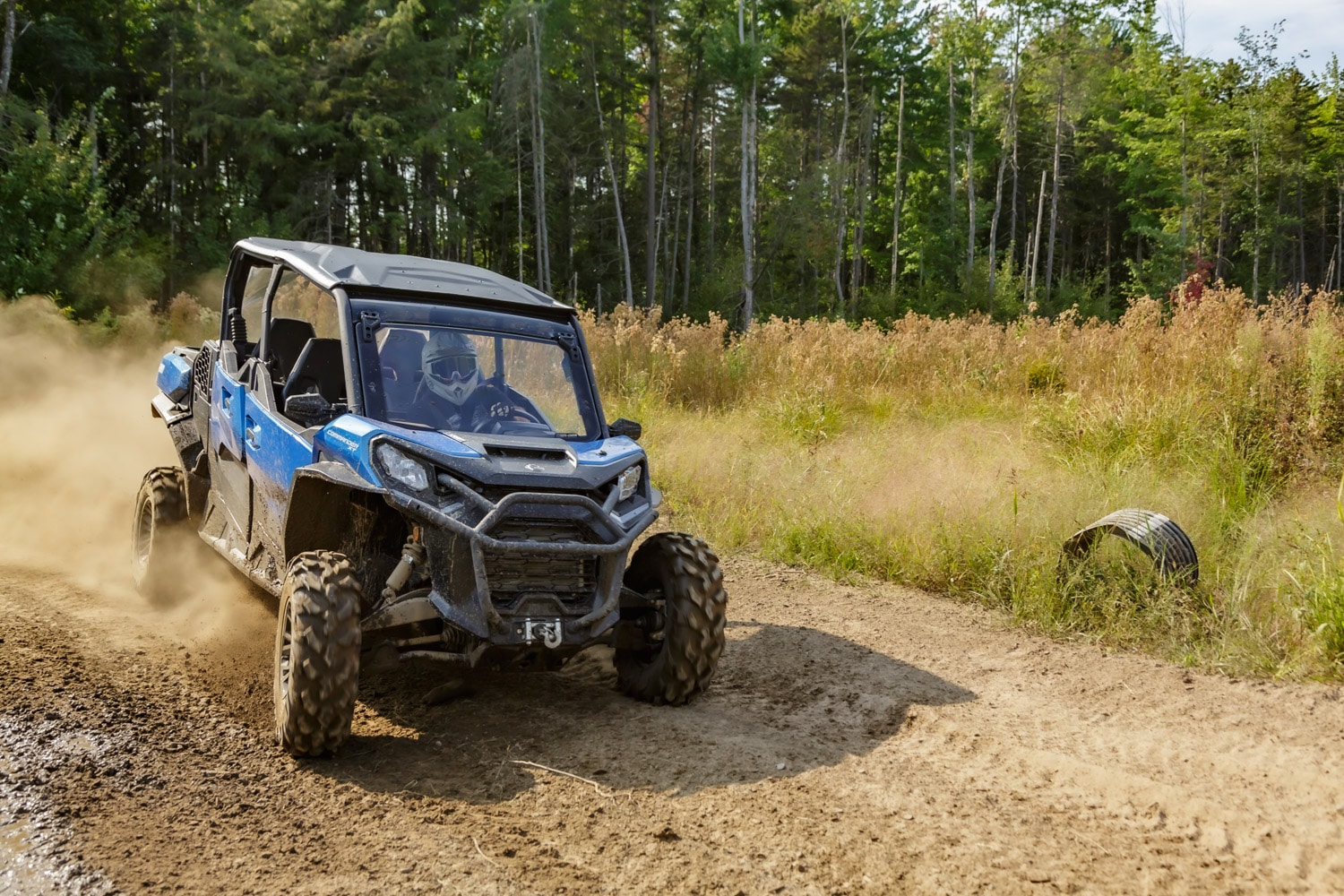 What is there not to love about the new Commander lineup from Can-Am, and the MAX XT just sits in our minds as a favorite machine for many reasons. Let's start with the motor. They used the 976cc Rotax twin that produces 100 hp. We have loved this motor in every machine it has found its way into, especially the Maverick Sport that we have been big fans of ever since it came out. In fact, it may well be our top non-turbo charged motor for a sport UTV, but the Commander is not exactly a full-sport machine.
Can-Am started with the base platform used by the Maverick Sport and tweaked things to mold it into the best Commander to ever come along, and those are some hefty shoes to fill seeing as how the Commander was Can-Am's first foray into the UTV market. While the base Sport model of the Maverick hit that magic 60-inch wife mark, the Commander MAX extends each side by 2 inches to come in at 64 inches wide. Here's where the Commander Max gets magical. With the longer wheelbase of the 4-seat model, combined with the wider width and 15 inch travel shocks on all corners, the Commander MAX handles magnificently. You can absolutely hammer a trail and the machine responds about as good as you'll find in a production machine. When you add in that it has a larger, dumping cargo bed, and some other features that give it some utility chops, and you've got a machine we all fight over who gets to drive it. Luckily, there are four super comfortable seats with great leg room so we can all go and take turns behind the wheel.
Yamaha R-MAX 1000 XT-R
Yamaha holds that special place in our hearts because they are one of, if not the most reliable machines going. The nearly indestructible v-belt drive system Yamaha has used for years is legendary for dependability. Ask any dealer and they will agree – if you break a Yamaha belt, you have to be trying to do so, and trying really hard. The R-MAX is a great machine, well, we should maybe call it a tank rather than a UTV because this thing is going to go anywhere you want it to go. This is the ultimate adventure machine for those looking to go off the beaten path. It comes with a 999cc parallel twin motor that is superbly quiet, although not quite as quiet as the Wolverine. But it's close. It has excellent power that curves very smoothly, giving you the muscle to go where you want – anywhere you want.
There's other what I would call extreme terrain machines out there, but none do ALL types of terrain as well as the Yamaha R-MAX. It can rock crawl with the best of them, but also handle snaking its way down a deeply wooded trail that would scare the pants off a goat with great engine braking. A fully-locking front and rear differential helps when traction is at a premium and the wheelbase is short enough that tight trails are a piece of cake. The XT-P model comes with Fox QS3 shocks, a Warn winch, Maxxis Carnivore tires and Yamaha's Adventure Pro navigation, meaning this machine needs nothing to take on whatever you can throw at it from the moment you pull away from the dealership.
Honda Talon 1000R Fox Live Valve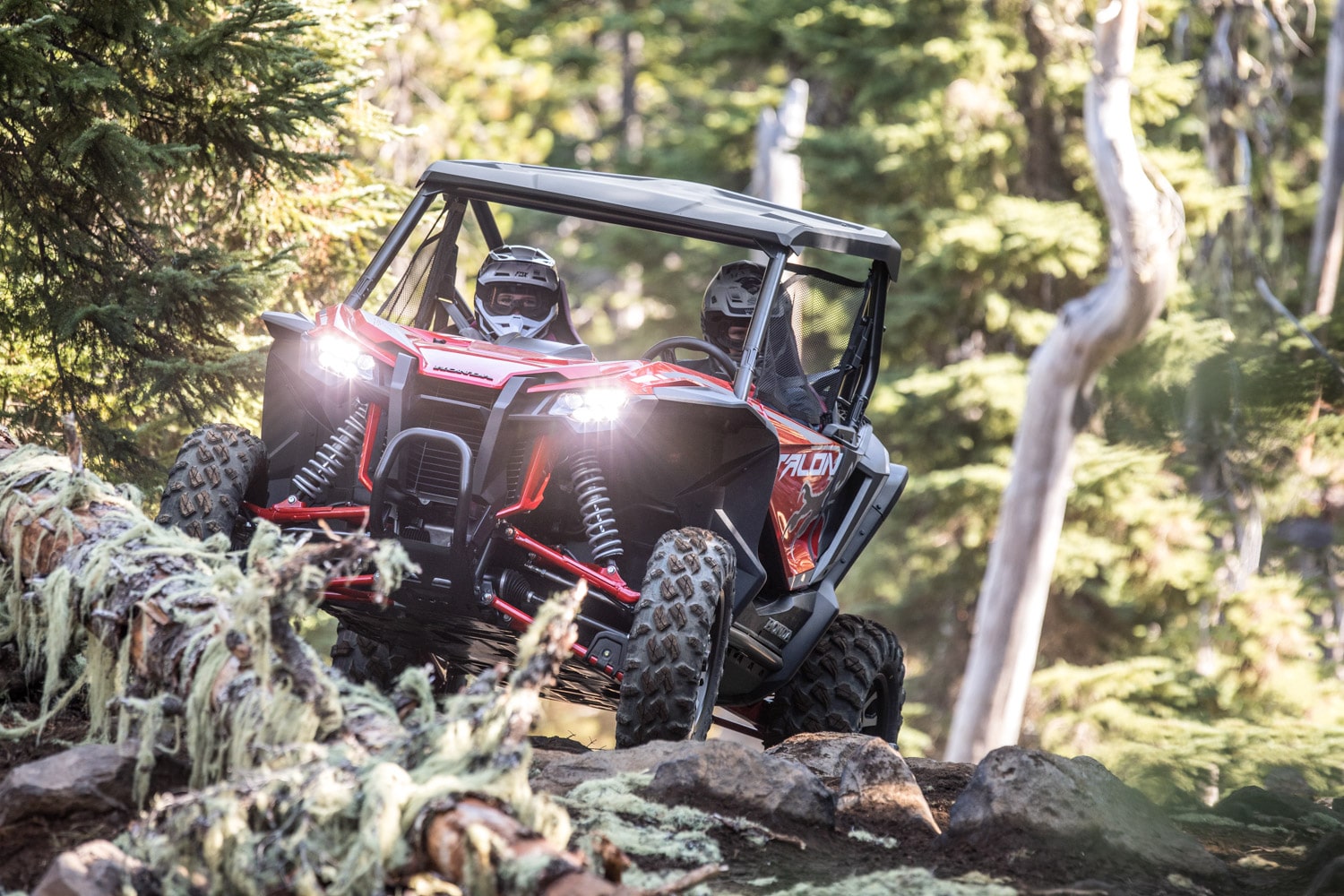 We'd be remiss if we didn't include a Honda in this list, and while we have a few Hondas we really like, the Talon Live Valve comes to the top of the list of machine from Big Red. Now, a lot of companies have come out with the smart shock technology that changes how the shock reacts to the various terrain and your riding style. Honda was one of the first, and it seems like everyone else is just following how they did it. After all, Honda has always been a brand to pilot their own path and engineer things a little differently than the rest.
The Talon is a different machine, with Honda's 999cc Unicam twin engine and their dual clutch DCT transmission that means no belt to worry about, and a low range that other OEMs would kill for. You will not find a machine with better engine braking in the category. It doesn't come with a turbo, but if horsepower is what you need, there are aftermarket kits available that will turn the Talon into a rocketship.
Polaris Ranger XP 1000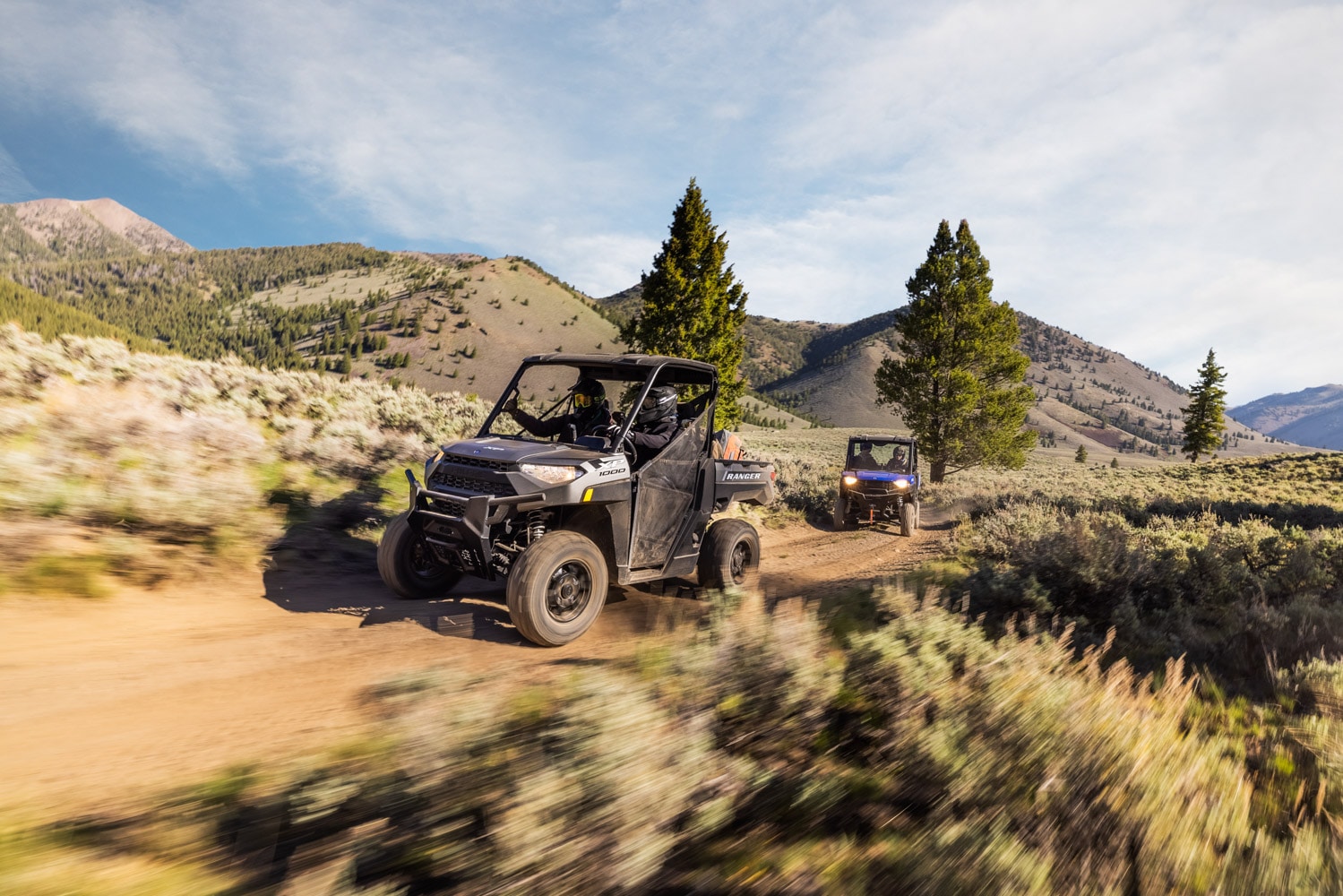 Ok, if you don't know about the Polaris Ranger XP 1000 by now, you must have been living in a shack off the grid for the past five years or so. ALl kidding aside, there is a big reason the Ranger Xp 1000 is the top selling UTV going and the standard by which many other UTVs are measured by. It's that good. It is quiet, powerful and handles well, making it a great utility machine and a fun UTV to hit the trails with. It is likely the most versatile machine you can buy, making it an easy choice for the top five on most anyone's list. You have the ProStar motor pumping out 82 horsepower that is about as linear as it gets, making it a perfect all-around engine. Combine that with a chassis that can handle the workload and be supremely comfortable, and you get a top pick machine.
Kawasaki Teryx KRX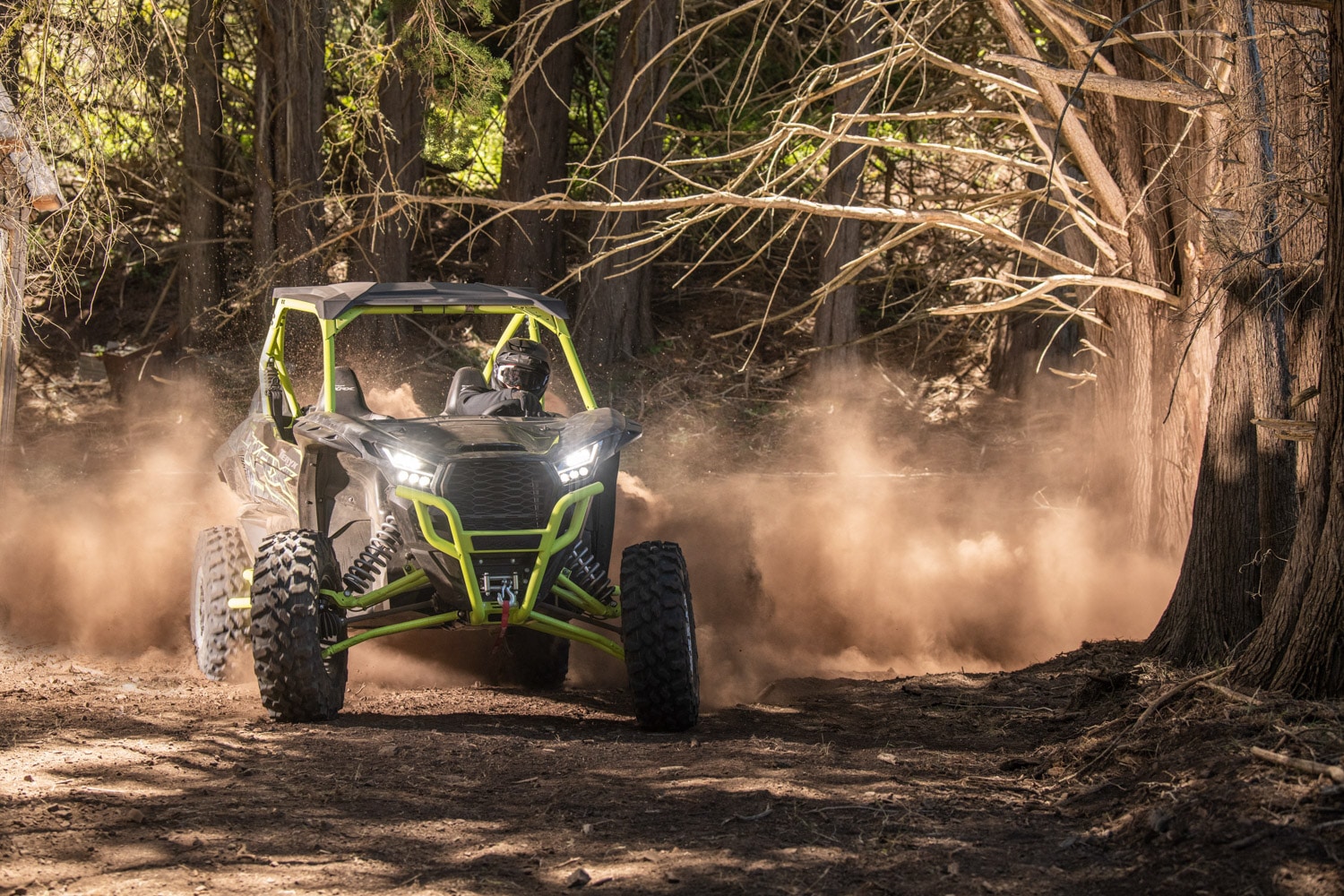 The KRX is a bit of a niche machine, but for the right terrain, there aren't many that will do what the KRX does as well as the KRX does it. We've always liked the original Kawasaki Teryx UTVs as they are little, fun-to-drive tanks that are well centered and extremely tough. The KRX is like the monster truck version of the Teryx. It is massive, taking up about as much space on a trailer than many 4-seater machines, if not more. Everything about this machine is overbuilt and ready for the most extreme terrain possible, but it is definitely not meant for close-in trails. With it being over 68 inches wide and over 131 inches long, it is big, but it also has great ground clearance and massive shocks with 18.6 inches of travel in the fron and over 21 inches in the back. It has the famously central design of the original machine with a 999cc parallel twin motor that helps the beast claw over rocks and other obstacles with relative ease. They even have some new editions with Smart Shock technology. It is a mean machine for mean terrain, but that's what makes it so cool and gets it on our list.
So that's it – our best Top Five UTVs for 2022. What machines make your list?