Kimpex is a company that has been known for many years for its replacement parts for ATVs, motorcycles, snowmobiles, and so on. In the world of clothing, for several years, it has been very interesting to see the inventory of the company in the hunting and fishing sector. That's why we decided to try the Green Trail X-Stream fishing boots distributed by Kimpex.
DESCRIPTION – GREEN TRAIL X-STREAM FISHING BOOT
The boots are primarily dedicated to the fishing world. Perfectly waterproof and very high, they are ideal for river fishing. Made of Nylon and PVC, they have a very effective anti-slip sole. The inside of the boots is covered with vinyl for ease of use.  They feature a waist belt and adjustable straps with quick release for a snug fit, and the lower back section has an elastic band to ensure optimal support.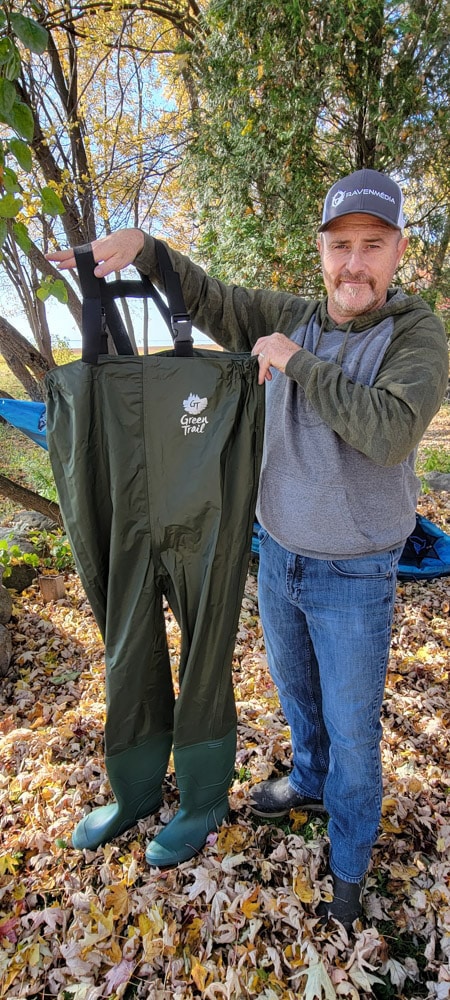 What better way to take advantage of it than to draw some lines in the water!  Certainly, they meet all the criteria to stay dry and enjoy our favorite sport. The straps do their job and allow a certain amount of flexibility when moving around. The soles have a good grip to facilitate movement on wet rocks and other slippery terrain. 
Like all good fishing boots, we still need some flexibility to put on and take off such pants, but all in all, it's really worth it to stay dry!  The Green Trail X-Steam boots are distributed by Kimpex for $121.99. You can find them under the acronym Hip Boots by contacting your local distributor or by visiting the Kimpex website at www.kimpex.com!