A New Mid-Sized Two-Up Option For Getting On The Trail
Two-up ATVs are a great way for you and a passenger to get out and enjoy the fun and adventure of trail riding on an ATV. In some jurisdictions, two-ups are the only legal way to ride double. So the popularity of these machines has been increasing over the years which means the options and performance is on the rise.  While big-bore ATVs make popular two-up touring platforms, smaller, mid-sized options are also growing in popularity. That's why CFMOTO has added a new CFORCE 400 two-up machine for 2023. We're really looking forward to seeing what this affordable option can do on the trails and for utility work.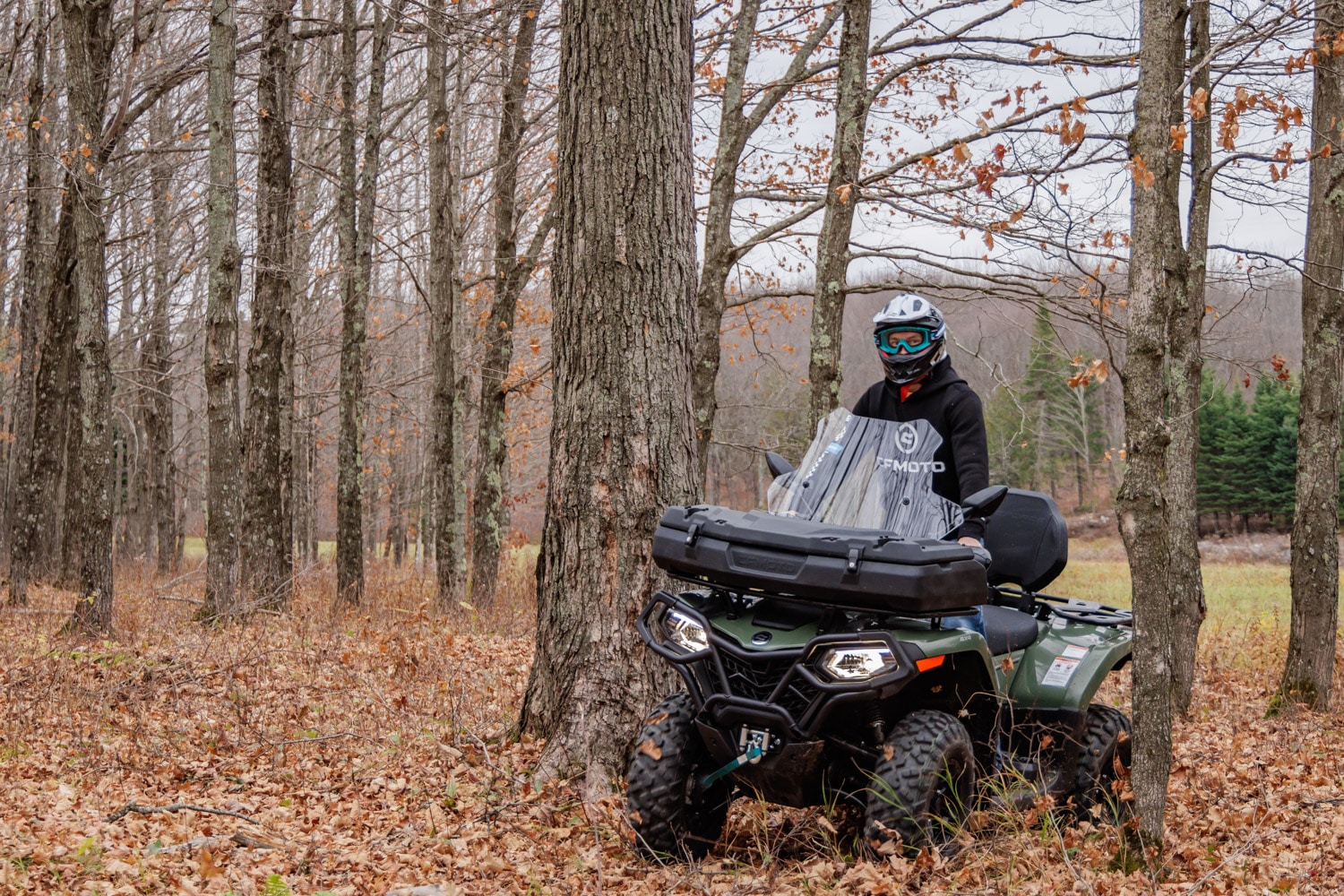 Motoring
It used to be that a 400cc motor was considered pretty big. Now it is really on the smaller side of what manufacturers are putting in their machines, but that doesn't mean much to us. There is plenty to be excited about with the CFORCE 400's 400cc, four-valve, single cylinder four stroke motor. It is fed by a Bosch electronic fuel injection system and produces roughly 31 horsepower and 24 lbs.ft. of torque, which is nothing to sneeze at. This motor still produces plenty of power for a lot of utility tasks. Also, it can propel you to a fun ride down the trail, too. While the ride may be tamer by some standards, there is something to be said about having a milder motor. Younger and first-time riders/buyers will appreciate the ease of the power delivery while knowing that there is still enough oomph to coax a smile out of your face. 
The transmission duties are handled by one of CFMOTO's CV-Tech CVT variable-speed, belt-drive transmissions. It has high, low, neutral, reverse and park, which engages a parking brake system. The CFORCE operates in two-wheel drive, and four-wheel drive, with an electronically locking front differential for maximum traction. If you do manage to get yourself stuck, don't worry too much. CFMOTO is the master of adding accessories to a machine package. The CFORCE comes stock with a 2,500-pound winch right off the factory floor. That's one of the benefits of going with a CFMoto: you get standard features that you have to pay extra for on other machines.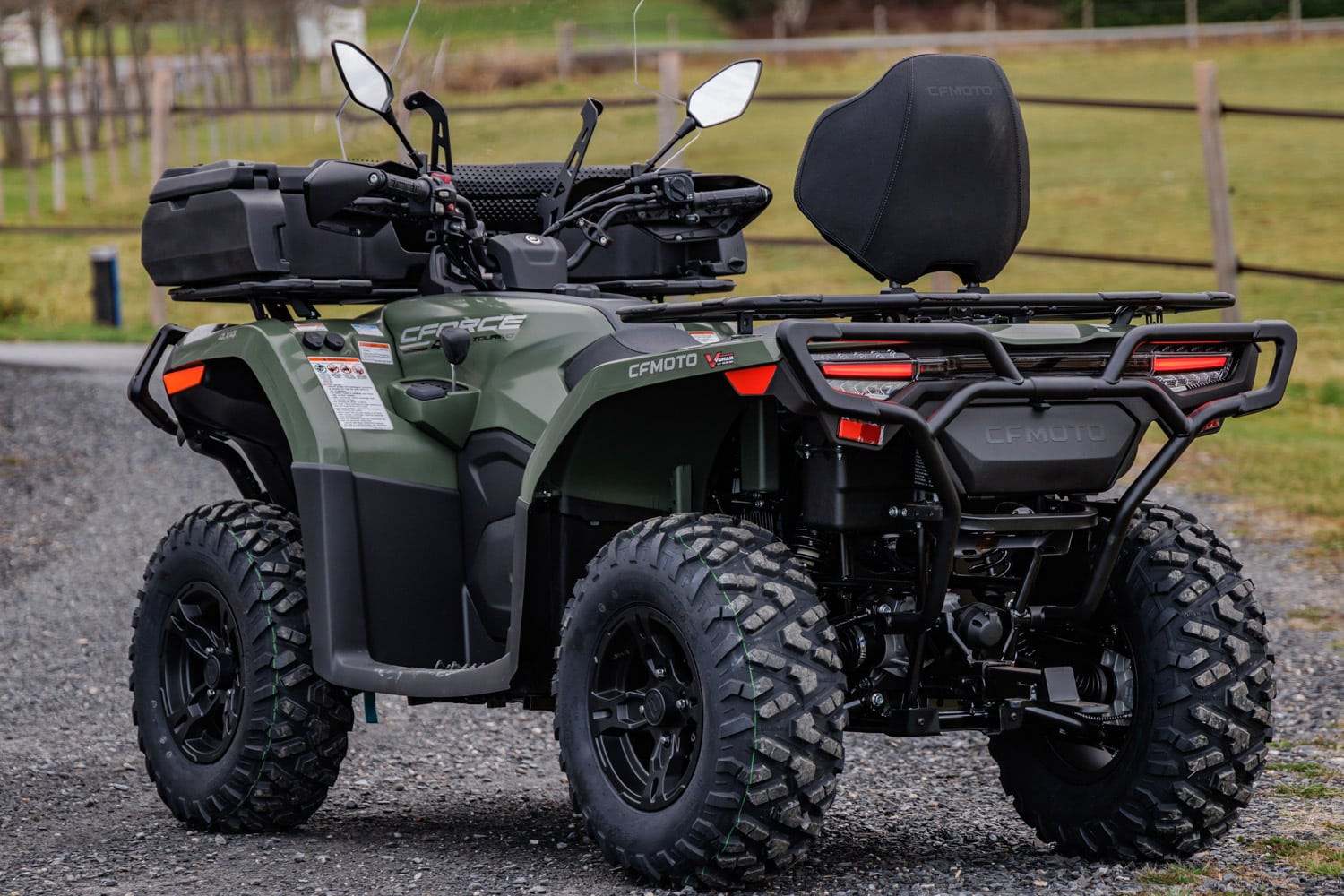 Chassis stuff
The CFORCE 400 HO is bound to be a pretty handy trail rig. It comes with dual arched A-arms up front, with 7.5 inches of travel on the gas-charged shocks. Arches A-arms allow for some additional ground clearance, and are especially nice for dealing with rutted trails. Again, this standard feature is something you'd expect to pay extra for in a special package. Out back, the CFORCE has dual A-arms with 8.9 inches of suspension travel. Overall, the ATV has 9.8 inches of ground clearance. It rides on 25 inch tires wrapped around 12-inch aluminum wheels. If you need more ground clearance, you can always opt for a little larger tire size. 
The front and rear cargo racks are handy. The front rack will handle 66 pounds and the rear will accommodate 132 pounds. The total payload capacity, which includes the rear passenger is 375 pounds, so you do have to be careful with how much you try to haul.
If you think, however, that the "little" 400 can't do much, it can tow 1,349 pounds from the receiver hitch. That's pretty impressive compared to other machines in this range. This is helped by the longer wheelbase, which is 57.5 inches. While not as short as a single-rider ATV, that is pretty good for a two-up and gives you a turning radius of 128 inches. You're not going to turn on a dime. But for most trail riding scenarios, that'll do just fine, especially with the machine having full electronic power steering. When you need to come to a stop, disc brakes get the job done in a hurry.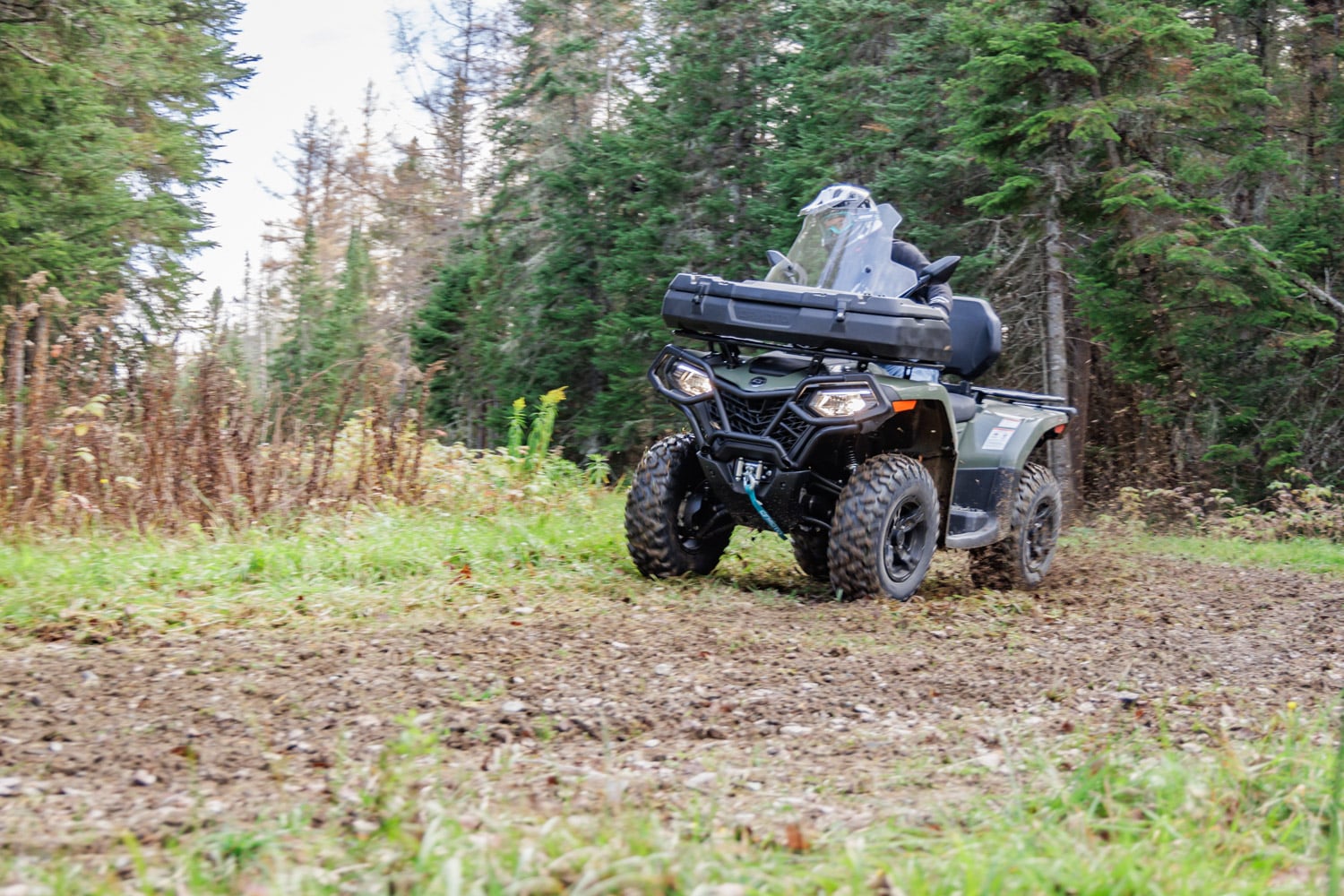 Again with the extras
When buying a new ATV, you're going to hear about the warranty from the factory. With most, it is short and limited. A warranty does give you peace of mind, though, and CFMOTO stands behind their machines with a 5 year limited warranty. That's one of the best you'll find anywhere, and at a length you will often pay extra for. Notice the theme with CFMOTO, something included standard with the machine that you'd pay extra for from another brand. Like, for example, the turn signals and horn, or the side mirrors. Whether or not your trail system requires these things, they are nice add-ons and additional safety, which we like.
We hope to get our hands on the 2023 CFMOTO CFORCE 400 HO EPS two-up ATV in the near future. We fully expect it to be a fun, affordable option for a new mid-sized ATV and think it has a place in the market. If it sounds like what you want, yo might want to head to your CFMOTO dealer. We think they're going to sell quite a few.