We all know that the best way to get kids fired up about riding ATVs is to do it themselves with a proper youth-model ATV. If you don't believe us, try going to a dealership and asking them how many of the youth-model ATVs they sell. It's going to be a lot. In fact, most dealerships sell out of youth models by the end of the season. The category is so popular that CFMoto is jumping in with the tire spinning. They have two models this year: the CForce EV110 elsewhere and the all-new CForce 110 gas-powered kid's machine. 
Power up your little one
The CForce 110 is powered by a 110cc, single-cylinder, single overhead cam four-stroke engine that has electric start and electronic fuel injection. That puts it in line with the competition in the space. It should provide plenty of power to keep your child smiling all day long. Top speed is 45km per hour. So your kid can let his or her inner speed demon run free, but don't worry, there are some parental controls. This parental control we'll get to in just a moment. All the vehicle information comes up on a 5-inch LCD screen, so your rider can see what is going on.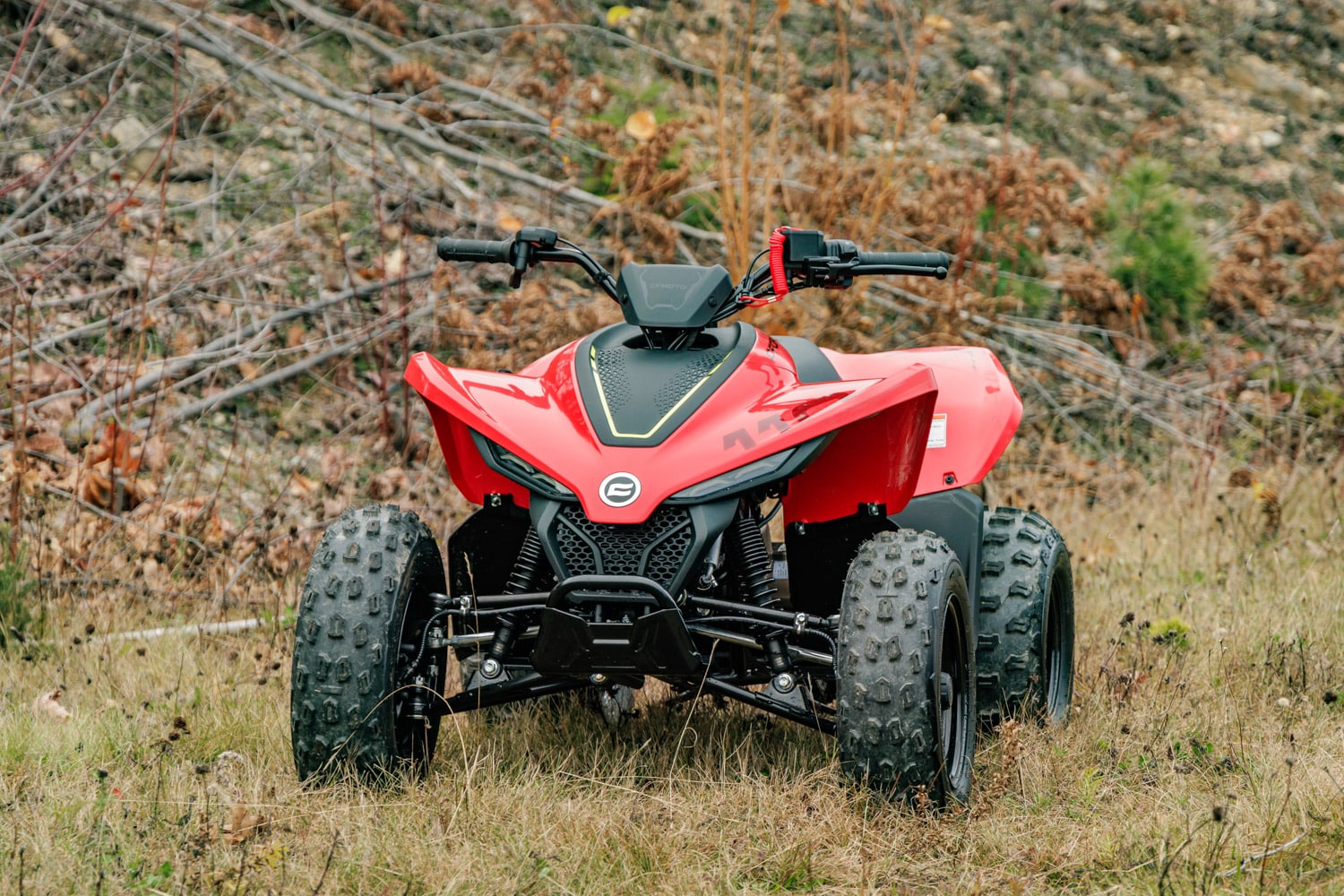 You can see and control what is going on too using CF Moto's Intelligent Smart Safe Guard smartphone application. Remember when you were a kid and got on an ATVand started riding by yourself? You'd get to where you thought your folks couldn't hear you and then you'd jump on the gas and rip and tear around, thinking you got away with it. Just to be clear, you didn't. They knew. Parents always know. Now, there's an app for it that let's you be in control the whole time. The app lets you see exactly how fast your child is going, and where he or she is. You can limit the speed and range, too. The app has a GeoFence option that lets you determine just how far away your child can roam and at what speed.
The CForce 110 has a rear-wheel drive with a chain system. Also, it has forward and reverse, as well as neutral from the CV-Tech CVT belt-drive transmission.
It looks fast!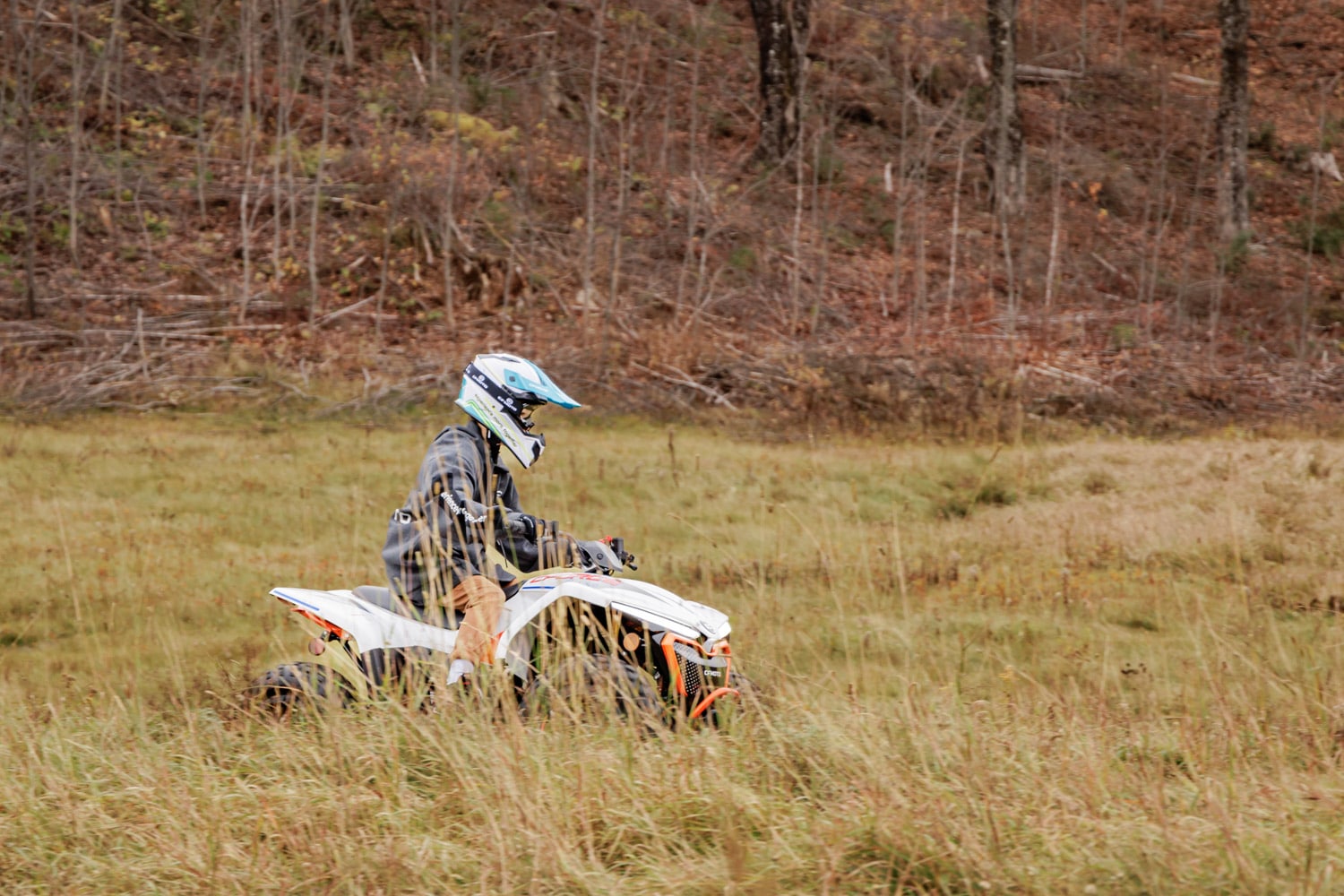 The CForce 110 is a sharp-looking machine that is similar to a sport ATV in style and setup. The style looks like a sport quad, which helps with getting kids pumped up about riding. What kid doesn't want to go fast, right? Even if you have them set to go slow, they still LOOK fast and that can be the difference between the kid enjoying the ride or not.
For suspension, up front, you'll find dual A-arms with oil-charged shocks that have 140mm of travel. Out back, it is a swingarm-style system with a single oil-charged shock that provides 165mm of travel. Aside from the shorter travel, the CForce 110 has a chassis design very similar to an adult machine, which is a big deal for a kid's model. Handling should be outstanding and really help your child build skills for when they graduate to full-sized models.
Stop!
Braking for the CForce 110 comes from a single hydraulic brake system making it easy to get on the brakes. There is a hydraulic disc brake on each wheel, so the CFORCE 110 comes to a stop quickly and easily from a single lever.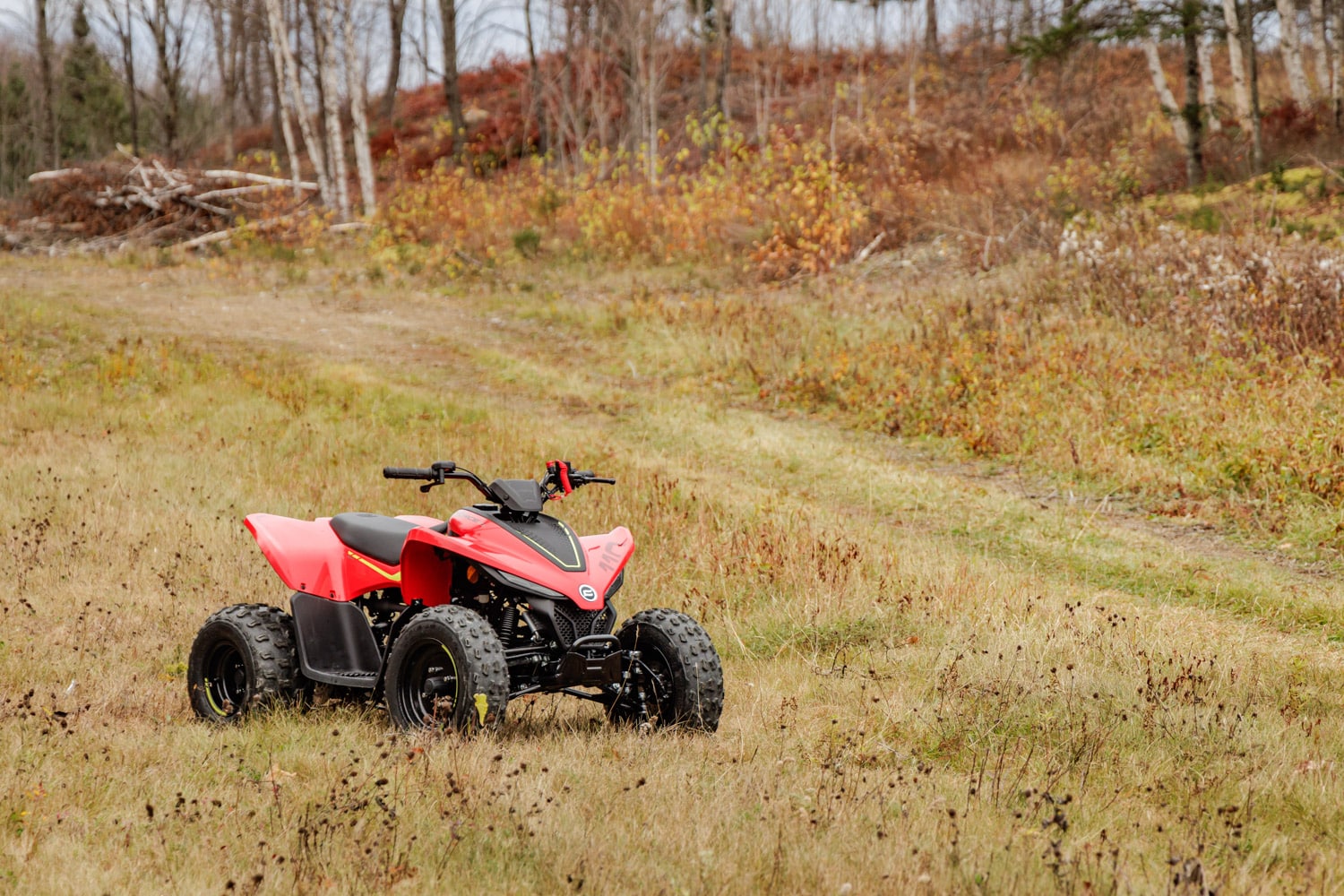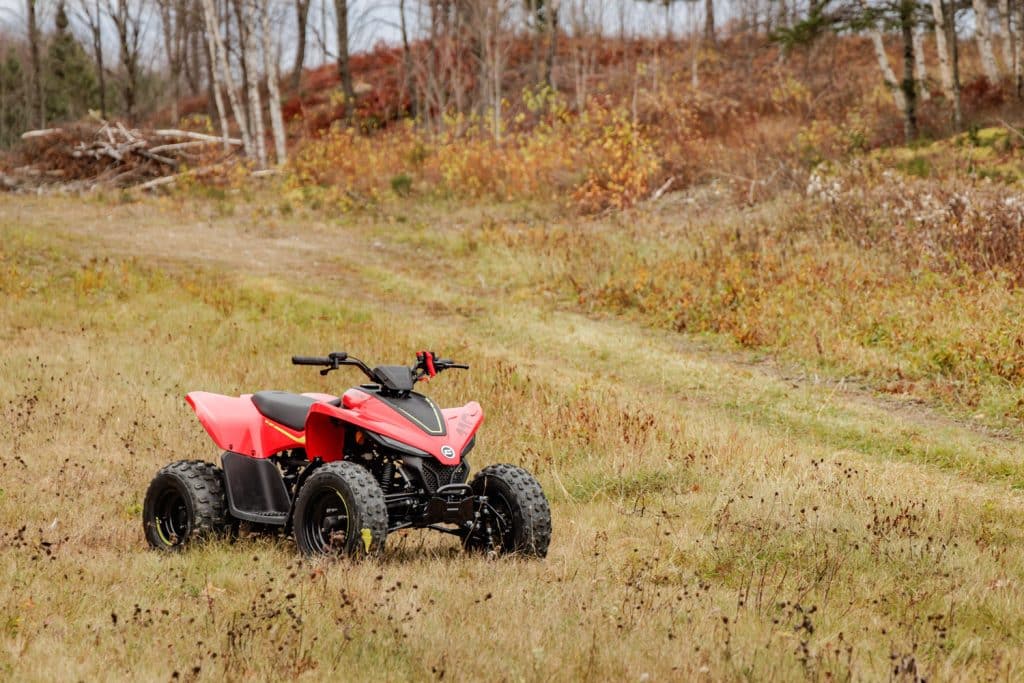 The CForce 110 comes with a magnetic safety tether and a whip flag for visibility. It comes in two color options – Baja Blue or Rocket Red. with LED trim lighting and a rear brake light. The machine also carries a 1-year warranty, which is a nice touch and some great peace of mind for mom and dad.
We're pretty excited for the CFMoto CForce110. Dealerships should be quite excited for it, too. The youth market is a great space for a manufacturer to be in as they sell a ton of machines and it is helping to create a future customer for the manufacturer, as well as a future rider for the sport. As we all know, we need to keep building the sport up from within and the best way to do that is to start 'em young! Having another option of a terrific youth ATV helps and this one is sure to be a winner.