The Planet Quad team reports on the Can-Am Defender XT HD10 2022 – Test Ride a vehicle that needs no introduction. Introduced in 2016, this big workhorse side-by-side from BRP has made it into the top 3 in this market segment. The 2022 iteration brings its share of changes and most importantly, an engine overhaul. We take a look at it in detail with you!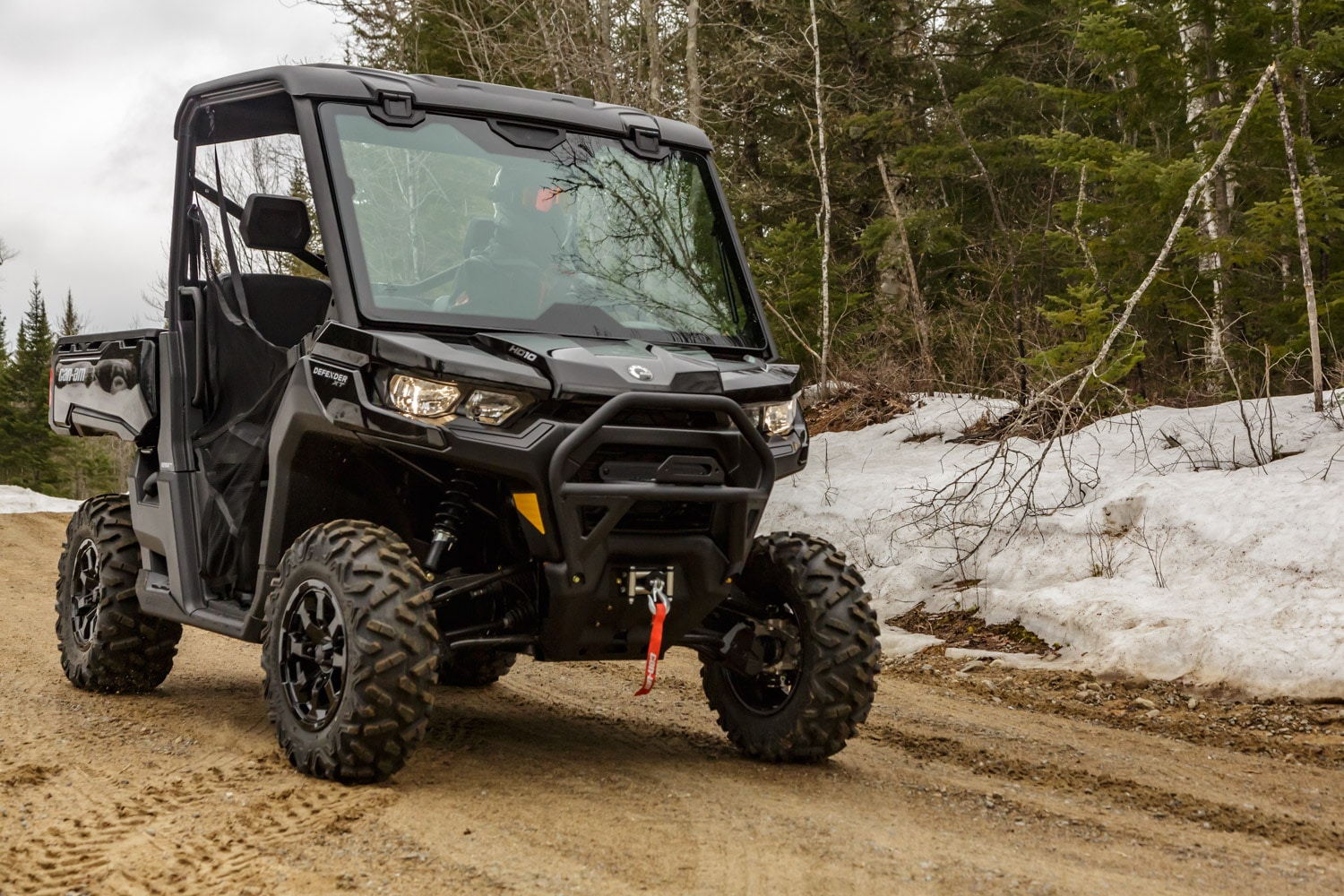 Engine
First, we'll discuss the engine that powers the 2022 Can-Am Defender. You can choose one of 3 different engines depending on what you want to use it for.
The new HD7: A 650cc Rotax single-cylinder engine producing 52 horsepower and 41 lb*ft. It replaces the HD5 with 37% more power while reducing noise and vibration. 
The new HD9: A 976cc Rotax V-twin producing 65 horsepower and 59 lb*ft. The HD9 replaces the HD8 with an increased displacement that offers 30% more power than its predecessor.  
Last but not least, the HD10 is at the top of the list for its performance. A 976cc Rotax V-twin producing 82 horsepower and 69 lb*ft. Already present in previous models, it has been revised to offer better performance and reduce vibrations. 
With this trio of engines, we have an excellent choice of engines that will fit your needs. Moreover, Rotax engines are known to offer; performance, reliability as well as an excellent smoothness of ride.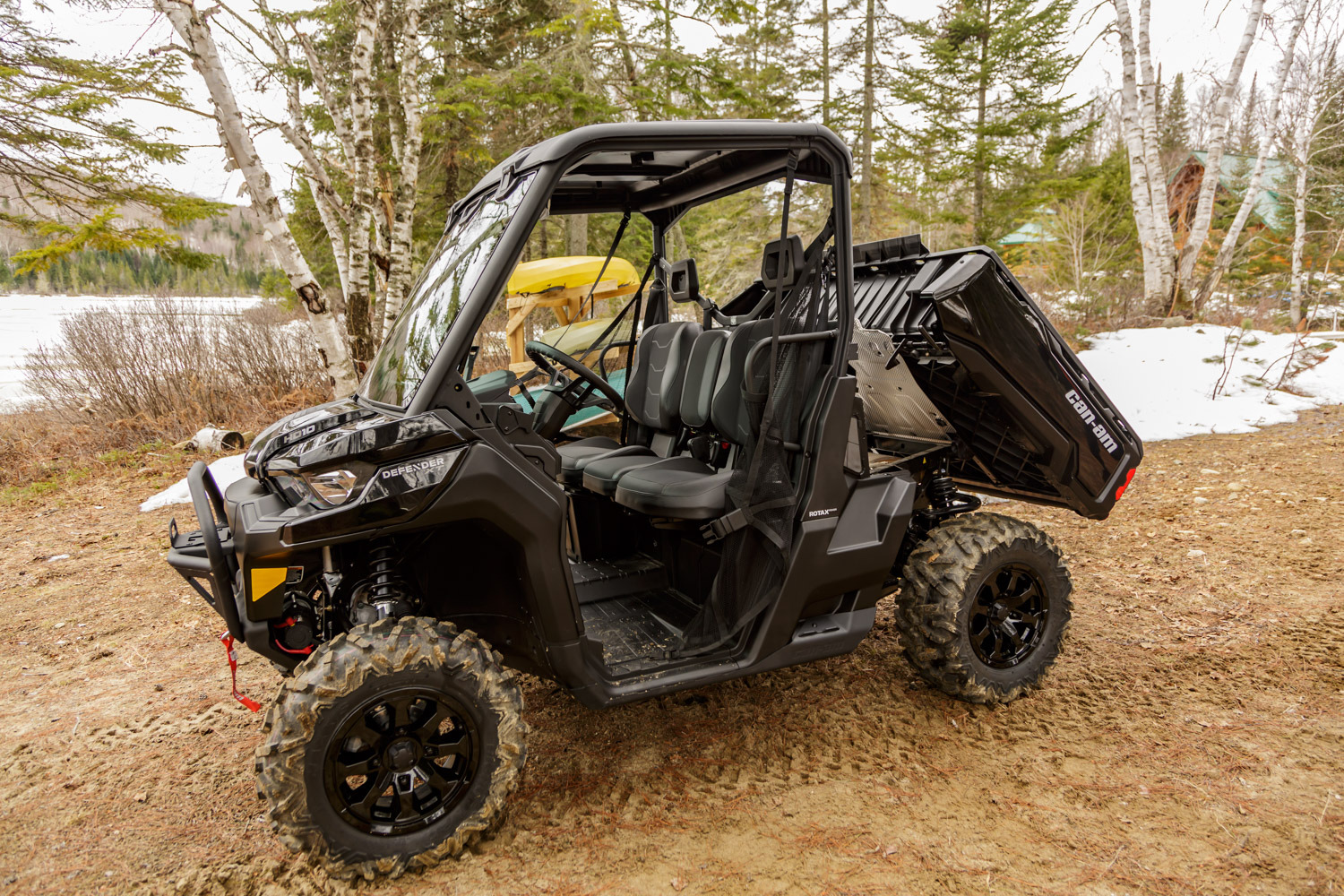 HD10: The engine of choice!
If you choose the HD10 as our test model, you will have more than enough power. With the HD10, you get a lot of power and torque right from the low rpm range. Moreover, we notice that Can-Am has put a lot of effort into reducing the noise level in the cabin up to medium rpm. When the throttle is fully depressed, you can hear the roar and have fun pushing the vehicle to its limits. 
The HD10 is the team's favorite engine, as it allows us to work hard without flinching and is a perfect match for the rigid chassis that this utility vehicle offers. On the other hand, you'll still be able to exploit those sporty abilities even though that's not the Defender's primary vocation. The result is a versatile vehicle that's always ready to get the job done and that can put a big smile on your face when you push the throttle more aggressively in a series of curves.
CVT Transmission
To efficiently transmit this power to the terrain, Can-Am opted for continuously variable transmissions (CVT). For the HD7 engine, we get the Pdrive with different transmission ratios: high and low speeds, park, neutral and reverse… the classic H-L-P-N-R found on almost all vehicles of this type with a few exceptions. We also get a standard engine brake that will be very useful for its vocation as a work vehicle. 
On the HD9 and HD10 engines, the PRO-TORQ transmission with Quick Response System (QRS) technology is standard for even more precise and faster clutches. In addition, high-flow ventilation and electronic belt protection have been integrated to improve performance and, above all, belt life. 
Can-Am has also included a button to select the driving mode. There are 3 different modes; ECO™, ECO™ Off and Work. These modes will act directly on the response of the accelerator pedal and on the injection mapping. One will be able to obtain a driving that favors a reduced fuel consumption or more aggressive and also a last one to favor clutches at very low speeds for work. The different modes are effectively felt and it is adapted to take full advantage of the versatility of the Can-Am Defender XT HD10 2022.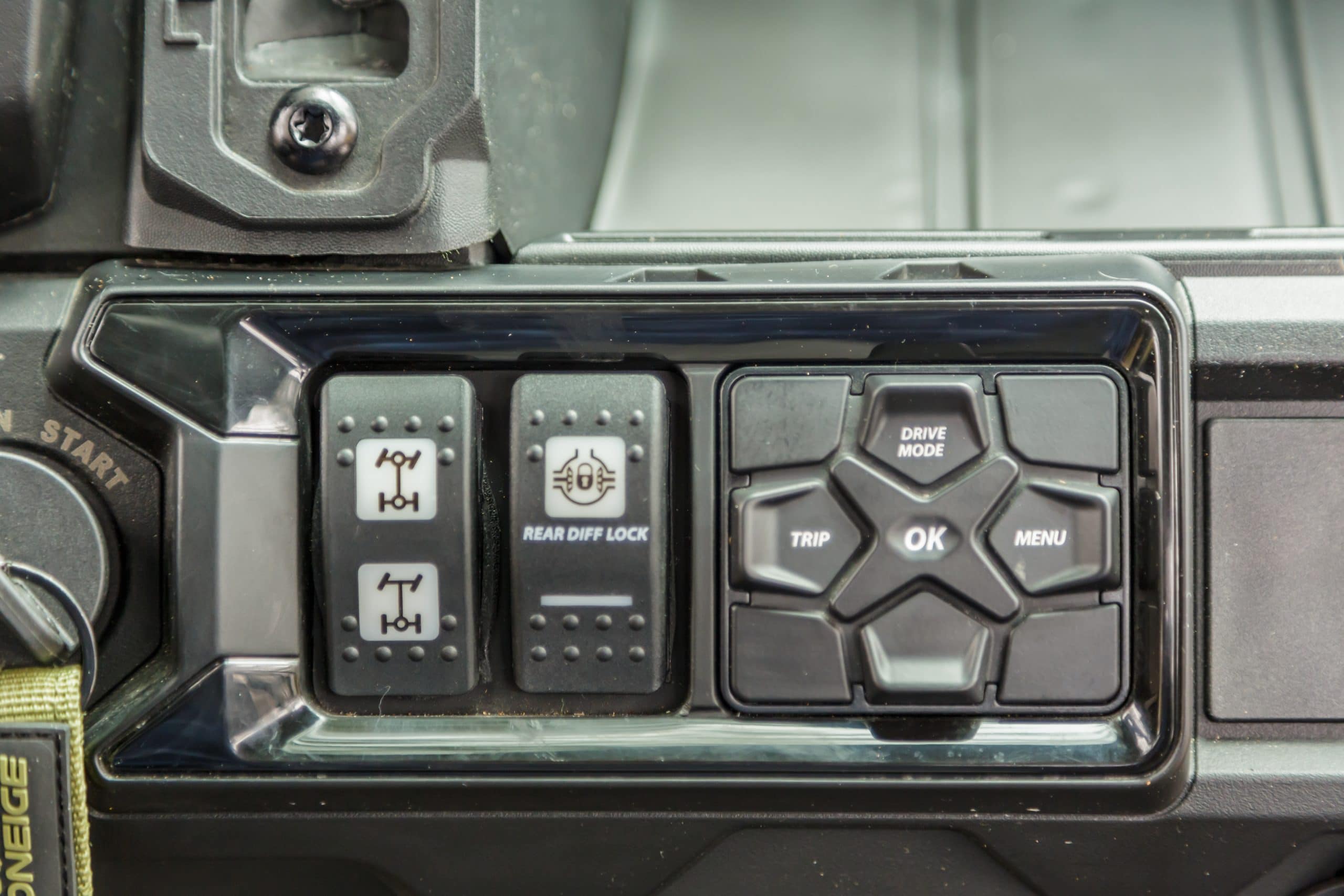 Driveability
On the dashboard there is also the driveability selection. In this way, you can ensure that the grass on your property is protected as much as possible with the rear differential "unlocked" so that the rear wheels can turn more freely in corners without trying to tear up the grass. Then there is the possibility of using 2 or 4 wheel drive as is standard on other models on the market.
In addition, we can count on a front differential with the Visco-Lok QE automatic locking system when engaged in 4-wheel drive mode. This way, when one of the front wheels starts to lose traction (skid), the differential locks in a fraction of a second and allows maximum traction.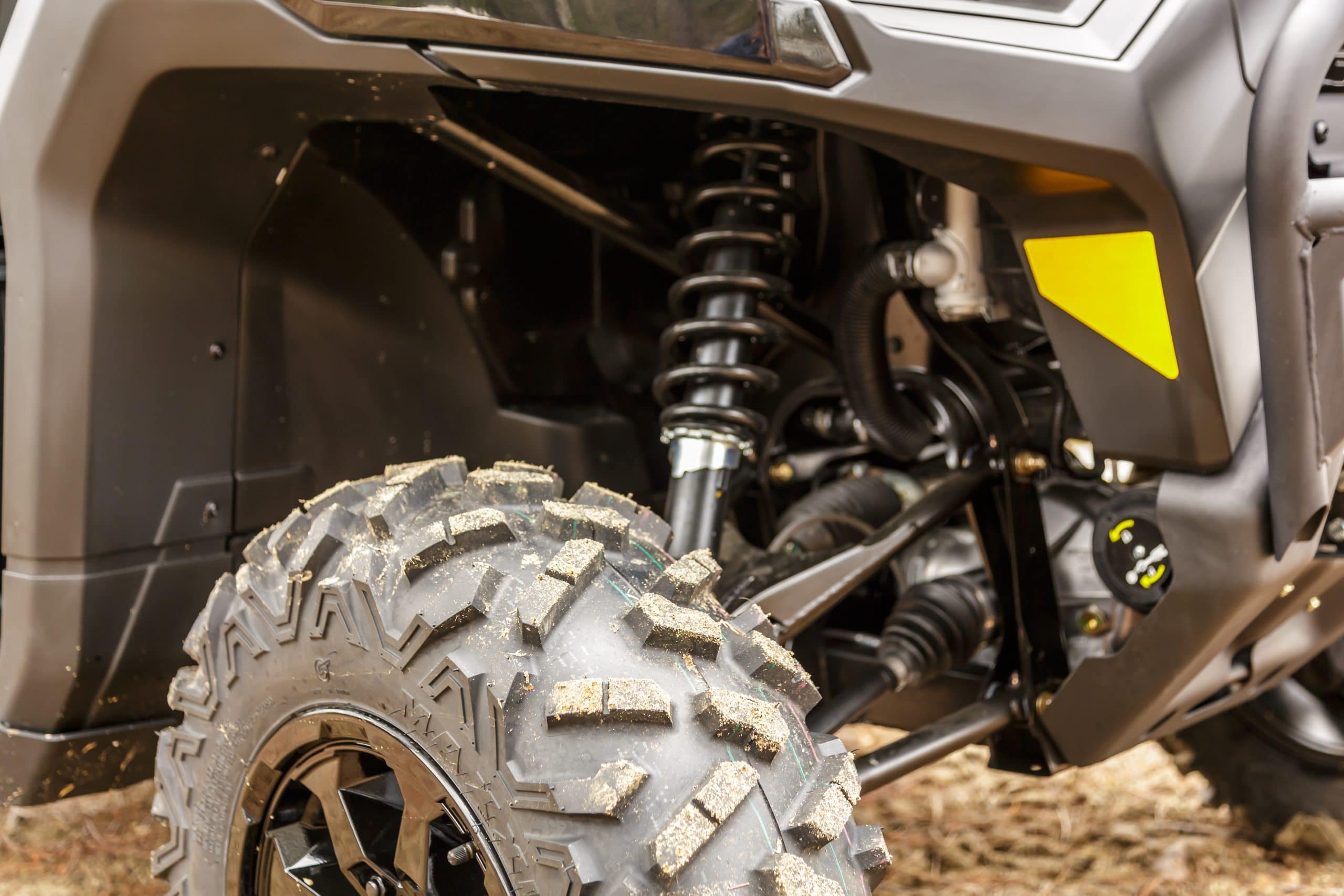 Suspension
On the suspension side, we find twin-tube gas shocks as well as double-arched triangular arms. This gives us a generous 27.9 cm (11 in.) of travel, which is excellent for this market category. In addition, the arched arms allow for a wider clearance under the vehicle to limit the risk of catching stumps, for example. 
Moving to the rear, we find the same type of twin-tube gas shocks as well as arched arms. Once again, the 27.9 cm (11 in.) of travel is more than enough for thi type of vehicle and will provide the confidence to navigate through any terrain. 
With these suspension geometries and the arched arms, ground clearance is an impressive 33cm (13″). Can-Am has selected a suspension that is firm enough to handle the hard work you'll be putting your Defender through. However, you won't be outdone if you decide to push it more in gear or use it for trails. Comfort is still one of its strong points!
Interior and other features
When you step inside the Can-Am Defender XT HD10 2022, you find yourself surrounded by a very spacious cabin that can accommodate up to 3 passengers comfortably. The Versa Pro seats are very practical, as they allow you to stand up and use the storage boxes under them. Or to bring your dog with you without having to worry about it damaging the seats.
Many storage compartments are integrated (16.2 gallons total) and well thought out, such as the glove compartment that turns into a transportable tool box by lifting the handle that locks it in place. In all respects, the finish is exemplary and the Defenders are a credit to what we know of Can-Am vehicles.
Our test model, the XT version, comes with several standard features. Thus, we are entitled to a 4500lb winch, a front bumper and an aluminum protection plate under the vehicle. You can see on the pictures that our test model comes equipped with other accessories like a retractable windshield and rock sliders. One of the good points of choosing the Can-Am Defender is certainly to have access to a mountain of accessories to configure your vehicle to your image and to make sure that it will be functional for the various applications for which you will use it. 
Defender Capabilities
When you have a work vehicle, you expect to put it to the test and it was designed to take it! With the best towing capacity in the industry at 2500lbs, you'll be able to tow anything you can think of. Plus, the cargo bed can accommodate things up to 1000 lbs. It's easy to tip with the handles on each side and its air shock that controls the movement smoothly. It is even possible to add an electric servo to raise and lower it. This is everything you need to make the Defender your best work partner.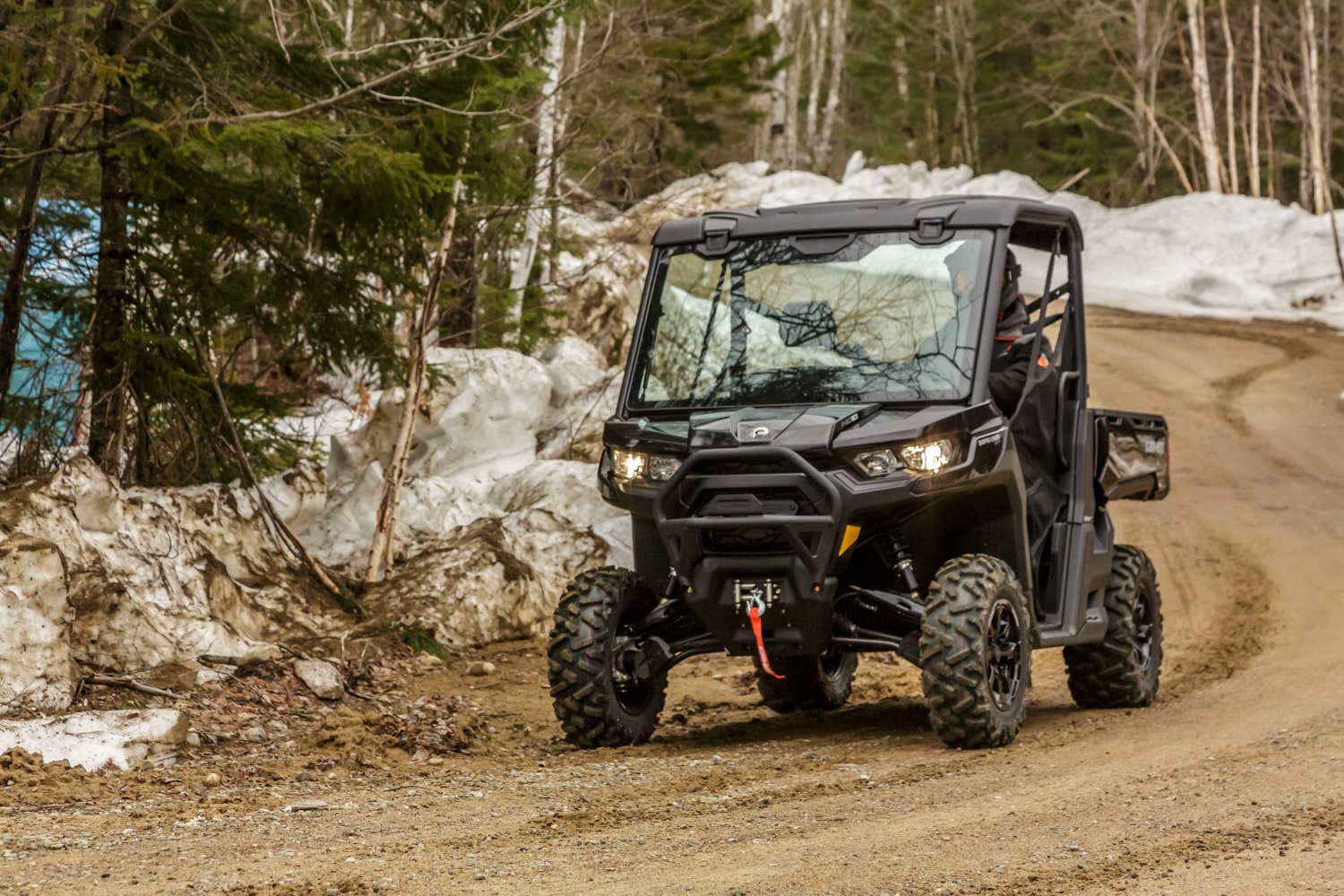 Driving impressions of the Can-Am Defender XT HD10 2022
During the test drive, we were able to test the Defender in many different situations. On the trails, the engine provides more than enough power to get us through the curves and put a smile on our faces. The suspension does a great job and the ride is quite precise. However, when you increase the pace, you'll notice that he power steering is too much present and you'll notice a certain "blur" in the driving.   
When you put the Defender to work, you will appreciate its engine braking system, which means that you hardly use the brakes. This makes for a smoother ride when going downhill and when towing, for example. The turning circle is also noteworthy because it is very tight. It is therefore easy to drive around the yard or when doing work in the woods without having to go back and forth several times.
In summary, the HD10 engine is really powerful, quiet and economical. The suspension is well calibrated for the vehicle and its utility vocation. The interior is comfortable and well designed. It really has everything to be a real "work horse"!
The positive points:
3 choices of engines to adapt to the different possible uses
Very powerful HD10 engine, generous torque and relatively quiet
Suspensions are quite firm, but well calibrated for utility and sometimes more "sporty" use.
Attention to detail and assembly quality worthy of mention. 
Points to improve:
Very generous dimensions that can become a disadvantage on narrow trails. Especially in the extended wheelbase and MAX versions (6 seats) 
The power steering intervenes too much at higher speeds and we lose some driving precision.
With the asking price of the XT version, it would be interesting to have doors and not only nets. 
Conclusion
These many hours behind the wheel of the Can-Am Defender XT HD10 2022 allowed us to appreciate it at its full potential. It's a pleasure to drive when you're out on the trails. When we put it to work, where it is fully at ease, we are confident that it will accomplish all the tasks we ask of it!
If you would like more information on Can-Am models, visit the website or your nearest dealer.