In June 2023, shortly before our departure, the north shore of the St. Lawrence River was consumed by the worst forest fires in its history, and the Gaspésia Peninsula was drowned under 150 mm of water. Part of Route 132 was washed away, and several culverts and logging roads were damaged. The organizers keep a close eye on weather developments and civil security instructions while I prepare my vehicle and luggage for my fourth tour of the Gaspesia peninsula, in the hope that it won't be postponed. We are fortunate to have been accepted into a private group that has been making this trip annually for over fifteen years. With this group, the waiting list is long and new participants are hand-picked.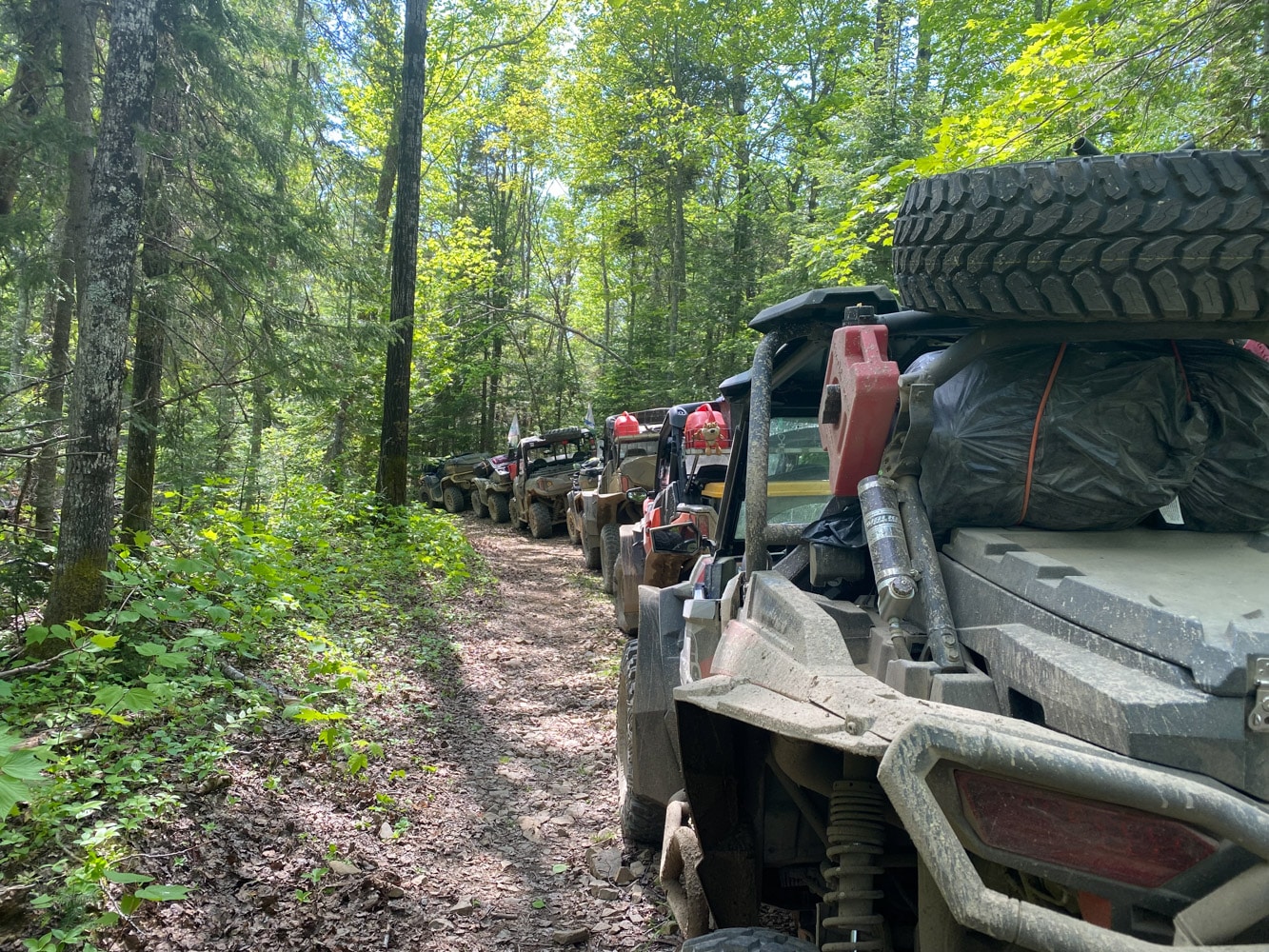 It's a dream come true for many quad riders. It's a challenge both for the mount and for the rider and equipment, who will have to cover 1400 km of trails of all kinds in seven days, whatever the weather. I'm expecting roads cut by floods, fallen trees on the trails, snow in the Chic-Chocs and lobster in Percé. For a week, I'll be living out my passion for quad riding and filling my eyes with the magnificent scenery. I'll taste the pleasures of good food and share anecdotes and mutual aid with the trip's participants. I'm really looking forward to it!
Finally, on Saturday June 10, we leave Quebec City for Amqui, the tour's starting point. Once again this year, the Matapedia ATV Club allows us to park our vehicles and trailers on their property. This special permission is much appreciated. Once the machines have been released, we meet up with the other participants at the start-up meeting. Here, the organizers explain the general course of the week. Since for 75% of us it's a second, third, fourth or sixth round, we're on familiar ground and the meeting quickly turns into a reunion. Departure is scheduled for 8:30 a.m. the following day.
Day 1, Amqui to Pointe-à-la-Croix
When we wake up, the parking lot is bathed in an enveloping mist, courtesy of the Matapedia lake and river. At 7 a.m., participants are already hovering around their gleaming machines, which will remain so for only a few kilometers. We adjust a bench, tighten a belt, check that the equipment is properly attached, ogle the neighbor's machine, discuss mechanics or improvements. Finally, the hour of departure rings and the 21 machines set off. We pass over the André-Blouin footbridge on our way to the Chute à Philomène lookout. This 33-metre waterfall is a must-see, and thanks to the local ATV club, an imposing belvedere overlooks it. Here, you can observe the waterfall and even stand in the void on a glass floor.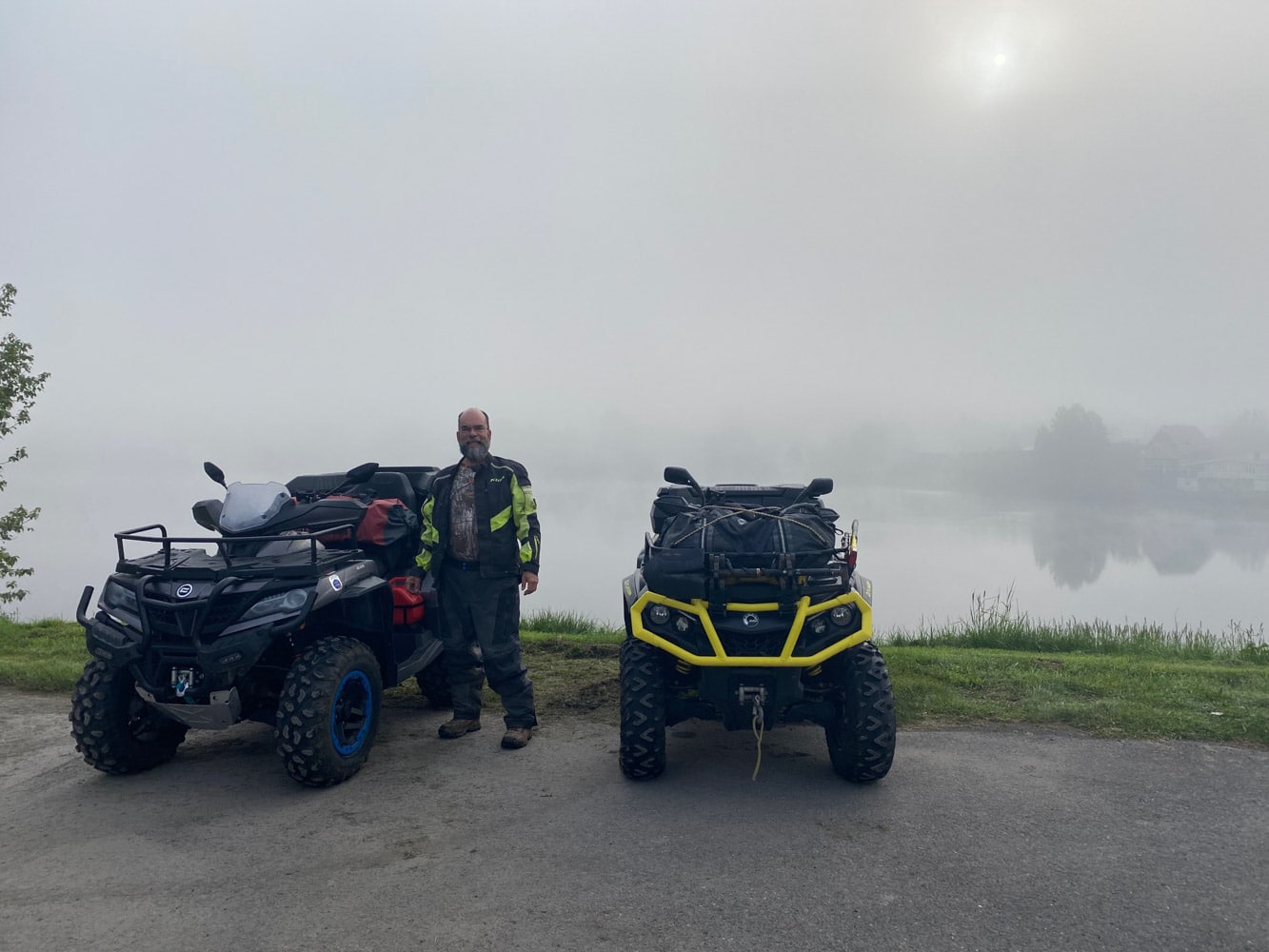 The group is riding well, the pace is faster than expected and the trails are beautiful. It's a sunny day, and the temperature is slowly rising to 25 degrees. It's our dinner time, one of the few we'll have in a restaurant, that's the day's unforeseen event. Despite the choice of menu communicated in advance, it took us 2 hours 45 minutes to leave. But it was delicious.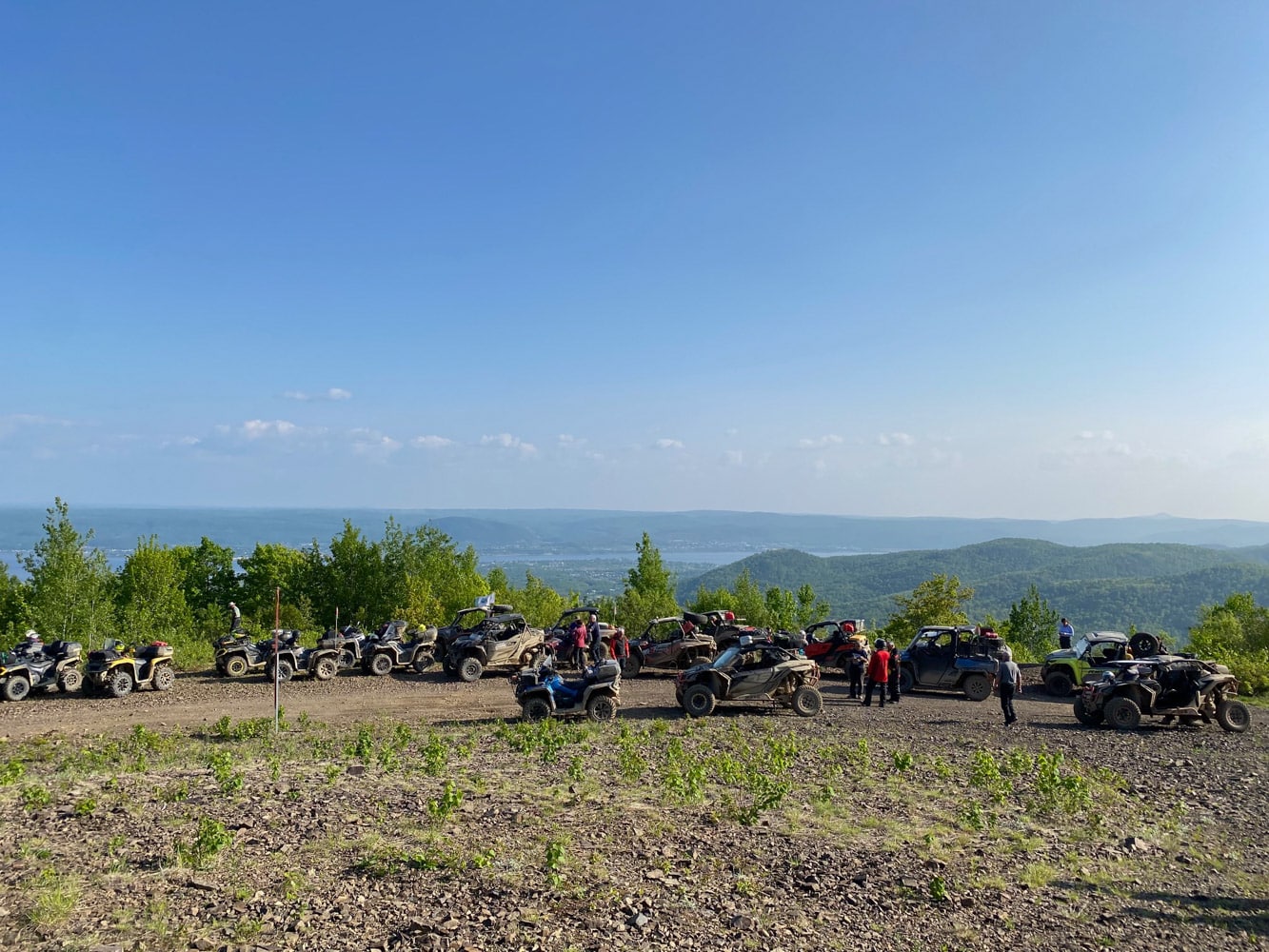 We take the time to admire some superb scenery despite the slight delay, one in particular giving us a glimpse of Chaleur Bay and New Brunswick. We then descend to our accommodation in Pointe-à-la-Croix. As usual, on arrival our guide hands us the room keys and a sheet of paper with a wealth of pertinent information. It's just great!
Day 2, Pointe-à-la-Croix to Bonaventure
We've suspected it since lunch: it's going to be very hot today. No wind, sun and up to 26 degrees on my thermometer. I love this little gadget, a sensor attached to my quad and linked to my GPS. The trails today are still magnificent, between valleys, mountains and windmills. Our pace is good and we haven't had any glitches, which means we can take longer breaks. Dinner is planned on the trail, which is fortunate because with the group's rapid pace, it's barely 10:30 when we arrive at our destination. We finally dined further on, in front of a magnificent panorama of a valley. I had the opportunity to observe a bald eagle, a first for me, it was magical.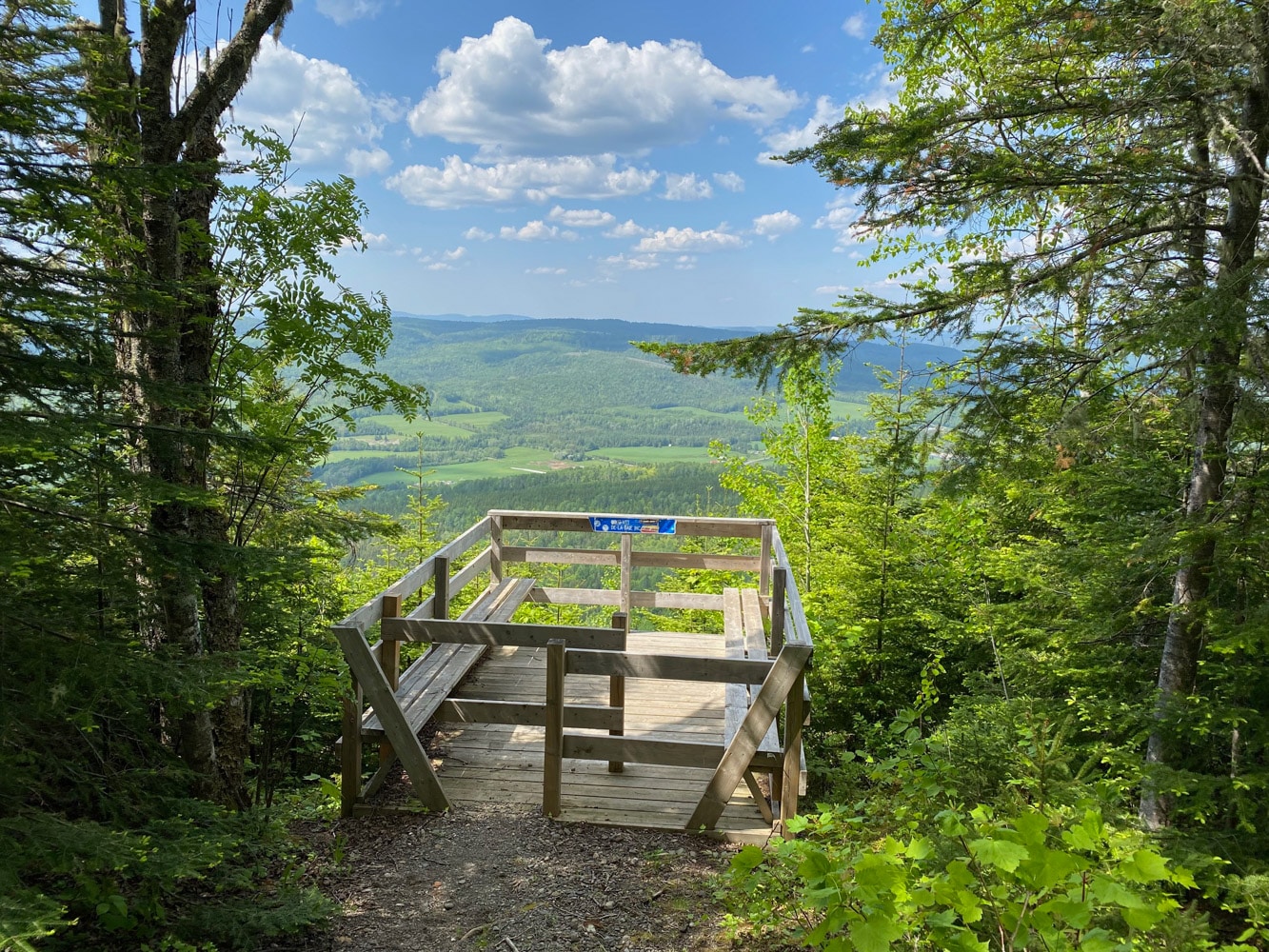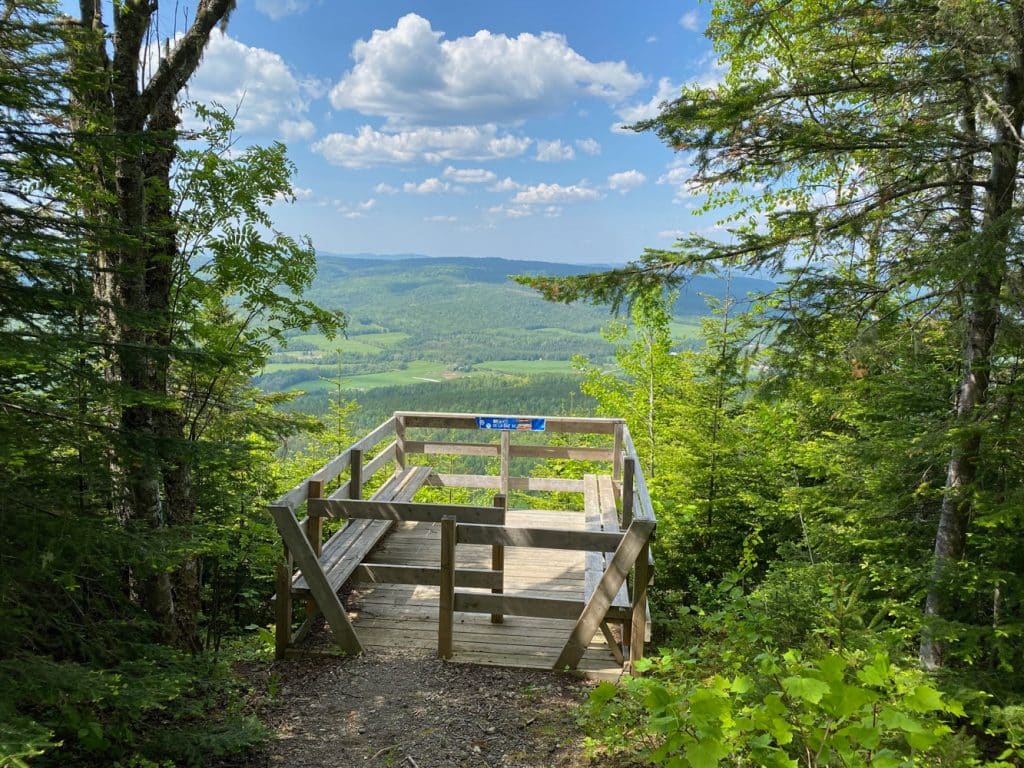 We drive on and pass several more majestic viewpoints, and I sometimes feel quite small in the immensity of the mountains around us. We climb a very steep, winding slope to the top of Mont Calvaire behind New-Richmond. Here we find a lookout point belonging to the Club VTT de la Baie, and an incredible panorama that I was lucky enough to photograph before the group arrived.
We then continue on to Bonaventure. The cool seaside air is a welcome relief from the heat. Our hotel is right on the beach, and I take the opportunity to relax and watch the sun set, with my feet in the sea.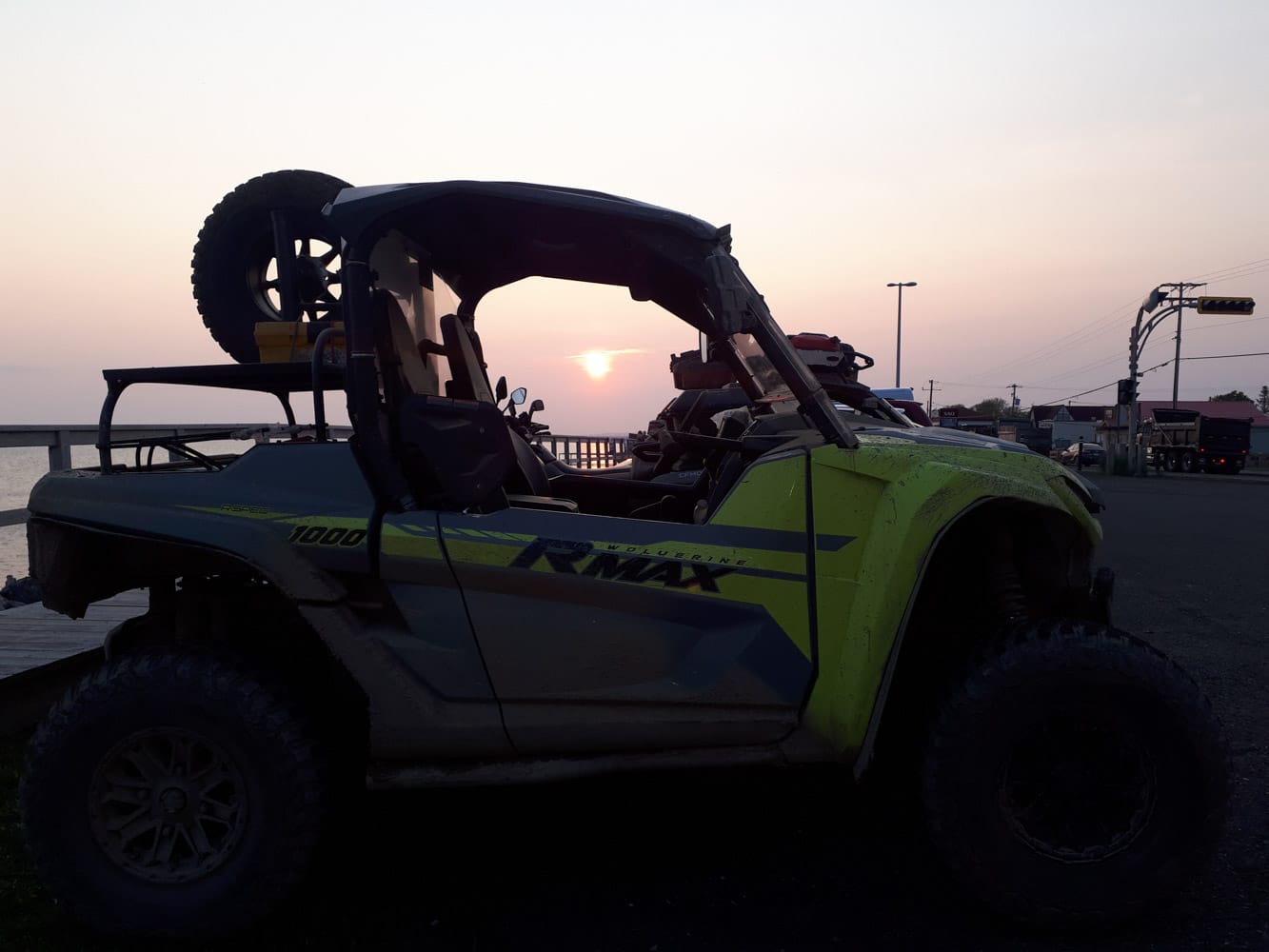 Day 3, Bonaventure to Percé
If the weather forecast is anything to go by, this will be our last day of good weather. We all agree that a little rain would be just the thing to settle the dust. For the moment it's still warm, but overcast. We leave with lunch, as we'll be dining on the trail again today. For the first time, traces of the damage caused by the torrential rains at the beginning of June appear, and we bypass broken culverts and mined paths to continue on our way. We dine on a large pebble beach on the Grand Pabos River. The water is unbelievably clear and the site is once again magnificent. I notice that one of my tires is soft. Searching around, I find a tiny hole which I repair with no problem.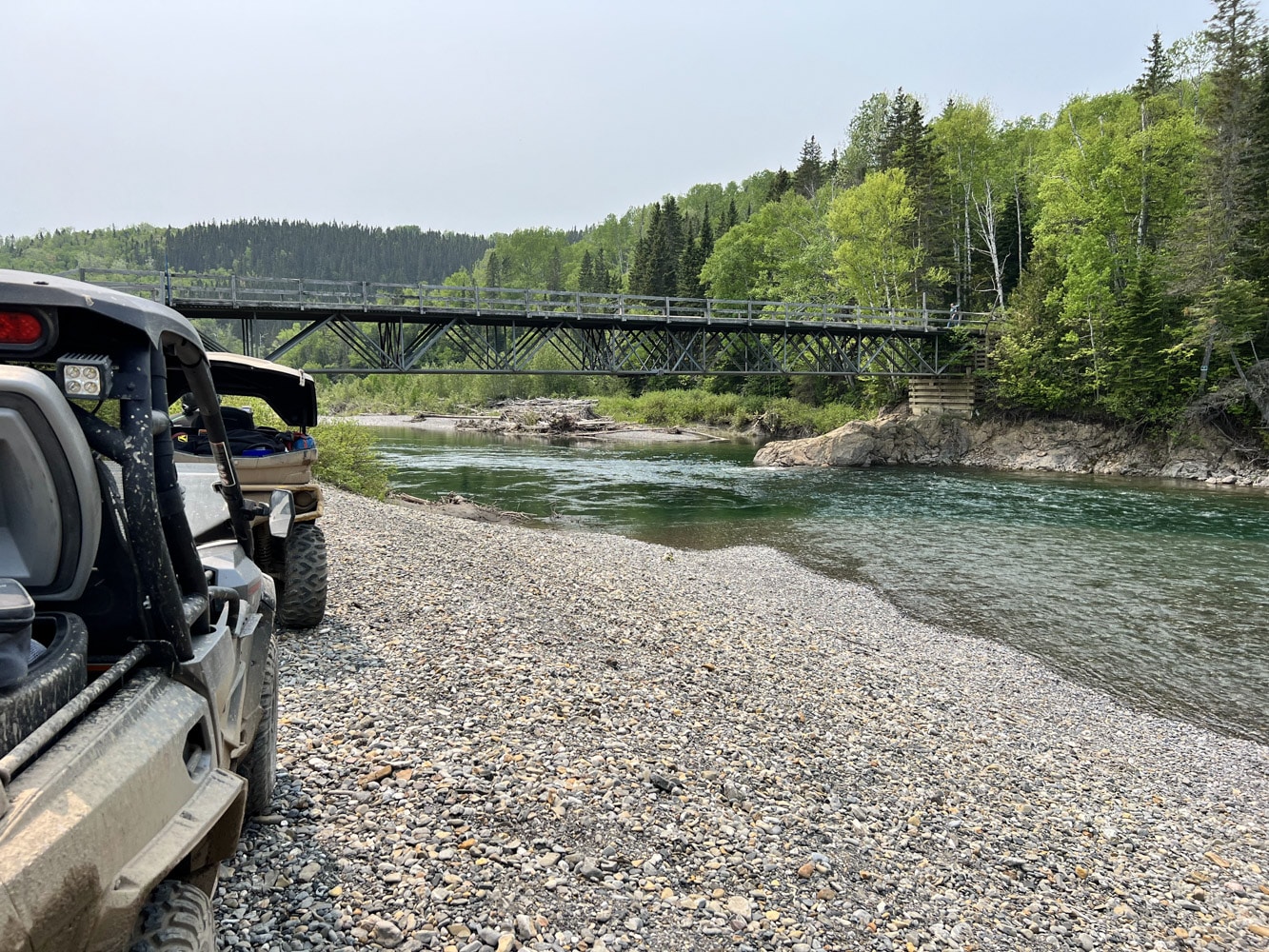 As we leave for Percé, the earth changes color and becomes redder and redder. Our machines, which are no longer shiny, also take on a reddish hue. When wet, this loamy soil becomes slippery and you have to be careful, especially on the gullied sections of trail where you need to position your wheels with precision. We cross the majestic Grande Rivière footbridge, and take a break at the observation site.
Before arriving in Percé, a small challenge awaited us to cross a river and climb back up a very narrow, gullied trail. Not too difficult for ATV, but the wider side-by-sides had to be careful. We arrived at the hotel early, which gave us a chance to play tourist and do a little shopping. We feasted on Gaspesian dishes and seafood at one of the best restaurants on the Gaspé Peninsula by my gourmet standards.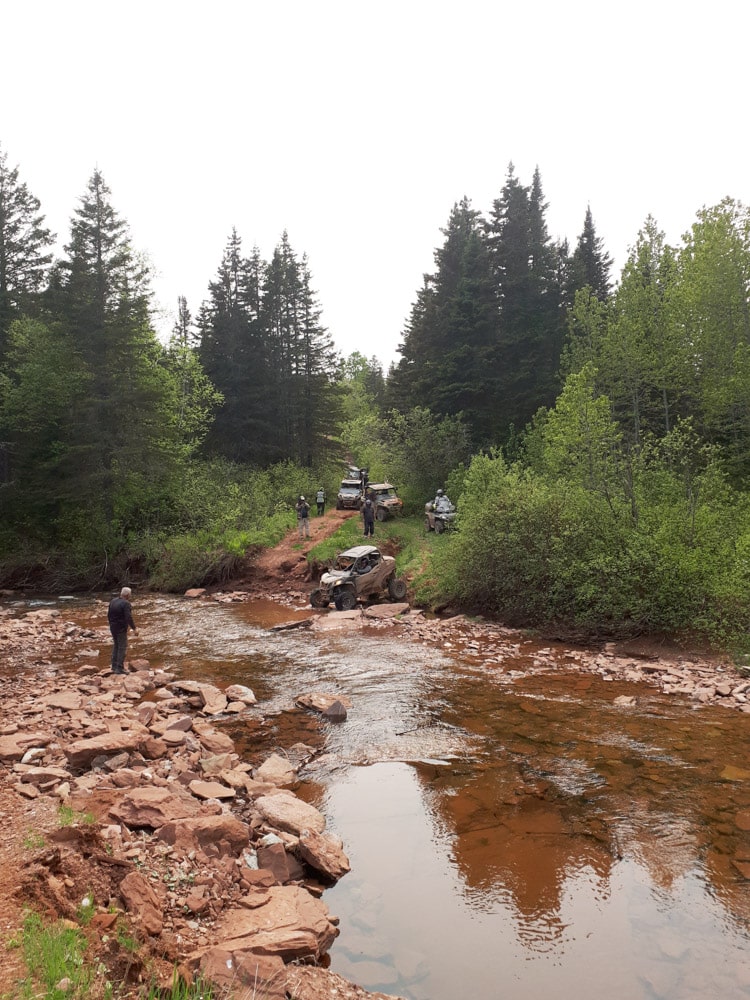 Day 4, Percé to Gaspé
When you're eating breakfast and watching the lobster fishermen reel in their traps just ahead, you're in the good place! We leave the hotel in the sunshine, despite the gloomy weather forecast, having made sure to use our gas cans, since there's no gas station in Percé.
We cross back over the big footbridge and head for Grande Rivière to refuel and have a trail lunch. We're particularly muddy, and the clerks look at us with a wry smile. Once refuelled, we set off on the trails again, one of which was really cliff-side: impressive! We took a break near a river that must have the same water source as the Pabos, as the water is just as crystal-clear. We can contemplate the wild side of Gaspésie! It's quite incredible for a city girl like me to see this.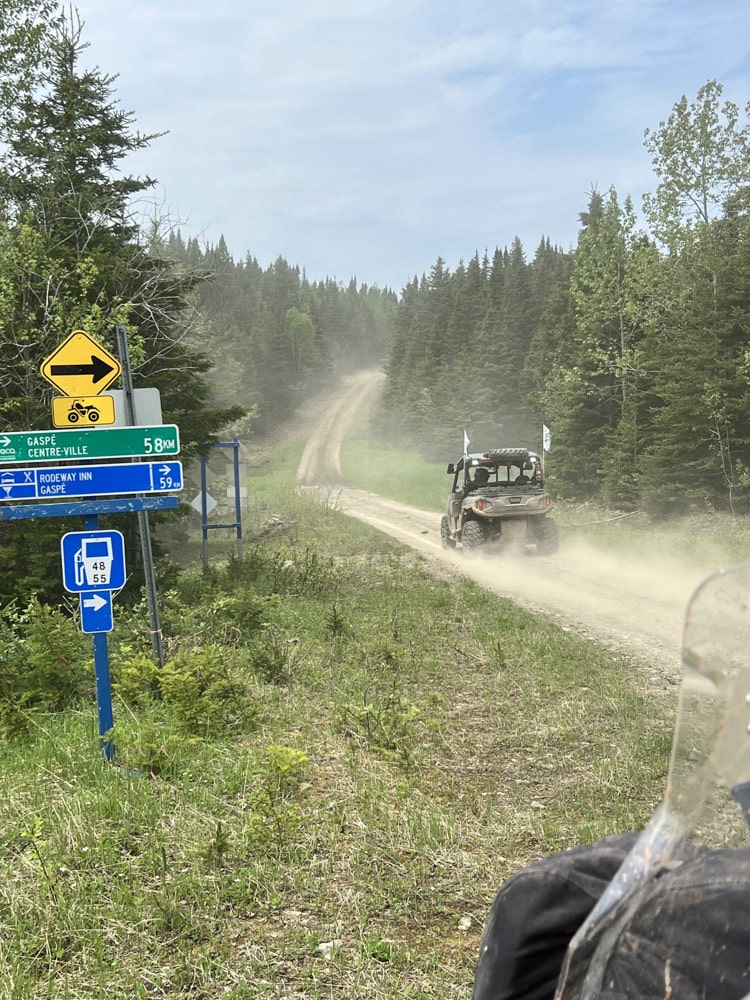 We arrived quite early in Gaspé, which gave us the opportunity to do a little maintenance on our machines. Halfway through the tour, it's time to give them some love: a big wash, radiator and air filter cleaning. We'll be ready for the big climbs tomorrow.
Follow the second part of our journey on ATV Trail Rider.
Chantal Pelletier, Columnist