We don't ever put our ATVs into storage. Sliding across a frozen pond, pitching the rear end sideways in the snow, and exploring the woods when it looks all-new under a white blanket of powder is a blast. Eventually though, there are times when the snow gets too deep to easily cross, and the woods and trails are better explored on a snowmobile. Your ATV adventure is not over however, and at those times we give our ATV a thorough winter checkup, making sure it is ready for spring and a full riding season ahead.
Most ATVs are extremely reliable these days, especially when considering the day to day pounding they take, and how little care they usually receive. Try the same things with your truck and see how far you get! Every day thousands of ATV owners traverse huge sections of barren desert, pick their way through swamps, climb mountains with ease, cross frozen tundra, and perform a thousand other tasks with their ATV. As with any vehicle though, a little preventative maintenance is the key to making sure your quad is ready for the adventures ahead, and it's a whole lot easier working on your ATV in the garage than stopped dead along a trail. Think it's too tough? How hard is it to walk back? Here are the basics of what we do to keep our machines running strong. We promise it will be easy!
CLEAN AIR & OIL
The two most important things you can do for your ATV is to make sure it's breathing clean air, and has clean oil inside. You must absolutely make sure this is always the case, and if this is all you ever do for maintenance, your ATV engine will run practically forever. We don't just change the oil and air filter once a season however, but we check it on a regular basis. If the trails are extremely dusty, or you've been using the engine to pull heavy loads or do lots of work, clean the filter and change the oil often. Beyond that, simply check the filter and oil, and change as necessary. There are two types of ATV filters being supplied by the manufacturers these days. Pleated (like the one on your truck) or foam. We prefer the foam type, and even on quads that are supplied with a pleated filter, we usually change them to a dual density foam aftermarket filter. Clean air is critically important to the life of your engine, and a new filter is much cheaper than an engine rebuild. The problem with the pleated filter is they are usually ruined when they get wet, or when they get extremely dirty, but sometimes you can tap one out in a pinch, even though the manufacturers warn against cleaning it. Gently tap them out, or gently blow a little compressed air from the inside out to clean them. If you are simply stuck on using a pleated filter, make sure it stays clean, and always use a cover like an OuterWear over it. We've even used a girlfriend's nylon when in a pinch. Don't ask how it got in the toolbox!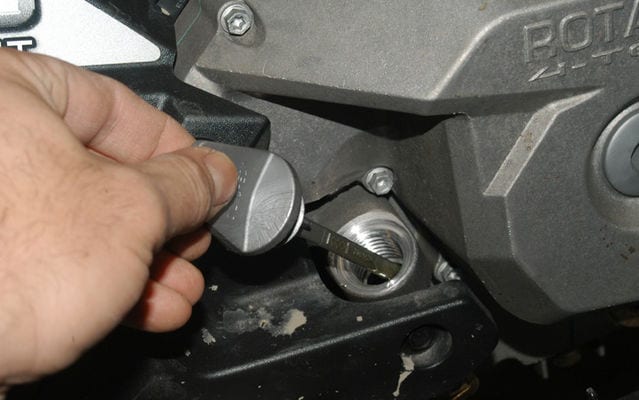 Dual density foam filters will stop contaminants much better, but they are not without a sticky problem of their own. Cleaning a dual density filter can be a mess. In the past, we've tried many solvents to help with this job, but we hate using harsh chemicals, however, we have found that "Simple Green" works quiet well, as does "Dawn" dishwashing liquid! We like Simple Green because it's citrus based, but both are biodegradable, and won't hurt the -environment. Sometimes it takes a couple shots, but they do cut most of the crud very well. When no more dirt is coming out, rinse it out, and let it dry. When fully dry, it's time to recoat the filter elements with foam filter oil, which is sticky, and actually helps catch the minute particles that can add up to huge engine problems. Here's a trick we use. Before you put any oil on the filter, slip the filter into a clear plastic bag, and then start to apply the oil. What you want to do is coat the entire surface, but not completely drench it. Apply a little oil, squeeze the filter through the bag, and generally work the oil around the filter around until the entire surface is covered. Coat both the inner and outer filter elements, and then you can even slip the filter back in place by still using the bags they are already inside. Be sure to wipe the air box clean first however, and don't spread any dirt into the air intake tract. As a check, with a clean finger, wipe out the inside of the air intake tract until it feels completely smooth with no particles inside. When reinstalling the filter, some riders like to coat the mating surface where the filter meets the air box with a film of grease as an added precaution. Just be sure you have a perfect seal all the way around the filter, with no possible way for air to leak past. Unfiltered air is dirty air, and dust and dirt is extremely bad for the head and valves of your 4 stroke engine. Clean air is hugely important to your engine, and the other factor is clean oil.
Today's ATV engines are intricate mechanical mechanisms that are extremely reliable when taken care of properly, and a big part of that is changing the oil. Your dealer can fix you up with a new filter and the proper oil, and although it's certainly more expensive than an automobile brand, the two oils are not the same. ATV engines are small displacement, and relatively high RPM motors as compared to the one in your truck, and usually have a clutch churning away in the same oil pool as the crank, which means they must have additives for the clutch as well. Oils for your truck usually do not have additives for the clutch plates, and we always go with oil made for motorcycle or ATV engines, however, when far from any dealership, we have used a quality automotive oil in a pinch.
FLOAT BOWL FLOATERS
Not every new quad has a carburetor these days, as many top of the line models are coming with EFI. Every ATV of the past had one however, and if your ATV has a carb, draining the float bowl is a good idea a couple times a year. The float bowl traps water and contaminants from the fuel, and its super easy to clean. Simply turn the fuel valve off, unscrew the drain from the bottom of the carb, empty out any water or bits of dirt, and then reinstall. Don't forget to turn the fuel back on before you try and start the engine next time.
CABLES & CONTROLS
Your winter checkup should also include the cables, controls and brakes. Imagine starting to creep down a big hill, only to discover your brake pads were worn out! Check the pads and rotors for wear, and the oil level in the master cylinder reservoir at this time also. Cables on your quad will need lubrication from time to time as well, and a little oil will make them work much smoother. To get the oil inside, we use one of those nifty cable -lubrication tools that clamps around a cable and you squirt an aerosol can into, but if you don't have one, simply remove the high end of the cable, and squirt or drip light duty oil into it. We've used WD-40 or similar products many times! Continue working the cable and applying oil as the fluid makes its way down, then reconnect and readjust the cables and levers for correct free play. We like ours without a lot of extra play, but just make sure nothing "drags".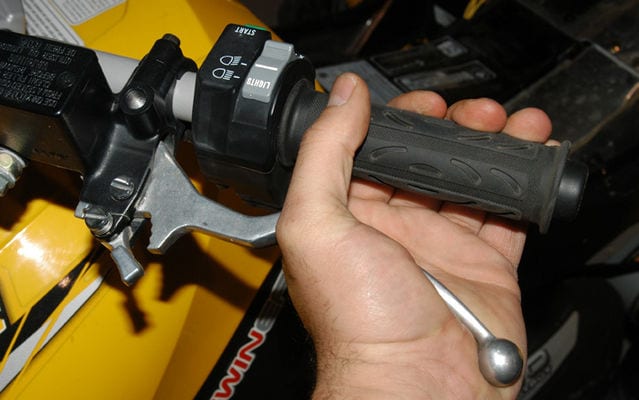 CHASSIS CHECK
Most quads have grease zerks on the rear suspension, and some manufacturers even include them on the front as well. It's important to give them a good shot of fresh grease in the spring, and even after a trip to the high pressure washer. For quads that don't have grease fittings, we take them apart before the season starts, and apply grease manually. This is mostly on our race quads however, but it is a good idea for utility quads as well, and makes it much easier to spot worn bushings before they become a big problem on the trail.
If your quad is the sporty type with a chain and sprocket, inspect the chain for wear, and the sprockets for pointy, sharp teeth. If the sprocket teeth are pointed, "hooked" or sharp, it's time for a new set. If the chain shows thinner or worn side plates, or can flex side to side, that needs to be changed as well. Usually it's best to replace the chain and sprockets in sets, so they can wear in together, since a worn sprocket will not be spaced correctly for a new chain, and will wear it out much faster than normal. While checking the chain, be sure to check any plastic chain sliders or rollers as well. If your quad is of the utility variety, be sure to check all the drive shafts, CV boots, and CV joints for wear. Replace the worn boots, covers, or seals, and any CV joints that are sloppy. Utility quads have a more mechanically complicated drive system, working over a greater range of motion, with more widely varying loads than most other vehicles. In addition, they are usually prone to harsher conditions than most sport quads, and it is very important to keep the shaft and CV system well protected and in top working condition.
SHAKE it BABY!
Grab your quad and give it a good shake! By that we mean, grab the front bumper, shake it back and forth, and see if anything seems loose. Do the same for the rear, and while you're at it compress the suspension on both the front and rear to make sure that is working smoothly as well. We go over every nut and bolt to make sure they're all still tight. Simply give each one a quick check and replace any that are missing. You want everything to be nice and tight, and ready for the upcoming season. One area we often find loose is tie rods, which tend to come loose or wear out rather quickly on some models. Turn the bars and watch -carefully what happens. It's important to check that everything rolls properly as well, and for that we place the entire quad on a stand, or simply one end at a time and roll the tires. Make sure -nothing drags.
TIRES & WHEELS
If your quads are like ours, sometimes they develop slow leaks in the garage for no apparent reason. Sometimes the leak is from a bent wheel, and more often than not, the only way to fix the problem is to replace the wheel. Before each ride, it's a good idea to check the pressure, and make sure both sets are matched. That means, make sure both front tires read the same pressure, and both back tires read the same. Uneven pressure from side to side drastically changes handling, and it can even get -unstable on hard packed surfaces. New tires are almost as good as a new girlfriend!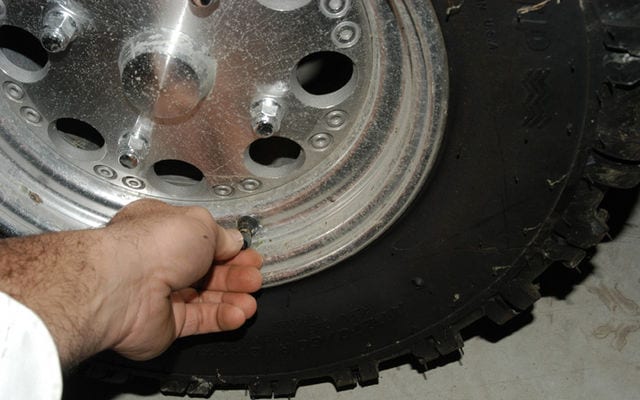 KEEP IT CLEAN
One thing we do after almost every ride, and we always do after a race, is to wash our quad. It makes it much easier to work on, and to spot any potential problem. Do yourself a favor and wash your quad before you work on it, and wash it often during the season. It will be better for both of you. It's not that hard to take good care of your quad. The tasks we've described can be done easily with no special tools, and will make all the difference between a great season of riding, or major problems that can leave you at home while your friends head to the trails. Your ATV can take you pretty much anywhere, and will run practically forever if you clean the air filter, change the oil, and keep it adjusted. Show your quad a little love. After all, it's one thing in your life that is not the high maintenance type!