The Maverick Trail side-by-side vehicle is considered an adaptable off-road vehicle because it can tame nasty off-road terrain, yet also adeptly squeeze into the tightest of 50-inch trails, all while providing its occupants the confidence they need to further push exploration. Although already agile and adventurous from the factory, the Maverick Trail can now add quests in secluded Snowbelt regions to its list of proficiencies, thanks to the launch of the all-new snow-ready Apache Backcountry Track Kit from the Can-Am (PAC) accessories group.
Designed specifically for use with Can-Am vehicles, the high-quality Apache family of track systems is engineered from the factory for perfect fitment, seamless integration and premier functionality. Can-Am engineers designed the Apache Backcountry track kit to optimally match engine output and support chassis performance while also delivering maximum performance without compromising the vehicle or the track's durability. The ultra-rugged system includes an innovative DPS module that intelligently ensures speedometer accuracy and also optimizes track assist for ease of steering and precision control.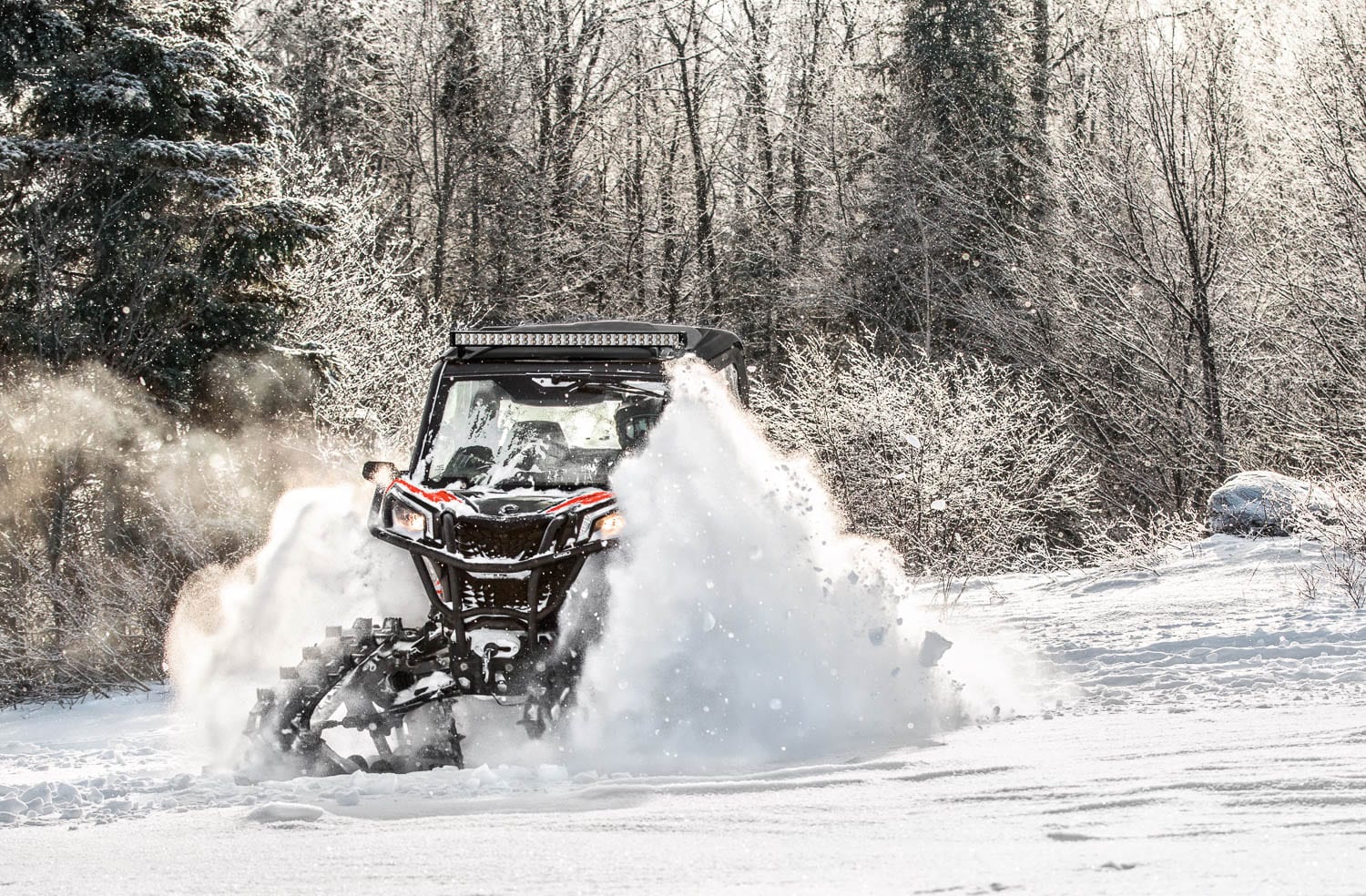 Prominent Features
The easy-to-operate Apache Backcountry track system distinguishes itself from other offerings because it produces perfect fusion of BRP's renowned Ski-Doo snowmobile and innovative Apache 360 Track System technologies. Read: proven and purposely built for use in snow!
Aggressive track design with industry-leading design: Large 2-in. lug height and 3-in. pitch for maximum traction in deep snow.
Snowmobile-type sliding tensioner
Largest contact patch anywhere: 14'' x 138'' (36 cm x 351 cm) rear track and 13.5'' x 96'' front track (34 cm x 244 cm)
Added ground clearance of 7"
Efficient frame and rail design ensures weight is evenly distributed on snow
Highest available track flotation
Largest contact patch anywhere: 2,830 in.2
Lowest pressure per square inch: 0.44 lb./in.2
Optimized gear ratio: 17-tooth sprocket with large 3" pitch delivers 7% more speed than the Apache 360s, resulting in better performance in deep snow. External drive system ensures slip-free riding and maximum power transfer.
The enclosed anti-rotation arm improves control and performance with an integrated adjustable pre-load spring and multiple rubber dampers.
Offers a lower rolling resistance than the competition, allowing for a more efficient transfer of horsepower to the ground.
Curved front rail improves steering ease.
Optional idler wheels and sliders with Vespel inserts increase slider lifespan in harder snow conditions.
Availability: In Can-Am dealerships in September 2018
MSRP: $5,349.99, Maverick Trail (715005247)
Mounting kit required: $649.99, Maverick Trail (715004285)
For more information on Can-Am accessories, visit: The online Can-Am store or your local Can-Am dealer.