Creator of the first self-balanced scooter, SEGWAY® is the undisputed world leader in the field. The first version of the electric vehicle, revealed on December 3, 2001 by its creator Dean Kamen, quickly boosted the brand to the world-renown leader. In 2005, the SEGWAY XT – now the x2 SE – gave the personal transporter even more possibilities (thanks to its all-terrain capacity) and reinforced its spirit of freedom. Since then, the brand has constantly conquered new markets, such as law enforcement, security, and emergency medical aid, and has found various uses in the agricultural and tourist industries. Ninebot bought the company in 2015, which gave it a capital boost and allowed it to extend its technology to new products, in partnership with industry leaders such as Intel and Xiaomi. Robotics also became a completely natural field of interest.
SEGWAY also partnered with major automotive companies such as Ferrari, Porsche, and General Motors. Other leading international partnerships, such as the Turin 2006 Olympic Games and the Beijing 2008 Olympic Games, have brought SEGWAY products to the forefront of popular society. SEGWAY's presence at the Beijing Olympics even caught the attention of Xi Jinping, vice president of the People's Republic of China at this time. As the creator of a self-balanced transporter, SEGWAY aimed to simplify the transport of people and objects and to make life simpler. The next logical step for the company was to move towards the Powersports market with revolutionary hybrid technology and high-end positioning.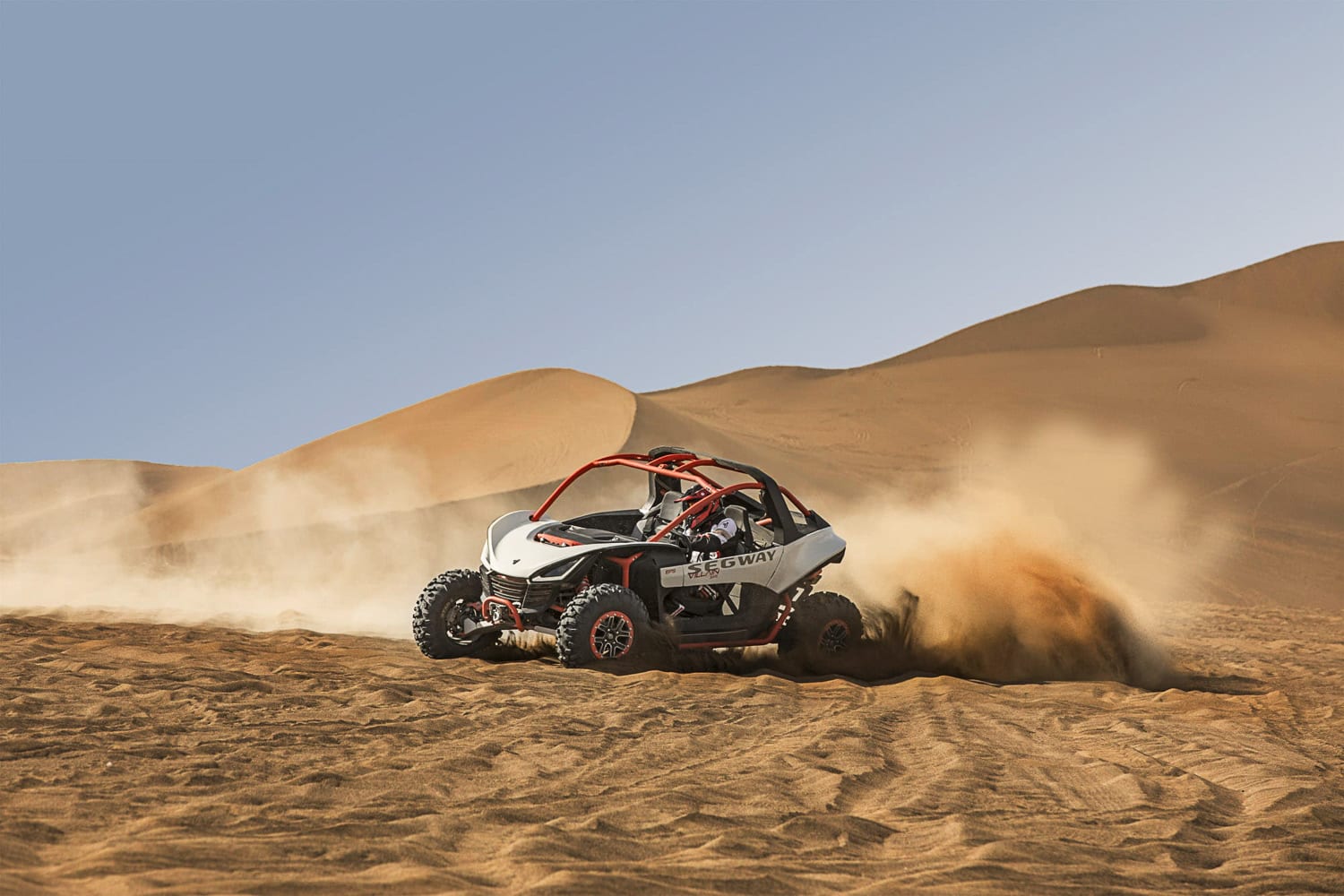 Since the launch of its first personal transporter, SEGWAY has never hesitated to demonstrate an innovative spirit. As a world leader in its field, the company is tackling the ATV and side-by-side markets with technological advances that are poised to make an impact in the industry. The new Snarler ATV, as well as the Fugleman and Villain side by side vehicles. are all available in hybrid and standard versions.
HYBRID TECHNOLOGY
The 2020 range includes the FUGLEMAN (utility/leisure) and the VILLAIN, which has a more defined sport/leisure purpose. Both share the same design DNA, with an aggressive posture, a fluid front, and an active rear. Aerodynamics are rendered with fluid surfaces and clear dividing lines. The three vehicles are available in several drive options, including the new central hybrid version – a technological choice mastered by SEGWAY and that offers better performance than a fully electric option in an all-terrain vehicle. In this hybrid version, the electric motor can be useful in sensitive areas, thanks to the absence of CO2 emissions and lower operating noise, while the gas engine can take over in situations where more power is necessary.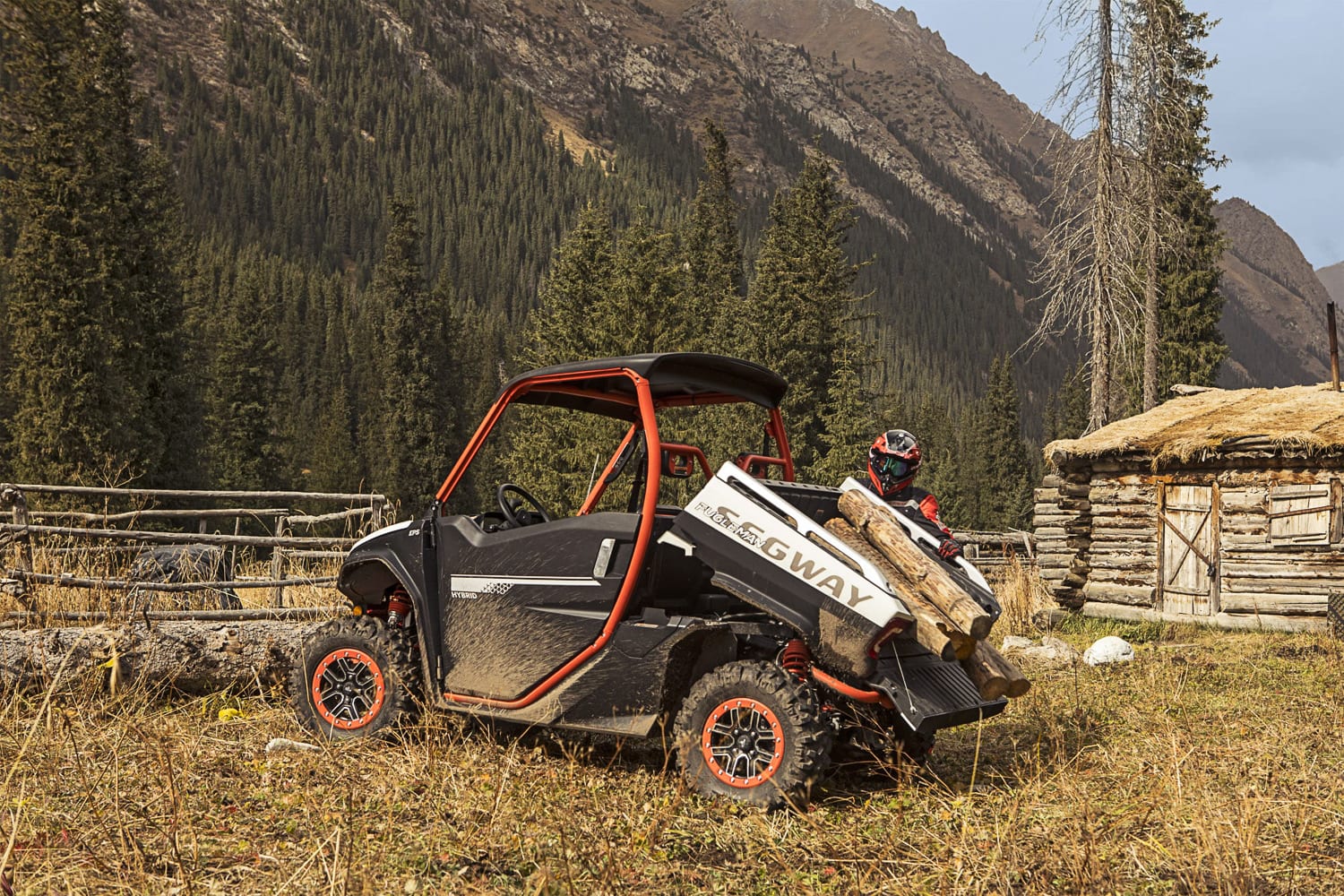 The SEGWAY rechargeable hybrid has a smaller battery size compared to a fully electric vehicle, which reduces its total weight. The parallel hybrid powertrain includes a combustion engine, a generator and an electric motor, a storage battery, and a control system, which keeps the engine and the drive system of the conventional combustion engine. SEGWAY combines innovative engine technology with a modern EIC system that brings hybrid technology to the all-terrain vehicle market. Together, they can provide a maximum of 86hp and 96 Nm (63.4 lb-ft) in the 570cc single-cylinder version and 181hp and 250 Nm (184.4 lb-ft) with the optional twin-cylinder engine.
Segway use other proven technologies in the industry such as electric power steering and three adjustable modes to adapt to the driving preferences and conditions. But where Segway is also going to strike a big blow is in the intelligent interaction between the user and the vehicle thanks to new electronic technologies. Its intelligent dual-channel communication system allows data transfer via Bluetooth and 4G, allowing users to be connected at all times.
POWERTRAIN
Segway Powersports has combined innovative engine technology with a modern EIC system to provide advanced hybrid technology for ATV and side-by-side models. It delivers a maximum of 86hp and 96 Nm (63.4lb-ft) of torque for the 570cc engine and an upper limit of 181hp and 250 Nm (184.4lb-ft) of torque for the 1000cc engine.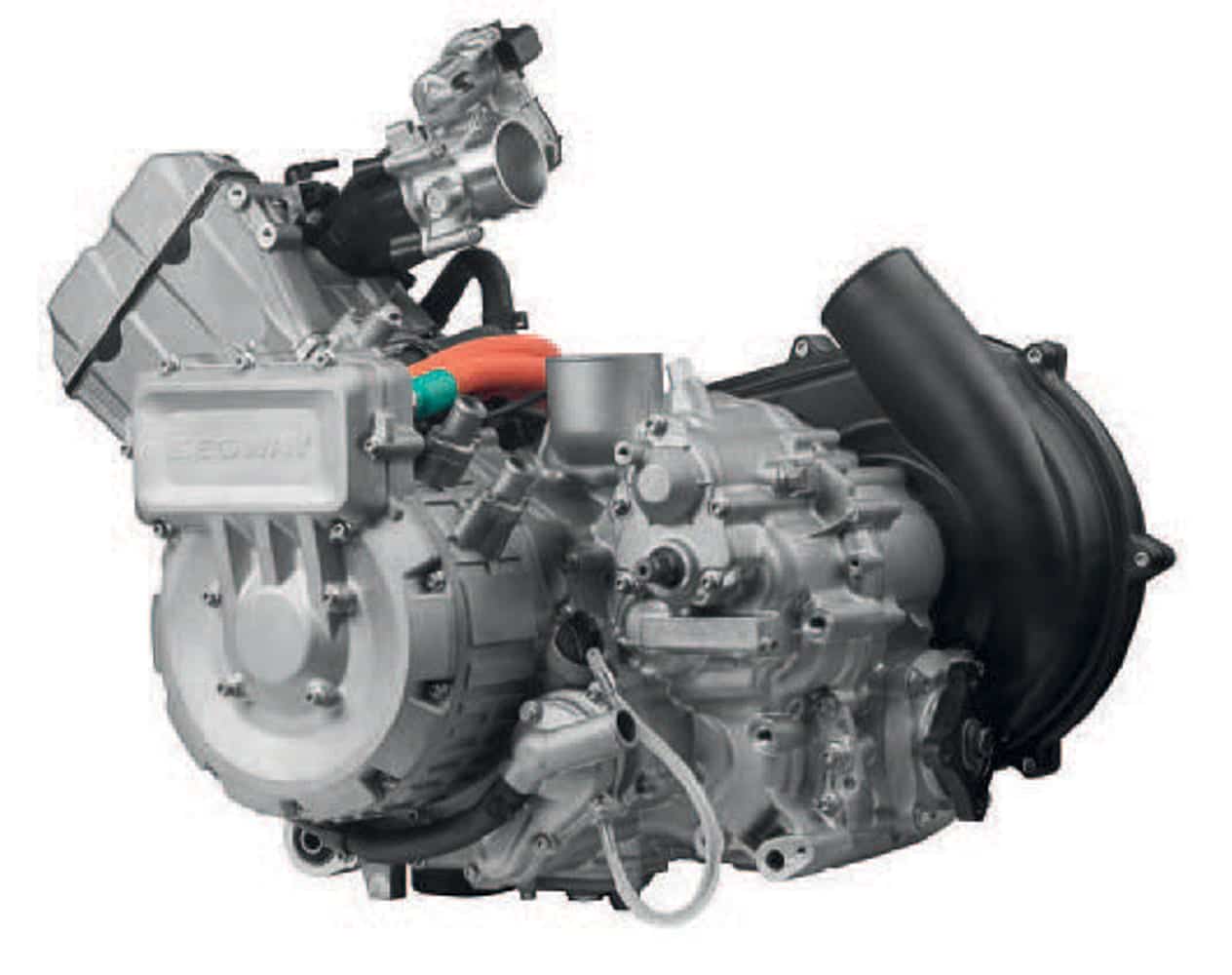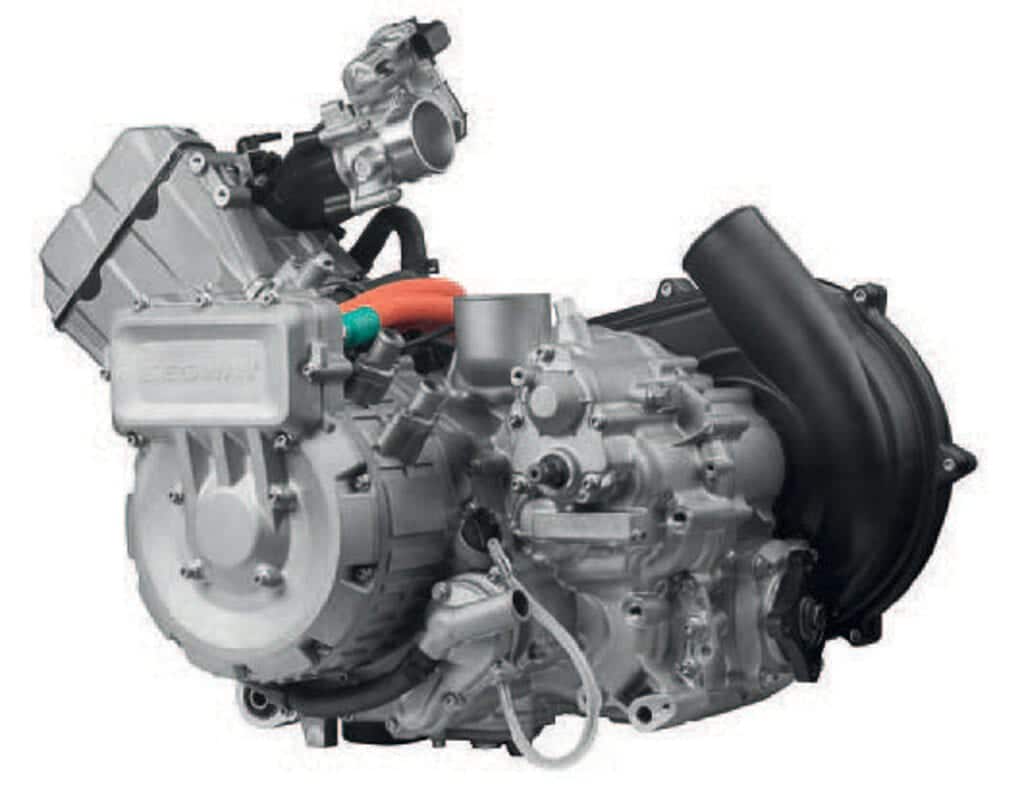 570cc:
The 4-stroke liquid-cooled single-cylinder DOHC dual-core engine delivers maximum power of 86hp and 96 Nm (63.4lb-ft) of torque.
ERHP (Extended Range Hybrid Powertrain):
l000cc liquid-cooled, parallel twin-cylinder, 4-stroke, 8 valves, DOHC engine, the range extended powertrain delivers a maximum of 181hp and 250 Nm (184.4lb-ft) of instant torque.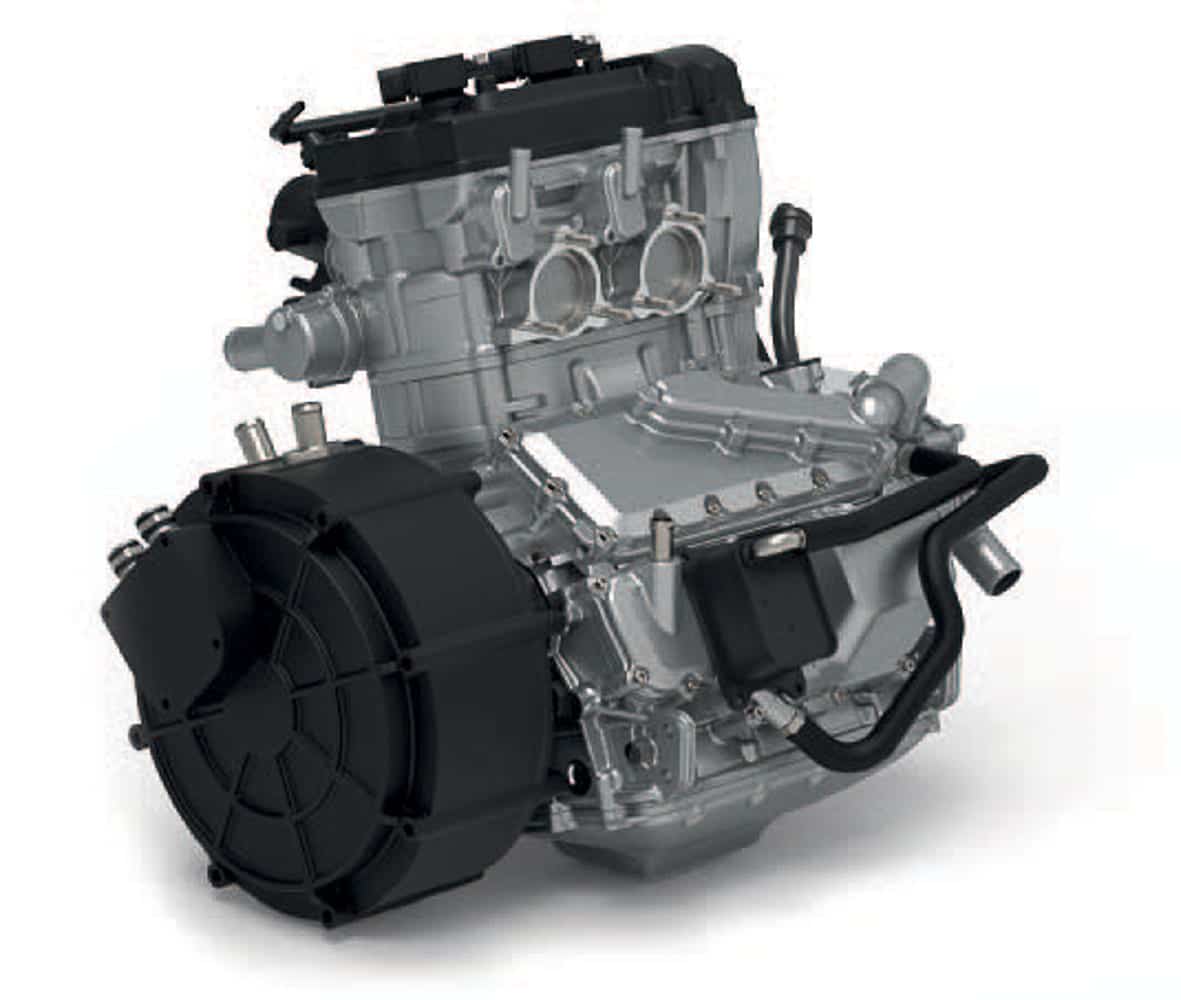 FUGLEMAN
Created for work and leisure, the Fugleman looks like a side-by-side at the cutting edge of technology. Also built with a high-strength chrome-molybdenum frame and equipped with an independent suspension with double-wishbone on all four wheels, it can play on any terrain thanks to its ground clearance of 27 cm (10.6 inches). Comfort is guaranteed with four adjustable shock absorbers that will adapt to all terrains and all riding styles. With suspension travel of 18 cm (7.1 inches) at the front and 21 cm (8.3 inches) at the rear, you're ready to travel the trails smoothly. This 3-seater vehicle can hold a maximum load of 558 kg (1230 lbs.) in the rear cargo box and can tow up to 900 kg (1984 lbs). The steering wheel and driver's seat are adjustable for ultimate driving comfort.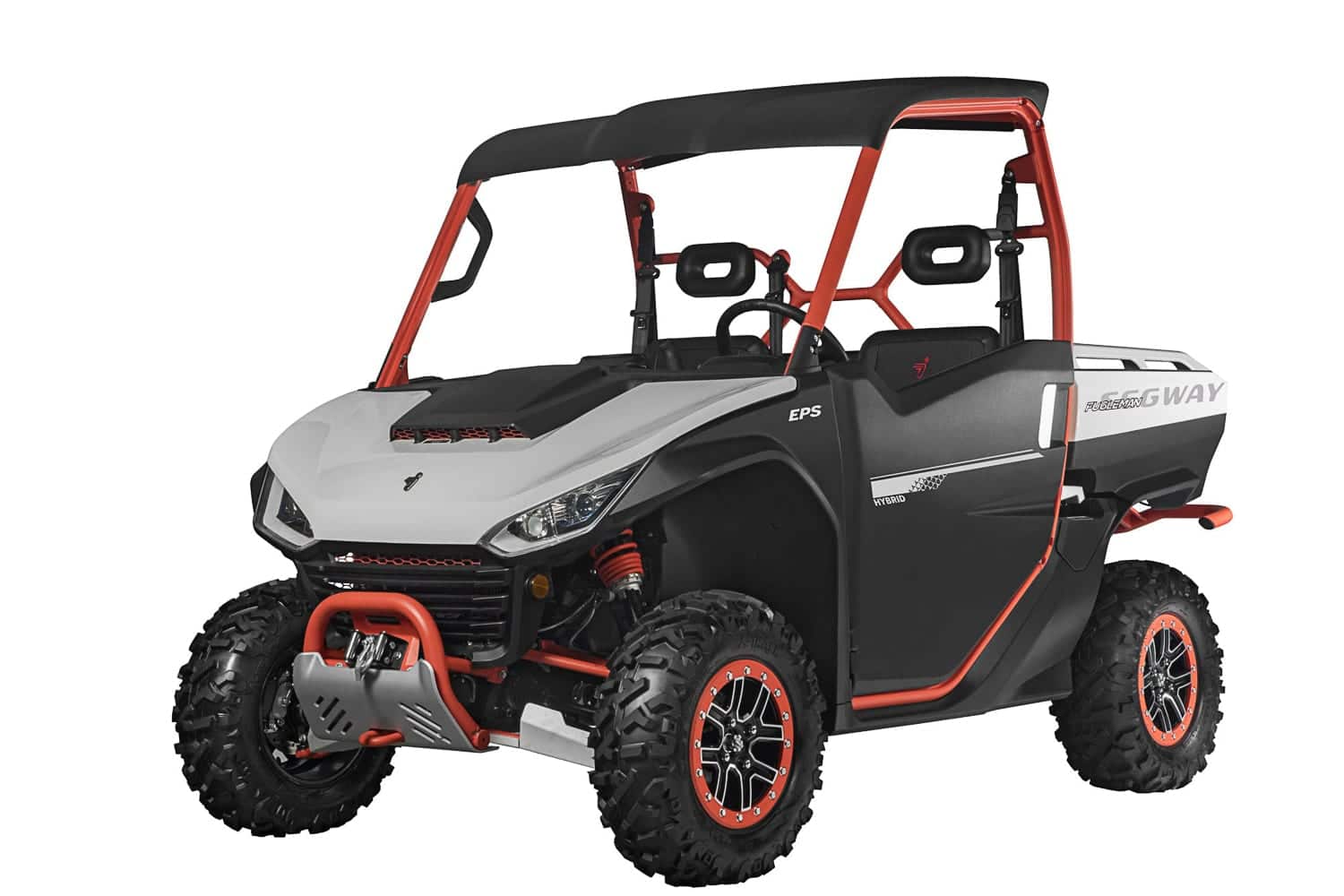 The seatback can be lowered for more functional use. The interior can be equipped with an optional 10.4-inch central touchscreen, which connects to the central Bluetooth and 4G smart communication system for updated data. Heating is also available as an option. LED headlights provide excellent lighting for night driving. The Fugleman also has a smart lockable front differential and rear differential lock with 2WD/4WD modes to conquer the toughest terrain.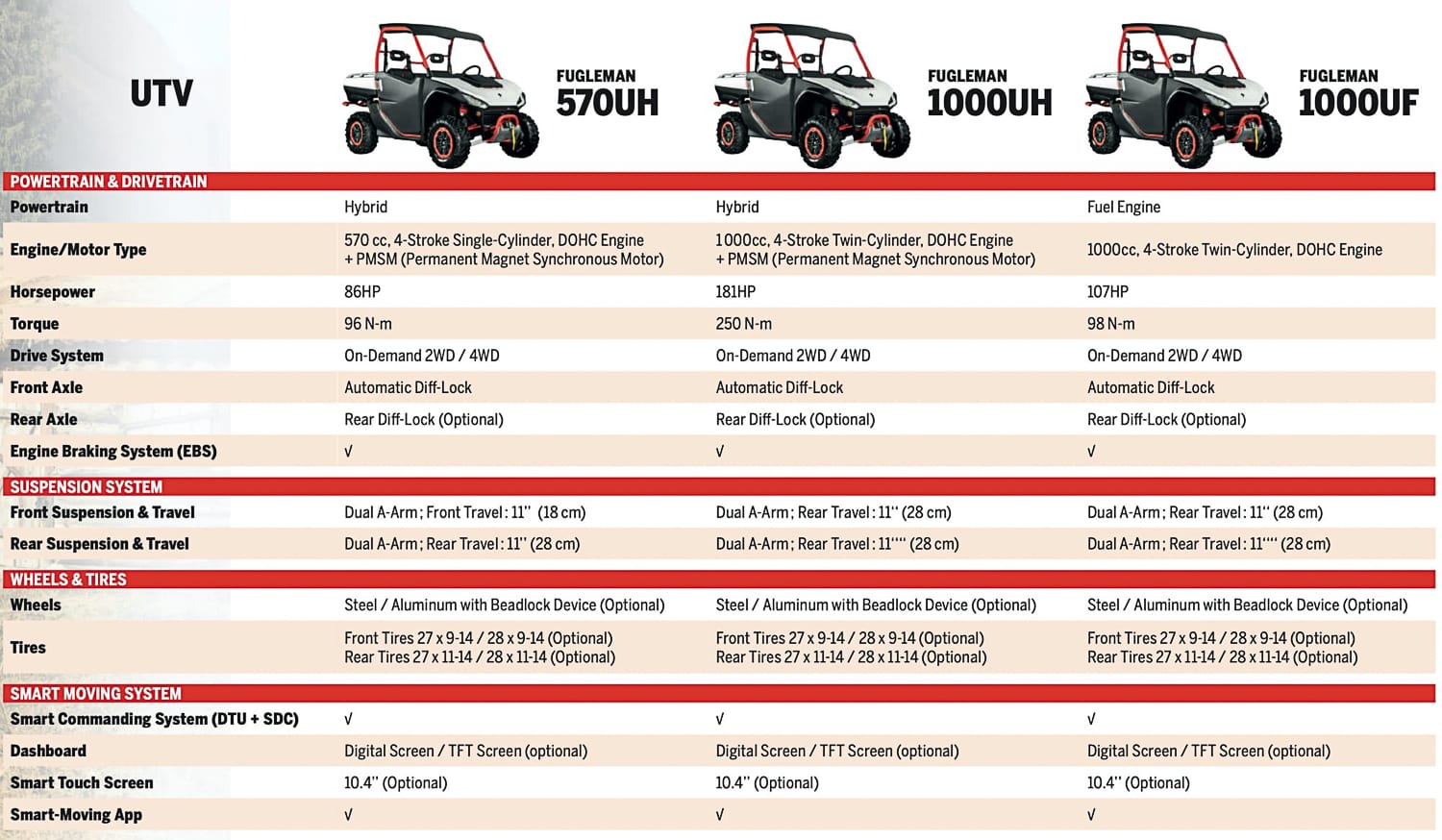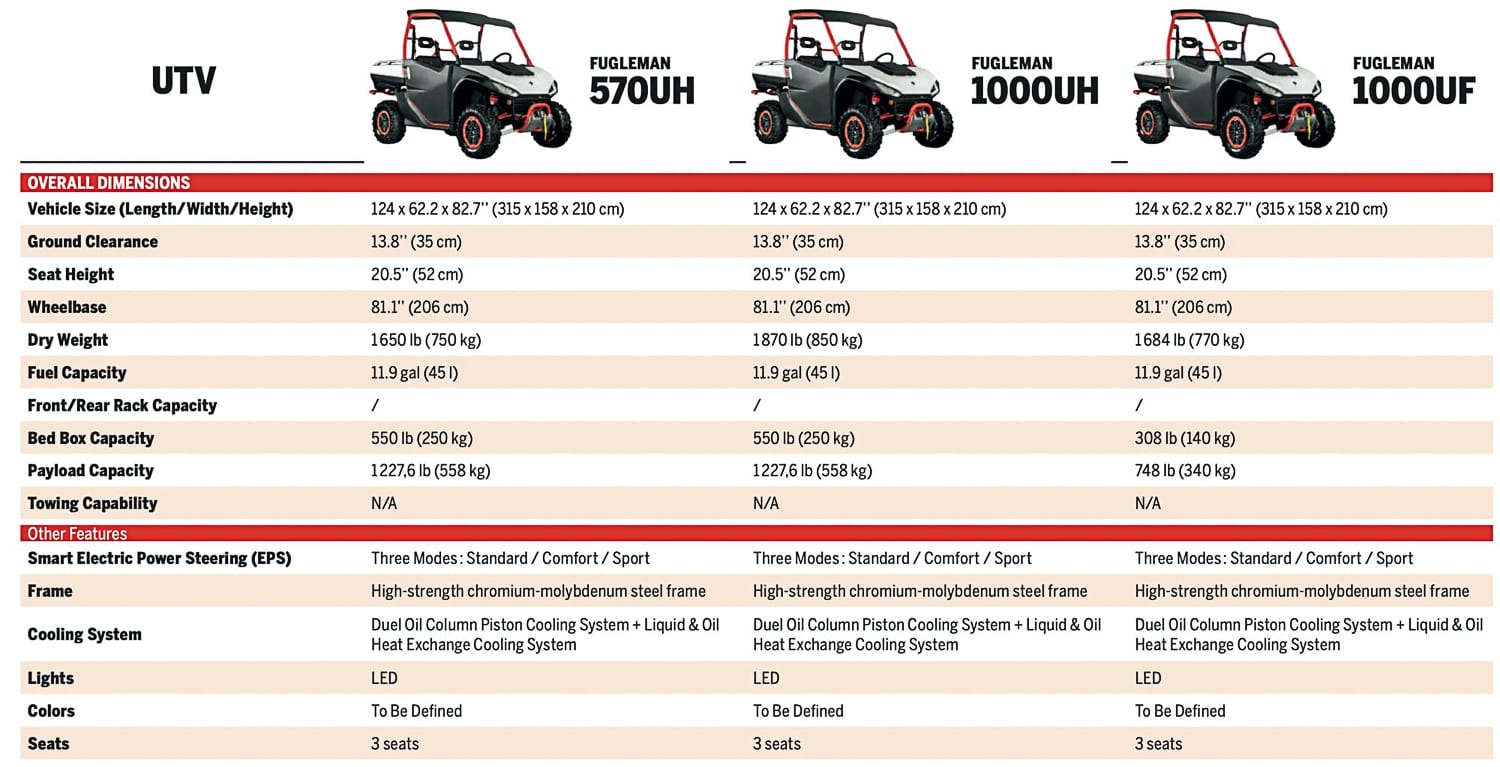 VILLAIN
The sporty SEGWAY side by side car also offers technology centered on its 107-horsepower twin-cylinder engine, which develops up to 181 horsepower with the hybrid system. As a pioneer in its class, it is cleaner and more economical without sacrificing power. Like all SEGWAYS, its dual cooling system offers peak performance. With its modern and aerodynamic style, the VILLAIN benefits from an audacious and radically different design. The VILLAIN is equipped with remote reservoirs on front and rear shocks, as well as dual speed compression and rebound adjustment that can adapt to all terrains and any riding styles, which is standard for this type of sporty vehicle!
With its dual A-arms and suspension travel of 415 mm (16.3 inches) at the front and its rear suspension with a wheel travel of 455 mm (17.9 inches), all equipped with a stabilizer bar, the SEGWAY VILLAIN is a real sporty all-terrain vehicle. It includes beadlock rims that secure the drive and ensure that he can handle any terrain. From the adjustable seat and behind its tilt steering wheel, drivers can access the LCD dashboard with adaptive display and get all the information they need at a glance. It is a sporty side by side that will make its mark on all markets.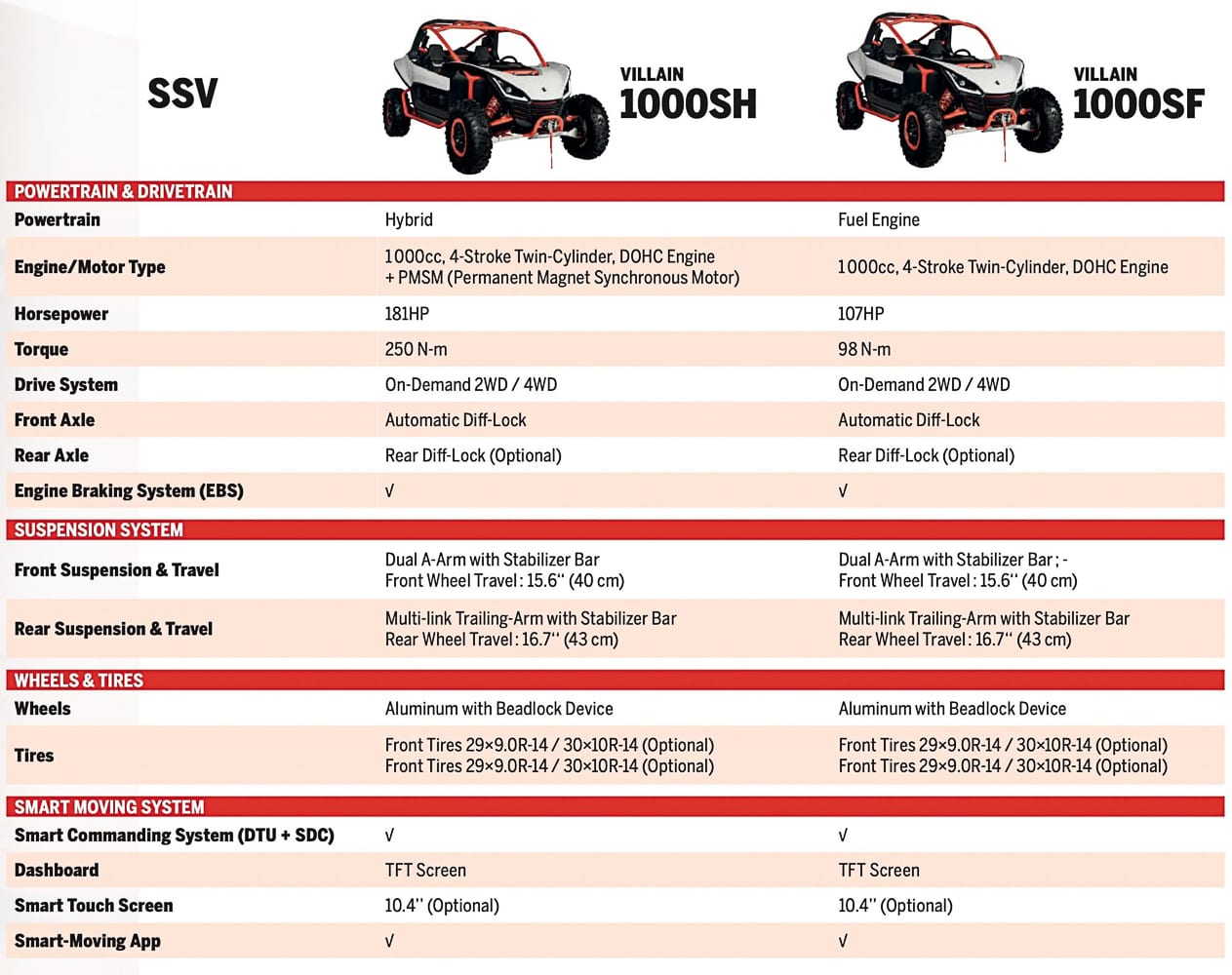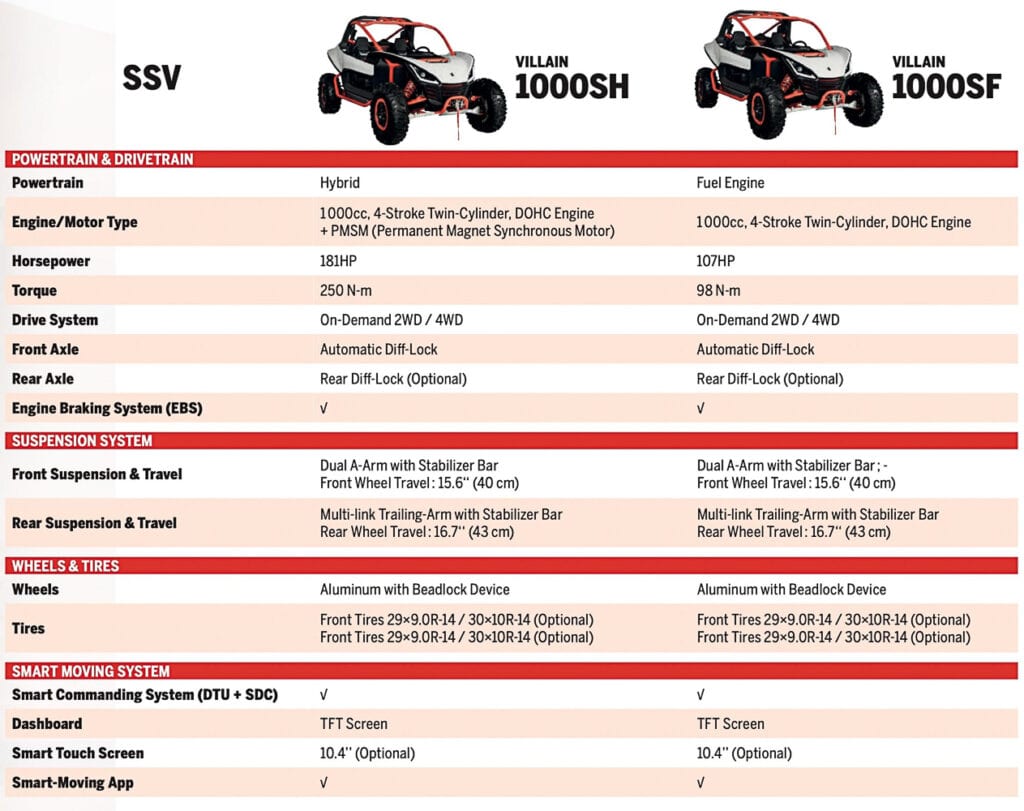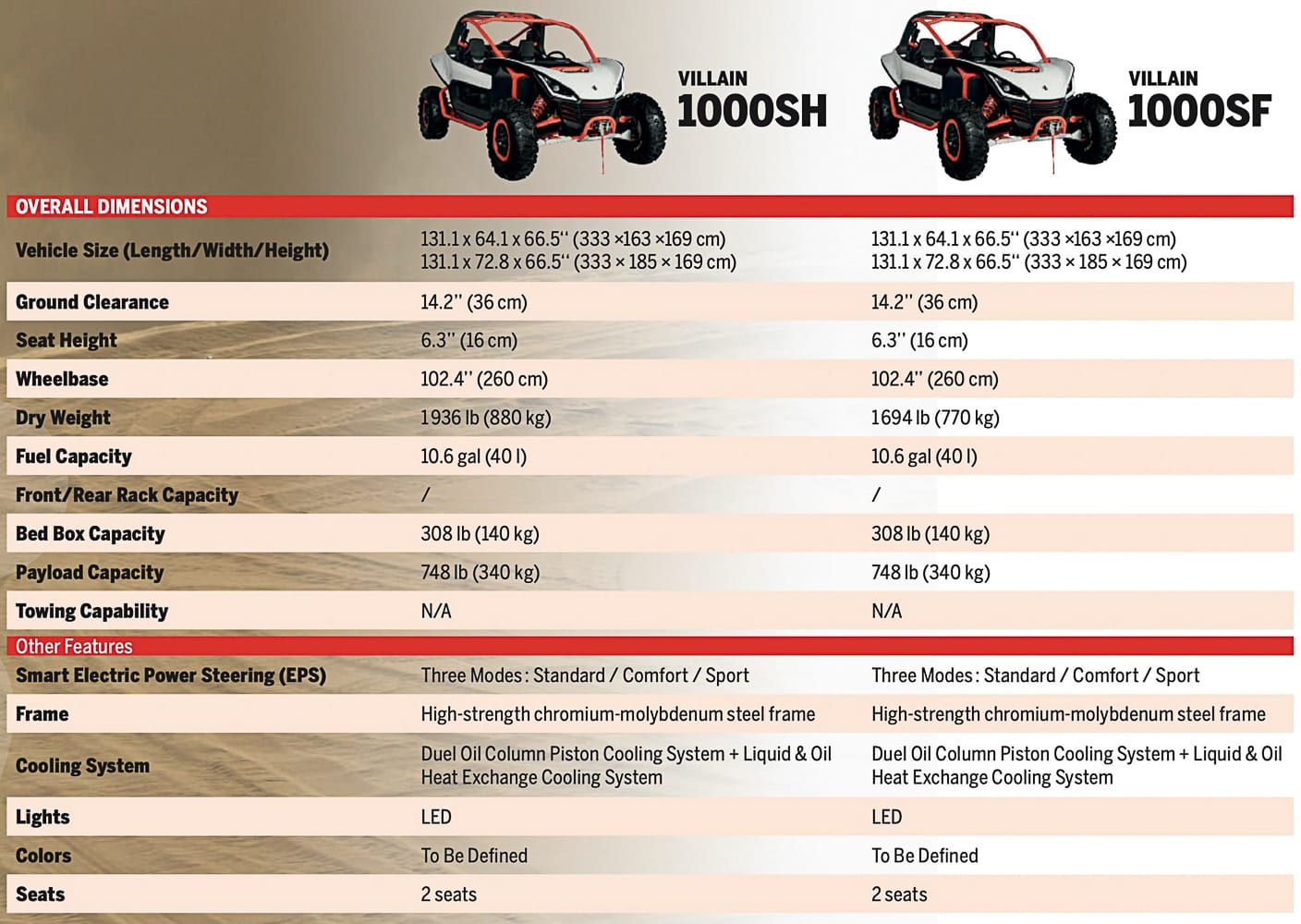 For more information on the Segway Villain and Segway Fugleman hybrids UTV, visit: powersports.segway.com