Polaris invented the side-by-side vehicle segment more than a decade ago. At that time no one could have predicted that this new division would experience such great popularity among the users. Year after year the sales figures are proof of the passion for this type of vehicle, allowing a new perspective for its utility side and off-road trail adventure.
The evolution of the Polaris Ranger lineup continues to progress and adapts to each type of off-road rider and their specific needs. The American manufacturer based in Minnesota has broadened the offer through its range of utility vehicles by offering the Ranger XP 1000 Northstar, equipped with a multitude of additional features and benefits, including the exclusive Ride Command technology.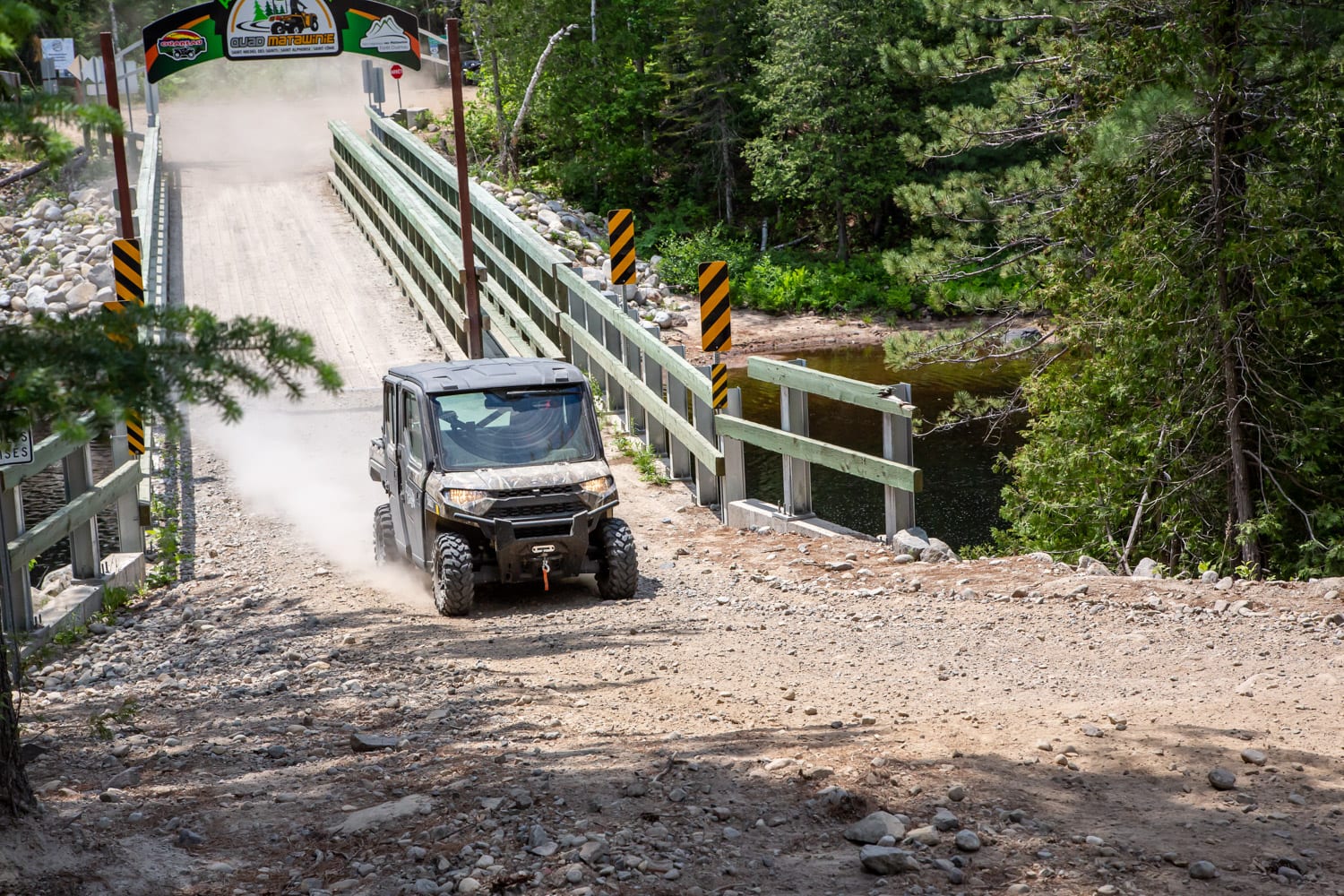 Our test vehicle: 2020 Polaris Ranger Crew XP 1000 Northstar Premium
For many of us, regardless of the weather conditions, the right equipment is essential to get the job done. Whether we are affected by cold or hot temperatures, rain, or bright sun, there are no climatic constraints for the Polaris Ranger owners.
The Ranger lineup now includes the Northstar division to assist and contribute to new off-road vehicle experiences. This unit is factory-fitted with a fully enclosed cab, heating, and air conditioning to cope with the most demanding jobs whatever the conditions. Recreational riders will also find it a great ally for more than pleasant adventures on the trails.
Thibault Marine inc. from Saint-Agathe, Québec, entrusted us with a 2020 Polaris Ranger Crew XP 1000 Northstar. The Crew configuration is distinguished by a cabin with two rows of seats that can accommodate up to 6 people on board. It is the perfect configuration to transport a multitude of equipment, material, luggage, or even a whole family when traveling. For our part, we had planned to ride for several days in the Lanaudière region, an hour's drive from Montreal, for a ride of a few hundred kilometers. The cabin of the Crew version of this Ranger was the perfect place to house all our gear for this long journey.
The spacious cabin allowed for all the members of the team to carry everything needed for a 3 days adventure with uncertain weather. Needless to say, we were eager to take turns testing this vehicle as it almost offers the same conveniences we enjoy in our everyday motor vehicles. We were faced with ambient temperatures of around 40 degrees Celsius at times, therefore a source of freshness from the HVAC system was welcome.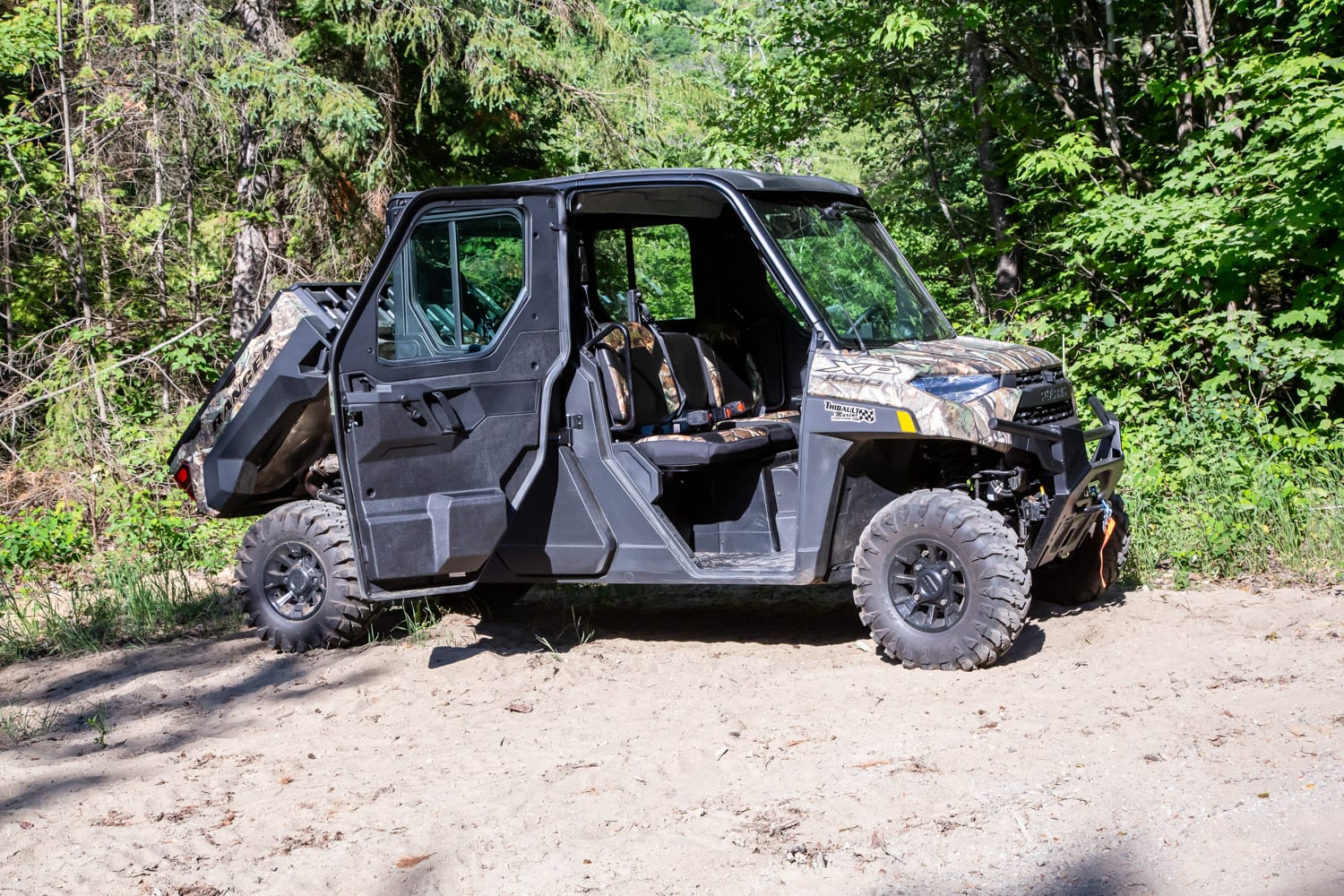 This almost unusual extreme heat allowed us to test the capabilities of the air conditioning system. We can mention that it gave us a source of coolness without having the impression of being in an igloo. Truth be told, if we hadn't had this air conditioning system, we would have suffocated in that closed cabin. So in this way, we think the HVAC system is a necessity for this type of vehicle to fully appreciate it. The Northstar version also includes a cabin dome light, defroster, rearview mirror, and wiper with washer for added convenience. The front windshield is tiltable to take advantage of a wind breeze when the situation permits.
This refined interior offers all the comfort thanks to an adjustable driver's seat, power steering, a tilting steering wheel, a double glove box, and more than enough cup holders. The storage solutions allow 73.8 liters capacity, therefore, much more than necessary. The only recommendation we would like to mention to designers is the addition of a rear window with an opening.
Do you need some entertainment?
The new Northstar lineup offers an expanded range of options for enthusiasts who demand the best and highlights Polaris' commitment to providing vehicles with the highest level of value for every dollar invested in its acquisition.
Among its benefits is the industry-exclusive Ride Command infotainment system. This add-on offers significant value to the 2020 Polaris Ranger Crew XP 1000 Northstar. First of all, it is equipped with a 7-inch touch screen allowing a multitude of functions. It allows us to easily connect to a trailer with the assistance of the factory-installed rear reversing camera. The front camera, for its part, offers safer navigation in tight spaces.
Second, to easily navigate to destinations, an integrated GPS offers all possible trail options for safer rides. It is this last option that pleased us the most because it gave us the certainty of taking the right directions when we were faced with different options during the multiple branching paths. Among the new features is the Group Ride function which allows users to see the location of other riding buddies without the need for cellphone reception, provided of course that their vehicle is also equipped with the Ride Command system.
Lastly, being able to drive on the trail or do the work with this robust vehicle while listening to our favorite music or AM / FM radio is definitely an added value. Smartphone connectivity through Bluetooth along with audio from the in-dash speakers and seven-speaker audio pack are some of the best we've seen in the industry so far.
ProStar engine
The 2020 Polaris Ranger Crew XP 1000 Northstar is powered by a 999cc dual overhead cam ProStar engine producing 82 horsepower. If you plan on loading, towing, and hauling, that extra energy will make the job easier – this is what this engine intended to do with ease and agility. Its power is adequate for the majority of the applications it will face, but don't expect phenomenal acceleration that will make you stick to the back of your seat.
The worst enemy of this UTV is most certainly its weight which we can describe as very high. Its dry weight is 2359 lbs (1070 kg) and if we add the fluids, occupants, and necessary equipment to it, the scale needle goes up rapidly.
The Ranger Northstar version with the rigid cabin is certainly of high quality but adds additional weight. Braking is also affected when all that weight is put in motion. Despite that, we have found that the braking distance is acceptable for this type of vehicle.
The addition of the rigid cabin and its weight made us experience some body roll in turns requiring us to plan some maneuvers in advance and leaving less room for improvisation compared to other UTVs. This vehicle requires some adaptation taking into account its constraints. By being aware of this, we can say that it meets our expectations.
Lots of traction
The Polaris Crew XP 1000 Northstar has AWD " On Demand " traction system. The American manufacturer has one of the most efficient systems on the market in this regard. When selected, it provides traction assistance to the front wheels when one of the rear wheels begins to slip. It is an efficient, proven AWD system that allows wheel grip at all times for unparalleled traction. Compared to the competition, which must come to a stop to activate the wheel lock system, Polaris vehicles equipped with this traction system make it possible to face obstacles with ease without the driver or the passengers noticing.
Extraordinary dimensions
We have already negatively rated previous versions of the Polaris Ranger Crew specifically when it comes to ground clearance. Given a very long 113-inch wheelbase, this vehicle may have difficulty navigating some obstacles such as slopes or dips. The lower body may be subject to scraping on the ground which could damage it. We have to use this vehicle knowing this fact. However, Polaris has slightly increased the ground clearance compared to the previous version of the Ranger Crew. It currently stands at 13 inches. To increase this clearance more significantly, you could simply add a suspension lift kit or proceed with the addition of tires with a larger diameter.
The vehicle provides impressive towing capacities of 2,500 lbs with a 2-inch drawbar. Its tilting rear box can receive a load of up to 1000 lbs and the latter is equipped with a tailgate for easy loading. This combination gives the Ranger the necessary attributes for a job well done for professionals, workers, and hunters.
One of the strengths of the 2020 Polaris Ranger Crew XP 1000 Northstar is undoubtedly its ability to easily transport a group or a family without having to own more than one vehicle. This proximity also allows verbal exchanges between the passengers just like those we are used to having in our road vehicles thanks to the good soundproofing of the standard cabin. Its towing capabilities also place it among the best performing UTVs in this regard. In short, its features allow everyone to find benefits and the infotainment system is like some of the high-end road vehicles.
Among the recommendations we could make, we would have appreciated more airtight door seals. Greater airtightness would prevent dust from gaining access to the interior of the cab and would also allow greater efficiency in the heating and air conditioning system. Secondly, the asking price for this version equipped with more than complete equipment could be a factor that would scare some consumers. However, if you plan to acquire a Polaris Ranger Crew without all the additions of the Northstar version, to subsequently equip it with an enclosed cabin, you would certainly conclude that the version we had at testing is a better choice and more economical in the first place. Finally, sitting upright could be uncomfortable on a very long journey. On the other hand, when we are aware of it, we believe that we can deal with this constraint.
The 2020 Polaris Ranger Crew XP 1000 Northstar is certainly a utility vehicle, but it has features that allow it to be used in so many ways. When we are fully aware of its advantages as well as its constraints, it is an ally for a multitude of jobs, hunting and fishing activities as well as recreational weekend rides with the family.
In closing, we would like to thank Steve Halikas and the Thibault Marine team, Polaris dealer of Sainte-Agathe-des-Monts in Québec, for the loan of the 2020 Polaris Ranger Crew XP 1000 Northstar.
Once again, thank you, guys!