Can-Am has taken huge strides for the 2020 model year in another determined and committed effort to further elevate its off-road product to the masses. Leadership comes in many forms, but it's the industry frontrunners who excel, because they've learned to not only inspire by incorporating their own innovative and trend-setting approach, but also by absorbing feedback from other product influencers to raise standards like performance, comfort and capability.
With the 2020 family of off-road vehicles, Can-Am not only addresses more accessibility for the global consumer, but wholeheartedly maintains its focus on providing performance as well as unprecedented functionality. It also fulfills BRP's promise to further expand its side-by-side vehicle lineup with all-new products. This promise to invent and invest in the product and the industry will never cease when engineering, horsepower and adventure are part of your DNA. For utility, pure sport, recreational endeavors and everything in between, the brand's straightforward approach includes enriching the overall off-road journey one enduring impression at a time.
CAN-AM SIDE-BY-SIDE VEHICLES
Just one short year after enhancing the Can-Am Defender side-by-side vehicle, Can-Am has again invested in its utility-recreational offerings. For 2020, the Defender line gets elevated capabilities, redesigned comfort levels for the occupants, advanced the internal and external protection and refined styling.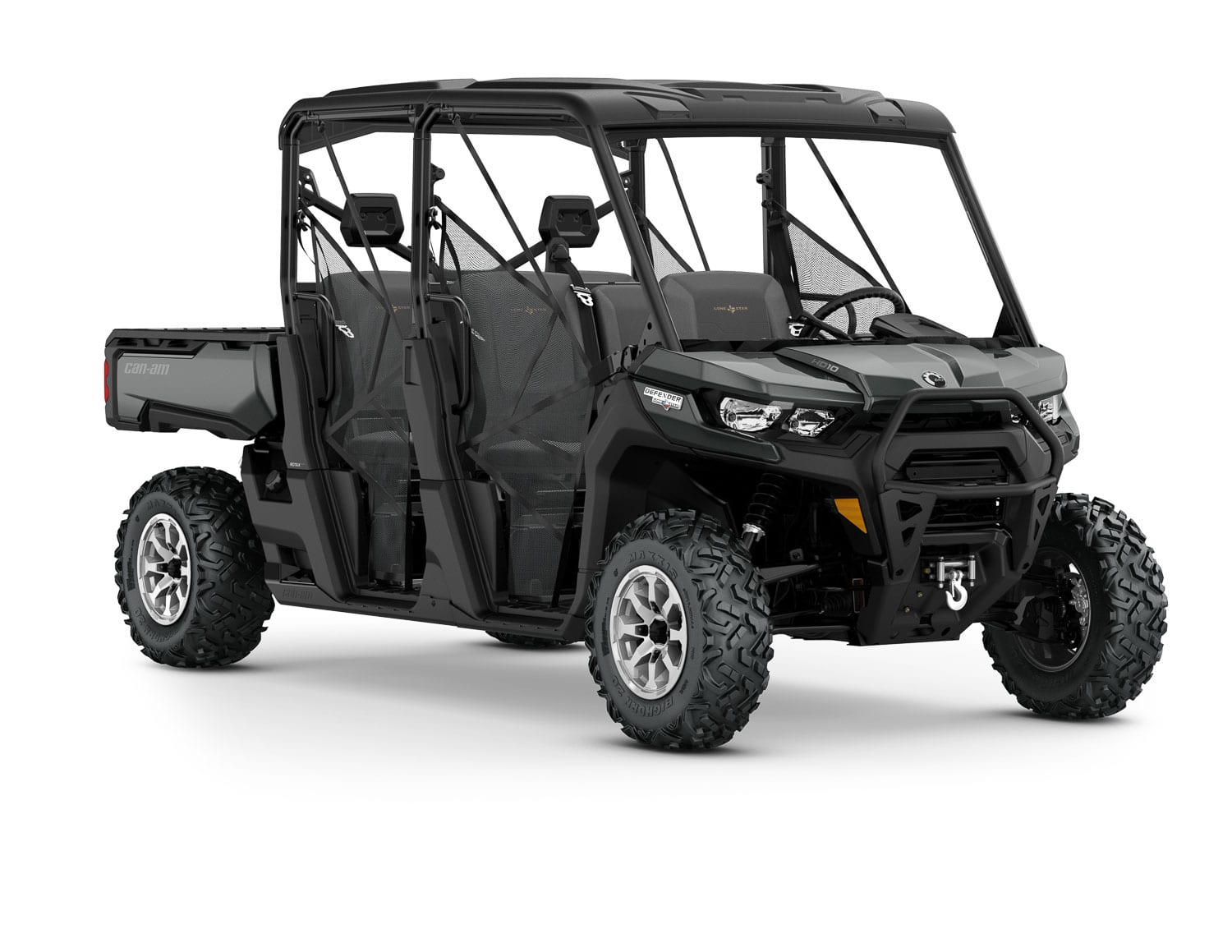 To ensure the new Defender HD10 is more comfortable than ever, the vehicle now has the industry's quietest 1000c V-twin engine. A thicker firewall acts as an improved sound and heat barrier between the occupant and engine components. A new low-sound exhaust system has a unique smooth low intensity with its own distinct sound. Recalibration in the CVT reduced shift line by 500 RPM resulting in quieter operation under heavy acceleration. For smoother operation to equal the reduce sound output, the driving mode reduces power. Speaking of power, the more powerful 82hp Defender Rotax HD10 engine also received a new cylinder head to increase airflow. It offers an industry-leading 69 lb-ft of torque or massive low-end towing strength.
Raising the bar on vehicle protection, Can-Am added a rugged front steel bumper and upper bumper plate. The heavy-duty XT bumper was strengthened to ensure durability in extreme use while looking bold. The revised Dual Phase steel frame was reinforced and lightened (-5-lbs.), offering up to 30% more rigidity. Another critical feature on the 2020 Defender SSVs is their enhanced ride quality. This was achieved with a new suspension calibration and also new front and rear 64-in. arched A-arms that providing extra clearance for obstacle crossings. A new brake holding mechanism improves operation on hills.
The enhanced styling, complete with a new fascia, redesigned grill and hood, gives the Defender a signature Can-Am look. Inside the cockpit, certain Defender vehicles feature either a new 4.5-in. digital display or 7.6-in. display with keypad (X mr, XT-P and Lone Star) for a more polished look and easier reading.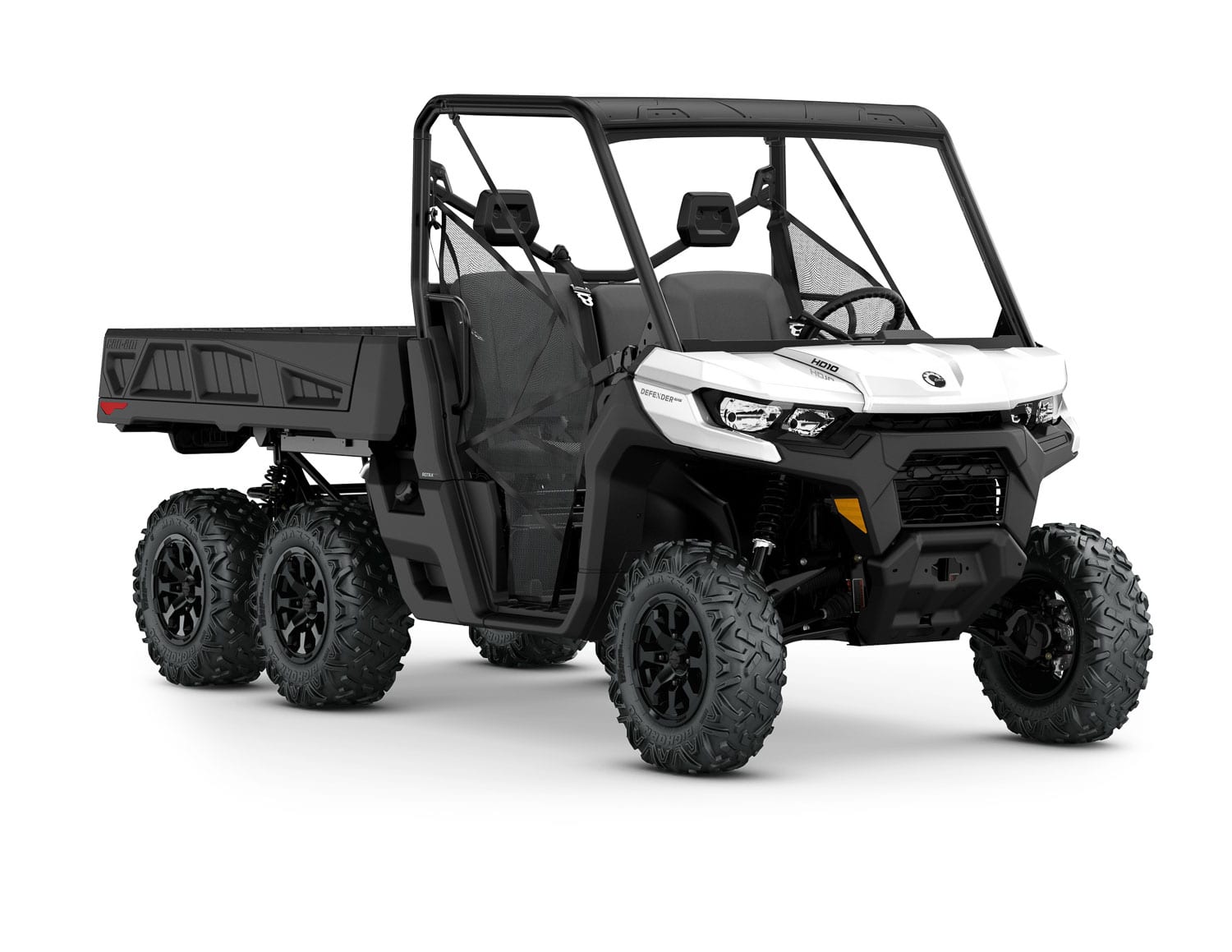 The all-new, super-tough Defender 6×6 DPS HD10 arrives with a herculean attitude, incomparable adaptability and heavy-duty configuration, making it the instant workhorse of the family and an ideal hunting companion. The muscular 6×6, complete with a durable reinforced transmission and the new more powerful HD10 Rotax engine, is a true taskmaster capable of towing up to a leading 3,000-lbs. capacity. Combining the exceptional power and torque with the Multi-traction mode (4×4 and true 6×6) means unbeatable traction and floatability for maneuvering across rugged terrain even with a load.
The Defender 6×6 has the inner brawn to tackle challenging jobs and terrain, but it's the vehicle's clever and adaptable design that takes versatility to the next level. The enormous cargo bed (4.5ft x 6ft) offers double the loading capacity over the regular Defender cargo box. The convertible cargo box design includes removable sides, offering a flatbed setup in seconds. This gives owners the ability to change the configuration to match the load.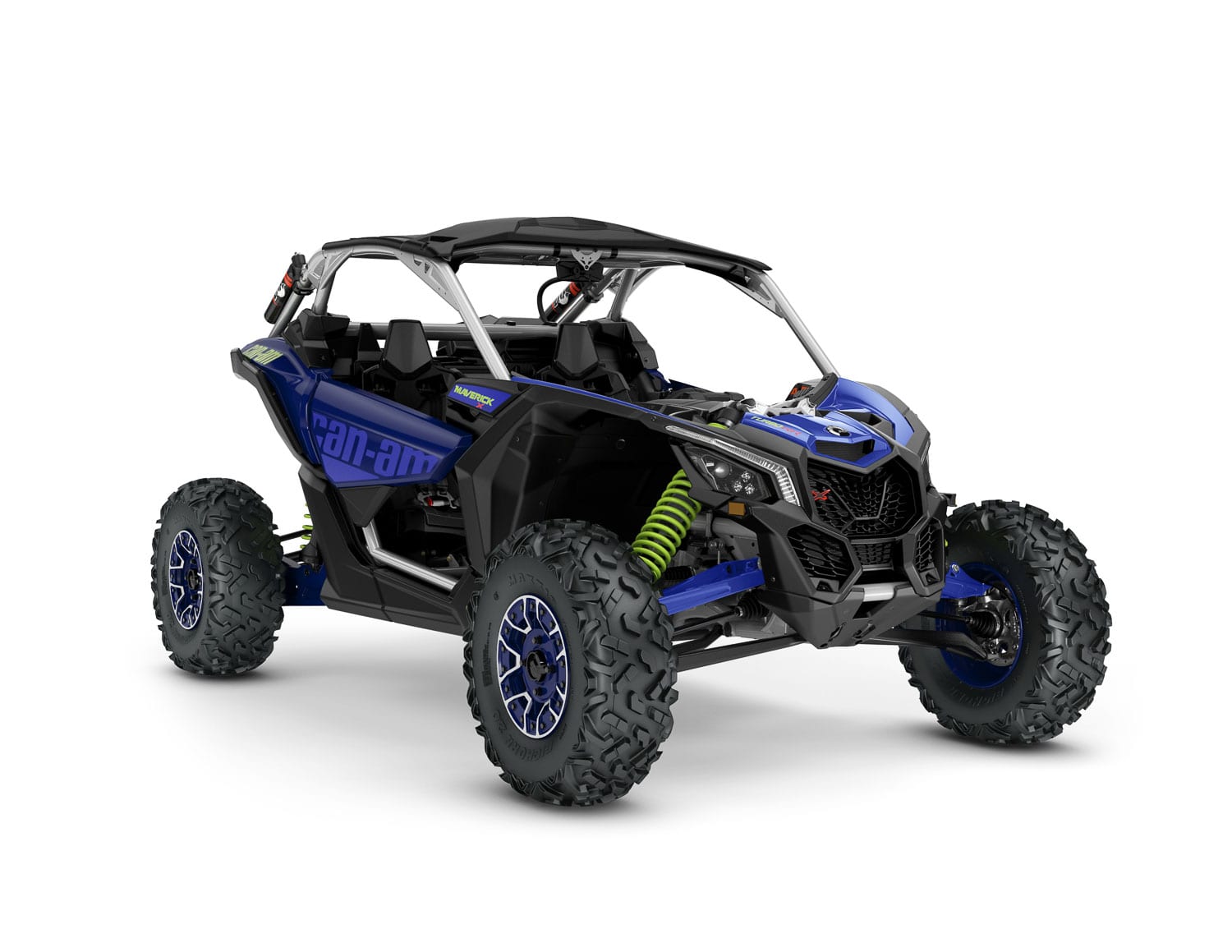 Since its inception in 2017, the Maverick X3 super-sport side-by-side vehicle has impressed the masses with its invigorating performance and one-of-a-kind styling. Can-Am has reinforced its performance authority for 2020 with a new Maverick X3 Turbo RR engine that now supplies an industry-leading 195hp. That's a gain of 23hp and 11 lb-ft (135 lb-ft) from the new Rotax mill. These reliable gains were achieved by adding a bigger turbo, intercooler and a less restrictive airbox to increase airflow and also simultaneously enhancing reliability. Internally, the new Rotax engine uses a Rotax-manufactured turbo and pistons to assure maximum quality. The CVT was also recalibrated to match the new performance levels and improve belt longevity.
The 2020 Maverick X3 with 72-in. widths include a thorough suspension calibration. This results in 1-in. more ground clearance (16-in.) for better obstacle crossing ability. All X rs packages also include new tire widths (9-in. front / 11-in. rear), improving rear traction, reduced steering kickback and enriching drivability.
Other Maverick X3 family updates includes new wheels and tires on Maverick X3 X rc Turbo RR and Maverick X3 X rs Turbo RR for a bolder appearance. The X rc Turbo RR also wears larger diameter 32-in. Maxxis Liberty tires and 15-in. wheels for better ground contact and obstacle crossings. New digital display improves first-glance visibility. The base units receive a multifunction 4.5-in. design, while all Maverick X3 X-package vehicles now include a large, easier to read 7.6-in. premium digital display. An all-new onboard keypad simplifies drive mode, trip and DPS selection.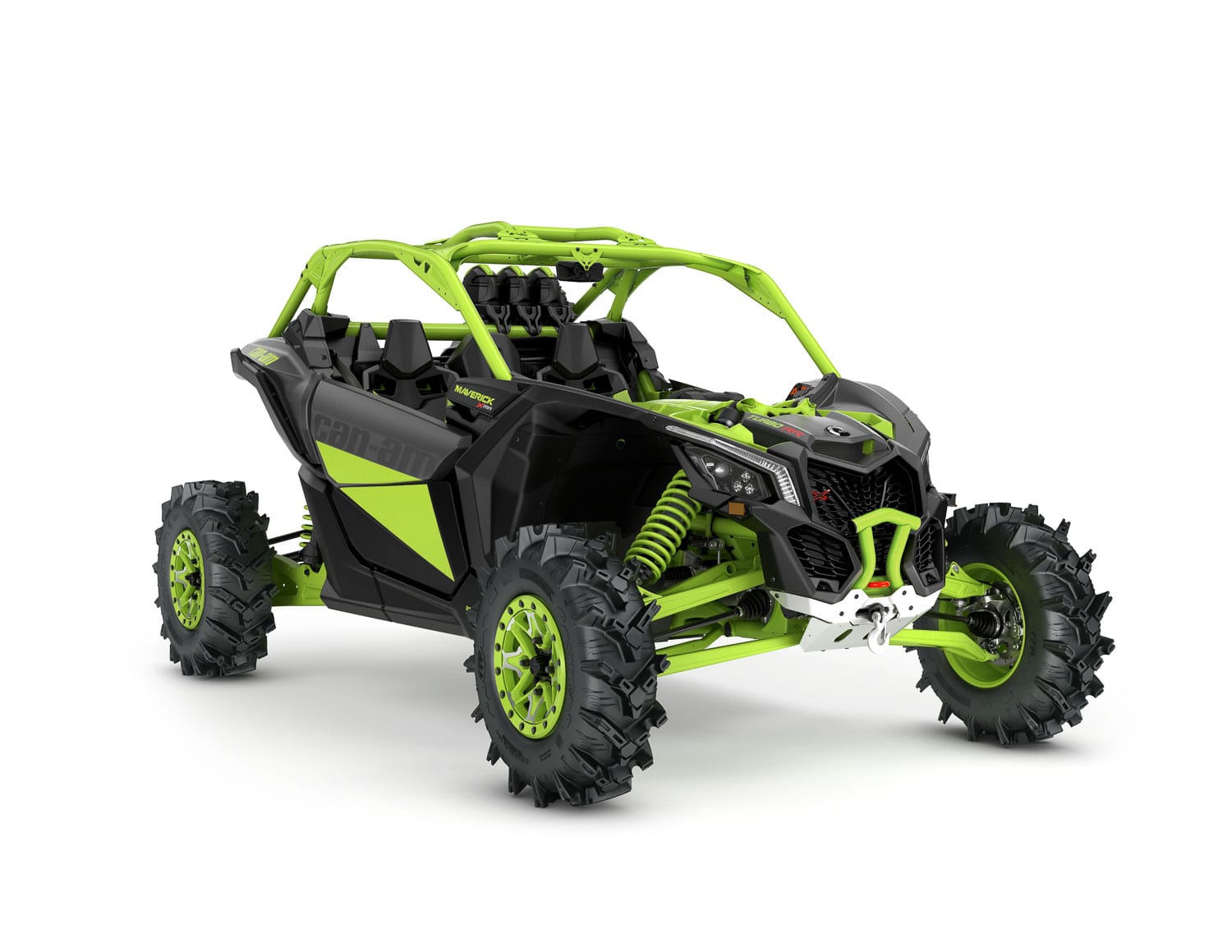 The 2020 Can-Am Maverick X3 lineup also includes repricing to increases accessibility without compromising on family DNA or overall quality. With expanded segment growth in mind, Can- Am has unveiled the base, 120hp. 64-in. Maverick X3 Turbo, starting at $18,999 (USD) and the $20,999 (USD) 172hp, 64-in. Maverick X3 DS Turbo R package. The 64-in. Maverick X3 X ds Turbo RR receives the new 195hp Rotax Turbo RR engine, FOX 2.5 Podium RC2 shocks and Smart-Lok and starts at less than $25K (a savings of $400 USD). The Maverick X3 RS Turbo R package, complete with FOX 2.5 Podium QS3 shocks, is the market's most affordable 72-in. factory vehicle at $22,499 (USD). The new 195hp Maverick X3 MAX X mr Turbo RR ($28,999 USD), the market's most powerful four-seat specialty mud vehicle, is sporty, convenient and aggressively built to perform.
To provide trail-riding and sport-driving enthusiasts with an equal balance of power and agility, the 64-in. 2020 Maverick Sport X xc 1000R ($20,199 USD) is as bold and predictable as it is affordable.
Can-Am Side-By-Side Vehicle Lineup Colorations
Hyper Silver, Intense Blue & Manta Green: Maverick X3 X rs Turbo RR / Maverick X3 MAX X rs Turbo RR
Iron Gray & Manta Green: Defender X mr HD10 / Maverick X3 X ds Turbo RR / Maverick X3 X mr Turbo RR / Maverick X3 X mr Turbo / Maverick X3 MAX X ds Turbo RR / Maverick X3 MAX X mr Turbo RR / Maverick Sport X mr 1000R
Stone Gray: Defender MAX Lonestar HD10 / Commander Limited 1000R / Commander MAX Limited 1000R
Carbon Black & Platinum Satin: Defender XT-P HD10
Can-Am Red & White: Maverick X3 DS Turbo R / Maverick X3 RS Turbo R / Maverick X3 MAX DS Turbo R / Maverick X3 MAX RS Turbo R
White: Maverick X3 Turbo / Maverick X3 MAX Turbo
Carbon Black & Orange: Maverick X3 X rc Turbo RR / Maverick X3 X rc Turbo / Maverick Sport X rc 1000R
Triple Black: Maverick Trail DPS 1000 / Maverick Sport DPS 1000R
Triple Black, Hyper Silver & Can-Am Red: Maverick Sport X xc 1000R
CAN-AM ATVs
The Can-Am Outlander, named 2019 ATV of the Year by ATV.com, was significantly redesigned last year with increased performance, styling, handling and new pricing. For 2020, Can-Am made some key updates to certain packages, altered specific features and also added several coloration changes to refresh the ATV family once again.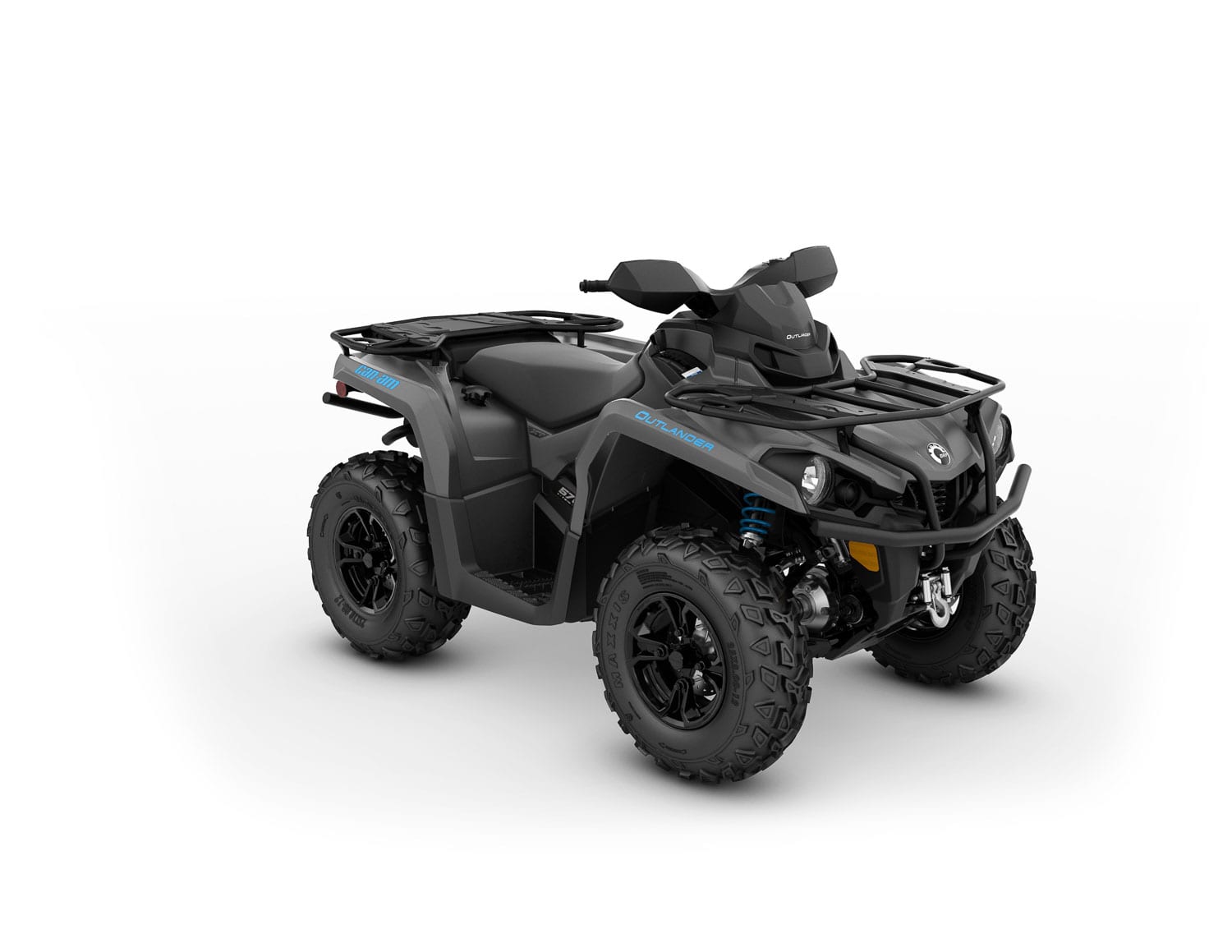 The intelligent Throttle Control (iTC) system, with its three adaptive riding modes for unbeatable precision in unpredictable terrain, is standard on all four-wheeled Outlander and Renegade ATVs with the Rotax 1000R, and also now those powered by the Rotax 850 V-Twin engine. New interior fenders and side panels on the Outlander ATVs improve airflow and push engine heat to the rear of the vehicle, making the ride cooler and more comfortable. The new Outlander Mossy Oak Edition 650 is an affordable big-bore ATV designed for hunting and outdoorsmen.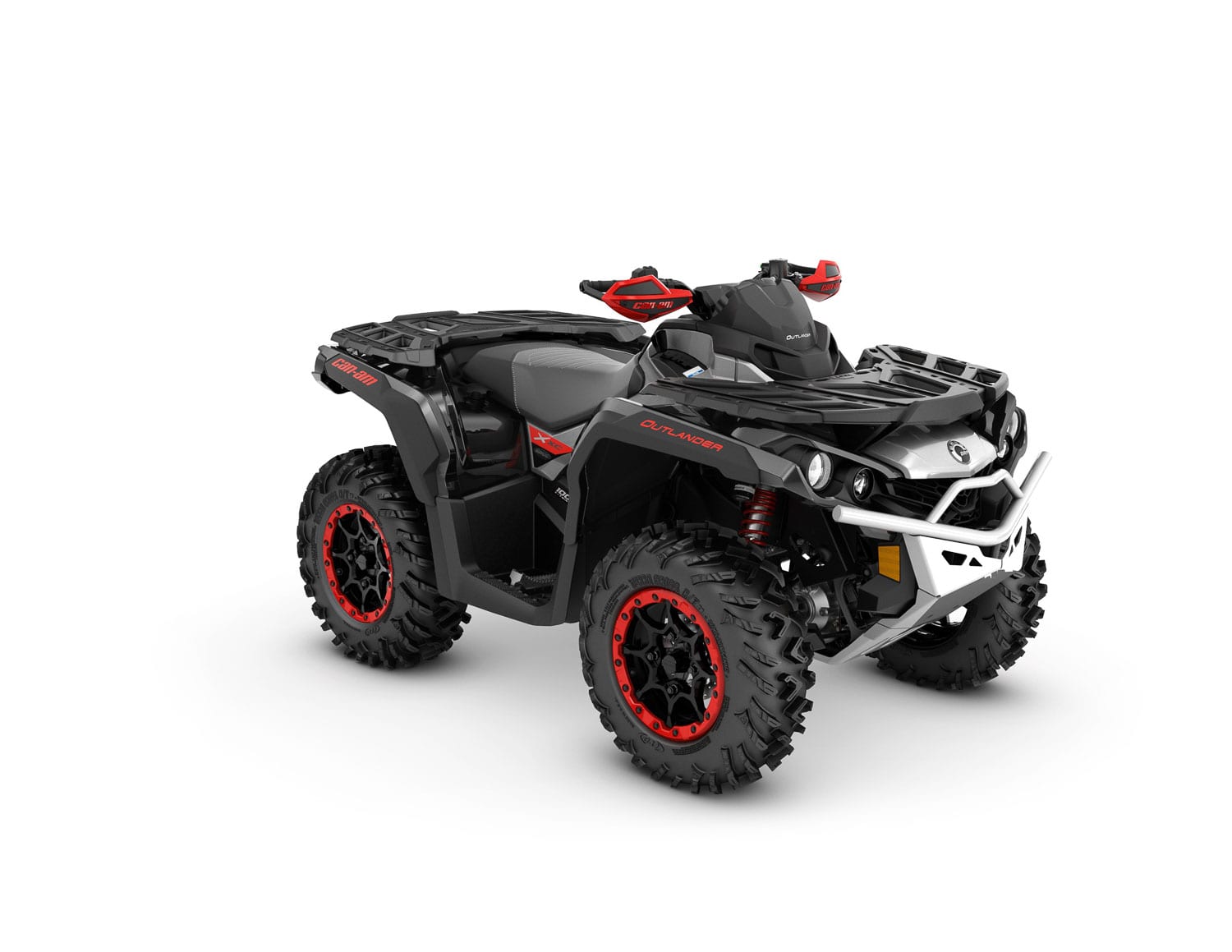 Borrowed from the high-performance Outlander ATVs, the popular FOX 1.5 Podium QS3 shocks are now included on the Outlander MAX Limited package. Can-Am engineers developed a dedicated shock calibration to provide maximum comfort for both the driver and passenger. This premium two-up ATV also rides on new 27-in. Maxxis Bighorn 2.0 tires. A new 7.6-in wide digital display on the premium Outlander XT-P, Outlander X xc, Outlander X mr 850, X mr 1000R and Outlander Limited ATVs also enhances visibility and functionality for the rider.
NEW Can-Am ATV Lineup Colorations
Granite Gray, Black & Manta Green: Outlander X mr
Iron Gray & Octane Blue: Outlander XT
Black & Platinum Silver: Outlander X mr 1000R, Renegade X mr 1000R
Black, Hyper Silver & Can-Am Red: Outlander X xc
Black & Can-Am Red: Renegade X xc
Iron Gray & Manta Green: Renegade X mr 1000R
Can-Am Red & Black: DS 250
CAN-AM ACCESSORIES (PAC)
The Can-Am Parts, Accessories and Clothing (PAC) product development happens simultaneously during the Can-Am vehicle development to ensure proper and unmatched fitment, design and functionality. Many new components are announced for June launch of the Defender, Defender 6×6 and the sporty Maverick side-by-side vehicles. The accessory expansion includes genuine Can-Am accessories as well as co-branded components with partnering companies. The 2020 PAC lineup features new accessories, such as protective equipment, cab enclosure items and electrical components for the refreshed Defender family, as well as more than 150 available accessories for the all-new Defender 6×6. Key accessories and LinQ attachments for the 6×6's cargo bed further enhance the vehicle's functionality and versatility.
In the sport segment offering from PAC, new accessories include an updated Yoshimura exhaust, and new Lonestar Racing by Can-Am items to enhance recreational rides. Adventure enthusiasts now can add convenience items like roof racks and device holders to their Maverick Sport MAX side-by-side vehicle. An entire new line of Can-Am HD and WARN VRX winches were also introduced for 2020 Can-Am ATVs and SSVs. New Can-Am 6×6 ATV accessories and updated accessory colorations round out the PAC updates.
For additional information and technical specifications on the new ATV and side-by-side vehicles, visit www.CanAmOffRoad.com.