TORONTO, ON via KENNESAW, GA.– September 6, 2017 – Yamaha Motor Canada Ltd. introduces the all-new four-passenger Wolverine X4 Side-by-Side (SxS) vehicle, providing superior Capability, Comfort and Confidence to deliver performance that is truly Proven Off-Road.
The all-new Wolverine X4 delivers superior handling, especially on tight, technical trails, combined with legendary Real World Tough Yamaha durability and reliability. Smooth, quiet power comes from an all-new 847-cc twin cylinder engine while a compact, nimble chassis cradles the most versatile cab in its class with industry-exclusive stow-away full-size rear seats for expanded cargo capacity on demand.
Yamaha Wolverine X4 features include On-Command® four-wheel drive (4WD), ultra-reliable Ultramatic continuously variable transmission (CVT) and industry-leading, speed-sensitive Electric Power Steering (EPS). Advanced self-leveling rear shocks provide a plush ride, as well as help maintain optimized ground clearance based on the terrain and cargo. And built for all weather situations, the Wolverine X4 is also the only four-seat SxS to feature a true full hard cab option available direct from the manufacturer.
"The Wolverine X4 is another industry innovation that combines Yamaha's industry-leading durability and reliability with proven off-road capability." said Peter Smallman-Tew, Yamaha Motor Canada Vice President, Sales, Marketing & CS Support. Yamaha is committed to providing customers ATV and Side-by-Sides that uphold durability and provide consistent reliability. Yamaha designs, engineers, manufactures and tests its ATV and Side-by-Side vehicles in the real world, allowing Wolverine X4 owners to confidently realize their off-road adventures with family and friends."
All combined, the Yamaha Wolverine X4 is the most off-road Capable, Comfortable and Confidence-inspiring four-seat trail exploring SxS.
Capability: Unmatched Off-Road Performance in the Widest Variety of Terrains and Conditions.
Leading the way in tight, technical terrain, the Wolverine X4 is powered by an all-new 847-cc DOHC, eight-valve, parallel twin-cylinder motor. Forged pistons and connecting rods ensure durable high-RPM performance, and Yamaha's 270-degree crankshaft format allows for linear torque development and excellent power throughout the RPM range. To improve efficiency, the engine features a dry-sump design for a more compact layout, and an offset cylinder block to reduce friction loss, while rubber engine-mounts and a geared counterbalancer all but eliminate vibration at idle and throughout the RPM range.
Ultra-smooth power delivery is offered up via Yamaha Chip Controlled-Throttle (YCC-T®), a new drive-by-wire system providing precise throttle control. Throttle response is further maximized by an innovative 'high-response' servomotor for ultra-fast throttle application, 12-hole fuel-injectors, and a high-volume airbox with two-stage air filtration. The Wolverine X4 also comes standard with a new Speed Management System, which limits the vehicle to a top speed of 25 MPH by simply turning a (removable) key, making it ideal for work sites and other specialized operating conditions.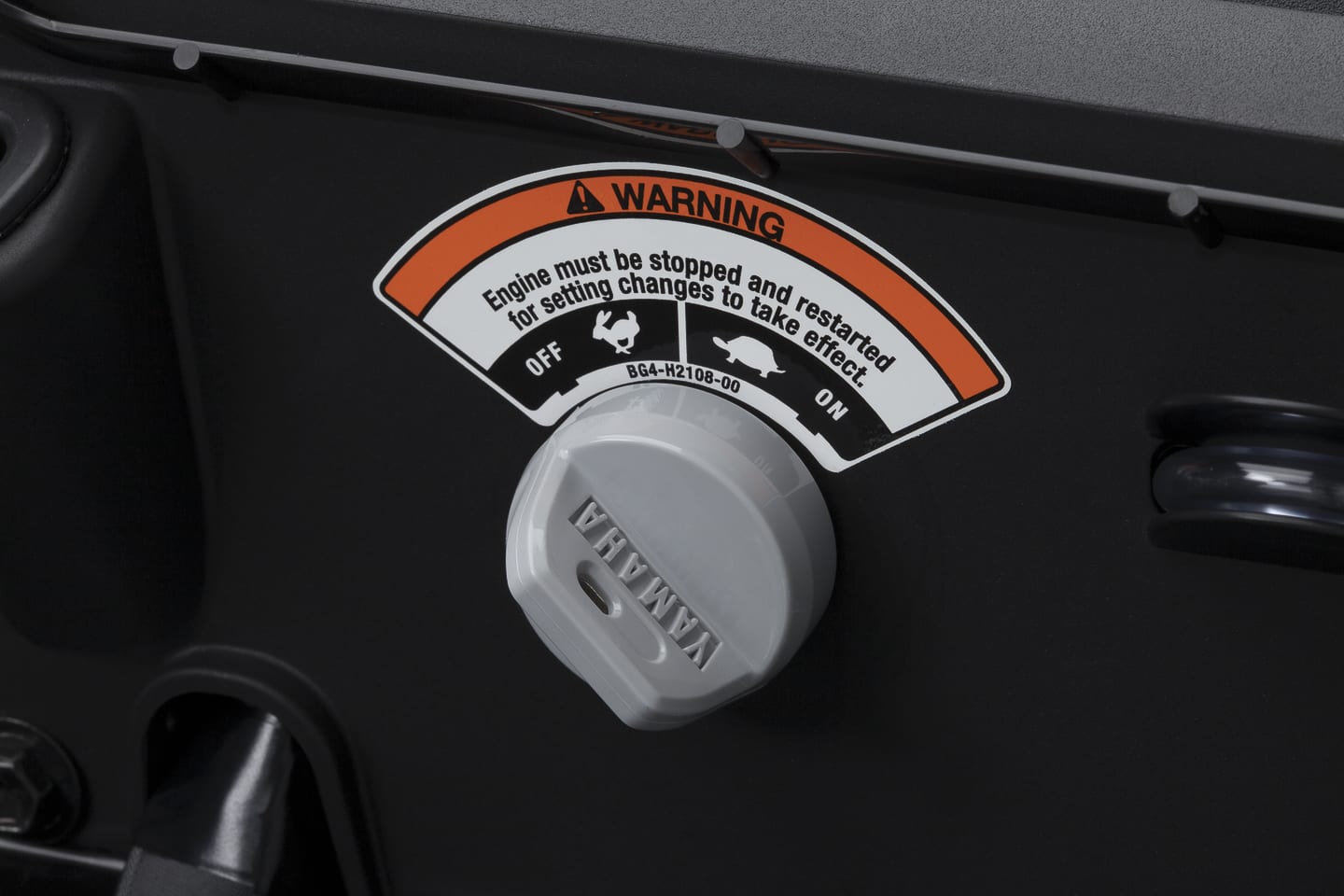 Additional features include Yamaha's exclusive Ultramatic® transmission – the most advanced and durable CVT drive system available, On-Command® 4WD giving drivers control over switching between 2WD, limited-slip 4WD, and a fully locked differential 4WD. All Wolverine X4 models are equipped with Yamaha's EPS for the industry's best balance of steering assist and positive feedback from the terrain.
For added ease-of-use in a multitude of driving situations, the Wolverine X4 features new self-leveling rear shocks that automatically adjust to changes in vehicle load, maintaining ideal chassis geometry and eliminating the need for shock preload adjustment. The system is completely self-contained and requires no heavy air compressors or electric motors. The motion of the vehicle itself pressurizes the shock's internal valves, for an ideal chassis setup on every ride.
With an upswept underbody design, wide arc A-arms, and an overall 10.7-inches of ground clearance, the Wolverine X4 boasts ideal approach and departure angles to help traverse challenging terrain. Additionally, the Wolverine X4 is equipped with independent double-wishbone suspension, providing 8.7 inches of preload-adjustable travel in front and 8.9 inches in the rear, for excellent handling feel and bump absorption. And delivering exceptional stopping power on all four wheels with superb feel, the Wolverine X4 boasts large 207-mm vented disc brakes with two-piston calipers.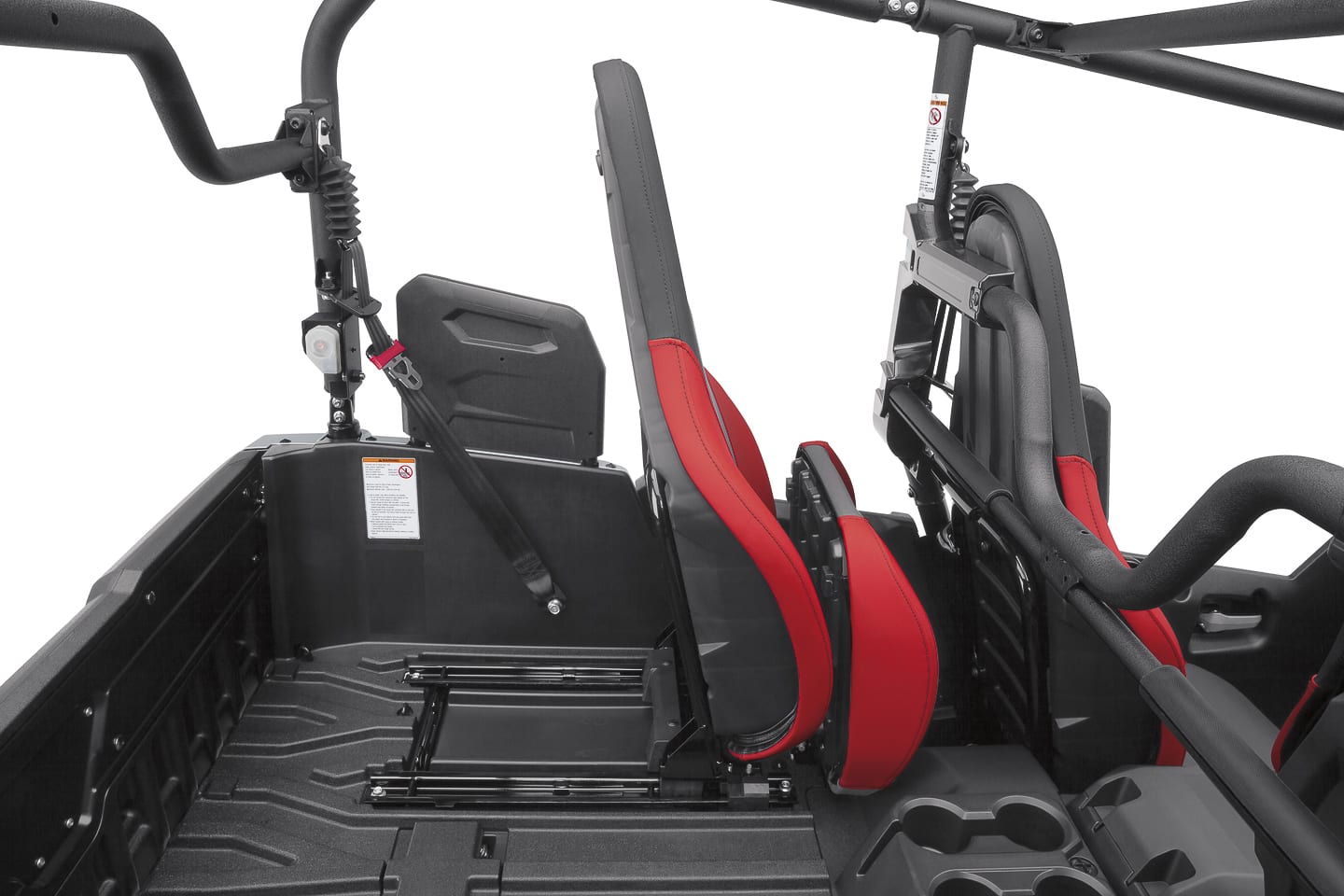 In addition to comfortably seating up to four adventure-seeking adults, the Wolverine X4 features an exclusive storage system with folding and sliding rear seats, expanding the versatility of the cargo bed area capable of carrying up to 600 pounds. Furthering its Capability and versatility, the Wolverine X4 is rated for a full 2,000 pounds of towing via a two-inch receiver hitch.
Comfort: Optimized Rider/Driver Experience Including Isolation from Off-Road Elements.
Thanks to spiral- and helical-cut drivetrain gearing, its rubber-mounted and counterbalanced engine, and a variety of noise- and vibration-reducing features, the Wolverine X4 is one of the smoothest and quietest SxS vehicles ever built.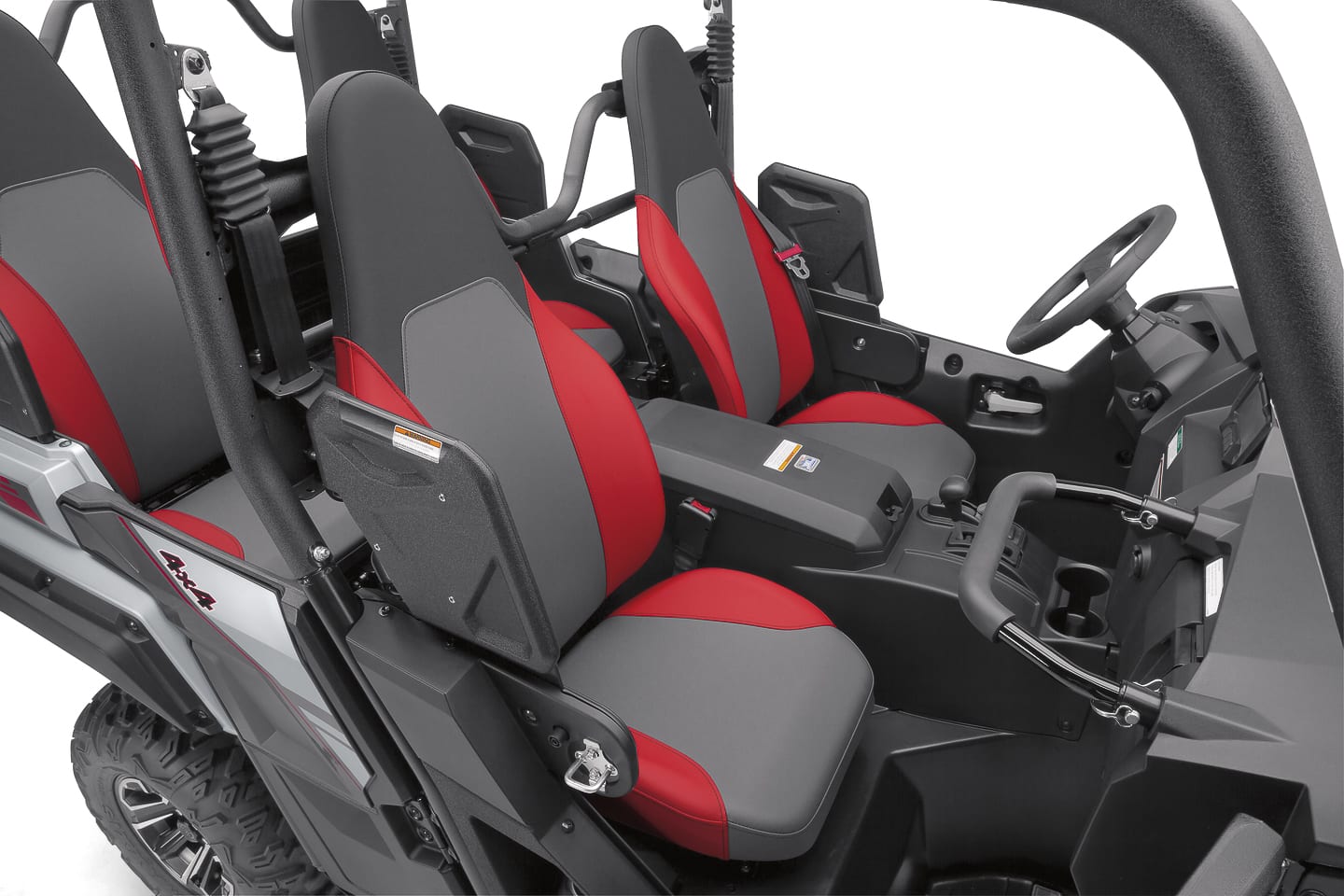 The passenger-centric cab features four high-backed seats, each with shoulder bolsters and automotive-style three-point seat belts. Additional cab comforts for up to four full-size adults include multiple cup holders (2 front, 4 rear), high-traction floorboards, and both an adjustable driver seat and steering column.
Enhancing Comfort and the ability to tailor to the customer's needs, the Wolverine X4 offers nearly 600 watts of electrical output from the engine, two standard 12V DC ports, four pre-wired accessory switches, fully-enclosed doors, high, wide fenders, LED headlights and taillights. The new LCD digital meter features a large dimmable display, with speedometer, odometer, trip and hour meters, along with vehicle status and warning displays.
Confidence: Superior Durability/Reliability & Build Quality for Secure Ride Feeling & Ease of Ownership.
Yamaha designs, engineers and tests its SxS vehicles in the Real World. The Wolverine X4 is built in Newnan, Georgia, and delivers the durability, reliability and superior build quality off-road enthusiasts have come to expect from Yamaha.
Wolverine X4 EPS color options include Yamaha Blue with overfenders and cast aluminum wheels (MSRP $19,699), and Realtree Xtra camo with overfenders and cast aluminum wheels (MSRP $20,299). Donning overfenders, painted bodywork, color-matched interior and shock springs, and cast aluminum wheels, Special Edition (SE) models are available in Matte Silver and Matte Dark Metallic Gray & Orange (MSRP $20,999).
REALize Your Adventure and view additional details on Yamaha's all-new 2018 Wolverine X4, along with the complete lineup of Proven Off-Road vehicles online at Yamaha Motor Canada Ltd., or by visiting your local Yamaha dealer. Follow Yamaha on your favorite social channels at Facebook.com/YamahaMotorCanada, and Instagram.com/YamahaMotorCanada.