The Kawasaki Teryx and Teryx4 family of Side x Sides return for model year 2018, ready for adventure.
The Teryx and Teryx4 Side x Sides are versatile enough to provide thrills for the whole family on the trails with standard Electric Power Steering (EPS), and rugged enough to help out with chores with plenty of torque and 1,300 lb. (590 kg) of towing capacity (with an optional draw bar).
The Teryx and Teryx4 Side x Sides are built Kawasaki
Strong. With aggressive styling, versatile 783cc V-twin engine
and Fox Podium 2.0 shocks, they are ready to tackle the trails.
New for 2018, the Teryx EPS LE can be purchased in
Candy Plasma Blue, while the 2018 Teryx4 EPS LE is available
in Candy Lime Green, Candy Plasma Blue, and new, stylish Matrix Camo Gray graphics.
POWERTRAIN
With a 783cc engine that generates power and torque in the low- and mid-range of the powerband, the
Teryx and Teryx4 Side x Sides are very capable in a variety of environments. The purpose-built 90-degree V-twin engine delivers great fuel efficiency, while also having enough torque and power to conquer the trail.
Transferring all that torque to the ground is a Continuously Variable Transmission (CVT) with a centrifugal clutch assembly, and a three-mode switch selectable four-wheel drive system that allows access to either 2WD (light steering, great handling), 4WD or 4WD + Front Differential Lock. The latter helps to provide optimum traction by simply rotating a dash-mounted switch.
The CVT provides a quick response and direct engine "feel" in sportier riding situations, and its unique engine braking ability increases driver confidence on descents, while turning and in a variety of conditions.
So whether carving on trails through the woods or travelling through the open desert, the Teryx and Teryx4 Side x Sides have the ideal drivetrain mode to handle it.
ELECTRIC POWER STEERING
Precise steering with reduced effort is the hallmark of the standard Electric Power Steering (EPS) system in the 2018 Kawasaki Teryx and Teryx4 Side x Side. The system eliminates the need for a traditional power steering pump, so steering inputs do not rob the engine of power. In fact, the EPS is only active when the engine is running, limiting battery drain.
Input from vehicle speed and torque sensors determine the amount of steering assistance required, giving more during slow-speed use, and less as speed increases. EPS offers additional benefits, especially on rough surfaces, where reduced steering kickback and bump-steer mean less fatigue for the driver.
All Teryx and Teryx4 models come standard with a tilt steering column. It allows the steering wheel to be tilted to a position that suits the driver, or can be moved out of the way to ease cabin access. To reflect its sporty performance and handling, all Teryx models have a thick steering wheel. This is designed to be more comfortable in the driver's hand, giving more confidence on trails and improving the overall feel of the driving experience.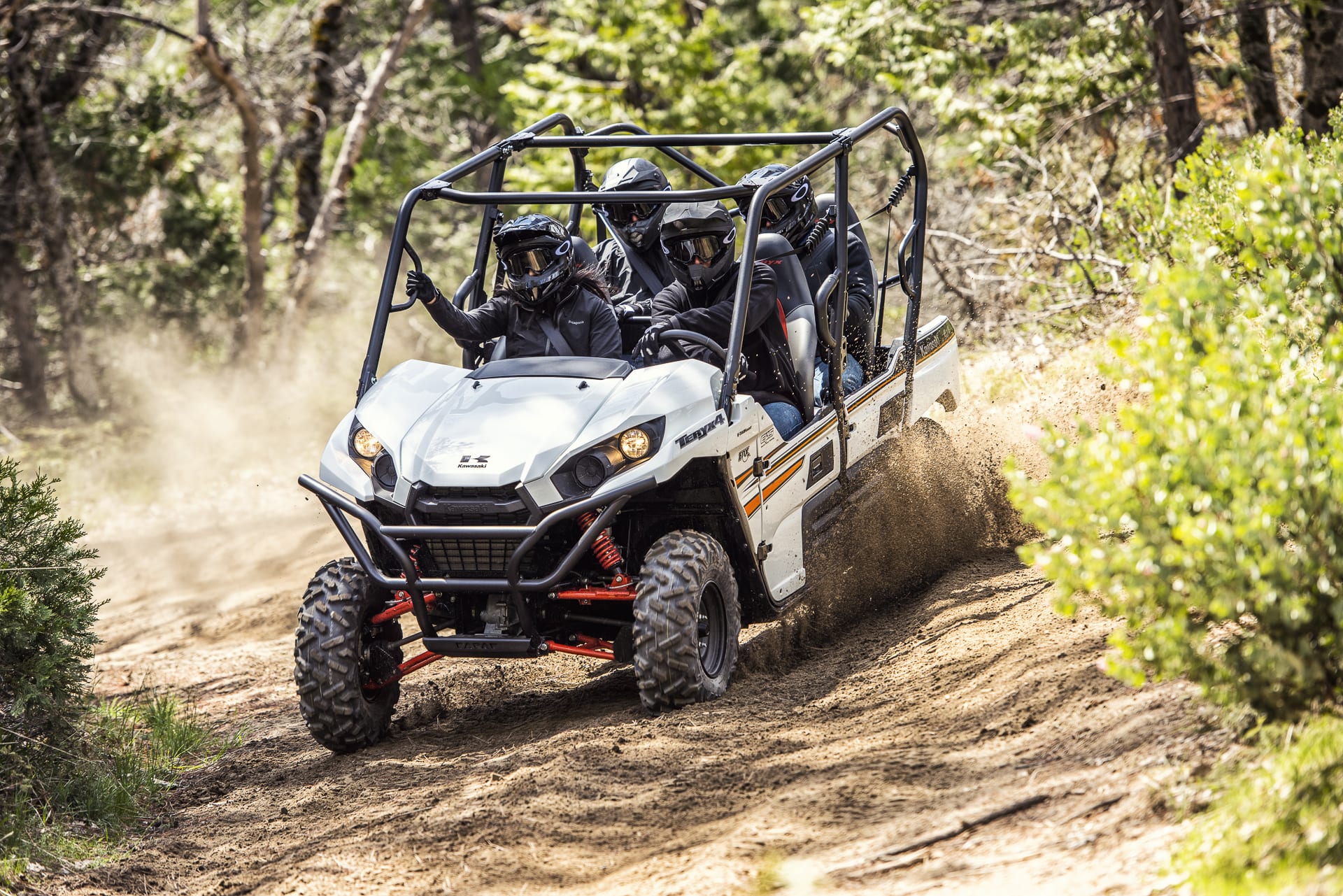 CHASSIS
The Double-X frame construction of the Teryx and Teryx4 Side x Side takes technical terrain in stride. The rigid, square tube chassis effectively combats flex to help provide superior performance over rough ground. This stout frame was designed using detailed computer analysis and plenty of off-road testing. It features two X-shaped crossmembers bridging the frame's box structures from corner-to-corner.
Maneuvering on the trails is easily accomplished with the tight 16.7 ft (5.1 m) turning radius, reducing the need for multi-point turns. The Teryx and Teryx4 Side x Sides have underbody engine guards that help shield vital components from dirt and debris.
This impressive chassis package is further enhanced with a wide-track/wide-body design. The wide track helps increase agility during cornering and boosts the ability to navigate the terrain. Mid-engine placement also helps by centralizing the vehicle's center of mass, which reduces the turning inertia and promotes more fluid directional changes.
Large 26″ Maxxis Bighorn 2.0 tires offer the type of ride you would expect from a Teryx and Teryx4 Side x Side. Their construction and tread design helps maximize forward traction, while optimizing driver feedback for cornering. The vehicle also offers a substantial 11.2 in. (285 mm) of ground clearance, helping to negotiate obstacles. The
high approach and departure angles (79 and 65-degrees, respectively) also reduce the possibility of catching the front bumper or scraping the rear.
SUSPENSION & BRAKING
The Teryx and Teryx4 Side x Sides incorporate one of the best names in the high-performance suspension business, FOX, for its four wheel independent suspension. The steel A-arms at all four corners are paired with adjustable
FOX Podium 2.0 remote reservoir coilover shocks that offer 8 in. (203.2 mm) of plush travel up front and 8.3 in.
(210.8 mm) out back, giving the Teryx and Teryx4 Side x Sides plenty of comfort on the trail. The shocks are adjustable for spring preload and 24-way compression damping, to tailor the ride to the terrain or the rider's preference.
The adjustable FOX Podium 2.0 coilover shocks provide everything from cruising comfort with four passengers and a full cargo bed on the Teryx4 to a sporty, more bump absorbing ride for a solo driver.
Balancing comfort and performance, the FOX Podium 2.0 shocks help maintain consistent, progressive and fade- free damping.
Brake performance is essential for the Teryx and Teryx4 Side x Sides and is delivered with high performance hydraulic disc brakes up in the front and a sealed internal wet brake in the rear. With 200mm (7.9 in.) rotors gripped by dual-piston calipers for exceptional feel and stopping power mounted up front, the brakes are recessed within the wheels to help keep them free from debris, while the sturdy steel-braided brake lines help keep a crisp, progressive pedal.
At the rear, Kawasaki employs its unique sealed internal wet brake, which features internal components that are completely sealed from the elements, providing braking performance in demanding conditions.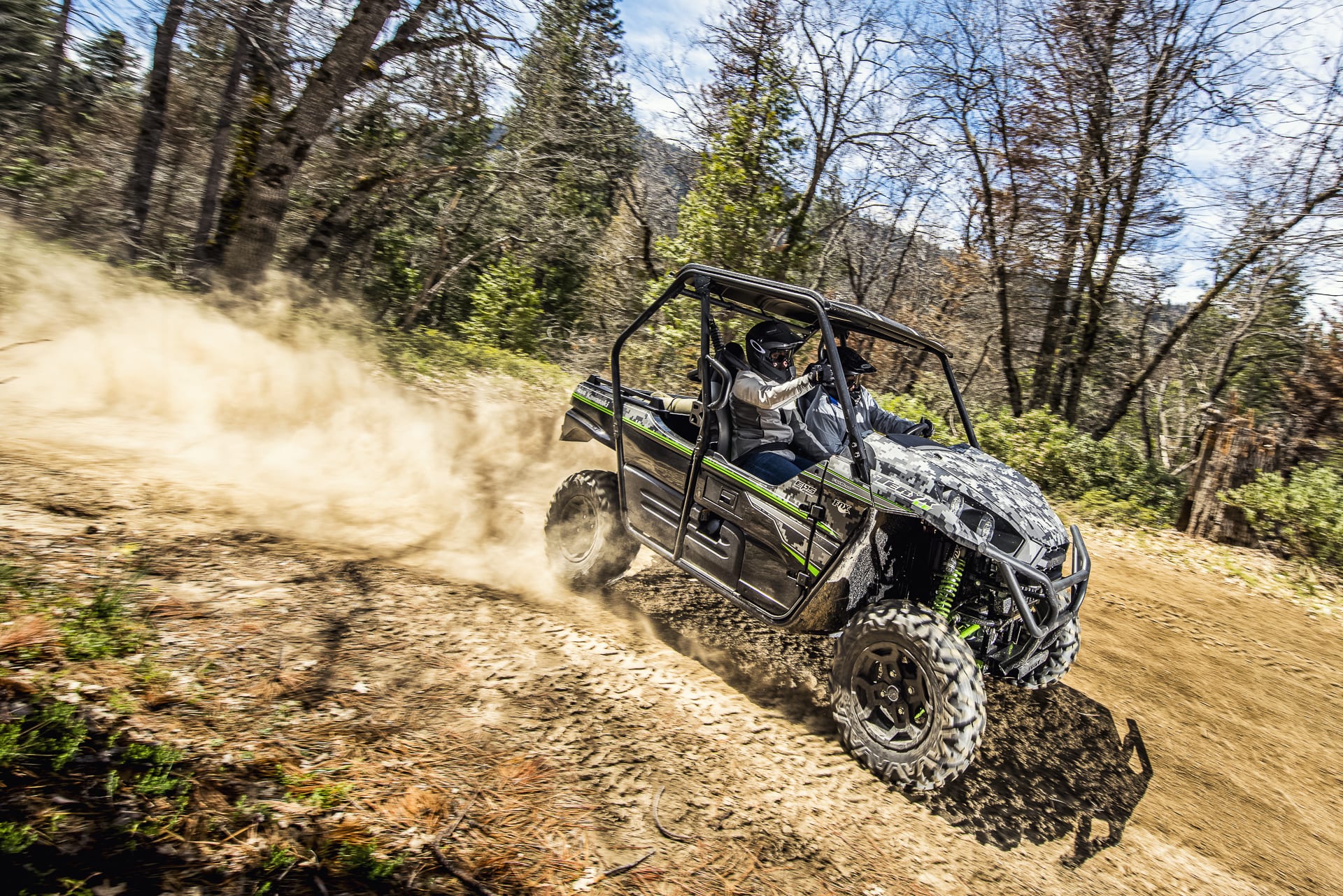 HAULING & TOWING
The Teryx and Teryx4 facilitate all types of uses, from hauling family members or equipment
to towing. The Teryx features a 27.6 x 43.3 in. cargo bed that is 10.4 inches deep and boasts a heavy-duty 600 lb payload capacity, while the Teryx4 has a 17.9 x 47.6 in., 250 lb capacity cargo box that is 8.7 inches deep. The cargo bed has a flat bottom for carrying supplies out on the trail.
The cargo bed of the Teryx has KQR accessory-ready rails, which allow for quick-mounting of Kawasaki Genuine Accessories and/or tools to the bed rails. Four tie-down loops also help secure the cargo. The Teryx and Teryx4 also feature two rear storage compartments with lids that offer 48 gallons (181.7 litres) of storage capacity.
They both feature a latching tailgate, which can be removed without requiring tools to facilitate loading and unloading of cargo and cleaning. The tailgate features molded drink holders for added convenience.
A 2-in. hitch receiver is standard equipment. This allows the Teryx or Teryx4 side x side to tow up to a substantial 1,300 lb (590 kg) once equipped with the optional draw bar.
CONVENIENCE
Convenience features on the 2018 Kawasaki Teryx and Teryx4 Side x Sides include two DC power outlets (three on the Teryx4 model, two up front and one in the rear) providing up to 120 watts of electrical power. Almost 8 gallons of fuel capacity mean both the Teryx and Teryx4 have substantial range. There's also a sun top to
maximize comfort, which comes standard on the Teryx LE, Teryx4 LE and Camo models, plus conveniently located beverage holders for each occupant.
The dashboard layout incorporates four accessory switch knockouts, allowing Teryx and Teryx4 Side x Side owners to operate their chosen Kawasaki Genuine Accessories, such as a winch, auxiliary LED lighting, etc.
The dashboard is also able to accommodate an audio system – one the many available Kawasaki Genuine Accessories – to provide music or news throughout the day. A number of convenient storage pockets were also incorporated into
the dash design to increase its utility.
STYLING
An aggressively styled front end includes a removable hood and scratch-resistant front bumper. Along with its angular fenders, the Teryx and Teryx4 Side x Sides have a look that says "sporty" and "functional" at the same time.
Lightweight polished 14-inch cast aluminum wheels on the Teryx LE and Teryx4 LE models add style to the overall appearance. The LE models also feature a strong tubular-steel front brush guard and four high-intensity LED headlamps that have two switches with both low and high beam, allowing drivers to adjust the light on the trail (four LED lights are also standard on Camo models).
Textured paint on the brush guards and ROPS cage help keep the vehicle looking sharp even after hard use.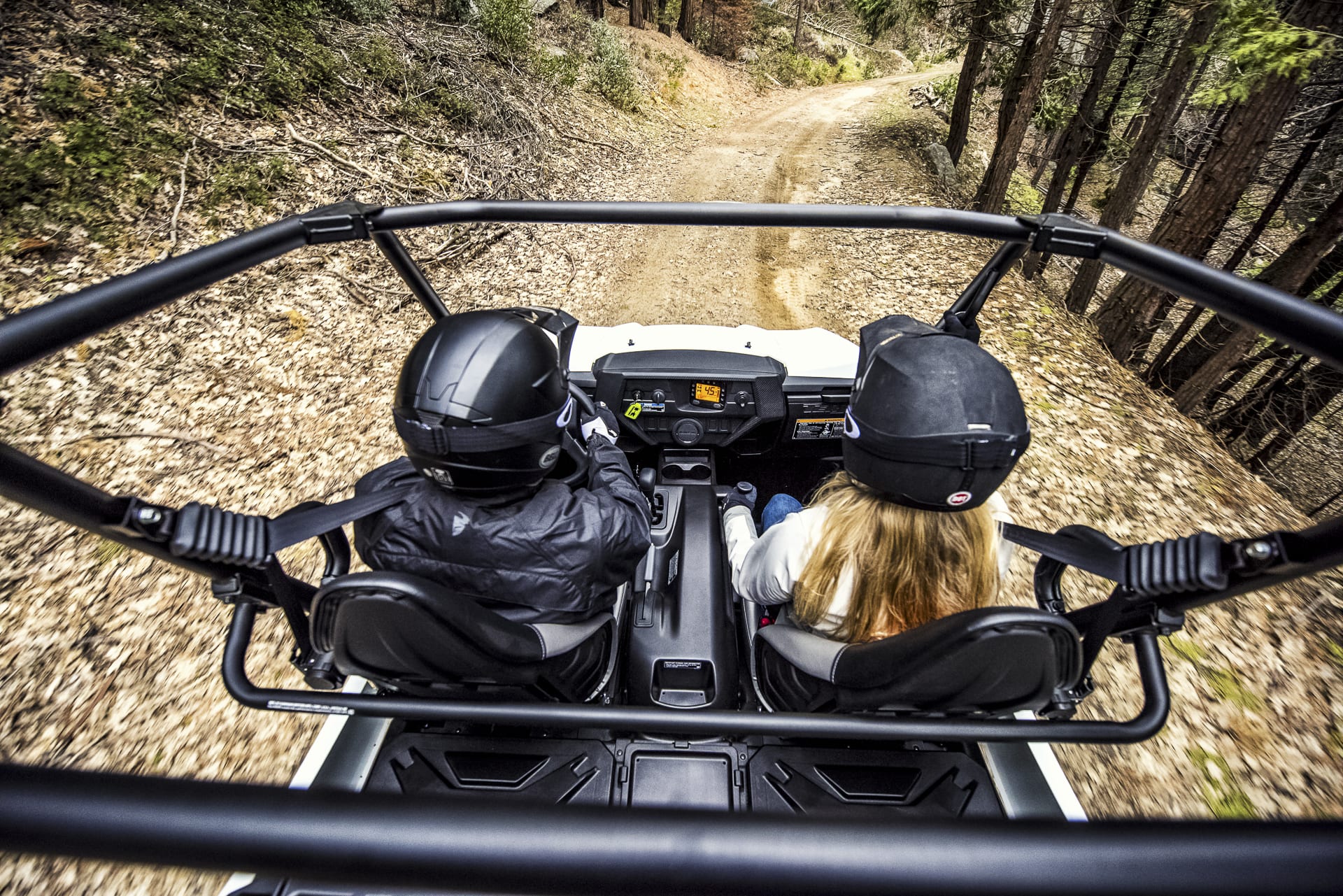 INTERIOR AMENITIES
The Teryx and Teryx4 Side x Sides are two of the most comfortable vehicles in their class, which means your family and friends will want to spend more time out on the trails.
The roomy interior gives the driver and passengers plenty of hip, shoulder and legroom. Three-tone high-
backed bucket seats feature high-quality cushioning and cold-resistant seat material for all-day plushness. The high-back adjustable seats eliminate the need for a headrest and feature wraparound ergonomics. The driver's
seat can now be adjusted 50mm (2 in.) while in the seat, allowing different sized drivers to comfortably get behind the wheel. Each set is outfitted with a three-point seatbelt. Shock-absorbing comfort mounts and an anti-cinch feature on the seatbelts also help prevent over-tightening when the belts lock during sudden deceleration (or when the tilt sensor is activated).
All of these models feature premium factory-designed latching doors that are easy to use, look good and offer a high level of mud protection.
The instrumentation includes a multi-function electronic display that provides an array of useful information: speedometer, fuel gauge, odometer and hour meter, clock and dual trip meters. There are also indicator lights for the 2WD/4WD, front differential, parking brake, water temp and a fuel injection warning, plus a reverse indicator giving you the information you need at a glance.
THREE MODELS
Both the two-seat Teryx Side x Side and the four-seat Teryx4 Side x Side are available in three different levels of specification. All feature the same combination of a powerful, reliable engine, selectable four-wheel drive, tough chassis, sporty suspension and all-round versatility and fun.
The base models are the Kawasaki Teryx Side x Side and the Kawasaki Teryx4 Side x Side, which are equipped with the advanced Electric Power Steering to help the ease steering effort at lower speeds and reduce bump steer. The base models are available in Bright White.
The Teryx LE and Teryx4 LE models incorporate everything on the base models, while adding lightweight 14″ cast aluminum wheels for extra style. These wheels are fitted with 27″ Maxxis Bighorn tires to give the
driver confidence in cornering, outstanding performance and a more comfortable ride.
In addition, the Teryx LE and Teryx4 LE models boast four powerful LED headlights and a hard sun top to help protect the occupants from the elements. For 2018 the Teryx LE can be purchased in Candy Plasma Blue or Matrix Camo Gray, while the 2018 Teryx4 LE is available in Candy Lime Green, Candy Plasma Blue, and Matrix Camo Gray.
Finally, there is the 2018 Teryx Camo model, which is equipped with standard EPS, four powerful LED headlights and a hard sun top. As its name suggests, the Camo model is finished in a
camouflage, pattern that makes it ideal for hunters and outdoorsman who want to maintain a low profile.
KAWASAKI STRONG 3-YEAR LIMITED WARRANTY
The Teryx and Teryx4 Side x Side lineup is capable, comfortable and durable and backed by the
Kawasaki STRONG 3-Year Limited Warranty. Kawasaki Teryx and Teryx4 Side x Sides offer strength, comfort, power, convenience, hauling and towing ability and reliability that make them versatile machines out on the trails.
ACCESSORIES
A large selection of Kawasaki Genuine Accessories is available through authorized Kawasaki dealers across the country. As with all off-highway vehicle recreation, Kawasaki encourages Side x Side users to drive responsibly and to respect the environment.
All Kawasaki Genuine Accessories are developed in conjunction with the vehicle for fit and functionality. They
include items such as a snowplow and winches. There is a soft cab enclosure, fabric, plastic and aluminum roofs
as well as fabric doors. There is a cargo box system that secures to the cargo bed using special clamps. Teryx and Teryx4 Side x Side owners can also purchase an audio system, auxiliary lighting, tow hitch balls, a full and half windshield as well as gun cases and a mounting system. To help protect Teryx and Teryx4 vehicles off-road, there is a full complement of underbody guards and skid plates from front to rear, as well as light guards, a rear bumper, fender
flares and more.
MORE FROM KAWASAKI ON ATV TRAIL RIDER :
Kawasaki ATV Models – Kawasaki UTV Models – Kawasaki ATV Reviews – Kawasaki UTV Reviews
ABOUT KAWASAKI
Kawasaki Heavy Industries, Ltd. (KHI) started full-scale production of motorcycles over a half century ago. The first Kawasaki motorcycle engine was designed based on technical know-how garnered from the development and production of aircraft engines, and Kawasaki's entry into the motorcycle industry was driven by the company's constant effort to develop new technologies. Numerous new Kawasaki models introduced over the years have helped shape the market, and in the process have created enduring legends based on their unique engineering, power, design and riding pleasure. In the future, Kawasaki's commitment to maintaining and furthering these strengths will surely give birth to new legends.
Kawasaki's tagline, "Let the good times roll.®", is recognized worldwide. The Kawasaki brand is synonymous with powerful, stylish and category-leading vehicles. Information about Kawasaki's complete line of powersports products and Kawasaki affiliates can be found on the Internet at www.kawasaki.ca.