The big-bore ATV market is a competitive one, with a lot of different machines that try to carve out a niche to call its own. While the 1,000-class gets a lot of buzz due to horsepower numbers, the 700- to 850-class machines get the sales due to there being many more of them, and let's be honest, not everyone is ready for the power of a 1,000. In that slot, you have machines from Polaris, Can-Am, Yamaha, Textron, Suzuki, Kawasaki, Honda, and CFMoto. CFMoto? You didn't forget CFMoto, did you? While the other manufacturers try to carve out their niche with machines known for power, durability, low price and handling, CFMoto's CForce 800 EPS brings all of that to the table and then some.
It's no secret we have a fondness for CFMoto machinery. They have done an outstanding job with having a strong presence in the Canadian market and have some outstanding programs and dealerships across the country. They're working hard to expand into the U.S. more, too. What's more, they have innovative machines that we really like. The CForce 800 is no exception. This is a powerful and fun machine to ride with a lot of accessories included that would cost a ton more on other machines.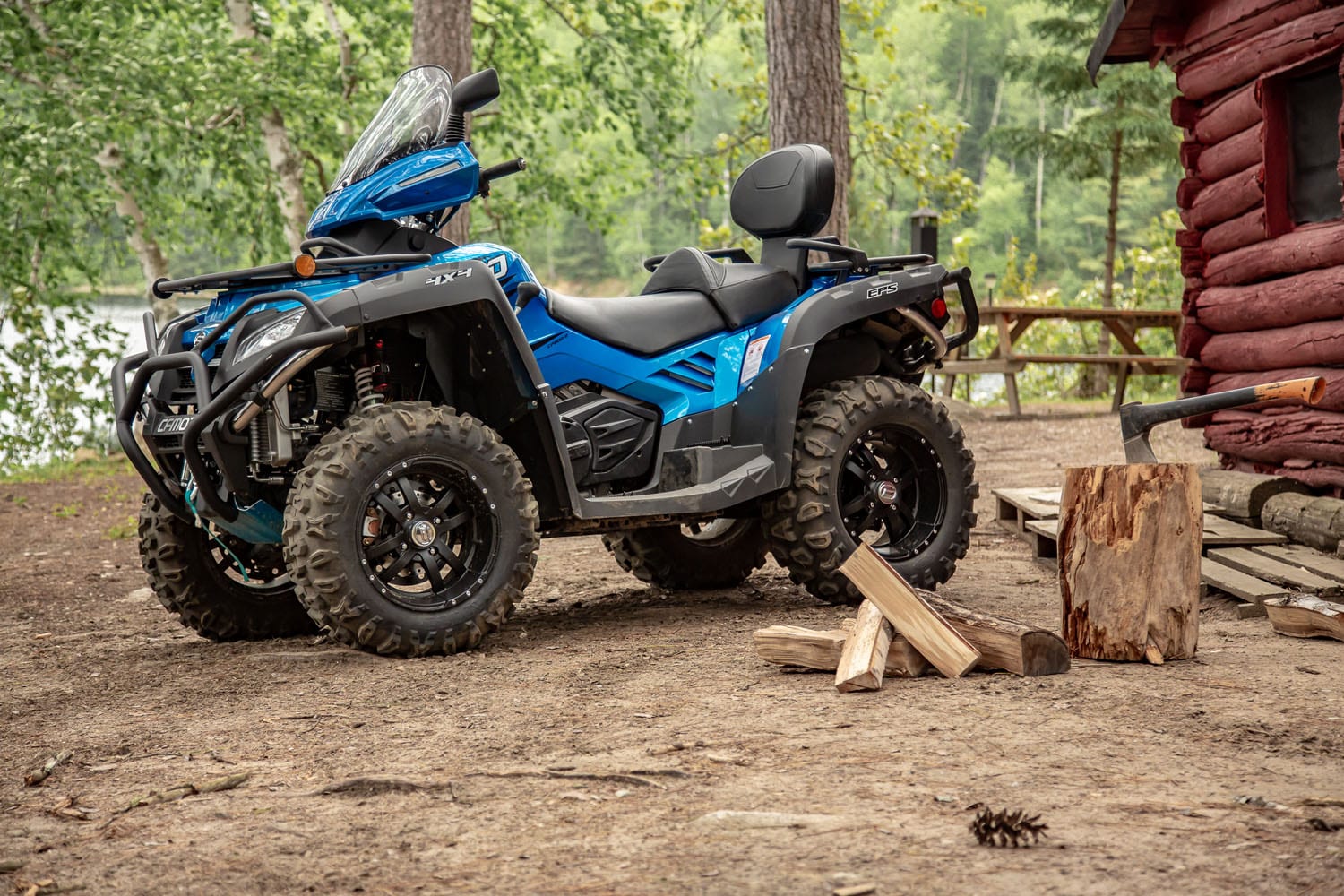 The engine
Let's be honest, people like to focus on the engines of the big-bore ATV market. There's a lot of marketing to be found by having the claim of most horsepower, or largest displacement. When out on the trail, it doesn't matter as much as you'd think. There's really a fine line between having the power you have versus the power you need and use. The CFMoto CForce has an 800cc, liquid-cooled, eight-valve, V-twin four stroke powerplant that produces a very respectable 62.6 horsepower. While that might not be as high as some of the competition who have slightly higher displacement engines, the CForce honestly has plenty of power at your disposal. We repeatedly ran ours through thick mud, up steep hills, and blasted it down open trails. It held its own just fine.
You really have to love a V-twin, too. They have a certain feel to them. It is kind of hard to describe in words, though. The motor has a different tone than a single-cylinder motor or a parallel twin. It's almost like a rumble, but it's smooth, especially with the CFMoto. We have found that V-twins make their torque slightly different too. The CForce 800 produces 53 ft/lbs of torque at 6,000 RPM. That means you have the power to conquer steep hills, deep mud holes, or tasks around the farm. The motor runs through a CV-Tech IBC CVT automatic transmission with high and low range. The engine also has full engine braking, which makes it easier to crawl down those steep hills in low range.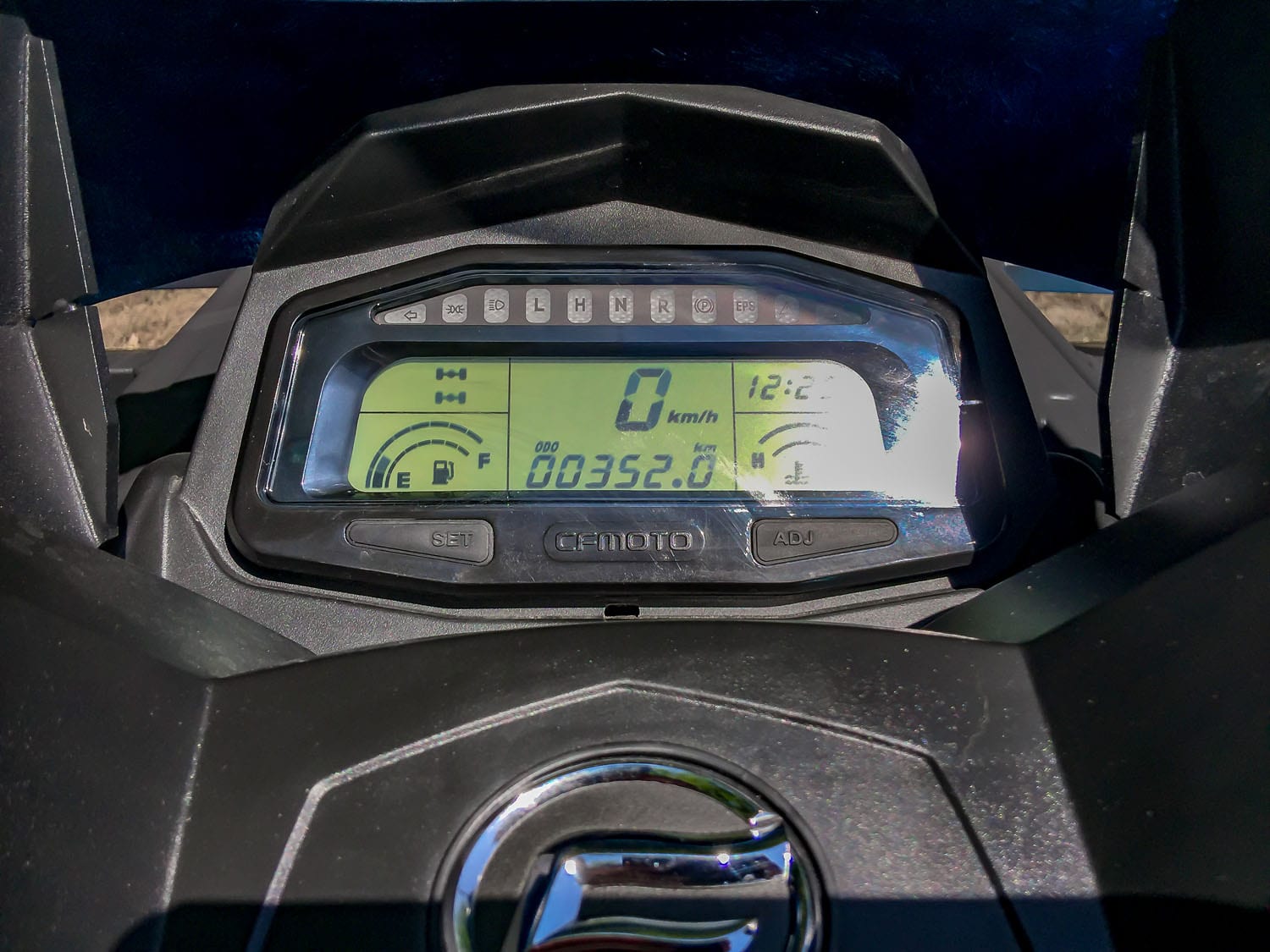 Hooking up
Speaking of the transmission, that is only part of what makes the CForce a great trail machine. The 800 rides on 26-inch CST ABUZZ tires that have a blocky, non-directional tread pattern. These 6-ply tires are great all-around trail rubber that hook up and haul in a wide range of terrain. Like we said, we climbed some steep hills and did a lot of playing in the mud. For stock tires, these worked really well and proved that CFMoto pays attention to the details that their consumers do. We want good tires on our machines!
Helping even more with the hooking up department is the electronic locking differential. You can cruise along in two-wheel drive, instantly switch into four-wheel drive when things get a little sketchy, and drop in the dif-lock when traction becomes paramount. We found the engagement of the dif-lock to be smooth and easy, something not every manufacturer has figured out yet.
The suspension system also plays a roll with how well the CForce hooks up. There are dual A-arms front and rear for fully independent suspension action. The gas shocks found at each corner have rebound and compression adjustment. Up front there is 7-inches of travel and there is 8.5-inches of travel out back. It makes for a smooth ride, and the compression adjustment lets you stiffen the ride up which helps when you're riding aggressively. Not that we ever rode aggressively… Yeah, I was laughing as I wrote that.
Now about those extras
The CForce 800 EPS is a great machine. So great, in fact, that you want to share it and you can thanks to the passenger seating. There are footrests for the passenger, along with a contoured seat and backrest. The rear rack incorporates handholds for the passenger too. It makes for a comfortable seating position for the passenger that doesn't interfere with the pilot. That's a nice way of saying that the passenger's butt stays planted and you won't have to deal with someone sliding into you as you ride. We've always liked 2-up machines, especially when riding solo in the mud. The rear footrests for the passenger really help you get proper leverage when attacking the muck.
But wait, there's more. The CFMoto comes with a list of accessories as standard features and this is where that extra value really starts to add up. For starters, it has full skid plates underneath that keep the frame and engine protected. The A-arms all have aluminum guards that help protect the CV-boots. Anyone who has ever had the fun of replacing a CV-boot knows how important these types of guards are. There are stainless-steel bumpers front and back that look good and resist rust. You'll also find hand guards on the bars to keep your fingers safe. The fenders come with fender flares, too, that help deflect mud and dirt.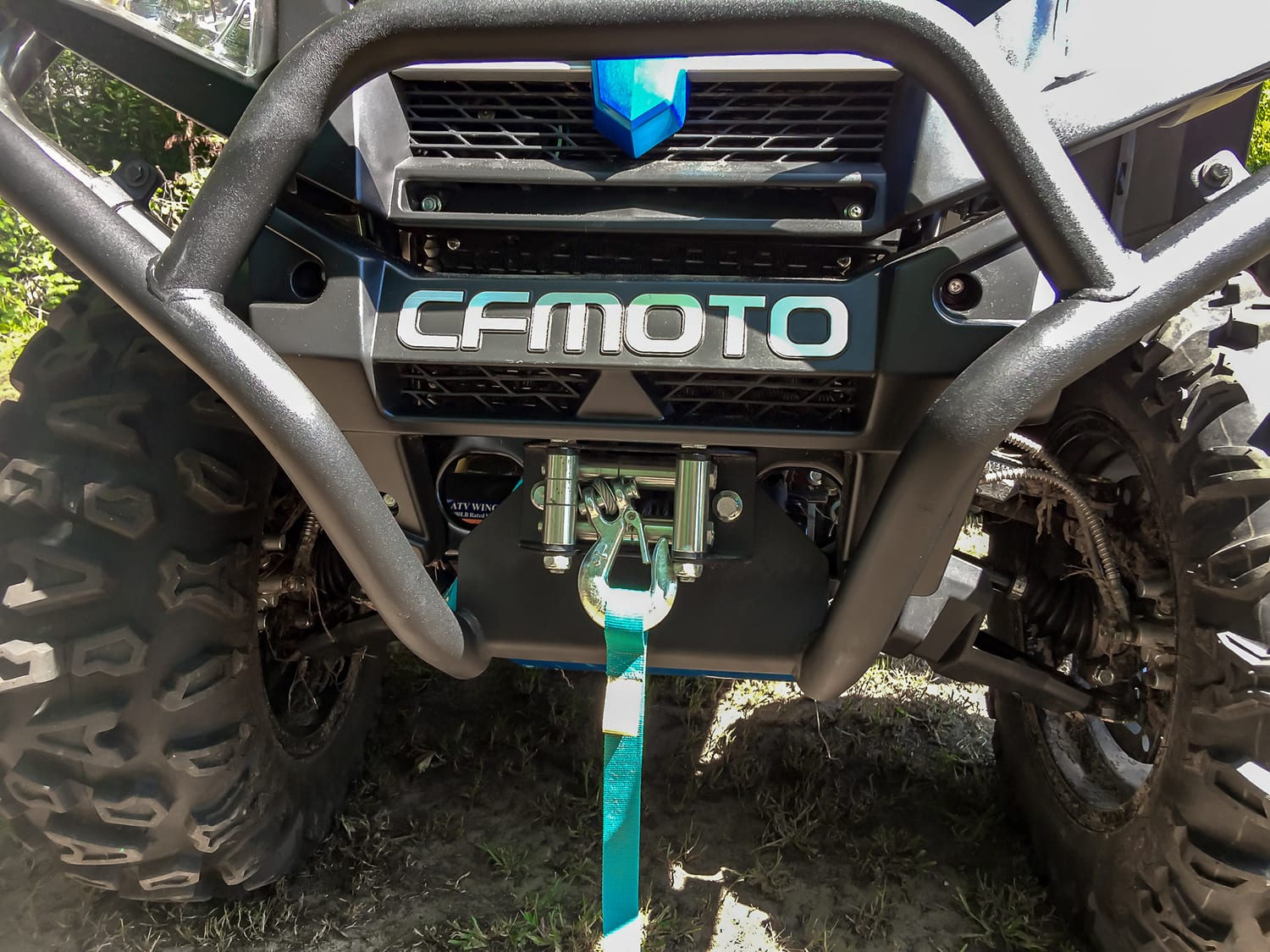 The CForce comes equipped with a 3,000-lb. winch, which is a necessity and a nice addition. We can't even begin to tell you how many ways you'll find to use the winch, too. We learn something new every day it seems. You'll also notice it comes with rear-view mirrors as well as a horn, blinkers and hazard lights. This makes it trail legal everywhere and a very safe machine to ride.
One last little extra to throw at you and it's one that is really important. The CForce comes with a five-year limited warranty. Not only is that an amazing addition to the machine for the price, it says a lot about how good CFMoto feels about their machine. They stand behind their product!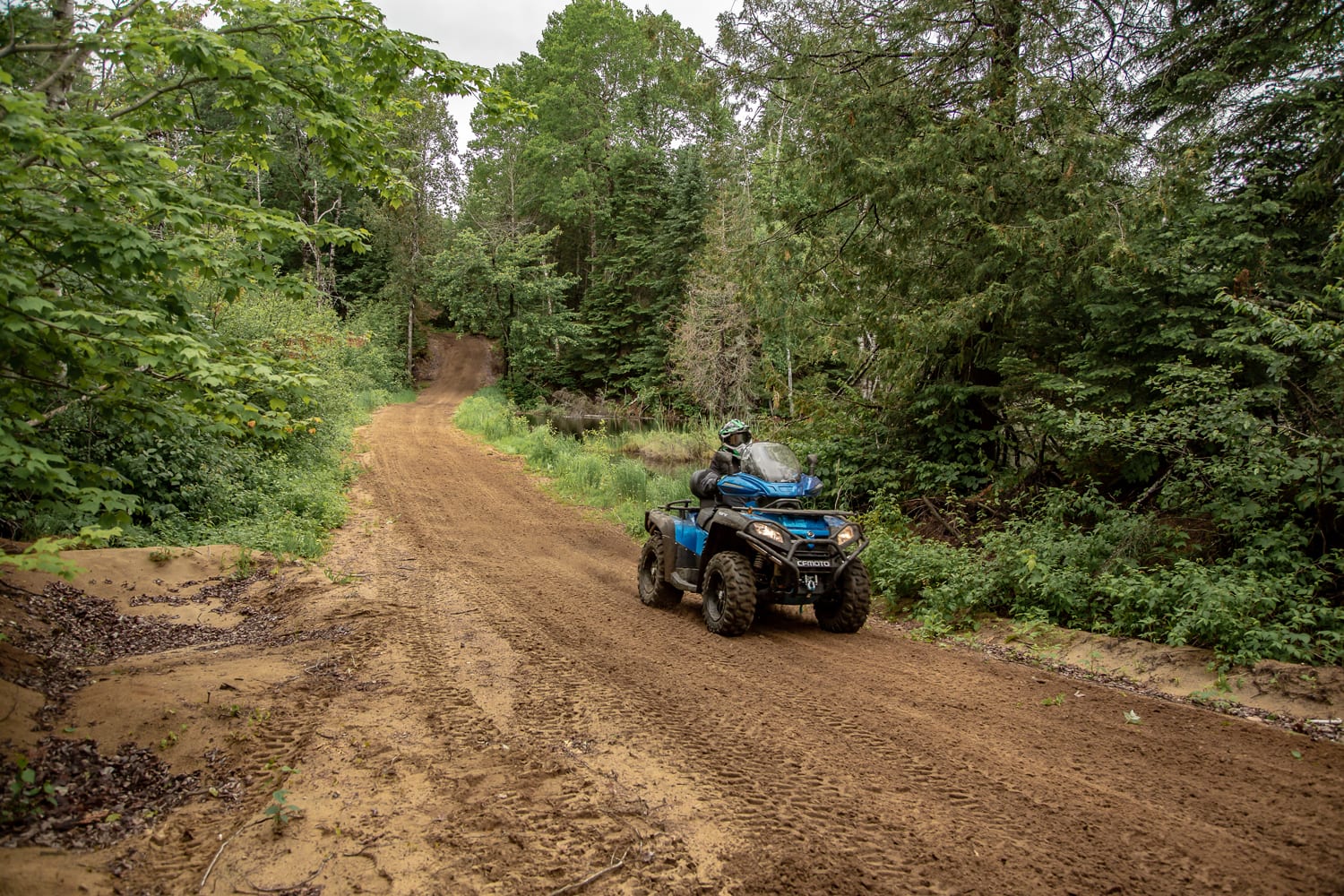 So, do you want one?
You should! This machine impressed us and we enjoy riding it. It has good power, a comfortable ride and excellent trail manners. We also happen to think that it's one of the better-looking machines from CFMoto with smooth bodywork and great color options. And did we mention it starts out at just $10,995 here in Canada? That's a lot of machine for the money. So, to answer the question, yes, you want one. Now go to your local CFMoto dealer and see one for yourself. You should take the trailer with you too. It makes bringing your CForce 800 EPS home a lot easier.