BRP is offering consumers a very wide range of off-road vehicles, and everyone will find a machine adapted to their needs. However, until recently, there was one niche from which the Valcourt manufacturer was absent.
For the last decade or so, Polaris has ruled the "trail" category of side-by-sides, but can Can-Am overthrow the U.S. manufacturer? Without a shadow of a doubt, it considers itself a serious pretender to the throne.
Last September, BRP revealed the Maverick Trail, a completely brand new UTV. After a few weeks of waiting, and to our extreme delight, this new entry was delivered to the Raven Média head office. Our Can-Am Maverick Trail, which served as our test vehicle, falls, as its name suggests, in the range of 50-inch UTV's. It is filling in the space left in the Can-Am catalogue until just recently. Local regulations in the U.S. limit the access of side-by-sides to some trails, and a vehicle that is just a little wider than an ATV makes it possible to ride them. Quebec's federated trails would like to welcome this new generation.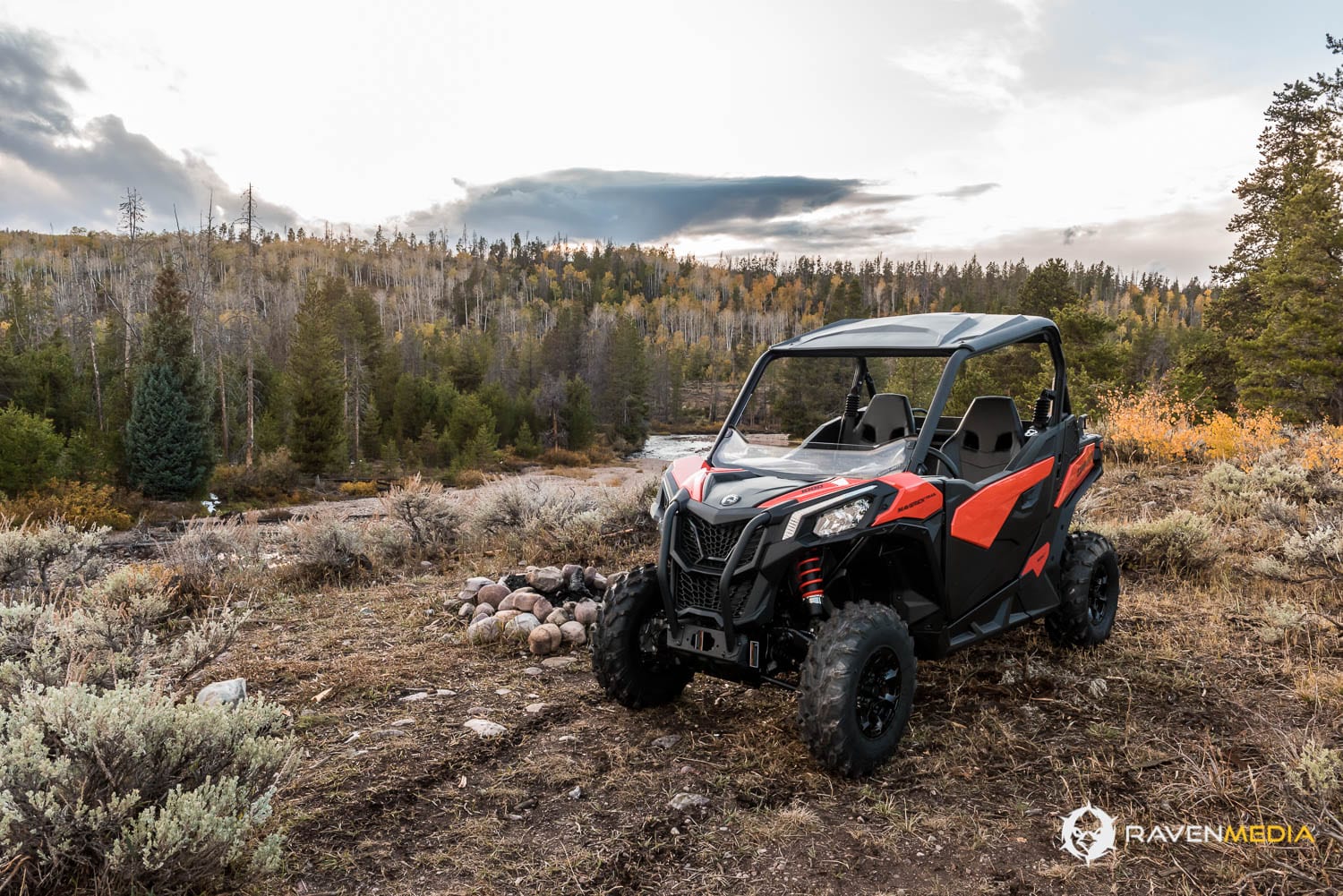 The main competitors among the manufacturers that already offer a "trail" version are the 700 cc Textron Off-Road Trail, and the 570 cc and 900 cc Polaris RZR. Can-Am's Maverick Trail stands out because of its 90.6-inch wheelbase, which makes it the longest in its category. It has 13-inch wheels set further apart compared to the 570 cc Polaris RZR. This obvious advantage provides the Maverick Trail with greater stability for a more comfortable and solid ride from all points of view.
Adequate engine power
The vehicle that we had the privilege of testing is equipped with a 1000 cc, two-cylinder Rotax engine capable of producing 75 horsepower. It should be noted that this vehicle is also offered with an 800 cc engine that can generate 51 HP. We were surprised by this engine's spirit, and we had ample degrees of torque to travel on winding trails that we took advantage of on this occasion. We feel that the power of the Rotax engine in our hands was more than enough for this UTV to handle trails. As its name suggests, given that it is classified as a « trail » vehicle, it would not make sense to provide it with more power than it actually has. The range of power allows it to accelerate quickly without overdoing it and to maintain a cruising speed suitable for its recommended use. We had to keep a tight rein on the accelerator on several occasions to maintain control over this little untamed beast, thereby giving us considerable insight into the possibilities and character of this two-cylinder. Therefore, wise use on the part of the driver is called for in order to stay the course.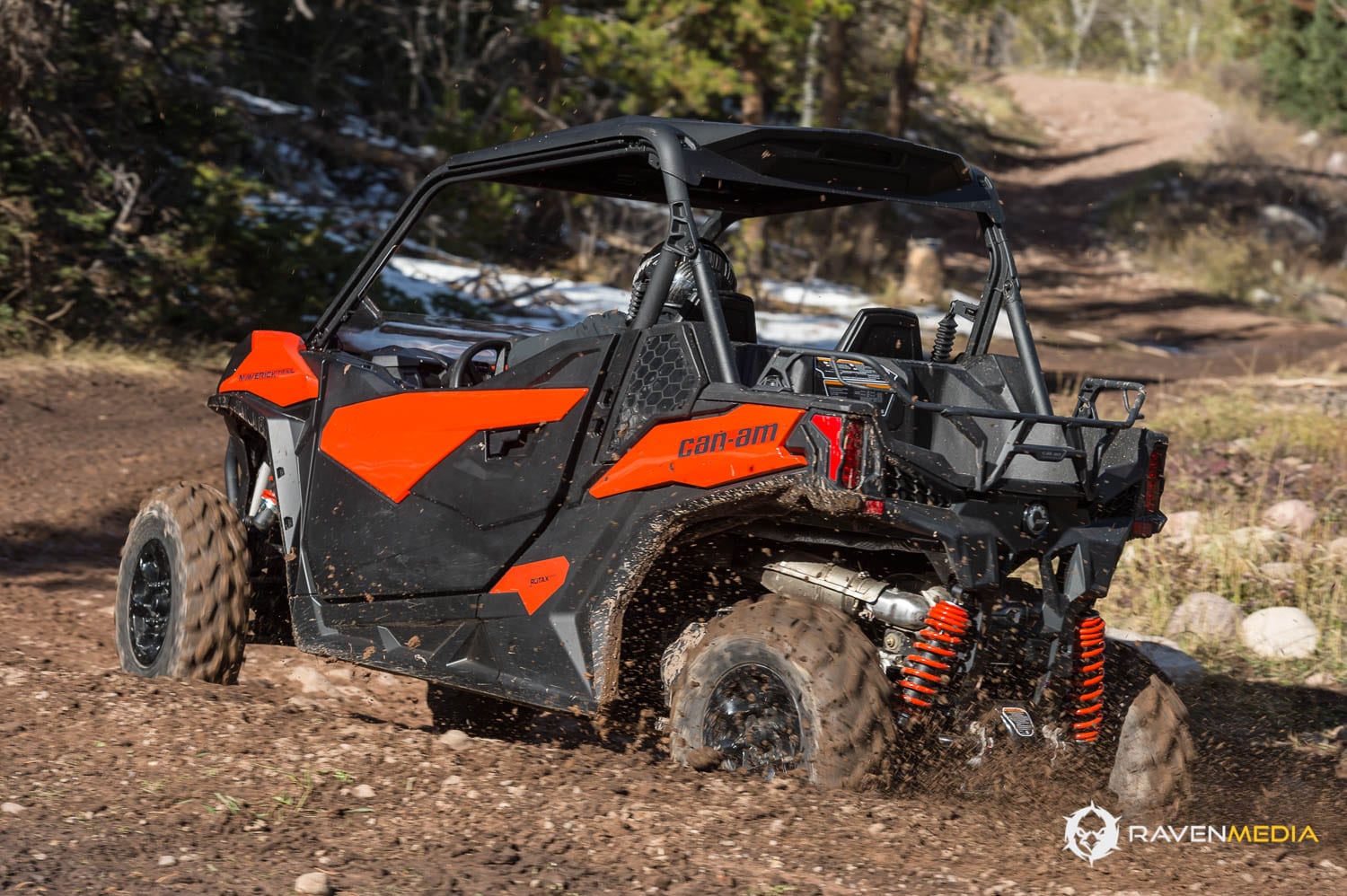 Choosing a riding companion
The 1000 cc version that we were provided is equipped with standard half-doors rather than the protective meshes on the 800 cc entry-level model. We had some questions about these half-doors when we were introduced to this new product. The test run confirmed our thinking: these half-doors are straight with no convex junction towards the outside to maintain the criticized dimension. This arrangement restricts movement inside the cockpit somewhat, and two big guys may feel they're sitting too close to one another. For others, this proximity may prove to be an asset with a loved one. In this case, it's best to choose the right companion. The position of the exit grab handle is also poor and in need of review. It's located at the height of the driver's and the passenger's shoulders, and reaching for it requires some twisting and turning. We would like it if Can-Am were to focus on this to make it easier to exit the vehicle.
Finally, some legroom
The cockpit offers a lot of legroom, and it's one of the features that exists thanks to the vehicle's long wheelbase. Compared to its competitors, the Maverick Trail offers the best legroom in its category, and undeniable advantage for tall drivers. One of the negative aspects often raised concerning side-by-sides is their narrowness. Can-Am can boast that it now offers the version that will help the occupants feel less claustrophobic.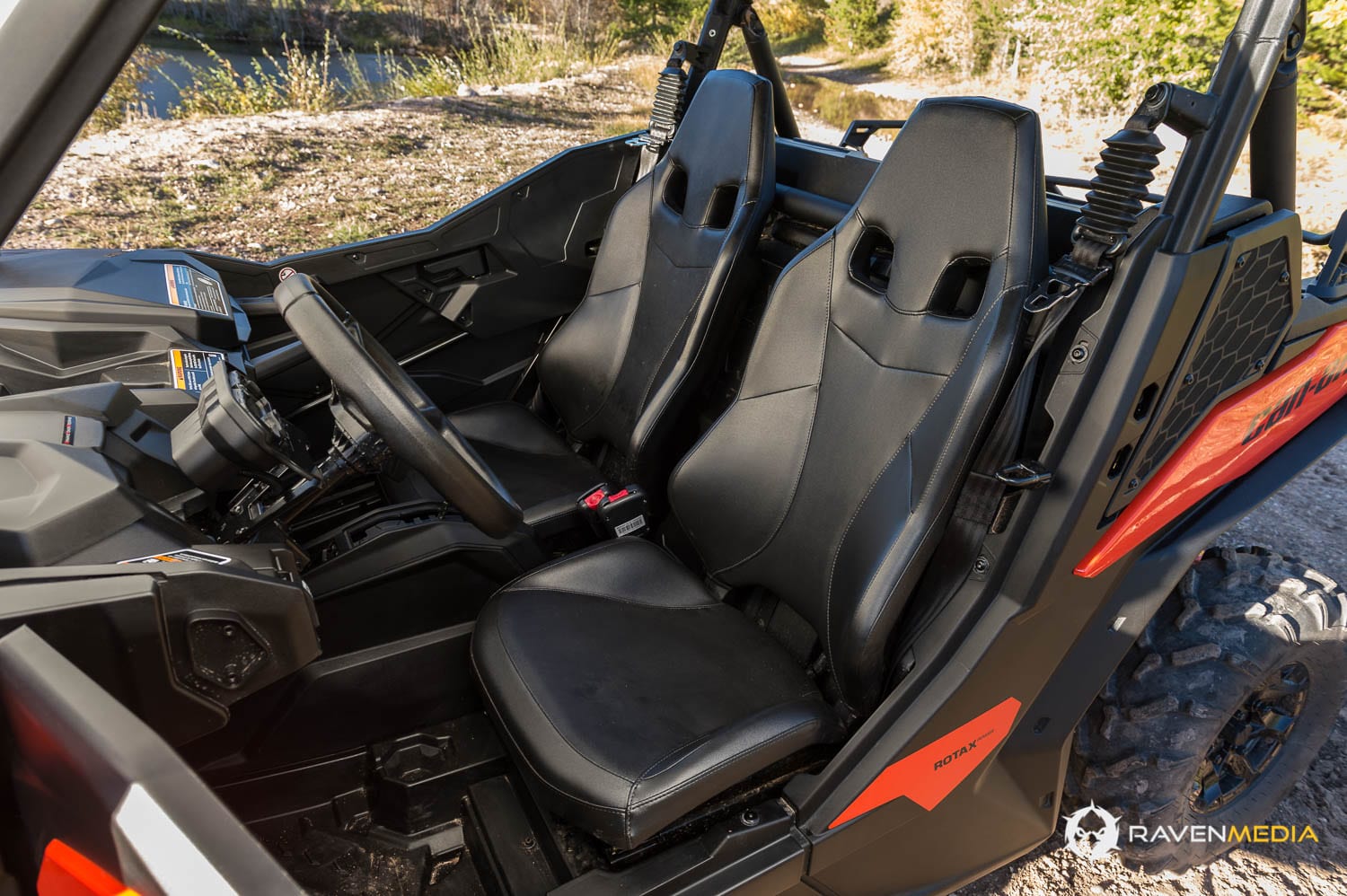 Sweating the details, BRP equipped this UTV with two dash-mounted bins. Together, they provide 17.1 litres of storage capacity, making it possible to stow a wide range of small items that we really need when trail riding. The steering wheel can be tilted to the desired height, and the digital dial installed directly on the steering column follows the motions of the steering wheel as it's being adjusted. The driver's seat is anchored to two rails that make it easier to adjust to the driver's size. The seats are well designed and upholstered in a water-repellent fabric. They provide good lateral support, allowing for long rides in complete comfort.
The Can-Am Maverick Trail is available with electronic power steering as an option on both the 800 cc and the1000 cc models. This is in keeping with what we've become used to from BRP in the past. This power steering is certainly the best in its category and properly calibrated to make driving more enjoyable. It offers enough assistance to make it easier to drive regardless of the recommended speed.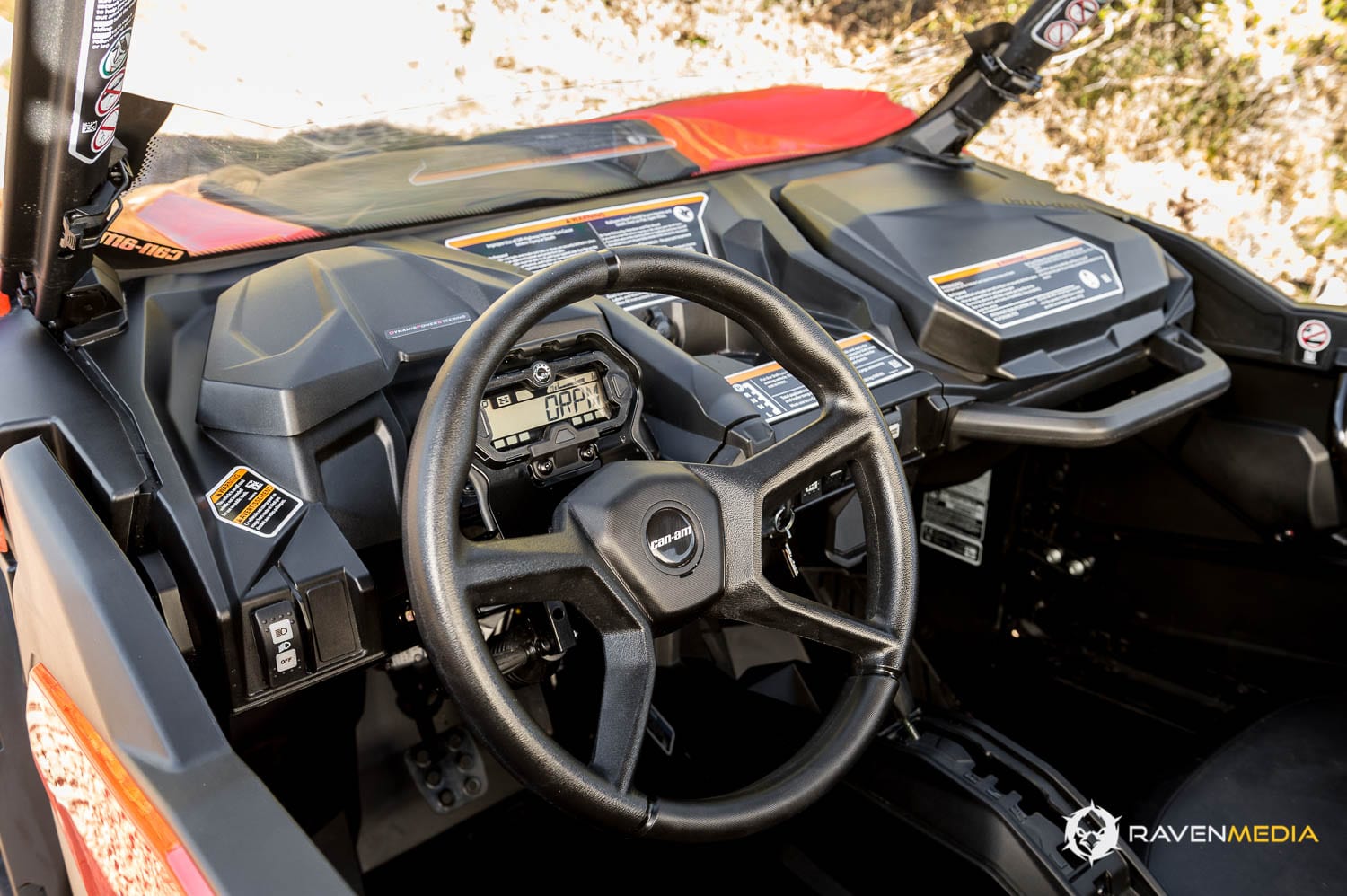 Our test vehicle is equipped with a QRS-T (quick response system) continuously variable transmission completely redesigned just for this model. It offers torque and punch, as well as smoothness to comfortably propel this 1300 lbs. machine along winding trails.
The rear suspension, in particular, caught our attention. The shock absorbers are installed at the very end of the chassis. This feature has never been seen before in the UTV category. On the other hand, we have to admit that they are very effective in this position. They offer 10.5 inches of travel at the rear and 10 inches at the front. These specifications fall within the average for this category.
This vehicle comes with 26-inch Carlisle tires mounted on 12-inch cast aluminum rims on the EPS (power steering) version, and steel rims on the entry-level version. We were initially puzzled by the choice of these tires given their reputation We put them to the test under various conditions as part of our test drive, and they produced no more than average traction.
The Maverick Trail has 4 driving modes. We were able to choose between the 2×4 and the 4×4, and each one can be paired with a locking rear differential.
The test version that we were given is equipped with two driving modes, namely Eco and Sport. By simply throwing a switch, we were able to adapt the vehicle to our expectations.
Our appreciation
Following the introduction of this new product, we were in a hurry to test BRP's promises with respect to its new Maverick Trail. We were very happy when Can-Am suggested we use one fresh off the assembly line for an exhaustive test run.
At first glance, its successful appearance confirms the identity of its manufacturer. Its lines and headlights closely resemble those of the X3 introduced a year ago. Access to the fluids is also a strong feature, and Can-Am did not skimp on these practical elements.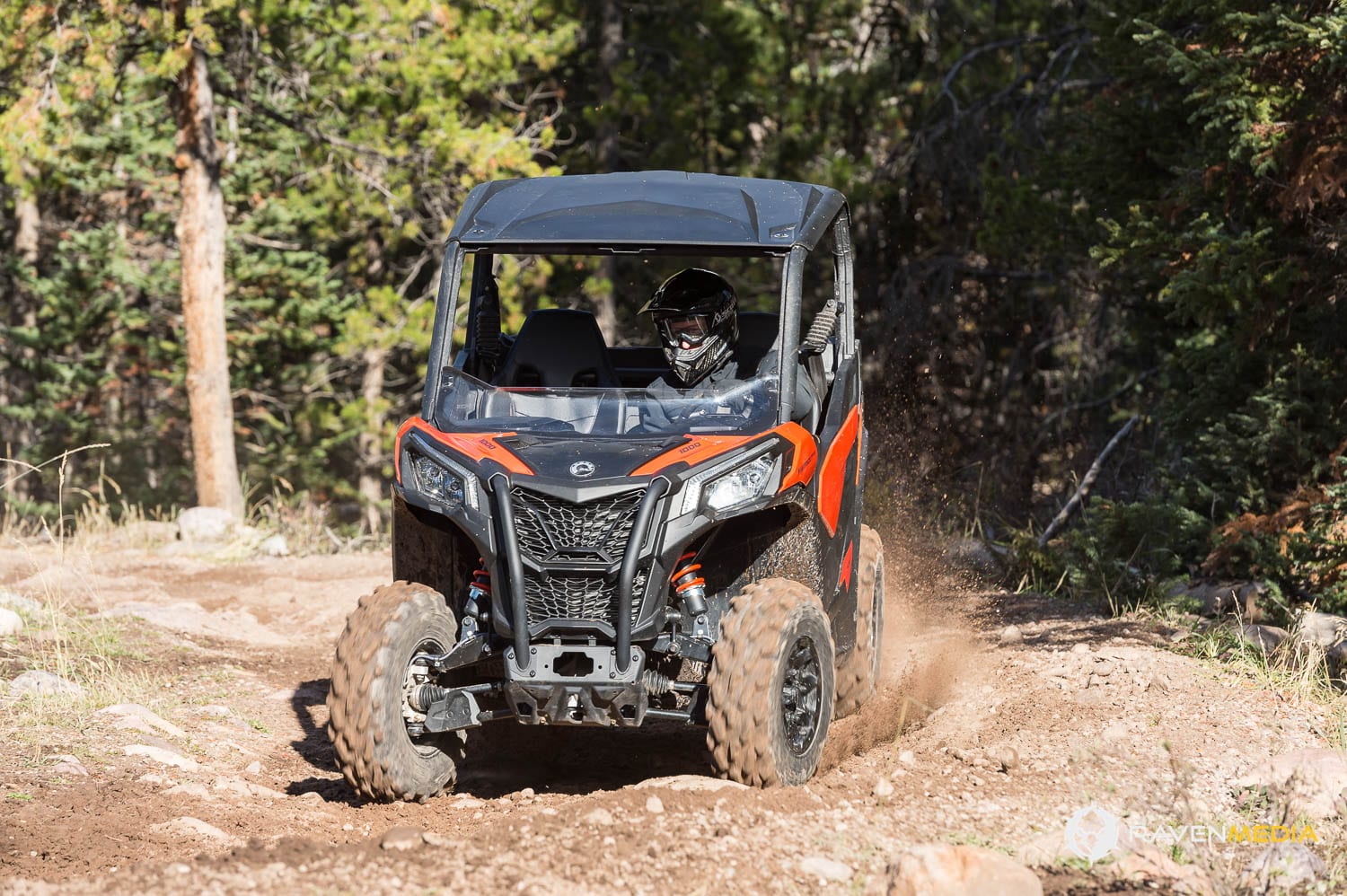 The first turns of the wheel recommended taking a rather reserved approach to driving, but as the kilometres added up, this hesitation faded, and it was at that moment that we were able to enjoy the full potential of this new beast.
Its spirited engine enabled us to cause the rear end to skid with surprising ease, but we didn't have to fear for our safety. Its relatively low centre of gravity makes it possible to do manoeuvres with impunity, albeit sparingly.
In the end, we can't deny that the Maverick Trail benefits from Can-Am's DNA. Its LED headlights are directly inspired by its big brother, the Maverick X3. However, don't expect the same level of engine performance we've become accustomed to from BRP under the "Maverick" name. This vehicle will not provide lightning acceleration and it doesn't have a suspension worthy of the "trophy trucks" like its big brother. As its name suggests, the Maverick Trail is designed for trail riding. In this category, it can pull out all the stops and satisfy trail-riding enthusiasts. Nonetheless, priority has to be given to prudent and thoughtful use of this vehicle because of its narrowness.
BRP already offers more than 120 accessories to customize this new ride. They will help you to build the Maverick Trail of your dreams and according to your needs. Without a doubt, this UTV won us over with its qualities, legroom, perfect fiery engine, and enjoyable handling.
Can-Am was right on the mark, and we wouldn't be surprised to see thousands of them on our trails over the coming years.